6328...
TGS 2015 COLLEGE FB PREVIEW...
A LOOK AT THE ATLANTIC COAST--PART II
We conclude our preview of the ACC with a look at the Atlantic half of the loop, presented in order of predicted finish with 2014 straight-up, spread, and "over-under" marks included...

by Bruce Marshall, Goldsheet.com Editor



In
retrospect, maybe we should have been able to earlier identify some of the reasons why Florida State (

2014 SUR 13-1

, PSR 3-11, O/U 7-7) made such hard work of its 2014 slate after romping through the 2013 schedule and winning the final BCS title game, against Auburn. Few games came easy for the Noles last fall as they wore a big target on their backs after dominating almost everyone the previous year, when the oddsmakers usually couldn't make the numbers high enough in FSU games.
But 2014 was a bumpy ride almost from the start for the Noles, who had to deal with the various distractions of 2013 Heisman-winning QB Jameis Winsston and his off-field escapades that included a suspension for an early-season showdown vs. Clemson, one that the Noles nearly lost before surviving in OT behind backup QB Sean Maguire. Along the way last season, FSU would reprise a sort of football version of The Perils of Pauline by routinely falling behind, often by significant margins, before rallying dramatically for wins, spotting NC State 17 points and Louisville 21 points before recovering in those games that resembled the 18-point deficit the Noles had overcome in the previous year's BCS title game vs. Auburn. But after surviving all of the close calls a year ago and advancing to the Final Four at the Rose Bowl, the Noles could not keep pace with Oregon, which buried FSU 59-20 and unceremoniously ended the Noles' 29-game win streak and chance to play for a repeat national title.
Apparently, however, there were more distractions going on in Tallahassee beyond Winston's off-field antics, as it would eventually come to light that HC Jimbo Fisher was also in the early stages of a divorce. Then, in late June, QB De'Andre Johnson, after decking a female student with a punch to the jaw at a bar in Tallahassee, was charged with misdemeanor battery and dismissed from the team. Later in July, the state attorney's office announced a warrant for the arrest of RB Dalvin Cook, last year's leading rusher with 10008 yards, for allegedly punching a different woman in the face at another bar near campus. These are merely the latest documented cases about Nole players and run-ins with the law, which were chronicled on these TGS pages last season in an editorial (QB Surprises, Disappointments...and Scandals) from our Issue No. 7 last October, and preceded the school announcing that behavioral training classes were going to be instituted for the football players.
Given all that has transpired within the program over the past 12 months, getting back on the field for fall practice will be a welcome relief later in the summer.
While Winston might have proven a distraction last season, he was the unquestioned firebrand and leader of the team the past two years, and his early departure to the NFL (and the first overall pick, by the Bucs) cast some real doubt upon this year's Noles, who relied on Winston's magic countless times in 2013 and 2014. For a while it appeared as if recent backup Maguire, a serviceable reliever but hardly a playmaker of Winston's caliber, would succeed the Heisman winner, but that was before Everett Golson would decide to leave Notre Dame and transfer to Doak Campbell Stadium for his senior season.
Golson is plenty familiar to FSU fans who recall how he led the Irish to a near-upset in Tallahassee last season and was being mentioned as a prime Heisman contender until just after that midseason loss to the Noles. Golson's junior campaign would spin out of control shortly thereafter, to the point where he was replaced by Malik Zaire late in the season and at the Music City Bowl in Memphis. Apparently out of a starting job in South Bend, Golson would shop for an appropriate landing spot before settling upon FSU, where the question is if the Noles are getting the Golson who finished the last half of 2014 as a shell of his former self, or the cool and confident playmaker who led the irish to the BCS title game a few years ago and had Notre Dame in the national discussion until that controversial loss at Doak Campbell a season ago.
Though Jimbo has been careful to go out on a limb, most ACC sources would be surprised if Golson were not starting the opener on September 5 vs. Texas State. But that's not the only unknown for the Noles, as the status of top returning rusher Cook is also up in the air, and only three starters are slated to return on the attack end from 2014.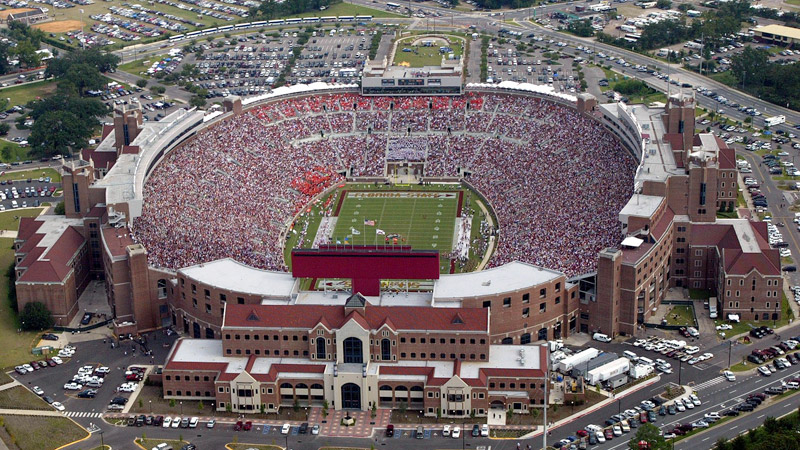 The FSU assembly line, however, is rarely low on talent, and there will be no shortage of volunteers to fill the gaps. One of those, bruising 232-lb. frosh RB Jacques Patrick, was the Florida Gatorade Player of the Year in 2014 and wowed 'em in the spring game when leading all rushers. New faces will also be expected to deliver at the receiver spots after record-setting wideout Rashad Greene (NFL Jags draftee) and 2014 Mackey Award-winning TE Nick O'Leary (NFL Bills draftee) also departed. A talented but mostly unproven corps of pass-catches is ready to step to the fore, led by jr. WR Jesus Wilson (top returning receiver from 2014 when catching 42 passes) and soph speedster Travis Rudolph.
Four senior starters also must be replaced along the OL, where a couple of once-touted jucos who redshirted a year ago, RT Chad Mavety & LG Kareem Are, impressed in spring and will help fortify a new-look forward wall that also featured soph LT Roderick Johnson, a potential future NFL draftee and only starter returning from 2014.
Of course, if drives bog down, there is always deadly jr. PK Roberto Aguayo, who won the Lou Groza Award as a frosh in 2013 and has hit 48 of 52 FG attempts in his career. Jimbo, however, will be looking for upgrades on his return units, especially on kickoffs, where the Noles gained less than 20 yards per return in 2014.
Prospects seem a little more predictable for the defense that should again be robust despite losing two junior starters (DT Eddie Goldman and DE Mario Edwards, Jr.) who jumped early to the NFL. FSU nonetheless returns six linemen with significant playing experience, and sr. NT Nile Lawrence-Stample returns after missing nearly all of 2014 with a chest injury. Junior DE DeMarcus Walker appears ticketed for stardom after recoridng 28 tackles as a soph. Though second-year d.c. Charles Kelly will be looking for more pass rush this season after FSU generated only 17 sacks a year ago.
Kelly did a bit of mixing and matching with his back seven in the spring, especially in the secondary, with jr. All-American S Jalen Ramsey moving to a boundary CB after the graduation of both of last year's CBs, which also opened the door for promising stop Trey Marshall to step in at the "Star" (nickel-back) slot. Kelly will also be looking for improved LB play, where sr. starters Reggie Northrup and Terrance Smith both played thru injuries a year ago.
As mentioned, the Noles sagged to 3-11 vs. the number a season ago after recording a polar opposite 11-3 mark against the line in the national title year of 2013. It's worth noting that FSU has often been overvalued during the fie previous Jimbo seasons, only one of which resulting in stellar spread mark during the national title year.
Recent history suggests the Noles remain the team to beat in the ACC, but the edge is hardly as pronounced as the past two seasons. The schedule breaks well, but for FSU to win the Atlantic and have a chance to return to the Final Four, it is probably going to have to beat Clemson at Death Valley on November 7, which is only two weeks after another challenging road date at Coastal favorite Georgia Tech. Safe to say that Golson will need to be golden if the Noles are to win those games and make another run at national honors.
If momentum from bowl season means anything, then Clemson (

2014 SUR 10-3,

PSR 6-7, O/U 4-9) has to be regarded along with Ohio State as one of the favorites entering the 2015 campaign. Of course, that's not the way things always work in college football, but there is nothing wrong with a team going through an offseason with an extra bounce in its step after a big bowl blowout. Which is exactly the case for the Tigers, who concluded a rousing climax to 2014 with a clear knockout over hated South Carolina in the regular–season finale before taking Oklahoma behind the woodshed in the Russell Athletic Bowl at Orlando, bombarding the Sooners, 40-6.
Now, can Clemson take the next step and leapfrog over Florida State in the ACC Atlantic?
Whatever happens this fall in Death Valley, there are no longer any lingering questions about Dabo Swinney being the right man to lead the program. Dabo's status had long been a point of contention among warring factions of the IPTAY crowd, but four straight double-digit win seasons, and successive bowl wins over heavyweights LSU, Ohio State, and Oklahoma have quieted any lingering critics who long believed the program should have shot higher than Swinney, who took over from Tommy Bowden at midseason 2008. Seven years later, however, Dabo is still on the job and more secure than he has ever been in his position.
Still, there are some questions heading into the fall. Clemson fans (and some of Dabo's detractors) have long feared the day when decorated offensive coordinator Chad Morris would decide to strike out on his own and accept one of the many head coaching opportunities that have been coming his way in recent years. Finally, Morris decided to accept one of those challenges (at SMU). Meanwhile, a gaggle of starters have departed from the team that blasted Oklahoma in the bowl game.
Fortunately for Swinney, defensive coordinator Brent Venables, who opened a few eyes when moving from Oklahoma to Death Valley in 2012, remains in the fold after last year's stop unit ranked number one nationally (allowing only 261 yards pg) and third in scoring (conceding a mere 16.7 ppg). Along the way the Tigers also led the nation in tackles for loss (a staggering 131!). Venables, however, has some serious reloading to do with a platoon that lost eight starters from last year's airtight unit.
Still, many ACC observers do not forecast a significant drop-off for the "D" despite the heavy graduation losses that included, among others, a pair of NFL first-round draft picks, career sack leader DE Vic Beasley (Falcons) and MLB Stephone Anthony (Saints).
Playmakers should still abound on the platoon, with the secondary an expected strength. Shutdown soph CB Mackenzie Alexander has NFL aspirations and already has established himself as one of the ACC's best cover men after just one season, and there is experience at the safety spots with juniors Jayron Kearse and Jadar Johnson. The pass defense ranked second nationally a year ago when allowing just 157.4 yards pg, but will be asked to carry a heavier burden in the early going behind a mostly rebuilt front seven.
Expected to step into Beasley's vacated speed-rush role from the edge is jr. Shaq Lawson, a Frosh A-A in 2013 who has shown flashes of brilliance the past two seasons when recording 7.5 sacks. Tackles D.J. Reader and Carlos Watkins, effective rotation pieces a year ago, should be able to slide into the starting lineup without much dropoff. Another junior, DE Kevin Dodd, was the hit of spring drills. Meanwhile, intense jr. Ben Boulware should be able to assume a lead position for the LB corps from his weakside position, while well-regarded RS frosh such as Kendall Joseph and Korie Rogers are itching to make contributions at the LB spots.
The team could probably withstand a slight reduction of efficiency from the "D" because the "O" appears poised for a breakout season...even minus o.c. Morris. Swinney, desiring to keep as much continuity as possible on the attack end, promoted RB coach Tony Elliott and WR coach Jeff Scott as co-o.c.'s, though it remains to be seen how Morris' playcalling duties will be handled.
Regardless, the Tigers have the trigger-man they want for the attack in soph QB Deshaun Watson, who burst upon the scene like gangbusters a year ago but would unfortunately miss five full games with a pair of injuries (broken finger and torn ACL). Assuming he can stay in one piece this fall, Clemson might have the most dynamic force in the ACC after Watson shined brightly as a frosh, tossing for 1466 yards and 14 TDP with just 2 picks in essentially just four full games, which included an eye-opening 435-yard, 6 TDP effort vs. a stunned North Carolina. Watson has targets, too, with WRs Mike Williams and Artavis Scott combining for 1995 receiving yards and 14 TDs on 133 catches a year ago. Meanwhile, the top three rushers from 2014 also return, led by soph Wayne Gallman, who gained 769 YR as a frosh and exited spring as the featured back. A pair of electric true frosh, Florida products WR/RB Ray Ray McCloud and WR Deon Cain, were the headliners of the recruiting class and are expected to make immediate contributions.
If there are questions offensively, they would probably involve the OL, which must plug in three new starters. Once again, some highly-regarded frosh led by Georgia product T Mitch Hyatt, could compete for playing time, while sr. LT Isaiah Battle is a likely NFL draftee next spring. The kicking game should be in good hands (or legs, if you will) with sr. PJ Ammon Lakip, who finished as a Lou Groza Award semifinalists a year ago when hitting 21 of 28 FG tries.
Pointspread-wise, Dabo's teams have been prone to streaks, and last year was no exception with skeins of four (wins) and six (losses, mostly after QB Watson went out of the lineup). Clemson did drop all three of its chances as a visiting favorite last season, though Swinney has covered 8 of his last 12 chances as a dog.
The schedule ramps up in a hurry after the first two at Death Valley vs. Wofford and Appalachian State, with a trip to Louisville preceding a three-game homestand that includes visits from Notre Dame and Georgia Tech. So, we'll definitely have an idea by midseason of Clemson is a serious Final Four contender. And if so, we can safely assume QB Watson is having a bang-up campaign, The chance to qualify for the New Year's Six, however, likely comes down to the November 7 game vs. Florida State...and the Tigers get the Noles in Death Valley as they look to avenge last year's painful OT loss at Tallahassee vs. Jameis Winston-less FSU.
Looking for a sleeper in the ACC? Try NC State (2014 SUR 8-5, PSR 8-5, O/U 6-7), which fits the profile of a stealth entry ready to surprise the masses in the fall.
The recovery to a winning mark and a bowl success over UCF in hostile territory at St. Petersburg has restored a bit of shine to a program that had been stained over the previous couple of years by a succession of torpedo hits that included QB Russell Wilson's unexpected departure to Wisconsin for his senior season, the abrupt dismissal of capable HC Jim O'Brien the following year, and the Wolfpack's pratfall in year one of the Dave Doeren regime in 2013. Doeren, who arrived in Raleigh after an impressive run at Northern Illinois, and a decorated prior stint as d.c. at Wisconsin, did not exactly impress in his debut campaign when NCS could not win a league game. But the recovery was quick in 2014 and allowed the Pack to overcome a 4-game slump in the middle of the season that was triggered by a gut-wrenching loss to Jameis Winston and Florida State, when NCS failed to hold an early 24-7 lead at Carter-Finley Stadium.
An unexpected and welcome contributor to the 2014 upgrade was the University of Florida, from where QB electric Jacoby Brissett transferred after being misused and perhaps underappreciated by Will Muschamp and the offensively-challenged Gator staff. Much as another Florida transfer QB, Tyler Murphy, would ignite Boston College a season ago, Brissett would similarly do in Raleigh, passing for 23 TDs vs. only 5 picks and contributing over 3100 yards via run and pass. The offense has also more efficient as reflected in a 49% (scoring) success rate, compared to just 37% the year before...mostly due to the presence of Brissett The now-sr. Brissett thus enters 2015 as a chic Heisman Trophy darkhorse candidate.
There are other reasons to like the Pack, whose Wisconsin connection extends beyond Doeren to o.c. Matt Canada, who held a similar post on Bret Bieleman's staff at Madison and stresses the same sort of power-running dimension that has become familiar with the Badgers. NCS is thus hardly a one-dimensional, air-oriented attack, motoring for over 200 yards pg on the ground in 2014. Senior RBs Shadrach Thornton (907 YR LY) and Matt Dyes return to the fold and are complemented by a collection of blue-chip recruits led by in-state star Johnny Frasier, who originally committed to Florida State before making a u-turn to Raleigh. Another touted frosh, versatile Nyheim Hines, has ACC insiders raving and provides all sorts of possibilities for o.c. Canada, who will be very tempted to utilize Hines on the sort of "jet sweeps" that gained good yardage for the pack a year ago. Hines also figures in the WR mix, and it's worth noting that all of the backs in the NCS offense are adapt pass-catchers, too, giving Brissett all sorts of options in the aerial game.
Beyond the exciting possibilities brought to the table by Brissett, the offense appears built upon a solid foundation with four starters back along the OL. Though if there is a situation to watch up front it could be at the tackle spots, where mountainous 328-lb. sr. Alex Barr was moved from guard to the RT spot in spring, and RS frosh Tyler Jones will form the bookend on the left side. Doeren will also be breaking in a new pair of kickers, and in the return, that versatile weapon frosh Nyheim Hines is expected to make immediate contributions.
The Pack "D" hit a tough patch a year ago during the aforementioned losing streak, but d.c. Dave Huxtable altered schemes down the stretch and began to blitz more frequently, with positive results as NCS would win four of its last five games. Half of the Pack's 30 sacks last season came during the final four games of the campaign. Like the offense, seven starters return on the defensive side of the ball.
Huxtable's 4-2-5 looks will be relying on some of the rotation pieces from last year's DL to step into more featured roles this fall alongside sr. DE Mike Rose, the lone returning starter up front. Soph DT Kentavius Street, the headliner of last year's recruiting class, could be ready for a break out campaign. There is plenty of experience in the back seven, and all five starting DBs return, led by sr. FS Hakim Jones, who had a team-best 80 tackles last fall. Junior Jack Trocho is also regarded as one of the best shutdown corners in the ACC.
For the Pack to make a real breakthrough, however, it will have to sustain success on the road in the ACC, where it is just 3-23 its last 26 as a visitor. But NCS did win a couple of conference games away from home last season (at Syracuse and a short drive down Tobacco Road at North Carolina), and it's worth noting that the Pack covered five of six away from Raleigh.
Completing the Pack's "dangerous darkhorse profile" is a favorable slate that offers four apparently non-threatening tests in September before conference play commences with back-to-back games at home vs. Louisville and at Virginia Tech. Those tests are winnable, so it is conceivable that the Pack could be at 7-0 and generating some real national buzz (with QB Brissett perhaps moving into the Heisman conversation) by the time Clemson visits on Halloween. NCS will have a revenge motive deluxe vs. the Tigers after last year's ugly 41-0 loss at Death Valley, when the Pack was completely flat after its all-out upset effort vs. Florida State fell short. This season, Wake Forest precedes the Tigers, so we doubt NCS will have left its best game on the field vs. the Demon Deacons before facing the Clemson challenge.
Getting past Florida State and Clemson in the Atlantic might be asking a bit much, but as long as Brissett stays healthy, the Pack has a puncher's chance vs. both the Noles and Tigers and at the least should expect a desirable bowl invitation in December or January. Buckle up, it could be a fun ride this fall in Raleigh.
Return To Home Page