6355...
TGS 2015 COLLEGE FB PREVIEW...
A LOOK AT CONFERENCE USA--PART I
Following is our preview of Conference USA, broken into two halves, first analyzing the West half of the loop, presented ion order of predicted finish with 2014 straight-up, spread, and "over-under" results listed. The C-USA East review is on deck...

by Bruce Marshall, Goldsheet.com Editor

C-USA WEST
After serving as a nice feeder school for ACC QBs (Boston College's Tyler Murphy and NC State's Jacoby Brissett) a season ago, the Florida Gators turn their largesse toward Conference USA in 2015 and provide yet another transfer QB for an appreciative team.

In this case, that's

Louisiana

Tech

(2014 SUR 9-5,

PSR 11-3,

O/U 8-6), which knows all about the transfer QB thing after riding ex-Iowa Hawkeye Cody Sokol to some unexpected heights last season that included the C-USA title game and a romp past Big Ten Illinois in the Zaxby's Dallas Bowl.


This term, it's ex-Gator Jeff Driskel, the latest in a succession of signal-callers that was apparently misused by the Will Muschamp regime in Gainesville. Driskel's stats were never eye-opening at Florida, but then again, neither were those of Murphy and Brissett before they left The Swamp, either. If the pattern holds, the Bulldogs could reap the same sorts of benefits enjoyed by BC and NC State a year ago.


Driskel also arrives in Ruston just in time for what looks like a revival of the career of HC Skip Holtz, whose star had dimmed in recent seasons after his tenure at South Florida ran aground and a less-than-stellar debut with Tech in 2013. But last year's recovery, when the Bulldogs were one of the surprise teams in the nation, has restored some of the glow to Skip, whose career appears back on track after a lull that followed a successful run at East Carolina and promising first year at USF. And it keeps at least one Holtz in the news this fall after papa Lou's run at ESPN ended after last season (it's true, no more Dr. Lou on the tube, or the teeth-gnashing exchanges with Mark May!).


As for Driskel, there is no guarantee he blossoms as did fellow ex-Gators Murphy and Brissett in their new locales a year ago, and he still might have to fight off a challenge from holdover jr. Ryan Higgins (an ineffective starter as a frosh for most of the 2013 season) to win the job in the fall. But most regional observers believe Skip and o.c. Tony Peterson will opt for Driskel, whose size (6'4 and 234 lbs.) and strong arm were never properly utilized in Gainesville. Driskel runs like a fullback, too, gaining over 50 YR in a game on five different occasions at Florida, so he might provide an extra dimension than last year's revelation Sokol, who did most of his damage from the pocket while passing for 3436 yards and 30 TDs last season. Moreover, Driskel will trading SEC defenses and their various NFL prospects for decidedly-lesser C-USA stop units. Expect improvement over Driskel's very so-so TDP-int. ratio of 23/20 while a Gator.


There are also some established supporting weapons on hand from last year's team that would score a whopping 37.4 ppg (ranking 13th), most notably sr. RB Kenneth Dixon, a spectacular scoring machine in his Bulldog career with a staggering 61 TDs, with 28 of those a year ago when gaining 1299 YR and catching another 30 passes. With Dixon keeping defenses honest out of Tech single-back sets, Driskel also has plenty of seasoned receivers on hand, including sure-handed Trent Taylor (64 catches a year ago), former LSU transfer Paul Turner (42 receptions in 2014), and speedburner Carlos Henderson, who gained nearly 20 yards per catch a year ago and doubles as a homerun kick return threat, having returned one of those for a 96-yard TD a year ago. The line returns three starters plus jr. LG David Mahaffey, who emerged late last season and would star in the C-USA title game and bowl win over Illinois.


If there are concerns on the attack end they would involve the kicking game, as the Bulldogs would miss three PATs a year ago and connect on only 10 of 20 FG attempts beyond 30 yards. Soph Jonathan Barnes was one of the kickers who often misfired a year ago and will be expected to improve this fall.


While the Dixon, Sokol, and the "O" generated plenty of headlines last season it was also the "D" that highlighted Tech's success, which was fueled by a ballhawking style that forced 42 giveaways and would contribute greatly to the Bulldogs' nation-leading +16 TO margin a year ago. C-USA observers, however, wonder how the platoon will react now that d.c. Manny Diaz, who made a one-year stop in Ruston last season and preached the takeaway style, has returned to former employer Mississippi State. Former DB coach Blake Baker, who had worked with Diaz in recent years at Texas and with the Bulldogs, has been promoted to fill the coordinator role.


Three starters return to a secondary that looks to continue the thievery this fall after the Bulldogs also tied for the nation's lead in interceptions a year ago. Safety Xavier Woods did a bit of everything last season (six picks, three forced fumbles, two TDs, and a blocked kick) and might garner some A-A mention this fall, while fellow safety Kentrell Brice is another established playmaker.


There are some questions at the LB spots, where three new starters will be in the fold, though sr. MLB Nick Thomason was on the field enough to make 52 tackles a year ago. The line will need to replace departed DE Houston Bates' 10 sacks from a year ago, but three starters do return up front from a "D" that ranked 17th vs. the run in 2014. Senior DT Vernon Butler is likely to contend with teammate safety Xavier Woods for C-USA Defensive MVP honors this fall.


Skip, whose teams at ECU were often notorious pointspread overacheivers (especially as a dog) early in his career, would also recover big-time vs. the number a year ago when covering 11 of 14, including all five as a dog.


The Bulldogs' non-league slate is tough as usual with trips to Kansas State and Mississippi State, but that is not going to cause Tech to blink after traveling to Oklahoma and Auburn and living to tell about it a year ago. As was the case last season, the West title might come down to a showdown vs. Rice, which gets to host the Bulldogs on October 30 and will be looking for a bit of revenge after Skip's bunch dropped a 76-point bomb on the Owls last November. But it is possible that Tech will be favored in every regular-season C-USA game and it would not surprise to see the Bulldogs back in the conference title clash after a narrow miss at Marshall last December.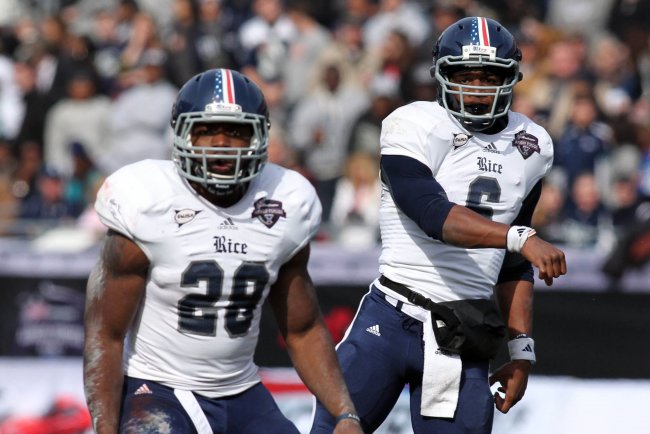 How about those Rice Owls (2014 SUR 8-5, PSR 9-4, O/U 6-7)? We've never had to use "bowl regular" and "Owls" in the same sentence during our 58 previous seasons of publishing TGS, but we might have to change that tune after three straight bowl trips for the Owlies, who had never before managed that trick, even during the days when Rice was a national brand under legendary HC Jess Neely in the late '50s and early '60s.


At the outset of last season, however, we weren't sure the Owls would maintain their recent bowl streak as they opened with three straight losses (though no shame in defeats at Notre Dame and Texas A&M). But the team would then uncork a 6-game win streak to get bowl-eligible by early November before late losses to revenge-minded Marshall and La Tech denied a chance to defend the conference title won over the Herd the year before. Still, when the dust settled after a 30-6 bowl romp past Fresno State, Rice would endure as one of the league's best storylines.


Credit for this renaissance in Houston goes to underrated, beefy HC David Bailiff, who has turned out to be a perfect fit, having recorded four winning seasons (and three in a row) in eight overall with the Owls, who haven't had a coach experience such success since the long-ago days of Neely. Though he does face a challenge with 14 starters needing to be replaced from a year ago, some key components remain, and Bailiff has been able to sustain a modest recruiting pipeline into one of the more-leafy neighborhoods in Houston, where Rice also plays in one of the nation's best stadiums (see our upcoming C-USA Retrospective piece).


Importantly, returning for one more go and a chance to win his third bowl game is fifth-year sr. QB Driphus Jackson, who piloted the win over Fresno State in the Hawaii Bowl last Christmas Eve and continues to build confidence after passing for 24 TDs (vs. only 8 picks) and nearly 3000 yards a year ago. Though kept out of most of the spring drills while recuperating from offseason surgery on his left (non-throwing) shoulder, the dual-threat Jackson (who also ran for 401 yards last fall) projects to be fully functional by fall camp after emerging as a perfect fit for the Bailiff offense. As long as Jackson stays healthy, the Owls figure to be in the C-USA West mix once more.


Rice could also have the best 1-2 RB combo in the league with 5'7 mini-slasher Jowan Davis, who finished with 956 YR a year ago, and fellow jr. Darik Dfillard, who scored 11 TDs in 2014. The creative and well-designed Bailiff offense shows multiple looks out of its backfield, which has helped spring the runners for several big gains the past few seasons, and takes on an altogether different look when big TE Luke Turner takes snaps in a "Wild Owl" package. If there are concerns on the attack end they likely involve a re-calibrated receiver corps that must replace LY's team MVP, Jordan Taylor, and his 49 catches from a year ago. Senior Dennis Parks, who averaged a team-best 17.3 yards on his 29 catches last season, is the most-likely to emerge as Jackson's go-to threat. Only two starters are back on the OL, but Bailiff did not seem too concerned in spring even though six of the projected two-deep are underclassmen. Three-year starter sr. Andrew Reue offers some flexibility, as he can play all five positions on the line.


Rice, however, could definitely use some improvement from its place-kickers after missing 6 of 7 FG tries from 40 yards and beyond a year ago, moving Bailiff to use a scholarship on frosh P Jack Fox, rated as the No. 15 kicker in the country as a HS senior. Fox will get the chance to win the PK job in fall camp.


While the return of QB Jackson and the top RBs eases some of the concerns on offense, there appear to be some legit issues on a defense that now returns only two regulars from 2014 after projected DL starters Christian Covington (an early entry into the NFL Draft, where he was a 6th-round pick of the hometown Texans) and another All-C-USA performer, Brian Nordstrom (who quit football to take a lucrative job in the oil and gas industry), both left the program a year early. Thus, what looked like a possible area of strength along the DL now becomes a big if with four new starters penciled in up front, with only sr. NT Ross Winship having gradable experience as a rotation piece a year ago.


There is, however, expected strength at the LB spots, where All-C-USA Alex Lyons was the team tackling leader a year ago. Four new faces will also populate the secondary in d.c. Chris Thurmond's 4-2-5 looks, though the lone returning DB starter, sr. CB Ryan Pollard, is regarded as one of C-USA's top shutdown corners. Thurmond, however, has emerged as a shrewd schemer, and the recent Owl defenses have progressed from their decades-long, notoriously undersized roadkill platoons, all of the way up to a 54 national ranking a year ago (excellent by Rice standards and not bad for any rep in the pass-happy C-USA).


Spread-wise, Bailiff has developed into a positive force, as his Owls are 25-14-1 vs. the line over the past three years, and covering 11 of their last 14 at home.


There are another couple of tough in-state road tests in non-league play, at Texas and Baylor, in September, but the Owls have recovered from taking their lumps in such payday intersectionals to fare quite well the past few years. The slate eases once into October and conference play, in which Rice gets five of its last eight at home, including a possible West decider in a grudge match vs. La Tech (which napalmed the Owls 76-31 last November 29).


As long as the "D" doesn't revert to the old Rice form of years past, the Owls will have a shot at the West crown and should be "bowling" for a fourth straight year...still very heady stuff on this pleasant campus.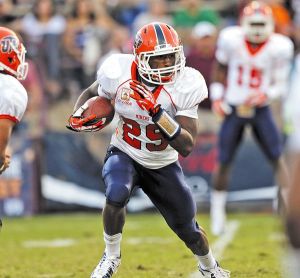 They haven't talked football in a while at the Sun Bowl, but things started to change last season when UTEP (

2014 SUR 7-6

, PSR 7-5-1,

O/U 5-8

) would recover from a desultory 2013 campaign to make it to a bowl game for only the second time since 2005. Which has caused various observers to take notice of up-and-coming HC Sean Kugler, a Miner grad who spent several years in the NFL on Pittsburgh Steeler staffs before moving back to the college ranks.


Indeed, Kugler has impressed many observers, including Miner hoops coach Tim Floyd, who couldn't stop talking to us about the virtues of the UTEP football coach when we saw him at the memorial service for former Southern Cal hoops coach Bob Boyd in April.


The Miners shattered expectations last fall and did so with good, old fashioned, fundamental football, making a conscious effort to run the ball, limiting negative plays (fewest snaps for loss in the West), while also not beating themselves, guilty of only 12 turnovers, the second fewest total in the nation. The foundation thus appears to be building solidly in the border town, where the Sun Bowl sits almost adjacent to the mighty Rio Grande and lies just a couple of well-hit three-iron shots from the menacing Juarez and Mexico on the other side of the river.


Kugler will continue to mold the Miners in his own image, as he oversees a physical, run-first offense that would befit a former NFL offensive line coach. UTEP figures to again be built around a punishing OL that would pave the way for almost 208 yards pg on the ground a year ago and will again feature one of C-USA's best RBs, slashing jr. Aaron Jones, who gained a whopping 1321 YR in 2014. Four returning OL starters include a couple of All-Frosh C-USA Gs from a year ago, Derek Elmendorff and Will Hernandez. Kugler's offense is also one of the few in C-USA to utilize a traditional fullback, where physical 235-lb. Darrin Laufasa is mostly utilized as an obliterating blocker in front of Jones.


But Kugler and o.c. Patrick Higgins do not have the manpower to simply play the smashmouth style of Tom Osborne's old Nebraska teams and expect to run over every C-USA foe on their path, so to make a real advance in the West the Miners must develop a bit more balance to their offense. Behind former Texas A&M transfer QB Jamiell Showers, who was a capable playmaker, UTEP could still only rank 118th in national passing stats a year ago, and now needs a new QB with Showers having departed. The likely successor has a somewhat familiar face, however, as jr. Mark Leftwich started for a spell (four games) as a frosh in Kugler's difficult 2-10 debut campaign of 2013 before redshirting a year ago. The Miners also have to break in a new corps of receivers, as no returning wideout or TE caught more than six passes a year ago. Former RB Autrey Golden, who caught 31 passes out of the backfield a year ago, was moved to a wideout spot in spring.


There is a further method to Kugler's madness on offense in that it slowed the pace of Miner games a year ago and would do a decent job keeping the defense off of the field. The stop unit faced a C-USA low 760 plays last season, the low mark for any team in the league and the direct result of the offense perfecting a ball-control, clock-chewing offense that would slow the pace of the games. Needless to say, the UTEP "D" would likely benefit from a similar slowish tempo from the offense this fall.


Thus, the Miners' fourth ranking among C-USA defenses a year ago was a bit skewed, but upgrades from prior seasons were easy to identify, and five key members of the front six in d.c. Scott Stoker's 4-2-5 schemes will return this fall. The returning starters at DE, Nick Usher and Roy Robertson-Harris, provide nice bookends on the line after combining for 15 tackles for loss a year ago, while LB Alvin Jones is the team's leading returning tackler and one of C-USA's best. Various rotation pieces from last year's secondary are going to be asked to contribute a bit more this fall, as four new starters likely populate the DB ranks. Corners Traun Robertson and Ishmael Harrison are two of those who played extensively a season ago yet and expect to be in the starting lineup for the September 5 opener at Arkansas.


It's worth noting that Stoker's schemes seemed to resonate much better in his second season with the platoon, which improved upon an abysmal TO number (12) from 2013 to force 21 last season and contribute the Miners' +9 TO margin, 18th in the nation.


Spread-wise, the illuminating development a year ago was the return of the Sun Bowl as a positive for UTEP, which covered 5 of 6 as host after covering just 3 of its previous 14 at home, extending back to the later days of the preceding Mike Price regime.


The Miners will get battle-tested early, figuring as significant underdogs at Arkansas and Texas Tech in their first two games which precedes a short trip on trip on I-10 to nearby New Mexico State in Las Cruces before the home portion of the 2015 schedule begins with San Antonio-based Incarnate Word, which made a bit of a splash against the big boys in hoops last winter. Top West contenders Rice and La Tech must visit El Paso in November, but UTEP could only score ten points combined in losing convincingly to both last season. The Miners might not have made up ground on the big two in the West, but there are enough other projected soft spots on the slate for UTEP to likely squeeze back into the bowl mix. Which would continue to burnish the reputation of the up-and-coming Kugler...who might be hard to keep in El Paso if long-downtrodden UTEP continues to qualify for bowls.



It has not been an easy few years at Southern Miss (

2014 SUR 3-9

, PSR 4-7-1. O/U 5-7), which, over the past three seasons, has dropped the equivalent of Felix Baumgartner's 2012 leap from space since the departure of HC Larry Fedora following the 2011 campaign. At that point the Golden Eagles were bowl regulars (10 straight and 14 of 15 years in the postseason) and had just completed a star-studded 12-2 campaign that would win Conference USA, and beat Nevada 24-17 in the Hawaii Bowl. But Fedora would then depart for North Carolina and the program would soon disappear into the abyss, winning just four games over the next three seasons combined while running off one coach (Ellis Johnson) after just a mere season in charge and now wondering if successor Todd Monken, like Fedora years earlier an arrival from the Oklahoma State staff, is up to the challenge.


Indeed, speculation has centered upon who might be the real culprit in the USM collapse, with some respected media sources in the region pointing the finger at Fedora for leaving an apparent bare cupboard for Ellis Johnson. But we suspect the blame lies on several levels, including the puzzling hire of Johnson, who had failed in earlier tries as a head coach and was brought in from outside the program, where his pedigree on defense would hardly intersect with the aggressive offensive models in Hattiesburg that were stewarded by Fedora. Realizing its error, USM quickly jettisoned Johnson after a winless and painful 2012 and tried to find another offensive-minded option in the Fedora mold when opting for Monken. The jury, however, still remains out on that hire, though for the first time since the Fedora days there is a bit of optimism permeating M.M. Roberts Stadium.


Still, these are near-uncharted waters in Hattiesburg, as the Golden Eagles had not endured three straight losing seasons since the days of the Herbert Hoover administration from 1929-31. As the lone remaining program from the origination of Conference USA in the '90s, the past few years have been especially hard to swallow.


Hope for better days revolves around an offense that has been mostly awful for the past few years. The QB position looks more solid than it has been since the Fedora days with jr. Nick Mullens, a third-year starter who passed for nearly 2500 yards in 2014 despite missing several games with a foot injury. TCU transfer Tyler Matthews, recruited by Monken from his days at Ok State, is another new option who could add a different dimension to the offense because of running ability superior to Mullens. Whatever, there appear to be choices at QB for the first time in a few years at Hattiesburg.


Where the Golden Eagles could use an upgrade is with the infantry and a rushing attack that has ranked a subterranean 121st nationally each of the past two years. Ito Smith, a 5'9 mini-back, ran with a bit of flair when he gained 536 YR a year ago, and Monken hopes that upgrades along the forward wall, fortified by transfers and juco additions, will be better able to open some running lanes. Bruising soph Ted Parks gained 5.6 ypc in 2014 and could be used more extensively in 2015. Familiar receiving targets also return for Mullens (or Matthews), led by sure-handed wideout Casey Martin, who caught 55 passes a year ago (though for less than 10 yards per catch).


USM will also stand to
benefit from UAB's temporary misfortune, as Blazer transfer Nick Vogel likely inherits the PK spot abandoned by the graduation of Corey Acuna, one of the few reliable threats from last year's USM offense when hitting 19 of 25 FG attempts. Still, the downfield passing game and red-zone efficiency must improve significantly for an "O" that would only score 19 ppg and rank 114th in total offense a year ago.


The "D" has also been mostly an afterthought the past few years in Hattiesburg, as the Golden Eagles have ranked in triple digits in too many stat categories lately. USM also has missed opportunities to help itself, as its lack of playmakers would cause only 16 TOs a year ago, not enough to aid an "O" that could use all of the assistance it can get.


Worryingly, only three starters return after the top three tacklers from 2014 exhausted their eligibility, and top DT Rakeem Nunez-Roches declared early for last May's NFL Draft, where he would be picked in the 6th round by the Chiefs. The DL, thin to begin with last season, must effectively start from scratch, with former DE Michael Smith moved to DT in spring.


Jucos are going to be asked to fill many of the gaps on the stop unit, with LB D'Nerious Antoine and safeties Devonta Foster and Deshedrick Truly all projected into the starting lineup, the latter pair joining returning starters CB Kalan Reed and all-name soph Picasso Nelson. Monken and d.c. David Duggan are hoping improved recent recruiting hauls begin to pay off this fall with sorts such as DEs Dylan Bradley & Xavier Thigpen ready to justify their one-time hype.


As usual, the Golden Eagles face some heavyweights in their non-conference slate, although they at least get one of those (Mississippi State in the opener) at home while making an obligatory payday trip to Nebraska. While the bowl drought might continue in Hattiesburg, a move closer to .500 might at least convince the concerned locals that Monken has the program headed (albeit slowly) back in the right direction. Which is about the best we can project as the dry spell likely continues in Hattiesburg.



We've seen the scenario before at several schools trying to climb the football ladder, gearing for one big season but quickly slipping back into the pack thereafter. Along those lines, meet North Texas (20-14 SUR 4-8, PSR 4-8, O/U 8-4), which descended back into irrelevance a year ago after an uplifting 2013 campaign that saw the Mean Green qualify for the nearby Dallas Bowl, where UNLV was pounded by a 36-14 score.


But last year was not quite as celebratory in Denton, with more than half of the starters on both offense and defense needing replacing from the big 2013. When the dust settled, UNT would hold its own at home where it would win four of six, but was fortunate that the beatable foes all visited the futuristic Apogee Stadium, successor to old Fouts Field across 1-35E and the accompanying car exhausts. On the road, the Mean Green couldn't win a game last season.


Now, the question is if veteran HC Dan McCarney, who has battled some health issues in recent years, is ready to re-charge the program for another run after committing considerable resources to a breakthrough in his third year on the job in 2013. At this stage of his career, so the thought goes in some C-USA circles, McCarney might not be up to the task to re-rev the engines in Denton. The sustainability of the Mean Green as a USA contender remains very much up in the air.


Not much happened in spring to suggest a turnaround from last year's 4-8 mark might be in the offing. Most of the OL that helped forge the breakthrough in 2013 has departed, with four new starters penciled in up front. And then there is the QB position, where McCarney ran auditions in spring for any able-bodied candidate to unseat incumbent jr. Andrew McNulty, who barely completed 50% of his passes last fall. But no challengers emerged to leapfrog McNulty, who remains the projected starter for the September 12 opener at revenge-minded SMU. McCarney is hopeful that McNulty can show the same improvement as did predecessor Derek Thompson over his UNT career, but the Mean Green should be so fortunate.


The Mike Canales offense remains run-first and will hope that soph RB Jeffrey Wilson, who impressed late in 2014, emerges as a force. Senior Antoinne Jimmerson gained a team-best 589 YR a year ago but does not run with a lot of flair. If there is a possible strength on the attack end it is within the receiving corps, as four of the top five in catches and receiving yards from 2014 remain in the fold. Senior wideout Carlos Harris has 136 career receptions and is a reliable threat, but a big-play component needs to emerge. Soph Turner Smiley, who caught 3 TD passes in the spring game, might be that guy.


Canales was also trying to install more of an uptempo attack in spring, and that philosophical switch remains a work in progress into fall camp.


The "D" mostly managed to hold its own in 2014, but regional observers wonder about the transition to new d.c. Chris Cosh after veteran schemer John Skladany retired after last season. The well-traveled Cosh, most recently the DL coach at U of Buffalo, will oversee a platoon that was in replacement mode on the DL a year ago but now must undergo an extensive rebuild in the back seven where only one starter returns, and two all-league players (including LB Derek Akunne, C-USA's leading tackler in 2014) must be replaced.


Skladany was adept at blitz schemes and Cosh will have to mix-and-match his personnel combinations accordingly. Juco DE Jared Combs, who had 17 sacks in the JC ranks a year ago, is expected to make immediate contributions, and Buffalo transfer Blake Bean won the MLB job in spring. Fred Scott, who started at MLB last season, moves to the outside, and Cosh might continue his position juggling all of the way up until the opener in Dallas vs. the Mustangs.


As mentioned earlier, UNT was a real money-burner vs. the number on the road last season, when the Mean Green dropped all six chances vs. the number. McCarney, however, is 9-3 vs. the number at home the past two seasons.


The 2015 slate includes payday road trips to Iowa and Tennessee (the latter not until mid-November), but worryingly has no bye weeks during a 12-game run that begins a week later (September 12) than most other schools. There are also crossover road trips to East favorites Western Kentucky, Marshall, and Middle Tennessee, and this is the toughest-looking slate for any West rep this fall. Perhaps McCarney is gearing up for another run next year, but for the moment we suspect the Mean Green is on a three-year cycle, and its next chance to make a statement might be 2016. For 2015, we won't hold our breath.



And then there was UTSA (

2014 SUR 4-8

, PSR 4-8,

O/U 4-8)

, which hit a nasty speed bump a year ago after a legit breakthrough the previous year when the Roadrunners finished 7-5. Remember, this was a "baby" program just born in 2011 under former Miami Hurricanes HC Larry Coker, who got the team up to speed in a hurry. Much was expected a year ago when UTSA would become bowl-eligible for the first time, and some of the locals were keeping their calendars open in December, expecting a first-ever postseason berth for the program.


But Coker neglected one very important aspect a year ago that would cost his team dearly. And now, with his first wave of recruits and transfers having cycled through the program, he is left with a massive rebuilding job with a team that underachieved in 2014. Not good.


A year ago, Coker had a senior-laden roster everywhere except at QB, which would eventually result in a combined passer rating that ranked a lowly 119th in the country. Playmaker Eric Soza was a lively presence at QB the previous years, but upon his graduation the cupboard was relatively bare behind center. Four different offensive pilots labored through inexperience and injuries, and in the end it was remarkable that UTSA even won four games, especially with an "O" that ranked 118th in scoring and 119th in total offense.


Thus, there was much focus on the QB competition in spring, when soph Blake Bogenschutz, who started three games a year ago before breaking his hand in late September, appeared to rate ahead of the others. But a new option arrives for fall camp, Michigan transfer Russell Bellomy, who will be eligible immediately and is a bonafide wild card candidate to steal the job from holdovers Bogenschutz and Austin Robinson, who tossed only 1 TD in his 146 pass attempts a year ago.


Whoever wins the QB job might wish he didn't with no full-time starters returning along an almost-completely rebuilt offensive line. Senior RG William Cavanaugh and RT Jordan Gray have been part-time starters in the past, but that's the only notable experience up front. Jarveon Williams, a junior who gained 325 yards in a reserve role last season, will get a chance to be the featured back this fall. After returning their top ten pass catchers a year ago, the Roadrunners are rebuilt in their receiving ranks as well, and are crossing their fingers that TE David Morgan II can stay healthy after missing almost half of last season, when he briefly emerged as a reliable target while catching 25 tosses in part of the season.


Moreover, the kicking game is untested as well, with a new PK and punter to be introduced this fall, with true frosh Yannis Routsas likely handling punting chores.


Coker's defense is similarly in rebuild mode, as of the 22 players listed on the two-deep exiting spring, only eight had starting experience. And of those eight, three accounted for 62 of the total 79 starts. Needing some immediate help, Coker dipped into the juco ranks, and of those sorts, look for the likes of DT Vontrell King-Williams and DE Ben Kane to break into the starting lineup sooner rather than later.


Coker's 4-2-5 scheme asks a lot of the LBs, and fortunately for UTSA, sr. Drew Douglas rates as an All-CUSA candidate. There remains an upperclass look in the secondary, where former Oklahoma transfer CB Bennett Okotcha is the headliner. Another new transfer, S Austin Jupe, via Baylor, could make an impact in the secondary.


Spread-wise, Coker's 2012 & '13 teams would cover an impressive 14 of 22 on the board, and 9 of 12 as a visitor, but both marks dipped a year ago after the Roadrunners covered their first two (which included a SU win over Houston and a near-miss vs. Arizona). UTSA was also 1-5 as chalk a year ago, but we doubt the Roadrunners are favored as often this season.


After appearing to be a program on the rise not long ago, and perhaps bound to become a flagship entry in Conference USA with its position in a significant marketplace and with the league's biggest stadium (the 65,000-seat Alamodome), 2014 was a terrible downer in San Antonio, to the point where locals are starting to bark about Coker. While getting the program established in quick-order, Coker has also stewarded a quick drop, and continued erosion this fall might put his job in jeopardy. There are no lower-division soft touches on the 2015 slate, either, and while Kansas State and Colorado State will visit San Antonio, the Roadrunners figure to be significant underdogs in all of their September dates which also include trips to Arizona and Oklahoma State. Unfortunately for UTSA, it could be beaten up by the time C-USA play starts October 3 at UTEP, a team that routed the Roadrunners 34-0 a year ago.


Yes, even at UTSA, coaches are expected to win...or else.
Return To Home Page