6364...
TGS 2015 COLLEGE FB PREVIEW...
A LOOK AT CONFERENCE USA--PART II
After our look at the West half of C-USA, we preview the Eastern half of the loop, presented in order of predicted finish, with 2014 straight-up, spread, and "over-under" results listed...

by Bruce Marshall, Goldsheet.com Editor
C-USA EAST
Those looking for college football analogies to the Ron Lyle–George Foreman 1976 heavyweight slugout at the old Caesar's Palace Pavilion in Las Vegas needed to look no further a

year ago than

Western

Kentucky

(2014 SUR 8-5, PSR 6-6-1, O/U 9-4), which was alternately landing and taking haymakers all of the way until the final seconds of the season. Literally, as Central Michigan would hit a hard-to-believe 80-yard TD pass/lateral shocker on the final play of regulation at the Bahamas Bowl, only to fail on a subsequent 2-point conversion pass that preserved the Hilltoppes' 49-48 win. All of that in a game that the Hilltoppers would gain 647 yards and lead 49-14 with under 12 minutes to play. Whew!


Such wild rodeos were not limited to WKU's bowl game last season, as the Tops were involved in a few more of those sorts of shootouts, including a wild 67-66 OT win over Marshall that would prove the Herd's only SU loss of the season. WKU basketball coach Ray Harper could be excused for wondering if his hoopsters would be able to outscore the football team, which would tally a breathtaking 44.4 ppg in the first season under HC Jeff Brohm, the former Louisville QB who was promoted from o.c. after Bobby Petrino predictably bolted from Bowling Green, KY after one season in 2013.


The Tops' problem a year ago, however, was conceding points almost as fast as scoring them, as four foes would crack the 50-point barrier en route to a staggering 39.9 ppg allowance, ranking just a few slots above the worst in the country. It's no wonder that doctors in the region were advising those with heart conditions to say away from WKU games last fall.


Believe it or not, however, more of the same might be on tap this fall. Scoreboard operators beware!


The collective groan you might have heard in the distance in the offseason was probably opposing C-USA coaches when hearing the news that record-setting Top QB Brandon Doughty would be granted a sixth year of eligibility by the NCAA and would return for one more go this fall. Combined with punishing 235-lb. RB Leon Allen, no QB-RB duo in NCAA history matched their staggering numbers from last seasnm. All Doughty did was lead the nation's passes with 4830 yards thru the air, and in conjunction with Allen's 1542 YR gave the pair a combined 6372 yards of offense in 2014, shattering the previous record set by Baylor QB RG III and RB Terrance Ganaway, who combined for 5840 yards in 2011.


Moreover, WKU set or tied 50 offensive team and individual records last season, and only five QBs in NCAA D-I/FBS history have thrown for more than Doughty's 49 TD passes, which also led the nation a year ago. So much, then, for the thought that the Tops might take a step backwards offensively after the departure of Petrino and promotion of Brohm, who would instead shift the WKU offense into an even higher gear.


Doughty, who also set 14 program and conference records last season, also welcomes back four of his top six receivers, led by sr. wideout Jared Dangerfield (69 catches and 11 TDs in 2014). RB Allen is another pass-cacthing threat who added 476 receiving yards a year ago to push him over 200 yards from scrimmage in 2014. Three starters also return along the line, so expect the drumbeat to continue on the attack end this fall for the Tops.


Unfortunately, there is an extensive debit side to the WKU ledger regarding its defense, which might not have been quite as bad as its 2014 stats indicated, simply because the quick-strike offense would often put the "D" back on the field quickly, and the pace of Top games would often proceed at supersonic speed a year ago. But stat-wise, the Hilltoppers were one of the worst defenses in the land, ranking 121st in scoring and 120th in overall defense. All of this under veteran coordinator Nick Holt, who has coached defenses at the highest levels (USC and Washington) of college football and also served a short spell as the HC at Idaho, and will be expected to tighten the screws on the stop end this fall.


Holt's platoon returns its four top tacklers and seven starters overall from 2014, and adds one of UAB's higher-regarded refugees, DT Jontavious Morris, who immediately slides into a starting role on the line. The 295-lb. Morris figures to be an important road block in the middle of the WKU defense after starring as a NG for the Blazers. Holt's son Nick Jr. returns at MLB as the heart and soul of the defense after recording 111 tackles a year ago. The "D" is loaded with upperclassmen (10 juniors or seniors in the projected lineup) as well as an all-name CB, sr. Wonderful Terry, who returned a pair of picks for scores last season. Given the personnel on defense, and the augmentation provided by UAB transfer Morris, it would be a surprise to see defensive stats as bad as those from a year ago.


Spread-wise, Brohm's Tops provided pretty good value at home, dropping just one decision in six vs. the number as host in L.T. Smith Stadium a year ago. WKU was also on the verge of ending the season with a 5-game spread unbeaten streak until CMU's miracle closed the gap at the end of the Bahamas Bowl. It was also no surprise that the Tops were "over" 9-4 in 2014...except that it in retrospect it would be hard to imagine four WKU games going "under" a year ago.


The schedule sets up favorably for WKU, which will have more than a puncher's chance in non-league road games at Vanderbilt and Indiana in September, and can make a real splash in a mid-October trip to SEC country at LSU when catching the Tigers between challenging SEC dates. C-USA West defending champ La Tech visits Bowling Green in early September, as do top East contenders MTSU and Marshall later in the campaign. Another exciting, bowl-bound season awaits WKU...which soon might have to worry about holding on to HC Brohm, who is about to become a chic option for major conferences schools looking for a new coach.



There was a time when we got a kick out of hearing the name Doc Holliday, which for years reminded us of the legendary gambler and gunfighter from the days of the old wild West and the O.K. Corral alongside the one and only Wyatt Earp. So when a football coach of the same name (with the same first name John) showed up on the radar a few years ago we were reminded of the old shoot 'em up era of the late 1800s, and got a kick that this football version of Doc Holliday preferred his football in the same manner, with lots of gunpowder and fireworks with prolific offenses such as we have seen lately from the new Doc's Marshall Thundering Herd (2014 SUR 13-1, PSR 8-5-1, O/U 8-6).


For a while, however, the modern version of Holliday, a noted recruiting maven at West Virginia, NC State, and Florida, looked like a rather poor fit as a head coach, especially as the Herd stumbled through most of his first three years in charge between 2010-12, falling beneath .500 twice. But just as the walls were appearing to close around him in Huntington, Holliday bounced back with a fury the past two seasons, winning 23 games, and narrowly missing an at-large spot last eyar in the New Year's Six bowls allocated to one of the five non-power conferences. Only a wild late-season OT loss to Western Kentucky likely prevented the Herd from a date in a major bowl. Instead, Marshall settled for a slot in the new, and decidedly lesser, Boca Raton Bowl at Florida Atlantic's nice and shiny modern stadium, where the Herd would bury Northern Illinois, 52-23.


Keep the Herd in double-digit win territory and doing a reasonable impression of last year's electric, record-setting offense that led the nation in both scoring (45.6 pg) and yards (559.2 pg) might be a chore, however, with do-everything four-year starting QB Rakeem Cato having finally graduated, taking his nearly 15,000 career passing yards and 146 TDs with him to the Montreal Alouettes of the CFL.


Some C-USA observers, however, are not expecting a big dropoff in offensive production with James Madison transfer QB Michael Birdsong, a 6'5, 242-pound bruiser with a live arm who passed for 2722 yards and 22 TDs as a starter for the Dukes in 2013 before transferring a year ago following former Georgia Tech QB Vad Lee's move to JMU. Birdsong will get plenty of help from a vet group of skill-position performers that includes punishing 243-lb. sr. RB Devon Johnson, a former LB and definiton of "downhill runner" who powered for 1767 YR (8.6 ypc!) and 19 TDs a year ago. Though the Herd appears to be without the other half of its frightening 1-2 RB combo, sr. Steward Butler, who had gained 2063 YR the past three years but was dismissed from the team after an off-field incident in which he berated and then punched out two gay men seen kissing on a Huntington street in May.


The receiving targets are familiar as well, though decorated o.c. Bill Legg must find a suitable target to replace glue-fingered WR Tommy Shuler, who snared a school-record 322 passes (good for 25 TDs) in his star-studded Herd career. Returning starters Davonte Allen (almost 25 yards per catch LY) and Angelo Jean-Louis can stretch the field, and soph Hyleck Foster looks to have the potential to emerge as a gamebreaker. The line looks solid with three returning starters, though Legg and Holliday have moved RG Michael Selby to the center spot to replace departed four-year starter Chris Jasperse. And, on the few occasions when the Herd didn't score last season, P Tyler Williams would prove one of the nation's best by averaging 43.7 yards on his kicks, and who enters 2015 as a Ray Guy Award candidate.


Herd d.c. Chuck Heater, a well-traveled assistant who was once upon a time a key RB on some of Bo Schembechler's earlier Michigan powerhouses, knows what he is doing, after inheriting a platoon that ranked at the bottom of scoring "D" nationally in 2012. Heater's stop unit advanced all of the way to 18th in scoring defense last season, but several holes need to be filled this fall after more than half of the starters departed following the 2014 campaign. Top cover CB Darryl Roberts (drafted by the Patriots) is gone, along with LB Neville Hewitt, last year's C-USA Defensive Player of the Year who is spending this summer in the Miami Dolphins' camp. Roberts' ability to blanket top opposing receivers would free Heater to utilize all sorts of different blitz packages, which might not be as easy to implement this fall.


Heater also has much juggling to do within his rebuilt front seven, where he must identify new playmakers. A Maryland transfer, MLB Shawn Petty, won a starting job in spring and joins the returning starter at SLB, sr. D.J. Hunter, for what could develop as part of one of the best LB units in the league. Another transfer, ex-UCF DE Blake Keller, is going to be asked to provide a pass rush presence. Much pressure, however, will be on the new post-Roberts CBs who need to emerge quickly as physical defenders on the edge.


The Herd has been a pointspread force the past two seasons, especially at home in Joan C. Edwards Stadium, where Marshall has dropped just 3 of 13 vs. the line the past two seasons, and stood 10-3-1 laying 20 or more since 2013. Those numbers, however, were all with record-setting QB Cato still in the fold.


With its toughest non-conference date at home in the opener vs. Big Ten Purdue, Marshall might be position to make another run at the at-large spot in the New Year's Six bowl mix....IF new QB Birdsong does not prove much dropoff from the wonderfully-prolific Cato. That's a big if, however. Still, if all goes as planned in Huntington, the season likely comes down to C-USA East road dates at Middle Tennessee and Western Kentucky in November, with a chance to make a bigger splash on the national scene with wins in those games.


Qualifying for a bowl is taken for granted these days by Herd fans, who are looking for something a bit better than another trip to Boca Raton in late December.



A few years, we thought it rather unlikely that HC Rick Stockstill would still be hanging around much longer at
Middle Tennessee (2014 SUR 6-6,

PSR 6-6,

O/U 7-4-1).
The former Florida State QB looked to be an up-and-comer in the coaching ranks, especially after his 2009 team finished at 10-3 and beat Southern Miss in the New Orleans Bowl. Stockstill would then have an opportunity to take over for Skip Holtz (who left for South Florida) at East Carolina, but pulled himself out of consideration for the Pirates job to stay in Murfreesboro. At the time, the thought was that Stockstill was aiming higher than Greenville, NC for his next move up the head coaching ladder.
Well, five years later, Stockstill remains a Blue Raider, and will be entering his tenth season on the job in Murfreesboro, making him one of the longest-tenured coaches in the country. Stockstill's appearance on the college radar screen has never been as prominent as it was after 2009, and while he has not been a serious candidate for another job since, he has gladly established some roots at MTSU as the program moved up (albeit slightly) on the college food chain with the jump from the Sun Belt to Conference USA two years ago.


And Stockstill might have made the right decision to stick around, as most college sports observers in the know will maintain that the Blue Raiders program remain upwardly mobile, as their location not far from the Nashville hub and with a growing alumni base in the region could eventually make MTSU an attractive target for the next round of shifts on the college conference landscape, whenever that might be.


The move to C-USA has also not proven a jump too far for the Blue Raiders, who finished 8-5 and qualified for the Armed Forces Bowl in their first spin around their new conference track in 2013, and were unfortunate not to land another bowl berth last season when finishing 6-6. Which made MTSU bowl-eligible for the fifth time in six seasons, though, as when finishing 8-4 in 2012, the Blue Raiders had nowhere to go last December when bowl bids were handed out, behind 7-5 UTEP in the C-USA postseason pecking order. Indeed, a bitter season-ending 24-21 loss at the Sun Bowl would keep the Blue Raiders out of the bowl mix and allow the Miners to qualify instead.


Stockstill would seem to have a good chance to make the magic seven-win mark this season that would all but assure MTSU some sort of bowl invite, especially with the Miami Beach Bowl now reserving an additional spot for a C-USA rep, giving the league six potential landing spots in the postseason. A core of playmakers returns to the mix for a senior-laden squad that could be Stockstill's best since that 10-win team back in 2009, especially if intangible factors work in the Blue Raiders' favor this fall. Such as TO margin, which was a pleasant +11 in the Armed Forces Bowl season of 2013 before falling to -4 a year ago.


To that end, improvement on the defense would come in handy, especially as it relates to opponent giveaways (the Blue Raiders would only recover 42% of fumbles in their games a season ago, compared to 57% in 2013). Eight returning starters, however, and all upperclassmen to boot, populate the upcoming stop unit under the direction of vet coordinator Tyrone Nix, who will align MTSU in traditional 4-3-4 looks that can morph into a variety of different combinations as situations dictate.


The top four defensive tackles return to clog the middle, led by 320-lb. bouncers sr. Patrick McNeil and jr. Shaquille Huff. Nix, however, could still use an every-down pass rusher to emerge and will be hoping that juco transfer Peter Bailey might be able to provide that dimension, as could Steven Rhodes, a former walk-on and one-time Marine who impressed in spring as MTSU looks to replace departed DEs Shubert Bastien and Leighton Gasque, last year's top sackers.


There are some established playmakers in the back seven, led by sr. SS Kevin Byard, an SEC-caliber talent with 15 career picks and 246 career tackles. OLB T.T. Barber, with 234 career tackles, is also within sight of the school record of 344. But the Blue Raiders must cut down on their big-play allowance this fall and hope to develop improved depth, as the platoon often wore down in the late going a year ago.


A little bit of improvement by the defense might be all MTSU needs to get over the hump and back into the bowl mix, because the offense appears to have enough elements to be as formidable as last year's strike force that scored an impressive 31.6 ppg. Stockstill now has an extra option at QB, too, as his son, RS frosh Brent Stockstill, rates as a better thrower than returning starter Austin Grammar, though the latter has the experience edge and has more mobility. Grammer accounted for 2999 yards of total offense last year and 23 TDs, but he was also guilty of 17 giveaways (12 picks and 5 fumbles), and for all of his running ability, he was also sacked 26 times. Now a junior, Grammer needs to cut down on his mistakes and learn to better stretch the field vertically, or young Stockstill might take more snaps than envisioned this fall.


The Blue Raiders, however, should be able to run, as RBs Jordan Parker, Shane Tucker, and Jeremiah Bryson have combined for 3638 rushing yards and 39 TDs in their careers. Regional sources say that RS frosh power back J'Vonte Herrod and touted true frosh Ruben Garnett could also figure into the infantry mix. Three starters return along the line, with sr. Darius Johnson, a possible NFL draftee next spring, moving to LG after spending the past two seasons at the LT spot. Last year's leading receiver, all-name wideout Ed'Marques (do we shorten that to Ed, or Marques?) Battles, caught 45 passes a year ago, but it would help if another deep threat could emerge. Stockstill also could use more consistency in the kicking game, as jr. PK Cody Clark was shaky down the stretch and again in spring, and a true frosh, Matt Bonadies, is the top candidate at punter.


The schedule is prickly, with September trips to Alabama and Illinois, then home to Vanderbilt and at East favorite Western Kentucky to open October, before the slate eases somewhat in the second half of the campaign. If the Blue Raiders can get to midseason at 3-3, they ought to get back to the bowl mix. And if they can beat WKU and Marshall, which visits Jonny Floyd Stadium on November 7, MTSU will have a chance to steal the East in what might be Stockstill's best shot to make a big splash in the next few years.



Lost amid the burgeoning Miami sports scene, Florida

International

(2014 SUR 4-8, PSR 8-4, O/U 6-6) continues to fly at a low altitude, fortunate to get any mention in the Miami Herald or other local papers, or from WPLG's Will Manso or one of the other TV sports anchors in town. So much, perhaps, for Conference USA's invasion into what should be the fertile South Florida media market. Fertile if you're the Dolphins or the Heat, maybe; not so much for the FIU Panthers.


FIU is also likely the last landing spot in the head coaching career of Ron Turner, regarded as a hot commodity a generation ago when Norv's younger brother made a brief splash at San Jose State before moving into the NFL as an assistant on Dave Wannstedt's Bears staff. But in 11 seasons as a head coach at San Jose, Illinois, and FIU, Turner has recorded just three winning records, one of those in that first season at SJSU way back in 1992. Three of Turner's teams have failed to win more than one game; his 1997 Illini did not win a game at all. Overall, his record of 47-80 does certainly not recall Frank Leahy or Ara Parseghian.


Having said all of that, we thought Turner did a reasonably good job a year ago as FIU at least became competitive once again after a 1-11 debacle in Turner's debut season of 2013. While we still believe Golden Panther AD Pete Garcia erred when hustling Turner's predecessor Mario Cristobal (who was quickly tabbed by Alabama HC Nick Saban to join the Crimson Tide staff) out the door, FIU at least displayed some fire last fall after several blowout losses in 2013, when the offense ranked last in the nation (not much of an endorsement for so-called offensive wiz Turner).


Things got marginally better on the attack end season when Turner discovered a new pilot for the offense, then-frosh QB Alex McGough, who would eventually win the job and play with some flair while throwing 14 TDP and very good efforts toward the end of the campaign vs. Old Dominion and MTSU, throwing for 3 TDs in an upset of the latter. The now-soph Tampa native still needs to smooth out some rough spots but has a baptism thru fire behind him, which for the moment keeps him ahead of touted frosh Christian Alexander, a Lakeland product with a live arm.

Turner's single-back, run-first offense operates with a unique two TE alignment and improved more than 50 ypg on the ground a year ago, and will return its top two backs in soph Alex Gardner and former Bowling Green transfer Anthon Samuel, who both gained 582 YR last fall. They'll motor behind an OL that returns three starters. The best receiver in spring was true frosh Anthony Jones, a Miami-area product (Central High), though McGough (or Alexander's) go-to target will likely once again be sure-handed jr. TE Jonnu Smith, who caught 61 passes a year ago.


It was significant improvement on defense, however, that keyed the upgrade to competitiveness last fall, and after shepherding the stop unit up the national rankings in several categories in 2014, d.c. Josh Conklin was hired away by new Pitt HC Pat Narduzzi. Eight starters return from that platoon that will now be coordinated by Matt House, who was effectively traded by Pitt to FIU in a swap of defensive coordinators.


Conklin's unit was able to mostly limit big plays last season as the Golden Panthers would surprisingly rank 35th in total defense ( major upgrade from a 94 ranking the previous year) and returns several playmakers, including DE Michael Wakefield (who led the team with 8 ½ sacks) and sr. CB Richard Leonard, who recorded six picks a year ago. House will adjust from LY's basic 4-3-4 to a 4-2-5 this fall, but will be looking for a pair of new safeties after last year's starters Demarkus Perkins and Justin Halley both graduated.


For a while in 2014, FIU authored one of the top pointspread narratives in the country, surprisingly covering 6 of its first 7 before cooling off down the stretch. Interestingly, Turner's team has still not been favored in any game over the past two seasons.


It helped a year ago that eight of the twelve games were at home in Miami, but the schedule doesn't break quite as well this term, with four of the first five on the road, including the opener at UCF. Matchups vs. East favorites Marshall (on the road) and WKU (at Miami) are at the end of the season. The Golden Panthers also get no breaks and will play their twelve games without a bye, so a move into bowl-eligible territory looks a bit much for 2015. But Turner has been able to progress FIU beyond roadkill status, and at the least, the Golden Panthers should not be an easy "out" this fall.



There is often some confusion regarding Florida

Atlantic

(2014 SUR 3-9,

PSR 6-5

, O/U 7-4) and nearby FIU, probably because the names are similar and each reside in the Miami area. Both have also mostly struggled since introducing their gridiron programs in the last decade. There are physical differences, however, as the FAU campus, located in tony Boca Raton, is far more tropically plush, while the new Owls stadium and its 30,000 seats rates several grades above FIU's decidedly modest facility.


Unfortunately for FAU, those asthetic advantages did not help in a 38-10 "Shula Bowl" loss to the nearby rival Golden Panthers a year ago. Which was just the latest downer for an Owl program that seemed on the rise near the end of the past decade under program architect Howard Schnellenberger, but would veer off course when 'ol Howard stayed at the dance a bit too long, ostensibly to coach at least one valedictory season (2011) in the new stadium for which he was most responsible. In the process, however, the Owls deteriorated badly on the field, and the subsequent midseason dismissal of Schnellenberger successor Carl Pelini midway in the 2013 campaign proved another unwelcome detour.


Enter Charlie Partridge, hired last year off of Bret Bielema's Arkansas staff and noted for his recruiting ties within the state of Florida. But while the Sunshine State remains a gold mine of football talent, FAU is not going to beat out Florida, Florida State, or Miami, much less upstate USF and UCF, for top players, so the coach had better know the territory and recruit smart. And the jury is still out on Partridge, who enters his second season off of a drab 3-9 debut last fall.


The thought in Boca Raton was that Partridge would be using 2014 to lay the proper foundation for the program and cultural shift around accountability that might have been lacking in previous years. To the eyes of many observers, however, the Owls took a step backward from the Pelini teams, including the 2013 version that would be coached by o.c. Brian Wright for a few games at the end of the campaign. Partridge had never before been a college head coach and would not be the first career assistant to talk a good game and fail to deliver when placed in charge of an entire program. So Owl boosters and C-USA observers might need a bit more convincing before acknowledging Partridge as the coach to lead the program out of the darkness.


Patridge and o.c. Wright still prefer a read-option offense in which sr. Jaquez Johnson appears a good fit at QB, but the attack seemed to struggle with an identity a year ago. Expect a bit more emphasis to be placed upon the infantry that did gain a respectable 164 ypg on the ground last season. Johnson would pass for over 2215 yards and post a solid 17-5 TDP/int. ratio a year ago and has rushed for 1280 yards the past two seasons, and returning RBs Buddy Howell and Jay Warren combined for 1084 YR out of the single-back set a year ago. Top receivers Lucky Whitehead and William Dukes, have graduated, however, meaning that a one-time walk-on, Jenson Stoshak (37 catches LY), will likely be Johnson's go-to target. Partridge, who spent 2014 revamping the OL, will hopefully find more consistency with three returning starters up front this season as the Owls try to better their pedestrian numbers (24 ppg, ranked 90th, and 101st in total offense) from a year ago.


Defense, however, was a major problem in 2014 and the loss of the three best players from that platoon is causing some legit concerns for coordinator Roc Bellatoni. The Owls operate out of a base nickel alignment, which puts enormous pressure on the two LBs on the field. The departure of LB Andrae Krik, one of the few forces on the platoon a year ago, is a concern, but no more so than tightening up what was an atrocious run defense that allowed a whopping 222 ypg on the ground, ranking a poor 112th nationally.


The secondary looms as another concern with only one starter back among the DBs and both safety spots vacated by graduation. Bellatoni already has three RS and/or true frosh in the secondary two-deeps and will hope those newcomers can hit the ground running.


Spread-wise, FAU was an undervalued force in 2012-13 while covering 17 of 24 on the line, and some of that spunk rubbed off on Partridge's first edition until later in the season when the Owls dropped 3 of their last 4 vs. the line. FAU also covered 6 of 7 as a dog last year for Partridge, and after the Pelini teams also overachieved getting points, the Owls have a nation's best 20-5 dog mark since 2012. Though they dropped all four as chalk in 2014.


FAU's 2015 schedule is slightly more manageable than a year ago, trading out Nebraska and Alabama on the road to begin the season, though the Owls will be tested when they host the neighboring Miami Hurricanes on the second Friday of the campaign, and will make a late-November trip to Gainesville to face the Gators in another in-state battle. FAU closes with three of four road games in November, so if the Owls are to go "bowling" for the first time since 2008, we'll probably know by Halloween.


The pieces are in place for FAU to become a consistent contender in C-USA, but we still need more convincing that Partridge is the right coach to lead the program out of the wilderness, and we get the feeling it will be at least another year before we have a better idea if Partridge is up to the task.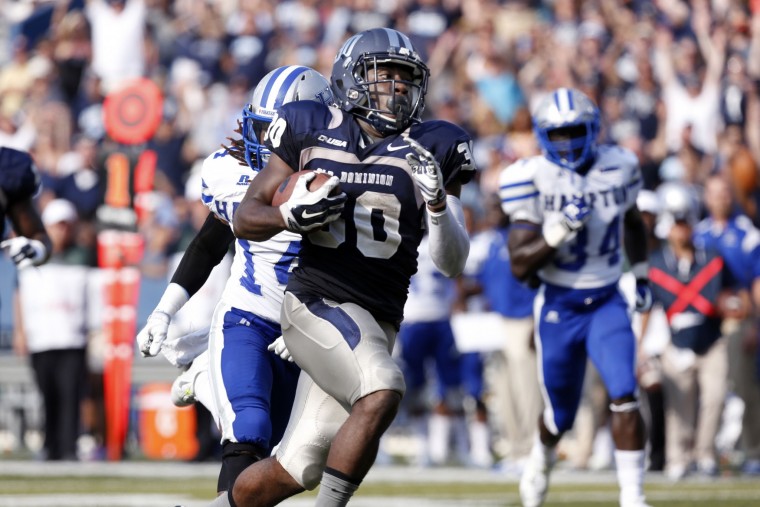 All things considered, Old

Dominion

(2014 SUR 6-6, PSR 4-8, O/U 6-5-1) ought to be quite satisfied with its 6-6 mark in its maiden voyage in Conference USA last season. Indeed, since the Monarchs have been reclassified into the FBS ranks in 2013, they have posted a 14-10 SU mark (though seven wins in the 2013 campaign were vs. FCS opposition). Still, last year's performance and 4-4 mark in league play was a pleasant surprise for the Tidewater crowd that might have been wondering if ODU was biting off a bit more than it could chew.


But the program had been building toward 2014 for several years under HC Bobby Wilder, under whom the Monarchs had become a force in FCS and developed their first true star player in QB Taylor Heinecke, who was a winner of the Walter Payton Award (the FCS equivalent of the Heisman Trophy) and passed for nearly 15,000 yards, giving the Monarchs the luxury of a star QB as they transitioned to a higher level. Heinecke kept firing all season in 2014, and helped forge an uplifting 3-game win streak to end his college career that included a rousing 30-27 home upset over eventual C-USA West champ La Tech in late November.


The cautionary tale for ODU in 2015, however, is UTSA, which similarly made significant strides in its first couple of FBS seasons thanks in part to a livewire QB, Eric Soza, who while not as accomplished as Heinecke was still the driving force of the Roadrunner offense. Post-Soza, UTSA was hamstrung by QB issues as it descended noticeably a year ago. With Heinecke departed and now in the Minnesota Vikings camp this summer, the Monarchs are at risk of similar developments this fall.


It will likely be RS frosh Shuler Bentley who will first try to fill Heinecke's shoes. Bentley, who tossed 71 TD passes as a HS senior in South Carolina, appears to have the slight edge over juco transfer Joey Verhaegh, a Fullerton JC product who passed for over 2500 yards a year ago. In either case, OSU enters 2015 without a QB who has ever played in a college game, much less complete a college pass.


Which means that last year's decidedly Heinecke-centric offense likely relies instead upon its infantry and slashing RB Ray Lawry, who motored for 947 yards and gained over 7 yards per carry in 2014. But those numbers were aided greatly by the diversion of Heinecke, and Lawry was often running downhill on draws and delays that worked better because opposing defenses were keeping their eyes on Heinecke. No such distractions figure to exist for ODU foes this fall. The offense also lost top WR Antonio Vaughan (spending this summer in the NFL Jaguars camp), though Zach Pascal (59 catches LY) and David Washington were starters in o.c. Brian Scott's 4-WR sets a year ago. The Monarchs do return ten linemen (including three starters) with considerable experience, but to expect one of the new QBs to run the ODU spread remotely as well as Heinecke might be wishful thinking.


As expected, the defense had trouble last season, conceding 38 ppg, although the pace of the games, as dictated by the Heinecke-led offense, must take some of that blame. Still, ODU allowed a whopping 38 ppg a year ago and returns only four starters from that overworked platoon. Reinforcements are likely to come from the juco ranks, from where LBs Richard Thomas and all-name Shadow Williams have arrived, and the transfer route, as ex-UAB CB Devon Brown claimed a starting position in spring. The platoon must improve upon its 52% failure rate on third downs a year ago.

Spread-wise, ODU did not enter 2014 as a completely unknown quantity, and Heinecke's exploits were well-publicized last season, so the Monarchs were rarely undervalued, which partially explains their 4-8 spread mark in light of 6-6 straight-up performance.


Aside from a visit to Norfolk by ACC rep NC State, which was pushed by Heinecke-led ODU in Raleigh last September, the non-conference slate is not overwhelming (Eastern Michigan, Norfolk State, and App State provide legit chances for wins), but the Monarchs can take nothing for granted in the early stages of the post-Heinecke era. Wilder, who quickly got the program up to speed, might be able to get the Monarchs competing for C-USA honors later in the decade, but not 2015, which has figured as an on-field transition campaign for a couple of years with Heinecke no longer in the fold. The closest thing to a one-man show in the nation a year ago, Heinecke is a tough act for the new QBs to follow, and we doubt ODU makes much noise this fall (though the Monarchs, unlike a year ago, have completed their FBS-transition phase and are now eligible for a bowl).



In a conference that has resembled a revolving door of membership over the past decade, the past year had been rather quiet in C-USA, though the calm would be shattered last December when UAB abruptly announced it would be dropping its football program. (The Blazers subsequently relented and announced they would return to the gridiron, but not soon enough to field a team for 2015). Conference USA, however, had already lined up Charlotte (2014 SUR 5-6) as a member before UAB's announcement, with the 49ers competing in the league for hoops last season, and now effectively filling the Blazers' football role in the East half of the loop this term.


While recent FBS newcomers such as Old Dominion and UTSA have been able to hit the ground running in recent years, we are not nearly as sure about Charlotte, entering its third season this fall. The 49ers will not be eligible for a bowl as they transition to FBS, not that anyone should be concerned about that in 2015.


What many must wonder, however, is if the 49ers could be deeply discounted and thus offer some pointspread value this fall (it is very unlikely Charlotte will be overrated). But after failing to crack .500 vs. an FCS schedule and losing to the likes of UNC-Pembroke and Wesley College last fall, Conference USA looks to be quite a leap in 2015 for the 49ers.


The master plan for Charlotte football as articulated by HC Brad Lambert (a longtime Jim Donnan and Jim Grobe aide before taking the assignment of the new program in 2011, two years before the 49ers would play a game) was for the first generation of players to come of age at roughly the same time. So far, Lambert is on course with that objective, and for the first time will have a full complement of 85 scholarship players on hand this season. But after facing a steady diet of FCS foes the past two seasons, only one of those (the Presbyterian Blue Hose) appears on the 2015 slate, though from the major conferences, only SEC Kentucky is on the schedule.


The 49ers should not be expected to roll over this fall, however, as they return the bulk of the offense that scored almost 39 ppg against FCS foes in 2014. The quick-strike attack had 22 TD drives take 90 seconds or less last fall, and jr. QB Matt Johnson had passed for over 2000 yards in just over half of the 2014 season before going down with a knee injury. Johnson and backup Lee McNeill return to the fold with almost everyone else, including explosive RB Kalif Phillips, who gained 1436 YR a year ago, and WR Austin Duke, who caught 79 passes good for a whopping 1373 yards. Four starters also return along an OL that allowed just 12 sacks last season.


A new playmaker to watch could be frosh kick returner Nate Mullen, the son of o.c. Jeff Mullen and the career leader in all-purpose yards at Hickory Ridge High in Harrisburg, NC.


While the offense might be lively, it remains to be seen how the defense stands up to a higher level of competition after it conceded over 31 ppg to FCS foes in 2014. Which prompted Lambert to look for a new d.c., and he found one with lots of FBC experience, Matt Wallerstedt, Lambert's former college roommate at Kansas State and most recently the d.c. at Texas Tech, where he either resigned or was fired (take your pick) in controversy last September before working as a consultant for Mark Hudspeth at UL-Lafayette.


Wallerstedt will keep the 49ers' 3-4 scheme that will hopefully be augmented by several transfers who could provide immediate help. Ex-Syracuse DE John Manley and ex-Appalachian State DB Anthony Covington figures to make positive impacts, while ILBs Nick Cook & Caleb Clayton-Molby should anchor the LB corps after each missing much of 2014 with injuries. Last year's leading tackler, FS Brandon Dozier, returns at FS (not the best position to have a leading tackler), but quality depth is a concern, and a spate of injuries could really render the stop unit shorthanded.


Will Charlotte prove a pushover in 2015? Perhaps...but perhaps not. Though expectations are understandably low, there is a a possibility that the 49ers can trade points with many C-USA foes, which should at least make Charlotte games rather entertaining, and create the possibility that the 49ers could provide some spread value as an expected big underdog. So expect more than a few shootouts...which at the least means we would probably prefer to watch the 49er games over several others across the country this fall.
Return To Home Page