6444...
TGS 2015 COLLEGE FB PREVIEW...
A LOOK AT THE MAC--PART I
We conclude our 2015 college football previews with a look at the Mid-American Conference, courtesy Managing Editor P. Carl Giordano. First up, a look at the East before a review of the Western half of the loop. As always, teams are presented in order of predicted finish, with 2014 straight-up, spread, and "over-under" marks included... Bruce Marshall, Goldsheet.com Editor
by P. Carl Giordano, Managing Editor

MAC EAST
AKRON (SUR: 5-7;

PSR 3-8-1;

O-U: 4-8)...Although Terry Bowden is just 11-25 SU in his first three seasons at Akron, there's no doubt that the team is on track to return to the bowl picture soon, perhaps this season. Bowden inherited a team that was 5-31 from 2009-2011, and he definitely had a plan. Install a first-tier coaching staff, recruit Ohio and Florida with vigor, and fill in the edges by convincing athletes committed to bigger programs who weren't going to be starters to come and play at Akron. It's working.


This is a stealthily improving team. Looking strictly at the numbers, there's not a lot pointing to an upswing from the 5-7 records of the last two seasons. The Zips return 12 starters from a team that ranked 101st in scoring and 102nd in points allowed. Their red zone offense was 122nd out of 125 NCAA-rated FBS teams. Akron's incumbent starting QB Kyle Pohl's numbers have slipped each season since he played as a redshirt frosh in 2012. However, there are things going on a bit under the radar worth considering.


Defensively, the Zips have improved from 112th and 113th in 2011-12 to 74th and 75th in '13-14. That unit has a uber-aggressive front seven led by sr. LB Jatavis Brown, who's a two-time first-team all-MAC selection and has 206 tackles the last two years. The defensive line has another all-MAC selection in sr. NT Cody Grice, and that unit will be infused with talent in the form of Ohio St. transfer DE Jamal Marcus and former Iowa St. contributor DT Rodney Coe. Ohio St. transfer DE Se'Von Pittman had 36 stops last year for the Zips and should increase his production noticeably in his second season in d.c. Chuck Amato's system. Brown and the LB crew will get a boost from Washington State transfer Darryl Monroe. The secondary is knee-deep in cornerbacks, as ex-Miami-Fla. jr. CB Larry Hope won a starting role in the spring. Although replacing both safeties is a worry, 6-3 soph Jerome Lane is an outstanding athlete by MAC standards.


The Akron attack has been pass-oriented under Bowden, as he's been a bit stubborn to change philosophies from his salad days at Auburn in the mid-1990s. This season offensive coordinator A.J. Milwee might change things up. Although Pohl is a senior entering his third season as the starter, don't be surprised if mobile, athletic soph Tra'Von Chapman (a Pittsburgh transfer) could push Pohl to the bench. If so, Milwee will undoubtedly tweak the running game to take advantage of his elusiveness. Similarly, sr. RB Conor Hundley has done a good job, gaining 1244 yards (4.5 ypc) over the last three seasons, but he will be pushed by Colorado State transfer Donnell Alexander, who gained 1015 yards (5.4 ypc), caught 38 passes, and scored 7 TDs in 20 games for the Rams before sitting out his transfer season in 2014. The offensive line is a strength of the team, as four players with at least 10 starts return up front. Sr. G Tommy Brown (yet another Ohio State transfer) is a big-time player. Sr. G Dylan Brumbaugh is capable of bullying MAC defensive lineman. Fifth-year sr. left tackle Isaiah Williams could become a force entering his second full season as a starter after switching from DT a few seasons back.


Although the top two pass-catchers graduated, five quality receivers return, four of whom caught at least 20 passes. Jr. WR Mykel Traylor-Bennett (14.5 ypc), sr. Andrew Pratt (27 recs. LY; avg. 17.2 ypc in '13) and soph Austin Wolf (21 ypc) will try to give the Zip passing game more verticality, as generating big plays was a struggle in 2014.


A big plus for Akron is a solid kicking game, as PK Robert Stein (13-16 FGs) and P Zach Paul (2nd all-MAC LY) are strong senior contributors.


Summary: You have to hand it to Bowden, adding guys originally recruited by Ohio State, Washington State, Iowa State and Miami to his team. Those players are now semi-big fish in the small MAC pond. He proved he can coach at Auburn. He's now also a salesman in his present position at Akron.



BOWLING

GREEN

(SUR: 8-6;

PSR: 5-8-1

; O-U: 7-7)...Coach Dino Babers overcame an injury to all-MAC QB Matt Johnson and managed to guide the team to eight wins and a bowl victory over South Alabama in 2014. This season his offense appears set to rip and roar again, but there are leaks to fix in the defense and a tough schedule standing in the way of a return to the MAC championship game.


The Falcons will have QB Johnson back in action after he played just one game in 2014 due to a hip injury. Johnson looked good enough in spring work to get a solid vote of confidence from Babers and co-offensive coordinators Mike Lynch and Sean Lewis. Johnson threw for 3467 yards, completed 64%, and had a 25-7 TD-int. ratio in 2013, when he was named third-team all-conference. Last year jr. James Knapke stepped in and threw for 3173 yards subbing for Johnson, but his unimpressive 15-12 ratio means he will return to backup.


The RB position is extremely well stocked, with former all-MAC selection sr. Travis Greene (2498 YR, 23 rush TDs L2Ys) returning as the lead back, reserve Fred Coppet (764 YR; 5.4 ypc LY) an effective backup, and Donovan Wilson will begin his collegiate career after redshirting at Georgia Tech in 2013 and sitting out a transfer year in 2014.


With all five offensive linemen returning, including 2-time all-MAC selection G Alex Huettel, the rushing average and pass protection should get better fast. BG has yielded 69 sacks the last two seasons, and ranked just 54th in rushing and 86th in passing efficiency last season. All of those numbers figure to improve if the OL stays healthy. In 2014, the Falcons were a bit lucky, as all five up front started all 14 games, and three of the four who were around in 2013 started all 14 that season as well.


The receiving corps is about as deep and experienced as any in the MAC. Soph Roger Lewis caught 73 passes for 1093 yards in 2014 and was named first-team all-conference. Smurf sr. Ryan Burbrink and jr. Ronnie Moore (5-8 & 5-9, respectively) combined for 120 catches, 1448 yds. and 8 scores, while 6-3 jr. Gehrig Dieter had 35 catches. After suffering ACL injuries in October of 2013 and in the summer of last year, 6-4 5th-year sr. Chris Gallon is attempting to regain the form that saw him lead the team in receiving with 54 recs. and 720 yards in 2012.


That all sounds good, right? Well, then there's the defense. The Falcon stop unit had one of the biggest dropoffs in effectiveness in the nation between 2013 and 2014, giving up an average of 17.6 more points and 173 more yards per game last season. BG dropped from 10th in the country in total defense in '13 to 115th last season! That situation doesn't figure to reverse itself this season, as the stop unit returns just five starters and lost it's top 4 tacklers, including first-team all-MAC Gabe Martin.


The defensive line returns three senior starters, counting sr. weight room monster strongman DT Zach Colvin, who's attempting a return after sitting out most of last season with a heart ailment. Any help up front would be greatly appreciated by d.c. Brian Ward, as the Falcons allowed 5.0 ypc in 2014. DE Bryan Thomas was named second-team all-MAC thanks to a team-high 8 sacks. But besides Thomas, jr. OLB James Sanford (71 stops) and CB Nick Johnson (72 tackles, 5 ints., 2nd all-MAC in 2014), there are questions. Johnson was indefinitely suspended after being arrested for assault in April, his third run-in with the law this year. One safety slot could be filled by graduate sr. transfer Eilar Hardy, who played in 15 games the last two seasons at Notre Dame. Hardy wasn't really a major contributor in South Bend, starting just two games and losing a good chunk of last season while being investigated for academic impropriety. The 2ndary gave up 291 ypg passing, the most in school history.


Summary: The Falcon offense will win some games, but the team was rather lucky the last few seasons, recording a +10 turnover rate in each of 2013 and 2014! The defense is a worry, and the jury is still out on second-year HC Babers.



OHIO (SUR: 6-6; PSR: 4-7-1; O-U: 3-9)...Conservative HC Frank Solich enters his 11th season in Athens, and hopes will be high considering his bowl-eligible (but no bowl invitation) team returns 18 starters. The schedule isn't set up for the Bobcats to make their return to the MAC title game for the first time since 2011, with key games against East rivals Bowling Green and Akron on the road this season. However, a bowl bid should be a very reachable goal.


Solich's Bobcats have 10 starters returning on offense, and there's a decent chance the attack will generate more explosive plays than it has in the past. Sr. QB Derrius Vick (59%, 8-4 TD-int. ratio) has struggled through injuries in his career, but is the team's best chance to ramp up an attack that ranked 111th in scoring in 2014. Vick is more accurate and much more mobile than jr. QB J.D. Sprague, who will again start as Vick's backup. Vick should have more time to throw, as all five starters return on an offensive line that's 2nd or 3rd-best in the MAC. Sr. C Lucas Powell, the leader up front, was named 3rd-team all-MAC last season and is on the Rimington watch list heading into fall. The left side includes fellow sr. G Mike Lucas and T Mike McQueen.


Offensive coordinators Tim Albin and Scott Isphording will likely need to get the ball to a trio of big wide receivers in order to generate the desired explosiveness this fall. Jr. Jordan Reid (6-3; 24 catches), jr. Sebastian Smith (6-3; team-high 31 receptions) and soph Brendan Cope (6-2; 17.8 ypc LY) could take a step up. 6-5 TE Troy Mangen is a decent safety valve, but let's face it, he's in there as another blocker for Solich's preferred running game.


The ground game returns soph grinder A.J. Ouellette (785 YR, 4.9 ypc) and jitterbug sr. Daz'mond Patterson (5-7, 177; 348 YR LY, and a dangerous return man). Ouellette missed two games completely and was hurt after carrying just once in another, so his production would figure to improve playing behind the experienced OL. The Bobcats were a bit sloppier than usual last season, fumbling 24 times, losing 14 of those, and were -4 in turnovers on the season. There's a possibility another lead RB candidate could emerge, as Canadian Maleek Irons looked good in the spring game, but it would be a leap to see a true homerun threat in RB slot. Solich would probably settle for a healthy Vick and seeing his RBs handle the ball with more security.


Defensively things should be on the upswing. Last season's Ohio "D" trimmed opponents' rushing numbers by 55 ypg and went from allowing 4.6 ypc in 2013 to 3.9 ypc in '14. Eight starters return from that unit, including 6 of the top 7 tacklers and the two leading sack men. The DL features jr. DE Tarell Basham (frosh AA in 2013; 12½ sacks L2Ys) and jr. NT Casey Sayles, who can keep opposing offensive linemen from getting to the Bobcats' returning trio of starting LBs. The defense was led by soph MLB Quentin Poling, who paced the team by a wide margin with 89 tackles.


The linebacking corps and secondary return six of seven starters plus a trio of other players who must be considered equal to the task of a full-time job. Backup LB Chad Moore had 33 stops filling in for starter Blair Brown. Sr. CB Brett Layton started the last few games of 2014, and S Toran Davis had 42 tackles despite starting just twice last year.


The Bobcats are also well-set on special teams. Patterson is the 2nd-best return man back in the MAC, while both P Mitch Bonnstetter (3rd-best MAC Punter) and PK Josiah Yazdani (31-41 FGs L2Ys) have clutch traits. Solich usually has high-quality special teams.


Summary...With Idaho and SE Louisiana on the non-conference schedule, the Bobcats should be able to scratch out the six or seven wins necessary to get another bowl shot. Interesting, considering Ohio's preseason Vegas over-under win total number opened at five. The combination of a conservative offensive approach and a good (if not great) defense has been reflected in the Bobcats' 25-12 "under" record the last three years, and it looks like that trend won't reverse itself this season. Look for Ohio in the Famous Potato or Camellia Bowl this winter.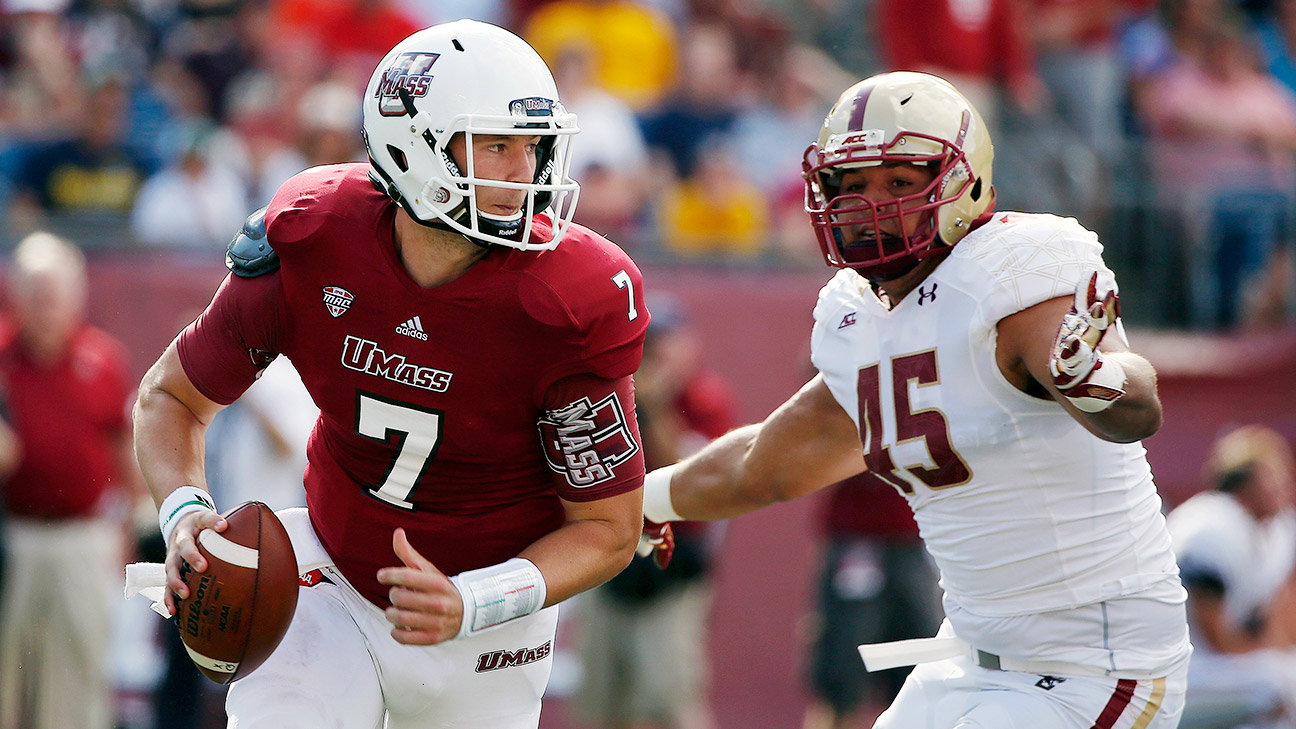 MASSACHUSETTS (

SUR: 3-9

; 8-4;

O-U: 8-4

)...UMass is definitely a program on the upswing, as the team won three games last season after going 1-11 in each of its first two years in the MAC. The Minutemen were very competitive in some close losses, as they were ahead or tied in five games late in the third Q or in the final period, and lost all five. Bad luck? Lack of depth? Probably both, but the football team last season was a far cry from the 2012-13 crews whose average result was a 37-12 loss. HC Mark Whipple is downplaying rising alumni enthusiasm, saying ""I think we've got 19 starters back. But, hey, we were 3-9. We're not 10-2 with 19 starters back like Ohio State." (Actually Mark, the Buckeyes were 14-1 last season, but we get the point.)


Enthusiasm for the Minutemen is high in large part because one of the 19 returning starters is last year's all-MAC sr. QB Blake Frohnapfel, who took the MAC by storm after arriving as a graduate transfer from Marshall in 2014. Frohnapfel threw for 410.5 ypg with 17 TD passes in his six conference starts last season. He and the rest of the team were force-fed Mark Whipple's NFL-style offense last season, and everyone is much better-prepared this time around.


Obviously, with 10 starters back on offense, virtually all of his weapons return. Seven of the top nine pass-catchers are back, including first-team all-MAC sr. 6-4 WR Tajae Sharpe. Sharpe caught 85 catches for 1281 yards last season, while sr. TE Rodney Mills and sr. WR Marken Michel snagged 30 each.


Jr. RBs Shadrach Abrokwah and Lorenzo Woodley combined for 993 YR and scored 13 TDs. The 5-9, 202-lb. Abrokwah didn't get a carry until the 5th game of the season due to suspension, but he led UMass in rushing and produced three 100-yard games. Woodley is a bit larger (6-1, 212), and showed his potential when he turned in a flashy 23-carry, 160-yard performance against Kent State. The offensive line returns intact, but there is definitely room for improvement. The Minutemen gave up 28 sacks, which was up sharply from 2013 (16), and the team's average gain of 3.4 ypc was once again well below the average in major college football. Massachusetts was 112th in rushing offense, so increased production and balance would be welcome.


Defensively, the Minutemen allowed 33 ppg (103rd in the country) for the second season running (but that's a positive jump over the 40 ppg allowed in 2012). Sr. LB Jovan Santos-Knox led the team with a whopping 143 tackles and was named first-team all-MAC for his efforts as well as being named to several prestigious watch lists for this season. In all, 16 of the top 18 leading tacklers return for UMass. Although the team will miss graduated 2014 first-team all-MAC LB Stanley Andre (2nd LY with 128 tackles), there is enough experience and physicality to expect a distinct improvement. NT Robert Kitching is a 307-lb. run-stuffer. Sr. OLB Kassan Messiah (6-4, 237) had 69 tackles in 11 games LY. Soph UConn transfer DE Sha-Ki Holines settled in last season making nine starts. After giving up 5.3 and 5.4 ypc in 2012 and 2013, the Minutemen improved to 4.7 ypc last season, cutting 28 ypg rushing from the 2012-13 combined averages. The 15 sacks Massachusetts had in 2014 was more than either of the previous two seasons, but the pressure has to improve if the 99th-ranked pass defense is to keep foes somewhat in check.


The secondary definitely had holes, as that unit yielded 256 ypg passing last season. Even with all four DBs returning, there will be competition for starting positions in the secondary. Although there are four sr. starters in place including 2nd-team All-MAC and Jim Thorpe watch list CB Randall Jette, Whipple made a pair of late signings of CBs after the national signing day, offering scholarships to UAB refugee Kelton Brackett (Alabama native who played S & CB in 32 games for the Blazers) and juco transfer Jordin Hamilton. Soph Jackson Porter is another possibility to move up after making 41 tackles in 11 games in 2014. Clearly d.c./2ndary coach Tom Masella is open to change.


Summary...The schedule isn't set up this season for Massachusetts to get to its first bowl game since 1964. Trips to mile-high Colorado and to Notre Dame are nothing more than sacrifices for a payday. UMass will be favored only about three games this season. Whipple has good reason to be cautious despite five MAC bowl slots to be filled.



KENT STATE (SUR: 2-9;

PSR: 5-6

; O-U: 5-6)...Paul Haynes had to know what he was getting into when he took over at Kent two years ago. The Golden Flashes were coming off an 11-3 season, the most wins ever at Kent State and only the team's third winning record since 1977. The team has suffered a sharp regression in the last two seasons, turning in 4-8 and 2-9 marks in Haynes' two seasons in charge. The Zips started 0-6 last season, including an embarrassing 40-17 loss to recent FBS newcomer Massachusetts. The team had to deal with the death of starting C Jason Bitsko in preseason, then some early injuries and a lack of depth further weighed down Kent.


This season Haynes has promoted Don Treadwell, ex-Miami-Ohio HC, to the offensive coordinator position in an effort to jumpstart a platoon that slipped to 16.4 ppg last season. Kent State hadn't scored less than it did in 2014 since 2000. One of the major problems with the offense was a rushing attack that averaged just 82 ypg, 122nd in the country. The death of Bitsko and absence of star RB Trayion Durham (missed the season after foot surgery) and G Anthony Pruitt (academics) derailed the running attack before the opener. Durham gained 2082 yards in 2012 and 2013, and he was being counted on heavily to lead the offense. Kent just didn't have the depth to compensate for two missing starting offensive linemen, and the Flash attack managed just 43 ypg rushing in the first four games. The QB situation isn't great, as Colin Reardon completed a so-so 57%, had a 14-16 TD-int. ratio, and was hampered by a sprained ankle at midseason.


The OL has eight of the nine players who started last season back, and Pruitt returns after straightening out his schoolwork. If that unit stays healthy, Durham will find some holes and provide balance, affording Reardon some extra time to throw. The offense has to replace its top two wideouts, however, and the leading returning receiver is diminutive (5-6) jr. WR Ernest Calhoun (33 catches). Soph Kris White (25 recs. LY) or 6-3 true frosh Johnny Woods (in for spring and looked like he fit in) need to develop quickly into "Option A" for Reardon.


The defense wasn't in much better shape last year, allowing 29 ppg (most since 2008) and 430 yards (most since 2003). In this case, having nine returning starters might not be the best possible situation. The defense leaned heavily on jr. FS Nate Holley, who had an eye-popping 137 tackles and was named first-team all-MAC, and sr. SS Jordan Italiano, who was 2nd on the team with 96 stops. The problem is, having your safeties needed for soooo many tackles means the opponents are getting downfield without much opposition. Kent returns its top 11 tacklers, but they are counting on getting some help. Juco DE Anthony Johnson was in for spring, and he and RS frosh West Virginia transfer DE Davonte James are being counted on to possibly pump some life into a pass rush that generated just nine sacks in 2014, ranking 126th out of 128 FBS teams).


MLB Matt Dellinger (90 stops) couldn't keep opponents from rushing for 214 ypg (107th) by himself. The front seven might improve significantly if the newcomers help the pass rush and Dellinger gets some additional aid from jr. LB Elcee Refuge (58 tackles LY) and jr. "star" Darius Redmond (37). The 2ndary is very experienced and can obviously make plays. Besides Nate Holley and Italiano, the presence of soph CB Demetrius Monday and jr. CB Najee Murray (an Ohio State transfer) potentially give d.c. Brian George one of the better secondaries in the league.


Summary...It's hard to get the fan base behind a team that only has a winning season about once a decade (if that). The proof is in the attendance pudding, and crowds were sparse at half-full Dix Stadium last year. Haynes attempted to address the depth issues by limiting scrimmages and eliminating the spring game in favor of a more educational, camp-like approach. The schedule is easier this season, so Kent should win a few more games. However, barring Durham having a monster season and Reardon looking more like Peyton Manning than Peyton Hilton, six victories and bowl eligibility seem a bridge too far.



BUFFALO (SUR: 5-6; PSR: 5-6; O-U: 7-4)...Lance Leipold arrives at Buffalo with some of the most impressive credentials imaginable for a coach in his first stint leading an FBS team. Leipold served a couple of short stints as a graduate assistant at Wisconsin and an assistant at Nebraska, but he's matured into a record-setting head coach at Division III Wisconsin-Whitewater. Leipold spent the last eight years in charge of the Warhawks, compiling an incredible 109-6 record and six national titles. He attained 100 college victories faster than any other coach, and won six D-III Coach of the Year awards in the process. He's an exceptional recruiter, which makes sense when you consider he convinced talented young men to come play football for him in southern Wisconsin without being able to offer them athletic scholarships. Let's see how David Shaw at Stanford would do under those circumstances. "We'd love to have your son come play for us? Do you have $250,000 to cover tuition, board and books?" Leipold can obviously coach, as well. Six titles in eight seasons on any level in any sport is impressive.


The cupboard is not bare at Buffalo, especially on offense where a crew of talented seniors return. The attack is led by sr. QB Joe Licata, who completed 65% of his passes, throwing for 2647 yds. and 29 TDs. Licata has 60 TD passes vs. 22 ints. in the last 3 seasons and is the biggest of a number of big guns for the Bulls. The top receiver is 6-4 sr. WR Ron Willoughby, who caught 50 passes a year ago and was named 3rd team all-conference. His production was an unexpected explosion after he managed just three catches in the previous two seasons. Marcus McGill and soph Jacob Martinez combined for another 50 catches, and the receiving crew got a boost when UAB transfer Collin Lisa enrolled in time for spring work after the Blazers dropped football.


The offense is balanced by sr. RB Anthone Taylor, who ran for 1403 yds., 5.0 ypc and 12 scores in 2014. Although the offensive line is returning only its senior tackles, expect the offense to build on last season's numbers. The Bulls ranked 17th in pass efficiency and scored 32 ppg, the most in school history. Offensive coordinator Andy Kotelnicki's UWW attack tallied 40 ppg and racked up 7315 total yards last season, so he should know what to do with the talent on hand.


Defensively, there is much more work to do. Aside from the fact that Buffalo allowed 31.5 ppg last season (its most since 2006), there are only four starters returning, and the team lost its top four tacklers (and seven of its top 10). Oh yes, and everybody has to learn a new system! Buffalo d.c. Brian Borland switched the Bulls from a 3-4 to a 4-3 front and has to replace some key players in the front seven. This formation will prove to be a real challenge, as the Bulls' only returning starter on the DL is Brandon Crawford, who has moved from rush LB as a frosh, to DE LY as a soph, and to DT in spring, gaining 45 pounds along the way. The Bulls are counting on getting some help from juco Torey Hendrick or Milford Academy recruit Christian Gonzalez up front. The defense will be led by jr. OLB Jarrett Franklin and sr. rover Okezie Alozie, who both tallied 49 tackles LY (but who are both undersized at 218 and 217 lbs., respectively). The secondary ranked 101st in pass efficiency defense in 2014. Three DB jobs are up for grabs, as only jr. Boise Ross, who's also a high-quality return man, is a returning starter.


Summary...Leipold is in a bit bigger pond now, but have no doubt about his abilities. As Buffalo Athletic Director Danny White said of his new football coach, "Lance is not trying to figure it out; he knows what he's doing." The schedule gets tougher this season, with Northern Illinois replacing Eastern Michigan from the MAC West and Nevada and Florida Atlantic replacing Army and Norfolk State in non-conference action. The defense will struggle and the offense should be strong again, so look for a continuation of the formula that's seen the Bulls go "over" 16-7 the last two years.



MIAMI-OHIO (SUR: 2-10; PSR: 7-4-1; O-U: 5-7)...Miami has had a rough go in the last decade, as the RedHawks have won 4 or fewer games in 6 of the last 7 seasons. Chuck Martin has a long rebuilding process in front of him, and, to his credit, he's begun by recruiting two good classes. The bad news is that the transition to younger recruits will likely be accelerated when the true freshmen arrive in August.


The offense will likely have six (or more) RS frosh or sophs starting. Although 5th-year sr. Drew Kummer is in the discussion as a potential starting QB, it's much more probable that RS frosh Gus Ragland or incoming true frosh Billy Bahl (6-4, 214) will get the job. Kummer has had very little playing time, and obviously Ragland or Bahl have yet to play in their first game. The learning curve will be long, so expect a sharp decline in production from Andrew Hendrix' numbers from last season (3280 YP, 23 TDP).


The offensive line is rebuilding, with just two undecorated starters returning in sr. G Trevan Brown and jr. T Collin Buchanan. Sr. C Brandyn Cook has made 10 starts in the last 3 seasons of an injury-marred career, but this group is also ripe for true frosh to come in and get their feet wet quickly. The RedHawks have allowed 93 sacks and gained just 3.0 ypc in the last two years combined, so the bar is pretty low.


The RB situation will likely center around a pair of RS frosh in Alonzo Smith and Kenny Young, who seemed to separate themselves in spring. However, this is another area where incoming frosh might get a test of fire, as Miami has a trio of relatively highly-rated candidates enrolling. Although both Smith and Young had their moments in practice, the RedHawk offensive line doesn't figure to have huge success when they start playing the games for keeps.


Wide receiver is the one area on offense where Miami has some returning talent, as juniors Rokeem Williams and Jared Murphy combined for 77 catches last season, and soph Sam Martin had 22 off the bench. Williams is the most explosive of the group (19.5 ypc LY), and Martin tied for the team lead last year with 5 TD catches. TE is another inexperienced position likely manned by second-year players, either soph Ryan Smith or RS frosh Nate Becker, both primarily blockers (Smith had just 5 catches LY).


The defense improved a tad last season, but still gave up 32 ppg and 484 ypg, ranking 98th and 94th in scoring and total defense. The RedHawks have six of their front seven starters returning, but that unit has allowed 5.1 ypc and averaged only 15.5 sacks the last two years. There is some potential talent in the group, as both sr. NT Mitchell Winters and DE Bryson Albright have received at least passing interest from NFL scouts, and MLB Kent Kern was named second-team all-MAC in 2013 after making 98 tackles that season, but there are obvious problems. Jr. CB Heath Harding led the team with 98 tackles last season. That's a big number for a cornerback. Opponents went at Harding in part because of his perceived vulnerability and in part because they wanted to go away from Miami's best defensive player, DB Quinten Rollins, who went to the NFL as a second-round draft choice of the Green Bay Packers.


The "D" will be replacing its safeties. One is soph Tony Reid, another second-year starter on what figures to be a young team. The other starter will likely be sr. FS Brison Burris, who has made 24 starts and has 174 tackles in his career, but he missed all of last season with injury. After giving up an average of 34 ppg in the last three seasons, any improvement would be welcomed by defensive coordinator Matt Pawlowski. While the team will be in the second season learning his system, it's very questionable if this unit can hold foes below 30 ppg or 400 ypg this fall.


Summary...As Super Bowl-winning head coach Bill Parcells used to say, "You are what your record says you are." That football truism applies to the RedHawks, who have posted a winning mark just once in nine years. In the seven seasons from 2008 through 2014, six men trotted out as head coach for the RedHawks (including interim mentors). That revolving door will continue to spin at what used to be "The Cradle of Coaches" unless Martin's recruits pan out quickly.
Return To Home Page