6469...
TGS 2015 COLLEGE FB PREVIEW...
A LOOK AT THE MAC--PART II
by P. Carl Giordano, Managing Editor
MAC WEST
NORTHERN

ILLINOIS

(SUR: 11-3; PSR: 7-7; O-U: 5-9)...The Northern Illinois football team had been mostly a doormat for decades before Joe Novak slowly began reversing things at the turn of the century. The rebuild was made complete by Jerry Kill, then Dave Doeren, and now the program is at the top of the MAC under Rod Carey. The Huskies are 41-4 in conference play the last 4 years and have won the MAC title game in three of those seasons.


Carey, who like o.c. Bob Cole and d.c. Jay Niemann, arrived in DeKalb when Doeren took over in 2011, returns 15 starters and has done a good job of plugging in new parts the last two seasons. In 2013 and 2014, the team had 14 and 12 returning regulars and went 23-5. This year's offense has jr. QB Drew Hare back for his second season as the regular triggerman. Hare threw for 2322 yds. and had an 18-2 TD-int. count. Hare's 2 interceptions (326 throws ) were the fewest among FBS QBs that qualified for the passing efficiency title won by Oregon's Marcus Mariota. Hare is definitely a dual-threat NIU QB in the mold of Chandler Harnish and Jordan Lynch, as he ran for 900 yards and 8 TDs a year ago while being sacked just 12 times.


Jr. RB Joel Bouagnon rushed for 655 yards (5.8 ypc) and scored 5 TDs while starting half the games. Graduated RB Cameron Stingily (5.0 ypc, 971 YR, 14 TDs) will be missed, but the 224-lb. Bouagnon will likely step up and top 1000-yards. The offensive line is rebuilding at three positions, but sr. C Andrew Ness was first-team all-conference last season and sr. G Aidan Conlon has started all 42 games the last three seasons. The team likes its pair of jr. tackles as well, and the three new starters played in every game last season. The philosophy at NIU is to use the "2s" on a regular basis so that the cupboard is never bare on the OL.


The receiving corps should be excellent, as three of the top four receivers return plus Tommylee Lewis, a 5-7 speedball who caught 86 passes and was named first-team all-MAC in 2013. Lewis played in only two games last season before being injured and returns for his 5th-year with the Huskies. Sr. Juwan Brescacin (6-4) and jr. Aregeros Turner combined for 68 catches last season, and 6-4 North Dakota transfer Kenny Golladay is eligible after taking a RS season. Golladay led the Fighting Sioux by catching 69 passes for 884 yards in 2013 and could give Hare another big target downfield.


The defense will have eight returning defensive starters, provided that key sr. LB Rasheen Lemon (2nd on Huskies with 90 tackles) is reinstated from his team suspension stemming from a domestic violence charge back in April. The Huskies gave up a few more rushing yards in 2014 than in recent seasons, allowing 4.2 ypc after holding opponents to 3.8 ypc over the previous five years. Jr. NTs Mario Jones and Corey Thomas are run-stuffers inside, along with soph William Lee, while 2nd-team all-MAC DE Perez Ford had 57 tackles and 5 sacks last year. The hard-charging group has averaged 35 sacks the last three seasons and is backed by sr. MLB Boomer Mays, also a 2nd-team all-conference choice in 2014 after making 75 stops and leading the team with 9 TFL.


The 2ndary was a solid again LY, holding foes below 59% for the 5th straight season and cutting yardage allowed from 263 ypg passing in 2013 to 229 LY. That group is led by sr. SS Marlon Moore, who has to be miffed at being left off the all-MAC team after leading NIU with 99 tackles. Vet sr. corner Paris Logan (77 stops, 15 pass breakups, 3 ints. LY) was a first-team all-MAC choice.


Summary...The Huskies have a lot in their favor this season, and they've beaten MAC West rival Toledo five straight times. Included in those wins were a pair at the Glass Bowl, where the two meet Nov. 3. NIU is 21-1 in its last 22 games as a visitor, with the only loss coming at SEC rep Arkansas last year. And perhaps more germane to this discussion, the Huskies are 15-3 against the number their last 18 as a visitor!



TOLEDO (SUR: 9-4;

SUR: 5-7-1

; O-U: 8-5)...After dominating the MAC West in the first eight years of conference divisional play, Toledo hasn't won the West in the last decade. The Rockets have had to watch Northern Illinois go to Detroit for the MAC Championship game each of the last five seasons. This might be the year that the Rockets return to the top spot in the division. But, with a brand new OL and an inexperienced LB corps, we think Toledo will end up a bridesmaid again.


The Rocket offense is well set at the skill positions. Sr. QB Phillip Ely won the job in August of last year, but was cut down after just two starts with an ACL injury. Jr. Logan Woodside stepped in and did a nice job, posting an 8-2 SU mark in his 10 starts. Jr. RB Kareem Hunt is a big, explosive back who made first-team all-conference LY after rushing for 1631 and gaining 8.0 ypc. His three returning backups ran for an additional 1411 yards averaged 6.0 ypc, and the Rockets ranked 12th in the nation, gaining 256 ypg rushing. Sr. WR Alonzo Russell (6-4) has 166 career catches, and 5-9 jr. Corey Jones led the team with 68 catches in 2014.


The problem with the offense is that all five members of the most experienced offensive line in the country graduated. Three of those players were named 1st or 2nd-team all-MAC at least once in their careers, and all five were 5th-year seniors. Granted, o.c. Jason Candle was looking ahead and played some of last year's backups for extended time. In fact, 6-8, 310-lb. jr. left tackle Storm Norton started three games last season and has played in 21 games over the last two years. The second-team OL got a decent amount of work, but projected starters such as soph C Elijah Nkansah and RS frosh G Bill Weber and sr. Florida St. transfer Ruben Carter have appeared in a total of 13 games in their careers.


The Toledo defense has been a bit of a riddle the last few seasons, cutting its yards allowed the last two years while at the same time giving up more points. Last year the Rockets had major problems slowing opposing passers, giving up 292 ypg in the air, ranking ahead of just two FBS teams. Only Cal allowed more TD passes than the 37 scoring aerials Toledo's foes tallied in 2014. The 2ndary returns three starters, but when you have one of the bottom three pass defenses in the nation, is that really good? FS Joe Haden was the only defensive back starter who graduated. He was also the only Toledo defensive back named to any of the three all-MAC teams. That unit will be reinforced somewhat by the return of sr. Cheatham Norrils, who sat out last season battling an infection. But don't expect the Rockets to give up much less than the 278 ypg in the air they've leaked in three years under HC Matt Campbell.


The defensive line is a strength, with all 8 from last year's two-deep returning, led by a couple of second-team all-MAC honorees in sr. DTs Orion Jones (team-high 6 sacks) and Treyvon Hester (49 stops). Sr. DE Trent Voss is the top returning tackler on the team with 77 stops last season, and jr. FS DeJuan Rogers was 2nd with 67.


The linebacking crew is being completely rebuilt, and the defense will definitely miss the services of Junior Sylvestre, two-time first-team all-MAC and now an Indianapolis Colt, and Ray Bush (82 stops LY). One "new" starter at LB does have more than a bit of seasoning. Sr. MLB Chase Murdock was a regular in 2013 (11 starts, 109 tackles) before losing his job last year to Bush. Murdock was a bit undersized at 6-0, 225 compared with Bush (6-3, 245). And Sylvestre was the best combination of size, strength and speed on the squad. Toledo was very tough against the run last season, allowing just 3.5 ypc, thanks in large part to the presence of Sylvestre and Bush. The defensive line recorded 29 sacks, and with much more run responsibility this season, that unit might not muster as much pressure in 2015. That would spell even more trouble for the beleaguered secondary.


Summary...Toledo has lost five straight meetings with Northern Illinois, including two played at the Glass Bowl, the site of this year's game. The Huskies look strong again, and until the Rockets can get over the hump against NIU in the West, they won't be MAC champs.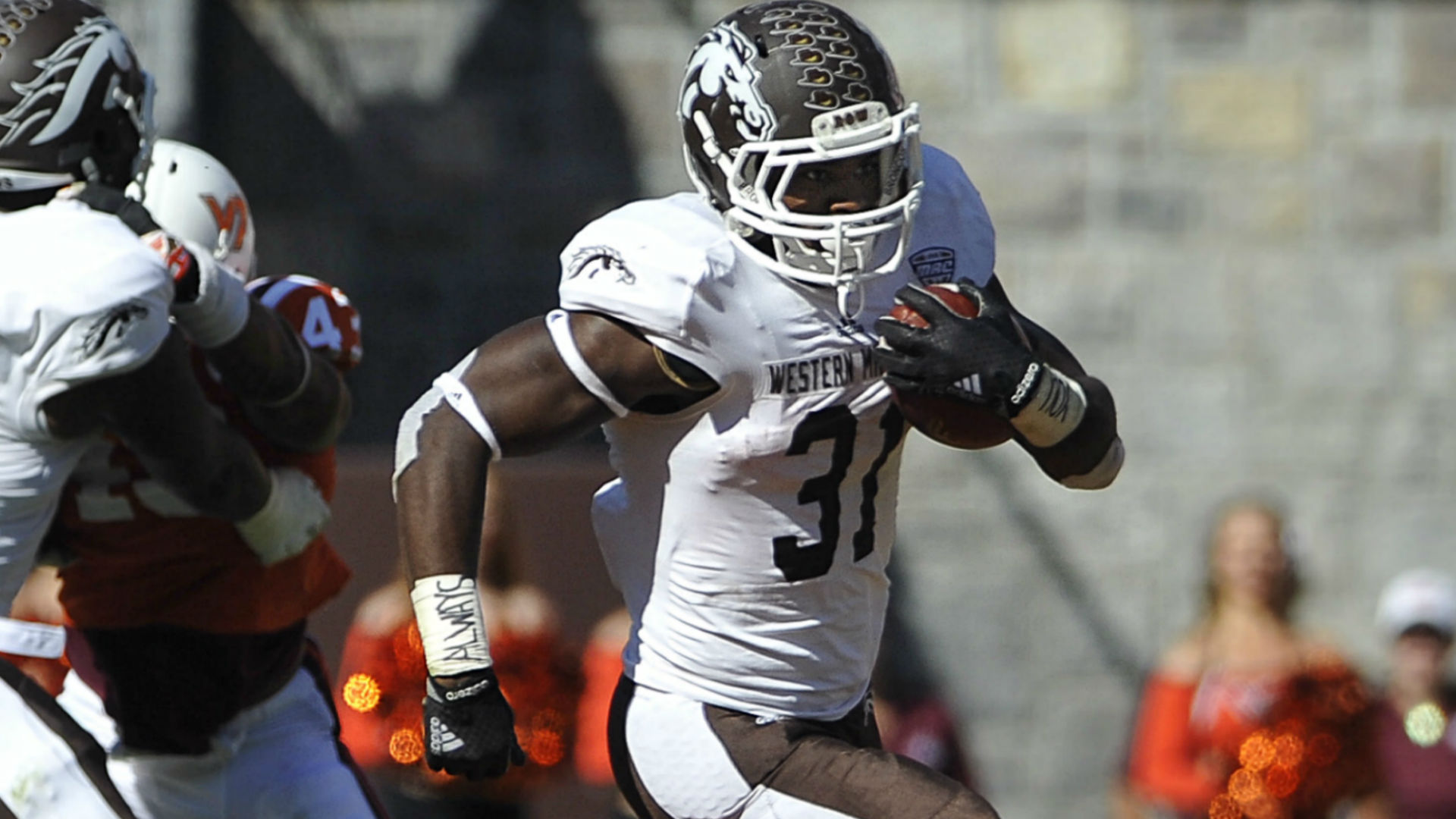 WESTERN MICHIGAN (SUR: 8-5; PSR: 11-2; O-U: 6-6-1)...Have to admit that HC P.J. Fleck's "Row the boat" philosophy sounded a bit corny (if not naive) to us at this time last season. After all, Western Michigan was 1-11 SU for its worst mark in the 109-year history of the program. The defense had allowed 35 ppg in 2013, the worst effort for that unit in more than a decade. The QB situation was very iffy, with Zach Terrell coming off a really lukewarm effort in his six starts in 2013. Two projected starting LBs (Austin Lewis and Jason Sylva) both were later forced to take medical redshirt seasons, playing in just one game between them. Things didn't look good.


Well, looks like Fleck knew what he was talking about. Terrell emerged from 2014 as one of the top QBs in the MAC, completing 68% of his passes, leading the conference in pass efficiency while throwing for 3443 yds. with a 26-10 TD-int. ratio. A highly questionable RB situation was solved by the arrival on campus of 220-lb. Jarvion Franklin, who was a man among boys. He ran for a frosh MAC record 1551 yds. and scored a whopping 25 TDs. With Franklin gaining 541 yards in the first three games, opposing defensive linemen couldn't pin their ears back and rush the passer, and the secondary couldn't very well sit back in heavy coverage. Terrell took advantage and threw for 689 yards and 6 TDs in those games. Still, the season (and the Broncos' grip on that rope) was slipping away at Ball State on October 11. WMU was 2-3, with losses against Purdue, Virginia Tech and in OT to Toledo, and really hadn't proven anything with wins against Idaho and Murray State. Down 31-14 at the half, the key play in WMU's season was turned in by greyshirt frosh slotback Darius Phillips, who took a reverse (the 1st run of his career) on the first drive of the 3rd Q and went 52 yards to the Ball State 2 to set up Jarvion Franklin's TD that sparked the Broncos. Franklin scored two more TDs in the half, and a Terrell TD pass to WR Daniel Braverman with 1:25 left finished the Cardinals and ignited a six-game WMU win streak.


The 2015 Bronco attack has nine starters returning from a group that scored 34 ppg, including Terrell, Franklin, first-team all-MAC WR Corey Davis (78 catches, 1408 rec. yards, 15 TD catches) and Braverman (86 catches). The receiving corps is so deep that Phillips, who was an all-conference KR, moved to cornerback where he's projected to start. The offensive line lost a pair of starters, but both sr. T Willie Beavers and G Taylor Moton (who played T LY) are getting looks from pro scouts. Sr. G Jimmy Kristof was also all-MAC. Moton moved to G because soph Chukwuma Okorafor (6-6, 308 lbs.) just might turn out to be as good a recruit for Fleck as Franklin. Okorafor is a manchild who's capable of pushing around most MAC defensive linemen. The offense is set; no ifs, ands or buts.


As good as the offense was last season, nearly doubling the scoring output of 2013, the defense improved nearly stride for stride. WMU's stop unit shaved 10½-ppg and 48 ypg off its 2013 allowances. Defensive coordinator Ed Pinkham did a masterful job. The defensive line, which had been absolutely manhandled in 2013, managing a pathetic seven sacks and yielding 5.4 ypc, turned those numbers around to 29 QB drops and a very respectable 4.2 ypc. Pinkham personally coaches the secondary, and that unit placed three players on all-MAC teams. Sr. CB Ronald Zamort (35 passes broken up the L2Ys) was one of those, and he returns along with fellow sr. Rontavious Atkins (64 stops), who moves from FS to SS to replace star S Justin Currie (who's now a N.Y. Giant). Phillips will step in to take the CB job vacated by Donald Celiscar, and soph Asantay Brown (or perhaps fellow soph Deontae Brown—no relation) will get the call at the other safety. Fireplug sr. MLB Grant DePalma is only 5-9, but he had 102 tackles last season, and soph OLB Robert Spillane (6-4, 235) made 67 stops and had 4 sacks last year.


Summary...The recruiting is obviously on the upswing, with Fleck bringing several true freshmen who contributed immediately last season. There are additional redshirt frosh waiting for their chance, and what looks like another good crop on the way. The future is bright, but the schedule is tougher this season. The Broncos must visit Toledo and Northern Illinois, and they're 1-9 against those two the last five years. Rowing is tougher against the tide.



BALL STATE (SUR: 5-7; PSR: 5-7; O-U: 5-7)...HC Pete Lembo suffered through his first losing season at Muncie last year. But have to look for a return to the form that saw the Cardinals garner bowl bids in both 2011-12 and 2013. With 18 returning starters, Lembo's program appears to be on solid footing for 2015.


Soph QB Jack Milas is in his third season in the offense. And assistant coach Joey Lynch, who was a very productive QB in four seasons at Ball State, has been the offensive coordinator and QB coach since the team went to the Beef 'O' Brady's Bowl in December of 2013. Milas completed 55% of his passes with a 9-5 TD-int. ratio after winning the job around midseason a year ago, and he averaged 227 ypg passing in the five full games he led the attack before breaking his wrist vs. EMU and missing the season finale at Bowling Green. Milas enters the fall as the solid first choice, backed by RS frosh David Morrison and incoming 6-5 true frosh Riley Neal.


The offense suffered a major loss with RB Jahwan Edwards running out of eligibility after gaining 1252 and scoring 12 TDs in his senior season in 2014. Edwards signed the NFL Chargers, but it's time to turn the page. Lembo got a look at the next chapter in the Cardinal rushing offense in spring in the person of true frosh James Gilbert, who graduated from high school early and was very impressive in April workouts. Gilbert was a surprise late recruit from Indianapolis who set a school record with 4817 YR and was all-Indiana as a senior. Indiana, Louisville, Western Michigan, and Northern Illinois all expressed an interest in Gilbert, who'd planned since his sophomore season to graduate early and attend spring practice wherever he landed. Lembo loved his leg churn during spring work, and Gilbert could be the missing piece in the puzzle.


The offensive line and the receiving corps are first rate. All five OL starters return, led by sr. C Jacob Richard, who's been twice named 3rd-team all-MAC. There's plenty of size and experience, and the unit has three seniors and two juniors who form one of the best OLs in the conference. The Cards ranked 12th in the nation in fewest sacks allowed LY, continuing a trend that's seen Ball State yield just 13½ sacks per season under Lembo. The WRs should be something special, as sr. Jordan Williams has caught 128 passes the last two seasons, good for 1803 yards and 16 TDs. He was named to the last two all-MAC teams, and his running partner is explosive jr. KeVonn Mabon, who caught 59 passes for 717 yards and 5 scores in his first full season as a starter in 2014. Mabon missed most of 2013 with an injury suffered in Game 3 at North Texas that year. Sr. Chris Shillings, who also redshirted in '13, was a solid safety valve in 2014, ranking third among the wideouts with 28 catches.


The defense was shaky last season, but with eight starters returning and some signs of improvement the last two seasons, things might be looking up. After yielding 33 ppg in 2011-12, the Cardinal defense has pared that down to 26 ppg the last two seasons, and the yards-per-play figure has made a similar drop. The front seven is led by jr. MLB Zack Ryan (91 tackles), sr. OLB Ben Ingle (2nd all-MAC in 2013; 203 tackles L2Ys), sr. DT and captain Darnell Smith, and sr. DE Michael Ayers (3rd in stops with 65). The team's "spine" extends into the 2ndary, where jr SS Martez Hester patrols the field. The defense was ranked just 86th in the country, but foes didn't turn yards into points as easily as in the past. If Ayers, jr. DE Josh Posley, and speedy (but undersized) jr. OLB Aaron Taylor can get more pressure on opposing passers this season (Cards had just 16 sacks LY), the defense will be able to do a much better job against the pass. And the run "D" has allowed fewer ground yards than the previous year in each of the last three seasons.


Summary...Ball State was 6-18 SU in the two seasons prior to Pete Lembo taking over after the truncated Stan Parrish era in Muncie. The Cards are 30-20 since then, and they expect better results in close games this season. Have to note (and love) Ball State's 46-16 spread mark as a visitor since 2006!



CENTRAL

MICHIGAN

(SUR: 7-6;

PSR: 6-7

; O-U: 5-8)...Much has changed since Central Michigan was last on the field back on Christmas Eve. That day, the thrill of a Chippewa TD pass with no time left in the Bahamas Bowl against Western Kentucky was quickly replaced by the agony of a missed two-point conversion in a 49-48 loss. In the most remarkable near-comeback in recent memory, CMU trailed 49-14 with less than 12 minutes to play, scoring 34 points in the last 11:37 against the Hilltoppers. Since that disappointment, the Chippewas have endured a tumultuous and trying offseason. HC Dan Enos resigned to take the offensive coordinator job at Arkansas. The administration tabbed Detroit Lions assistant coach John Bonamego, a CMU alumnus, as head coach. In June Bonamego was diagnosed with tonsil cancer and has been undergoing treatment while trying to continue with his new job. In late June, backup CB Derrick Nash lost a two-year battle with leukemia and passed away at the age of 20. In early July, sr. CB Brandon Greer, a two-year starter, was arrested on assault and kidnaping charges and shortly thereafter was dismissed from the team. Not a lot of positive news.


Bonamego has leaned heavily on 77-year-old offensive coordinator Morris Watts, who was appointed to the position under Enos and retained in the new staff. Watts plans to go more uptempo this season, leaning on the strong right arm of jr. QB Cooper Rush. Rush completed 64% of his passes for 3157 yds. and 27 TDs (including an FBS-record 7 in that Bahamas Bowl). Rush will be without his star target this year, as Titus Davis has moved on to the NFL after setting school records for receiving yards and TD catches. Although three of the team's top five receivers graduated, Rush still has sr. Jesse Kroll (9 starts LY; 36 recs., 4 TDs) and 2014 backup jr. Anthony Rice (30 catches) returning.


Rush must stay healthy, as no other QB on the roster has played in a major college game. The onus is on the offensive line to do a better job of protecting Rush, as that unit has given up 59 sacks the last two years. The return of sr. first-team all-MAC C Nick Beamish is a step in the right direction, and both sr. G Kenny Rogers and sr. left tackle Ramadan Ahmeti started all 13 games in 2015.


There is also a big hole to fill at RB, where Thomas "Lou" Rawls has moved on. Rawls, a transfer from Michigan, ran for 1103 yds. & 10 TDs in just 6 starts, and he will be missed. Soph Devon Spalding, sr. Saylor Lavallii and jr. Martez Walker combined to run for 934 yds. (4.3 ypc) and scored 4 TDs, but none can replace the explosiveness Rawls possessed.


The CMU defense showed improvement last year, posting its best effort since 2009, allowing just 25 ppg and 355 ypg. The Chips finished first in the MAC in total defense (despite giving up 40 points to Syracuse, 42 at Toledo, and 49 in the bowl against WKU). The loss of Greer is definitely a blow to a defense that returns just four starters. The defensive line is a team strength, with three of four starters returning led by jr. DE Joe Ostman, who was named a third-team all-MAC choice, along with jr. S Tony Annese (top returning tackler with 74). Ostman ranked third on the team LY with 60 stops, and sr. S Kavon Frazier was 4th with 58 despite making just 2 starts.


The LB corps is being rebuilt, with sr. Tim Hamilton the most experienced having made 37 tackles while playing in all 13 games last season. Sophs Jeff Perry and soph Tyree Waller combined for 20 tackles in spot play last season, and both played DB at one time in their careers.


Summary...While Bonamego's health issues, Greer's arrest, and Nash's untimely death could serve to motivate and rally the team, we don't see that as the telling factor. Bonamego spent 16 years in the NFL, so we're not questioning his ability, but he and his family have to be distracted and concerned. Cancer treatment takes the wind out of you at the very least. The Chippewas return just nine starters. In the last 16 seasons, CMU has never returned fewer regulars, and their composite record when the return was 12 or fewer is 12-34 SU. It's difficult to see more than three or four wins for the Chips this season.



EASTERN

MICHIGAN

(SUR: 2-10; PSR: 4-7; O-U: 6-5)...Eastern Michigan is once again an also-ran in the MAC West unless something dramatic (very dramatic) happens. Second-year Eagle HC Chris Creighton has lowered expectations and now is committed to a youth movement. Reportedly, more than half of this season's squad has no major-college game experience. Creighton will have 22 RS frosh and 24 incoming frosh, plus a handful of junior college players that will get their shot at playing this fall. That's good, because this program could use a reboot.


The offensive "star" is RS soph jr. QB Reggie Bell. Bell is a shifty dual-threat type from Los Angeles who arrived on campus at 6-3 and 169. He has put on some weight in the offseason and is listed at 190, and the coaching staff is hoping the added weight will help him stay on the field more. Last year Bell missed some time with minor injuries and compiled an underwhelming 1297 YP, 57% completions and a 9-6 TD-int. ratio while rushing for 562 yards and 4 TDs. Not exactly Heisman numbers, but he did have some high points, such as running for 202 yards against Buffalo and generating 510 yards of total offense against Ball State.


The RB group is a hodgepodge, and it's quite possible sr. Darius Jackson (top returning RB with 295 YR, 4.8 ypc) will be supplanted by one of the youngsters. The offensive line returns two starters from a group that allowed a gut-wrenching 38 sacks (gut-wrenching if you're Reggie Bell, that is) and cleared the way for an attack that ranked 123rd in scoring 15 ppg. One of the incumbent starters was replaced in spring workouts by a RS freshman, and the OL is in such need of repair that jr. scheduled starting TE Cole Gardner moved to OT and appears to be headed for a starting role. Gardner will likely be replaced by one of the four TE recruits due in August.


The WR situation is experienced, but still lackluster, as sr. returning starters Dustin Creel and Kris Strange combined to catch just 38 passes and scored just 2 TDs. Creighton is hopeful that jr. Indiana transfer Kevin Davis can supply some explosive plays this fall. But again the phalanx of frosh will be given the opportunity to cut their teeth.


The defense ranked 118th in total yards and 122nd in yielding 41 ppg. Although DT Pat O'Connor (first-team all-MAC; 2nd in conference with 7½ sacks), sr. LB Great Ibe (led the team with 133 tackles and is on our preseason "All-Name" list), and MLB Anthony Zappone (90 stops) represent some building blocks to work with, the stop unit needs a good deal of help in many other areas. Sr. starting LB Hunter Matt will not be back on the football team this season for reasons Creighton declined to disclose. The secondary returns a couple of starters in soph S Jason Beck (86 tackles as a true frosh in '14) and jr. DaQuan Pace, but the Eagles ranked 125th in pass efficiency defense.


The defensive line actually improved last season against the run compared with 2012-13, as EMU "only" gave up 5.2 ypc after yielding 6.3 in each of the previous two seasons. However, the lack of a pass rush other than O'Connor contributed to the poor coverage, as the rest of the team managed just 4½ sacks. The secondary has given up 66% completions over the last two years, so there are problems almost everywhere.


One major problem that was emphasized in the offseason was turnovers on both sides of the ball. The Eagles make too many on offense, and they don't generate nearly enough on defense, leading to their 124th ranking in TO margin. EMU is -30 in the last two seasons, and if Creighton makes good on his promise to play a lot of frosh, that won't change in 2015.


Summary...Creighton is a capable coach who's been successful at smaller programs (Ottawa, KS; Wabash; Drake), and eventually he might pull Eastern Michigan out of its recent malaise that's seen the Eagles win two or fewer games in four of the last five years. But, considering a fairly tough schedule, it's difficult to expect the Eagles to win three games this season.
Return To Home Page