6581...
TGS 2015 PRO FOOTBALL PREVIEW
...A LOOK AT THE AFC WEST
Following is our AFC West preview, courtesy Senior Editor Chuck Sippl. As always, teams are presented in order of predicted finish, with 2014 straight-up, spread, and O/U records included...Bruce Marshall, Goldsheet.com Editor
by Chuck Sippl, Senior Editor
DENVER (

Straight-Up Record 12-5

, Pointspread Record 8-9,

Over/Under 9-7-1

; Lost 24-13 at Indianapolis in Divisional Round)...After four years of John Fox (and four straight AFC West titles), three of them with Peyton Manning, GM John Elway decided to make a change. The Broncs' 43-8 clubbing at the hands of the previous Seahawks in the Super Bowl had plenty to do with his decision. But last season's 24-13 home loss in the divisional round to Indianapolis made the decision easier. With a dwindling number of years left in the championship window for Manning, Elway chose to try for some new leadership and a new style.


And, as it so often happens in the NFL, Elway tabbed a familiar figure, naming his long-time Bronco backup Gary Kubiak (eight years as HC of the Texans; LY off. coord. of the Ravens) to try to help get the Manning Broncos over the hump. Remember, Elway didn't notch his two Super Bowl titles until the final two years of his career. So Elway's not yet ready to give up on future Hall of Famer Manning, even though the QB is showing signs of wear and tear.


After last season's playoff loss to the Colts (during which Manning was 26 of 46 for only 211 yards), the QB admitted he was bothered by a lingering late-season quad injury. Then, in the preseason this year, Manning admitted he has not been able to fully feel his fingertips since the neck surgery he underwent four years ago. Given another year of prolific stats (66.2%, 4727 YP, 39 TDs, 15 ints.) in 2014, that might not be cause for alarm. But noting the 55 TDs vs. only 10 ints. of his previous campaign, Manning's physical condition through the grind of another NFL campaign is reason for concern.


Plus, Kubiak has installed the basics of the Mike Shanahan, move-the-pocket, West Coast system that Kubiak employed while at Houston after serving 11 years as offensive coordinator in Denver, including for both of the Broncos' Super Bowl victories. Thus, Manning has had more to learn this season after previously using the system he employed while with the Colts that Manning transported to Denver. A period of adjustment can be expected as Kubiak learns what to exclude from his own system and what to adapt from the Manning repertoire.


Complicating the issue on offense is a rebuilding offensive line, which lost starting LT Ryan Clady to a torn ACL during minicamp in May. With C Manny Ramirez having signed with Detroit and LG Orlando Franklin with San Diego, it seemed all but certain that Manning was going to be under much more pressure than last year, when he was sacked only 17 times. However, when the Broncs signed former Philly G Evan Mathis after the second exhibition, the O-line shaped up like this. LT—Ty Sambrailo, a promising rookie second-round pick and four-year starter at Colorado State. LG—Mathis. C—Matt Paradis, a second-year Boise product who has impressed in camp. RG—Louis Vasquez, a solid seven-year veteran. RT—Ryan Harris, an eight-year veteran who was with K.C. last season.


It might take a while for that unit to jell. However, for a while it looked as if Denver were going to start the season with a LT, LG and C who had never started an NFL game! Fourth-round pick Max Garcia has shown enough to be the backup at guard now that Mathis has been added. Also, Kubiak can be expected to involve more running in the attack this year, especially after C.J. Anderson (849 YR, 4.7 ypc LY) has emerged as the top RB, smallish Ronnie Hillman has developed as a quality backup and third-down back, and 5-11, 225 heavy-running Duke product Juwan Thompson (272 YR) has demonstrated he has a pro future. Former Wisconsin star Montee Ball, whose career has been disrupted by injuries and inconsistency, is now fighting for carries, as is former Colorado State star Kapri Bibbs.


Denver has had problems keeping its best runners healthy in recent seasons. But this year's depth should help a Bronco team that had to give up expensive TE Julius Thomas (12 TDC LY) in free agency (to Jacksonville). The team also parted ways with slot guy Wes Welker (only 49 recs. LY due to injury problems). Manning still has dominating WR Demaryius Thomas (111 recs., 1619 yards, 11 TDs) and Emmanuel Sanders (101, 9 TDs) as primary targets, while Kubiak has imported savvy pass-receiving TE Owen Daniels for clutch situations.


The team must also decide whether to re-sign backup QB Brock Osweiler, who is in the final year of his rookie contract and is athletic enough, even at 6-8 (he had committed to Gonzaga to play hoops for a while before deciding to go to Arizona State for football), to fit in the Kubiak system. But other QB-needy teams might out-bid the Broncs for Osweiler, who is now eager for his own chance to start.


There are fewer questions this season on the Denver defense, now directed by one-time Bronco HC (1993-94) Wade Phillips. Phillips has changed last year's 4-3 to a one-gap, hybrid 3-4, with an emphasis on the pass rush. The Broncs out-sacked their foes 41-17 in the regular season last year, and the 3-4 allows Phillips to move DeMarcus Ware (10 sacks LY) from a down DE to an OLB, from where Ware excelled as a pass rusher under Phillips a few years ago in Dallas. On the other side will be OLB Von Miller, who had 14 QB takedowns LY. For an additional rusher, Denver traded up on draft day to select Missouri's DE/OLB Shane Ray despite a previous foot injury and pot bust (hey, not so much of a problem any more in Colorado). Phillips also hopes to improve holdover DE Derek Wolfe (only 1½ sacks LY).


The Broncos are optimistic that do-everything ILB Danny Travathan (129 Ts in 2013; only 11 LY due to multiple knee injuries) can return after having his kneecap replaced in January. Meanwhile, the secondary turned out to be one of the league's best, with Aqib Talib & Chris Harris at the corners, T.J. Ward and Darian Stewart (FA via Baltimore) at safety, and 2014 No. 1 pick Bradley Roby at the nickel, where he was beginning to excel LY.


With the offense in a bit of a transition, the Broncos might not score as much as LY (30.1 ppg; second in the league). But the defense—third overall LY and No. 2 vs. the run—should improve after finishing only 16th (22.1 ppg) in points. There's not a lot of depth, as the Denver stars eat up much of the payroll. So it will be up to Phillips and the defensive staff to squeeze some useful playing time out of young backups.


SUMMARY...San Diego appears to be closing the gap on the Broncs, who were still able to sweep the Chargers last season. Can Manning match last year's stats in his 17th season? Behind a re-made OL? Without TD target TE Julius Thomas and slot whiz Wes Welker? Probably not. But the Bronco defense stops the run better, rushes the passer better, and covers better receivers better than do the Chargers.



SAN

DIEGO

(Straight-Up Record 9-7,

Pointspread Record 7-9

, O/U 7-9)...That the Chargers were even alive for a playoff berth going into the final weekend last year is a tribute to the hard-nosed team Mike McCoy has constructed in San Diego. Battered in the offensive line and at RB virtually all season, San Diego still had a shot at the playoffs after 15 games. Five different centers, with starter and OL leader Nick Hardwick (neck) lost in the first game. Two-to-three backup OLmen starting at times. Top RB Ryan Mathews hurt in the second game. Inspirational, dependable, versatile, third-down back Danny Woodhead lost in the third. LBs Manti Te'o, Jerry Attaochu, and cover corner Jason Verrett gone for much of the season. You get the idea.


Moreover, things have not started so well in 2015, with star TE Antonio Gates to serve an NFL suspension for the first four games and starting RG Johnnie Troutman suffering an arm fracture in the first exhibition. But McCoy, the longtime Carolina and Denver assistant and offensive coordinator, is among the among the more resolute, tough-minded (and some reporters say "non-fun") head coaches in the league, with a knack for driving his team (9-7 each of his first two seasons) regardless of circumstances.


Of course, McCoy gets plenty of help on offense from the on-field leadership of Philip Rivers, the quick-releasing QB, now in his 12th season and armed with a new, fat contract (he'll need it, with his eighth child on the way). Rivers, who still passed for 4286 yards LY (66.5%, 31 TDs, 18 ints.) despite a crippled supporting group, has several good years left and appears on the way toward earning a bust in Canton. But Rivers took a battering last season (36 sacks; hit dozens of other times), as the injuries at RB and in the OL allowed S.D. to produce only 3.4 ypc and 85.4 ypg on the ground (30th in the league).


The S.D. front office made a concerted effort to improve that situation in the offseason by selecting prolific Wisconsin RB Melvin Gordon with the 15th overall pick in the first round of the draft, grabbing powerful OLman Orlando Franklin from Denver, and also signing OT Joe Barksdale from St. Louis for depth. Oft-injured RB Mathews was not re-signed, especially with the diminutive Woodhead due back and with undrafted rookie Branden Oliver having emerged from the practice squad to lead the team in rushing (582 YR) and to give S.D. two of the better 5-8 mighty mites in the NFL. Following Troutman's injury, coaches moved massive (6-5, 338) RT D.J. Fluker inside to G, shoring up the inside and giving Barksdale a shot at RT. If rookie RB Gordon is as good as advertised, Charger runners TY should take a lot of pressure off Rivers, a fiery team player who rarely complained LY.


It is partly because of the unorthodox, but quickly-released and accurate throws of Rivers that S.D. has developed former hoopster Gates, former college free agent Malcom Floyd, and former third-round pick Keenan Allen into one of the better one-two-three receiving combos in the league, good for 198 recs. and 22 TDs LY.


While the S.D. defense fought through its own injuries, it was a season-long source of annoyance to def. coord. Chuck Pagano that the hard-trying Charger defense could accumulate just 26 sacks (29th in the league) and only 7 ints. (28th). DE Corey Liuget (4½ sacks LY; top pick in 2011) is a solid 3-4 DE. But several other S.D. moves on defense have not panned out so well. 2012 top pick Melvin Ingram had only 4 sacks LY, has not translated well from college DE to NFL OLB, and is often chided for his shortish arms. LB Manti Te'o has been okay when healthy, but is no "Junior Seau Jr." and has been bothered by foot problems. 2014 top pick CB Jason Verrett (only 5-10, 178), who had a shoulder injury in college at TCU, lived up to his billing as the quickest corner in the draft, but then was able to play six games LY due to shoulder problems. Some scouts believe the cat-quick, aggressive Verrett hits too hard for his own body! Even stalwart safety Eric Weddle (114 Ts in his 8th year last season) has come under criticism from Charger fans for being a bit too small (5-11, 200), a step too slow (only one int. LY), and less reliable in his tackling.


SUMMARY...The Chargers, who split the season series with Denver in 2013, are focused on passing the Broncos for first. But until their ground game, OL, and pass rush improve, they're not likely to overtake Peyton & Company, even with the Manning offense showing signs of decline. Plus, there's the tenuous stadium situation in San Diego. Despite solid fan support, the Spanos family reportedly had an eyebrow-raising moment with Steve Balmer paid a cool two billion dollars for the once-lowly NBA Clippers (who, by the way, were the San Diego Clippers from 1978-84). Following that puffy deal, it just made sense (and dollars) for the Chargers—limited on three sides in San Diego by the desert, Mexican border, and Pacific Ocean—to consider a move to the larger and more financially-lucrative market of L.A. (their original AFL home). With the Rams and Raiders also having stadium issues and seeing dollar signs in Tinseltown, there is a chance things might turn sour in San Diego if an uprooting in favor of L.A. begins to seem in the offing. On the other hand, a deal for a new stadium in "America's Finest City" could be a big late-season plus for team as the Chargers try to chase down the Broncs.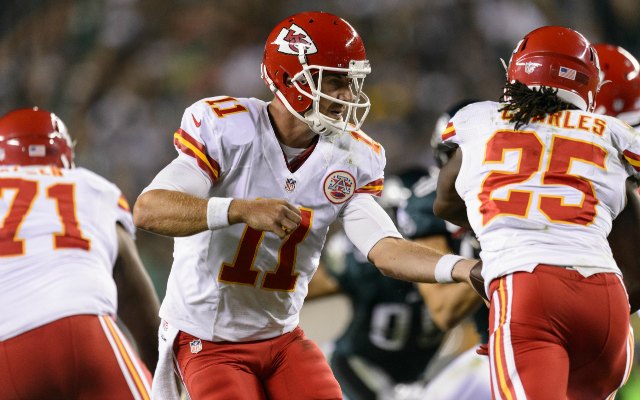 KANSAS

CITY

(SUR 9-7,

PSR 11-5

; O/U 5-11)...The mere fact the Chiefs went an entire season without a TD pass to a wide receiver would, in and of itself, seem reason enough to rank Kansas City behind both Denver and San Diego in the AFC West. And, despite other pluses they possess, the Chiefs do not offer a very convincing argument they have substantially improved things in the offseason.


Yes, QB Alex Smith (62.8%, 41 TDs vs. 13 ints. in his two seasons in K.C.) has been an efficient manager of Andy Reid's offense. And the Chiefs have put together a couple of impressive streaks (9-0 to start the 2013 season, and 7-1 from Sept. 21 thru Nov. 16 in 2014). But the final ledger shows only one playoff game (a 45-44 loss at Indy, where K.C. infamously blew a 28-point lead).


In 2015, star RB Jamaal Charles (1000 YR 5 of the last 6 years) is entering his eighth season, when the accumulated hits tend to show up a little more often. Yes, power guy Knile Davis (463 YR last season) has flashed lots of potential, but he lacks the quick-strike power of the speedy Charles. Without the WR gamebreakers of so many other teams, the Chiefs were 25th in total offense, 29th in passing in a passing league, and 28th in TD passes with only 18. [Two years ago, Peyton Manning of Denver had 55.]


Underachieving wideout Dwayne Bowe (60 recs., 0 TDs LY) has finally worn out his welcome in K.C. Reid has imported free agent Jeremy Maclin (the former Missouri star) from Philly to take over the top WR slot after Maclin's 85 recs. and 10 TDC in Chip Kelly's spread offense last season. Recent history says Maclin is unlikely to repeat those numbers in K.C. For a dose of speed, Reid has WR/RB/KR De'Anthony Thomas (5-8, 177) focusing more on wideout TY. Plus, there are 5-9 returnee Albert Wilson (a rookie for Georgia State who showed promise late LY) and 6-3, third-round pick Chris Conley from Georgia. While the new WR group represents an improvement over LY, it's likely not enough to catch the defending four-time AFC champs from the Mile High City. Even Smith himself might come under fire, as the loyal K.C. fan base has become enamored in the last couple of years with the preseason success of pudgy 6-0 former Mizzou Tiger and New Orleans Saint Chase Daniel, who has always been a good reader of defenses and learned well from Drew Brees how to succeed as a shorter QB by getting the ball out quickly and decisively.


Also, the K.C. offensive line has suffered from consistency and longevity issues in recent years. Former top pick LT Branden Albert was lost to Miami prior to last season, and former No. 2 pick C Rodney Hudson departed for Oakland TY. Meanwhile, former 2013 No. 1 overall pick Eric Fisher has yet to blossom due to nagging injuries. Thanks partly to Jamaal Charles, the OL carved out a nice 4.6 ypc last year. But due to the careful QBing of Smith and an absence of dynamic targets, it also gave up an unacceptable 49 sacks.


On defense, the Chiefs were generally effective overall, but strangely mis-balanced. K.C. was 7th overall in yards allowed, and 2nd in points allowed (only 17.6 ppg). But the Chiefs were 28th vs. the run (allowing 4.7 ypc) and second vs. the pass. K.C. was a strong 5th in sacks with 46 (22 by OLB Justin Houston), but a weak 30th in interceptions with only six!


K.C. deserves credit for overcoming key injuries, as top ILB Derrick Johnson and starting DE Mike DeVito were lost in the first game due to ruptured Achilles tendons. Impact safety Eric Berry was able to start only five games due to a number of injuries, and then was lost after the 11th game to begin a scary battle with lymphoma.


Berry was given the "all clear" this summer and would be a great plus if he can regain his former flair. And the Chiefs used their top draft pick this season to select CB Marcus Peters of Washington, an elite talent physically who was booted from the Huskies in the middle of his senior year. Peters has been a bright spot so far in the Chiefs' camp and has a chance to give K.C. a premium CB combo along with returning vet Sean Smith, a coveted "big" corner (at 6-3) who is in his contract year (but is suspended for the first three games).


A full return to health for ILB Johnson would also be a boost, as 6-year vet Josh Mauga emerged last year from a projected backup role to lead the team in tackles with 103. Meanwhile, one-time journeyman Ron Parker (94 Ts) won a job at CB in 2014 and might be moved to safety TY if Marcus Peters pans out.


Perhaps the biggest question mark going into opening day revolves around huge (6-3, 346), mobile (6 sacks) NT Dontari Poe, who underwent a "microdiskectomy" prior to camp. His absence in the middle of the defense would be a concern, as three of the team's first four games TY are on the road. The presence of the WR De'Anthony Thomas on K.C.'s return teams represents a constant change-of-momentum threat.


SUMMARY...Although sound in most areas, the Chiefs still can't match Denver and San Diego in terms of QB/WR firepower, arguably the key element in today's NFL. That might change a bit if Jeremy Maclin adds some big plays at WR. And the defense might toughen if NT Poe, DE DeVito, LB Johnson and S Berry are all fully recovered. Those are too many ifs for us.



OAKLAND (SUR 3-13;

PSR 8-8

; O/U 10-6)...The safest annual last-place divisional pick for years might not be quite so safe this season. After a slew of draft-choice busts, dubious free-agent signings, and questionable coaching hires since their Super Bowl loss to Tampa Bay 12 years ago, Oakland finally appears to be headed north.


In fact, new head coach Jack Del Rio, a northern California native (born in the east bay city of Hayward) and proven NFL mentor (nine years as HC in Jacksonville; def. coord. L3Ys in Denver), says he is looking for and planning for a "fast rebuild," as there was more material on hand than he expected after he faced the Raiders from the other side of the field in recent years.


The primary pluses for Del Rio have been the presence of young leaders to anchor the team's offense and defense. On the attack, it's second-year QB Derek Carr, the team's No. 2 pick in 2014 who won the starting job in the preseason and went on to complete 58.1% for 3270 yards with 21 TDs vs. 12 interceptions. Those are not good enough numbers for a starting QB on a contender, but they are decent stats for a rookie who cut his spurs while the Raiders were finishing last in total offense, last in rushing, 26th in passing, and 31st in points scored (15.8 per game; only Jacksonville was worse). Darren McFadden, now with the Cowboys, was the team's leading rusher with a weak 534 yards (3.4 ypc). James Jones, now with the Giants, was the leading WR with 73 recs., for only 9.1 ypr.


After Oakland won only three games last year, and just four in each of the previous two, Del Rio wasn't expecting much. But he was pleasantly surprised with the returning nucleus on the OL, which included 2014 No. 3 pick Gabe Jackson at LG and 2013 No. 2 Menelik Watson at RT. In free agency, Oakland replaced former starting C Stefen Wisniewski with K.C.'s quick Rodney Hudson. And Del Rio has tabbed former Viking and Jacksonville buddy Mike Tice to "coach up" the OL group. Then Raider GM Reggie McKenzie gave QB Carr a gift, selecting prolific Alabama receiver Amari Cooper (124 recs. and 16 TDs last season) with this year's No. 4 overall pick. So far, the 6-1, 210 Cooper has given every indication that his natural speed and receiving talents will translate easily to the NFL level, which means that Carr immediately will have a vertical threat and go-to guy that the Raiders sorely lacked LY. McKenzie also inked former 49er Michael Crabtree to perform an underneath possession role. All of a sudden, a genuine NFL offense was beginning to take shape. And it might be complete if third-year back Latavius Murray (424 YR, 5.2 ypc LY) can take over as the lead runner.


For sure, Carr needs a little more help and still needs some time to grow into the position. He must to improve his accuracy, touch, and field generalship. But you have to go back to the 80s to find the last time the Raiders had a home-grown QB with such a good arm and high potential. New offensive coordinator Bill Musgrave spent last year in Philly under Chip Kelly and will be importing many of Kelly's ideas for a fast-paced attack.


On defense, the new young leader is 2014 first-round choice Khalil Mack, the fast- learning OLB (4 sacks) from the University of Buffalo, who has a useful nasty streak. To free Mack for more disruptive forays this season, GM McKenzie has added steady stay-at-home MLB Curtis Lofton from New Orleans and former Seahawk Super Bowl MVP Malcolm Smith, an undersized OLB who excels in coverage. The unit becomes stronger if third-year backer Sio Moore can recover strongly from offseason hip surgery. Last year's Raider defense collected only 22 sacks and 7 ints., totals way below those needed for the team to become a contender.


And it must be remembered that Oakland gave up more points (452 for the season; 28.2 pg) than any other team last year. Without much pressure from the defensive front, the Raiders' flaws in the secondary were frequently exposed. Ageless Charles Woodson (will turn 39 in October) returns to steady the unit at safety. But 2013 top pick D.J. Hayden (considered a "reach" at No. 12 overall at the time) has failed to arrive as a premium CB. And the rest of the secondary personnel are a mixed bag of still-developing draft choices, castoffs from other teams, and marginal free agents.


Ken Norton Jr., most recently the LB coach with the Super Bowl Seahawks, has been hired by Del Rio as coordinator to install a version of the Seattle defense, which made use of a lot of three-deep zone. Norton is one of the many former NFL players on Del Rio's staff, a fact that has been appreciated by the younger Oakland players, who have noted that the Raider assistants are flush with "league cred" based on their own NFL experience.


SUMMARY...Simple. The Raiders are not yet ready to contend in the deep AFC West. There are still too many holes on the roster; not enough depth. But Oakland is ready to make much more "noise" than last year's 3-13. A big campaign from Amari Cooper would help the team all around. But Cooper is sure to draw extra attention. Perhaps a harbinger of things to come occurred late last year, when Oakland won its last three home games straight-up, all as an underdog!
Return To Home Page