6593...
TGS 2015 PRO FOOTBALL PREVIEW
...A LOOK AT THE NFC WEST

We conclude our TGS previews of each of the NFL division races for 2015 with this look at the NFC West, presented in order of predicted finish, with 2014 straight-up, pointspread, and "over/under" records included...
by Bruce Marshall, Goldsheet.com Editor
Things have changed enough in the NFC West that unlike recent years, we do not expect a serious challenge to materialize against the Seattle Seahawks (2014 SUR 14-5,

PSR 11-8

,

O/U 11-8

; beat Panthers 31-17 in NFC Division Round; beat Packers 28-22 in OT in NFC title game; lost 28-24 to Patriots in Super Bowl) from within the division. As has been the case with the Seahawks the past couple of years, however, expectations are higher. Three straight playoff berths, a Super Bowl win, and a close-as-could-get Super Bowl loss amounts to heady stuff. Are there any reasons why the Seahawks might regress this season?
Perhaps. There's the issue of how the Hawks are going to deal with the emotional jolt the team received in the Super Bowl, when a likely win over the Patriots was instead thwarted by an ill-advised passing play and interception at the goal line in the final minute. Another byproduct of the sort of raging success Seattle has experienced the past few years comes at contract time. Holding key elements together is often a chore. And the Seahawks have had some advantages the past few years with QB Russell Wilson playing on a rookie and very cap-friendly contract. But after stringing out Wilson as long as it could, management finally rewarded Wilson with a major raise and a new four-year deal in the summer that could have ramifications elsewhere on the roster.


Wilson's cap hit in 2015, however, is still a relatively modest $7 million; next year that goes up to roughly $18, and up to approximately $23 mill in the final year of the contact in 2019. Simply, Seattle has not been having to pay elite QB-like money for its elite QB the past few years. It will be paying more for Wilson in 2015, but comparably speaking, he remains a bargain. The Seahawks still have more money to spend elsewhere on their roster than most contenders with top-level QBs, though those dynamics begin to really change next year when Wilson;'s cap hit raises by another $11 million.

In the meantime, Wilson's wasn't the only contract situation to be addressed in the offseason. Key LB Bobby Wagner also saw his deal upgraded. But not all has been solved as the regular season approaches, as SS Kam Chancellor remained in a nasty holdout into September, with no resolution yet in sight. Plus, DE Michael Bennett & LB Bruce Irvin (likely headed to free agency after this season) have voiced displeasure about their deals. Typical hurdles for contending teams to overcome.


Preseason work has exposed a few more cracks in the foundation at Seattle, though nothing that HC Pete Carroll seems particularly worried about. One of the reasons the Hawks struggled and lost two of their first three exhibition games was an ankle injury suffered by backup QB, and usual preseason star, Tarvaris Jackson, forcing former Arena Leaguer RJ Archer to take a lot more snaps than expected. The offense, as could be expected, would suffer. Though in twelve offensive series in the first three games, Wilson and the starting unit did not manage a TD, with seven punts, four FGs, and a fumble.


Carroll, o.c. Darrell Bevell, and OL coach Tom Cable were more concerned, however, about a reconfigured OL that saw key C Max Unger and LG James Carpenter depart in the offseason. After some position-juggling in August, including the move of Justin Britt from RT to Carpenter's old LG spot, and Drew Nowak moving ahead of Lemuel Jeanpierre at Unger's old C position, at least means that the starting quintet has been settled upon. Now, the main question heading into the regular season is the backup RB spot behind Marshawn Lynch, with mighty-mite Robert Turbin dealing with a severe ankle sprain, causing Carroll to take a look at other options, including Fred Jackson, recently released by the Bills and a visitor to Seahawk headquarters in the past week.


Most, however, expect the "O" to have a sharper edge this season after the addition of All-Pro TE Jimmy Graham from the Saints in the Unger trade. Graham gives Wilson the sort of target he has not had in his first three years in the league. Graham also likely changes the way opponents must deal with the Seahawks, especially in the red zone where wideouts Jermane Kearse and Doug Baldwin, while serviceable, do not scare opponents. But with Graham as a new target for Wilson and Lynch still very much in "beast" mode, plus another year of experience for Wilson, this could be the best Seattle offense of the Carroll era.


The defense needs no introduction. Though Chancellor's holdout remains a concern, Carroll and new d.c. Kris Richard (promoted from within as DB coach to replace Dan Quinn, now the Falcons HC--though this is still very much Carroll's defense) believe the front seven could be faster than it has ever been, and cornerback Richard Sherman and free safety Earl Thomas are back and healthy to lead the "Legion of Boom" that once again ranked first in total defense (just 267 ypg) and scoring (just 15.9 ppg allowed) a year ago. Depth, however, could be tested, more so if Chancellor doesn't return soon, especially after CB Byron Maxwell and LB Malcolm Smith both departed in the offseason.


The Carroll Hawks have also proven a good investment in recent years, especially home at CenturyLink Field, where they are 18-6 vs. the number in regular-season play since Wilson arrived as QB in 2012. And though rarely a dog in recent years, Carroll is still 7-2-2 in that role the past three seasons.


No matter the potential concerns, with San Francisco having receded from recent contending form, and Arizona relying upon a healthy Carson Palmer to stay in contention, the Seahawks figure to advance once again to the postseason as NFC West champs. Success and failure these days in Seattle, however, is judged by Super Bowls...not division titles.



For a long while last season, the Arizona Cardinals (2014 SUR 11-6, PSR 11-6, O/U 6-10-1; lost to Panthers 27-16 in NFC Wildcard Round) were leading the NFC West and looked to have inside track for the home-field edge in the playoffs. Along the way, the Big Red seemed to be using plenty of magic dust, winning several close-decisions in hair-raising fashion, with big plays from both the offense and defense. But things began to unravel when QB Carson Palmer went out with a season-ending knee injury late in a November 9 win over the Rams. The Cards would manage to stay afloat with serviceable backup QB Drew Stanton until he suffered his own knee injury in an unsightly 12-6 field-goal win battle at St. Louis on December 11.


Ex-San Diego State QB Ryan Lindley, released after the preseason but re-acquired from the Rams practice squad as emergency protection, was suddenly thrust into the lineup with predictable results. Arizona would lose the NFC West lead to the Seahawks and enter the playoffs as a wildcard, where it would succumb meekly at Carolina.


Thus, plenty of "what ifs" in the desert after last season. Some wonder if the window of opportunity might have closed at U of P Stadium. Others, noting the presence of shrewd 3rd-year HC Bruce Arians and savvy GM Steve Keim, two years running the NFL Exec of the Year, suggest the Big Red are likely to remain contenders for a while.


Certainly, if Arizona is to stay in the playoff mix this season, and have a chance to do damage in the postseason, Palmer (who had tossed at least two TDP in every game before his injury last November) will need to be on the field. Palmer has shown no ill effects from his knee injury thus far in preseason, but Arians has been mightily concerned about a leaky OL that was supposed to be upgraded after signing LG Mike Iupati and LT Jared Veldheer in free agency, plus drafting Florida RT D. J. Humphries with its first-round pick last April30 in Chicago.


So far, however, improvement has not been visible, and Palmer was subject to intense pressure in preseason Game Three at Oakland, sacked three times in the first half as Cardinal fans held their collective breath. Lineup juggling on the forward wall figures to continue into the regular season. Rookie Humphries, often drawing the ire of Arians due to poor work habits, is not even in contention for a starting role.


Meanwhile, an anemic running game that ranked a poor 31st in the league last season is hoping that late preseason addition Chris Johnson still has some gas left in his tank. But his best days with the Titans and Jets seem in the rear-view mirror, and a hamstring injury has impeded his progress since his August signing. For the moment, Andre Ellington, exciting but fragile, seems the Big Red's top RB option, though Northern Iowa rookie Gus Johnson has had some moments in the preseason. Where Chris Johnson fits into this mix remains to be seen.


The strength of the offense remains the wideouts, with Canton-bound Larry Fitzgerald (63 catches LY) still in the fold but now augmented by other threats including John Brown, an obscure rookie from Pittsburg State (Kansas) a year ago who turned out to be one of the most-pleasant surprises of 2014, a big-play threat who caught 48 passes. Fitzgerald, however, might be slowing down at 31, and the Big Red hope that ex-Notre Dame star Michael Floyd is about ready for a major breakout year after gaining nearly 18 yards per catch on his 47 receptions a year ago.


A bend-but-not break defense would keep Arizona in almost every game last season, even those when the QB play had deteriorated. Coordinator Todd Bowles has moved to the Jets as their new HC, and promoted replacement James Bettcher has shown an inclination to blitz with impunity in the preseason. Which might make sense after the Big Red recorded only 35 sacks (ranking 24th) a year ago despite often bringing the red-dog for Bowles. Besides DE Calais Campbell and OLB Alex Okafor, only one other player (DT Frostee Rucker) has more than two sacks last season. And despite the quality in the secondary, opposing QBs would take advantage of that extra tick or two in the pocket to burn Arizona for 260 ypg thru the air, ranking a poor 29th in the league.


There were also some other intriguing offseason developments, as big-play CB Patrick Peterson, whose production seemed to drop last season, was diagnosed with diabetes, and subsequent proper treatments have brought him closer to 100% for 2015. Getting his former LSU chum FS Tyrann Mathieu healthy again could be another plus this fall. With a healthy Peterson and Mathieu, some believe the Cards could have the best defensive backfield in the NFC.


Still, a slight regression from 2014, when allowing only 18.7 ppg and ranking fifth in that category despite a 24th-ranked total defense, might be hard to avoid, as not only did d.c. Bowles and Cromartie depart, but so did NT Dan Williams (FA Raiders), a key run stuffer. Vet DE Darnell Dockett, who missed 2014 with injury, but was regarded as a team leader, moved to the 49ers, while vet ILB Larry Foote retired. New d.c. Bbetthcher will have his work cut out to keep the Big Red at the same defensive plateau this fall.


In the colorful HC Arians, however, Arizona might have its ace-in-the-hole, as the former Virginia Tech QB has been on quite a roll, from his spectacular work as Colts' interim HC when Chuck Pagano was ill during 2012, to back-to-back double-digit wins for the Big Red. Arians' Cardinals are also 22-9-1 vs. the line in regular-season play the past two seasons.


We certainly don't underestimate Arians, which is why we think the Cards will be fighting for another playoff berth this fall. We're just not sure they are going to be as dangerous as they were a year ago when all of the pieces seemed to fall in place in the first half of the season, when Palmer was on the field. While the window of opportunity in Glendale might not have yet closed, it's probably not open quite as wide this fall, either.



We know why Jim Harbaugh and the San

Francisco

49ers (2014 SUR 8-8;

PSR 5-11

; O/U 5-11) decided to part ways, though continue to believe it is a most-regrettable development, as the fit seemed perfect on so many levels for the 49ers. Only it wasn't. Injuries and suspensions on defense and the season-long uncertainty with the coaching staff helped torpedo the Niners' chance for another playoff berth a year ago.


Among other things, the tinkering that Harbaugh and former o.c. Greg Roman did with last year's offense, and trying to turn Colin Kaepernick into a more-traditional QB, blew up in the staff's faces and sabotaged the 2014 season. Harbaugh's peculiarities also became harder to camouflage, and if reports are to be believed, the 49er clubhouse was a very dysfunctional place a year ago. So Harbaugh's fate was effectively decided once the Niners were officially eliminated from the playoffs, after qualifyinhgfor the postseason, and reaching a Super Bowl, in Harbuagh's previous three years.


The thought persists among several NFC insiders that GM Trent Baalke believes he will have more control over Harbaugh successor Jim Tomsula, promoted from the staff. For what it's worth, Tomsula has said he would like the old, mobile version of Kaepernick to resurface, but there was nothing wrong with Kaepernick's wheels when he was sacked 52 times a season ago, suggesting upgrades are needed along the OL.


Besides Harbaugh, there has been a lot of other personnel outflow from Santa Clara; RB Frank Gore, G Mike Iupati, WR Stevie Johnson, WR Michael Crabtree are the most-recognizable departures on the attack end, while CBs Perrish Cox & Chris Culliver, plus retired LBs Patrick Willis and Chris Borland and DE Justin Smith, are among those who have departed from the defense. Highest profile among the incoming FAs are RB Reggie Bush (from the Lions), WR Torrey Smith (from the Ravens), and DE Darnell Dockett (from the Cards).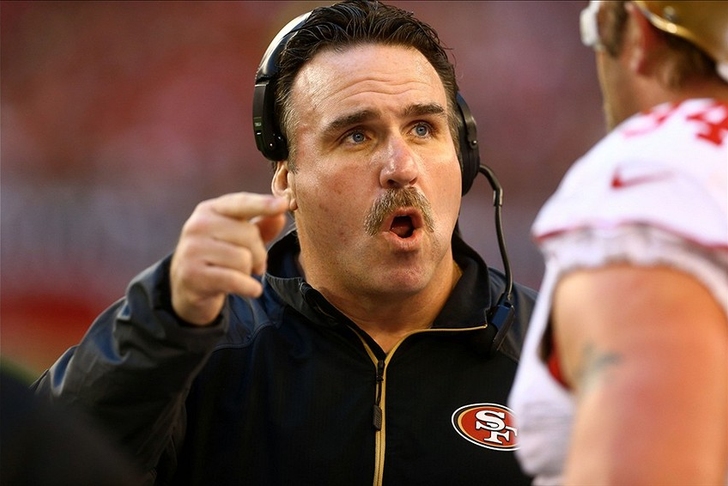 As for Tomsula, he does enter 2015 with slight experience as an NFL HC, having replaced Mike Singletary on an interim basis at the end of the 2010 season, winning his only game when the 49ers hammered the Cardinals, 38-7. After a winding coaching career that detoured thru NFL Europe, Tomsula has been on 49er staffs since 2007, most recently as Harbaugh's DL coach. Early reviews from insiders and other informed observers have been mostly positive, and Tomsula has made sure to surround himself with an experienced staff. Among his assistants are former NFL head coaches Tony Sparano (now the TE coach) and Eric Mangini (defensive coordinator).

The Niners have played with plenty of spunk in their early preseason games, though they lost two of those three. But with all of the personnel departures, perhaps the best thing about the presence of Tomsula is that he does provide a strand of continuity for the on-field product.


Evidence of upgrades for an offense that ran aground in 2014, however, have been elusive in the summer. Tomsula, who said the "O" didn't even game plan for the first three exhibition games, has also not been allowing Kaepernick to audible, but some of the efforts have been nonetheless alarming, including in the first half at Denver on August 29 when Kaepernick took more than 29 minutes before completing a pass. Touted FA addition Bush has also mostly been a spectator in preseason, making his 49er debut with only a few plays vs. the Broncos. So perhaps we should not be reading too much into SF's summer struggles on the attack end...or should we?


Still, all eyes are on Kaepernick, who set a personal career high for passing yards in 2014, but also turned the ball over more than ever, and the aforementioned astronomical sack total hinted at severe structural deficiencies in the San Francisco attack. Geep Chryst, one of the few other holdovers from the Harbaugh regime, replaces Roman (now with the Bills) as o.c., and his first order of business is to revive the career of Kaepernick. He no longer can hand the ball to the departed Gore, though ex-Ohio State slammer Carlos Hyde appears ready for a breakthrough. And Bush, at his best, can be a dangerous run-receiving threat out of the backfield. The addition of wideout Torrey Smith gives the 49ers an ex-Ravens look at the WR spots alongside Anquan Boldin, still one of the most-physical receivers in the league. The Niners could also use vet TE Vernon Davis to recover from a subpar 26-catch effort last season. The OL, which has struggled in preseason, is hopeful that C Daniel Kilgore returns to active duty early in the regular season after suffering a broken leg in the Niners' fourth game a year ago.


The star of the summer for San Francisco, however, has been former Australian rugby star Jarryd Hayne, who has impressed at RB and as a fearless punt returner. At the least, expect him to be a force on special teams this fall.


Beyond the offense, the aforementioned mass exodus from the defense also gives the Niners a different look this fall. Indeed, the "D" was a key to recent prowess and was still good enough to rank fifth overall a year ago. Importantly, key ILB NoVorro Bowman, who missed the entirety of 2014 after a gruesome knee injury in the 2013 NFC title game at Seattle, is back in the fold and has looked almost as good as new in summer. The LB corps, however, has an almost entire new look from a year ago.


Still, under former d.c. Vic Fangio (now with the Bears), SF never ranked below last year's fifth in yards allowed, so successor Mangini has big shoes to fill. Beyond DE Dockett, LB Philip Wheeler (from Miami) and CB Shareece Wright (from San Diego) arrived in free agency, and top first-round draft pick DE Arik Armstead (Oregon) and third-round pick LB Eli Harold (Virginia) have hinted at becoming immediate contributors. And, mostly, the "D" has impressed in the summer...though remember, it's only preseason.


The biggest difference from a year ago, however, might be the fact the 49ers are no longer in danger of being overrated. Instead, they're a consensus also-ran entering 2014. While there is a chance they could surprise as they fly under the radar for the first time in several years, more than likely we suspect the Niners are just an average team this fall...as they were before Harbugh arrived (and, indeed, a year ago).



Stuck in the NFC's (if not the NFL's) toughest division the past few years, the St.

Louis

Rams (2014 SUR 6-10,

PSR 7-8-1

, O/U 8-8) have been spinning their wheels over that span for HC Jeff Fisher, who admittedly has dealt with some bad injury luck along the way. Especially at QB, where last year's Rams never could overcome the preseason knee injury suffered by QB Sam Bradford, alternating between journeyman Shaun Hill and backup Austin Davis throughout the fall. There were some highlights, including home wins over the previous year's Super Bowl teams Seattle and Denver, and a road win at San Francisco, plus a 52-0 rout of Oakland, but consistency was always an issue. And now Fisher enters what might be a make-or-break year for his regime at the Edward Jones Dome.


Or, perhaps, back in Los Angeles, as one of the peripheral storylines of the 2015 season is if the Rams are ready to move back to their home base from 1946-94. There is an escape clause in their lease at the EJ Dome that would allow them to bolt after 2015, and owner Stan Kroenke has already purchased land in the L.A. area (Inglewood, to be precise, on the vast grounds of Hollywood Park race track, which closed in December of 2013) for a possible new stadium. We'll see if those rumors become a distraction this fall. For what it's worth, St. Louis is not taking the news lying down, moving forward with proposals for a new stadium of its own that will hopefully keep the Rams in town, and which could satisfy one of the prerequisites that the league has in place that could prevent a franchise move (though another team could theoretically take the Rams' place in St. Looie at a new stadium, too). Stay tuned for further developments. Some NFC sources wonder, however, if QB Nick Foles, acquired from the Eagles in an offseason deal for the injury-prone Bradford, is really up to leading the Rams into contention. Foles fared well in Chip Kelly's creative offense in 2013 but disappointed a year ago before going down with injury. And his early summer efforts have not exactly scintillated. Nor have those of the offensive line, which most believe must upgrade this fall if the Rams are going to become the chic playoff pick that some observers believe them to be.


Moreover, a slow recovery from last year's ACL injury might delay the debut of rookie first-round pick RB Todd Gurley, the Georgia All-American who was expected tp provide an immediate lift for the Rams offense. If at 100%, Gurley gives the Rams the sort of back they haven't had since the days of Marshall Faulk. If not, Fisher's dream to have an offense capable of running over the opposition likely doesn't materialize with holdover Tre Mason, himself dealing with a preseason hamstring strain that could keep him out of the opener vs. the Seahawks, or ex-Middle Tennessee plugger Benny Cunningham.


Moreover, Foles has the unenviable task of making any combination of wideouts among Kenny Britt, Tavon Austin, Brian Quick, Chris Givens, and TE Jared Cook relevant. None has excelled for extended periods in the NFL, though past QB problems in St. Louis might have had something to do with those harsh realities. Still, does Foles really give the Rams that sort of upgrade at QB?


Also, we're not as confident as we were in the past with strong-legged PK Greg Zuerlein, who in the past two years has not demonstrated the super-strong leg that made him a rave in his rookie year of 2012 and had some high-profile misses in 2014. A special teams force to watch, however, is WR Austin, also a coast-to-coast threat on punt returns.


While the defense has shined at times in the Fisher era, and shown the potential to dominate, it has also been a bit inconsistent. At its best, the Rams' front seven can be fearsome, although it took DE Chris Long returning from an ankle injury last season before the platoon began to excel. Adding ex-Lion DT Nick Fairley in free agency, however, should further strengthen the defensive front. Alongside the 2014 defensive rookie of the year, DT Aaron Donald, Fairley upgrades the St. Louis defensive middle. Along with DE Robert Quinn and his 10 ½ sacks from a year ago, the Rams might have one of the NFC's best defensive fronts.


Free agency added another impact performer on the edge in ex-Patriots OLB Akeem Ayers, who gives d.c Gregg Williams more pass-rush options to bother opposing QBs. The strength of the secondary should again be "McSafeties" T.J. McDonald, and Rodney McLeod, but the corners have been getting beaten deep too often in recent years, and Janoris Jenkins' penchant for gambling in coverage might have to be curbed or else the big plays could continue to burn this secondary.


Even with those potential issues on the corners, the defense looks postseason quality. But for the Rams to make a move into the playoff mix this fall, Foles is going to have to play at least as well as he did in his best year at Philadelphia in 2013, and Georgia rookie RB Gurley is going to need to make a big impact, which might be problematic if he's not all of the way back from last year's serious ACL injury. Without those two elements delivering, the Fisher era, and the St. Louis era, might end simultaneously for the Rams after this season.
Return To Home Page