6646...
TGS HOOPS NBA PREVIEW
...2015-16 NBA "FUTURES" TO WATCH!




by Bruce Marshall, Goldsheet.com Editor, and P.Carl Giordano, Managing Editor





It's

hoops time! Along with the commencement of the NBA regular season this week, TGS Basketball begins its online publishing as well; for online subscription information, check our website at www.goldsheet.com or give us a call at 1-800-798-

GOLD

(4653) to take advantage of special preseason pricing offers. As always, we begin our hoops coverage with our featured season "over/under" win recommendations; 2015-16 win totals are listed next to each team.
EASTERN CONFERENCE


ATLANTIC DIVISION: They're not ready to hang any new banners in TD Garden quite yet. But after a brief lull, the trendline seems up once again for the Boston Celtics (42½), who made a surprise playoff appearance last season in their second year under young HC Brad Stevens, who seems to have adapted nicely to life in the NBA. Offseason addition F David Lee is the prototype Stevens player, versatile in his offensive skills and comfortable with the Golden State-type of floor-spacing that Stevens covets, while ex-Raptor Amir Johnson adds frontcourt muscle. And there are even more backcourt options these days for Stevens with rookies Terry Rozier and R.J. Hunter now into the perimeter mix. A move comfortably above .500 appears the next stage of the latest Celtic ascent. Look "over" in Beantown.
There was no panic north of the border when the Toronto Raptors (45½) were swept out of the playoffs last spring by the Wizards. Instead of worrying about his job, HC Dwane Casey was given assurances by GM Masai Ujiri, who proceeded to add the versatile DeMarre Carroll in free agency from the Hawks. Casey thus receives the defensive upgrades he could never realize with his collection of smaller perimeter components. And in Carroll, Toronto now at least has someone to pester LeBron James should the Raptors draw the Cavs in the playoffs. Meanwhile, other additions Luis Scola and Bismack Biyombo have minimized Amir Johnson's defection to Boston. All of which provides what seems an upgraded supporting cast around sparkplug Gs DeMar DeRozan and Kyle Lowry. It should be an "over" at Air Canada Centre.


We're not going too far out on a limb projecting the New York Knicks (30½) to exceed last year's 17 wins. But asking the Knicks to nearly double their win haul from a year ago seems a bit much. While Phil Jackson has shuffled the personnel deck somewhat, and HC Derek Fisher appears to have moved from the triangle-centric offense to more of a Golden State-like, transition-based style, there are few indicators that the pieces fit. At this stage of his career, Carmelo Anthony doesn't appear likely to "take one for the team" if he can't get his normal allotment of shots, and it is not lost upon shrewd observers that 'Melo was hardly eager to hurry back into action whenever injuries arose last season. Jackson's new imports include Arron Afflalo (hurting at the outset with hamstring issues), Robin Lopez, and an intriguing 7-3 first-round pick, Latvian Kristaps Porzingis, plus Notre Dame rookie PG Jerian Grant, so the pieces are in place for a mild upgrade. Then again, it would be hard for the Knicks to actually regress this term, where another round of sparring between owner Jim Dolan and the Big Apple press, plus the likes of Spike Lee and Stephen A. Smith making their opinions known, figure to be more entertaining than the on-court product.Expect another "under" at MSG.


Struggling to break the 20-win barrier since GM Sam Hinkie arrived and began to deconstruct the roster with his dubious "analytics"-dominated approach, the Philadelphia 76ers (21½) have been a mess the past couple of years, evoking comparisons to their epic 9-win, 1972-1973 Sixer predecessors. Breakthroughs are thus measured in modest terms these days in Philly, but we're still not convinced better days are coming soon. Promising Duke rookie Jahlil Okafor is the latest to test the Sixer whirlpool, but Hinkie has had little luck with previous first-round picks, as Joel Embiid remains on the shelf and Nerlens Noel has been slow to progress. Coach Brett Brown has some new elements to fit into the Sixer puzzle, and the likes of vets Carl Landry and Nik Stauskas, plus rookies Okafor and J.P. Tokoto, provide potentially useful rotation pieces. But Hinkie has been moving players in and out so quickly the past couple of years that it has been hard for Brown to develop any chemistry with his roster, and the collection of draft picks Hinkie has acquired for the future are not going to do the current Sixer version much good. Philly fans deserve better, but we're looking "under" again at Wells Fargo Center.


The expectations are now way down for the Brooklyn Nets (28½), so much so that sightings of Jay-Z and Beyonce' at Barclays Center are likely to become further and further between. But are the Nets really going to fall off of the map? Sure, the key components are either aging or injury-prone; Joe Johnson can still fill it up from the wing, but at 34 we're not sure how much tread is left on his tires, and C Brook Lopez has dealt with injury issues on an annual basis. Frontliner Andrea Bargnani, also with a checkered health history, arrives from the Knicks to provide HC Lionel Hollins with another scoring option. Still, roster depth appears an issue and could become an albatross if injuries hit once more, but don't forget that the Nets still managed to sneak into the playoffs last term with similar roster dysfunctions, as Hollins had enough veteran presence at his disposal (such as Johnson and vet PG Jarrett Jack) to keep the Brooklyn ship from capsizing. Making the playoffs, even in the East, appears a tall order, but Hollins should be able to squeeze at least 30 wins out of this bunch. It's an "over" for us in Brooklyn.


CENTRAL DIVISION: We would not be surprised to see the Cleveland Cavaliers (56½) again playing for the title next June in what would be LeBron James' sixth straight trip to the Finals. Especially after the Cav supporting cast was upgraded throughout last season thanks to additions of Timofey Mozgov, Iman Shumpert, and J.R. Smith, while first-year HC Dave Blatt learned to co-exist, at least we think, with King James. But as LeBron moves into the second half of his career, his focus is likely to mirror a Spurs-like approach, and the recurring back woes that forced LeBron to shut down in preseason suggest he will take breaks as needed (as he did last January) to make sure he is healthy in April. Already, key G Kyrie Irving is not healthy, as his recovery from knee surgery could keep him out until Christmas, and Shumpert opens the season on the shelf with a wrist injury. And we're still not sure Kevin Love has found a proper fit in the Blatt (LeBron?) system. Hitting 57 regular-season wins looks like a tall order, so we're looking "under" at The Q.
The good news for the Indiana Pacers (41½) is that Paul George is going to be available at the outset after missing almost the entirety of last season with a broken leg. The bad news is that there was a near complete clear-out (via trade and FA) of the frontline that is now minus longtime cogs David West and Roy Hibbert, plus last year's useful addition Luis Scola. Frank Vogel thus will transform the Pacers into the poster team for "small ball" as he adds Monta Ellis to the mix to fire away with George, but also wonders if the likes of journeymen Ian Mahinmi (whose 30% FT shooting makes Dwight Howard look like Rick Barry by comparison), Lavoy Allen, and Texas rookie Myles Turner can handle duty in the post. We're not sure. Though being guard-heavy is not necessarily a death knell in the East, we're not convinced the Indiana version gets above .500, either. It's an "under" for us at the Fieldhouse.


Last year was adjustment time for the Detroit Pistons (34½), with new HC Stan Van Gundy needing a full campaign to re-format the roster with players who not only fit into his system, but also wanted to play at The Palace. The latter was not necessarily the case with key frontliner Greg Monroe, who made little secret about his desire to test the FA waters after last season and made the subsequent jump to division rival Milwaukee. In the meantime, among the many personnel moves by Van Gundy were adding ex-Thunder PG Reggie Jackson, no longer overshadowed as he was in Ok City by Russell Westbrook and Kevin Durant and who was rewarded with an upgraded contract and the keys to run the Piston offense. Jackson's ability to run the pick-and-roll effectively with C Andre Drummond was a significant development after the All-Star break, and Van Gundy believes he added some needed three-point shooters to spread the floor in ex-Buck Ersan Ilyasova, ex-Sun Marcus Morris, and ex-lots-of-teams Steve Blake, all of whom are likely to upgrade the Pistons' modest 34% shooting beyond the arc a year ago. If all works as planned, Van Gundy at the least should have a borderline playoff contender, so we're looking "over" at Auburn Hills.


After a bumpy debut as an NBA HC at Brooklyn, Jason Kidd proved that he knew what he was doing last year with the Milwaukee Bucks (44½), who forged a dramatic and unexpected turnaround from the 15-67 debacle Kidd inherited. The fact Milwaukee was able to improve so dramatically and emerge as a playoff team even after the December injury to touted Duke rookie Jabari Parker was an added feather in Kidd's cap. But the element of surprise that helped last year's Bucks is no longer present, and the jury remains out on last February's deadline deals that sent effective PG Brandon Knight to the Suns and added Michael Carter-Williams from the Sixers to run the point. (The Bucks, 30-23 before the Knight trade, sagged to 11-18 after he was sent to Phoenix.) The well-traveled Greivis Vasquez is Kidd's security blanket at PG should Carter-Williams falter, but we still wonder about the wisdom of the Knight trade. Adding ex-Pistons FA frontliner Greg Monroe, plus the rapid progress of swingmen Khris Middleton and the "Greek Freak" Giannis Antetokounmpo, suggest Kidd could get Milwaukee back to the playoffs. But the questions at PG, the fact that no one really knows when still-on-the-mend Parker will be full speed, not to mention the downgrade of the Bucks' new uniforms (what was wrong with the forest green-red/orange look?), have us off of the scent. Look "under" in Brewtown.


It has started to dawn upon fans of the Chicago Bulls (49½) that their team might never be fully healthy with a collection of injury-prone key cogs such as Derrick Rose and Joakim Noah. The starters missed an average of more than 17 games last season, so we wonder if new HC Fred Hoiberg is going to have the same issues with available bodies as did predecessor Tom Thibodeau in recent years. Still, we do not want to dismiss the Bulls, as Jimmy Butler progressed from defensive specialist to All-Star while Rose has struggled to stay healthy, and there is hope that potential young stars such as Doug McDermott, Tony Snell, and Nikola Mirotic can make more consistent contributions this season, while Arkansas rookie Bobby Portis has the potential to fill a variety of roles for Hoiberg. Still, there is an element of the unknown about the Bulls, with so much depending upon the health of Rose, Noah, and the aging Pau Gasol. If all hands stay on deck, and Hoiberg makes a smooth adjustment to the NBA (where he played and coached), the Bulls could threaten Cleveland in the Central, but those are big ifs; we'd rather stay neutral and simply take a pass at United Center. SOUTHEAST DIVISION: The Atlanta Hawks (49½) were a season-long surprise a year ago, with the "Bud Ball" of new HC (and ex-Gregg Popovich aide) Mike Budenholzer looking a lot like the Spurs, only with more colorful uniforms. The sum should again be greater than the parts in Atlanta even though the Hawks went only 1-for-2 in free agency, losing DeMarre Carroll to Toronto while managing to re-sign invaluable PF Paul Millsap. A useful FA addition is ex-Spur Tiago Splitter, who provides a bit more rough-and-tumble around the bucket and more screens for PG Jeff Teague and spot-shooter deluxe Kyle Korver. When Budenholzer likely misses Carroll will be in the playoffs, especially if Atlanta again has to run into LeBron and the Cavs. In the regular season, however, we can't see the Hawks dipping more than 10 wins from a season ago. "Over" at Philips Arena.
It's time to start counting Randy Wittman among Bob Knight's more-successful disciples, as hoop insiders beyond "The General" all recognize the superb job Wittman has done in molding the Washington Wizards (45½) into a contender in the East. But can Washington take the next step after winning a playoff series in each of the past two seasons? On the surface, the departure of vet Paul Pierce to the Clippers seems a potential negative, as Pierce provided a valuable third scoring option beyond Gs John Wall and Bradley Beal. But Pierce's contributions were limited to the offensive end, and his defensive liabilities are not going to be missed. Emerging ex-Georgetown star Otto Porter gives Wittman more flexibility than did Pierce, and offseason additions Jared Dudley and Alan Anderson, plus Kansas rookie Kelly Oubre, provide plenty of new rotational options. Wittman and GM Ernie Grunfeld are crossing their fingers that frontliners Nene and Marcin Gortat, who do most of the dirty work on the blocks, can stay healthy, but the supporting cast around Wall and Beal looks capable enough for the Wiz to not regress from last season's 46 wins.Look "over" at the Verizon Center, where a quick stop at the venerable Ben's Chili Bowl, nearby on U Street, for a chili half-smoke remains a must before any Wizards game.


Just when it appeared the Charlotte Hornets (34½) might be making progress, as they did when making the playoffs two seasons ago, they regressed to 33-49 last term. Charlotte similarly took two steps backward before taking another forward a few years earlier. Now the Hornets have once again shuffled the deck with as many as eight new faces on HC Steve Clifford's roster. Of this new bunch, ex-Blazer swingman Nicolas Batum is the featured addition, but even he is in a contract year and has made it known he would like to move to Toronto for 2016-17. Jeremy Lin also arrives to provide some relief for Kemba Walker at the point, but Charlotte still lacks an identity beyond Clifford's defensive schemes, as observers are unsure whether the Hornets decide to go more "small ball" with an uptempo emphasis, fueled by Walker, or grind out possessions in halfcourt sets, running the offense thru injury-prone C Al Jefferson. Clifford also could greatly miss the versatile Michael Kidd-Gilchrist, likely out for the season after shoulder surgery. With apologies to majority owner Michael Jordan, it's hard to forecast any upgrades in Charlotte, so it's an "under" for us at the Cable Box.


Perhaps no team enters 2015-16 with as many health questions as the Miami Heat (45½), which looked like a playoff team when all hands were on deck last season, but faded out of contention when Chris Bosh had to be shut down for a life-threatening heart condition, and injuries once again caught up with Dwyane Wade. Bosh has returned, but counting upon a full season from Wade appears a risky proposition at this stage. The supporting cast has promise, especially after Hassan Whiteside emerged as a serviceable NBA center last season, and PG Goran Dragic arrived from the Suns at the trade deadline, right before Bosh went out, while Luol Deng remains a useful component at the "3" position. Gerald Green also provides some cover if Wade goes down again, while Duke rookie Justise Winslow is also likely to fit somewhere into the rotation. But there are risks associated with entrusting so much with Bosh and especially Wade at this stage of their careers. There is also the subject of HC Erik Spoelstra, who was absolved of blame in last year's post-LeBron season largely because of the plights of Bosh and Wade, but might be held accountable should the Heat miss the playoffs again. After all, Pat Riley is going to have to find some scapegoat if things goes pear-shaped once more, won't he? Too many ifs at AA Arena, so it's a pass for us in Miami.


On the surface, the hiring of HC Scott Skiles appears a curious bit of business for the Orlando Magic (34½), given that the prickly Skiles has been run out of his previous three jobs with the Suns, Bulls, and Bucks. Short-term, however, Skiles has usually provided upgrades for his teams, and most NBA observers believe his disciplinarian approach might be what is needed for the young Magic roster that did not respond to the kinder and gentler approach of Jacque Vaughn, fired midway thru last season. Skiles inherits a roster full of lottery picks, with much intrigue surrounding first-round pick Mario Hezonja, a Croatian import who cut his teeth in high-level Euro play the past couple of years at FC Barcelona (the basketball team, not the soccer team). Along with Tobias Harris, Skiles has a couple of small forwards with much promise, and young Gs Elfrid Payton and Victor Oladipo have flashed considerable upside. We give the front office credit for sticking with its plan to build through the draft and not seek too many quick-fix answers in free agency. But whether the Magic has fermented enough to contend for the playoffs, or if Skiles is the right fit, remains to be seem. So we'll just sit and watch how things transpire at Amway Center, with a no-call on the Magic.


WESTERN CONFERENCE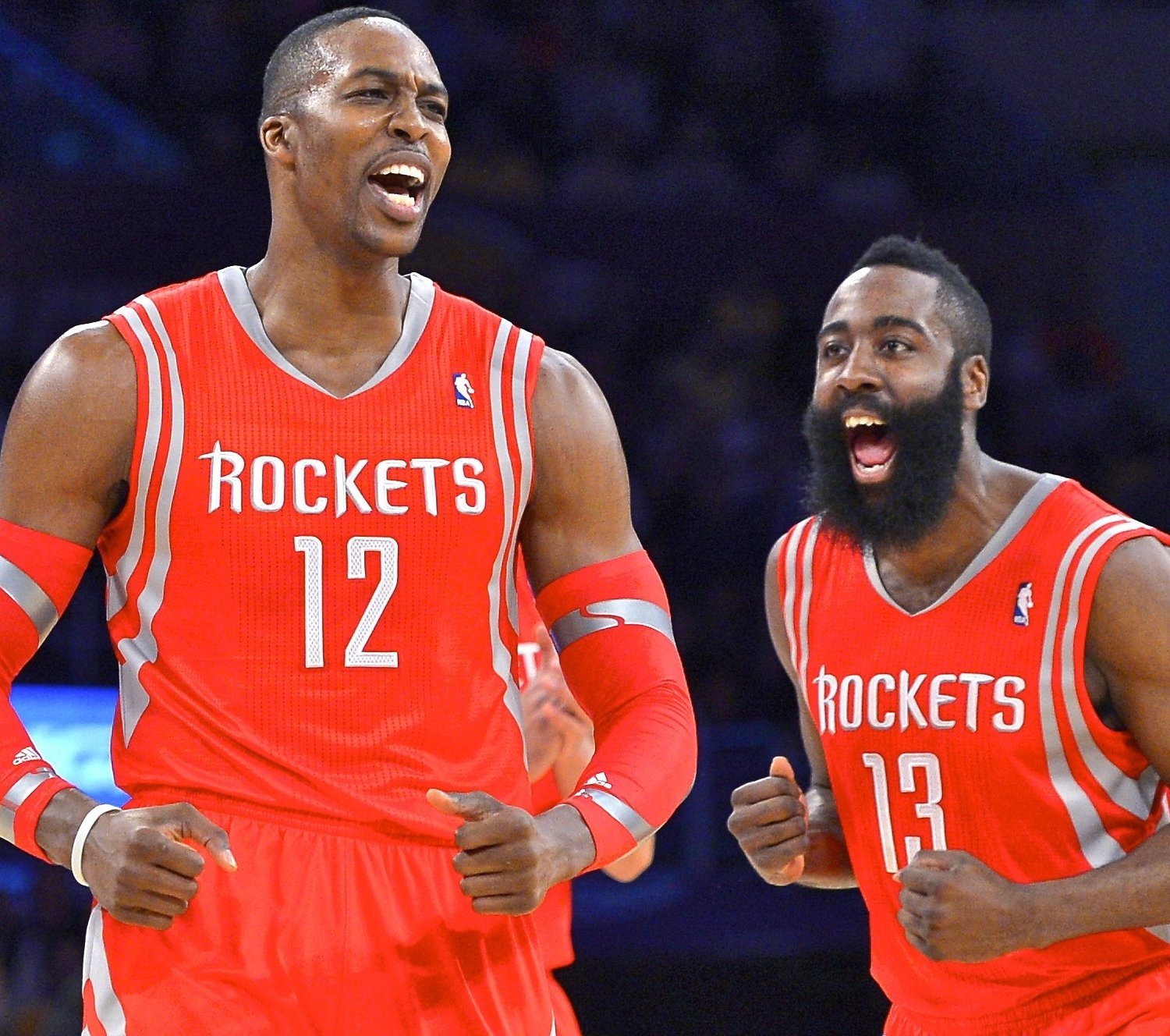 SOUTHWEST DIVISION: Give the Houston Rockets (54½) and GM Daryl Morey credit for not standing still. Addressing the one glaring area of need on the roster, Morey went out and added an elite PG, Ty Lawson, in a trade with the Nuggets. For the cost of a collection of fringe players and a couple of draft picks, Houston has thus added a guard who can take a lot more scoring pressure off James Harden than Patrick Beverly or any of the other PGs on the roster the past two years. Now, can Lawson stay out of trouble after a couple of recent DUI arrests? If so, the Rockets certainly appear better prepared to battle the Warriors than they were in last spring's West Finals, and should not regress from last year's 56 wins. "Over" at Toyota Center.
One of these years, the San Antonio Spurs (58½) will be minus their longtime "big three" of Tim Duncan, Manu Ginobili, and Tony Parker, who return for one more ride at the rodeo. (To be fair, at "only" 33, Parker is nowhere near as close to the end of the line as the older Duncan and Ginobili, but we are content to play along with the long-running narrative in Alamo City.) And on the surface, the Spurs appear better set for another run at NBA gold after adding frontliners LaMarcus Aldridge and David West, the latter hungry enough for a title to accept a big pay cut to get a chance to play for the ring. But, as has been the case in recent years, Gregg Popovich is going to pace the elders on his roster with an eye to peaking in April, not before the All-Star break, and there does figure to be an adjustment period with Aldridge, and to a smaller degree West, accepting new roles in the Popovich system. The likely move of Duncan to a reserve role could turn out to be a stroke of genius by Popovich, and Kawhi Leonard has ascended to All-Star caliber status, so we would not bet against San Antonio making another run to the NBA Finals after last spring's bitter first-round exit vs. the Clippers. But the regular season will likely be a prelim for the Spurs, whose focus will again be on staying healthy for the postseason. "Under" at AT&T Center.

The Memphis Grizzlies (50½) breathed a sigh of relief when invaluable big man Marc Gasol re-signed a new deal to stay in town and keep intact a familiar core that includes Zach Randolph, Mike Conley, and Tony Allen, now entering their sixth season together. A bit more inflow (Matt Barnes and Brandan Wright) than outflow (Kosta Koufos) in free agency suggests a small roster upgrade for HC Dave Joerger, who hopes that the aggressive Barnes adds the sort of size on the wings that the Griz might need. While still short of a Kyle Korver-like spot shooter that could make the difference in a playoff series vs. a team like the Warriors (pushed to six games by Memphis last spring despite the Griz being without Allen and Conley for parts of the series), Joerger's team hardly appears as if it will regress from last year's 55 wins unless injuries hit key cogs such as Gasol and Randolph. Short of that, it looks like an "over" at FedEx Forum before Memphis likely runs into another roadblock in the crowded West playoffs.


Accepting that he had a good thing going, GM Dell Demps did little roster tinkering in the offseason with the New Orleans Pelicans (47½), who made the playoffs last spring and return with basically the same look. And why not, with frontliner Anthony Davis on his way to superstar status? That's not to say that Demps stood pat, surprisingly hitting the eject button on HC Monty Williams and enlisting Alvin Gentry, who makes his fifth stop as an NBA HC and also fresh off a stint as Steve Kerr's top assistant with the champion Warriors. Demps is looking for Gentry to implement a go-go Golden State style of transition basketball in the Big Easy, an approach embraced by the versatile Davis, who could further thrive in an uptempo attack. Though the key to New Orleans making the move from playoff team to title contender might rely upon PG Jrue Holiday staying healthy after missing almost half of last season due to leg problems. Especially since there are injury concerns already on the perimeter with Tyreke Evans out until at least mid-December with knee issues, G Norris Cole dealing with a bum ankle, and C Omer Asik trying to overcome a potentially bothersome calf strain. Assuming no more significant health developments, the Pelicans could be one of the more entertaining teams in the league. As long as the early spate of injuries abates, look "over" at Smoothie King Center.


Mark Cuban must have thought he was being outbid by Kevin O'Leary or Daymond John on ABC's Shark Tank when C DeAndre Jordan abandoned his verbal commitment in the offseason to sign with the Dallas Mavericks (37½) and instead decided to remain with the Clippers. That punch in the gut, along with C Tyson Chandler's decision to bolt to Phoenix, left the Mavs in a precarious position on their frontline. The situation was eventually salvaged, though perhaps just partly so, when adding ex-Hawk and Buck Zaza Pachulia later in the summer, a valuable "save" for HC Rick Carlisle. The storyline for this season in Big D, however, will likely be whether the Mavs can squeeze something out of main offseason additions Deron Williams (back in his hometown) and Wes Matthews, the former trying to rediscover prior form that has been fleeting the past few years, the latter trying to come back from an Achilles tendon tear. As well as getting a full season from swingman Chandler Parsons, who was effective (15.7 ppg) a year ago before suffering a season-ending knee injury that required surgery, and still on the mend as the new 2015-16 campaign begins. Yes, Dirk Nowitzki is still around, but his contributions are beginning to diminish. And. unfortunately, the inability to add a rim protector like Jordan means Dirk's defensive flaws will remain harder for Carlisle to camouflage. With so many questions, a playoff berth appears a difficult task, though a precipitous drop from last year's 50 wins is probably unlikely if all hands stay on deck. It's a no call for us at AA Center.


NORTHWEST DIVISION: It has already been a distracting preseason for the Minnesota Timberwolves (26½), absorbing their hardest blow over the weekend with news of the passing of HC Flip Saunders, who had been battling Hodgkin's lymphoma. Assistant Sam Mitchell, formerly Toronto's HC, will take over on the bench for the remainder of this term . In the meantime, the T-wolves continue to collect No. 1 draft picks, adding Kentucky C Karl-Anthony Towns last June. However, this stockpile of young talent that also includes last year's top pick Andrew Wiggins has yet to coagulate, and a jump of 11 wins from 2014-15 appears a tall order. Especially since counting on a full season from injury-prone PG Ricky Rubio (who missed 60 games in his latest injury-marred campaign a year ago) appears wishful thinking. And Kevin Garnett's value these days is not much more than a mentoring role. More losses in Minneapolis; "under" at Target Center.
Longtime fans in "Rip City" might be wondering if they are watching a replay of the 1970-71 expansion campaign of their Portland Trailblazers (26½), whose roster has undergone a complete overhaul after mass defections following last season. The Blazers did win 29 games in their debut year with the likes of Geoff Petrie, Rick Adelman, Leroy Ellis, and the one and only Dale Schlueter providing main contributions. But the current lot might be doing well to match that win total after almost the entire rotation (LaMarcus Aldridge, Nicolas Batum, Robin Lopez, Wes Matthews, Arron Afflalo), save G Damian Lillard, departed in the offseason, taking a whopping 76 points and 34 rebounds per game with them. Replacement parts such as Gerald Henderson, Miles Plumlee, and Ed Davis are serviceable sorts, and holdovers such as G CJ McCollum and C Meyers Leonard might be ready to assume more-featured roles. But make no mistake, this is a massive rebuild going on in Portland, and all of HC Terry Stotts' motivational skills and ability to quickly assemble the pieces around Lillard will be required to keep the Blazer barge from crashing into the pier. We normally don't forecast such a big drop in wins, but we can't help but look "under" at the Rose Garden.


Unlike a year ago when ravaged by injuries, the Oklahoma City Thunder (56½) are likely to inhale most of the available oxygen in the Northwest Division. Of course, getting former league MVP Kevin Durant back in the fold after his injury-plagued 2015-16 is the biggest development, but that wasn't the main news in the offseason at The Peake, as ex-Florida HC Billy Donovan makes the jump to the NBA to replace the jettisoned Scott Brooks. While new to the pro game, Donovan coached and saw lots of NBA talent with the Gators, and most insiders expect Donovan to let his star players improvise and create, rather than overcoaching with set plays on every possession. Thus, there's a good chance Durant and Russell Westbrook might flourish to an even greater extent. And during the wreckage of 2014-15, Ok City did add a potential valuable piece in C Enes Kanter, acquired from the Jazz at the trade deadline and finally giving the Thunder a post threat who can score close to the basket. (Ok City GM Sam Presti thought enough of Kanter to reward him with a $70 million offer sheet in restricted free agency.) A full-strength Thunder completely change the dynamics in the Northwest as well as the entire conference, and unless Donovan flops (which we highly doubt), this might be the year it all comes together in Ok City before pending FA Durant decides what to do next summer. "Over" at The Peake.


It's been nothing but a steep decline lately for the Denver Nuggets (26½), a playoff regular not long ago but trending downward fast the past couple of years since mistakenly moving out HC George Karl. The Brian Shaw coaching experiment failed miserably, and now it is up to former Sacto HC Mike Malone to re-assemble the pieces. Unfortunately, Malone is faced with a massive rebuild with a roster full of role players, rookies, and now no stars after troubled point guard Ty Lawson was traded to Houston for some spare roster parts and future draft picks. In other words, nothing that will help this year. It will still be fun to watch F Kenneth Faried, who was all over the floor last season and did everything except sell popcorn at the Pepsi Center, while Danilo Gallinari and Wilson Chandler can still knock down shots and help Malone pull a surprise or two along the way. Intriguing 6-5 rookie PG Emmanuel Mudiay, a first-round draft pick, has plenty of upside, but nonetheless appears a developmental project at this stage. Add it up, and Denver is not likely to be a factor this term and could be a seller again at the trade deadline, nothing that bodes well for this season. True, Malone doesn't have to deal with DeMarcus Cousins, as he did in his time with Sacto last season, but we see few other positives for the new coach in the short term with the Nuggets, so we look "under" in the Mile High City.


The Utah Jazz (41½) were one of the NBA's belles of the ball in the second half of last season, winning 19 of their last 29 games on the back of a superb defense led by the promotion of the Frenchy "Stifle Tower" (or do you prefer "French Rejection" instead?) Rudy Gobert to starting center. Unfortunately, a lot of the feel-good in Salt Lake City was tempered in the offseason when emerging young 6-6 PG Dante Exum wrecked a knee playing for the Aussie national team and will be lost for the season. But the absence of Exum, while on the ascent, does not figure to be a death knell for HC Quin Snyder, who likely gives the PG job back to Trey Burke, who was close behind Michael Carter-Williams and Victor Oladipo for Rookie of the Year honors the previous term before yielding minutes to Exum in the later portion of 2014-15. The emergence of Gordon Hayward into an All-Star caliber contributor remains a plus, and Gobert's presence on the stop end figures to become more pronounced as the season progresses. Exum's injury prevents us from looking "over" at Energy Solutions Arena, but enough positives are still present for the Jazz to keep us neutral on their win prospects this term
.
PACIFIC DIVISION: We have been burned a couple of times in recent years when expecting too much of the Sacramento Kings (32½). Call us stubborn, because we're doing it again. That's because we're giving the Kings one more mulligan for their disjointed 2014-15 campaign that featured three different head coaches and an eventual awkward transition to the regime of current HC George Karl after the All-Star break. Karl's track record, however, suggests the Kings should not remain a doormat. We saw the Karl touch in the offseason, gambling on a potential elite PG in Rajon Rondo and adding valuable rotation pieces Marco Belinelli from the Spurs and Kosta Koufas from the Griz. Kentucky rookie C Willie Cauley-Stein will also provide defense on nights when DeMarcus Cousins is pouting or otherwise occupied. Yes, adding another complicated personality in Rondo to go along with the moody Cousins means that Karl perhaps should have considered offering Dr. Phil a assistant coaching role, but a mild upgrade into the mid 30s in wins is not asking much from a team that already has 20+ scorers in Cousins and Rudy Gay. Look "over" at the Sleep Train.
It was a fun ride last season for the Golden State Warriors (60½), winning their first NBA title in 40 years, or since one of our all-time favorite teams, led by Rick Barry and coached by the wolverine-like Al Attles, took the crown in a startling Finals sweep of the then-called Washington Bullets. Like the subsequent Warriors team in 1975-76 that would lose in the West Finals to Paul Westphal, Alvan Adams, Gar Heard, and the Phoenix Suns, we wonder if the Warriors get back to the top of the heap this term. Keep in mind that Golden State experienced uncommonly good injury luck last season, and any resurface of MVP G Steph Curry's previous problems with turned ankles and other nagging maladies could somewhat derail the operation. Already there is injury news on the bench as HC Steve Kerr will miss the start of the season due to a balky back, with assistant Luke Walton pushing the buttons until further notice. A signal of things to come? On the other hand, aside from F David Lee's departure to Boston, there was no significant roster outflow, and much of the same roster that dominated the league a year remains in tact. Only this time, Golden State wears a huge target, and if the Warriors can't catch the same injury breaks that helped so much a year ago, we are not convinced they get to 60 wins. Golden State might well return to the Finals, but it's an "under" for us in Oakland.


There is lots of wishful thinking going on with the support base of the Los Angeles Lakers (29½), who had to endure an unspeakably difficult 21-61 slog a year ago, the franchise's worst mark since it moved to California in 1959. And, in their defense, it is hard to imagine things going as pear-shaped this term after injuries took Kobe Bryant out of the equation after just a handful of games, while promising rookie PF Julius Randle went out for the season with a leg injury in the opener. But these are still turbulent times for the Lake Show, with Jimmy and Jeanie Buss locked in a sibling rivalry for direction of the franchise, and GM Mitch Kupchak now supposedly given a freer hand to alter the roster as he sees fit. There is some hope for the future with Randle having returned and top draftee D'Angelo Russell from Ohio State promising to add some real spark. The shadow of Kobe, and his immense contract, however, delay the beginning of any serious rebuilding, and even if he remains healthier (a big if after missing most of the past two seasons as his body, like so many veteran players before him, breaks down late in his career), we're not sure how that plays in what is likely his valedictory campaign. We just wonder how HC Byron Scott continues to handle a caretaker role until Kobe likely exits stage left at the conclusion of the season. In the East, perhaps we would entertain an "over" recommendation, but not in the West, where the schedule is too tough for the Lakers to make a significant move forward this year. Another "under" for the Lake Show.


Is the window of opportunity closing for the Lakers' Staples Center co-tenant Los Angeles Clippers (56½)? It might be for HC Doc Rivers, hired by the previous Donald Sterling regime to steer the team further in the postseason than it went under predecessor Vinny Del Negro. That has yet to happen, however, and the bitter after-taste of blowing a 3-1 lead in the West semis vs. the Rockets might have Doc on notice from new owner Steve Ballmer, who when not being featured on Shaqtin' a Fool with his dance antics during timeouts does not seem the sort to tolerate any further underachieving, especially in the manner of the most-recent postseason exit. The importance of managing to hold onto C DeAndre Jordan (who first committed to Dallas in free agency) cannot be minimized, as his presence on the defensive end frees Blake Griffin to concentrate more on offense. But the main motor in the Clips' engine room remains PG Chris Paul, whose knees are becoming more brittle by the season, and Doc is going to have to spend the first half of the campaign figuring out his rotations with a diverse cast of newcomers, with Paul Pierce, Lance Stephenson, Josh Smith, and Wesley Johnson all looking for minutes and a defined role. The energy provided by since-departed Matt Barnes (now in Memphis) might also be hard to replace.By April, perhaps Rivers has assembled the pieces for a legit title run, but we foresee some bumps along the way, so it's an "under" for us at the Clip Joint.


Unlike a year ago, when off a narrow miss at a playoff berth in 2013-14 that no one expected, few are paying attention to the Phoenix Suns (36½), who faded down the stretch last season when losing 10 of their last 11 to drop from postseason contention. That slump, however, coincided with an ankle injury to G Brandon Knight, acquired at the trade deadline from the Bucks and regarded so highly by GM Ryan McDonough and HC Jeff Hornacek that he was subsequently signed to a $70 million, five-year deal to remain in Phoenix. So, unlike a year ago, there is now some clarity in the backcourt after last year's roster logjam had Goran Dragic and Isaiah Thomas (also both with contract distractions) looking to get out. Now, Hornacek sees Knight and fellow backcourt mate Eric Bledsoe as the cornerstones of the roster. Meanwhile, there looks to be some stability in the post with the addition of veteran C Tyson Chandler, who is also expected to provide needed leadership in the clubhouse. Thus, sources say chemistry issues that proved a distraction last season should not be a factor, and Hornacek has proven plenty capable of coaxing more out of past rosters. Getting into the high 30s in wins is not asking too much of the Suns, so we look "over" in the Valley of the Sun.
Return To Home Page