6745...
TGS SPECIAL REPORT
..."BLACK MONDAY" LOOMS IN NFL
by Bruce Marshall, Goldsheet.com Editor
With the bowl season going full-bore and taking up additional space in the TGS Football the past few weeks, we have not had space to devote to some developments in the NFL. Especially the coaching carousel that will begin to spin once the regular season is complete.


Indeed, the day after the regular season concludes has earned the title "Black Monday" because so many coaches have had the axe fall upon them on that very day over the years. This season should be no different, as sources say up to a dozen NFL mentors could be in trouble when the regular season concludes.


A couple of teams, however, beat "Black Monday" to the punch when announcing their intentions before this weekend's final regular-season games. Those include the Eagles, whose owner Jeffrey Lurie gave HC Chip Kelly his pink slip on Tuesday, and the Jags, taking an opposite stance when owner Shad Khan announced that under-fire HC Gus Bradley would return in 2016.


In Kelly's case, season-long disappointment had reached untenable levels in recent home losses to the Cardinals and Redskins that knocked the Birds out of the playoff picture, with each of those teams clinching their division titles on the Eagles' turf! Kelly, who in the offseason had won an organizational struggle with Howie Roseman for control of the team's personnel decisions, would swing and miss on most of his many roster moves and free-agent signings. Pressure mounted throughout the regular season to the point where Lurie had decided he was not going to let Kelly keep both a personnel and coaching role into the future. Sources say that when Kelly balked at the idea of relinquishing any power earlier this week, Lurie quickly decided to cut the cord. Also out in Philly is Ed Marynowitz, whom Kelly had enlisted to run the Eagles' personnel department. Ex-Bills and Steelers GM Tom Donahoe was named the new senior director of player personnel, but it is expected that none other than Roseman will re-emerge in a supremo role. Lurie also reportedly wanted to get a head start at finding a replacement for Kelly, though he cannot contact NFL assistants until midnight on Sunday after the regular season concludes.


As for Jacksonville, Bradley entered this season (his third) not with a must-win edict, but rather an improve-or-else order from owner Khan, who has pulled a quick trigger before with his coaches in other sports (running three managers out in his first season as owner of EPL Fulham) and was said to be growing a bit impatient. Though the Jags were officially eliminated from the playoff picture last week, their 5-10 mark does qualify as progress from last year's 3-13 and has bought Bradley, who reportedly has the support of his players, another season. Expect 2016 to be a "playoffs or bust" campaign for Bradley, though unlike Kelly, Bradley at least knows where he will be working next season.


Elsewhere there are plenty of "Black Monday"-related storylines to note. Before the regular season concludes and all heck breaks loose next Monday, a quick review is in order of those teams we believe have coaching situations possibly "in play" beginning next week.


Rex Ryan, Buffalo...Though not near the top of the list, there are some sources who believe Ryan might be in a bit of trouble after a disappointing debut season with the Bills. In his usual blustery manner, Ryan predicted a playoff berth for his new team, but nobody expected one of the NFL's best defenses to tail off dramatically under Ryan, whose schemes and alignments proved a poor fit for the personnel as Buffalo's defensive numbers would drop sharply this season. One of Ryan's loudest critics has been DE Mario Williams, almost certain to be released at the end of the season, though the fact there is apparent internal dismay in the clubhouse is a red flag for Ryan, whose Jets teams, especially in his earlier years in New York, were unfailingly supportive of their coach. New owners Terry and Kim Pegula are apparently dismayed at developments and the fact the team regressed from last season under Doug Marrone, as Ryan was not hired to oversee a rebuilding project...he was expected to win right off the bat. And while Ryan's early ouster looms as unlikely, Rexy can sure help his cause greatly by beating his old employer Jets this weekend to not only keep them out of the playoffs but also to get the Bills to .500. Ryan's chances to survive: 90%.

(Note: Bills announced Thursday that Ryan would return in 2016.)




Mike Pettine, Cleveland...The Brownies entered the final weekend with a 3-17 mark over their last 20 games and with no indication that things are going to be improving anytime soon. Worse for Pettine is that his supposed defensive expertise has not translated to his team, which ranks near the bottom of NFL stats. Pettine has not been helped by the circus that seems to follow second-year Johnny Manziel, who has hardly looked like a franchise QB and now might have another issue to deal with (a new and apparently damning video during Christmas week) before the regular-season finale vs. the Steelers. Owner Jimmy Haslam is notoriously impatient, though after so much turnover in recent years, sources say Haslam might be a bit reluctant to hit the eject button on both Pettine and GM Ray Farmer. If one has to go, most believe it would be Farmer, though there is still a very good chance that Haslam cleans house again and dismisses them both. Pettine's chances to survive: 30%.


Jason Garrett, Dallas...The new name to pop up on the list over the past week, as sources say Jerry Jones is not going to automatically give Garrett a mulligan for the Cowboys' 2015 collapse in the wake of QB Tony Romo's injuries. Jones has hinted as much in recent interviews, and sources say ol' Jer became especially incensed in recent weeks when watching his former backup, the released Brandon Weeden, who could not win a game as starter in relief of Romo in the first half of the season, steer the Texans to two important December wins. And that Houston would win games with four different QBs and put itself in position to steal the AFC South in a down year for the division, much as this season was in the NFC East. Of course, Jones can blame himself for not better fortifying the Dallas QB situation behind Romo, but now he might be changing his mind about Garrett, long Jones' fair-haired boy, but suddenly, and apparently quickly, falling out of favor. Sources say the situation to watch might be with New Orleans' Sean Payton, who once worked in Dallas and could be high on Jones' list. A Garrett dismissal (which would reportedly cost the Cowboys more than $20 million in a buy-out) might have to come in conjunction with being able to pry Payton away from the Saints. That scenario is a lot less far-fetched now than it seemed a month ago. Garrett's chances to survive: 55%.


Jim Caldwell, Detroit...One month ago we wouldn't have given Caldwell much, if any, chance to survive. Now there appears to be a scenario that might grant Caldwell a reprieve, based mostly upon the Lions' late-season rally that has seen them win 5 of 7 and come oh-so-close to 6 of 7 had they not allowed the Packers to complete a Hail Mary on the final play of the Dec. 3 game at Ford Field. Remember, 90-year-old franchise matriarch Martha Ford pushed her son Bill out of the way not long ago and began to wield the axe indiscriminately at midseason in what appeared to be stage one of a major housecleaning, jettisoning GM Martin Mayhew and team prexy Tom Lewand. Meanwhile, Caldwell also changed staff at about the same time, including the promotion of Jim Bob Cooter to offensive coordinator, which has resulted in an upgrade of Matthew Stafford's numbers. Caldwell is hardly out of the woods yet, but Mrs. Ford is said to be fond of him, and another win on Sunday at Chicago would get the Lions to 7-9, which looked very unlikely when the team was sitting at 1-7 at midseason. Caldwell's fate will still likely be determined by the new GM hire, supposedly coming soon. For that reason, Caldwell's status will likely not be determined until sometime after Black Monday. Caldwell's chances to survive: 40%.


Chuck Pagano, Indianapolis...Pagano was on the hot seat from the outset this season after rejecting a series of one-year contract extensions and betting on himself to earn a multi-year deal at the conclusion of the campaign. Though Pagano could not have predicted QB Andrew Luck's injury woes, the former Stanford star was not having a vintage season before he was KO'd, and Pagano's game management came under question during an ominously slow start to the campaign. Indy has hung in there with backup QBs Matt Hasselbeck and Charlie Whitehurst (and perhaps the just-signed Josh Freeman for this coming weekend), but if the Colts miss the playoffs, owner Jim Irsay is likely to make Pagano the scapegoat, even after playoff appearances his first three years on the job. Pagano's chances to survive: 25%.


Dan Campbell, Miami...Though one can never tell what owner Stephen Ross might do after granting Joe Philbin an ill-advised extra season at the end of 2014 and unwittingly setting in motion the sequence of events (including Philbin's dismissal after four games) that doomed 2015 in Miami, most sources believe interim HC Campbell, only 4-7 since taking over (and that 4-7 includes two impressive wins out of the chute), is going to be a definite Black Monday casualty. (Some believe Campbell could be invited to stay on staff, but he will almost certainly have his HC title removed.) Miami has been mentioned as one of the possible destinations for Sean Payton, should he leave the Saints. Another situation to watch with the Dolphins is with GM Dennis Hickey, who could be out along with Campbell, and there perhaps could be trouble for football operations director Mike Tannenbaum, though he seems the least likely of the three to be on the chopping block. Campbell's chances to survive: 5%.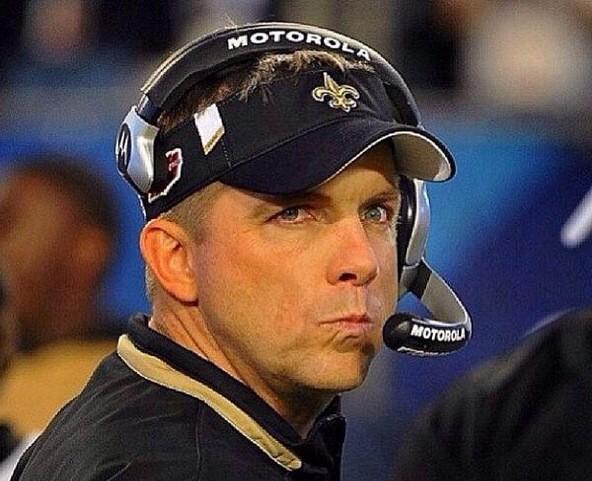 Sean Payton, New Orleans...No coach potentially would disrupt the market as Payton, rumored for months to be receptive to a move of address. Payton still has two more years left on his deal with the Saints, so some sort of arrangement would have to be arrived at before he takes another job, but sources say Payton might believe the Saints' window has closed and that the contract situation of vet QB Drew Brees (who is slated to cause a 2016 cap hit of nearly $30 million, which includes his 2016 base plus past salary that was converted to a signing bonus that will count against the 2016 cap) makes a quick rebuild for New Orleans (which needs enormous upgrades defensively) extremely difficult. Payton has been said to be intrigued by the possibilities with the Chargers, but sources also say to keep an eye on the Colts, Dolphins, or Titans, all with young QBs as possible high-grade students for Payton, or perhaps the Giants, who might be willing to make a splash, or reuniting with the Cowboys. Evidently, the Saints' recent subpar form over the past two seasons has not diminished the potential market for Payton, who has won just two playoff games since his 2009 team won the Super Bowl. Because Payton, should he leave New Orleans, will be almost certainly doing so on his own accord, we categorize his future prospects not as "survival," but rather chances to move. Payton's chances to move: 50%.


Tom Coughlin, NY Giants...Already on notice earlier this season from co-owner John Mara that a playoff berth was going to be expected, Coughlin's days at MetLife Stadium now seem numbered after a disturbing collapse in the second half of the campaign will keep the G-Men out of the playoffs for a fourth consecutive season. Many believe the 69-year-old Coughlin might have been due to retire at the end of this 2015 term regardless, and he could spare team brass the awkwardness of a dismissal by simply announcing his retirement. Though maybe not, as Coughlin has another year on his contract and might not want to walk away without some sort of compensation for 2016. Many believe there is also a good chance that GM Jerry Reese walks the plank as well. Whatever, it seems like all of the goodwill built up from the Giants' magic Super Bowl seasons of 2007 & '11 is about to expire. Coughlin's chances to survive: 15%.


Jeff Fisher, St. Louis...With the Rams making a belated run at .500 and with two victories over the defending NFC champ Seahawks, some believe Fisher might have bought himself another year after looking ready to walk the plank a month ago. Still, the team has not made much progress in Fisher's four seasons, and this appeared to be a year in which there was room to surge in the NFC West with the 49ers dropping off of the map and Seattle regressing. There is also the matter of the franchise's possible relocation to Los Angeles. Working in Fisher's favor might be that he oversaw a similar franchise shift when the Houston Oilers moved to Tennessee in 1997, plus the fact Fisher once starred as a defensive back in college at USC (where secondary mates included Ronnie Lott and Dennis Smith). Working against Fisher in the same scenario might be that owner Stan Kroenke would prefer to start fresh with a new coach and new regime if the franchise indeed relocates. Fisher's chances to survive: 60%.


Mike McCoy, San Diego...The Chargers have continued to play hard for McCoy, but the situation has nonetheless unraveled for the Bolts, sitting at an embarrassing 4-11 heading into the final week, even with QB Philip Rivers posting some of the best numbers of his career. A recent extension for GM Tom Telesco could be seen as a positive development since Telesco hired McCoy, but it's not like the team was offering McCoy the same deal. There is belief that McCoy has support internally, but with a move to Los Angeles potentially looming, anything is possible here, and the Spanos family has been unpredictable with these sorts of matters in the past. McCoy's chances to survive: 45%.


Jim Tomsula, San Francisco...Tomsula cannot be solely held to blame for the downturn in 49er fortunes, a decline that can be traced to the club's ownership and front office. Yet Tomsula and his staff (which has come under criticism the entire year in the Bay Area) have not been able to get the team to punch above its weight, as the dramatic downgrade from a Super Bowl contender from as recently as two years ago has been almost breathtaking. The Niners opted to stay in-house and hired loyal solider Tomsula (who had succeeded Jim Harbaugh predecessor Mike Singletary for one game as interim HC at the end of the 2010 season) when they had chances to tab the likes of Adam Gase and Vic Fangio (both now on John Fox's Chicago staff), and some are not ruling out the front office revisiting those mistakes. It is also possible that owner Jed York says goodbye to general manager Trent Baalke instead of Tomsula. Tomsula's chances to survive: 50%.


Mike Mularkey, Tennessee...Mularkey is supposedly well-liked by the Titan organization (itself still in flux since the passing of owner Bud Adams a few years ago), but at 2-6 since relieving Ken Whisenhunt and badly beaten in several losses, there seems little chance that Mularkey sticks around. Of course, the sudden availability of Chip Kelly has the rumor mill whirring in Nashville, as the Titans appear to be a very possible landing spot for Kelly, who would get a chance to coach his old college QB from Oregon, Marcus Mariota, the quintessential fit for the Kelly style of offense that Chip never had in Philadelphia. Mularkey's chances to survive: 5%.


Return To Home Page