6753...
NEW TGS HOOPS
...COL HOOPS WEEKEND WINNERS AND LOSERS

by Bruce Marshall, Goldsheet.com Editor

As we will occasionally do with our Monday TGS Hoops issues, a quick review of the previous weekend's action will often be in order, specifically seeking the "winners" and "losers" from developments over the past few days.


This weekend's list as follows...


WINNER: LORENZO ROMAR AND THE WASHINGTON HUSKIES...Few coaches and teams needed a good start in conference play more than Romar and U-Dub. Especially with pressure mounting in Seattle after several disappointing Huskies campaigns, with the focus on Romar, whose magic touch from earlier in his career seemed to be disappearing. Romar's current U-Dub edition is relying heavily upon a collection of high-profile frosh around sr. high scorer G Andrew Andrews, and, after a promising start, the Huskies had hit some speed bumps. But the rousing weekend wins at home in the Alaska Airlines Arena (nee Hec Ed) against UCLA and Southern Cal provided hope that Romar can safely navigate the remainder of the season and perhaps get the Huskies into some postseason tourney. Washington rallied from behind in both wins, but saved its best drama for the Trojans, who had built a seemingly-insurmountable 22-point lead with 14 minutes to play, only to be outscored 43-19 the rest of the way. If nothing else, the young Huskies served notice they will not be an easy touch for Pac-12 contenders this season.


LOSER: UCLA...While Washington would revive its season over the weekend, the Bruin campaign began to deflate. UCLA not only blew a lead in Friday's loss at Seattle, but it started slow on Sunday in the Palouse against Washington State and could never recover, bowing 85-78. Defensive issues haunted Steve Alford's crew in both stops, and now there is some concern in Westwood that the Bruins' Big Dance hopes might have absorbed a torpedo blow with the pair of unwelcome losses (especially to the Cougs). UCLA still has good wins over Kentucky and Gonzaga that can be cashed on Selection Sunday, but Alford's team now sits at only a modest 9-6. Moreover, tougher Pac-12 trips than to Seattle and Pullman still await the Bruins. The losses weren't a death knell for the Bruins' NCAA Tourney hopes, but they have reduced the margin of error for later in the campaign. For the moment, UCLA is no more than a bubble team after appearing to be safely projected into the Big Dance field as of late December.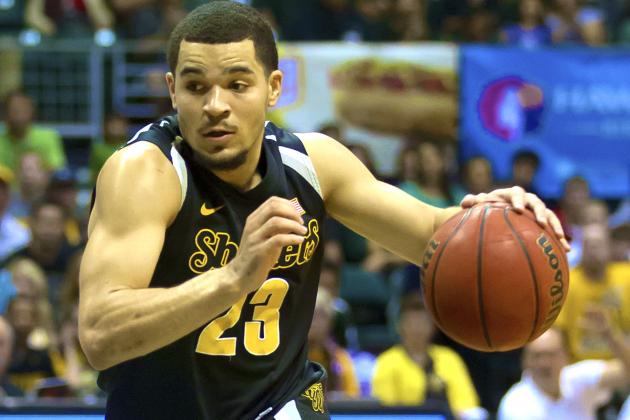 WINNER: WICHITA STATE...After a very rocky first month of the season when it would lose five games, all of a sudden the clouds are parting at the old "Roundhouse" (now Koch Arena). Injuries to key G Fred VanVleet and Cleveland State transfer PF Anton Grady had depleted the Shockers in the early weeks of the season. But the return of VanVleet, and then Grady in late December, have put Gregg Marshall's team back at near full strength. A rugged early slate now morphs into Missouri Valley Conference play, and Wichita looks as if it is going to be able to handle most of its league foes as it did overmatched Bradley, beaten by 28 on Sunday. Eventually, the Shockers could win enough in Valley play to rehabilitate their Big Dance at-large hopes, should they need to go that route to qualify for another NCAA Tourney. From the looks of things, however, Wichita is going to be a clear favorite once again in "Arch Madness" at St. Louis, and can be expected to simply win that event to qualify for the Dance the traditional way.


LOSER: TEMPLE...What happened to the Owls on Saturday, when they were boat-raced at home by Houston, 77-50? The result didn't figure, especially after Temple had won at Cincinnati the previous week. But the Cougars scored the first six points of the game and held the Owls without a field goal for a seven-minute span in which Temple was outscored 17-1 en route to falling behind 37-17. Fran Dunphy's team could never recover, especially with its 3 for 23 shooting from beyond the arc. No Temple player scored in double digits, either. The result was also a signal that Houston could be a force to be reckoned with in the American, as the Cougar reconstruction under HC Kelvin Sampson might be ahead of schedule. Former Purdue G Ronnie Johnson, one of several key transfers playing important toles for Sampson, had 14 points in the first half for the Cougs, while juco G Rob Gray would add 23 for the game as Houston delivered a loud message to the rest of the American.


WINNER: IOWA...The Hawkeyes took down two ranked Big Ten opponents in one week for the first time since the Dr. Tom Davis era in 1987 (when Iowa would reach the Elite Eight), which should vault Fran McCaffery's crew into the Top 25 polls for the first time this season. After beating top-ranked Michigan State earlier in the week, the Hawkeyes trailed No. 14 Purdue by 19 points on Saturday before rallying for a 70-63 victory that made it the third-largest comeback in program history. Fueling the comeback in the second half was a defensive adjustment, as McCaffery used a zone press that caused fits for the Boilermakers, who committed ten second-half turnovers, as the Iowa press sped them up just enough to take them out of their normal offensive flow. The Hawkeyes now deserve to be mentioned as a top contender in the Big Ten, with sr. F Jarrod Uthoff emerging as a Big Ten MVP candidate.


LOSER: TEXAS...This might seem a bit harsh for the Longhorns, who had scored some nice wins (including over North Carolina and at Stanford) in December as the team seemed to be making a quick adjustment to new HC Shaka Smart. But Saturday's 82-74 loss at Tubby Smith's improved Texas Tech confirms that there will likely be no soft touches in this season's Big 12. Where, as our friend Brett Norsworthy from WHBQ radio in Memphis likes to remind us every summer about SEC football, "Somebody's got to lose." Unfortunately for Shaka, Texas is going to face more-challenging conference tests than the Red Raiders. The Horns could not effectively slow Tech G Devaugntah Williams, who scored 23 points, and Texas might miss injured C Cam Ridley more than it originally imagined. Not even G Isaiah Taylor's 35 points could save the Horns. At 8-5, the Texas season is far from over, but wins for teams in the bottom half of this year's loaded Big 12 are going to be a challenge.


WINNER: SOUTH CAROLINA...The Gamecocks took a 12-0 SU record into January, and much skepticism that a forgiving slate had a lot to do with the spotless mark. Which still might be warranted, but the serious vetting for Carolina began on Saturday, and the Gamecocks passed with flying colors when pulling away from dangerous Memphis to score an 86-76 win. More upcoming tests await as SEC play commences, but for now SC looks like a Big Dance entry for HC Frank Martin, finally with proper pieces in place in his fourth year on the job at Columbia. The question with South Carolina remains whether it can score efficiently enough against a set defense to maintain its torrid start while moving into SEC competition. The Gamecocks got to the foul line a staggering 63 times on Saturday, but shot just 31.6% from the field and sank only 4 of the 17 triples they attempted. Still, it was SC's best win of the season, giving hope in Columbia that the quick start isn't another early-season mirage.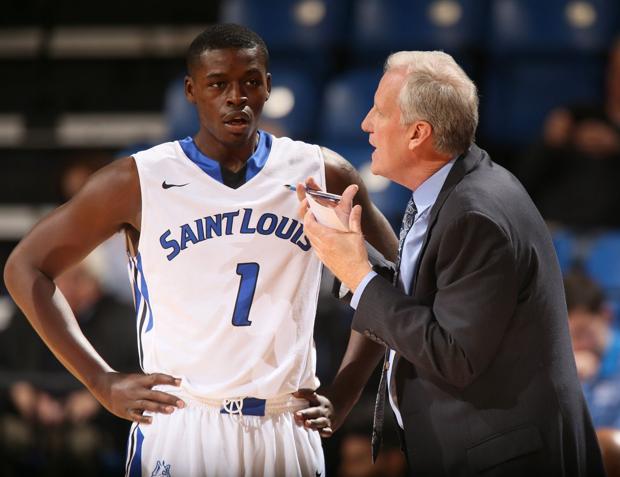 LOSER: SAINT LOUIS...Bills HC Jim Crews, a long-ago member of some great Bob Knight-coached Indiana teams, and a HC for years at venues such as Evansville and Army, was able to win a pair of Atlantic 10 titles with teams inherited from the late Rick Majerus a few years ago. But all of leftover from the Majerus era has departed, and now Crews is left with a shallow and punchless roster with some of the most wretched offensive stats in the country, including an inverted assist/turnover ratio and an icy 30% shooting mark beyond the arc. The latest blowout loss came by a lopsided 85-57 margin at Rhode Island on Saturday and suggests that Crews is going to have trouble winning an A-10 game this season. How the mighty have fallen, and quickly.


WINNER: SAN DIEGO STATE...Much like Wichita in the Missouri Valley, SDSU endured a very choppy pre-league campaign, failing to generate a marquee win better than a success vs. Cal in one of the Las Vegas Thanksgiving week tourneys. All part of a collective malaise of Mountain West reps that suggests a possible one-bid Big Dance league this season. But before condemning the Aztecs to the NIT, let's wait and see if they can put things together in league play. Saturday's 70-67 win at Utah State ended up closer than it should have been, but suggests Steve Fisher's team can handle road assignments in the Mountain. The win at Logan was also the latest signal that projected MW MVP sr. F Winston Shepard is shaking his season-long doldrums, with an 18-point effort that followed a 16-point showing the previous Wednesday vs. Wyoming. Most other components have also returned from Fisher's latest Big Dance rep from a year ago, though long-range shooter Matt Shrigley (who could be used as a needed bombardier, especially with the team shooting only 30.6% beyond the arc) is still out with a knee injury. True frosh G Jeremy Hemsley (13.1 ppg) has been as good as advertised, however, and now that the schedule consists of Mountain West entries, don't be surprised to see the Aztecs go on an extended run and maybe even get back into the Big Dance at-large discussion by March.


LOSER: VANDERBILT...The Commodores are piling up an alarming number of losses, now at five after Saturday's home setback vs. Ben Simmons and LSU. SEC sources report trouble in Nashville, as some suggest HC Kevin Stallings hasn't quite adapted to the newer, more-stringent defensive rules. The latest example came against the Tigers, as Vandy bigs Damian Jones and Jeff Roberson got into foul trouble trying to contain Simmons. The bigger issue for Stallings is the absence of injured 7-footer Luke Kornet, who provided inside presence, needed defense in the paint, and the ability to pass out of the post on the attack end. Stallings hopes to have Kornet back on the floor later in January, but some Dore fans worry that the team might have piled up too many losses by that point to make a belated run at a Big Dance bid. Which might cause some problems for Stallings, who will be looking at fourth straight year without a ticket to the NCAA tourney if Vandy can't rally.


WINNER: OKLAHOMA...There are so many banana peels in this year's Big 12 (see the previous Texas mention) that we will not be surprised to see the Sooners, Kansas, West Virginia, and several other loop contenders take multiple losses in league play. But outside of perhaps Iowa State, none is as entertaining as the Sooners, who won a terrific game over the Cyclones by an 87-83 count on Saturday at Norman. OU G Buddy Hield, scoring 25 ppg, did not have a vintage effort vs. ISU, scoring "only" 22, but made several big plays in the second half, as the Sooners would rally from an earlier double-digit deficit. Lon Kruger's three-pronged backcourt of Hield, Isaiah Cousins, and Jordan Woodard form one of the nation's best perimeters and trigger a tempo-pushing offense that it devastating in transition. OU is also darned fun to watch and will increase the entertainment quotient of the many Big 12 showdown games it will be involved with in coming weeks.


LOSER: NORTHERN IOWA...Wins over Top Ten North Carolina and Iowa State had many Missouri Valley insiders believing that the Panthers had a solid Big Dance at-large case. But Saturday's loss to Southern Illinois dropped UNI to 9-6 overall, creating the possibility that it will be the only NIT entry to have a pair of wins over top ten opponents this season.


WINNER: SAINT MARY'S...While most WCC observers condemned the rebuilt Gales to also-ran status this season, HC Randy Bennett has assembled another intriguing collection in beautiful Moraga. With Gonzaga and BYU having slipped, SMC might even be the team to beat in the WCC after another extremely impressive win (79-46) over San Diego on Saturday. Bennett's team continues to shoot the lights out, hitting a staggering 54.3% from the floor, and the newest Aussie stars are G Emmett Near (team-best 13.5 ppg) and F Dane Pineau, up to 11.2 ppg after making minor contributions the past two seasons. Maybe Bennett just knows what he is doing.


LOSER: NC STATE...If the Wolfpack fancies itself a Big Dance entry, it cannot afford losses like its 73-68 overtime upset at Virginia Tech on Saturday. More results like that one, and NC State does no better than the NIT this season.
Return To Home Page