6811...
TGS HOOPS SPECIAL REPORT
...NBA ALL-STAR BREAK REVIEW--PART I
by P. Carl Giordano, Managing Editor and Bruce Marshall, Goldsheet.com Editor
T

h

e All-Star weekend is a welcome break from the grind of the 82-game NBA season for just about every NBA squad (not to mention for handicappers). Teams will be off for either seven or eight days this season. The players have time to recuperate from the grind, rest their legs, and generally unwind (or hit the Strip in Vegas or the beach in Antigua, take your pick). Coaches and general managers of flagging franchises evaluate potential moves to set up priorities for next season. Teams in contention burn the phones hoping to pick up the piece that will help their squad go deeper into the playoffs.


As handicappers, we review each team and reset our expectations up and down the standings. First, the Eastern Conference is featured; next issue on Monday. the Western Conference evaluation.


CENTRAL DIVISION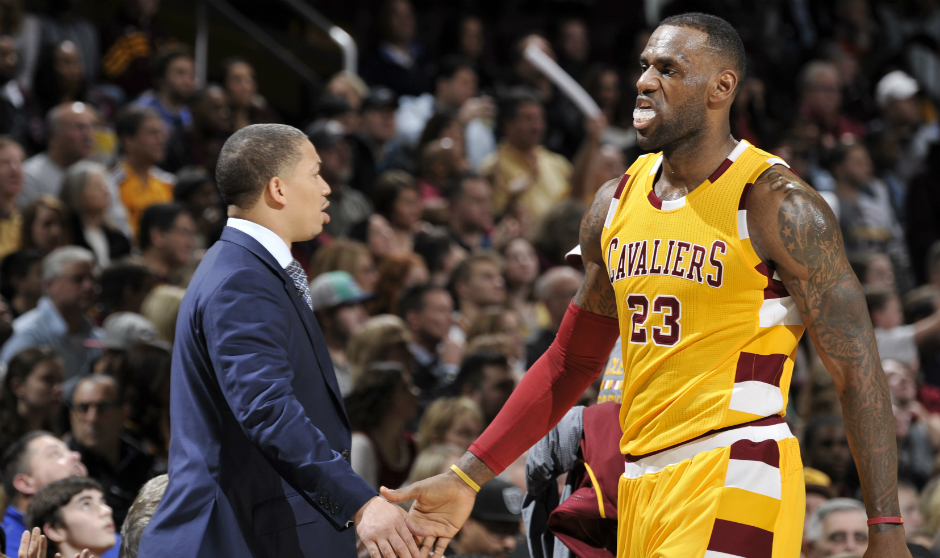 Cleveland (38-14)...The Cavs are in a different place than they were at this time a year ago, six games ahead of their 2014-15 pace, and well beyond the roster juggling and personnel moves that continued thru the first half of last season. Cleveland is also now without HC Dave Blatt (released a few days after a blowout loss to the Warriors last month), even with a 30-11 SU record, lending credence to the long-rumored reports of LeBron James never feeling comfy in the Blatt system (or vice versa, as Blatt could never implement the free-flowing offense that worked so well for him in Europe around King James). All of which has set the bar very high for new HC Tyronn Lue, promoted after Blatt's dismissal; for this change to have been worthwhile, the Cavs are going to have to win the championship. Cleveland is giving hints that it is accommodating the accelerated pace that Lue desires, but it has not been a seamless transition, as, among other things, Lue has not been happy with the conditioning of his team, so the All-Star break could be useful to afford the Cavs the perspective they need to make the reset work. Adjustments figure to continue up to the playoffs. But in the meantime Cleveland is one hot streak away from taking a firm grip on the East's top seed. Still, the Cavs were always going to be measured by what they do in the playoffs, with some urgency now creeping up on 31-year-old LeBron as he moves well into the second half of his career. Grade: B


Indiana (28-25)...The Pacers figured as one of the NBA's intriguing test cases this season, as HC Frank Vogel adjusted his lineup to a new "small ball" look after the departures of frontliners David West and Roy Hibbert, the addition of G Monta Ellis, and return to active duty of All-Star Paul George, who missed almost all of the 2014-15 season with a leg injury. The good news has mostly involved George, who has appeared completely recovered while posting some of the best scoring numbers of his career (23.3 ppg, though shooting only 41%) and keying an early-season surge that saw Indiana win 12 of 14 into early December. But without a strong presence in the paint, the Pacers have lacked KO power, losing 11 of 18 games decided by 5 points or fewer, and have been playing sub-.500 ball since early December. And despite top-five defensive efficiency numbers, performance on the stop end has sagged in recent weeks, and the blowout home loss to the Hornets before the break was the latest red flag. Indiana could definitely be active at the trade deadline, rumored to be interested in Hawks PG Jeff Teague, though he would hardly provide the needed frontcourt upgrade the team needs. Grade: C+


Chicago (27-25)...The Bulls hit the break in real trouble, losing 13 of their last 18 (and 14 of 18 vs. the line), and with a variety of injury worries. Only this season it's not as much Derrick Rose who is a concern as it is Jimmy Butler, whose recent knee injury has him on the shelf until further notice, joining frontliners Joakim Noah (shoulder, out for the rest of the season) and Nikola Mirotic (appendix, return date unknown). All having made for a bumpy debut for first-year HC Fred Hoiberg, who was earlier dealing with some disgruntled vets (Butler among them) who were not happy with the direction of the team. Rose, Pau Gasol and Taj Gibson have also been occasionally slowed by minor hurts, but now there is real panic if Butler is sidelined for an extended period of time, and there is mounting evidence that the team is also really missing Noah's underappreciated work on defense and on the glass, not to mention his effective passing from the post. Injuries aside, it has also become apparent in the past month that something is terribly wrong with the chemistry of the team, which simply does not look as if it enjoys playing together. More disturbing evidence includes Chicago leading the NBA with nine losses in games in which they led by at least five points in the fourth quarter, and being minus-99 in the fourth quarter and overtime for the season, ranking fourth worst in the league. With owner Jerry Reinsdorf not planning to make Hoiberg or GM Gar Forman the scapegoats, the Bulls are going to have to change some things on the fly, and can be expected to be looking to deal (Gasol likely to be used as bait) as the trade deadline approaches. Without a kick in the pants, the recent downward trajectory of Chicago (having already slid to 7th in the East) could have it missing the playoffs. Grade: D


Detroit (27-27)...Here is one of the league's pleasant surprises, as HC Stan Van Gundy's program has found some traction in his second year on the job. The departure of Greg Monroe in free agency has not proven to be a negative. Meanwhile, the decision to give G Reggie Jackson the keys to the offense has been a good one and justified the heavy investment in the ex-Thunder PG, just as C Andre Drummond (with a league-best near-15 rebounds pg) has matured into a monster to become part of a devastating, Stockton and Malone-like pick-and-roll tandem with Jackson. (Though Drummond continues to invite DeAndre Jordan-like, hack-a-Shaq treatment from foes because of his subterranean 35% accuracy from the charity stripe). Van Gundy has also been squeezing career-best seasons out of a variety of his rotation pieces, but the Pistons continue to be linked with other teams in a variety of trade rumors (some of those involving Brandon Jennings leaving the Palace). If there is something apparently on the Van Gundy shopping list, it's a "stretch-4" who can better space the offense and provide more room for Drummond to maneuver on the blocks. Detroit, currently in the final East playoff spot but riding a 3-game losing streak (its longest since late December) into the break, is likely to be a buyer and looking for upgrades at the deadline. Grade: B+


Milwaukee (21-32)...One of last year's feel-good stories has turned into one of this season's disappointments. Though some believe the Bucks' decline actually began at the trade deadline last February when G Brandon Knight was shipped to Phoenix. That bit of roster fiddling was likely a contributing cause to Milwaukee skidding into the playoffs (the Bucks were 30-23 prior to the Knight trade, and 11-18 thereafter), though some now believe HC Jason Kidd simply had Milwaukee playing over its head the first half of last season after he inherited a 15-67 mess from Larry Drew. As for Kidd, he missed more than a month into late January after undergoing hip surgery, a span in which the Bucks went 8-9 for interim HC and Cal Poly SLO alum Joe Prunty, but the team has regressed since Kidd's return. Desperate to shake things up, Kidd decided to play Greg Monroe and Michael Carter-Williams off the bench for the first time this season in the Feb. 9 game vs. Boston, replacing them in the starting five with Miles Plumlee and O.J. Mayo. Monroe and Carter-Williams responded with a combined 45 points in their new roles as the Bucks broke a 5-game losing streak with a 112-11 win. But the season has thus far been a significant disappointment, and there is thought that this personnel core might have been overrated. The Bucks could thus be an interesting participant at the trade deadline if they decide to sell low on previously valuable commodities or trade one or two of their best names. Looking for a silver lining? The Bucks did enter Thursday's game vs. the Wizards with a 14-8 SU mark at home, and the good news is they'll play 19 of their final 29 at the Bradley Center after an NBA-high 31 road games. The bad news is that they've lost 24 of those first 31 on the road. Whatever, making up seven games in the standings to get to the East's eighth slot appears a tall task. Grade: D


SOUTHEAST DIVISION


Atlanta (31-24)...Last season at this time Atlanta was the surprise team in the league and had a 10-game lead on the rest of the division. A year later, the Hawks have won 12 fewer games and are in a dogfight, holding a 1-game lead in the Southeast. Last season Atlanta G Kyle Korver was making 52% of his treys, DeMarre Carroll 40% from beyond the arc, and the team was shooting 47%. Now Korver is shooting just 43% overall and 38% of his threes, Carroll is in Toronto, and the team is scoring fewer points while giving up more. PG Jeff Teague is off his all-star form of a season ago, and the emergence of Dennis Schroder has made him expendable. Trade rumors are flying, as the Hawk front office has reportedly entertained offers for Teague, Korver, power forward Paul Millsap and center Al Horford, who have all reportedly been shopped around by GM Wes Wilcox. Rarely has a team in first place in its division been involved in such potential house-cleaning rumors of this magnitude. The offseason addition of pivot Tiago Splitter hasn't gone well, as his production has been disappointing and injuries have kept him out of 17 games. Splitter's hip problem might be season-ending, as surgery might be required. Grade: B-


Miami (29-24)...Miami rebounded well from a disappointing year last season and is back in the playoff picture. Dwyane Wade has said he doesn't want to go through free agency and wishes to remain with the Heat with a new deal. Wade went through the free agent dance last summer before signing a one-year $20 million deal to stay in South Beach. It's unclear what management's position will be, as Wade's age (34), career-low shooting percentage, and lowest scoring average since his rookie season all point to the franchise heading in a different direction. The addition of Goran Dragic has been a plus, center Hassan Whiteside has been a major find, and the Heat has enjoyed the return to action of Chris Bosh, who was sidelined with a blood clot for more than half of last season. Hassan's hot-headed reactions have been an issue, with his most recent elbowing of Boban Marjanovic netting him a suspension, but don't look for the Heat's top rebounder to be going anywhere. At his salary, the Heat couldn't get back equal value in a trade for the underpaid pivot. Wade, Bosh, Dragic, Whiteside and forward Luol Deng form a talented, flexible starting five, and if Miami stays healthy, it can give any team in the East a run for the conference crown. Grade: A


Charlotte (27-26)...Streaky Charlotte won 8 of its last 11 to pass Detroit, Orlando and Washington in the standings and move into the final playoff spot despite having to fight through numerous injuries. The Hornets have had just one player (power forward Marvin Williams) play in every game, while Nicolas Batum (out 9 games), center Al Jefferson (34), Michael Kidd-Gilchrist (46; likely out for the season), Jeremy Lamb (10), and center Cody Zeller have all missed significant time. Star point guard Kemba Walker (20.5 ppg) has played at a high level and has only missed one game despite having several minor health issues. Offseason acquisitions Jeremy Lin and Jeremy Lamb have produced 23 ppg, 7.5 rpg and, along with Wisconsin rookie Frank Kaminsky and Steve Hawes (combined 14 ppg, 8.4 rpg), have vastly improved the Hornet bench production. Head coach Steve Clifford deserves a lot of credit for keeping Charlotte in the playoff conversation. Last season the Hornets were 8 games below .500 and Walker was sidelined with knee surgery. Not sure a playoff spot will be the ultimate destination for Charlotte, unless Jefferson comes back at near-100% shortly after the All-Star Break. Grade: B+


Washington (23-27)...Washington head coach Randy Wittman has to be disappointed with the first half results. The Wizards are 10 wins behind last year's pace, and there's no indication things will change. Washington's frontline has been hurt by injuries, as C Marcin Gortat, PF Nene, F Otto Porter, and PF Kris Humphries have missed 58 combined games with injury. The Wizards' frontline injury problems have been a factor in the team giving up 7 more points a game this season, with opponents shooting 47% this year compared with 43% a year ago. Wizard guard Bradley Beal has had problems staying healthy as well, sitting out 21 games with various ailments. Washington is much better when John Wall has another viable offensive option on the floor with him, and Beal has scored 21 ppg and shot 55% in his last 5. The good news is that the team has Wall, Beal, Porter and Gortat under contract and will still cut enough dead money off its payroll to go after any free agent (D.C. native Kevin Durant?) in the summer. Washington has advanced to the second round in the playoffs in each of the past two seasons, and with Beal healthy has enough talent to make another postseason run. Grade: C


Orlando (23-29)

...The Magic have improved from last season, but not a whole lot. Orlando seems to have underachieved for the amount of talent that appears to be on hand. Guard Victor Oladipo and guard Tobias Harris look like All-Star level players on some nights, but only some nights. Clearly, head coach Scott Skiles and the front office are talking about trading for a point guard to replace Elfrid Payton, whose fabulous hairdo can't distract observers from the fact that he's a marginal pro. Although Skiles isn't talking about trades with the players, the Magic brass are apparently discussing making a move for Atlanta's Jeff Teague. Center Nikola Vucevic (17 ppg, 9 rpg) is a solid player, but his numbers are down from last season, and the front office might be re-thinking throwing a 4-year, $53 million extension to him last season. Grade: D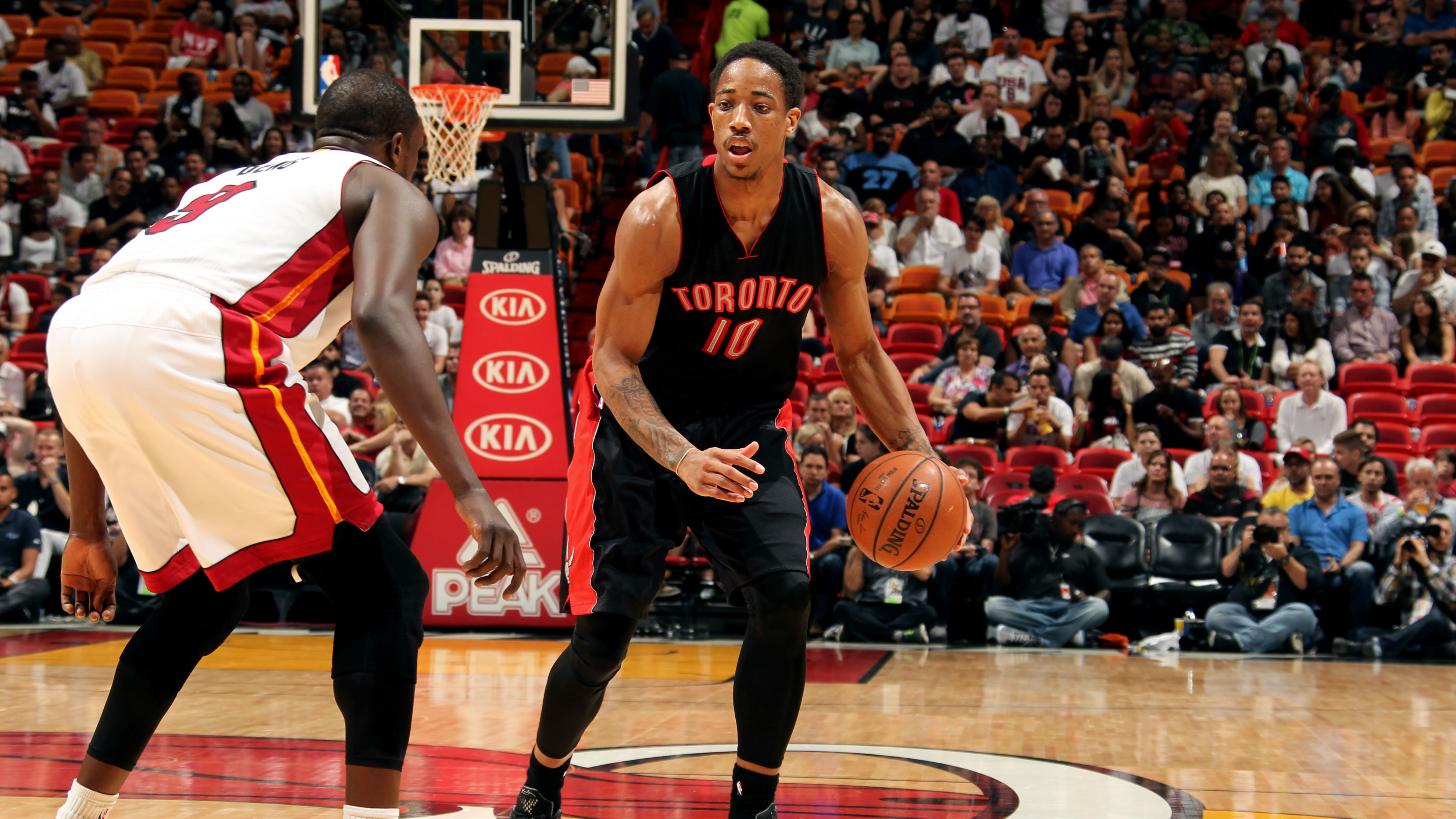 Toronto (35-17)...Toronto GM Masai Ujiri might be the favorite for NBA Executive of the Year, that is, if the season only lasted until the All-Star break. The Raptors were in first place in the Atlantic at this time last season, with an almost identical record. However, Toronto was just 12-16 after the break and flamed out in the playoffs, getting swept by the Wizards in the first round. The Raptors own one of the most productive backcourts in the league, featuring DeMar DeRozan and Kyle Lowry, both of whom made the Eastern All-Star Team. The offseason acquisitions Ujiri made have been lukewarm at best. PF Luis Scola has been disappointing, contributing just 9 ppg and 5 rpg. DeMarre Carroll is shooting just 39% and scoring 12 ppg and has missed 29 games with injury. To be fair, backup big man Bismack Biyombo (8.1 rpg, 1.6 bpg) has come in handy, especially with center Jonas Valanciunas missing 17 games with a wrist injury. Valanciunus is due to make $46.4 million in the next three seasons, which is a lot of dough for a guy playing just 26 mpg and scoring 12 ppg. Defensively-oriented head coach Dwane Casey has the Raptors playing improved defense this season, cutting 4 ppg off last year's allowance. But have to wonder if the Raptors will suffer the same post-All-Star swoon as they have the past two years. Grade B+


Boston (32-23)...Have to give Boston exec Danny Ainge his due. Brad Stevens was a controversial pick when he was tabbed a few years ago to jump from the college ranks to the NBA. However, after guiding the Celtics to the playoffs last season and fashioning the third-best record in the East through 55 games, the move looks like a touch of genius, especally when one examines the Celtic roster. Boston's best player is diminutive guard Isaiah Thomas, a Sacramento King castoff acquired at the trade deadline last season. Forward Jae Crowder (14 ppg) was picked up in a trade last year. Crowder was the key piece in the deal with Dallas sending Rajon Rondo to the Mavs. The Celtics' other heavy contributor is G Avery Bradley (15 ppg), but it's a team theme in Boston. Six players average from 7-10 ppg, including a trio of young centers Jared Sullinger, Kelly Olynyk and Tyler Zeller. The acquisition of PF David Lee hasn't been a good fit on the floor, but his expiring contract is a good fit in Ainge's quest to return the Celtics to the NBA Finals. The team is sitting on a pile of high draft picks and will have $50 million coming off the books this summer, making them major players in free agency. Boston is doing it with a bit of smoke and mirrors compared with other star-studded rosters, but Ainge's plan is working. Grade: A


New

York

(23-32)...Although the Knicks were just 10-43 at the break a year ago, it feels as if the team might be in more distress now. New York lost 9 of 10 and Derek Fisher was fired as head coach on Monday, with Kurt Rambis taking the job on an interim basis. Immediately rumors started flying. That Tom Thibodeau was in line for the job. Luke Walton was in line for the job. Scott Brooks was in line for the job. That Jackson was headed back to Los Angeles to take charge of the flagging Laker franchise when his opt-out clause comes at the end of the 2016-17 season. That Jackson was putting every member of the team except Carmelo Anthony and Kristaps Porzingis on the trade block. The story in New York is about everything except the actual basketball being played on the floor. In the middle of the chaos, the Knicks have a couple of noteworthy pointspread trends going this season. The favorite is 19-10 in New York's home games, while the dog is 17-9 in the Knick road games. Unless Jackson can somehow attract Kevin Durant in free agency, perhaps by hiring Brooks, grab your life vest, because this ship is sinking. Grade: D


Brooklyn (14-40)...Brooklyn owner Mikhail Prokhorov appears to be running the franchise like a true Russian Oligarchy. If you don't produce, off to the gulag with you. The Nets fired head coach Lionel Hollins and reassigned general manager Billy King in mid-January, replacing Hollins with Tony Brown and King with...well, no one yet. The Nets have racked up huge luxury tax bills, have been repeatedly fleeced in trades, and have dealt away all of their potential lottery picks for the near future. Brown has led the team to a 4-13 mark. Prokhorov is making "fabulous" moves. Brooklyn needs to revolt, short of taking up arms, of course, and overthrow the dictator. Unfortunately, it doesn't work like that in the NBA. A new GM will be hired, and the Nets will be ready to contend around 2021 at the earliest. It's interesting that Brooklyn is being named in all sorts of potential trades, especially the Jeff Teague rumor. With no GM and no fulltime coach, who is pushing the buttons? Oh, that's right, Prokhorov has his finger on the trigger. Grade: F


Philadelphia (8-45)...The Sixers have one of the youngest, cheapest rosters in the league. And they're playing like it. Head coach Brett Brown is having trouble fully utilizing the "Twin Towers" of Jahlil Okafor and Nerlens Noel, but they are combining for 28 ppg and 15.5 rpg. The return of Ish Smith has helped mainly because his presence gives the team at least one point guard who can play a little. F Robert Covington hasn't produced as well as last season, shooting just 34%, but he still appears to have the potential of becoming a reliable contributor. Beyond that, there really isn't much to talk about, which is fine. The Sixers could get younger and cheaper yet, as Philadelphia could wind up with four first-round picks in the upcoming draft. And at this stage the Sixers would have the most ping-pong balls in play for the right to draft Ben Simmons from LSU. From a wagering standpoint, Philly has covered 10 of its last 14, and threw scares at Western powers Golden State, losing to the Warriors by 3, and the Clippers, losing in OT in the last 2 weeks. Still, when you're 8-45, it's hard to say anything except, "I'll do much better when I take this course again in summer school." Grade: F
Return To Home Page