6995...
TGS 2016 COLLEGE FB PREVIEW
...A LOOK AT THE AMERICAN--PART II

After previewing the East half of the American in our last update, Chief Analyst Gary Olshan takes a look at the West half of the loop. Teams are presented in predicted order of finish, with 2015 straight up and spread marks included...Bruce Marshall, Goldsheet.com Editor

by Gary Olshan, Chief Analyst
HOUSTON (2015 SUR 13-1; PSR 9-5)—The sky is the limit for a Houston squad that finished a school-best 13-1 in Tom Herman's first season as the head man in 2015, which included a headline-grabbing 38-24 upset win over powerhouse Florida State in the Peach Bowl. The Cougs, a clear choice to repeat as the AAC champs, won't rest on their laurels under laser-focused Herman, who immediately brought a hard-nosed mentality to the squad. Herman says, "The record might not show it, but we might be a better team; or we might have a better record and not be as good a team." Herman says.
"But from a big-picture standpoint, all we want to do is compete for and win our conference championship in the month of November because we know we've separated ourselves as a conference to the point where the winner of the AAC will go to a New Year's Day Six Bowl."
UH could show it is primed to propel itself into an early discussion for the College Football Playoff if it can pull of a marquee win over Oklahoma in the lidlifter at NRG Stadium.



FOOTBALL COMING SOON...TGS 60 JULY PRICES NOW!

...Click here to order

Six starters return from a super-explosive Cougar attack (40.4 ppg LY) expertly directed by multi-skilled sr. QB Greg Ward Jr. (67.2%; accounted for 38 TDs), who broke 14 school or conference records last year. Ward was only one of two triggermen in the nation to rush for at least 1,000 yds. & pass for 2,000 yards! The loss of the top three RBs will be mitigated by the availability of highly-touted Texas transfer Duke Catalon, who's eager to shine in his hometown after being a star on the scout squad in 2015. Herman has already compared him to some of the best backs he's ever coached. The vaunted aerial attack should continue to bring fear to opposing secondaries with the return of four of the five top WRs, featuring sr. pass-catcher Chance Allen (56 catches, 6 TDs). That already-deep unit is further bolstered by the addition of Oklahoma State transfer Ra'Shaad Samples. A top priority for the coaches is retooling an OL, which lost four starters.


The swift, athletic, high-risk, high-reward defense (20.7 ppg LY; 8th nationally in run "D"), which returns five starters, is spearheaded by havoc-wreaking sr. OLB Steven Taylor (92 stops; AAC-leading 10 sacks) & run-stuffing 6-4, 304-pound sr. DT B.J. Singleton. Coaches believe top-10 national recruit DT Ed Oliver can to show his stuff as well. The Cougs have feasted on takeaways over the past several seasons, forcing an eye-popping 108 TOs since 2013, which leads the FBS. The major issue is replacing three of four starters in what was a highly-opportunistic secondary, accounting for 25 of the team's 35 takeaways LY. Nevertheless, Herman still believes this year's group may be slightly more athletic. The leadership for that reloading unit will be supplied by sr. CB Brandon Wilson, who was the only player in the nation to score multiple TDs on offense, defense and special teams.


NAVY (

2015 SUR 11-2

; PSR 9-4)—Navy took the AAC by storm in its inaugural season as a member. After 134 years as an independent, the Midshipmen were the AAC West Division co-champs with Houston. Sure, Navy won't sneak up on anybody in 2016, but we don't see a dramatic fall-off for the Middies, who've posted winning seasons capped by bowl berths in 12 of the last 13 years. The middle part of the season will be Navy's biggest test, which begins with Air Force, and includes six contests vs. teams that earned bowl invites LY. And that Oct. 1 showdown vs. the Falcons in Colorado Springs could go a long way to toward determining whether Navy captures the coveted Commander-in-Chief's Trophy for the 11th time since 2003.


The Middies return only one starter from a smooth-functioning, triple-option attack (36.8 ppg), which has been ranked first, second or third nationally in rushing 10 times since installing the unorthodox offense in 2003. It's a monumental task replacing record-setting QB Keenan Reynolds, a four-year starter, who graduated having set the FBS record for TDs. But HC Ken Nuimatalolo believes that patient sr. QB Tago Smith, who's been the back-up for the last two seasons, is primed to take over the reigns. Nuitmatalolo says, "Tago is definitely our QB, and he's a real good one. It's his time, it's his turn, he's going to be ready and he's going to do good things."

To help ease the transition is dynamic 6-4 sr. WR Jamir Tillman (47 grabs for 956 yards over the past two seasons) and darting sr. slotback Dishan Romine, who had a breakout season, ranking third on the team with 378 YR (10.5 ypc) LY. The infantry will count heavily on punishing 6-1, 255-pound sr. Shawn White, who takes over at all-important FB spot. It's a brand new OL, but four juniors and seniors are projected to start.


Six starters return from a robust defense (21.8 ppg LY) under now second-year d.c. Dale Pehrson, who implemented a more aggressive philosophy in his solid debut a year ago. That unit produced a nation-leading 15 fumble recoveries and a whopping 57 TFL (most since 2008). All four LBs return, anchored by the fierce duo of Micah Thomas & Daniel Gonzales, who combined for 138 tackles. Coaches are hoping that mammoth 6-4, 305-pound sr. NT Patrick Forrestal—who is replacing immovable Bernie Sarra—will prove to have the strength and stamina to take on double-teams and hold the point of attack. Along the front is active 6-1, 266-pound sr. DE Amos Mason, who showed playmaking ability in 2015, with 5 TFL, 4 PBU and 3 QB hurries. Good news is that 3-year starting CB Brendon Clements (7 career ints.) was reinstated in late April after being removed from the roster in late January.



MEMPHIS (

2015 SUR 9-4

; PSR 6-6-1)—It's a new era at Memphis following the departure of Justin Fuente (now the head man at Virginia Tech), who went 19-7 in his final two seasons—the school's best two-year mark in a decade. First-year HC Mike Norvell, a former Arizona State assistant, has learned well under successful coaches like Todd Graham and Gus Malzahn. So, Norvell figures to bring more of an uptempo approach alongside a defense based on fundamentals. Tigers should begin 3-0 before a tough trip to revenge-minded Ole Miss, though they receive no break from the AAC schedulemakers. After a bye week in early September, Memphis plays on 11 consecutive weeks, finishing against three straight conference contenders (USF, Cincinnati and Houston).


Six starters return from an offense (40.2 ppg LY) that has enormous cleats to fill with the early loss of record-setting jr. QB Paxton Lynch, who passed for a school-record 3,776 vards and 28 TDs in 2015. The frontrunner at critical field general is one-time Tennessee enrollee, QB Riley Ferguson, who had a productive spring after throwing for 327 yards per game and 35 TDs at Coffeyville CC last year. RS frosh Brady Davis and sr. Jason Stewart also shared snaps with the No. 1 offense in the spring. Whoever wins the job in the fall will probably rely at the outset on a proven ground assault that returns its top four ball-carriers. The "main man" figures to be Doroland Dorceus, who rushed for a team-high 661 yds. & 8 TDs LY. Plenty of weapons exist at WR, with the jr. duo of Phil Mayne & Anthony Miller (98 combined catches) leading the way.

New d.c. Chris Ball, who is another assistant joining Norvell from Arizona State, works with eight returning starters on a defense (27.3 ppg LY) stronger vs. the run (3.6 ypc; 38th nationally) than the pass (260 ypg; ranked 106th) in 2015. And Ball will build his "D" around a solid front seven, led by LBs Genard Avery (6.5 TFL LY),who briefly considered transferring tho his home-state school, Ole Miss, before spring practice, and Shareef White (63 tackles, 7 TFL). Returning CBs Arthur Maulet and Dontrell Nelson, who need to shore up their pass-defending skills, should get immediate help from juco transfer FS Jonathan Cook, who began his career at Alabama (played sparingly in Tuscaloosa in 2014) and was impressive in spring ball.


There may be no better kicking game in the league. Prolific PK Jake Elliott (hit 23 of 28 FGs LY) led the nation's kickers in scoring last year, while booming punter Spencer Smith (47.2-yd. avg) was a first-team All-AAC selection.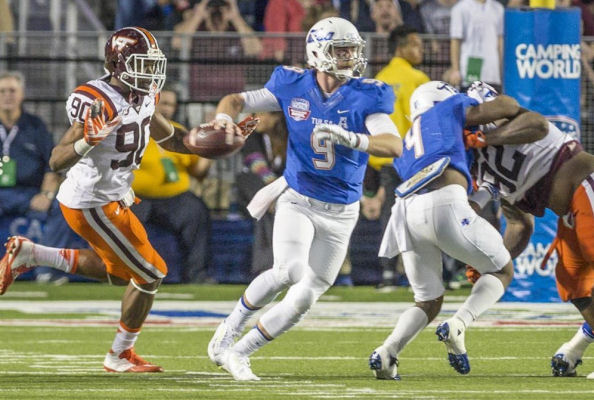 TULSA (

2015 SUR 6-7

; PSR 8-5)—Tulsa appears to be on an upward trajectory under 2nd-year Philip Montgomery, a former Baylor o.c, who guided his team to a six-win season and its first bowl appearance since 2012. And remember, the never-say-die Golden Hurricane nearly overcame a 24-pt. deficit in a narrow 55-52 loss to Virginia Tech in the Independence Bowl in Shreveport LY. Certainly, Tulsa has a realistic shot at an upper division finish in the West if the defense can make strides and take some pressure off a high-flying attack. Though all six reg.-season losses were by DDs LY, the Golden Hurricane could become a "tough out" in the majority of their games in 2016. Besides the brutal road trip to Ohio State on Sept. 10, the manageable non-conference slate could provide a nice springboard for UT before its AAC opener at Houston on Oct. 15.


Six starters return from a highly-productive spread attack (37.2 ppg LY) engineered by efficient sr. QB Dane Evans (4,332 YP, 25 TDP, 8 ints.), who's steadily improved throughout his career and has especially thrived in Montgomery's uptempo system. Evans, who finished 8th nationally in passing yards LY, is on track to leave as the program's all-time leading passer! The aerial assault should pick up where it left off with the return of tall and fast WR Josh Atkinson (76 catches for 1071 yds. & 5 TDs LY) and gifted WR Keevan Lucas, who was the go-to target before missing the last nine games with a knee injury LY. Opposing defenses must also respect an effective infantry—led by shifty 5-9, 185 jr. D'Angelo Brewer (837 YR, 6 TDs)—that generated 33 TDs LY.


Seven starters come back from a defense (39.8 ppg LY) that was equally charitable vs.the run (230 ypg; 117th nationally) and the pass (297 ypg; 124th) LY. The strength (if you can call it that) of the "D" is the LB corps, paced by relentless Matt Linscott (16 TFL, 5 sacks) and Trent Martin (104 tackles, 14 TFL). To turn a corner, the coaches must shore up a porous secondary that was partly responsible for the team giving up a nation-high 89 plays of at least 20 yards. Jr CB Kerwin Thomas, who had a team-high 12 PBU & 2 ints. & sr. SS Jeremy Brady are key pieces of a secondary that will also depend on RS frosh CB Reggie Robinson II to learn on the fly. On a positive note, the Golden Hurricane defense did return four of its 10 picks for TDs.


SMU (

2015 SUR 2-10

; PSR 5-7)—Though SMU finished 2-10 in the first season under Chad Morris, we feel the Mustangs are on the right track if the woeful defense can make any strides in its second campaign under d.c. Van Malone. Youthful SMU played its best against their toughest foes LY in the month of September, hanging tough with Baylor and TCU until the final period. Sure, the only victories for the Mustangs came vs. North Texas and Tulane, which ranked a lowly 117th and 119th in total offense. Morris understands much more work must be done when he says, "I thought we stepped in the right direction this year and established our culture. We're putting together a program. I knew it is going to take some great recruiting and it's going to take some patience." He hopes his still-evolving squad doesn't become too discouraged or banged-up early on with 3 of the first 5 games vs. ranked teams LY (Baylor, TCU and Temple).


Six starters return from a power spread offense (27.8 ppg LY) that showed marked improvement last year under the direction of mobile sr. QB Matt Davis (761 YR, 10 TDs; 16 TDP, 7 ints.), who should receive better protection from a beefier, more mature OL, which yielded a 42 sacks LY. Davis was a smarter decision-maker, but he must show more downfield passing acumen after throwing for a meager 188 ypg in 2015. Coaches will fully exploit a burgeoning trio of weapons, frosh A-A WR Courtland Sutton (49 grabs, 9 TDs) and soph RBs Xavier Jones (634 YR, 4.2 ypc, 10 TDs) & speedy Braeden West, who established himself as the key KO return man, averaging 23.5 yds.


Lack of depth took its toll on a defense (45.7 ppg LY; 126th nationally; five starters back) with injuries forcing many young, unproven players to be thrown into the fire a year ago. In fact, the secondary became so thin that seldom-used receivers Deion Sanders Jr. And Cedric Lancaster switched to CB for depth. To help fortify a tissue-soft rush defense that allowed 261 ypg & 5.5 ypc, Morris says that four of the five incoming defensive linemen could play this fall. DE Justin Lawler's job is secure after he led SMU in total tackles (64) and sacks (5). Watch for highly-regarded 6-1, 230-pound frosh LB Jordan Carmouche, who backed out of a commitment to Arkansas, to be a key cog on a stop unit that can go only show some growth after a dismal 2015. Coaches also want to see significant improvement in TO margin after finishing lowly 112th LY.



TULANE (

2015 SUR 3-9

; PSR 6-6)—Willie Fritz, the former Georgia Southern mentor, has won right away everywhere he has coached. After previously resurrecting smaller programs (Sam Houston State, Central Missouri and the aforementioned Eagles), he faces his biggest challenge at Tulane, which has had one winning season since the 2003 campaign. The Green Wave only managed to defeat Maine, winless UCF and 2-10 Army West Point last season. After the Eagles led the nation in rushing the past two season with its option-based attack, run-heavy ritz will install a similar style in New Orleans, especially since two-year starting QB Tanner Lee transferred to Nebraska, feeling he wouldn't be good fit for Fritz' system. At least the non-conference schedule is more favorable this year, with Wake Forest and UMass replacing Duke and Geogia Tech.

Four starters return from a dysfunctional offense (19.7 ppg LY;120th nationally in total yds.) that has major concerns at both QB and at WR. LY's backup QB Devin Powell completed only 16 of 36 with 1 TDP. And both untested soph Glen Cuiellette and true freshmen early enrollee Darius Bradwell, who'll be asked to make more plays with their legs, struggled mightily as passers in the spring. Moreover, the Wave is woefully thin at WR. Teddy Veal (48 catches) transferrd to Louisiana Tech and Devon Breaux (25) gave up football to concentrate on track and field. Look for highly-recruited frosh WR Jacob Robertson to work into the rotation. Fritz does feel good about his infantry, saying "We have four backs that, in the offense,, are capable of being 1,000 yard rushers, depending on how many times they get the ball." A heavier workload is envisioned for RB Dontrell Hilliard (646 YR; 5.6 ypc; 6 TDs) and versatile RB Sherman Badie (26 catches). New OL coach Alex Atkins is demanding some needed nastiness from a front that was too sieve-like LY.


Seven starters are back from a defense (36.3 ppg LY) that builds around two first-team All-AAC performers—sr. DT Tanzel Smart (62 stops, 15 TFL) and high-motor, tackling machine 5-10 sr. LB Nico Marley (232 career tackles), the grandson of reggae legend Bob Marley. Coaches believe that SS Jarrod Franklin, who played mostly at LB a year ago, and raw but athletic native Nigerian DE Ade Aruna (3 sacks) are bona fide all-league candidates as well. The leaky secondary requires a return to form by jr. CB Parry Nickerson, who had six picks in 2014 but none in 2015. Plus, the return of FS Leonard Davis from a yearlong suspension could help matters.


Improving the return game is a high priority after finishing 115th in KO returns and having no punt return of more than 15 yards in 2015. PK Andrew DiRocco nailed 9 of 10 Fgs LY, but his range is only about 40 yards.

NEXT UP: CONFERENCE USA
Return To Home Page