7058...
TGS 2016 PRO FOOTBALL PREVIEW
...A LOOK AT THE NFC SOUTH

Following is our preview of the NFC South, courtesy Senior Editor Chuck Sippl. Teams as always are presented in order of predicted finish, with last year's straight-up records and playoff results where applicable...Bruce Marshall, Goldsheet.com Editor


by Chuck Sippl, Senior Editor


CAROLINA (15-1 LY; Lost Super Bowl vs. Denver)...Prior to 2014, no team had ever repeated as champion of the contentious NFC South. Carolina did it that season with a mere 7-8-1 record! After last year's much more impressive 15-1 regular season and three-peat in the division, the Panthers are now going for a previously unheard of South four-peat! It won't necessarily be easy. Not even with 2014 WR sensation Kelvin Benjamin back after missing last year with a knee injury.


That's because the recent history of teams that lost the Super Bowl the previous season is not a good one. Just last year, previous Super Bowl loser Seattle failed to win its division, finishing second to Arizona by three games! The Seahawks then lost in the Divisional Round of the playoffs 31-24 to these same Panthers (after barely making it to that game due to a missed last-minute FG by the Vikings in a 10-9 Wildcard final).



FB SEASON IS HERE...CHECK OUT TGS 60 COMBO DISCOUNTS!

...Click here to order


Now, it's up to Carolina to show that it can both survive the chase in the NFC South and, if it does, make another strong run in the playoffs. Don't look for things to go as swimmingly as they did in 2015, when the Panthers started 14-0. But as long Carolina's core players stay healthy, the Panthers rate as a strong favorite over the rest of the crew in the South.


For sure, Cam Newton still needs guidance in his leadership and P.R. skills. But Newton is still only 27. And, with the 6-5, 240-lb. WR Benjamin back in the fold, the QB has a great chance to improve last year's passing numbers of 3837 yards, only 59.8%, but 35 TDs and just 10 interceptions. As he gains in maturity and judgment, Newron will likely learn to run less frequently and more safely. But last year, Newton used his extra-dimension ability to run for 636 yards and 10 TDs as he helped Carolina out-distance everyone in the NFL except for Denver's exceptional defense. As a threat near the goal line, few QBs have been near his equal.


Reliable TE Greg Olsen, revived WR Ted Ginn Jr., emerging wideout Corey Brown, and 6-4, 233 banger Devin Funchess give Newton more than enough targets to go with Benjamin. The team's RBs drop from OK to just marginal if Jonathan Stewart (989 LY) is not healthy. Michael Oher, now with his third team, has emerged as a solid LT to go with C and OL leader Ryan Kalil and Pro Bowl G Trai Turner. As with many teams, OL quality and quantity then become an issue.


The defense was one of the league's best in 2015, 4th against the run, 6th in overall yards, and 6th in points (19.2). But the key stat last year was the Panthers' league-pacing 24 ints. that helped Carolina to a +20 turnover ratio. Up against the salary cap after making the Super Bowl, the team could not hold on to premium CB Josh Norman (to Redskins). After Norman's departure, it looked as if quality nickel-back Bene Benwikere would have to move to corner. But the front office quickly replenished the secondary in the draft, landing No. 2 James Bradberry (Samford), No. 3 Daryl Worley (West Virginia), and No. 5 Zack Sanchez (Oklahoma). Bradberry, especially, has shined since minicamp. But Worley will get a shot at the other corner, and Sanchez succeeded as a nickel early in his career with the Sooners. And let's not forget that Panther S Kurt Coleman led the team with 7 interceptions.


Relentless MLB Luke Keuchly (118 Ts, 4 ints. LY), medical marvel Thomas Davis (105 & 4), and emerging coverage OLB Shaq Thompson represent arguably the top LB crew in the NFC. No. 1 pick Vernon Butler (DT, La Tech), veteran free-agent signee Paul Soliai (6-3, 345), and the re-signing of 30-year-old DE Charles Johnson give HC Ron Rivera the ability to rotate his DL, as he much prefers. Leading the way up front are quick DT Kawann Short (11 sacks LY), speedy DE Kony Ealy 5 sacks), and sturdy DT Star Lotulelei (only one sack), who has promised to prove TY he is more than just a space eater as he chases a new contract.


Summary...The Panthers' lack of poise and maturity showed in their 24-10 loss to offensively-limited Denver in the Super Bowl. But failing key injuries, Carolina still has way too much this season for its South fellows. Now wearing the target, there will be no 15-1 TY. But we'll likely have to wait until the playoffs to see whether any complacency issue or "Super Bowl loser" problems arise for Riverboat Ron and his strong NFC South champs.



ATLANTA (

8-8 LY

)...After powerful Carolina, there is a pretty close three-way race for runner-up in the South. But let's give the nod to Atlanta, with its top-drawer QB/WR duo of Matt Ryan (4501 YP, 21 TDs) and Julio Jones (136 recs., 1871 yards), with the latter having one of the best WR years in NFL history. The presence of the 6-3, 220-lb. Jones on the flank causes foes to distort their defenses, opening opportunities for other players. Ryan freely admits that his 16 ints. of LY were too many, considering those circumstances. The declining Roddy White is gone, replaced by the physical Mohamed Sanu via Cincy. RB Devonta Freeman (1061 YR in 2016, but only 4.0 ypc) helped as a receiver with 73 catches LY, while developing second-year RB Tevin Coleman (392 YR) offers a nice alternate with better speed.


The Falcs had declined up front (both offensively and defensively) during the last couple of years of the Mike Smith regime. But second-year HC Dan Quinn—who arrived in Atlanta off a two-year term as def. coord. with Seattle—has been intent on buttressing the Falcs in the pits on both side of the ball.


On offense, he added G Andy Levitre from Buffalo LY and then long-suffering C Alex Mack from Cleveland TY. On defense, he added DE Adrian Clayborn from T.B. LY and then No. 2 pick Deion Jones of LSU TY. Courtney Upshaw, a big OLB with Baltimore the L4Ys, was signed to join the DL rotation. This year's fourth-round pick, LB De'Vondre Campell of Minnesota, is giving indications he might earn a starting job on the outside. The defensive situation improves further if 2015 top pick OLB Vic Beasley (4 sacks LY while playing through a bad shoulder) can stay healthy and if Quinn can build a Seahawk-type fire under inconsistent DT Ra'Shede Hageman. The Falcs have totaled only 41 sacks the L2Ys, the fewest in the NFL over that time.


In the secondary, Quinn appears well on his way to creating the "Legion of Boom, South." CBs Desmond Trufant and Robert Alford are among the best coverage pairs in the league. Quinn has converted Ricardo Allen, a former CB, into a coverage safety in the manner of Seattle's Earl Thomas. And this year's draft has yielded top pick Keanu Neal (Florida), who has the big hitting ability of the Seahawks' Kam Chancellor (although not the 6-3, 225 Chancellor size). You get the distinct idea that the jut-jawed Quinn knows what he's looking for on defense, as the Falcs will be younger, faster and more physical TY, with an improved pass rush (it could hardly be worse).


Summary...It's been three straight years out of the playoffs for the Falcons, a situation the team would like to rectify before moving next year to its fancy, new, retractable-roof stadium adjacent to the Georgia Dome. It was Atlanta that handed the Panthers their only loss of the regular season LY, and the players appear to have bought into Quinn's more-physical approach. The Falcs might need a post-Super Bowl stumble by Carolina in order to pass the Panthers this year. But they're definitely closing the gap.


Note that Quinn's greater emphasis on running and on defense last year shown through, as the Falcs posted a definitive 3-12-1 the over/under tally.



TAMPA

BAY

(6-10 LY)...There's been quite a dry spell on Florida's west coast. The Buccaneers' last winning season was in 2009 under Raheem Morris. The team's last playoff campaign was in 2007 under Jon Gruden. If Tampa Bay doesn't make it this season, it will be nine straight campaigns without a taste of the postseason! Since Gruden was fired after a winning 9-7 mark in 2008, the Bucs have gone through Raheem Morris, Greg Shiano, and Lovie Smith as head coaches. Now, Dirk Koetter gets a chance. The former Boise State and Arizona State head coach has been an NFL off. coord. for the past nine years (five with Jacksonville, three with Atlanta, one with T.B.).


It was partly because of connections with, and early development of, former Heisman winner and last year's rookie QB Jameis Winston that the brainy Koetter was named by the Glazer ownership to replace the less-glib, relatively disappointing Lovie, who just four years previous had led his Bears to the NFC title game. With the Bucs' developing offense now the strength of the team, Koetter gets his shot as a head man in the NFL. And he is eager for the chance to maximize the production of young Buc "triplets" QB Winston (a lofty 4041 YP as a raw rookie starter); 6-5, third-year power wideout Mike Evans (74 recs. for 1206 yards LY, but only 3 TDs); and muscular 5-9 RB Doug Martin (1402 YR in 2015).


Those triplets could become tough-to-deal-with quadruplets if Koetter can keep athletic TE Austin Seferian-Jenkins on the straight and narrow and convince him to become fully invested. Quintuplets, even, if 33-year-old Vincent Jackson (only 10 games LY, but 16.5 ypr on 33 recs.) can stay healthy. Winston had 15 ints. vs. only 22 TDP. But the rookie QB had only 8 picks in his final 12 games. Six of his total 15 ints. came against rampaging Carolina; nine in the other 14 games.


Much depends on whether OL coach George Warhop (T.B. L2Ys; Cleveland the previous 5Ys) can continue to develop the team's OL. The Bucs were 5th in total yardage LY and 5th in rushing, but an inefficient 20th in scoring (21.4 ppg). An offseason move to help rectify that situation appears to be on hold, as run-blocking G J.R. Sweezy had back surgery after the Bucs lured him from Seattle to Florida with a five-year, $32.5 million deal! [Few things hamper team development as do expensive free-agent signings that don't work out.]


Another reason Lovie lost his job was disappointment involving some of his free-agent moves on defense, which was 10th in yardage allowed, but a lowly 26th in points allowed (26.1 ppg). The acknowledged leader of the stop unit is 7th-year DT Gerald McCoy (8½ sacks). And Lavonte David (147 Ts) and Kwon Alexander (93) are among the top young LBs in the league. Free-agent signee DE Robert Ayers had 9½ sacks LY with the Giants.


But the T.B. defense had only 11 ints. LY, a key factor in the Bucs finishing -5 in turnover margin. It is hoped that their top draft pick, Florida CB Vernon Hargreaves (who had two ints. in the first two exhibitions) will help solve that problem. And the second round brought DE Noah Spence, who ran into problems at Ohio State and had to finish his career at Eastern Kentucky. However, "Lovie players" such as CB Johnathan Banks, S Major Wright, and DT Henry Melton (now Denver) have not worked out as had been hoped.


Tasked with boosting the defensive unit's production and efficiency for 2016 is none other than long-time Atlanta head coach Mike Smith, now back in the South after a year off to re-charge his batteries.


The Bucs' special teams are also under pressure, as T.B. traded up in the draft to take Florida State's impressive kicker Roberto Aguayo in the second round. Aguayo, 69 of 78 FGs in college, not to mention 198 of 198 on PATs, has been more than shaky in early preseason games and practices. Errant FGs and problems with the longer NFL PAT seem to have him spooked early, with T.B. fans vocal in their displeasure. Veteran handicappers will note that Aguayo would not be the first touted kicker to "lose his swing." That would be no small problem for the offense considering the many tight games in the NFL


Summary...The Bucs can score, and they're on the ascension. Insiders have been talking about Winston's greater maturity and improved leadership in his second season. Koetter likes his offense. And, with Mike Smith around, Koetter doesn't have to worry much about handling the defense. Tampa Bay should give the Falcons a run for their money...for the silver medal in the South.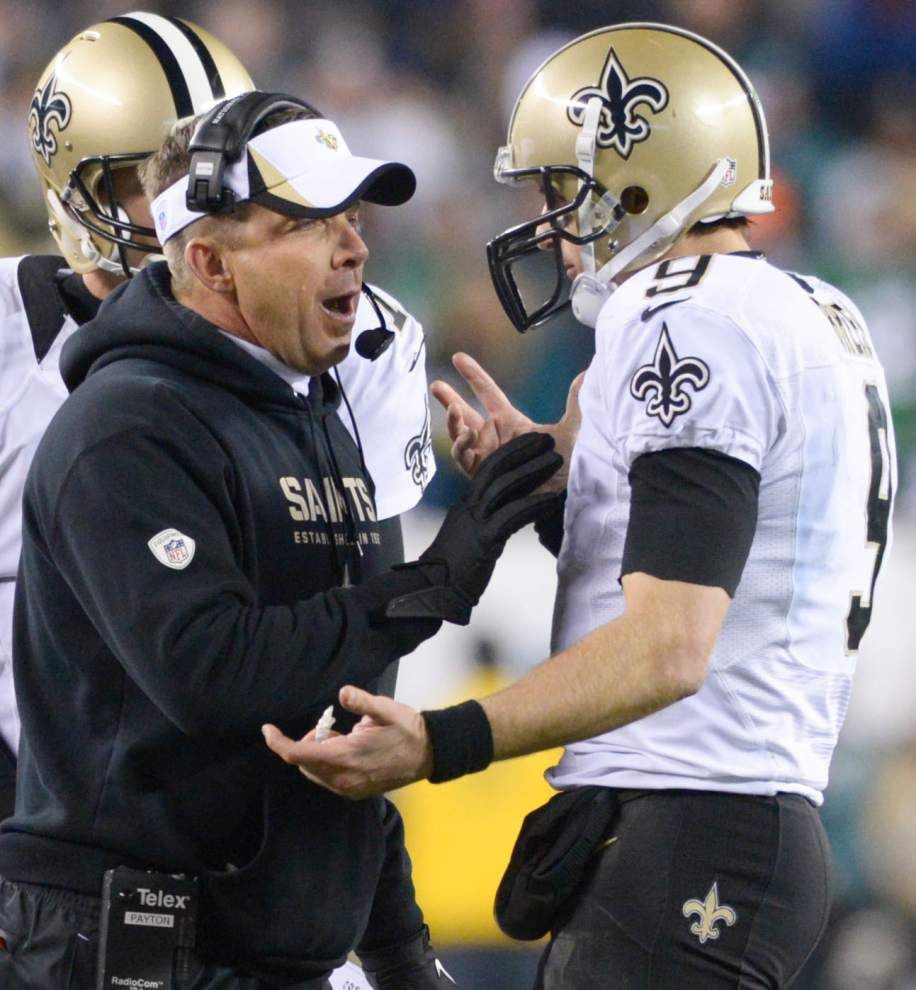 NEW

ORLEANS

(7-9 LY)...What to do with New Orleans? With the wonderful Drew Brees at the controls, the Saints can score with just about anyone except the very best. Only Carolina (31.2 ppg), Arizona (30.6 ppg) and New England (29.1 ppg) scored substantially more per game last season than New Orleans (25.5 ppg).


But no team in NFL gave up more points (476 total; 29.8 per game) than the Saints in 2015. And no team in the history of the NFL ever gave up more TD passes than New Orleans' 45 last year. That's nearly three per game. The rush defense was also a failure, yielding 129.4 ypg on the ground (ranking 31st) and a generous 4.9 ypc (worst in the NFL).


Former defensive coordinator Rob Ryan didn't even make it though all of 2015, being dismissed after just 10 games, with defensive assistant 9and former Oakland HC) Dennis Allen taking over. There was a marginal improvement to 26.8 ppg the final six contests. However, with HC Sean Payton's pet offense also under a bit of reconstruction (TE Jimmy Graham dealt away last year; stalwart WR Marques Colston and G Jahri Evans, plus TE Benjamin Watson, not re-signed TY), improvement on defense becomes all the more important.


Thus, the team's resultant offseason emphasis on replenishing and improving the stop unit. Free agency landed former Ram MLB James Laurinaitis, still savvy and rugged, but perhaps a half-step slower at 29 (he turns 30 in December). Also signed was DT Nick Fairley, whose inconsistency earned him a ticket out of Detroit. This year's draft yielded Louisville DT Sheldon Rankins (first round), Ohio State safety Vonn Bell (second round), and DT David Onyemata, a big DT from the University of Manitoba.


Overall, that's not a lot of impactful help to support useful N.O. defenders such as OLB Stephone Anthony (last year's top pick had 112 Ts), DE Cameron Jordan (10 sacks), S Kenny Vaccaro (3 sacks, but no ints. LY), and S Jairus Byrd (22 ints. in five years in Buffalo; only one in two years in N.O.).


CB Delvin Breaux, a former LSU signee, made it through a major injury in high school, the Arena League, and the CFL before winning a starting CB job LY. It appears as if 2015's No. 3 pick, CB P.J. Williams (Florida State), will win a spot after missing all of 2015 with a torn hamstring. Williams has shown such an upside in camp that former top cover corner Keenan Lewis, plagued by injuries, was cut after two exhibitions.


That's promising. But the defensive platoon has already lost pass-rushing OLB Kiki Kikaha due to a major knee injury in June, while top pick TY DT Rankins suffered a fractured fibula in camp.


Meanwhile, Brees (now 37) will keep firing away as he continues his assault on the record book. The 6-0 QB with the great throwing motion had 4870 yards and 32 TDs vs. 11 ints. LY; he now has 60,903, 428 and 205 in his 15 seasons. But his targets appear less dynamic than in previous years. Perhaps 6-3 second-rounder Michael Thomas of Ohio State will give Brees the rangy receiver he has utilized so well over the years. RB Mark Ingram, while reliable, has not been the dominator that was hoped when N.O. spent its No. 1 pick on him in 2011. The OL, also in a state of re-generation, carved out only 3.8 ypc LY. Only five teams were worse.


Summary...The Payton/Brees HC/QB duo ranks with the most productive of the last decade. They are a threat in any one game. And New Orleans lost by only 5 and by 3 in two meetings vs. 15-1 Carolina LY. But the Saints were only 4-4 SU in the Superdome, where they used to go marching in steadily and impressively. In the fight for survival behind the powerful Panthers, N.O. will stay close. But early injuries already have them trailing their South rivals.

NEXT UP: AFC WEST
Return To Home Page