7100...
TGS COLLEGE FOOTBALL PREVIEW
...LOOKING FOR AN ANGLE?
by Gary Olshan, Chief Analyst
Tulsa at SMU (Friday)...SMU seeking to end 3-game series losing streak, including painful 43-40 OT loss at Tulsa LY. Mustangs' 3rd-year HC Chad Morris was Tulsa's Associate HC/o.c./QB coach in 2010, in his first collegiate job.

Nebraska at PURDUE...Purdue 6-3 as home chalk since 2014 (2-0 TY). Boilers led 14-10 at H, but failed to score after intermission in LY's spread-beating 27-14 loss in Lincoln.

Tennessee at KENTUCKY...UT 31-1 SU last 32 in series, including five straight wins by 23 ppg. UK QB Stephen Johnson excited for rematch after hitting only 12 of 29 for 192 & 1 pick in his team's 49-36 loss in Knoxville LY. UT a tick under 50% as visiting underdog since 2007.

Vanderbilt at SOUTH CAROLINA...South Carolina has captured 8 straight in series, including come-from-behind 13-10 win in Nashville opener LY. Cocks trailed 10-0 at H, but held Vandy to a mere 63 yds. after intermission. USC kicked game-winning 55-yd. FG with :35 left. Gamecocks' super-soph QB Jake Bentley was still a redshirt in LY's lidlifter vs. Commodores.

Buffalo at AKRON...Host has notched 8 of last 9 in this MAC series. Last 4 in series went "over."

Louisville at WAKE FOREST...WF psyched-up for rematch after allowing 34 pts. straight points after taking lead into 4th Q of LY's 44-12 setback at Papa John's. Deacon "D" especially fired-up after allowing season-high 346 YR (9.4 ypc) vs. L'Ville. Cards a poor 4-13 last 17 vs. spread.

Miami-Florida at NORTH CAROLINA...Injury-riddled UNC on pointspread downturn, going 1-9 vs. spread last 10 in reg. season vs. FBS foes. Hurricane "D" happy that Tar Heel QB Mitch Tribusky left prematurely for NFL after he hit 33 of 46 for 299 yds. & 2 TDs in UNC's 20-13 upset win in Miami LY.

Rutgers at MICHIGAN...RU looking to regain some measure of self-respect following LY's 78-0 home demolition vs. Michigan; Scarlet Knights worst loss since 82-0 skunking by Princeton in 1888!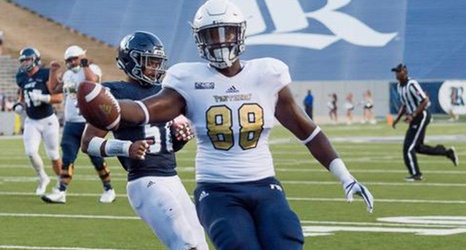 Florida International at MARSHALL...Resurgent UM geared-up following LY's 31-14 setback in Miami, snapping a 4-game series win skein. Herd has already surpassed LY's season win total.

Virginia at PITTSBURGH...UVa sky high for trip to Pittsburgh following LY's misleading 45-31 home setback. Cavs outgained Panthers 378-346, but Pitt scored on 93-yd. KO return & 59-yd. int. return.

Georgia Tech at CLEMSON...CU held vaunted GT triple-option to season-low 96 YR in LY's 26-7 victory in Atlanta. Tech covered last 3 as visiting dog.

Oklahoma State at WEST VIRGINIA....WV eager to settle a score after LY's 37-20 upset loss in Stillwater. Mounties entered game with 6-0 mark and No. 10 ranking in AP poll. OSU's stellar sr. QB Rudolph hit 26 of 36 for 273 & 3 TDs.

Duke at VIRGINIA TECH...Duke QB Daniel Jones accounted for 247 yds. in his team's spread-covering 24-21 home loss LY. Last 4 in tightly-contested series decided by 3, 2, 1 & 3 points.

Wisconsin at ILLINOIS...Highly-ranked Big 10 contender Wiscy has won 7 straight in series, with all Ws coming by at least 10 points. Illinois 2-7 as a home underdog since 2015. Badgers rolled-up a season-high 363 YR in LY's 48-3 mashing in Madison.

Kansas State at KANSAS...Under HC Bill Snyder, KSU 21-4 SU in the Sunflower Showdown, with Wildcats posting 7-1 spread mark in last 8.

New Mexico at WYOMING...NM has nabbed 3 straight in series, including 56-35 victory in Albuquerque LY, when Lobos amassed a season-high 568 YR and had three 100-yd. rushers.
Georgia vs. Florida (at Jacksonville)...UGa in rare double-revenge mode for the "World's Largest Cocktail Party." Dawgs' dynamic RB duo of Nick Chubb & Sony Michel especially juiced-up after combining for a season-low 22 YR in LY's 24-10 setback.

Penn State at OHIO STATE...OSU is 10-0 SU in revenge games since 2010, winning by an avg. of 13 points. Buckeyes—who outgained Penn State 413-276—led 21-17 when Penn State blocked a FG that was returned 62 yds. for the game-winning TD late in the final period.
Return To Home Page