7262...
TGS SPECIAL REPORT
...COL FB COACHING HOT SEAT FOR 2017
by Bruce Marshall, Goldsheet.com Editor


With

our

TGS

Football issues running out and still lots of gridiron developments to talk about, we'll temporarily veer back into the football lane this week before our next "Bracketology" update in the upcoming

TGS

Hoops 14.


Before we sign off on the just-completed college football season, we wanted to take a quick look at what is shaping up to be the largest coaching hot seat list we can ever recall for the 2017 season. We'll update this list further when we get into our annual college previews in the summer, but the hot seat figures to be a lively topic entering next fall.


Moreover, the college coaching carousel from the just-completed season hasn't quite stopped spinning yet, either. The surprise announcement early last week that Cal was parting ways with HC Sonny Dykes relieves us from including Dykes on the 2017 list. Pac-12 sources have suggested that the Dykes dismissal (after Sonny's annual dalliances with schools in Texas) might have been in the works since December and was probably not related to the sudden availability of Chip Kelly, who was dismissed by the cross-Bay NFL 49ers the previous week. Kelly was a juicy name to be thrown into the rumor mill for Berkeley, and had to be considered a possible candidate, but most Pac-12 insiders did not believe Kelly was headed to the Golden Bears. After naming o.c. Jake Spavital is as the interim HC, and Kelly's name and that of Southern Cal o.c. Tee Martin were briefly spinning thru the rumor mill, Cal named Wisconsin d.c. Justin Wilcox as Dykes' successor late last week. (Dykes, by the way, quickly found a landing spot on Gary Patterson's staff at TCU.)


Earlier, after the first wave of coaching changes, UConn waited until after Christmas before pulling the plug on HC Bob Diaco, causing some observers to wonder what the Huskies were waiting for. Sources say it was financials that caused the delay, and, once resolved, UConn moved quickly to bring back former HC Randy Edsall, who made an ill-fated move to Maryland after the Huskies hit the program's high-water mark with a BCS Fiesta Bowl appearance vs. Oklahoma in 2010. Then Minnesota hit the eject button on Tracy Claeys and became one of the big winners of the post-2016 carousel when luring P.J. Fleck from Western Michigan. Thus, two more names (Diaco and Claeys) were prematurely stricken from the 2017 "hot seat" list.


The other situation to monitor is at Kansas State, where 77-year-old Bill Snyder is now a year-to-year proposition. There was talk that Snyder might hang 'em up after the Wildcats' 33-28 Texas Bowl win over Texas A&M, but still no word from Manhattan other than Snyder is not yet retiring. Some Big 12 observers believe than Snyder is lobbying hard for son Sean, on the K-State staff since his days as a Wildcat punter in the early '90s and the long-time director of football operations at the school, to be named as Snyder's successor, though K-State has yet to make that commitment. This is a situation that probably bears watching, even into the spring.


Snyder, however, is going to get to call his own departure, a luxury not afforded to most of the coaches on the list below who are going to enter 2017 sitting on hot seats of various degrees. Coaches are listed by school alphabetical order, with the seats graded "warm," "hot," and "red hot."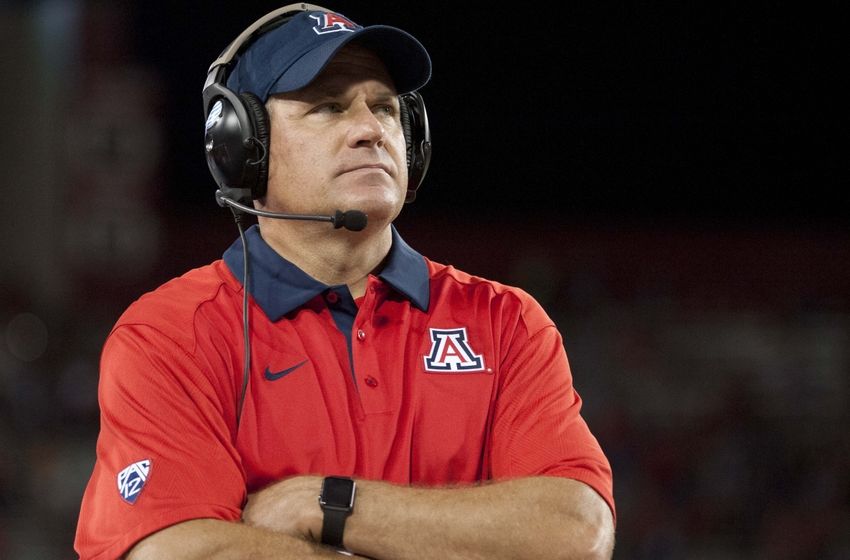 Rich Rodriguez, Arizona...There was a lot of conjecture in Tucson that Rich-Rod might not last beyond 2016 as the Wildcats collapsed to a miserable 3-9 mark and missed the bowls for the first time on his watch (which began in 2012). Though AD Greg Byrne announced in November that Rodriguez would be back in 2017, so Rich-Rod was not coaching for his job in the Territorial Cup regular-season finale vs. Arizona State, but the 56-35 romp past the Sun Devils has at least made the offseason a bit more pleasant at UA. The Cats were hit hard by injuries this past season, especially at the QB spot, which made it easier for Rodriguez to get his mulligan. But the trajectory of the program has been steeply downward the past two years, and Rich-Rod needs to reverse the direction quickly if he wants to last into 2018. 2017 STATUS...

HOT




Todd Graham, Arizona State...Like counterpart Rodriguez a hundred or so miles to the south, Graham is also on thin ice in Tempe, as that aforementioned Territorial Cup result has turned up the heat on the Sun Devil mentor. ASU appeared a near certainty to reach a fifth straight bowl on Graham's watch when sitting at 5-1 in mid-October. But six straight losses to close the season, and the humiliation vs. the big rival, has put Graham in a must-win spot for 2017. Many Pac-12 insiders have long felt that Graham, who in the past has moved from two jobs (Rice and Pitt) after just one year, is destined to end up with some job in his native Texas, and might have been a candidate at Baylor had his stock not dropped so precipitously this past season. 2017 STATUS...

HOT




Bret Bielema, Arkansas...After the Razorbacks had already suffered several late-game collapses in 2016, the last thing Bielema needed was for the Hogs to blow a 24-0 lead in their bowl game. Which is exactly what Arkansas did in the Belk Bowl vs. Virginia Tech. Bielema's 4-year SU mark at Fayetteville stands at only 25-26, not the return on investment that Razorback boosters envisioned. 2017 STATUS...

RED HOT




Gus Malzahn, Auburn...Some SEC sources reported that Malzahn was looking for an escape hatch out of Auburn a year ago and had interest in openings at Miami and South Carolina. It's no fun to compete against Nick Saban in Alabama, and Malzahn's star had fallen so quickly since his smashing 2013 debut that Tiger backers were said to be ready to hit the eject button if Auburn lost to LSU last September 24. LSU lost, and Les Miles was fired instead in what might have been the first college football loser-coach-leaves-town midseason game. Malzhan rehabbed his status in October, but three losses in the last four games have given Gus little wiggle room for 2017 unless he can get his offense humming as it did in 2013. In Malzahn's favor is super-agent Jimmy Sexton, who can probably find Gus a landing spot before the posse forms at Jordan-Hare Stadium. 2017 STATUS-

HOT




Steve Addazio, Boston College...After a brutal 2015 in which his team didn't win an ACC game, Addazio helped his case with a recovery to 6-6 in the regular season and a bowl win over Maryland. But how much goodwill can be generated in a matchup between a pair of 6-6 teams in Detroit the day after Christmas? The Eagles have been mostly unwatchable on offense the past two seasons, and Addazio has needed graduate transfer QBs (Tyler Murphy from Florida in 2014, and Patrick Towles from Kentucky in 2016) to squeeze into recent minor bowls. There is already some chatter in New England that BC might be a landing place for Brian Kelly should he leave Notre Dame, so the pressure will be on Addazio this fall. 2017 STATUS-

WARM




Scottie Montgomery, East Carolina...The Pirates generated a lot of bad press in the region when running off the capable Ruffin McNeill after 2015 and hiring Montgomery. After a couple of wins to begin the season, including a rousing one over NC State, ECU would lose 9 of its last 10 and looked awful most weeks. Montgomery has a bit of rope remaining, but anything close to the 2016 debacle could make the Pirates admit they made a mistake sooner than they could have anticipated. 2017 STATUS...WARM


Kirby Smart, Georgia...Smart is probably in no immediate danger as he enters his second year, though things might have been worse if the Bulldogs missed a bowl, which appeared a possibility into November. Nonetheless, the 8-5 debut was not what Georgia backers had in mind after making Mark Richt walk the plank for lesser transgressions. Because it's the SEC, and because Smart underachieved in his maiden run, sources say he could find himself in the soup if the Dawgs regress in 2017. 2017 STATUS-

WARM




David Beaty, Kansas...Hard to believe the Jayhawks were a national title contender a decade ago (in 2007). By the time Beaty arrived in 2015, the program had been ruined (with Charlie Weis doing the most damage), so the bar was set low in Lawrence. And Beaty is not under immediate pressure to win big in 2017. But little improvement has been made over two seasons in which the Jayhawks are 2-22 SU. Beaty likely gets at least two more years to forge a turnaround, unless he slips back to 1-11 or, God forbid, another 0-12 like his debut season in 2015. Which would suggest no progress is being made and cause KU to rethink yet another possible botched hire. 2017 STATUS-

WARM




Ed Orgeron, LSU...Make no mistake, Orgeron is under as much pressure as predecessor Les Miles to win immediately in 2017 or face the consequences. Orgeron rallied the troops in his interim stint, but most Tiger backers thought there was no way Ed could hang around after the team's ugly 14-10 loss to Florida on Nov. 19. Yet a rousing win over Texas A&M in the finale and meeting a dead-end in pursuit of top target Tom Herman forced LSU to settle upon Orgeron, who will get his chance in 2017, but is working without a safety net. Remember, this is the SEC! 2017 STATUS-

WARM




Hugh Freeze, Ole Miss...The shine is off the apple from the Freeze regime, which dealt with off-field issues and still has possible penalties looming from an NCAA investigation. It was thus a bad season for the Rebs to sink below .500 and miss a bowl for the first time on Freeze's watch (since 2012). Compounding things was a 55-20 Egg Bowl humiliation, in Oxford, no less, courtesy hated Mississippi State. Freeze is one of several SEC coaches under intense pressure in 2017. 2017 STATUS-

HOT




Dave Doeren, NC State...Though this one didn't seem as apparent during the 2016 campaign, ACC sources suggest that Doeren probably needed the reg.-season-ending 28-21 win over rival North Carolina to save his job. Doeren's Wolfpack had somewhat underachieved the past two seasons, especially a year ago when more was expected with QB Jacoby Brissett in the fold. The bowl win over Vanderbilt will help in the short-term, but it's apparent that they are getting a bit antsy in Raleigh. 2017 STATUS-

HOT




Brian Kelly, Notre Dame...The days of the Fighting Irish sitting around and waiting for a contract to run its course (as was the case with Gerry Faust in the '80s) are no more. Ask Bob Davie, Ty Willingham, and Charlie Weis, all fired since 2001. Now the Kelly regime appears to have run its course after ND collapsed to an unacceptable 4-8 this past season. Some Domers believe Kelly would have jumped had another acceptable job opened up after 2016, though jobs like Purdue had little appeal. With a few better landing spots perhaps on the horizon after 2017, don't be surprised if Kelly beats the forming lynch mob and gets out of South Bend. 2017 STATUS-

RED HOT




Butch Jones, Tennessee...Though Jones continued to wave his magic bowl wand once again (the 38-24 romp past Nebraska in the Music City was the Vols' third straight big bowl win for Jones), Tennessee was a significant disappointment in 2016. Moreover, it was with a largely senior team, and Jones' shortcomings as a game coach have too often been highlighted the past couple of years. Beyond the surface, the Vols' 9-4 SU mark did not look so good, with some unexpected narrow escapes. UT also failed again to take the very winnable SEC East, was destroyed by Alabama, and couldn't even beat in-state foe Vanderbilt. Not all 9-4 marks look the same. 2017 STATUS-

HOT




Kevin Sumlin, Texas A&M...There are some SEC observers who were a bit surprised that a) Sumlin wasn't fired after the Aggies once again collapsed in November and lost another bowl, and b) Sumlin didn't find an escape hatch out of College Station. There was talk in late November that the Ags were in the Tom Herman derby, but Texas always had that inside track. The merry-go-round at QB at Kyle Field in the post-Johnny Manziel era has created more problems for Sumlin, who is another coach likely to find a landing spot before the axe would fall. 2017 STATUS-

RED HOT




Jim Mora, UCLA...Pac-12 sources are still a bit stunned that Mora decided to ditch the sporty offense used in his first four years in Westwood, and the consequences were disastrous in 2016 as Mora's new "Stanford style" power-emphasis did not resonate, resulting in the dismissal of overmatched o.c. Kennedy Polamalu (known as Pola during his USC playing days), who was an ill-advised promotion after Noel Mazzone moved to Texas A&M last year. Mora has just hired Michigan passing game coordinator Jedd Fisch to take the place of Polamalu. But there are also concerns about QB Josh Rosen, whose shoulder injury that kept him out after early October might be more serious than first envisioned, not to mention Rosen's maturity issues. The Bruins became unwatchable as 2016 progressed and have meekly ceded control of Los Angeles back to USC after Mora appeared to have the deck stacked in his favor when beating the Trojans three straight during the Brett Hundley era. The topic of replacing Mora is a hot one with UCLA "cigars" who will not tolerate another 4-8 or a miserable offense, with Chip Kelly's name already being mentioned in Westwood (if Cal or someone else doesn't hire him first). 2017 STATUS-

HOT




There are more names to list from non-Power 5 conference schools, but we'll leave it there for now before next updating this story on our

TGS

website pages in June. Stay tuned.
Return To Home Page