7385...
TGS 2017 COLLEGE FB PREVIEW
...A LOOK AT THE PAC 12--PART I

by Chuck Sippl, Senior Editor

Following is our look at the Pac-12, beginning with a preview of the North Division; South analysis on deck in the enxt installment. As usual, teams are presented in order of predected finish, with 2016 straight-up, spread, and "Over/Under" marks included.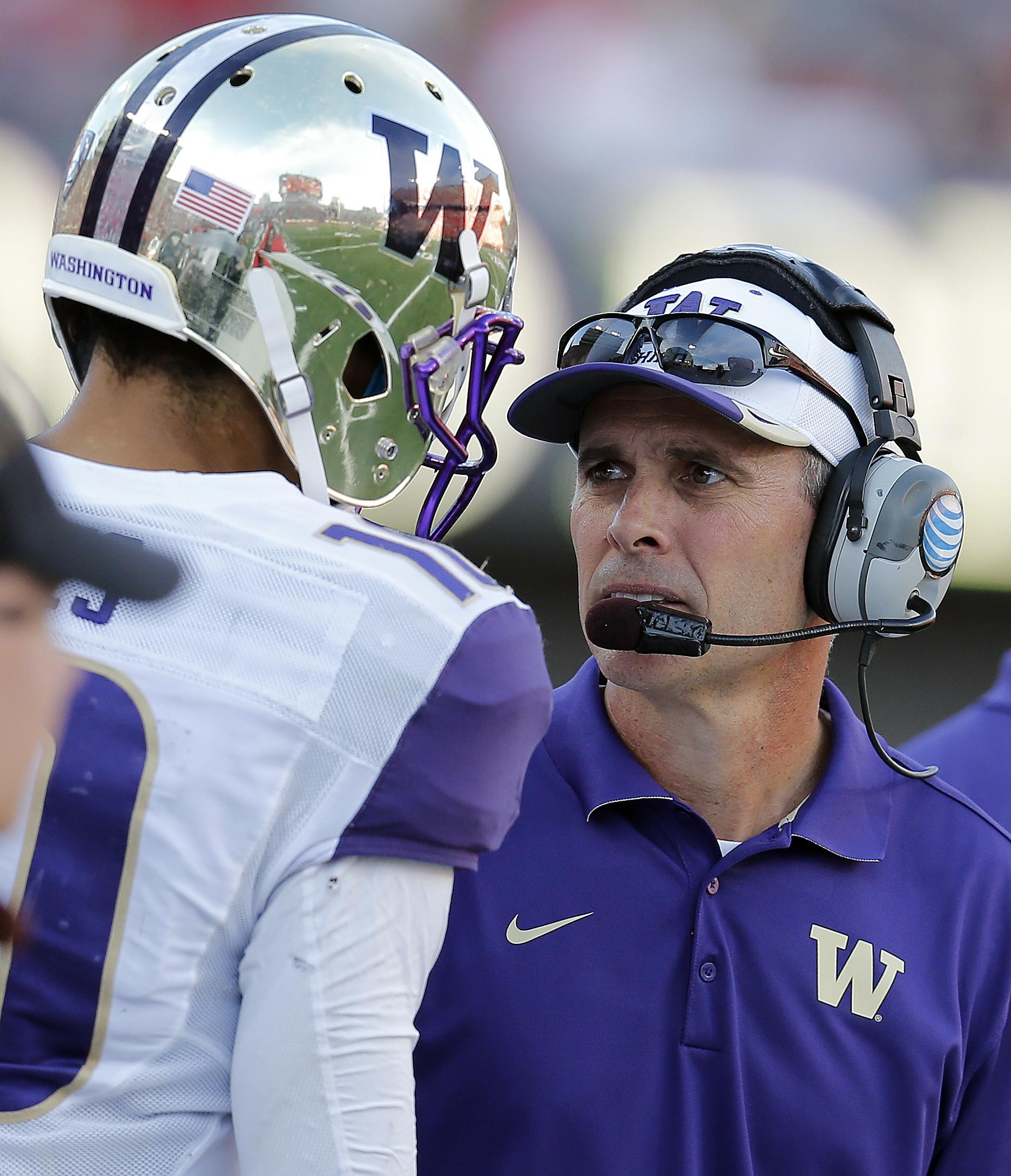 WASHINGTON (SUR 12-2; PSR 7-7; O/U 8-8)...In his third season in Washington, coach Chris Petersen wrested control of control of the Pac-12 North. With a subsequent win over Colorado, the North Division champ has now prevailed in all six of the league title games since the Pac-12 expanded in 2011 and split into North and South Divisions. Three times the previous winner of the championship game was Stanford, and twice it was Oregon. During the Ducks' rise to mighty heights in the previous decade and a half, the proud Huskies had lost (and failed to cover) 12 straight meetings versus Oregon. U-Dub took finally out its frustrations on its Northwest rival last October 8, embarrassing the Ducks 70-21 on their own Auzten Stadium turf.


Indeed, Washington sustained some key personnel losses to the NFL in the April draft. But with jr. QB Jake Browning (Pac-12 Offensive Player of the Year in 2016) back for his junior season, and with the Petersen program on a very solid footing, the Huskies are the early favorite in the North in 2017. Given Petersen's long run of success at Boise State, previous North dominators Stanford and Oregon have plenty to worry about.



FOOTBALL COMING SOON...TGS 2017 EARLY DEALS NOW! ...

Click here to order


The Huskies have arrived...and how! Even though they fell behind early and never really challenged Alabama in the CFP semis last season, losing 24-7, U-Dub appears to he "here to stay" as a "player" on the national stage for the foreseeable future. The Huskies' only other loss in 2016 was to 2017 South favorite Southern Cal. HC Petersen has been rewarded with an extension through 2023. Season-ticket sales at recently-renovated Husky Stadium are soaring. UW had five of its players picked in April's NFL draft. But don't worry, as there are plenty of other pro prospects returning to this year's team. And Petersen's 2018 recruiting class has an early ranking in the top ten according to the recruiting geeks.


UW will have a difficult time replacing the blazing speed of WR John Ross (first-round; Bengals), who caught 81 balls LY and out-sped DBs for 17 TDC (adding another TD on a kick return). But don't worry too much, as 6-1 sr. Dante Pettis (53 recs. LY, 15 TDC) returns, as well as 5-7 jr. smurf Chico McClatcher (31 recs., 5 TDs), and several others. So quick-releasing QB Browning will have quality of targets, including jr. RB Myles Gaskin (19 recs. to go with his 1373 YR) out of the backfield. Shining in spring was 6-5, 234 jr. Brayden Lenius, who caught 26 balls in 2015, but sat out LY due to a three-game suspension followed by a redshirt decision. Recent recruiting has provided several other promising candidates.


The smaller Gaskin (5-10, 191) and the bigger Lavon Coleman (5-11, 223; 852 YR and 7.5 ypc in 2016) will handle the rushing duties. The 6-2 Browning (2 key ints. vs. Alabama) had his problems vs. the Tide's NFL-level defense in the semis last season. But it was later revealed the QB was hampered by a shoulder issue. Browning had shoulder surgery in January and showed no limitations in the spring game (April 23). Striking quickly against most opponents (and easing up nearly as often) Browning accumulated 3430 YP and 43 TDs with only 9 interceptions. Led by Browning, the Huskies outscored their foes a hefty 41.8 ppg to 17.7 ppg. The offense committed only 15 giveaways in 14 games, allowing U-Dub to enjoy a +18 turnover margin, No. 2 in the country.


Three of five starters return along the OL, and all are NFL prospects—6-8, 320 jr. LT Trey Adams; 6-7, 310 jr. RT Kaleb McGary; and 6-4, 297 sr. C Coleman Shelton, a versatile and durable leader. True soph G/C Nick Harris impressed as a freshman LY, although at 6-1, 287 he needs to add some bulk. But there are other promising forward wall candidates as well.


After losing CB Kevin King (Packers), CB Sidney Jones (Eagles), and S Budda Baker (Cardinals) in the top 43 in the draft, the Husky secondary needs some rebuilding, to say the least. So there might be some early vulnerability. There was a bright spot in spring when 5-11, 177 redshirt freshman Byron Murphy gave every indication of being the next Husky DB star. And it must be noted that 6-0 S Taylor Rapp led the team with 4 ints. LY as a true freshman, while S Jojo McIntosh had 67 Ts LY as a soph. Yes, there are DB issues, but, yes, the cupboard is not bare.


The strength of the 2017 defense will have to come from up front while the secondary jells. And the Huskies seem ready to comply. 6-5, 346 jr. DE/DT Vita Vea (5 sacks LY) is one of the more imposing defensive linemen in the country. 6-2, 321 jr. Greg Gaines (3½ sacks) is not as athletic, but more than holds his own. Redshirt freshman Ryan Bowman (two sacks in the spring game) showed he is ready to join the pass rush. U-Dub out-sacked foes 40 to 26 LY. The Huskies allowed 3.6 ypc to foes last season, but Peterson considers that stat to be a bit underachieving.


One of the reasons for that slippage was the early-season injury sustained by sr. LB Joe Mathis and the late-season injury suffered by now-sr. LB Azeem Victor. Victor finished third on the team in tackles with 67 despite missing the last four games due to a broken leg. He was nearly 100% in spring. Joining Victor will be sr. LB Keishawn Bierria (70 Ts). Good offenses (such as USC and Alabama) had some success against UW last season. But most inferior foes often find themselves disarmed when they had to begin playing from behind early.


Summary...With a new coach in Oregon and with Stanford replacing its two best players (RB Christian McCaffrey, DE Solomon Thomas), Washington appears to be the new "sheriff" in the Pac-12 North. Even after losing five starters to the NFL, U-Dub is well-set for another conference title appearance. Especially with a forgiving early schedule (at Rutgers, then Montana, Fresno) should allow some time for the re-formed Husky secondary to meld.



STANFORD (SUR 10-3; PSR 6-7; O/U 5-8)...Stanford has enjoyed having one of the more versatile and dominating players in the country in the last two seasons, going 12-2 in 2015 and 10-3 in 2016. During those two seasons, RB/KR Christian McCaffrey, sometimes splitting out, has rushed for 3622 yards and has caught 82 passes. Even though he missed two games in 2016 (one due to injury and the other his team's bowl game), McCaffrey accumulated 21 rushing TDs, 8 receiving TDs, 2 passing TDs, and 2 return TDs. He was then taken by Carolina with the No. 8 overall pick in the draft. (And that was after San Francisco chose dominating Stanford DE Solomon Thomas with pick No. 3.) In his last two seasons, McCaffrey collected an NCAA-record 6191 all-purpose yards.


Speedy and experienced RB Bryce Love (779 YR last year, 7.0 ypc), while not quite at the McCaffrey level, is eager to take over the top RB spot. And reports from "The Farm" indicate Love will have plenty of support in big soph back Cameron Scarlett, redshirt freshman Trevor Speights, and redshirt freshman Dorian Maddox. The proven 5-10, 191 Love was light-loaded in spring, while the others demonstrated the Cardinal will have plenty of RB depth. And the backfield gets more physical if 245-pound sr. FB Daniel Marx returns 100% from LY's injury.


The bigger concern on offense is the torn ACL of 6-5 sr. QB Keller Chryst, who took over for the last six games (going 6-0 SU) of 2016, throwing for 10 TDs vs. only one int., but suffering the knee injury in Stanford's victory over North Carolina in the Sun Bowl. Chryst's rehab has gone well, with the QB expected to be ready to return sometime in August practice. The Cardinal have an early August 26 game in Australia vs. Rice. If Chryst needs more time, fifth-year sr. Ryan Burns will be back in the saddle for that one, with Stanford then enjoying two weeks off before the team's not-so-easy second game at Southern Cal. Promising redshirt freshman passer K.J. Costello appears at least a year away. However, vs. quality opposition, the Cardinal aerial game often stalled LY, hitting 58.9% for only 15 TDP, way down the list.


Four of five return on the OL this season, so Stanford should be familiarly physical. And respected HC David Shaw, now in his seventh season, says he is more than pleased with this group of Cardinal TEs, led by 6-6 sr. Dalton Schultz (23 recs. LY). Shaw says this year's TE crew gives the offense versatility it has not had in a few years due to TY's multiple-TE possibilities.


WR is a different deal. 6-2 jr. Trenton Irwin led the team with just 37 recs. for only 442 yards and 1 TD. In goal-line situations the Cardinal often turned to 6-3 JJ Arcega-Whiteside (24 recs., but 5 TDs) for its fades and jump-ball, match-up situations. But even with the presence of the versatile McCaffrey, Stanford was a lowly 79th in passing efficiency and an even lowlier 115th in passing yards. Improvement will be needed if there's going to be a challenge for the Pac-12 title in 2017.


Without much of a downfield passing game, the Cardinal will once again rely even more heavily on defense, which gave up 20.4 ppg LY, 18th in the nation in these days of offensive pyrotechnics. And the 2017 Stanford defensive platoon might be even better, despite the loss of top dog Solomon Thomas (8 sacks, 15 TFL even while being double-teamed frequently). The Cardinal remain somewhat thin up front, with HC Shaw calling 6-4, 285 sr. DT Harrison Phillips "indispensable." The athletic Phillips, who has a wrestling background, wasn't quite 100% LY in his return from an ACL in 2015, but he is now being counted upon to increase his 6½ sacks of last year, when Stanford was No. 22 in the nation with 37.


It's a different story in the back seven. The Cardinal are two-deep at virtually all LB spots, with 6-3, 238 sr. Joey Alfieri (51 Ts, 5 sacks LY) and 6-3, 235 jr. ILB Bobby Okereke (41 Ts, 3 sacks LY) wowing 'em in spring. Fifth-year sr. Peter Kalambayi (3½ sacks) is just reaching his potential on the outside.


But Shaw is most enthused about his secondary of 6-2 CBs Quenton Meeks and Alijah Holder, plus safeties Justin Reid, Ben Edwards, and Ben Simmons. Says Shaw, "I love our secondary. They're athletic. They're young. They play well together. They're fast." He adds, "In this conference, in order to win games, your secondary has to play well." Up-and-coming sophs Malik Antoine and Obi Eboh flashed impressive CB coverage talent in spring.


Reliable kicker Conrad Ukropina (22 of 27 FGs LY) has moved on, but redshirt freshman Jet Toner showed a big leg in the spring game while hitting from 42, 40 and 47.


Summary...Early questions need to be answered about QB Chryst. Backup Burns can likely win the opener in Sydney, but Game Two two weeks later at USC is problematic. Yet the defense remains Stanford strong. The October 14 game vs. Oregon, and the November 10 visit to Washington will likely tell the tale in the North.



OREGON (SUR 4-8; PSR 2-9-1; O/U 7-5)...Big changes are underway in Eugene. After just four years under former offensive coordinator Mark Helfrich—including a spot three seasons ago in the first College Football Playoff title game (won by Ohio State 42-20)—Oregon is making a big break from tradition by tabbing Willie Taggart from South Florida as the team's new head coach. For most of the last half century the Ducks have elevated a former staffer to assume the reins. Think Rich Brooks to Mike Bellotti to Chip Kelly to Helfrich.


However, the Duck defense has been in severe decline to the worst in school history (41.4 ppg; 6.4 yards per play LY). Not to mention the bad optics endured by fans at Auzten Stadium, where UO lost three of its last four games of 2016, yielding 50 ppg in those. So Helfrich ended up having a very short stint. To add to the mortification, not one Webfoot player was selected in this April's NFL draft, the shutout being the program's first since 1985!


Tasked with righting the ship on defense is veteran Jim Leavitt, also a former South Florida head coach (1996-2009), fresh from building the Colorado stop unit into one of the Pac-12's best. Not only are both Taggart and Leavitt former USF mentors, they both have Harbaugh family connections


Leavitt, who saw several of his Colorado stars go high in this spring's draft, agreed to a deal that reportedly makes him the highest-paid assistant in the league. After his controversial dismissal at USF in 2009, Leavitt spent four years coaching LBs under Jim Harbaugh with the 49ers. Taggart, who is from the Tampa-St. Petersburg area, played QB for Harbaugh family patriarch Jack at Western Kentucky (after being recruited by son Jim Harbaugh), and then joined Jack's staff as a Hilltopper assistant. Willie later coached RBs at Stanford in the Jim Harbaugh era. Jim Harbaugh served as best man at Taggart's wedding!


Offense does not figure to be the main issue for Taggart, whose USF team finished 11th in the nation in total yards in 2016 and was 4th in the nation in scoring at 43.8 ppg, with the Bulls repeatedly striking for big plays in the Bulls' "Gulf Coast Offense." One of the reasons no Ducks were selected in this year's draft was that Taggart made it a priority to "recruit" Duck sr. Royce Freeman, convincing the RB to return to Eugene for another season after injuries limited the 5-11, 230 pounder to " just" 945 YR (5.6 ypc) in 2016 after Freeman gained 1365 and 1836 YR in his first two years. Freeman thus enters the 2017 campaign as the leading active career rusher in the FBS with 4146 YR. And the Ducks have plenty of depth, with both 5-9 jr. Tony Brooks-James (771 YR LY) and 6-0 sr. Kani Benoit (300 YR) back to provide quality depth.


Those three should get a lot of action, as Oregon transitioned midway through last season to less of a read-option team and to more of a pocket-passing operation, as 6-6, 225 Justin Herbert became the first true freshman QB starter for the Ducks since 1983. The Helfrich move away from graduate transfer QB Dakota Prukop from Montana State likely greased the skids for the departure of the coach, but Herbert's seven starts last year now provide incoming Willie Taggart with a very promising pocket thrower. After an initial 70-21 home blowout loss to Northwest rival Washington, the young Herbert improved steadily, finishing with 63.5% completions and 19 TDs with only 4 interceptions. He is still developing as a leader. Herbert's top two targets from LY—Charles Nelson with 52 recs. and Darren Carrington II with 43—both return, bringing plenty of speed, while soph Malik Lavette was moved from DB to WR in the spring and soph Jacob Breeland is loaded with potential at TE.


Last year's offense was formidable enough at 35.4 ppg, but was down a couple of notches from recent years in Eugene, slowed in part by a rebuilding 2016 offensive line. Now, however, eight starters return on the attack, including four OL starters, who will be directed by co-o.c./OL coach Mario Cristobal, the former Florida International HC who for the last four years has been tutoring the big, BIG uglies at a little outpost down south called Tuscaloosa. So it's not too much of a stretch to forecast a little more smashmouth this season at Autzen.


Whipping the Duck defense into shape will be a tougher task for Leavitt. Oregon gave up at least 34 points in its last ten games. It's tough to win that way. And that was with former Ball State/San Diego State/Michigan head coach Brady Hoke trying to stiffen the stop unit as defensive coordinator. In just two years at Colorado, Leavitt was able restrict last year's opponents' passing to a stingy 5.4 yards per pass attempt, tied with Michigan and Ohio State for best in the U.S.


Leavitt is dumping the short-lived Hoke's 4-3 base for a 3-4, and he's moving top tackler and 6-4 impact player Troy Dye (91 Ts, 6½ sacks LY) from OLB to inside, where the 225-pound, still-growing former high school safety can disrupt even more plays. CB coach Charles Clark, who spent the last four years (two with Leavitt) rebuilding the secondary in Boulder, has simplified things for his corners—coverage first and coverage second. Safeties will carry varying dual run-stopping/coverage roles. 6-2 soph safety Brenden Schooler (74 Ts LY) has an upside. Early-enrolling 5-11 true freshman CB Thomas Graham opened eyes in spring while playing with the first-team defense. And graduate DL Scott Pagano, fresh from winning a championship ring at Clemson, has decided at last report to transfer to Oregon.


Summary...Three years ago, en route to the BCS title game, the Duck defense gave up 23.6 ppg. Then 37.5 ppg in 2015. Than last year's 41.4 ppg disaster. It's going to take a while for some Taggart defensive-personnel victories on the recruiting trail and for Leavitt's teaching to take hold. That being said, the "Quack Attack" should be potent enough to send Oregon back to a bowl after last year's miss, with the 2017 schedule allowing for a fast start. But games on the road at North foes Stanford and Washington are likely to block an OU return to the league title game.



WASHINGTON

STATE

(SUR 8-5; PSR 6-7; O/U 7-6)...

With Luke Falk returning for his senior season, and his third full season as the starting QB, expect some of Washington State's most prodigious passing records to fall. The 6-4 passer has connected for 38 TDs in each of the last two years, versus only 19 total interceptions. Falk has orchestrated coach Mike Leach's prolific aerial game to the tune of 4561 and 4468 YP the last two seasons, hitting 69.4% and 70.0%.


Clearly, the Cougars can throw the ball. WSU was third in the nation in passing offense LY behind only Texas Tech and Louisiana Tech. Wazzu produced 38.2 ppg. But in the often-valuable rushing element, the Cougars ranked a lowly 114th. Only 14 teams were worse, including such struggling programs Kansas, UConn, Fresno State, UMass, and Texas State. Terribly-unbalanced teams rarely win titles, lacking the game-ending ball control to put away quality opposition. WSU fit that bill last season.


That might change this year, with Wazzu's top three RBs returning, including 6-0, 228 sr. big back Gerard Wicks, who pounded for 475 yards and 11 TDs last year. Smaller backs 5-9 Jamal Morrow (575 YR, 48 recs., 6 TDR, 5 TDC) and 5-11 James Williams (584 YR, 48 recs., 6 TDR, 1 TDC) did most of the work in the middle of the field.


With three of five OL starters returning (including honored 6-8, 370 sr. Cody O'Connell), and with a proven, heady QB at the controls, the Cougars might finally develop the balance to challenge in the tough Pac-12 North, even with a couple of the top pass catchers in school history departing after last season. Those two are the TD-making Gabe Marks (with 316 recs. and 37 TDC to his name) and the reliable River Cracraft (218 recs. and 20 TDC).


Not surprisingly, however, spring practice revealed plenty of depth and talent accumulated by Leach, who believes all four of the receiver positions in his Air Raid offense must be two-deep in order for the attack to function without a hitch. Among the top targets TY are expected to be 6-1 jr. Tavares Martin Jr. (64 recs. LY), 5-9 sr. Robert Lewis (33 LY), 6-3 soph Isaiah Johnson-Mack (35 LY), and 6-4 soph Dezmon Patmon (2 recs. LY in limited action).


Another potential positive for the offense is the great experience possessed by QB Falk. He was sacked 29 times last year. But that was an improvement from his 37 sacks of 2016. In the Leach system, it is often the QB's responsibility to read and adjust the play for the rush, dumping the ball to single-covered "hot" receivers in space. A decline in sacks is a sign of QB maturity in reading defenses.


Eight starters return on defense, which did show improvement in 2016, yielding only 134 ypg rushing and a modest 4.1 ypc. But when the North Division was on the line in the Cougars' last two league games of the season, WSU was burned for 603 total yards and 38 points at Colorado and for 510 yards and 45 points by Washington in Pullman. As the late, great Howard Cosell used to say, "Not a pretty picture."


Like the many "good" teams, trying to become "elite" teams in college ball, Washington State lacks the defensive size and depth to vanquish a couple more tough foes per year. One thing the Cougars do have is perhaps the best edge rusher in the conference going into the season, that being 6-2, 255 Hercules Mata'afa, who had 5 sacks and 13½ TFL last season as a soph. Aptly-named WSU defensive coordinator Alex Grinch says the Cougars are seeking a more aggressive approach on the stop unit after the team collected only 20 sacks last season to go with 12 ints. and 11 fumble recoveries. HC Leach is high on the potential of 6-2, 246 soph rush LB Derek Moore, who has added about 20 pounds after limited action LY.


The stable "rock" on the defense is 6-0, 228 sr. LB Peyton Pelluer, who has racked up 101 and 93 tackles the last two campaigns. The secondary is still looking for primetime help after allowing 62.5% completions LY. Leach has called upon 5-10 sr. Marcellus Pippins (2 ints. LY) to improve further into a valuable lockdown corner in a league full of talented passers. Meanwhile, Pippins is expected to get help from rangy prized 6-2 juco Sean Harper, who originally signed with Wazzu in 2015, but had to spend a couple of seasons in the JC ranks.


The Cougars' kicking game was shaky LY, with Erik Powell missing every FG attempt for the first five games (0 for 5). The inaccuracy fazed Leach's playcalling for half the season. But Powell then figured things out, connecting on 9 of his last 10 attempts, finishing 9 of 15 for the season.


Summary...WSU hurt itself in the eyes of the national media by losing its first two games out of the chute, to Eastern Washington and at Boise State. The Coogs then won seven straight and were poised to take the Pac-12 North. But the defense caved in those aforementioned games vs. Colorado & Washington. Followed by a 17-12 loss to Minnesota in the Holiday Bowl. So Wazzu has plenty to prove this season, which starts with Montana State and Boise State. With both Oregon and Stanford down a bit, this would be the year for the Cougars to strike. But the finale at Chris Petersen and Washington still seems like a "bridge too far."



OREGON

STATE

(SUR 4-8; PSR 8-3-1; O/U 5/7)...OSU has gone 2-10 and 4-8 in its first two years under former Utah State and Wisconsin coach Gary Andersen. But the feeling going into 2017 is quite optimistic.


First and foremost, the Beaver Nation is relishing its season-ending victory over haughty University of Oregon, which allowed OSU to finish ahead of the Ducks in the Pac-12 North. That victory has provided a singular, long-lasting pleasure in Corvallis that is likely to last well into this season, perhaps up until the 121st "Civil War" game vs. the Ducks this November 25.


Second, the Andersen rebuilding project is beginning to show some results. When Andersen took over when Mike Riley left for Nebraska, his first QB was true freshman Seth Collins, who returns this season as the team's leading WR (36 recs. LY). Last year, Utah State transfer QB Darell Garretson started the first six games, going 2-4 SU in a mixed performance (50%, 3 TDs, 4 ints.) before suffering a fractured ankle. That forced Marcus Maryion (stronger arm) into action, with the then-soph going 2-4 SU, hitting 59.4% with 10 TDs and 5 ints. while showing development down the stretch (including 5 TDP vs. weak Arizona and 81 YR in the finale vs. Oregon).


Joining the competition this spring was 6-7, 230 juco Jake Luton, who played four games at Idaho in 2015 before spending LY at a JC in California (Ventura CC), where he tossed 40 TDP and won JCAA honors. Luton impressed in spring practice, but Andersen declined to name a No. 1 going into August. Thus, after starting his tenure in Corvallis with a true freshman option-type at QB, Andersen now has three experienced QBs at his disposal. Like just about every college head coach, Andersen expressed his relief regarding that simple pleasure after spring. "It's awesome to have QBs that can manage the game, and I truly believe that we have three QBs that can manage a football game in the Pac-12." Not exactly like having J.T. Barrett or Sam Darnold, but Andersen is better off at QB than he used to be.


The Beavers are also better off at RB, where 6-2, 237 junior Ryan Nall blossomed into a major force LY, pounding for 951 YR and 13 TDs on just 147 atts. (6.5 ypc), despite missing two games and major parts of several others due to injuries. A tall, rather upright runner, the surprisingly-nimble "Wrecking Nall" will have more support TY. Not only from 5-11 soph returnee Artavis Pierce (523 YR, 5.3 ypc LY), but also from burly TCU graduate transfer RB Trevorris Johnson (6-0, 237), who had 789 YR in 36 games with the Horned Frogs. Former Oregon RB Thomas Tyner, who last played in 2014, is also expected to be in the mix after previously giving up football in Eugene due to shoulder issues. This year's OL (3 starters back) should be deeper and more experienced, ready to build upon LY's 5.3 ypc gained and 25 sacks allowed. If the Beavers don't improve upon LY's 26.2 ppg, it will be a disappointment, although the receiver group lacks much Pac-12 dynamism. 6-5 sr. Jordan Villamin (only 21 recs. LY) can do more.


An improved offense should help the beleaguered OSU defense (30.5 ppg LY). But Andersen says that unit must also improve on its own accord. Long defensive specialist in the college ranks, Andersen sets a goal for his stop units to hit a total of 60 in terms of combined sacks and takeaways. (Only 22 teams overall turned the trick in 2016.) Last year's State defense, the rebuilding in the pits, generated only 18 sacks and 7 ints., both the lowest figures in the conference. The Beavs' 13 fumble recoveries took the Andersen defensive total to 38. So there's lots of room for the Orange and Black to improve.


Andersen is calling for more tackles for loss, more QB hurries, and more sacks this season. Leading the way up front will be 6-3, 320 jr. DL Kalani Vakameilao, who had only two sacks in 2016 but who should now be more of a force with greater size, strength and experience. 6-2, 230 LB Bright Ugwoegbu showed last year he can be an impact force with 5½ sacks and 11 TFL.


The secondary has lost two valuable members from LY—6-2 safety Devin Chappell (77 Ts) and 6-3 CB Treston Decoud (58 Ts), whose length and range was quite prized in the offense-happy Pac-12. Sr. S Brandon Arnold (68 Ts LY) now becomes the veteran leader of the secondary. And there is promising young talent at corner. Junior Dwayne Williams has 8 starts in his first two years and is returning from an injury that cut short his season. Soph CB Xavier Crawford drew some freshman A-A honors LY. And redshirt freshman Jaydon Crawford showed a nice nose for the ball with his interceptions in the spring. Tighter coverage on the outside should help the Beavers edge closer to that "60" total on defense.


Summary...Oregon State still has a long way to go before contending in the North, barring a major surprise this season at QB. But the Beavers are no longer a pushover, and several of this season's league foes are in a period of transition. If the "Wrecking Nall" stays healthy, and if Andersen produces the expected improvement on defense, OSU should make a strong run at a postseason bowl.



CALIFORNIA (SUR 5-7; PSR 5-7; O/U 8-4)...

T

here's a new approach in Berkeley after the seemingly offense-only teams produced by Sonny Dykes. Only once in four years (8-5 in Jared Goff's final season of 2015) did Dykes' fire-and-fall-back spread offense produce a winning record and bowl game, a 55-36 victory over Air Force in the Armed Forces Bowl.


Defense was never really a high priority for west Texan Dykes, whose Bear team produced 37.1 ppg LY, but allowed 42.6. The 2016 Golden Bears ripped through foes for 513 ypg, but to little avail, as California gave up 518. Injuries and a lack of depth have hamstrung the Cal stoppers in the Dykes' era. But, in truth, many defensive recruits in the west have not been very enamored with signing with the proud Bears when they could choose Stanford, Southern Cal, or Washington, where their skills would be more valued. Last year's banged-up and definitely bad-news Bears on defense gave up a national-worst 6.2 ypc. Cal gave up 43 points or more nine times. That makes it difficult to win, even in these days of video-game offenses.


Incoming to try to re-establish defense in a conference primarily known for its attacks is Justin Wilcox, a former DB at Oregon and former Cal assistant. Wilcox has served as a defensive coordinator at Boise, Tennessee, Washington and Southern Cal before impressing last season as the orchestrator of the rugged stop unit of Wisconsin, which finished 7th in total defense and was No. 4 in scoring defense (only 15.6 ppg; roughly one-third of Cal's allowance).


One of the key elements on the "do list" of Wilcox is to give better support to his defense with the California offense—something that Dykes was not too concerned about while directing his hurry-up "Bear Raid" attack.


Charged with balancing the offense—and thus the team overall—is new offensive coordinator Beau Baldwin, the HC the last nine years of some powerhouses at Eastern Washington (think QB Vernon Adams Jr., developed at EWU; spent his final season at Oregon). Baldwin's attack is certainly not timid, as star WR Cooper Kupp snagged 160 aerials LY (not to mention 162 in 2014) and set 15 FCS records.


Baldwin promises the 2017 Cal attack will be more balanced, more structured, and more varied. And a bit slower paced and complex, perhaps, with players training at multiple positions to provide for better comprehension and for depth.


Vying for QB will be 6-2 jr. Chase Forrest, 6-2 soph Ross Bowers, 6-2 redshirt freshman Max Gilliam, and 6-3 true freshman Chase Barbers. Forrest and Bowers were the top two LY before graduate transfer Davis Webb arrived from Texas Tech. But neither took a snap LY. Forrest was 10 of 18 two years ago. And he is no stiff, hailing from the SoCal high school power of Mater Dei (John Huarte, Matt Leinart, Matt Barkley, etc.). Bowers was a four-star recruit from Washington. You get the idea. Those QBs just haven't played.


And there's returning talent at the other skill positions. While Dykes might not have developed his young QBs, he did play his "kids" at WR. Sophs Demetris Robertson (50 recs., 7 TDs) and Melquise Stovall (42 recs.) both flashed brightly LY. RB appears to be in good hands as 6-0, 245 bruiser Vic Enwere gained 505 YR as a soph and had 336 LY before missing the last six games with injury. Sr. Tre Watson returns after 709 LY. True frosh speedster Biaggio Ali-Walsh (Muhammad Ali's grandson) might even get some carries. There is height and mass in the OL, even though massive (6-8, "350") graduate senior LT Aaron Cochran has departed for "orange-er" pastures at Oklahoma State. So expect the Golden Bears to quickly be at least competent on offense.


Wilcox is changing the defense from a 4-3 base to a 3-4 to get more speed on the field. And it will be directed by Tim DeRuyter, who shone brightly in three years at undermanned Air Force in 2007-09, but found himself on a downward slope the last three years of his five as head coach at Fresno State after a 20-6 start in his first two years with the Bulldogs. In the last two years at FSU, fans and critics both noted a lack of Bulldog effort at times. So DeRuyter gets a chance to do some reputation mending.


With a new system and style incoming, most returning players will be tried at a couple of positions. There was too little size, not enough speed, and too many injuries for the Bears to earn defensive stops last season in the Pac-12. Foes ran through the Bears for 273 ypc and completed 30 TDP vs. 11 interceptions. There are a few solid veteran on hand to build around, especially if fifth-year sr. CB Darius Allensworth (missed six games LY) is healthy enough to stabilize one corner. 6-3, 280 sr. James Looney (3½ sacks LY) has all the makings of a quality 3-4 DE. 6-3, 245 sr. ILB Devante Downs was the team's top tackler LY and is ready to hold down the middle of the new defense.


Sr. safety Luke Rubenzer in some ways typifies Cal's trials on defense under spread-maestro Dykes. Arriving as a spread-option, change-of-pace, running QB in 2014 to help Jared Goff, Rubenzer was moved to defense the following year due to his own competitiveness and to injuries on the Bear stop unit. By the end of last season, the hard-nosed Rubenzer was fourth on the team with 58 Ts, and he added two picks. No surprise if the former QB is one of the leaders on DeRuyter's defense this year.


Summary...Wilcox showed he was serious at changing the culture at Cal when he closed spring practices to the media. But even if every workout were wide open, there would still be oodles of questions in Berkeley. The Bears trail most Pac-12 foes in terms of facilities and are still way down in the pecking order in the North race. Cal hasn't beaten Stanford in eight years; hasn't been to the Rose Bowl in 58 years. With inexperience at QB, the 2017 schedule seems too ominous to forecast anything more than a spirited fight to reach .500.

NEXT UP: PAC 12 SOUTH
Return To Home Page