7408...
TGS 2017 COLLEGE FB PREVIEW
...A LOOK AT THE BIG TEN--PART II

by P. Carl Giordano, Managing Editor


We conclude our look at the Big Ten by previewing the Western half of the loop. As usual, teams are listed in order of predicted finish, with 2016 straight-up, spread, and "Over/Under" results included.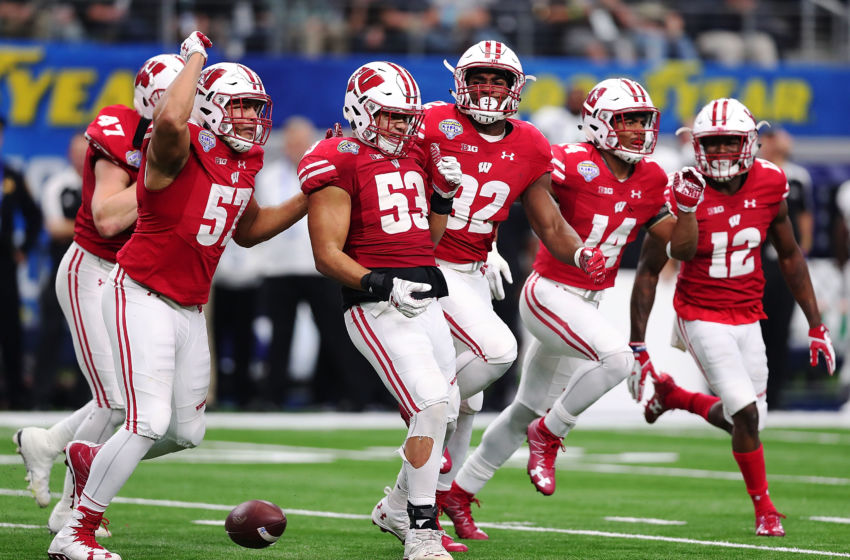 WISCONSIN (SUR: 11-3; PSR: 9-4-1; O-U: 6-8)...Paul Chryst has settled in nicely as Wisconsin HC, leading the Badgers to a 21-6 mark and a pair of bowl wins in his first two seasons in Madison. It appears the 2017 edition might be the best of his short tenure, with 15 returning starters (the most since 2010) and several recruits and transfer players ready to make an impact.


The offense will be triggered by 6-4 soph lefty QB Alex Hornibrook, who threw for 1262 yds. and 9 TDs last season, sharing the position with graduate Bart Houston. This year the job is clearly Hornibrook's, and he looked every bit the part in spring, showing improved zip on the ball and rapport with his receivers. Hornibrook is very likely to improve on his 59% completion mark and his 9-7 TD-int. rate this fall. TE Troy Fumagalli led the Badgers with 47 catches a year ago, and he looked like a solid all-America candidate in spring workouts. Wiscy heavily recruits TEs along with offensive linemen, and 6-5 jr. Zander Neuville has starting quality. Chryst has the option of running 2-TE sets at any time with the best pair of bookends in the conference. Returning starting WR Jazz Peavy (43 recs., 635 yds.) will play opposite soph Quintez Cephus, who is ready for a breakout season if spring work is any indication. And the passing game isn't even the best part of the offense.



FOOTBALL COMING SOON...TGS 2017 EARLY DEALS NOW! ...

Click here to order


Four starters return on the Wiscy OL, and it appears o.c. and OL coach Joe Rudolph has the pieces in place to replace NFL first-round draftee T Ryan Ramczyk. Minor injuries in spring prevented a couple of the returning starters from participating to various degrees, opening the door for that unit's considerable depth to make bids for playing time. C Michael Dieter showed he's capable of moving out to guard or tackle, and a pair of RS frosh, Tyler Biadasz and Patrick Kasl, appeared to fit right in while grabbing first-team reps in spring.


Given the experience and depth of the OL and the depth and quality at RB, Wisconsin figures to exceed last season's 203 ypg rushing. Pittsburgh transfer Chris James (690 YR in 2014-15 backing up James Connor), Badger soph Bradrick Shaw (5.2 ypc, 5 TDs LY), and jr. Taiwan Deal (recovering from an ankle injury; gained 668 yds. in 16 games playing behind Corey Clement the L2Ys) are ready to star. James and Shaw both had quality performances in spring and are the latest in a long line of hard-charging Badger RBs.


Seven starters return from a defense that ranked 4th in points allowed (15.6) and 3rd against the run (99 ypg). Wisconsin lost a pair of defenders to the NFL (T.J. Watt on the 1st round to Pittsburgh and Vince Biegel on the 4th round to the Packers), but this unit will be just as strong if everyone stays healthy. Jr. LB T.J. Edwards led the team in tackles last season with 89, and sr. LB Jack Cichy had 60 in just 7 games. Cichy's total would project to 120 Ts if he'd maintained that pace playing in every game. LBs Edwards and Ryan Connelly (59 stops LY) were held out of spring work rehabbing, and Cichy and Chris Orr (46 stops in 10 gms. in 2015; injured in opener 2016 and was out for the season) were both held out of contact in spring. Provided those four return in full health, the LB area is a strength. The defensive line returns intact (DEs Conor Sheehy and Chikwe Obasih and NT Olive Sagapolu), and there is more depth now, with 6-7, 297 lb. RS frosh DE Isaiahh Loudermilk showing he's ready to play.


The Wiscy 2ndary returns all-Big Ten S D'Cota Dixon and holdover CB Derrick Tindal (3 ints., 34 Ts LY; strong spring showing). Those two will be joined by Hawaii transfer Nick Nelson, who figures to play a huge role for the Badgers off his spring performance.


Summary:

Chryst's team will have the inside track in the Big Ten West this season. Besides being experienced and deep, the Badgers host key divisional games against Northwestern and Iowa. A trip to Nebraska could be a challenge, but Wiscy is 11-2 SU as a visitor in the regular season and 3-0 in bowl games the last three years. A third Big Ten Championship game in Indianapolis in the last four years is in the cards for Wisconsin.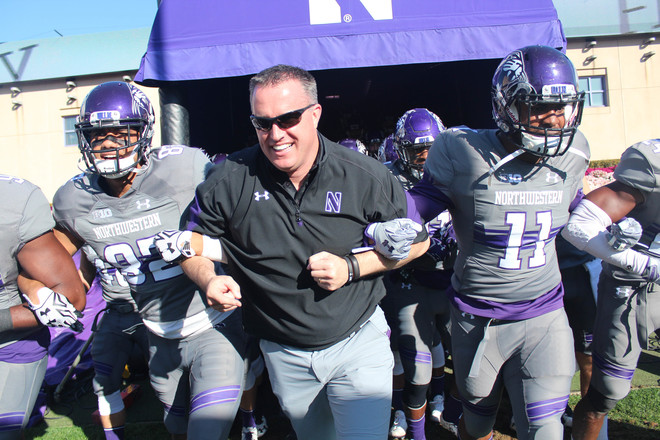 NORTHWESTERN (SUR: 7-6; PSR: 8-5; O-U: 4-9)...HC Pat Fitzgerald enters his 12th season in charge at Northwestern with one of his most experienced teams. The Wildcats return 16 starters plus their punter, and the team is still riding an impressive upset of Pittsburgh (the only team to beat national champ Clemson LY) in the Pinstripe Bowl.


The NU backfield has a pair of stars in sr. RB Justin Jackson and jr. QB Clayton Thorson. Jackson was named first-team all-Big Ten last season after gaining 1524 yds. and scoring 15 TDs. That was his third straight 1000-yard season, and, provided he stays healthy, he should become the school's all-time rushing leader this September. Thorson threw for 3182 yds. last season with a 22-9 TD-int. ratio, and another 3000-yard passing season would put him in position to pass Brett Basanez' school-record 10,580 passing yards at the end of the 2018 season. The offensive line returns four starters from a group that bulldozed the way for 526 yds. and 8 rush TDs in the final two games last season. However, OL coach Adam Cushing must find a way to cut down on the 68 sacks allowed last two seasons. Thorson is mobile (495 YR, 10 rush TDs L2Ys despite the sacks), but the Wildcats must keep him upright in order to make a run at the Big Ten West.


The team lost one of the premier players in the conference in WR Austin Carr, who caught 90 passes for 1247 yards and 12 TDs, leading the Big Ten in all three categories. Not bad for a sixth-year senior who'd caught just 23 passes in his career prior to 2016. The receiving corps was thinned even more when WR/KR Solomon Vault suffered a season-ending "lower body" injury during spring, requiring surgery. Still, WR coach Dennis Springer has some material to work with. WR Flynn Nagel and SB Garrett Dickerson return after combining to catch 74 passes for 765 yds. and 7 scores. The coaches absolutely love Dickerson, who is also one of the best blockers on the team, and a ready replacement for Carr might be on the way. Former four-star prep and Oregon Duck WR Jalen Brown is enrolling as a graduate transfer student with two years of eligibility remaining. Brown was one of the top prep wideouts in the country, receiving offers from Alabama, Ohio State, Florida State, Southern Cal, Michigan, Michigan St....you get the picture, everybody wanted him. Injuries and competition limited his usefulness at Oregon, but he caught 19 passes for 318 yds. and 3 scores for the Ducks last year.


The defense, which ranked a respectable 22nd in points allowed, thought it was returning eight starters during spring workouts, but DE Xavier Washington was arrested in a bar on felony possession charges and was indefinitely suspended in early May. Still, the defense is deep on the DL and in the 2ndary. Northwestern's major defensive losses were DE Ifeadi Odenigbo (Big Ten sack leader in 2016; drafted by the Vikings) and LB Anthony Walker, Jr. (2nd on team with 105 stops; now property of the Colts). However, there's still plenty of solid talent returning.


The secondary should be a strength. S Godwin Igwebuike often resembled a heat-seeking missile in making a team-high 108 stops in 2016. Starting CB Keith Watkins II was slated to start last season before suffering a season-ending injury in training camp. Soph Trai Williams started most of last season at the other CB spot after graduated Matthew Harris was injured in mid-September. S Kyle Queiro and CB Montre Hartage combined for 23 starts and 103 tackles last season.


LB Nate Hall was 3rd on the team with 73 tackles, but the other two spots were up for grabs in the spring. Several players switched positions to audition for the open LB jobs, and progress was made.


Summary: An explosive, balanced offense gives Northwestern has a good chance at netting 2-3 more regular-season wins than a year ago. However, key Big Ten West games against Wisconsin and Nebraska will be on the road, so it's difficult to pick the Wildcats to make it to the conference championship game.



NEBRASKA (SUR: 9-4; PSR: 7-5-1; O-U: 4-9)...HC Mike Riley's Cornhuskers bounced back to a Bo Pellini-level 9-4 mark in 2016 after a disappointing debut in his first season in Lincoln. Riley has to make some progress beginning this fall lest he suffer the same fate as Pellini, who was fired after losing 4 games in each of his seven seasons. This fall the schedule is set up for improvement, but the roster, recruiting and coaching might continue to hold Nebraska back.


The offense is replacing school career passing leader QB Tommy Armstrong, top I-back Terrell Newby, top receiver WR Jordan Westerkamp, its best offensive lineman, and top TE. The QB will be Tulane transfer Tanner Lee, who looked confident and efficient in spring and spent time in the offseason working with QB guru George Whitfield. He had 19 starts at Tulane in 2014-15, throwing for 3601 yds. and 23 TDs, setting several frosh records for the Green Wave. The offense will need some new targets, however, with the graduation of WRs Westerkamp and Brandon Reilly. A plus from the spring game was the development of replacement TEs, who combined to make 15 catches for 177 yards. However, o.c. Danny Langsdorf must hope he gets help from among six incoming WR recruits. Offseason pot charges for holdover WR Stanley Morgan Jr. (33 catches LY) and frosh star Keyshawn Johnson Jr. (taking a leave of absence) cloud with wideout situation. De'Morney Pierson-El caught 20 passes last year, made some big plays on punt returns, and hopes to stay healthy again.


The run game could eventually be productive, with five offensive linemen returning who started at least a handful of games, along with RBs Devine Ozigbo, Tre Bryant and Mikale Wilbon. Those returning RBs combined for 699 yds., 4.5 ypc and 6 scores in 2016. Shuffling on the offensive line made the Husker rushing game look uneven in spring, and none of the RB candidates made a definitive move on the top spot.


New d.c Bob Diaco joined the team in January, and the staff has been cagey if not secretive about a possible formation change from the 4-3 to a 3-4 up front to fit the personnel on hand after losing the top three tacklers from 2016. The jury is out on the defense, as that unit had difficulty generating a pass rush and was shredded through the air in the spring game.


Three starters return to a strong 2ndary that will which might not miss all-Big 10 S Nathan Gerry, who was drafted by the NFL Eagles. The move of last year's starting CB Joshua Kalu to Gerry's spot at safety, coupled with the development of soph Lamar Jackson at CB to play opposite all-Big Ten honorable mention sr. Chris Jones, makes this unit the strength of the unit despite the spring game slips.


The defensive key will be generating pressure on opposing QBs from the reworked front seven. Nebraska lost its top two pressure men in DE Ross Dzuris and DT Kevin Maurice to graduation, as well as playmaking LBs Josh Banderas (team-high 93 stops) and Michael Rose-Ivey. However, the LB corps should fill in more than adequately, as jr. Luke Gifford made a lot of plays in spring, and he'll move into one open spot, along with holdover jr. Dedrick Young (60 stops LY). Sr. LBs Marcus Newby (52 Ts L2Ys) and Chris Weber (66 Ts L2Ys) are ready for their turn as well. The defensive line is counting on DE Freedom Akinmoladun to take a step forward and provide the badly needed QB pressure.


Summary:

NU hosts its top three divisional rivals (Wisconsin, Northwestern and Iowa) this season, so it's logical that the Husker faithful would expect a run at the top spot in the Big Ten West, but it's not really in the cards. Riley was the toast of Lincoln after a 7-0 start had the Cornhuskers ranked 7th in the country last season near the end of October. However, the questions that followed a 2-6 start to his tenure in 2015 resurfaced, as Nebraska lost four of its last six games in 2016, finishing out of the top 25. As Bo Pelini discovered, Cornhusker alums have a high bar, and it will be difficult for Riley to improve on last season's 9-4 mark.



IOWA (SUR: 8-5; PSR: 6-7; O-U: 5-8)...Iowa HC Kirk Ferentz treated o.c. Greg Davis' January announcement that he was retiring as a chance to make additional changes, promoting his son Brian from OL/run-game coordinator to the offensive coordinators' position. He also replaced the WR and RB coaches while hiring a new OL coach. The hope is the attack will take on a fresh look after ranking 117th in total offense and 115th in pass attempts per game in 2016. Hopefully, new WR coach Kelton Copeland can help reduce the number of drops by Hawkeye wideouts last season.


Finding a QB to replace C.J. Beathard (NFL third-round draftee of the 49ers) is a priority, as is developing new targets with the graduation of WR Riley McCarron and TE George Kittle (combined 64 recs.). The QB decision won't come until fall, as jr. Tyler Wiegers and soph Nathan Stanley will continue to battle it out after finishing the spring neck-and-neck.. The offense hopes to regain the services of sr. WR Matt Vandeberg, who caught 19 passes in four games LY after a 65-catch 2015 performance. However, he spent the spring recovering from his second foot surgery. The addition of juco WR Nick Easley, who led the NJCAA in receiving, is a definitive plus.


Four starters and nine lettermen return on the offensive line to clear a path once again for sr. RB Akrum Wadley (1577 YR, 21 TDs, 6.3 ypc, 42 recs. L2Ys). Sr. C Sean Welsh and jr. G James Daniels were both third team all-Big Ten LY. Fifth-year sr. Boone Myers will move out to left tackle, after making seven starts there for then-injured and now-graduated Cole Croston last year. There is plenty of depth on the OL as well, so the attack will likely lean heavily on Wadley, who was held out of contact in spring workouts. His absence allowed development of a pair of talented second-year players in backups RS frosh Toren Young and soph Toks Akinribade.


The defense must replace a trio of players who graduated to the NFL, as playmaking S Desmond King (Chargers), DT Jaleel Johnson (Vikings) and CB Greg Mabin (Bills) have moved on. It appears Iowa is in a position to expect a continuation in last year's defensive ability. The Hawkeyes have seven starters back from a group that ranked 13th in the country in fewest points allowed. The defense returns three of its top four tacklers, including a sr. trio at LB of all-Big Ten sr. Josey Jewell (124 Ts LY), Bo Bower (91) and Ben Niemann (69). Those three have combined for 84 career starts. Three defensive line starters are back in sr. DT Nathan Bazata and jr. DEs Parker Hesse and Matt Nelson. Soph DT Cedrick Lattimore moves in to fill the shoes vacated by Johnson.


Reloading the 2ndary is the primary defensive imperative, as an ACL injury in spring to holdover starting S Brandon Snyder leaves that unit with just one returning regular, S Miles Taylor. Jr. Jake Gervase backed up Snyder LY and appeared to have a handle on the other safety spot. Soph Manny Rugama made three starts LY and was the Big Ten Defensive player of the week for his performance in the upset of Michigan last Nov. 12, but this will be an unproven unit this fall.


Summary: The combination of a young QB, inexperienced receiving corps, rebuilt secondary, and fairly new defensive coaching staff creates some questions surrounding this Hawkeye edition. The offense will grind it out with Wadley during a thankfully-soft preconference schedule. However, trouble is in store facing the Big Ten East portion of the schedule featuring some experienced defenses (Penn State, Ohio State and Michigan State), and the Hawkeyes have their three toughest Big Ten West games on the road (at Northwestern, Wisconsin and Nebraska). Las Vegas hung a 6½-win total on Iowa heading into the season. While getting to six wins is within the Hawkeyes' grasp, it's difficult to see where a seventh or eighth victory will come, considering the QB and secondary issues.



MINNESOTA (SUR: 9-4; PSR: 6-6-1; O-U: 5-8)...New Minnesota HC P.J. Fleck represents a 180-degree turn from previous "old school" coaches Tracy Claeys and Jerry Kill in Minneapolis. Fleck worked a minor miracle at Western Michigan, using his ingenuity on the field and his youthful enthusiasm on the recruiting trail to raise the Broncos to new heights. In his four seasons in Kalamazoo, WMU was transformed from a 1-11 disaster in his first year to a 13-1 MAC juggernaut that gained its first-ever major bowl bid this past January. Now Fleck moves to a bigger stage with tougher competition, taking his "row the boat" attitude with him. Although he might be planning another rebuild from the ground up, it's still could be a good fit.


The Gophers didn't change coaches due to terrible on-field results, as they've been to five straight bowl games, and their nine victories last season were the second-most for Minnesota football since Henry L. Williams coached the Gophers to a dominant 65-4 record from 1900-1905 (no, TGS was not there). However, Claeys didn't instill discipline in his players and didn't handle his team's off-field problems well. Ten Gophers were accused of sexual assault at the beginning of last season, investigated by the university and then suspended in January. When the team threatened to boycott the Holiday Bowl over the suspensions, Claeys supported the players and sealed his own fate with the administration.


Fleck spent spring trying to take stock of the situation and start rowing. When he arrived at WMU he tore the team down to the studs, chased off players for their scholarships, and rebuilt from the ground up. He might need to do the same thing in Minnesota. The offensive and defensive lines need to be retooled, a brand-new QB will replace Mitch Leidner (41 career starts; finished 2nd on the school's total offense list), top pass-catcher WR Drew Wolitarsky (66 catches) is gone, and the team's depth is questionable.


That being said, the cupboard is not bare in Minneapolis. Jr. RBs Rodney Smith and Shannon Brooks combined for 1808 YR and 21 TDs last season, the top two TEs are back, and the left side of the line is a wall with T Donnell Greene and G Garrison Wright. Fleck can coach up the WRs, and he has some promising possibilities with 6-5 jr. Rashad Still (19.4 ypc LY) and soph Tyler Johnson. PK Emmit Carpenter was the best in the Big Ten last season, making 10 of 10 FG tries from 40 yards or more.


The defense could conceivably bounce back to near last season's levels. The Gophers ranked 22nd in points allowed and scoring defense in 2016. Some key pieces return, with LB Jonathan Celestin (2nd with 80 tackles LY), LB Blake Cashman (led the team with 7½ sacks), S Duke McGhee (4th with 54 Ts), S Antoine Winfield Jr. (5th with 51 Ts LY), and DT Steven Richardson (7 sacks; 3rd-team all-Big Ten LY) all back. Defensive coordinator Robb Smith has already sprinkled in younger players to fill in the two-deep, and more help from youngsters could be on the way, with seven defensive linemen in the recruiting class.


Summary:

Fleck has a mountain of work to do if he's to duplicate the results he achieved at Western Michigan. The first hurdle is finding an answer at QB, whether it's RS sr. Conor Rhoda for one season, 6-5 RS soph QB Demry Croft, or juco Neil McLaurin for a few seasons, or one of five freshmen QBs for down the road. WMU QB Zach Terrell was fresh out of high school and took some lumps when he was handed the reins by Fleck in 2013. That worked out well in the end, but it took a season to bring the Broncos up to speed.



PURDUE (SUR: 3-9; PSR: 5-7; O-U: 8-4)...Head coach Jeff Brohm moves to Purdue after posting a 30-10 mark in three seasons at Western Kentucky. He replaces Darrell Hazell, who won just nine games in four seasons, the worst such stretch ever in West Lafayette. While Brohm takes a step up from C-USA to the Big Ten in terms of salary, national exposure and job prestige, it's likely his Hilltopper teams of the last two seasons would wax this version of the Boilermakers.


Purdue's offense lost its top two receivers (combined 105 catches), including DeAngelo Yancey, the team's only all-Big Ten player or NFL draftee, and its OL was stripped of its top three performers. The Boiler attack ranked 126th in rushing and 102nd in scoring last season, and the paper-thin OL had only 10 members in spring workouts. Returning jr. QB David Blough (3352 YP LY) had a great 2016 under the circumstances. Blough led the Big Ten with 279 ypg passing, and his 25 TD throws in only 12 games ranked second in the league to Penn State's Trace McSorley (29 in 14 games). Holdover RB Markell Jones (616 YR, 4 TDs 4.0 ypc) gained 316 yds. in the first 3 games last season vs. E. Kentucky, Cincy and Nevada, and then had his touches and effectiveness curtailed by nagging injuries. On the plus side, the OL will get immediate help when graduate transfers T David Steinmetz (3-yr. starter at Rhode Island; 6-8, 296) and G Shane Evans (2-yr. starter at N. Illinois; 6-4, 302) arrive, and the transfer of Notre Dame receiver Cory Holmes will give Blough another target. Still, keeping Blough's uniform clean is a tall order for an OL that gave up 27 sacks in 9 Big Ten games, and he will have to continue to adapt to the more uptempo offense installed by co-offensive coordinators Tony Levine and Brian Brohm (Jeff's brother). The offense almost can't help but get better, especially with a better plan, a good QB to work with, and some help on the way in August.


The Boilermaker defense ranked 118th last season, allowing 38 ppg, and that unit dominated in spring practices when, as is Brohm's habit, the "ones" from both platoons faced each other most of the time. Purdue's defense returns eight starters, led by its best defender, soph LB Markus Bailey. New co-d.c. Nick Holt, like many on the 2017 Boiler staff, came along with the Brohms from WKU, and he has street cred from his days coordinating Southern Cal's defenses that won Pac-10 titles five times and the 2003 national championship in his six seasons with the Trojans. Getting Holt as a coach was a steal for the Hilltoppers, and he improved them to 15th in total defense in his first season with the team. The Boilers own a handful of quality defenders and will add a few potentially key pieces in August when transfers DB Josh Okonye (Wake Forest) and LB T.J. McCollum (WKU) arrive. Purdue's defense could make one of the biggest leaps in the country if Holt can work his magic again.


Summary: The Brohms' success and connections have already attracted several graduate transfers who will immediately step into starting slots on both sides of the ball, and more could be on the way. Counting the jucos, Purdue will welcome 11 players with at least a season of college football on various levels. The incoming freshman class includes several players who either flipped to Purdue on signing day or decommitted from WKU to follow the Brohms to West Lafayette. There's no reason to believe Purdue won't be improved. But given the Boilers' results the last four years, it's hard to circle many clear "Ws" on the schedule, which includes Louisville at Lucas Oil Stadium in Indianapolis and a visit to Missouri in the preseason. Four or five wins would be considered distinct improvement, and that's likely where they'll land.



ILLINOIS (

SUR: 3-9

; PSR: 5-7; O-U: 6-6)...Illinois dropped from five wins to three in its first year under HC Lovie Smith, and it's very likely the program hasn't hit bottom yet. With just nine starters returning from a team that ranked 123rd in total offense and allowed 32 ppg, it's very difficult to see the Illini pulling out of a streak of five straight losing seasons.


The offense ranked 13th in the Big Ten in scoring, and the QB situation is cloudy at best. The first problem is replacing QB Wes Lunt. Jr. Chayce Crouch (18 for 32 for 249 YP, 1 TD, 1 int. in 4 Gs LY) had surgery and was only able to throw in a few spring practices with no contact work. He had a marginal lead over soph Jeff George Jr. in the battle for the QB job, but 6-6 juco Dwayne Lawson (a Virginia Tech signee out of high school) will be given a long look as well. None of these options is anywhere close to a positive answer for a team that ranked 124th in passing efficiency in 2016.


The offense returns three offensive line starters, sr. RB Kendrick Foster (720 YR, 5.7 ypc, team-high 9 scores LY), and WR Malik Turner (led with 48 catches, 6 went for scores). The OL is being shuffled and remains a potential problem area, as a pair of second-year players could play a large role. Fifth-year Sr. LT Christian DiLauro has made 31 straight starts and is the best player up front. He was third-team all-Big Ten on a few of the media lists last season. Turner might be joined by jr. WR Mike Dudek, who was a frosh all-America with 76 catches for 1038 yds. in 2014, but who has missed the last two seasons after suffering two torn ACLs. He was cleared for spring but held out of all contact.


The defense needs help. The Illini went through last season with virtually no injuries (just one start lost on the stop unit) and graduated three players to NFL rosters for the 2017 season, yet still allowed 33 ppg and 4.8 ypc in Big Ten play. The team lost LB Hardy Nickerson Jr. (team-high 107 Ts) to the NFL Bengals, while all-Big Ten DEs Dawuane Smoot and Carroll Phillips are now with the Jaguars. The defense will be led by returning jr. LB Tré Watson, who ranked 2nd on the team with 102 tackles last season, soph S Patrick Nelson (six starts; third on team with 75 Ts), sr. CB Jaylen Dunlap (fourth on the squad with 63 tackles and led the team with 11 passes defended), and S Stanley Green (62 stops). Jr. Julian Jones (4 starts, 32 tackles LY), soph Jake Hansen, and jr. transfer Del'Shawn Phillips (won juco national championship LY at Garden City CC) will help fill in the linebackers. The secondary wasn't bad last season, ranking third in the Big Ten in passing defense (17th nationally at 186 ypg passing allowed).


However, the defensive line is a real worry, as all four regulars are gone. Illinois ranked 12th in sacks in the conference in 2016, and the top four players on its sack list graduated. Inexperienced jr. DE Sean Adesanya is slated to start, but he redshirted LY after one season playing at Eastern Arizona JC. The projected DTs are soph Jamal Milan (10 games, 27 tackles LY) and soph Kenyon Jackson (five starts with 18 tackles as a true frosh last season). That's not a lot of experience matching up against the vet OLs of Ohio State, Wisconsin, Nebraska or Northwestern, all of which return 4-5 starters.


Summary: The Illini have problems on and off the field. No answer at QB, not a lot of returning starters, key players coming off injuries...the list of issues goes on. Smith got a late start in recruiting, as he wasn't named head coach until March 7 of 2016, and his first class was ranked 10th in the Big Ten. That ranking sank when three freshman were dismissed from the team in May after being charged with burglary. Unlike many "look the other way" coaches, Lovie Smith demands his players be accountable for their off-field behavior, which is commendable. Eventually, Smith could be just what underachieving Illinois needs. The Illini haven't been to a major bowl in a decade, but that could change. It just won't happen fast.



NEXT UP: ACC
Return To Home Page