8235...
TGS 2019 COLLEGE FB PREVIEW
...A LOOK AT THE SUN BELT--PART I

by P. Carl Giordano, Managing Editor


We continue our TGS previews for the 2019 College FB season with a look at the West half of the Sun Belt. As always, teams are presented in order of predicted finish, with 2018 straight-up, spread, and "Over/Under" (O/U) results included.



Arkansas State (SUR 8-5; PSR 6-7; O/U 4-9)...A series of coaching changes in the conference has left Blake Anderson, entering his sixth season at the helm in Jonesboro, as the dean of SBC mentors. That continuity of leadership is a main reason the Red Wolves have continued the success ASU enjoyed under Hugh Freeze, Gus Malzahn and Bryan Harsin, recording a winning record and taking the team to a bowl game in each of his five seasons. Stability is a positive in recruiting, and Anderson has plucked some plumbs, not only from the high school ranks, but he's also snatched a few transfer gems from Power Five rosters.


The offense returns six starters but must replace QB Justice Hansen, who threw for 3447 yds., completing 66% and tossing 27 TDP vs. just 9 interceptions. RS jr Logan Bonner has a lot of experience with the system if not practical application time on the field (appeared in just 9 Gs L2Ys). His prime target will be one of Anderson's recent recruiting coups, as ex-Oregon and Texas A&M WR Kirk Merritt, a senior who was named first team all-SBC last season after catching a team-high 83 passes for 1005 yards with 7 TDs. Sr. WR Omar Bayless was HM all-SBC last year (39 catches), and soph RB Marcel Murray, the team's top rusher LY with 860 YR (5.6 ypc) was also named 3rd-team all-league (despite making just four starts!). Sr. WR Dahu Green, a big, 6-5 target, is another recruiting coup (transfer from Oklahoma), who should make an impact after being injured in the first game a year ago. Four offensive linemen with at least a dozen starts return, and one of the best juco offensive linemen in the nation will fill the fifth spot, so Bonner should have time to throw while Murray should have some daylight to run to.


The defense has seven returning starters, including a trio of juniors who were all second-squad all-SBC picks, in DE William Bradley-King, NT Forrest Merrill and CB Jerry Jacobs. Sr. Nickle back Darreon Jackson led the team with 90 tackles last year and heads a crew that returns 8 of its top 10 tacklers. The Red Wolves were one of the best defenses in the SBC last season and ranked 11th in the country in passing yards allowed. This unit did have an off year against the run (4.8 ypc/192 ypg), but they flat out get after opposing QBs. Under Anderson's watch ASU has averaged more than 36 sacks a season, and both Bradley-King (6 sacks) and Merrill (4½) will likely increase their numbers from a year ago, as should sr. Kevin Thurmon (former Ball State), who had 12 TFL, 3½ sacks LY.


Anderson's squad gets a bit of a break in the schedule, as SBC Champ Appalachian State is off the docket this year, and they host SBC West rival Louisiana-Lafayette. Last year App. State buried the Red Wolves 35-9 and they blew a 4th-Q lead very late at Lafayette. Anderson is taking nothing for granted, and he even shook up his staff in bringing in new o.c. Keith Heckendorf, who he worked with at North Carolina, and a new d.c. in David Duggan, who was at Western Michigan most recently but has roots in Mississippi, where he spent three years as d.c./LB coach at Ole Miss. Expect Red Wolves to get to the Sun Belt Title game, but they'll likely come up short again against Appalachian State at that level.


ULM (SUR 6-6; PSR 4-8; O/U 3-9)...ULM HC Matt Viator enters his fourth season with a veteran team (15 starters return), including stud sr. QB Caleb Evans, who has been extremely productive over the past 2½ seasons. Evans has made 22 straight starts and threw for 5737 yds. and 33 TDs in the past two seasons covering 24 appearances. The multi-talented sr. from Mansfield, Texas has also rushed for 1211 yds. and scored an additional 23 TDs on the ground in that span as well. Louisiana Monroe ranked fourth in the SBC in total offense, a respectable 50th in the country in pass offense and 52nd in total yardage.


The Warhawk offensive line returns all five starters as well as the regular TE up front. That OL group includes a pair of 3rd-team all SBC players and an ex-Power Five LT (Texas Tech transfer Trace Ellison). The offense loses it's top RB, but RBs are easier to replace than left tackles (just ask Jerry Jones). Taking up the lead back role is 5-8. 225 lb. sr. Austin Vaughn, who has gained 528 yds. and averaged 5.1 ypc in relief duty the last two seasons. Jr. Kayin White also contributed the last two years, rushing for 309 and a 4.8 ypc mark. The receiving corps has to be rebuilt, but Evans is resourceful and will find ways to get the ball to the wideouts, a pair of sr. Markis McCray and Xavier Brown and soph Zachari Jackson, who combined for 49 catches an 622 receiving yards LY.


With eight starters back, the defense should improve, as it did last season when it cut 9.2 ppg and 98 ypg off its yields of 2017. The defensive problem was a loose pass defense that ranked 127th in pass efficiency defense, but with an all senior front four that contributed heavily to 34 ULM sacks made in 2018, and a backbone of experienced LB and DB group that will improve. Fourteen of the top seventeen tacklers return on this platoon. Certainly turnovers are an issue, as ULM ranked 120th in takeaways with just 11, so this side has to get more aggressive.


More wins might not be in the cards, but Evans is a key player who gives the Warhawks a chance to get back to six wins, which might be good for a bowl bid if one of those wins includes a victory at rival Louisiana-Lafayette (and finish ahead of the Ragin' Cajuns in the standings).



Louisiana Lafayette (SUR 7-7; PSR 9-5; O/U 8-6)...So far, so good for ULL HC Billy Napier. After apprenticing under Nick Saban at Alabama (WR coach 2013-16) and then serving as an associate HC at Arizona State in 2017, Napier took a side that had suffered through three straight losing seasons and turned it in the right direction despite the squad returning only 11 total starters (just 3 on defense). Louisiana-Lafayette won the West last season, making a surprising run to the first SBC Title game, suffering an unfortunate loss (but cover!) against Appalachian State. Clearly, Napier is bound for bigger and better things in the coaching game, so the Ragin' Cajun fans should enjoy him while he's roosting in Lafayette.


The offense must replace its QB, but returns eight starters, including an all-senior offensive line headed by first-team all-SBC G Kevin Dotson. Those five cleared monster truck-sized holes on opposing defensive fronts, springing jr. Trey Ragas (1191 YR, 8 TDs, 5.7 ypc; 3rd all-SBC), jr. Elijah Mitchell (985 YR, 13 scores, 6.7 ypc; 2nd team all-league) and sr. Raymond Calais (754, 7, 9.3) enough to fuel the league's second-best scoring attack (behind champ ASU). The Ragin' Cajuns ran for 5.3 ypc on Alabama...only triple option Citadel ran for more against the Tide. Think Nick Saban had a fit in the film room after that one?


Four of the top five pass catchers also return this season, including sr. WR Ja'Marcus Bradley, who caught 40 passes, 10 of which went the distance. What question does that leave to answer? Quarterback! Oh, yes. Heading into fall, jr. Levi Lewis, who completed 63% of his passes for 585 yds. with a 7-2 TD-int. ratio playing every fourth series last year, has the inside track, although juco transfer Jai'ave Magalei and frosh Clifton McDowell enrolled and were in spring drills this season and both will be in the hunt for the job come fall (along with true frosh Chandler Fields). Regardless of who pulls the trigger, it makes QBing a much easier task when you can hand the ball off to a trio of RBs that combined to run for just shy of 3,000 yards at a 6.7 clip while scoring 33 TDs.


Alabama is replaced by...wait for it...Liberty on this season's schedule, so the Ragin' Cajuns will at least have taken fewer lumps before the SBC schedule begins, but Mississippi State and rock'em, sock'em Ohio U. present problems for ULL, especially playing away from Cajun Field (4-10 SU on the road L2Ys). And ULL draws the top three from the SBC East again this season, so six wins this season looks like a ceiling.



Texas

State

(SUR 3-9; PSR 6-6; O/U 4-8)...Look for Texas State to make a modest jump this season behind first-year HC Jake Spavital, who is a bit of an offensive guru. Spavital has coached seven active NFL QBs as a QB coach or offensive coordinator at West Virginia, Cal, Texas A&M, Oklahoma State, Houston and Tulsa. He has brought in a "Power Five" staff of assistants who have all had experience on college football's highest levels. Add to this the fact that 19 starters return from last season's Texas State edition and there is plenty of reason for optimism in San Marcos.


Offensively, there's almost nowhere to go but up, after the Bobcats ranked 120th in yardage and 121st in scoring a year ago. One of the returnees is QB Tyler Vitt, who threw for 1159 yds., 61% completions with 7 TDs (10 ints.) and ran for another 237 yds. and two scores. But he will likely be dethroned as the starter. Spavital made it clear that the QB job is wide open, as juco transfer Gresch Jensen is expected to win the job, true frosh Cedric Case is also in the mix for the job, along with three second-year players. Jensen might have an inside track due to familiarity with and fit in the offense, as he played for current Bobcat o.c. Bob Stitt at Montana two years ago, throwing for 2531 YP, completing 60% with 20 TDs and 10 ints., while rushing for 203 yds. and 6 TDs as a RS frosh. The committee of RBs all return from last season, as the top four ball carriers combined for 1328 YR and 9 TDs. The veteran offensive line is now eight-deep, as starters injured last season are back and at least one quality transfer (G Eddie Rivas) will have an impact. Every offensive linemen who started a game last season returns, led by sr. RT Aaron Brewer was a 3rd-team all-SBC player last season. The receiving corps lost its top pass catcher but returns seven of the top nine, including sr. Hutch White (34 recs.) and jr. Jeremiah Haydel (20.4 ypc on 16 catches LY).


Ten starters are back from last year's Bobcat defense, a group that has improved dramatically in the last few seasons. After yielding 522 ypg and 39.2 ppg in 2015 and 471/41.1 in 2016, Texas State's "D" improved each of the last two seasons and cut down to 384 ypg and 27.7 ppg last year. Thirteen of the top 16 tacklers return, including first-team all-SBC LB Bryan London II (109 Ts) and 3rd-team all-conference MLB Nikolas Daniels (108 Ts), who ranked one-two in the league in stops. The defense was 53rd in the nation in total defense and ranked 38th in passing efficiency "D" and 39th in passing yards allowed. New d.c. Zac Spavital and co-d.c. Archie McDaniel have to generate more pressure this season after the Bobcats sacked opposing passers only 15 times last year, but McDaniel played a part in improving SMU's "D" a few seasons ago, and Spavital had success coaching Texas Tech to generate turnovers in his stint as d.c. with the Red Raiders.


Texas State has to visit Texas A&M for the opener, host Wyoming and then goes to SMU, draws both Troy and Appalachian State from the SBC East, and must visit Arkansas State and ULL, the top three teams in the SBC West. By our count that means a realistic improvement to about five wins. To get to six and bowl eligibility level will require an upset, but wild card QB Jensen and wily new HC Jake Spavital capable of pulling a rabbit or two out of their hats.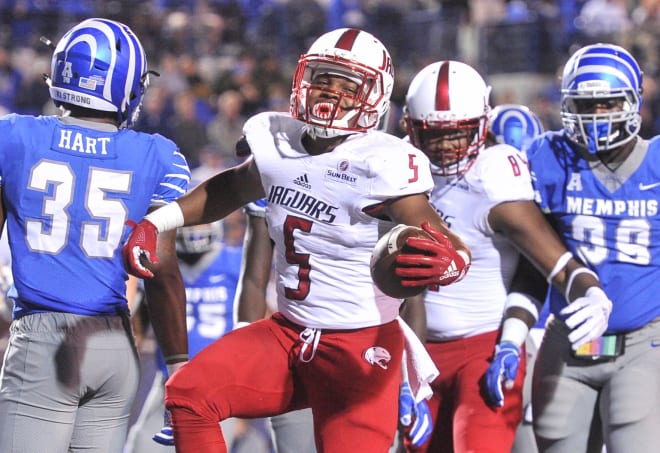 South

Alabama

(SUR 3-9; PSR 6-6; O/U 9-3)...Second-year South Alabama HC Steve Campbell has his work cut out for himself, as the Jaguars haven't had a winning season since 2010. He's got credentials, albeit the SBC is a step up from his previous stops at D-II Delta State, Mississippi Gulf Coast CC or the Southland Conference with Central Arkansas. But there are other notable obstacles to any advancement on the Jags' three wins last season.


The defense could be a problem, after giving up 39 ppg (122nd), ranking 124th in pass efficiency defense and 107th in total defense last year, the "D" must rebuild, returning just five starters while losing four of the top six tacklers, including the top pass rusher. The front seven gave up 5.0 ypc last season despite having returning 2nd-team all-SBC DE Tyree Turner (51 stops, 4 sacks). Defensive coordinator Greg Stewart's stop unit was not exactly fleet of foot last a year ago, and not sure the infusion of five jucos will be appreciably change the situation for what was the worst defense in the SBC last season.


The offense returns eight starters, but after ranking 105th in total offense in 2018 and 100th in scoring just 24.2 ppg, it's hard to see raw 6-5 soph QB Cephus Johnson making a ton of plays after completing just 37% of his passes and averaging 2.2 ypc in his very limited action last season. More likely is he will defer, handing off to sr. RB Tra Minter, who was named 2nd-team all SBC after rushing for a modest 801 yds. (6 TDs) and catching 23 passes. Minter will be running in front of an OL returning four starters and reinforced by juco LT Jacob Shoemaker, who won a starting job in spring. Offensive coordinator Kenny Edenfield should have more time to "coach 'em up" after spending a good deal of his emphasis on teaching the new system last season. Still, while a modicum of increased production might be anticipated with eight regulars back, the QB learning curve and shortage of playmaking wideouts aside from jr. Kawaan Baker (33 recs., 4 TDs; 251 YR & 9 TDs on the ground) precludes the Jaguars making much of a significant jump.


The schedule isn't easy, the is defense leaky and there are question marks at quarterback (Cephus will be the sixth starter at the trigger in the last six seasons), so it will be no surprise if USA only wins a game or two.
Return To Home Page