8259...
TGS SPECIAL REPORT
...THE GREAT ONE'S OPENER TO REMEMBER

by Bruce Marshall, Goldsheet.com Editor

Time sure flies when you're having fun! Flying, indeed; in a blink, we're into our 63rd publishing season and a new chapter of TGS, now officially located in Las Vegas. That connection from our former L.A.-area headquarters to Nevada has existed for decades, especially for those of us who have been based in the Silver State for several years. Rest assured, however, that the product and people who have been involved producing TGS for many years are still around to maintain the same standards that were set by founder Mort Olshan way back in 1957.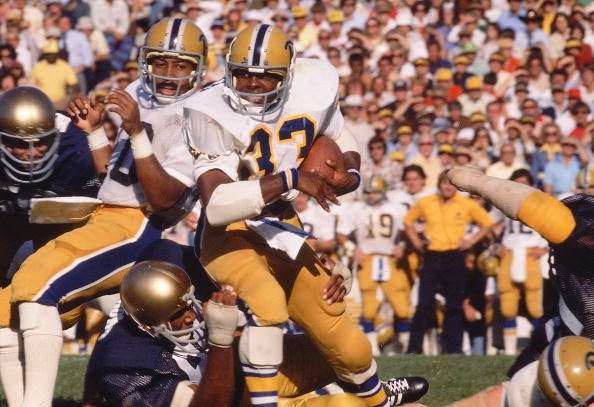 But, as has often been said, the more things change, the more they stay the same, and every opening week brings another adrenaline rush to us, as has been the case for six-plus decades. We at TGS have come to regard kickoff week ("Week Zero" aside) as sort of a landmark of each publishing year, recalling many of the past lid-lifters very fondly. Opening weeks often set the tone for the upcoming season, as was the case in 1976, when Pitt officially announced its intentions as a serious contender by swamping Notre Dame in South Bend, 31-10, kick-starting what would not only be Tony Dorsett's Heisman Trophy campaign, but also what would become a national-title season for Johnny Majors and his Panthers, both with their genesis in that smashing opening win on national TV over Dan Devine's Fighting Irish. Even before '76, we were always on the alert for similar pivotal games in kickoff week that might help set the tone, or at least serve as an important alert, for the upcoming season. Here's hoping we get a few of those defining matchups and outcomes this weekend!


Without saying, this time of year definitely gets us in a mood to reminisce. In recent times, we've written about some past memorable opening weeks, especially those with landmark implications, but in the 62 previous seasons we've been publishing TGS, we're not sure there was a better opener than we experienced in 1967. For those who can't recall an era in which Nick Saban wasn't a coach, or Clemson regarded as a national power, or Ohio State and Michigan weren't considered featured performers in the Big Ten, then 1967 was for you, and might seem kind of refreshing in retrospect. (We've written about some highlights of '67 in past TGS summer Retrospective pieces, including Indiana's remarkable wild ride into what is still the Hoosiers' only Rose Bowl appearance.)

Indeed, 1967 was a year the football universe didn't revolve around Alabama (though Bear Bryant had another solid edition that season), the SEC, or anywhere outside of Los Angeles and the venerable Coliseum. Not only were both UCLA and USC (who in those days shared the big saucer as their home fields) regarded as serious national contenders, but Bruins sr. QB Gary Beban was considered one of the Heisman favorites. The emerging storyline in the NFL 52 years ago was also authored locally by the Rams, another Coliseum tenant then into their second season under the guidance of HC George Allen, who had quickly molded a contender. The ascending Rams contributed greatly to football fever in the Southland that September by completing their preseason slate at a spotless 6-0 (yes, NFL teams used to play six preseason games!). While the much-hyped Rams were getting ready to open their season on Sunday in New Orleans against the expansion Saints, the sports weekend in L.A. was further filled on Friday night at the Sports Arena, adjacent to the Coliseum, as local heavyweight contender Jerry Quarry prepped for his rematch in the WBA Tournament the following month vs. former champ Floyd Patterson with a first-round KO of Billy Daniels. With football, boxing, baseball, and horse racing at Pomona, the sports calendar was indeed full that weekend in L.A.


As was sometimes the case with the Trojans and Bruins before UCLA moved its home games to Pasadena and the Rose Bowl in 1982, the teams would be scheduled at home in the Coliseum on the same weekend, necessitating one of the games to be to be played on a Friday night. Such was the case for kickoff weekend in 1967; it was SC's turn to play on Friday night, September 15 (with Washington State the opposition), while the Bruins would get the more-desirable Saturday date on the 16th. And this would be a special opener for UCLA in a grudge match (more on that in a moment) vs. a Tennessee side that would also enter the season ranked in the top ten.


We recall that Trojan opener vs. the Cougs partly because we were there at the Coliseum that night, though the game would be remembered for something more than the 49-0 laugher enjoyed by SC. It would be the debut night of a juco transfer named O.J. Simpson, who had arrived at SC with considerable hype, though he was just one of several Trojans who figured to be featured on John McKay's 1967 squad. Before kickoff, there was quite a bit of buzz about local product Steve Grady, who starred as a prep at nearby Loyola High and expected by some to become the featured back after the graduation of 1966 top rusher Don McCall, who had moved on to the expansion New Orleans Saints. But as the game progressed, it became apparent that Simpson, and not Grady, would be the Trojan headliner. O.J. would eventually have much bigger nights than his 94 YR vs. Wazzu, but his potential was hard to ignore, and even diminished the news of an injury to starting QB Toby Page, which paved the way for an unheralded junior named Steve Sogge, already a baseball player of note at Troy. But the tale of the '67 Trojans, O.J., Sogge, and even Page will wait for another day, because the big story of opening weekend would be written the following night.


Modern fans might not relate to an era when a UCLA-Tennessee game would be a big deal (though, in truth, it could have been as recently as 1998, when Bob Toledo's Bruins would have faced the Vols in the first BCS title game had they beaten Miami in their regular-season finale). In '67, however, it was a stylish, colorful, and emerging intersectional between two programs that had recently awakened from respective slumbers. It was the arrival of two coaches, a brash, 31-year old Doug Dickey to Knoxville in 1964, and the clever Tommy Prothro to Westwood in 1965, that had revived the respective fortunes at each locale.


To close the '65 season, the teams met in arguably the game of that year or any other, played December 4 at the then-new Memphis Memorial Stadium (before re-named the Liberty Bowl), a matchup dubbed the "Rose-Bonnet Bowl" in reference to respective postseason destinations (the 5th-ranked Bruins had secured the Rose Bowl bid vs. top-ranked Michigan State in exciting fashion two weeks earlier against USC, while the 7th-ranked Vols were on their way to Houston's Bluebonnet Bowl to face dangerous Tulsa and All-American end Howard Twilley). Introducing little-used soph QB Dewey Warren, the Vols would pass the Bruins silly in the first half en route to a 20-7 lead at the break, before a whirlwind comeback, paced by two TD runs by Beban in the 3rd Q and a 35-yard fumble return by DB Tim McAteer, would steal the lead back to the West Coasters at 28-20 entering the 4th Q. More wildness ensued in the final 15 minutes, as the lead see-sawed, accompanied by no shortage of controversy attached to some dubious (make that very dubious) calls by the refs that all seemed to be going in Tennessee's favor in a late drive to erase a 34-29 deficit. Including Warren's roll-out TD on a 4th down with just 39 seconds remaining that might not have survived the video reviews that were still decades down the road in '65. The game concluded with a wild melee in front of the UCLA bench after a game-ending interception by Vol Bobby Petralla, who was belted in the face by Bruin FB Paul Horgan in what became a near full-scale riot. After the breathless 37-34 win, Tennessee AD Bob Woodruff nonetheless demanded an apology from the Bruins; Prothro had his own issues, mostly with the officiating. "I'm embarrassed I'm a Southerner," said the UCLA coach, a high school star in Memphis before becoming a college hero for Wallace Wade at Duke. "The Southern officials were determined to win it and they did."


So, do you think temperatures would be a bit high for the rematch less than two years later? Anticipation had been growing all summer, not just because the teams would both enter ranked in the top ten, but the battle between the Vols' Warren (who passed for 274 yards in his breakout game vs. UCLA in '65) and the Bruins' Beban was being dubbed "Swamp Rat (Warren's nickname due to his roots in Georgia's marsh country) vs. Great One (Beban's Hollywood-esque nickname)" in what was also billed as an early Heisman elimination match. A pro scout said that UCLA's whole spring had been devoted to Tennessee. One of Prothro's friends noted that he never thought the coach had ever wanted a win more, or prepared harder for an opponent, than for the Vols in the opener. Oddsmakers installed Prothro's team a 5-point favorite.


More than 3000 orange-decorated Vol fans would make the trip, along with the famous Tennessee "Walking Horse" mascot, to the Coliseum for this much-discussed nighttime showdown that drew 66,708 to the historic saucer. Things, however, didn't start well for Prothro's Bruins, who would seemingly be playing catch-up all night. Soph Bill Bolden, Beban's new backup QB and a runner of some repute, would fumble the opening kickoff to the Vols on UCLA's 19. Four plays later, tailback Charlie Fulton would crash over from the one to put UT up 7-0 just 50 seconds into the game. A similar pattern would soon develop in the game; the Bruins were killing themselves with mistakes, as Beban would toss a pair of ill-advised picks, and Prothro's team would fumble an astounding seven times, losing three. After directly setting up the Vols' first TD with Bolden's fumble, another of those bobbles by FB Rick Purdy at his own 9 early in the 3rd Q had preceded Tennessee's second TD, this one a short 4th-down smash by fullback Richard Pickens, to give the Vols a 13-3 lead.


UCLA, however, was mostly getting the better of the action. Versatile soph tailback Greg Jones, making his varsity debut and taking the place of graduated Bruins All-American Mel Farr, was making even more of an impression than SC's Simpson the previous night, slicing his way thru the Vol defense en route to 135 YR. Rugged backfield mate Purdy would bruise UT up the middle en route to 84 YR, while Prothro's stunting, swarming defense, deployed in a new 4-4 alignment, was pressuring Warren at every turn. UCLA would finally stop making mistakes long enough for Beban to lead a smooth 78-yard TD drive late in the 3rd Q, capped by his 7-yard TD run, to get the Bruins within 13-10. Early in the 4th Q, soph PK Zenon Andrusyshyn, a noted javelin thrower who began at UCLA on a track scholarship, booted a 27-yard FG to level the score at 13-13. Then it was Warren leading a 47-yard march into Bruin territory and a 35-yard FG by Karl Kremser (who, with Andrusyshyn, would compromise an all-soccer-style PK night, still a rarity in the late 60s) to put UT ahead, 16-13.


Beban, however, wasn't called the "Great One" for nothing, and with a last chance at victory, would lead his troops back. Starting at his 23, Beban smartly moved UCLA downfield to the Vol 27, where he was soon confronted with a dicey 4th-and-2 situation. With just under 4 minutes to play, Prothro could send out Andrusyshyn for a long FG try to tie the game, and hope to get the ball back, or he could opt to keep the drive going for a possible winning TD. To the delight of the big Bruin crowd at the Coliseum, Prothro chose the latter, but not before chatting things over with his tired QB Beban on the sideline. "I want you to run one more great play for me," said Prothro. Beban obliged.


The play, a run-pass option to the right, was a Beban staple. "I just call it a Sprint Streak, or a Sweep around the Horn," said Beban after the game. On the play, Beban rolled right in almost-lazy fashion, raising the ball slightly to hint at a pass, but instead tucked the ball as he darted upfield, then suddenly emerging from a wave of orange-shirted Vols, before weaving and then cutting almost diagonally across the field to his left, causing UT defenders to pile into one another. Realizing that Beban not only has his first down, but that his mazy path might lead all of the way to the Coliseum's closed-end goal line, the old saucer began to erupt. The "Great One" indeed scampered all of the way to paydirt, and for the first time all evening, UCLA was staked to a lead, 20-16!


A bit over three minutes remained, time for one more goalward flight from the scrappy Swamp Rat Warren, who for a moment seemed to be poised to repeat his '65 heroics. Thanks to a pass interference penalty on Bruin Vic Lepisto, the Vols got as far as the UCLA 26. Here, however, Prothro's defense took over. Warren, pressured by backup DT Tony Steponovich, was called for intentional grounding on 3rd down. On 4th and 22, Bruin DE Alan Claman sealed the win with an 11-yard sack to turn the ball over on downs. After a long climb all night, and amassing a 412-211 yardage edge, UCLA finally had its revenge.


The magnitude of the showdown was measured by the true barometer or importance in the pre-ESPN era, Sports Illustrated, which ran a feature story on the game in its next issue that showcased middleweight champ Nino Benvenuti on the cover. Beban's final run was detailed in brilliant color photos, and from that moment onward "The Great One" was in the lead for the Heisman he would win less than three months later. The Bruins were also off on a memorable campaign that would push them to the top of the polls before an epic 21-20 loss to crosstown USC (and O.J.) in a battle for No. 1 in November. Meanwhile, Doug Dickey's Tennessee recovered, not losing the rest of the regular season en route to a No. 2 ranking entering the Orange Bowl, when a last-second FG miss by Kremser gave Chuck Fairbanks-coached Oklahoma a tight 26-24 win.


As you can see, sometimes opening weeks can set the tone for the rest of a season. Will we get something similar this weekend? To see what we think of the matchups, this week and every week, check out our College Analysis.
Return To Home Page