8275...
TGS SPECIAL REPORT
...NFL SPREADS & NHL POINTS

by Bruce Marshall, Goldsheet.com Editor
We're

apparently into a new era of big favorites and big pointspreads. Not just football; Major League Baseball has been overrun with big prices in recent weeks, too. Indeed, we counted seven matchups with prices of -250 or higher (some much higher) in MLB action last Saturday alone. But the "big number" discussions of the past week were highlighted by a couple of NFL bomber prices in games involving the lowly Miami Dolphins (at Dallas) and hurtin' New York Jets (at New England); for the first time since a replacement-game week in the strike-altered 1987 season, there were a pair of 20+ spreads in the same weekend!


The 20-point marker in the NFL generates much curiosity because it has so rarely been touched, much less by two games in the same weekend. Indeed, we hadn't seen a spread of 20 or more in pro football since Jacksonville was getting a hefty 26½ at Peyton Manning's Denver in 2013 (the Jags covered handily, by the way, performing respectably before losing 35-19).


To illustrate how unique those heavy spreads are in pro football, since TGS began publishing in 1957, there have been 40 complete seasons without a line of 20 or more. Overall since 1957, there have been 69 NFL-AFL games (including last weekend's games involving the Dolphins and Jets) with pointspreads of 20 or higher. Over half of those (37) were concentrated into five expansion-influenced seasons in the years of 1966-67-68 and 1976-77, when first or second-year teams in Atlanta, Miami, Cincinnati, Tampa Bay, and Seattle accounted for the bulk (but not all) of those big numbers. (In case you're wondering, 1967 expansionite New Orleans, a fairly competitive outfit in its nascent era, wasn't a 20-point dog in either its first or second seasons.) Interestingly, those big 20+-point underdogs now stand 36-31-2 vs. the number since 1957 after the Jets covered and Dolphins didn't last weekend.


Of the few examples in recent memory of 20+ spreads, most have involved Bill Belichick's Patriots. Including three games late in their undefeated regular season of 2007, when the oddsmakers had no choice but to inflate New England's numbers after the Patriots were routinely dismembering opposition. But even that powerhouse New England side was not able to overcome the sorts of premiums that oddsmakers eventually heaped upon it, as Belichick's team failed to cover any of those three 20+ spreads (vs. the Eagles, Jets, and Dolphins, all in various form of disarray that year), just as New England fell short last Sunday. Interestingly, there have been only seven NFL games with spreads of 20 or higher since 2001, with five of those involving the Patriots.


Our research has unveiled various interesting tidbits about pro football pointspread history and the biggest numbers over the past six-plus decades. In fact, we didn't even see a pro line of 20 or higher in our first three seasons of TGS publishing (1957-59), though there were just six NFL games per weekend for only a dozen weeks in a 12-team league, before the arrival of the AFL in 1960 and NFL expansion into Dallas (1960) and Minnesota (1961) would prompt the regular-season schedule to increase to 14 games. Not until those Cowboys entered the NFL as an expansion team in 1960 did we witness a pro spread crack the 20-point barrier. That year, Tom Landry's winless (but once tied) newcomers were a 22-point dog at Chicago and covered handily, losing just 17-7, but weren't as close when they got 20 points at Green Bay, losing 41-7 to Vince Lombardi's eventual Western Conference champs.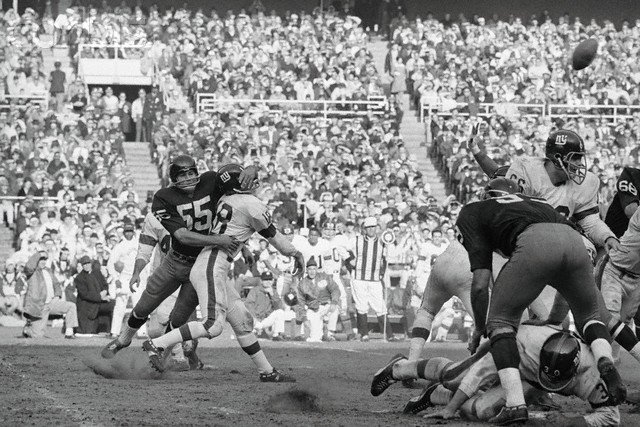 As noted, the bulk of the 20-point spreads have occurred in expansion periods, most notably in the late '60s and mid '70s. New, ragtag Atlanta and Miami franchises accounted for 7 of the 12 spreads of 20 or more in 1966, while the wretched 1-12-1 NY Giants of the same year, who would set a then-NFL record for most points allowed in a season (501, playing only a 14-game slate!), were twice underdogs of 20 or more. Though Allie Sherman's G-Men did cover on both occasions, including as a 26-point dog at Cleveland, a game in which New York actually blew a 33-14 lead. (Those were the same Giants on the losing end of the highest-scoring game in NFL history, when Otto Graham's Redskins dropped a 72-41 bomb in then-called D.C. Stadium, as reviewed on these TGS pages last season.) Ray Malavasi's wobbly '66 AFL Denver team was also twice a 20-point or more dog.


In fact, expansion Atlanta holds the distinction of being the biggest underdog in NFL spread annals, getting a whopping 28 points (at home, no less) against Johnny Unitas and the Baltimore Colts in an early-November 1966 game. Those Falcons, still winless at 0-8 in their maiden voyage, had recently been on the wrong end of some frightful beatings, including as a 27-point dog in a 56-3 loss at Vince Lombardi's Packers. Meanwhile, the Colts were an acknowledged powerhouse of the era. But there was no pointspread drama in that '66 game; in fact, the plucky Falcons forged a 7-6 lead at halftime before succumbing honorably, 19-7, easily covering as the NFL's biggest-ever underdog.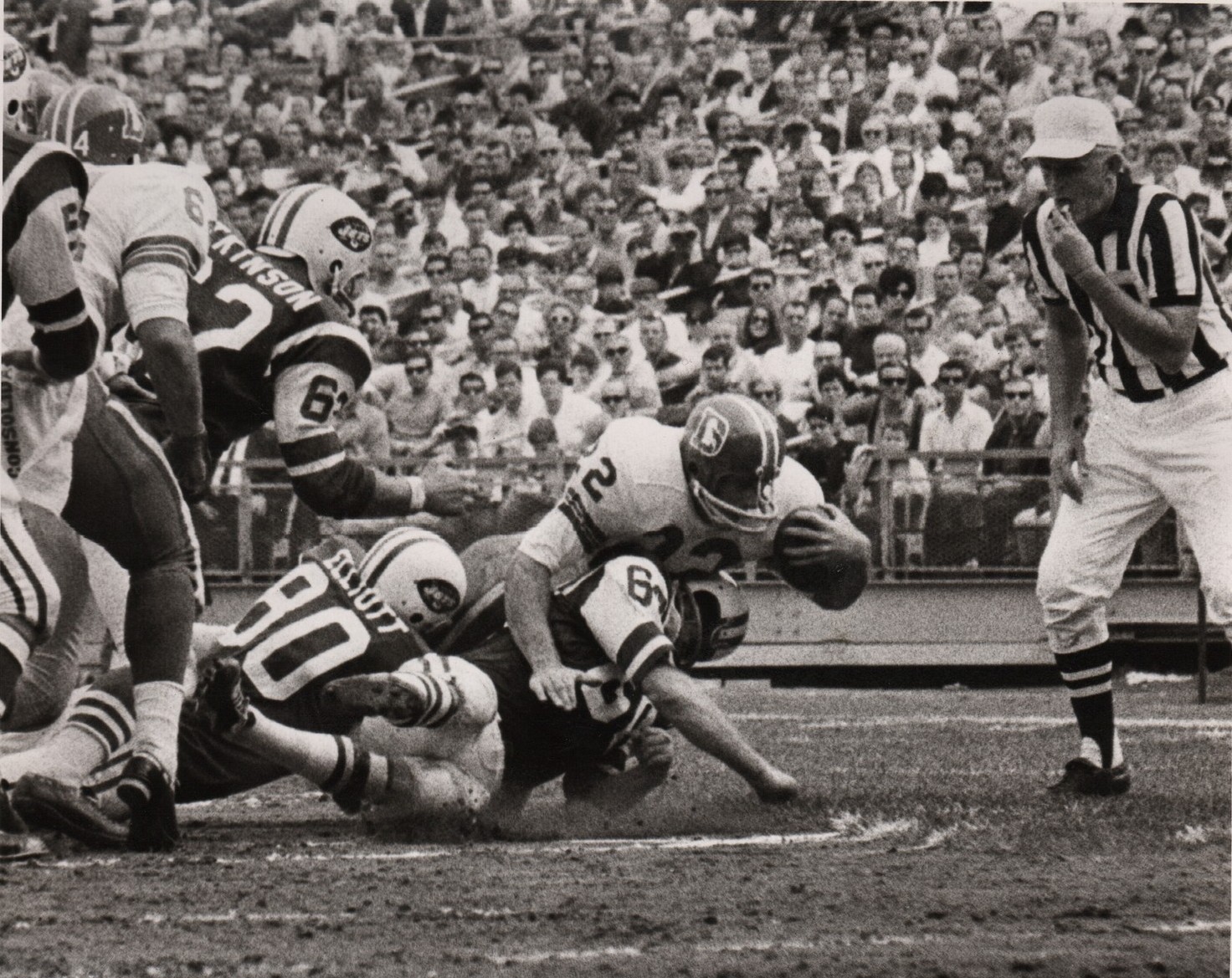 There was no year, however, for big underdogs quite like 1968, when not only 11 of them received 20 points or more, but also two of those won outright; only two other 20+ dogs have won outright in the past 62 seasons! More incredibly, that pair of results came two weeks apart against the same team...none other than Joe Namath's eventual Super Bowl champion New York Jets! Indeed, Namath was the key component in those hard-to-believe results, tossing five picks (three returned for TDs, by Tommy Janik, Butch Byrd, and Booker Edgerson) in a 37-35 late-September loss at Buffalo in what would be the Bills' only straight-up win of that season. Lightning would strike again twice two weeks later at Shea Stadium, when Namath tossed another five (!) picks as a 22-point underdog Denver side, playing minus star RB Floyd Little and top WR Al Denson, pulled a 21-13 shocker! Although the non-descript Broncos of that era were curiously tough on the Jets (beating them in 1967 and '69 as well), that Denver win as a 22-point underdog still qualifies as the biggest pro football upset since we began to publish in 1957.


(Interestingly, a review of notes on the '68 Jets kept by TGS founder Mort Olshan found the words "Watch Namath Parties" next to the log entries of both the shocking Buffalo and Denver defeats.)


All of which has prompted some curious observers to speculate about what might have been going on in 1968, especially considering some other irregularities and shock results that season (including the Jets-Colts Super Bowl), plus Namath's subsequent brief "retirement" related to his partial ownership of the Bachelors III nightclub. Interesting topics, perhaps, for another day.


Meanwhile, fast-forward to 2019, where the troubled Dolphins look like they might be a threat to match some of the biggest-ever spreads if things don't begin to improve. Worth noting that winless 2008 Detroit (when the Lions were never more than a 17-point dog, and covering 6 of 7 getting double-digits) and 2017 Cleveland (not more than a 14-point dog, and only a double-digit dog twice) were never underdogs of 20 points or more.


Following are the biggest pro football pointspreads since TGS began publishing in 1957: 1966-Baltimore (-28) 19, Atlanta 7; 1966-Green Bay (-27) 56, Atlanta 3; 1967-Oakland (-26½) 31, Miami 17; 2013-Denver (-26½) 35, Jacksonville 19; 1966-San Diego (-26) 44, Miami 10; 1966-Cleveland (-26) 49, N.Y. Giants 40; 1968-Oakland (-26) 13, Buffalo 10; 1976-Pittsburgh (-26) 42, Tampa Bay 0.

Following are the biggest pro football pointspread upsets since TGS began publishing in 1957: 1968-Denver (+22) 21, N.Y. Jets 13; 1967-Minnesota (+20) 10, Green Bay 7; 1968-Buffalo (+20) 37, N.Y. Jets 35; 1974-San Diego (+20) 20, Cincinnati 17.


FACE-OFF TIME IN NHL!
Welcome to the new world of professional sport as ushered in by the St. Louis Blues, who sat bottom of the NHL into last January and ended up lifting the Stanley Cup 5½ months later. Now, imagine the Baltimore Orioles winning the World Series! Thanks to the Blues, every team might now think it has a chance, but there will still be the usual collection of overacheivers and underachievers in the NHL. We think the following few teams warrant a look on season-points prices (we'll be referring to numbers as posted by the Stations Casinos in Las Vegas). Remember, TGS NHL begins when the first pucks are dropped next week, with selections Monday thru Saturday at goldsheet.com.


EASTERN CONFERENCE:

Well, that didn't take long. We're talking about the rebuild phase for the New York Rangers (89½), which has ended in a blink. Adding FA winger Artemi Panarin from Columbus was statement of serious intent, and we suspect top draft pick winger Kappo Kakko is going to be a fan favorite (not just because of his name). "Over" at MSG... They kept the band together for one more campaign a year ago with the Washington Capitals (97½) in hopes of a repeat before the Hurricanes ended the dream. Now the Caps have had to move on from five regulars off of the Stanley Cup winners of 2017-18 and have to hold a lid on new expenditures while they figure out how they can keep GK Braden Holtby and C Nicklas Backstrom in the fold when their contracts are up after the season. Look "under" in D.C...Impact newcomers? Try the Florida Panthers (96½), who won the Joel Quenneville sweepstakes to fill a void behind the bench, and the Sergei Bobrovsky derby by signing the ex-Blue Jackets goalie; both should provide immediate upgrades. But it was also the many role players inked by GM Dale Tallon that could push the Panthers into the playoffs. "Over" at BB&T Center...The New Jersey Devils (90½) have had the sort of draft lottery luck once enjoyed by the San Antonio Spurs; the top pick last June, C Jack Hughes, is a can't-miss future star who could help right away. Meanwhile, the blue line gets a boost from trade addition P.K. Subban, while adding vet winger Wayne Simmonds on a one-year deal looks a good bit of business, too. "Over" at Pru Center.


WESTERN CONFERENCE: While keeping GK Ben Bishop healthy might be more important than anything, the Dallas Stars (97½) should benefit from a couple of vet additions in the offseason. Ex-Shark Joe Pavelski adds some culture as he likely joins the Jamie Benn-Tyler Seguin line, while ex-Duck winger Corey Perry still qualifies as a useful sniper. "Over" in Big D... The Vegas Golden Knights (102½) have had to shed some useful parts to make room for some of the pricey contracts now on the roster. The window, however, is open as long as Marc-Andre Fleury remains a top-tier goalie, and expect Gerard Gallant to pace the vet netminder. Without a top-notch backup, it might limit reg.-season points, but it's worthwhile trade-off for a fresh Fleury in April. "Under" at T-Mobile Arena...While C Elias Pettersson was one of the most exciting newcomers in the league last season, we still think the Vancouver Canucks (88½) are a couple of more players and at least a year away from being a playoff threat. "Under" at Rogers Arena.
Return To Home Page