8283...
TGS SPECIAL REPORT
...STIRRING THE MEMORY BANKS

by Bruce Marshall, Goldsheet.com Editor

Things are ramping up this autumn, and storylines are emerging. We'll have our own interpretation of the "Fair Pay to Play" law recently passed in California that could have wide-ranging implications for college sports in next week's issue, followed by our annual look at NBA Season Wins two issues hence. That also always corresponds with the beginning of our unique TGS Hoops, set to commence later this month.


For the moment, however, focus shifts back to college football, and nothing encapsulates the 63 seasons we have been producing TGS any better than the special rivalries that mark each autumn. The 2019 calendar provides us with two of the most-enduring, and endearing, or those matchups this week which will highlight the upcoming college card before the majority of big rivalries renew in November.


Indeed, recollections of Texas-Oklahoma and Notre Dame-USC could fill several highlight chapters of our six-plus decades in business. But as these old enemies prepare to face off yet again on Saturday, a couple of their past battles continue to stir our memories, and imagination.


How big is Texas-Oklahoma? Never mind just one trophy for the winner...how about three! (If you're keeping score, it's the Golden Hat, Red River Trophy, and Governor's Trophy.) They've been playing Texas-Oklahoma games since 1900, which was even before the Sooners were granted statehood (that came in 1907; Oklahoma was a US territory 119 years ago). And these have only been conference games since 1996, when the old Big 8 (OU) and Southwest (Texas) Conferences semi-merged, as four SWC schools joined up to form the Big XII. The fact this rivalry demanded a neutral site in Dallas (roughly halfway between Norman and Austin) since 1923 further suggests it is something unique, as was the annual timing to coincide with the Texas State Fair and Cotton Bowl venue, in Fair Park. It's one big shindig, this Texas-Oklahoma thing, in revelry perhaps only rivaled by Florida-Georgia and their "World's Biggest Outdoor Cocktail Party" in Jacksonville.


Maybe the most-memorable era in the Longhorns-Sooners rivalry came in the late '60s and '70s, when first Texas, then Oklahoma, made the "Wishbone T" famous. But perhaps the biggest OU-Texas game came a few years before, in what to that point was only the seventh-ever meeting between teams ranked 1 and 2 in the AP Poll, as we noted in our summer Big 12 Retrospective that recalled the "Forgotten National Champs" of Texas in 1963.


Not that contending for a national crown under HC Darrell Royal (a Sooner alum, of all things, who played under the legendary Bud Wilkinson) was a surprise, as UT had been knocking on the door the previous two seasons. The Horns had been 10-1 in 1961, finishing 3rd in the polls, and 9-1-1 in the preceding 1962, good for a No. 6 ranking. In both years, Royal had taken his team to the Cotton Bowl, and a veteran lineup returned for 1963 as Texas was ranked fifth in the preseason polls. The only sophomore starter was LB Tommy Nobis, who would ascend to All-American status and eventually become regarded as one of the top college defenders in history by the time his college career concluded in 1965. Hardly taking a deep breath, Texas dominated Tulane, Texas Tech, and Oklahoma State by a combined 104-14 score, moving up to No. 2 in the rankings, and setting up the Horns' first-ever involvement in a 1 vs. 2 showdown at the Cotton Bowl vs. old, blood rival Oklahoma.


CBS, which televised college football that season, was instead airing the Minnesota-Northwestern Big Ten battle that day, with legendary Lindsey Nelson at the microphone, to most of the nation. However, a special TV showing of OU-Texas was available in the Dallas and Austin markets, causing some fans in the region who couldn't be at the Cotton Bowl to drive where they could watch the 1 vs. 2 showdown on television. Oklahoma had leapfrogged to the top of the polls two weeks earlier when it knocked off top-ranked, defending national champ Southern Cal, 17-12, in sweltering 117-degree heat at the L.A. Coliseum. Buoyed by that significant win, the Sooners entered the Cotton Bowl as 5½-point favorites as they looked to break a 5-game losing streak to the Horns in what would be Wilkinson's final year at the helm of OU.



Instead, during that sunny afternoon, in front of a capacity throng of 75,504, many of whom had spent the earlier part of the day at the adjacent state fair, it was all Texas, in one of the all-time great examples of a pupil schooling his teacher. Royal, a onetime QB at Norman, borrowed a page from mentor Wilkinson's handbook, unleashing a punishing, but slicked-up Split T attack, mostly ignoring the pass and bludgeoning the Sooners into submission with a hoary infantry that rocked OU back on its heels. It was all straight handoffs, inside belly slashes, the QB option with Duke Carlisle, and the old power sweep.


The 28-7 win was emphatic, especially from a defensive perspective. All-American Scott Appleton, playing on the stop unit most of the afternoon from his end position, was seemingly everywhere, notching 18 tackles and recovering a key fumble that preceded the Horns' third score and a 21-0 lead in the 3rd Q. Texas was particularly aroused to shut down, and shut up, OU's bruising 224-lb. star FB Joe Don Looney, whose emotional issues would eventually surface and sidetrack his career, but not until after he gave the Horns enough bulletin-board material to last a year. Among other things said by Looney, he proclaimed the Texas offense wasn't much and the Horns wouldn't be able to stop the great Sooner attack. "They talked about we couldn't move the ball," Appleton told the Austin Statesman after the game. "That ought to shut them up for a while." Looney, who would be suspended after slugging an OU assistant later in the season, was held to just 4 YR on 6 carries. It was pure defensive savagery by Texas, with Appleton ably assisted by Nobis and LB David McWilliams, who also played center on offense, 23 years before he would become the Longhorn head coach. Sports Illustrated would feature QB Carlisle on its cover the following week beneath a "Texas is No. 1!" banner. Royal's Texas was perfect fit for the era, its machine-like, Wing-T option simply hammering foes into submission, while the defense, full of quicks and skill, gave the opposition no room to operate. (More on that 1963 Longhorn national title team can be found on our website homepage in this past summer's Big 12 Retrospective).


But Texas-Oklahoma isn't the only storied rivalry that renews this Saturday. It's also Notre Dame-USC week, which has been an annual marker for football fans in Southern California and the Midwest for generations. Much as the Texas 1963 national title team seems too often overlooked by gridiron historians, so too is Notre Dame's 1973 championship side. Perhaps because it is just one of 13 title winners over the past 100 years in South Bend, but in our six-plus decades of covering college football, we're not sure we've ever seen a more finely-tuned team, properly balanced both offensively and defensively, versatile and resourceful.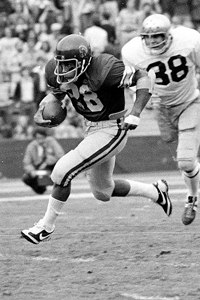 And battle-tested, as the Domers would be on October 27 of that year when welcoming SC and looking to avenge a 45-23 loss the previous year to John McKay's national title winners. In that game, Trojan sophomore Anthony Davis established himself as one of the all-time enemies of the Fighting Irish when scoring an eye-popping six touchdowns...two on dramatic kickoff returns, including a 96-yarder late in the 3rd-Q after the Irish had closed the gap to 25-23. (Davis, who would further irritate ND in '72 when celebrating his TDs by a dance when sliding on his knees, would have another memorable day vs. the Domers in 1974...we'll make space to talk about that epic Trojan win sometime down the road). Making provisions for Davis in '73, Irish HC Ara Parseghian aimed long, low squib-kickoffs bouncing to the left or right of Davis, whose routes of escape were sealed when he finally fielded the ball and turned upfield.


The importance of the '73 game to Parseghian cannot be understated, as he hadn't beaten Trojan nemesis John McKay in the six previous meetings, all after the Irish scored a 51-0 season-ending win over the Trojans in 1966 to clinch the top spot in the polls. Two of the subsequent battles (1968 and '69) had ended in ties. Into late October, though still unbeaten, the Domers hadn't been able to budge from No. 8 in the polls, as no one ahead of them had lost...at least not yet. Defending national champ SC had dropped from atop the rankings to sixth after a 7-7 draw with Oklahoma in late September, but was still made a 2-point favorite.


Much as Parseghian had done in the 1965 win over SC, when overloading his offensive line and simply blasting out the Trojan defense with ruthless, ball-control drives, Ara was at it again in '73, this time with his Wing T battering the Trojan stop unit once more. After QB Tom Clements scored on a 1-yard plunge on 4th down just before the half to put the Irish up, 13-7, at intermission, we didn't have to wait long in the second half for Notre Dame to deliver the play of the season.


Lightning struck on the Irish's first play of their first possession after halftime, as Parseghian decided to employ a pair of tight ends (Dave Casper and Robin Weber) on the line. Faking a handoff to fullback Wayne Bullock to momentarily freeze the Trojan LBs, Clements would instead give to HB Eric Penick, who would swing from the right side to the left and accelerate upfield thru an alley cleared by guards Gerry DiNardo and Frank Pomarico. Once beyond a lunging effort by Trojan DB Danny Reece, Penick was off to the races, using his sprinter's speed to complete the thundering 85-yard jaunt. Those at Notre Dame Stadium that day still swear it was the loudest they ever heard a crowd roar at the historic arena. It gave Notre Dame a 20-7 lead, and was the key play in an eventual 23-14 win. (When catching DiNardo, a former coach and now TV analyst, at Big Ten Media Days two summers ago in Chicago, we showed him the play on our cell phone. DiNardo never stopped smiling as he described his contributions. "I was on the ground, but when I heard the crowd roar, I knew Eric was gone," said DiNardo.) We suggest checking YouTube, where both Chris Schenkel's call on ABC and Lindsey Nelson's from the CD Chesley Notre Dame telecast, can be accessed.


Immediately the Irish began to move up in the polls, a climb that would complete itself on New Year's Eve in a pulsating 24-23 win over Alabama in the Sugar Bowl, and a second national title for Ara. As for SC's 23-game unbeaten streak, it was snapped, and the vanquished HC McKay left the field humming the Notre Dame Victory March, which was blaring all afternoon. "There was nothing else to hum," McKay said.


To see what we think of Saturday's Texas-Oklahoma and USC-Notre Dame games, plus all of the other action for this week, check out our College Analysis.
Return To Home Page