8306...
TGS SPECIAL REPORT
...BIG SPREADS AND BIG UPSETS

by Bruce Marshall, Goldsheet.com Editor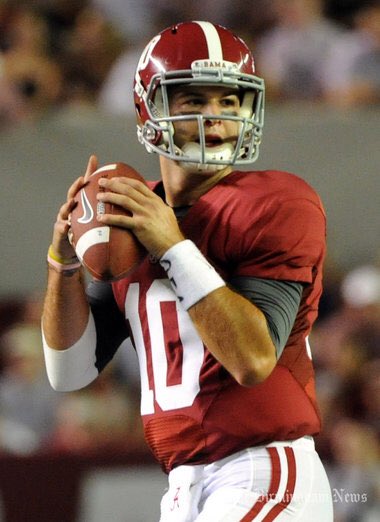 While co-hosting last Friday on VSIN's My Guys in the Desert with Ron Flatter and Vinny Magliulo, Jimmy Vaccaro from the host South Point sports book made an appearance on the show and began waxing nostalgic about football pointspreads in bygone days, noting how the books worked with different parameters into the '80s. "Some of these big pointspreads we see every week, like these 30-point and higher lines with Bama, Clemson, and Ohio State, well, we didn't even book those games in the old days," said Vaccaro. "Now almost half of the college card seems to be these big spreads. And it's not like nobody is betting these games, either. Believe me, they get plenty of action."
We at TGS can certainly relate, as for years, Founder Mort Olshan discouraged using any of these big-spread games as featured releases of any sort. Into the early and mid '80s, that often meant avoiding hapless teams of the era such as Northwestern and Oregon State, routinely made underdogs of 20 points or higher (sometimes much higher). Indeed, Northwestern's 1982 team didn't feature one game in which it was made less than a 20½-point underdog, after being made a 20-point or more dog in its last nine board games of 1981. (For the record, the Wildcats were winless SU 0-11 in 1980 & '81, and a "robust" 1-10 in 1982, ending a then-record 34-game losing streak with a win over Northern Illinois on September 25 of that year. That game vs. NIU, as was the previous' week's game vs. Miami-Ohio, didn't even feature a spread, as MAC teams weren't regularly posted in Las Vegas until 1985). Our TGS threshold in those days, as imposed by Olshan, was roughly 20 points, similarly recalled by Vaccaro, a veteran of four-plus decades in the business. The sports books and "outlets" of the old days would routinely either "circle" (limited wager amounts) those big spread games or not book them entirely. Olshan, and Vaccaro, were both aware that lots of "neighborhood" bookmakers of the era would often avoid posting any prices whatsoever on those sorts of big pointspread games.


Fast forward to 2019, and, as Vaccaro noted, there are plenty of games each week with stratosphereic spreads even higher than those that were routinely discarded 30-plus years ago. Last weekend in college football, there were seven spreads of 20 or higher, two of those 30+ numbers (Alabama-Arkansas and Clemson-Boston College), but that paled in comparison to several earlier weeks this season, including the preceding October 19 weekend, when there were 14 games on the card with spreads of 20 or higher. Most college weekends in the 2019 campaign have featured more than 10 games with spreads of 20 or higher, with the number of games even greater during many September weekends when games involving FCS teams facing FBS-level entries would be included.
A couple of distinctions should be made regarding the weekly college cards into the mid-'80s and those of today. Fewer games overall had posted pointspreads 30+ years ago; into 1984, only the major conferences of the day (Atlantic Coast, Big Ten, Big Eight, Southeastern, Southwest, and Pac-10, plus select Independents) were featured on the weekly cards. Note, too, that the "Big Ten" of that era indeed only had ten teams (unlike the 14 of today), as the old Big 8, like its name, had eight entries, and the Pac-10 had ten (expanded from "Pac-8" in 1978 when Arizona and Arizona State were added from the old WAC). The ACC and SEC of that era were also smaller than their present-day configurations. Into the mid-'80s, not even all of the many Independents of the day had their games featured on the weekly board. Of those, Notre Dame and the various Eastern Independents of the era (Penn State, Pittsburgh, Syracuse, West Virginia, Boston College, Army, and Navy) had their games posted. Florida State, Miami-Fla., South Carolina, Virginia Tech, and Tulane from the South would also be regularly used, but many of the other Indies of era (Tulsa, Memphis, Louisville, Cincinnati, Temple) did not have their games regularly posted. (Ivy League teams, plus on occasion Holy Cross and Colgate, would also be featured in the regular rotations into the mid 90s.)

It wasn't until 1985 that Las Vegas began including the MAC and WAC, plus, for one year, the old PCAA, on the big boards. This was all long before entities such as the American, Mountain West, Sun Belt (for football), and Conference USA would exist. Before 1985, including the Ivies, there were roughly 75 college football teams that Las Vegas used on the weekly board. That number is nearly double today. Because of that, and the "extra" lines posted involving teams from the FCS level, there were weeks in September with 70 or more pointspreads posted involving teams regularly followed by the Las Vegas sports books, almost triple many pre-1985 weekends. With such a large sampling of games, then, it's no wonder that we've had more big pointspreads to deal with on a weekly basis. There's simply more games to wager on than in the old days.
It's the big upsets, however, that continue to fascinate. While it's football season now, there won't be a basketball campaign that goes by when Chaminade's upset of Ralph Sampson's top-ranked Virginia in 1982 isn't mentioned (even though there wasn't a spread posted on that game). The shocker of Buster Douglas over Mike Tyson in 1990, at a better than 40-1 price, is an acknowledged underdog marker in boxing. Other sports, too; guesting on Pauly Howard's radio show in Las Vegas last week, we were asked about big soccer upsets in the wake of 23-1 dog Wolverhampton recently KO'ing powerhouse Manchester City in the EPL, and recalled World Cup stunners like North Korea over Italy in 1966, and Algeria over old West Germany in 1982.
So it goes without saying that along with the big pointspreads comes the chance for big shockers, and the recent Illinois stunner over Wisconsin last week prompted us to once again update our all-time "upset" list, which we will do periodically as results dictate. The "list" actually dates before TGS began publishing in 1957, all of the way to 1950 and the beginning of Mort Olshan's record-keeping from his days working on the historical "Minneapolis Line" with the legendary Leo Hirschfield, and now includes 55 results with outright wins by underdogs of 26 points or more covering the past 70 seasons. Two previous additions were required earlier this 2019 term when Bowling Green won as a 26-point dog against Toledo on October 12, and The Citadel, getting 27 points, surprised Georgia Tech on September 14. We're glad to finally make "official" room for The Citadel, as arguably the biggest Bulldog win ever, the massive upset of Arkansas in the 1992 opener, didn't have a posted number. Coming close to inclusion in the all-time list last weekend was Kansas State, which as a 23½-point dog knocked off Oklahoma. Within the last two weekends is another upset by a 21-point or more dog when Vanderbilt dumped Missouri on October 19. (For the record, the Fighting Illini's stunner over the Badgers at +30 ½ puts it at 18th all-time on our list).


A look at the accompanying all-time "upset" list is a real trip down memory lane for us at TGS, as we recall many of these past stunners like they happened yesterday. Admittedly, the list has become distorted in recent years by several big spreads involving FCS teams (which now account for 12 of the top 55 upsets, all since 2010), including the current "all-time" upset when MEAC Howard, at +44½, stunned UNLV in 2017. For that reason, the Howard win over UNLV might warrant an asterisk as for years did the 61-homer mark in 1961 by Roger Maris, who eclipsed Babe Ruth's 60 homers in a 162-game season, compared to 154 for the Babe. Thus, Stanford's 24-23 win as a 40½-point dog over USC in 2007 is still regarded by many (us included) as the upset of college football upsets. Interestingly, that win by the Cardinal, in Jim Harbaugh's first season on the Farm, came just two weeks after Syracuse set the mark when beating Louisville as a 37-point dog. The previous marks, Oregon State over Washington and UTEP over BYU, both 36-point dog winners in 1985, had lasted 22 years!


COLLEGE FOOTBALL'S BIGGEST UPSETS SINCE 1950!!
(compiled by P. Carl Giordano, Managing Editor)
2017 Howard (+44½) over UNLV 43-40 at UNLV
2007 Stanford (+40½) over Southern California 24-23 at Southern Cal
2007 Syracuse (+37) over Louisville 38-35 at Louisville
1985 Oregon State (+36) over Washington 21-20 at Washington
1985 Texas-El Paso (+36) over BYU 23-16 at Texas-El Paso
1998 Temple (+35½) over Virginia Tech 28-24 at Virginia Tech
2012 Texas State (+35) over Houston 30-13 at Houston
1972 Missouri (+35) over Notre Dame 30-26 at Notre Dame
2017 Idaho State (+34½) over Nevada 30-28 at Nevada
2000 Central Michigan (+34½) over Western Michigan at W. Michigan
1974 Purdue (+34) over Notre Dame 31-20 at Notre Dame
2010 James Madison (+33½) over Virginia Tech 21-16 at Va. Tech
2017 Liberty (+33) over Baylor 48-45 at Baylor
1982 Northwestern (+32) over Minnesota 31-21 at Northwestern
1997 North Texas (+32) over Texas Tech 30-27 at Texas Tech
2015 Portland State (+31½) over Washington State 24-17 at Wash. St.
1991 Cincinnati (+31) over Louisville 30-7 at Louisville
2019 Illinois (+30½) over Wisconsin 24-23 at Illinois
2017 Iowa State (+30½) over Oklahoma 38-31 at Oklahoma
2015 New Mexico (+30½) over Boise State 31-24 at Boise State
2012 Louisiana-Monroe (+30½) over Arkansas 34-31 in OT at Arkansas
1999 Rutgers (+30½) over Syracuse 24-21 at Rutgers
2011 Texas Tech (+29½) beat Oklahoma 41-38 at Oklahoma
2018 Old Dominion (+29) beat Virginia Tech 49-35 at Virginia Tech
2010 South Dakota (+29) over Minnesota 41-38 at Minnesota
2005 Ball State (+29) over Northern Illinois at Northern Illinois
1992 Iowa State (+29) over Nebraska 19-10 at Iowa State
1969 New Mexico (+29) over Kansas 16-7 at New Mexico
1969 San Jose State (+29) over Oregon 36-34 at Oregon
2016 South Alabama (+28½) over Mississippi State 21-20 at Miss. State
2013 Nicholls State (+28½) over Western Michigan 27-23 at W. Michigan
2010 Jacksonville State (+28½) over Mississippi 49-48 in OT at Ole Miss
2007 Pittsburgh (+28½) over West Virginia 13-9 at West Virginia
2016 Kentucky (+28) over Louisville 41-38 at Louisville
2013 Georgia Southern (+28) over Florida 26-20 at Florida
2016 Eastern Washington (+27½) over Washington St. 45-42 at Wash. St.
2010 North Dakota State (+27½) over Kansas 6-3 at Kansas
1999 Cincinnati (+27½) over Wisconsin 17-12 at Cincinnati
1976 Purdue (+27½) over Michigan 16-14 at Purdue
2019 Citadel (+27) over Georgia Tech 27-24 in OT at Georgia Tech
2011 Iowa State (+27) over Oklahoma State 37-31 in OT at Iowa State
1996 UNLV (+27) over San Diego State 44-42 at UNLV
1996 Memphis (+27) over Tennessee 21-17 at Memphis
1951 Lehigh (+27) over Rutgers 21-6 at Rutgers
2019 Bowling Green (+26½) over Toledo 20-7 at Bowling Green
2013 Eastern Washington (+26½) 49-46 over Oregon State at Ore. State
2006 Utah State (+26½) over Fresno State 13-12 at Utah State
1998 North Carolina State (+26½) over Florida State 24-7 at N.C. State
2008 Wyoming (+26) over Tennessee 13-7 at Tennessee
2006 Illinois (+26) over Michigan State 23-20 at Michigan State
1985 Northwestern (+26) over Missouri 27-23 at Missouri
1971 Texas A&M (+26) over Arkansas 17-9 at Arkansas
1953 Drake (+26) over Iowa State 12-7 at Drake
1951 Denver (+26) over College of the Pacific 35-33 at Pacific
1950 Lehigh (+26) over Dartmouth 16-14 at Dartmouth
Return To Home Page