8327...
TGS SPECIAL REPORT...
HERE COME THE RIVALRIES!

by Bruce Marshall, Goldsheet.com Editor

It's our favorite time of the year at TGS! Special rivalries are the essence of college football, and for us the full experience of these annual bloodbaths includes their various and almost-always colorful histories. This week, two of the best of the TGS era renew in the SEC...and they don't involve Alabama.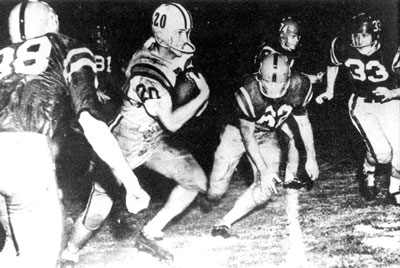 This past summer, in our Retrospective series, our SEC edition ("The Forgotten Sequel") recalled in detail one of the most anticipated battles in our six-plus decades of publishing. Though often overlooked. As whenever LSU and Ole Miss get together (as they will again this Saturday in Oxford), their 1959 Halloween classic in Baton Rouge is often recalled, highlighted by Billy Cannon's dramatic 89-yard punt return TD in the 4th Q for the winning points in a stirring 7-3 Tiger triumph (and featured in review on these pages before). But it was in fact a subsequent meeting that season in the Sugar Bowl that was even more hyped, indeed effectively kicking off an era of televised "super games" that captured the imagination of the football public.

However, some felt a rematch would be too sectional to suit the taste of TV. "Not so," said Tom Gallery, director of sports at NBC, which would televise the game. "NBC would be most happy if the Sugar Bowl was able to land LSU and Ole Miss. The game would be a natural again, as it was the first time." The Tigers lost at Tennessee after the Halloween classic, slipping to 3 in the polls.

LSU was indeed a weary, wounded football team at season's end. Coach Paul Dietzel wasn't the only one surprised his team would vote to accept the challenge of an Ole Miss rematch New Year's Day in New Orleans. "Nobody in his right mind would play Ole Miss twice in one season," said Clemson HC Frank Howard at the time. "I can't believe they agreed to play us again," Rebel HC Johnny Vaught would say years later. "That was the dumbest thing anybody ever did. No way we were going to lose that game."

The hype for the rematch exceeded the Halloween classic. To be televised by NBC, it would be the first bowl presented in color coast-to-coast, and tickets were again at a premium, being swapped for used cars, refrigerator repairs...even wives. It was estimated the Sugar Bowl had a quarter of a million requests for tickets.

The revenge motive was indeed powerful, and it was the vengeful side (the Rebs) installed as a 7-point favorite. Murky, damp weather made the Tulane Stadium field muddy in spots, and a cold wind lowered the temperature to 49 degrees at kickoff in New Orleans. But the miserable conditions made for an even more miserable day for LSU.


Like a boxer that couldn't get off of the ropes, the Tigers were bottled up in their own end from the outset. A pattern that would continue for the remainder of the first half; LSU being totally stonewalled, while Ole Miss was moving the ball...but not scoring. A Reb advance late in the 1st Q ended when 28-yard FG try by PK Bob Khayat went wide to the right. The 0-0 scoreline endured as the 2nd Q advanced. By this time, however, it was becoming apparent to the fans from Baton Rouge that their team could not continue to simply punt the ball away to Ole Miss and hope the defense could somehow bend but not break in the face of the Rebels' pressure. Then hope Cannon could make another big play as he did on Halloween. Otherwise the Tigers were at risk of being suffocated by the swarming Ole Miss defense and eventually overrun by the advancing Rebel offense.

Though dominating play, things were becoming very exasperating for the Rebs, who had yet to dent the scoreboard as halftime beckoned. Then, as Ole Miss took over possession on its 43 with just 59 seconds left in the half, lightning struck. Moving quickly to the LSU 43, the Rebs finally forged their breakthrough. Halfback Cowboy Woodruff would run straight downfield after the snap and was suddenly 10 yards behind the Tiger defense. QB Jake Gibbs, rolling to his left, turned around in the pocket and lobbed a perfect strike to Woodruff, who scampered untouched into the end zone. It was also the first TD pass allowed all season by the Dietzel defense!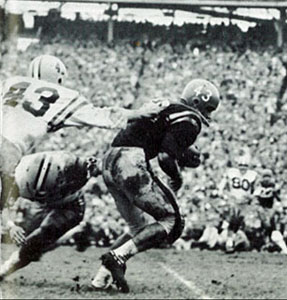 Deflated by the late score just before halftime, LSU looked condemned to its fate. Unable to move the football and now trailing what appeared to be the better team, the Tigers were in deep trouble. Smelling blood, Ole Miss went for the kill. The Rebs were now gaining yardage in bigger chunks. A 16-yard pass to HB George Blair, and an 18-yard pass to HB Bobby Crespino moved the ball deep into LSU territory before QB Bobby Franklin hit future AFL star Larry Grantham with an 18-yard TD pass. The Tigers were now looking like Floyd Patterson in the 3rd round of his heavyweight title loss to Ingemar Johansson the previous June at Yankee Stadium, battered around the ring and bounced off of the deck. When the dust cleared, Ole Miss was a 21-0 winner and had outgained LSU 363-84, burying the Tiger rushing game, which was stonewalled for a stunning -5 yards. Heisman winner Cannon was completely frustrated, gaining just 8 yards rushing on 6 carries.

In retrospect, Ole Miss might have been one of college football's all-time great teams in 1959. Johnny Vaught's defense, led by Grantham, held every foe to single-digit points, pitching a staggering 8 shutouts in the 11 games on the schedule. The Rebs only conceded 21 points all season, scoring 350 (avg. score 31.8-1.9!) and if not for Cannon's punt return on Halloween would have likely ended up as the consensus national champions.


But the oldest rivalry in the South isn't Ole Miss-LSU. In fact, it's another featured clash on the upcoming Saturday card. Whenever Georgia and Auburn clash at Jordan-Hare Stadium, as they will again Saturday, their 1982 classic is recalled. Not because it was such a tense battle with national implications, as the Herschel Walker Bulldogs strained to remain unbeaten vs. a dangerous group of Tigers featuring frosh Bo Jackson. Instead, what's always recalled are the last few minutes of the game as described by legendary Georgia broadcaster Larry Munson (worth referencing on YouTube to appreciate what we're taking about). With barely 4 minutes to play, and Georgia clinging to a 19-14 lead, the gravel-voiced Munson cleared his throat and delivered perhaps the most-descriptive and animated sequence of calls in sports announcing history as Auburn made one last dramatic attempt to derail the top-ranked Bulldogs.

"The Sugar Bowl, the championship, swinging and I mean swinging on a little thread here. Every single play means something now or you're gone. Total war in Auburn! Complete, total war!!

"4:17. Auburn just content to complete the long drive and use up the clock so Georgia won't have enough time to save themselves... Third down, big play! Third down, BIG PLAY! Campbell going to pitch to Lionel (James). He got a block! And he got a first down I think on the 14!... A championship hanging with 3:07!... First down by four-and-a-half inches!... Auburn is 14 yards away from upsetting the Dawgs and knocking us out of everything...

"2:55 to go! Georgia leading 19-14! Needing a play of some kind! A break of some kind!" (Auburn is then called for a motion penalty, costing it five yards. Back to Munson...)

"First-and-15 back at the 19. HUNKER DOWN, YOU GUYS!... They are in a 6-4, and they pitch to Bo Jackson...one man knocks him OFF BALANCE and (Tony) Flack came up and GOT HIM! (Dale) Carver spun him three to four yards behind the line, he stumbled off, and little Flack came up and hit him!...

"Ball back on the 21, and it's second down now and 17...with 2:05 to go. Auburn trying to break our hearts here, 19-14, and the Dawgs lead. Again, you guys, HUNKER DOWN!

"Auburn up to the line, Edwards to the right, the Little Train to the right...one man split left and man in a slot to the right...Randy Campbell... with a man blitzing...CARVER GOT HIM FROM BEHIND BACK ON THE 30!

"Oh, man! Two big plays! 84 seconds!... Third down and 21, back on the 30...Watch this now...I hate to keep saying it, but HUNKER DOWN! If you didn't hear me guys, hunker DOWN!

"Dawgs in a 5, kind of a 5-4... one wideout to the left...a man in motion, Little Train going to the right... and Randy Campbell, they... blitz him! He dumps it over the middle and it's COMPLETE TO EDWARDS at the 25 but he STUMBLED DOWN at the 20!...Great one-armed catch off-balance at the 25 but he stumbled down at the 20! Time out Auburn...time out, 49 seconds!


"Fourth and 17...I know I'm asking a lot you guys but HUNKER IT DOWN ONE MORE TIME! Auburn up to the line on the 21, man split left, two men wide right, and a man in the slot to the right...Dawgs are in a 4...and Campbell, as they BLITZ ON HIM...he threw a high, wobbly pass...they fight in the end zone...and the Dawgs BROKE IT UP...THEY BROKE IT UP! Ronnie Harris and Jeff Sanchez got up in the air...and pressured up the middle! They pressured the quarterback, one man in the middle and one from the flank...they pressured him! The Dawgs, with 42 seconds! I won't ask you...to do that again you guys!"

The result was now secure, but a breathless Munson was still on a roll, and even on the last kneel-down play delivered yet another memorable moment to his audience.

"32 seconds...Lastinger up to the line...Auburn massing 6 with 3...and Lastinger falls back on the 16 to take a 2-yard loss as they curl over the ball...Georgia students and fans standing and roaring...23, 22, 21...clock running...RUNNING...oh, look at the sugar falling out of the sky! LOOK AT THE SUGAR FALLING OUT OF THE SKY! Here comes a Georgia fan RUNNING out across the field in his red pants! And races over toward the Dawg bench...and now everybody ROARING...3...2...ONE! And they're carrying Vince Dooley off the field! Dawgs have WON IT! Somebody threw something on us...Dawgs have WON IT! 19 to 14!

"This defense, they hunkered, they did hunker! McIntyre down here on one knee looking up at the booth...all by himself...everybody else mobbed in the middle. We saved ourselves. WE SAVED OURSELVES! There won't be many of us in Opelika tonight, but I'll tell you one thing, we're gonna' do something to Opelika!"

(To see what we think of this week's LSU-Ole Miss and Georgia-Auburn clashes, and the full weekend card, check out our College Analysis.)


Return To Home Page