8335...
TGS SPECIAL REPORT
...NY SPORTS BETTING USA REVIEW
by Bruce Marshall, Goldsheet.com Editor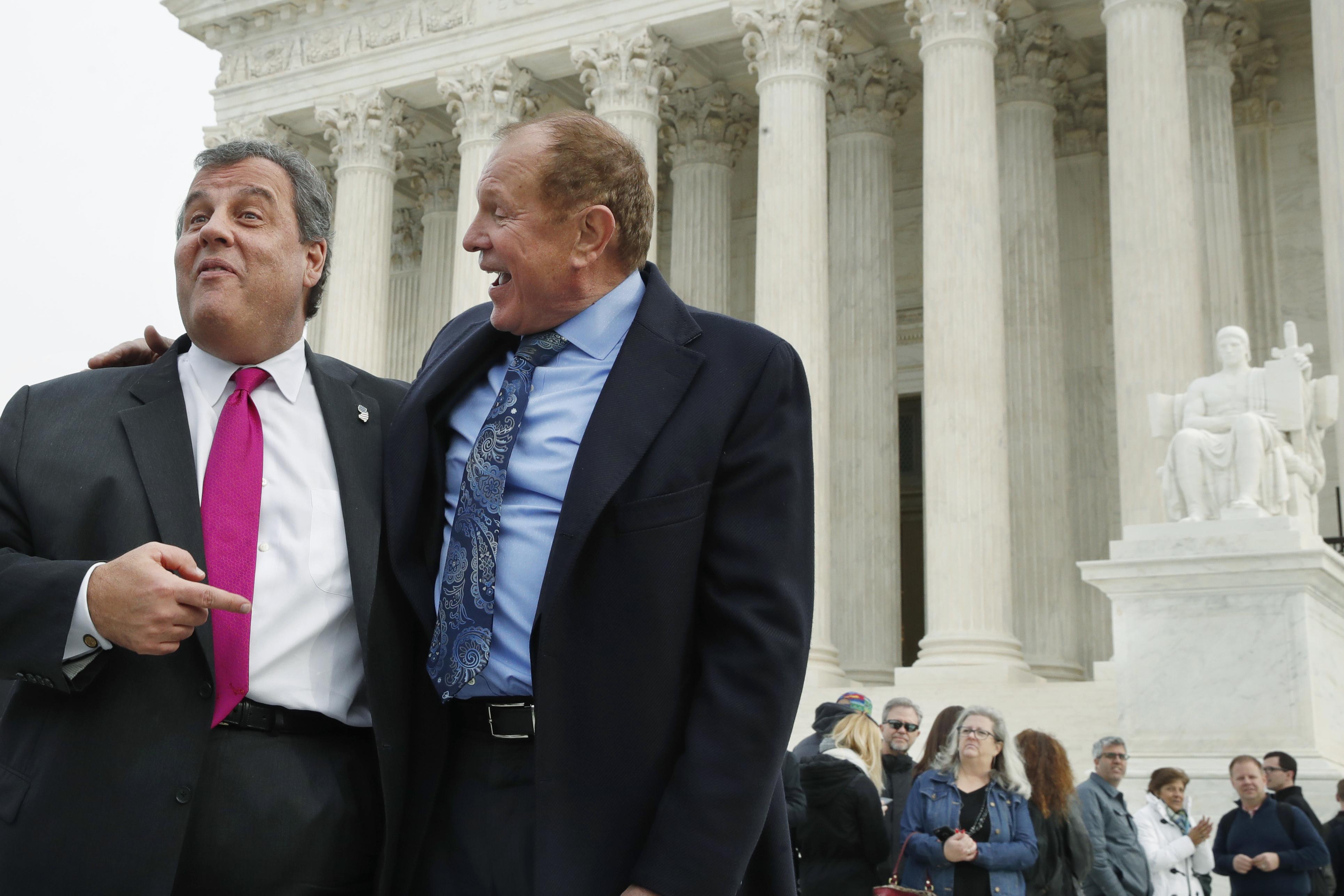 Readers of these TGS pages know that we have been following the progress of the sports betting landscape in the states for the past several years. Which dates from our earliest coverage of New Jersey's landmark challenge to overturn PASPA, the 1992 Professional and Amateur Sports Protection Act, when select states (Nevada, Oregon, Delaware, and Montana...but not New Jersey) were "grandfathered" by federal law to accept sports wagers, though only in the case of Nevada including single-game wagering; it was parlay cards only for the other states. The storyline meandered through federal court for several years before finally being granted an audience by the US Supreme Court, which in a landmark 7-2 decision in May of 2018 would rule in favor of the Garden State. Thanks to the SCOTUS ruling, each state was thus free to establish its own regulated sports betting laws.
In the 18 months since the SCOTUS ruling and repeal of PASPA, the arena for the sports betting storyline has thus shifted from the federal courts to the individual states, several of which having moved quickly to follow New Jersey into the marketplace. For the past couple of years, an annual barometer of the industry in the states has been the Sports Betting USA Conference in New York City, held each November, and most recently in the first week of this month.


As we were present with TGS again in New York two weeks ago as we have been for the past couple of years, we couldn't help but notice that some of the old buzz was absent from the proceedings. Excitement, and capacity (standing room), was almost off the charts two years ago when the 2017 conference was held on the eve of New Jersey getting its day in front of SCOTUS. The speculation was intoxicating. The subsequent repeal of PASPA a few months later preceded the 2018 conference, which again had quite a buzz about it, as various states began to position themselves to enter the marketplace. Moreover, former US Solicitor General Ted Olson, who headed New Jersey's legal team, was a captivating keynote speaker as he spoke of the long path New Jersey took in its quest to challenge federal law and implement sports betting within the state. Twelve months on, however, the contingent of politicians who attended the 2017 & 2018 conferences was noticeably reduced, and subject matter tended to be a bit more nuts and bolts. While intriguing, some of the excitement, especially from two years ago in advance of New Jersey getting its turn at the Supreme Court, was missing two weeks ago in Manhattan.


But the recent conference had its moments, especially when former New Jersey State Senator Raymond Lesniak, who spearheaded sports gaming legislation being pushed through Trenton in the first place, and remained a driving force behind all of New Jersey's subsequent adjustments and court challenges, took his turn as a featured speaker. Lesniak, currently out of the state legislature after an unsuccessful run for the governorship last year, was able to enlighten a bit further from his unique perspective of how the entire process unfolded, as well as making predictions regarding the immediate future of the domestic sports betting landscape.
At the outset, Lesniak reminded all that his original vision of sports betting in the Garden State was inspired more as a remedy to help save what were two dying industries in his state, Atlantic City's casinos and the various racetracks. Both had been hemorrhaging jobs and in need of some sort of boost to sustain as viable business entities. Lesniak's answer was Vegas-style sports betting, which, curiously, had not included New Jersey as one of the four states originally grandfathered by PASPA in 1992. Political winds had changed in the two decades since, however, and a referendum on the state ballot was quickly approved. Though Lesniak said that high-profile former Gov. Chris Christie was not on board with the original proposals before finally throwing his considerable weight behind the movement.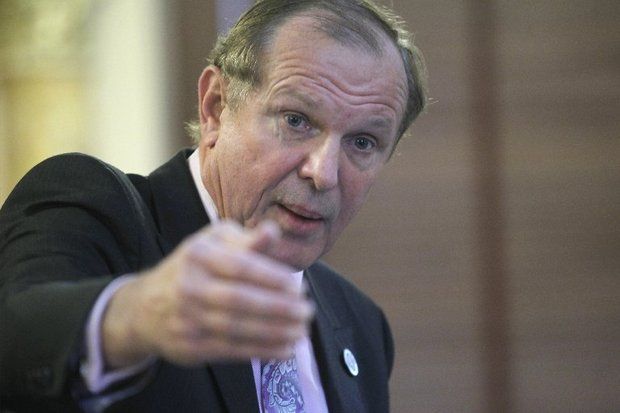 Lesniak remained a bit incredulous at the delays from other states to follow New Jersey's lead, and considerable early success, with sports betting. "I'm surprised sports betting hasn't blossomed across America," Lesniak offered. "Just look at its results in New Jersey which quickly surpassed Nevada as the sports betting capital of America. Thousands of unemployed casino workers back at work and our racetracks saved from closure.


"In the past years, Atlantic City was a ghost town during Super Bowl week and the NCAA Tournament. If you haven't booked your rooms there by now, give me a call. I know a guy," added Lesniak with a chuckle.


Lesniak then turned to some of the other states that have yet to fully embrace sports wagering."What mystifies me," said Lesniak, "is why California hasn't recognized the tourist boom that sports betting will bring to their betting parlors and why New York has turned its back on millions of dollars of revenue from online sports betting. Jeff Gural, owner of Meadowlands Racetrack in New Jersey, a short drive from New York, asked me not to say anything to encourage New York to embrace sports betting.


"California is another story as the (indian) tribes don't want to give up their piece of the action even though their action would be exponentially greater."


Lesniak then rattled off a series of predictions, noting that his legal predictions would be more reliable than his political ones.
"Within two years New York will have online sports betting and a referendum amending California's constitution to have sports betting will get voter approval," Lesniak said. "My most worrisome fear is that the NFL will be in the mix to have its hand-out for federal regulation and taxation of sports betting. State governors and legislators need to keep their congressional representatives from supporting a federal takeover of sports betting.


"Back to my more proficient legal predictions, Sheldon Adelson and US Attorney William Barr will lose their appeals to reinterpret the Wire Act to apply to online gaming. That being said, I now change my prediction that New Jersey will be the Silicon Valley of online gaming. New Jersey has already reached that goal. Within five years, New Jersey will be the mecca of sports and online gaming. You can take that to the bank."


Mirroring some of Lesniak's commentary was that of a couple of New York politicians who also spoke at the conference. It's the Empire State that presents the most-immediately intriguing storyline with its legal sports betting limited to a few locales well upstate from New York City. For Big Apple bettors, their best alternative (if they don't want to play offshore) is a quick hop to New Jersey, where mobile devices are within the Garden State's "geo-fencing" to place bets. Indeed, lunchtime gets crowded at Penn Station as New Yorkers who wish to place bets need only spend a couple of dollars and ride no further than the first New Jersey stop in Secaucus, barely ten minutes away, to place bets via their mobile devices. Others might hop a ferry or even drive far enough for geolocation technology on their betting apps to recognize that they are within New Jersey's borders. Estimates are that almost half of the cars parked at the FanDuel Meadowlands sportsbook at the racetrack adjacent to MetLife Stadium have New York license plates, and as much as 40% of New Jersey's considerable current sports betting business hails from New York residents.


New York State Senator Joseph Addabbo Jr. was one of the first featured speakers and railed incessantly upon his state to "get out of the slow lane" and up to speed with full-scale sports betting as has been done in neighboring New Jersey. Among other things, New York has yet to approve mobile sports wagering that has proven such a boon to New Jersey. Addabbo and a fellow legislator, State Rep. Gary Pretlow, say they'll try to put a provision in the state budget allowing mobile sports betting when the Legislature next convenes in Albany in January. Though to this point, Gov. Andrew Cuomo has been reluctant to endorse, wondering if such activity is constitutional.


"It's not a question of if; it's when," said Addabbo at the conference. "It's going to happen. People want to bet in New York. They don't want to get in the car and drive two hours upstate, and they'd rather not get in the car and go over the bridge to New Jersey, but they're doing that now."


Addabbo and Pretlow said a report on the pros and cons of mobile sports betting was supposed to have been released within the next few weeks but has been delayed until April. "I know what the report's going to say: It's going to say, 'Do it,'" Pretlow said.


It's worth noting that a bill for mobile sports betting in New York passed the Senate in Albany but was not approved in the Assembly, due in part to worries that Cuomo would veto it. A spokesman for the governor said last week that since May 2018, Cuomo "has consistently said he has constitutional concerns with mobile sports betting."


Meanwhile, Daniel Wallach, a Florida attorney and expert on sports law whose quotes have been featured in TGS before, said New York would be a perfect market for in-stadium betting. A provision that would have allowed pro sports stadiums and arenas to offer sports betting on their premises was included in the bill that died in last year's session.


"Imagine Madison Square Garden not just as the 'World's Most Famous Arena' but as the world's most famous sportsbook," said Wallach. "A casino or sportsbook at a racetrack holds a few hundred people. Madison Square Garden holds 20,000." Jamaal Lesane, senior VP for legal and business affairs for MSG, and on a panel with Wallach, said, "We'll get there eventually."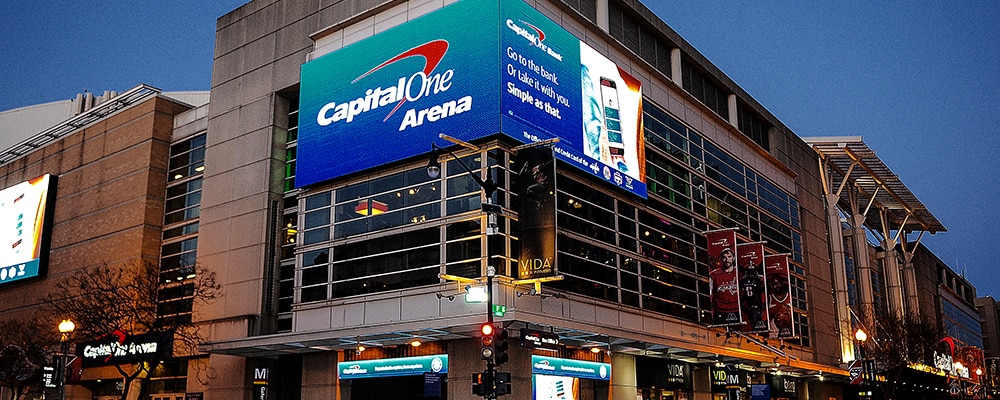 But New York won't be first; the District of Columbia, of all places, has recently approved on-site wagering. "What we're able to do is partner with an operator to put together a fully operational bricks-and-mortar sportsbook," said Jim Van Stone, President of Monumental Sports, a conglomerate founded by Ted Leonsis that owns Capital One Arena, along with the NHL's Caps, the NBA's Wizards, and the WNBA's Mystics. "We'll have kiosks on the concourse, our betting operator will have a two-block radius around the arena (for mobile). Capital One Arena is dark 100 days a year. We're looking at this as an opportunity to open the building up." Van Stone said it was possible to open the arena for simulcasting a wide variety of events, from mixed martial arts to the Super Bowl, calling it a "game-changing opportunity." He said such events could lead to another 1 million visits a year to the arena complex.
"There are 190 embassies in the D.C. area," Van Stone said. "Why not broadcast the Indian Cricket League on dark nights?"


Coming soon to

TGS

: California's move, other states, and the Wire Act
Return To Home Page