8344...
TGS SPECIAL REPORT
...NY SPORTS BETTING USA REVIEW--PART II

by Bruce Marshall, Goldsheet.com Editor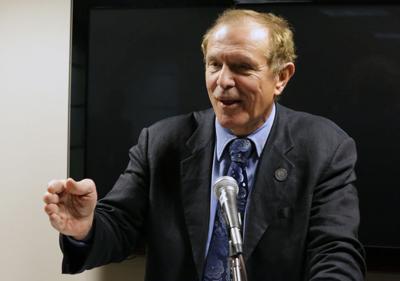 As noted two weeks ago on these pages, TGS attended last month's Sports Betting USA Conference in New York City, and we presented a preliminary review of those proceedings. There were, however, some other elements of the conference that intrigued and are worthy of further examination as they figure to have an impact upon the nascent sports betting business in the states.


As a brief refresher, the sports gaming timeline can really be defined as "B.P." ("Before PASPA repeal") and "A.P." ("After PASPA repeal"). In which case time effectively began in the new world of sports betting in May of 2018, when the US Supreme Court overturned PASPA, the 1992 Professional and Amateur Sports Protection Act, when select states (Nevada, Oregon, Delaware, and Montana) were "grandfathered" by federal law to accept sports wagers, though only in the case of Nevada including single-game wagering; it was parlay cards only for the other states. New Jersey, of course, mounted the original challenge, which meandered through federal court for several years before finally being granted an audience by SCOTUS, which in a landmark 7-2 decision would rule in favor of the Garden State 19 months ago. Thanks to the SCOTUS ruling, each state was thus free to establish its own regulated sports betting laws.


In the year-and-a-half since the SCOTUS ruling and repeal of PASPA, the arena for the sports betting storyline has thus shifted from the federal courts to the individual states, several of which have moved quickly to follow New Jersey into the marketplace.


As noted on these pages last month, a featured speaker last month in Manhattan was former New Jersey State Senator Raymond Lesniak, who spearheaded legislation that was pushed through Trenton in the first place, and remained a driving force behind all of New Jersey's subsequent adjustments and court challenges. Lesniak, currently out of the state legislature after an unsuccessful run for the governorship last year, was able to enlighten a bit further from his unique perspective of how the entire process unfolded, but it was in his predictions of what is to come next that warrants further review and analysis. "What mystifies me is why California hasn't recognized the tourist boom that sports betting will bring to their betting parlors and why New York has turned its back on millions of dollars of revenue from online sports betting," said Lesniak. Later in his presentation, Lesniak revisited his California comments, with his own take on what might be holding things up in the Golden State. "The (indian) tribes don't want to give up their piece of the action even though their action would be exponentially greater," added Lesniak.


Lesniak then rattled off a series of predictions, noting that his legal predictions would be more reliable than his political ones.


"Within two years New York will have online sports betting and a referendum amending California's constitution to have sports betting will get voter approval," Lesniak said. "My most worrisome fear is that the NFL will be in the mix to have its hand-out for federal regulation and taxation of sports betting. State governors and legislators need to keep their congressional representatives from supporting a federal takeover of sports betting.


"Back to my more proficient legal predictions, Sheldon Adelson and US Attorney William Barr will lose their appeals to reinterpret the Wire Act to apply to online gaming."


We asked Lesniak to elaborate further upon his fears of federal regulations. "It's mostly the NFL," Lesniak said. "It has enormous power and influence with the politicians, more than you can believe, and the league could try to push for a hand-out in any upcoming federal legislation. For now, the sports betting business is better left to the states."


Lesniak's mention of California highlights a likely major domino to fall in the not-too-distant future. Though what form sports betting takes in the Golden State might not resemble what is being done in more progressive venues, like Nevada and New Jersey.


As Lesniak noted, expect things to begin moving quickly in Cali within the next year. That's when a proposed constitutional amendment could be on the ballot for the general election in November 2020. Key elements of the legislation are being forwarded by 18 tribes that are pushing for the voters to make the decision for betting at racetracks and their Indian casinos. Along the way, to satisfy any social obligations, their proposal calls for a tax of 10 percent on gross gambling revenues that would help pay for state regulations and mental health programs related to gambling, among other costs.


Importantly, the proposed ballot measure in California is also putting some real restrictions on its future sports betting business. Like preceding proposals in Connecticut, the plan on the table in Cali would prevent betting on in-state college sports, which might anger the many USC-UCLA fans and Cal-Stanford fans that would not be able to bet on their teams. (At this time, the proposal would

not

exclude the many pro sports teams in the state that constitute an even bigger potential market.)


But the most restrictive aspect (depending upon the point of view, that is) of the proposal would disallow mobile betting which has proven such a boon to states such as Nevada and New Jersey that have preceded California into the marketplace. The Indian casinos and racetracks are behind this provision that would force bettors to travel to one of their casinos or tracks to make a bet. Given that estimates are as high as 80% of bets are being made off-site in the states that allow mobile devices, the California proposal might not prove much benefit to the vast market in the state.


A now-familiar voice on the sports betting scene, veteran sportscaster Brent Musburger, these days heading the VSIN operation in Las Vegas, probably spoke for most of the industry in adjacent Nevada when commenting in-studio to us a few weeks ago. "If I were Nevada," said Musburger, "I'd support this California proposal as it is worded now. Without mobile betting, they (California) will probably not greatly impact the business over here (in Nevada)."


Indeed, the Golden State's proposal is meant as much to protect the interests of the tribes and the racetracks as it is to satisfy the sports betting audience, which is, by all estimates, enormous in California. By us, it's also short-sighted. For a long while, we have hardly believed the offshore customers, in whatever the state, are going to abandon the convenience of what they are doing if they are going to have to drive 10, 20, 30, or maybe 50 miles to simply place a bet. A watered-down product requiring in-person wagering would have little or no appeal to the countless numbers currently using mobile devices to access offshore lines and pricing. The latter of those options will also likely be much more favorable and customer-friendly to the customers than any brick-and-mortar establishment at one of the California racetracks or tribal casinos. The potential "home team" edge that states enjoy over the offshores in the marketplace only applies with a similar product with similar convenience. While it will be a nice bonus for patrons of one of the tribal casinos or tracks to be able to place sports bets while enjoying their normal visits, we hardly envision a flood of customers driving many miles to simply place a bet if they've been used to doing so from their home, office, or car in the past.


The other key element mentioned at the conference by Lesniak was the clarification on the venerable Wire Act, the 1961 law that has been open to broad and various interpretations, and continues to loom menacingly over the gaming industry. At its inception, the Wire Act was intended to limit bookies and the transmission of information across state lines, and was aimed mainly at the underground horse racing business. More specifically, it was part of then-Attorney General Bobby Kennedy's war on organized crime and to stop it from trafficking. JFK would sign the Interstate Anti-Crime Act in September of 1961.


But the Wire Act (which at the moment is

not

precluding any of the new sports gaming activity, just limiting it to within state boundaries) continues to be reinterpreted. In September 2011, the Justice Department released a formal legal opinion on the scope of the Act concluding, "interstate transmissions of wire communications that do not relate to a 'sporting event or contest' fall outside the reach of the Wire Act." But a new Justice Department opinion dated November, 2018 reversed the 2011 opinion, declaring that the Wire Act's prohibitions are "not uniformly limited to gambling on sporting events or contests."


What prompted the change? A Wall Street Journal editorial had some interesting conclusions earlier this year. The WSJ reported that the new Office of Legal Counsel (OSL) opinion, that the Wire Act bans all online gambling "hewed closely to arguments made by lobbyists for casino magnate and top Republican donor Sheldon Adelson." That casino magnate Adelson, as noted a major GOP donor, would have some sway with Trump Justice Department, is hardly a reach.


As an owner of many casinos, Adelson, much like the California racetracks and tribal casinos, would like to keep as much business on premises as possible. To be fair, another pillar of Adelson's Coalition to Stop Internet Gaming (CSIG), which has lobbied for years on behalf of the Restoration of America's Wire Act (RAWA), is that online gaming is too easily accessed by youths and others who should not partake.


The DOJ's new, Adelson-favorable interpretation of the Wire Act, which New Hampshire is seeking to have overruled by the court, reversed the Obama-era (2011) declaration that paved the way for state-sanctioned online gambling operations. The new opinion, in stating the act's prohibitions are "not uniformly limited to gambling on sporting events or contests," jeopardizes not only the online lottery operations of New Hampshire but online gaming markets across the United States.


While the actions by Adelson have more direct implications for various forms of non-sports gaming, by extension, they possibly could also have future consequences for sports betting in the states. For, if enacted, RAWA would ban domestically regulated online gambling and immediately criminalize and shut down multiple state-regulated online gaming industries across the US. RAWA could effectively ban online lottery sales, online poker, online sports books, online casinos and online bingo, while its exemptions would only include online horse race wagering and daily fantasy sports contests.


Now you know why Adelson and RAWA are on Raymond Lesniak's radar.


To be continued soon in TGS...
Return To Home Page