8371...
NEW TGS HOOPS...

NEW YEAR'S BRACKETOLOGY UPDATE!

by Bruce Marshall, Goldsheet.com Editor
We have a saying at TGS...the transition from college football to college hoops really begins when we post out first Bracketology update of the season! So, as we ring in a new year, we take an early look at how we envision March Mayhem shaping up as we exit the festive season.


Though this is our first update of the 2019-20 hoops campaign on these pages, we have been keeping chart of our "brackets" since November. While here at the end of December it's a longshot that any of our current projected seeds land on the corresponding spot come Selection Sunday, we always find this a worthwhile exercise around New Year's as it provides a snapshot of where the college hoops season has been the past seven or so weeks...and where it might be headed in the next two action-packed months. As usual, these projections are apt to look much different into February and March, but for now, we think they're a good barometer of the season to date.


We at TGS will wait until future updates (roughly every three weeks) before including any additional ratings (such as the "RPI") for each team, as we are still early enough in the season where those numbers can have been distorted by misleading pre-league slates. By the time we get to mid-to-late January and February, however, those numbers like "RPI" become a bit. more meaningful. (Though the "RPI" is no longer used by the selection committee which has its own secretive "NCAA Evaluation Tool" to access, we still find the RPI to be as good of a reference guide as any in regard to what the selection committee might eventually be thinking).


Remember, for all of our "bracketology" updates, the term "protected seed" refers to seeds 1 thru 4 in each region, and likely favorable geographic placement in the sub-regional round.


As usual, we break down the projected matchups by each region; this season, things start a week alter than a year ago. The Dayton "First Four" games will be played March 17-18; sub-regional action commences on March 19, with the Final Four April 4-6 in Atlanta. Straight-up records thru December 31. Selection Sunday, or college hoops equivalent of Christmas, will be here before you know it, on Sunday, March 15.


EAST REGIONAL (New York City-Madison Square Garden)

At Greensboro...
1 Duke (12-1) vs. 16 St. Francis-PA (7-4)...No more Zion or RJ or Cam, but here we are projecting the brackets and once again the Blue Devils are sitting on the top line. Though this year's edition hasn't yet been as breathtaking as last year's versuon (which we thought was more than a bit overvalued), it;s been only one loss thus far for Coach K's new crop of frosh stars and holdover PG Tre Jones, who has been a valuable piece of glue at Cameron indoor. With the ACC looking a bit jumbled this season, nice to know that we can at least count on Duke. Meanwhile the Northeast looks completely up for grabs and this might be the best shot for St. Francis-PA, with some distinguished alums (the great Maurice Stokes, plus Norm Van Lier & Kevin Porter) to make the Dance since 1991, its only previous visit. Bryant and Sacred Heart are the only other NE teams above .500 into January.


8 Purdue (8-5) vs. 9 Tennessee (8-4)... A spot on the 8-line might look a bit high for the Boilermakers, but all losses to date save for a stunner at Nebraska figure to have come vs. Big Dance qualifiers, and good wins include over Virginia and VCU. Though Purdue doesn't have the same sharp edge this season after the graduation of explosive G Carsen Edwards. Tennessee has a different look, too, and we wonder about putting the Vols on the 9-line after their home loss to Wisconsin last week, plus the absence of key G lamonte Turner. Not the same power in the paint as last year's Sweet 16 entry, either, but consider this more of a projection pick due to respect for savvy HC Rick Barnes.

At Albany...

4 Villanova (10-2) vs. 13 Harvard (10-4)...Jay Wright looks to have things on track at Nova for another protected seed. After the Monday win over Xavier, the Wildcats take a 6-game win streak into Marquette on Saturday. The Cats boast of five double-digit scorers into January, led by G Collin Gillespie at 15 ppg. As for the Ivies, a measured vote for Tommy Amaker's Harvard to atone for the tourney loss to Yale last March, though the rebuilt Eli and Penn each look like they could cause problems. At some point, Amaker is going to want to get key G Bryce Aiken (who has only played seven games due to a foot injury) back on the floor, which should happen soon. Unfortunately, it won't with oft-injured F Seth Towns (done for the season, again, with knee problems), though the Crimson has been faring well enough minus Towns. Note the Ivy Tourney moves to Cambridge at Harvard's revamped Lavietas Pavilion in March.


5 West Virginia (11-1) vs. 12 St. John's (11-3)/VCU (10-3)...After a brief pause last season when falling beneath .500, it looks like Bob Huggins is back with a real contender in Morgantown, We'll see how things progress in the rugged Big 12, but wins over Wichita (the Shockers' only SU loss) and Ohio State have Huggy contending for a protected seed into January. WVU might not want to run into St. John's, which was the only team to beat the Mountaineers thru December. Mike Anderson has brought his Arkansas style with him to Queens and has been winning, suggesting Chris Mullin was not the guy to extract everything from the Johnnies the past couple of years. The Red Storm could definitely move to safer ground away from a play-in assignment; ditto for VCU, as Mike Rhoades looks for a return to the Dance out of the A-10. The Rams, however, have lost three of their four toughest non-league tests (Purdue, Tennessee, and Wichita State).


At Omaha...


2 Baylor (10-1) vs. 15 Lafayette (8-3)...Into January, Scott Drew's Baylor has proven a pleasant surprise, rising as high as sixth in the latest polls, and boasting of several quality wins, including Villanova, Arizona, and Butler (the Bulldogs' only SU loss into January). Big 12 play commences this weekend vs. Texas. As for the Patriot, only a couple of sides (Holy Cross and perhaps a rebuilding Lehigh) look unlikely to make a move. For the moment, a measured vote for Lafayette and vet HC Fran O'Hanlon, with Colgate, Loyola-MD, and Navy appearing to be the top contenders.


7 Xavier (11-3) vs. 10 BYU (11-4)...The Big East has several contenders and Xavier is again one of them, though Musketeer backers are a bit concerned about the lack of marquee wins to date. That should change in league play, but we admit to being a bit aggressive with placing the X this high. Keep an eye where we slot the Muskies in our next update later in January. As for the WCC, it looks like it could be a multi-bid league (Gonzaga & Saint Mary's for sure) this term with BYU the likely third wheel. Remember, the Cougs played their first nine games minus key PF YoeloiChilds; since his return, BYU has been rolling, including a rousing win in Salt Lake City on Dec. 14 vs. high-profile in-state rival Utah State.


At Cleveland...


3 Michigan State (10-3) vs. 14 Vermont (9-5)...A few early losses should not be of concern to MSU backers, as Tom Izzo's teams notoriously pick up steam as the calendar moves toward March. Now that the Spartans know that valued wing Joshua Langford (foot injury) isn't going to return, focus is on key PG Cassius Winston, and hope that his recent knee problems are not deemed serious. Watch this situation closely. Vermont has taken a few losses but a return trip to the Dance out of the America East looks a good bet for the Catamounts and star F Anthony Lamb (18 ppg). Stony Brook, New Hampshire, and perhaps recent Northwestern-conqueror Hartford look the most likely to challenge in the AE.


6 Colorado (11-2) vs. 11 Florida (8-4)....The Pac-12 looks an upgraded league this season and some regional observers believe this is the best Boulder edition for HC Tad Boyle, who has taken CU to the Dance before. A recent thrill OT win in Chicago over Dayton pushed the Buffs up a couple of lines in this projection. Meanwhile Florida has been something of a disappointment, as Virginia Tech transfer F Kerry Blackshear has yet to make the sort of impact many envisioned, and backcourt play remains a bit erratic for HC Michael White. Still time for the Gators to put things together, but to this point the Florida preseason hype (of which we are partially guilty) seems to have been a bit of false alarm.


SOUTH REGIONAL (Houston-Toyota Center)
At Cleveland...


1 Ohio State (11-2) vs. 16 Rider (7-4)/Bethune-Cookman (5-8)...Whether or not OSU winds up on the top line, we suspect the Buckeyes are a very good bet for a protected seed and a sub-regional assignment in friendly Cleveland. Though OSU hits January with losses in two of four, at Minnesota and vs. West Virginia in Cleveland. We're not sure who is going to emerge from the Metro-Atlantic, as no entry has really distinguished itself in pre-league play. Rider seems to rate a slight edge into January over a cluster of others, though unless one emerges from the pack, a spot in the 16 vs. 16 game might beckon. As has often been the case, no MEAC teams hit January with a winning record, though the pride of Daytona Beach, the Bethune-Cookman Wildcats, came closest in non-league play.


8 Saint Mary's (13-2) vs. 9 Liberty (11-1)...We have seen the selection committee devalue the non-Gonzaga portion of the WCC too many times in recent years to be comfy with placing Saint Mary's as high as the 8-line. Though the Gaels have played well enough for a five or six, if you ask us (or ask Arizona State, which absorbed a vicious 96-56 beatdown in mid-December). Once in a while the committee puts two mid-major heavies together, and might be tempted to throw A-Sun favorite Liberty into one of those sorts of matchups rather than risk a Power 5 school being dumped again by the Flames, as happened to Mississippi State in the first round last March. Much of the Flames roster has returned for HC Ritchie McKay.


At Albany...


4 Dayton (11-2) vs. 13 Belmont (9-4)...Any non-believers in Dayton merely had to watch the Flyers play in Maui during Thanksgiving week to get an idea how ornery Anthony Grant's side can be this season, especially with PF Obi Toppin nearly an unstoppable force on the blocks. A pair of OT losses to Kansas and Pac-12 contender Colorado are not enough reasons to push UD out of a protected seed. In the Ohio Valley, the beat goes on at Belmont, even with longtime HC Rick Byrd retiring. Alum Casey Alexander has moved down the street from Lipscomb (which he took to the NIT finals last spring), and the Bruins look much the same as ever. Also watch Eastern Illinois and Murray State (even minus Ja Morant) in the OVC.


5 Memphis (12-1) vs. 12 Bradley (10-4)...All of the James Wiseman news has distracted a bit from the splendid job being done in the Bluff City by Penny Hardaway, who has plenty of other talent on his roster and might be the team to beat in the American. The Tigers could easily move into protected seed territory by our next update. Last year Bradley was an upset winner at Arch Madness in St. Louis; winning the Missouri Valley wouldn't come as such a shock this March for the Braves. Still lurking is Loyola-Chicago, maybe not a Final Four threat like two years ago, but likely to be in the mix all season in the Valley.


At Tampa...


2 Auburn (12-0) vs. 15 North Dakota State (9-5)...Who would have guessed that Auburn, with considerable personnel outflow from last spring's Final Four team, and San Diego State would be the only unbeaten college teams entering January? Believe it, as Bruce Pearl has reloaded on the fly, though getting back a healthy C Austin Wiley and F Daniel Purifoy beyond suspension issues has helped. We'll see how the Tigers hold up as SEC wars begin. In the Summit, NDSU was a surprise winner of the tourney last season, but with much the same lineup in tow, a repeat would not come as much of a surprise. Omaha, Fort Wayne, and Oral Roberts loom as top challengers.


7 Seton Hall (9-4) vs. 10 Stanford (11-2)...A tough early slate plus an absence of star G Myles Powell for a handful of games suggests the Hall is actually doing pretty well with its 9-4 SU mark into January. Powell is now back and scored 27 in Monday's fightback win over DePaul, and remember the Pirates upset Maryland when minus Powell on Dec. 19. Stanford took a good licking at home last Sunday vs. third-ranked Kansas but has been a pleasant surprise in the Pac-12, the only other loss coming by 1 point in Kansas City vs. Big East favorite Butler.


At Greensboro...


3 Maryland (11-2) vs. 14 Georgia State (9-4)...Marc Turgeon's Terps expected to be good this season and have not disappointed; the back-to-back losses in mid-December vs. Penn State and Seton Hall probably denied Maryland the top spot in the polls at the end of the month. The Sun Belt race looks completely up for grabs as even teams at the bottom of the table in the early going such as Texas State, ULM, and UT-Arlington could prose problems. But even with long-serving HC Ron Hunter having moved to Tulane, it would be no surprise if Georgia State makes it back to the Dance under new HC Rob Lanier, a longtime Rick Barnes disciple at Texas and Tennessee.


6 Penn State (11-2) vs. 11 East Tennessee State (13-2)...Here's one of your pleasant surprises of the season, as Penn State has moved into the national rankings and temporarily taken HC Patrick Chambers off of a rumored hot seat. Good wins for the Nittany Lions include Georgetown, Syracuse, Alabama, and a rousing win at the Bryce Jordan Center vs. then-4th ranked Maryland on Dec. 10. The frontline combo of Fs Lamar Stevens & Mike Watkins is fierce. The SoCon looks like it could become a three-team dogfight between ETSU, Furman, and UNC-Greensboro, with the possibility all among those could also warrant some at-large consideration. At the moment, a measured vote for Steve Forbes and his Bucs.


MIDWEST REGIONAL (Indianapolis-Lucas Oil Stadium)
At St. Louis...


1 Kansas (10-2) vs. 16 Campbell (9-3)/Grambling (6-7)...Even with last week's loss at an aroused Arizona State (which beat the Jayhawks for a second straight year), KU, at least for the moment, doesn't figure to budge off of the top line. St Louis is a little farther from Lawrence than Kansas City, but Jayhawks fans have swarmed to to the 'Lou in big numbers during March in past years. The Big South looks a grab-bag for the moment, as many expected Radford to emerge form the pack. Entering January, however, the Campbell Camels have been a surprise, more so in the wake of high-volume scorer 5-9 G Chris Clemons having graduated. Still, we can envision the Big South involved in one of the 16 vs. 16 First Four games at Dayton. At 6-7, Grambling was the closest thing to a .500 team entering January for the SWAC, destined for another 16 vs. 16 play-in game.


8 Marquette (10-2) vs. 9 Utah State (13-2)...Lots could still happen in the Big East race where every team believes it has a chance to qualify for the Dance. What every team doesn't have is a scoring force like G Markus (with a "k") Howard, who remains Wojo's ace in the hole for Marquette. In the Mountain West, the emergence of San Diego State has pushed Utah State back in the league queue for the moment, but Craig Smith still has much of the roster that qualified for the Dance last March, led by reigning Mountain MVP G Sam Merrill (though injuries are causing some worry at the moment for Utags).


At Omaha...


4 Michigan (10-3) vs. 13 La Tech (10-3)...Those who wondered about alum Juwan Howard being the right fit at Ann Arbor should have their answer by now. Howard's career on NBA sidelines seems to have translated to the college level, as the Wolverines flourished early vs. a rugged slate that included a win in the combative Battle 4 Atlantis (giving top-ranked Gonzaga its only loss to date). In C-USA, Western Kentucky seemed the team to beat until the season-ending injury suffered by NBA prospect 7-0 soph C Charles Bassey. Now, Eric Konkol's La Tech gets our measured vote in what should be a wide-open race. It has also been along while since C-USA was a multi-bid league.


5 Virginia (10-2) vs. 12 Bowling Green (9-4)...The defending national champ Cavs are certainly in the mix for a protected seed, though with Syracuse and North Carolina in the midst of down seasons, Tony Bennett's team doesn't have its usual satchel of quality wins into January. That can change in ACC play, especially with the nation's top-ranked scoring defense, but we'll wait a bit before moving UVa up to protected seed status. The MAC looks a wide-open race with Akron, Toledo, Eastern Michigan, and perhaps Buffalo all rating strong consideration. As might Bowling Green, which has only lost once (vs. LSU) when star G Justin Turner, who just returned to active duty, has been in the lineup.


At St. Louis...


2 Butler (13-1) vs. 15 New Mexico State (9-6)...Put LaVall Jordan on a short list for Coach of the Year consideration as his Butler side has only lost once (by 1 point vs. highly-ranked Baylor) in a tricky pre-league slate. It got a bit hairy in the Big East opener vs. St. John's on Tuesday but the Bulldogs survived, with sr. G Kamar Baldwin setting the pace on both ends of the court. In the WAC, NMSU has dealt with some backcourt injuries and thus undershot expectations in pre-league play, but should begin to rack up some Ws as conference action commences. Note that top WAC challenger Cal Baptist is still ineligible for the Dance as it completes its transition phase from D-II, though the Lancers can compete in the CIT or CBI come March.


7 Texas Tech (9-3) vs. Indiana (11-2)...This matchup would certainly keep the attention of Bob Knight, and would add some extra zing to the sub-regionals. We're expecting Chris Beard to rally his Red Raiders, though they have dropped a notch or two from the national finalist of last spring. Recent results, including a romp past then top-ranked Louisville on Dec. 10 (which broke a 3-game losing streak), suggest Tech is back on course. We've docked IU a few lines after last weekend's home loss to Arkansas, and only a smattering of quality non-league wins despite its 11-2 SU mark out of December.


At Spokane...


3 Oregon (11-2) vs. 14 Wright State (12-3)...We're more bullish on the Pac-12 than we have been in recent seasons and have to admire the quick rebuild done by Dana Altman with Oregon, who has blended high-rated newcomers and some impact transfers around sr. PG Payton Pritchard, whose leadership value is incalculable. In the Horizon, Scott Nagy's Wright State looks like it can get back to the Dance after settling for an NIT bid last March. The Youngstown State Penguins and Northern Kentucky Norse are the only other Horizon sides entering January with better than .500 SU records.


6 Kentucky (9-3) vs. 11 Texas (10-2)...Keep Coach Cal out of Las Vegas after his Cats lost a couple of games there in mid-December against Utah and Ohio State. (Spokane or anywhere else would be fine!) Though formidable, this does not look among the best Calipari UK editions, but if the Cats develop more-consistent 3-point shooting, they could rally into the Dance, which Cal's teams have done before. There are some in the Big 12 who believe Shaka Smart is under some pressure to forge a breakthrough at Texas. A recent lopsided loss at Providence has ramped up the pressure, though the Horns have couple of quality wins vs. Purdue and Georgetown as they enter conference play.


WEST REGIONAL (Los Angeles-Staples Center)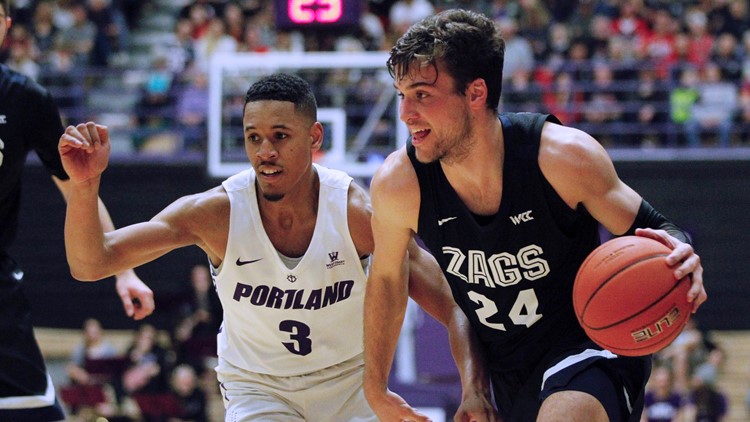 1 Gonzaga (14-1) vs. 16 Northern Colorado (8-5)...We could certainly put the Zags into the Spokane sub-regional, for which they are eligible because it is being held at the Spokane Arena, only about a mile from campus but not the homecourt McCarthey Center. Whatever, Mark Few has another serious title contender, with more experience than it seems with upperclass transfer guards who have been through the wars elsewhere and several capable reserves from last season now flourishing. Gonzaga's assembly line of bigs, led by NBA prospect F Killian Tillie, will be a load come march. The Big Sky lacked definition in pre-league play and we suspect most of the league believes it has a chance. For the moment, we'll list our preseason choice, Northern Colorado, though things can change quickly in this loop.


8 Creighton (11-2) vs. 9 Iowa (10-3)...Greg McDermott looks to have another squad of capable shooters to lead the Bluejays back to the Dance, but caution that things can change quickly in this season's version of the Big East, with no weak links apparent into January. Fran McCaffery usually has his Iowa side near the pace in the Big Ten and this season looks another example. Losses to DePaul, San Diego State, and Michigan are not nearly as damaging as they might have seemed before the season began. Note Hawkeye C Luke Garza has a 44-point game (against Michigan) under his belt!


At Spokane...


4 Florida State (12-2) vs. 13 Hofstra (11-4)...We could certainly see FSU in the Tampa sub-regional instead, though sometimes the selection committee throws a curveball with the seedings and actually rewards a deserving five seed with what would seem a regional edge (read onward). That the Noles might be a protected seed, however, seems reasonable considering a good non-league performance from Leonard Hamilton's troops and some adjustments elsewhere in the ACC. We think Hofstra rates the favorite tole in the Colonial, as Joe Mihalich's team seems on the upswing with the best collection of guards in the league, led by srs. Desure Buie & Eli Pemberton.


5 Arizona (10-3) vs. 12 Oklahoma (9-3)/LSU (8-4)...We're still not quite sure how Sean Miller has kept his job at Arizona amid all of the off-court noise, but he's not only stayed in the saddle, but quickly rebuilt the Cats into a Pac-12 contender thanks in part to star frosh PG Nico Mannion. Spokane would be a preferable regional assignment for Arizona, even if it doesn't get a protectred seed. Meanwhile, If we got Oklahoma and LSU in an at-large play-in game at Dayton, it would be an intriguing cross-sport payback opportunity for the Sooners after their football team was swamped by the Tigers in the recent CFP Peach Bowl in Atlanta.



At Tampa...


2 Louisville (11-2) vs. 15 UCSB (10-4)...Count the 'Ville as one of the handful of teams to briefly hold the top spot in the polls earlier this season. But losses to Texas Tech at Madison Square Garden and then at Kentucky in recent weeks have moved the Cards off of our top line, at least for now. Out in the Big West, they're still smiling that UC Irvine got a rare (for these days) Big Dance win for the league last March against Kansas State. The Anteaters, however, look down a notch (especially with key G Max Hazzard now at Arizona), with Joe Pasternak's UCSB Gauchos rating the edge as league play commences. UCI, Hawaii, and UC Riverside look most likely to stay in the regular-season race.


7 Arkansas (11-1) vs. 10 DePaul (12-2)...Two of the better storylines in the nation right here. Especially at Arkansas, where Eric Musselman is waving the same magic wand he did at Nevada four years ago to forge an immediate turnaround for the Wolf Pack. Sunday's win at Indiana prompted us to move the Razorbacks to a single-digit seed, as Musselman is doing a lot more with much the same roster that underachieved for Mike Anderson last year. A better story might be in the process of being written at DePaul, as Dave Leitao, in his second tour of duty, seems poised to lead the Blue Demons to the Dance for the first time since 2004 (Leitao's first term). A tough loss on Monday vs. Seton Hall doesn't detract from one of the best narratives of the first two months of the season.


At Sacramento...


3 San Diego State (14-0) vs. 14 Stephen F Austin (11-2)... As noted earlier when mentioning Auburn, who before the season would have guessed Bruce Pearl's rebuilt Tigers and these Aztecs would be the unbeaten teams coming out of December? Transfer Gs Malachi Flynn (Washington State) & K.J. Feagin (Santa Clara) have helped fuel the renaissance for Brian Dutcher at Viejas Arena. As for SFA, the Duke conquerors look the favorite in the Southland, whose reps (including the 'Jacks) have caused problems in the Dance before.


6 Wichita State (12-1) vs. 11 Washington (10-3)...Quietly surging after some shaky early performances, Gregg Marshall once again has Wichita on the upswing entering American play. The Shockers got a boost when C Jaime Echenique returned to active duty earlier in the season after missing some early action with a hand injury. Another Pac-12 team to watch is Washington, which has a collection of burgeoning frosh frontliners for HC Mike Hopkins who could turn the Huskies into a feared force by March (they weren't bad in November or December, either).

Last four byes: Florida, Washington, Texas, BYU.


Last four in: St. John's, VCU, Oklahoma LSU.


Last four out: Georgetown, Houston, Virginia Tech, Temple.


Next four out: Minnesota, TCU, North Carolina, Utah.
Return To Home Page