8385...
NEW TGS HOOPS
...FRACAS AT THE PHOG AND BRACKET UPDATE

by Bruce Marshall, Goldsheet.com Editor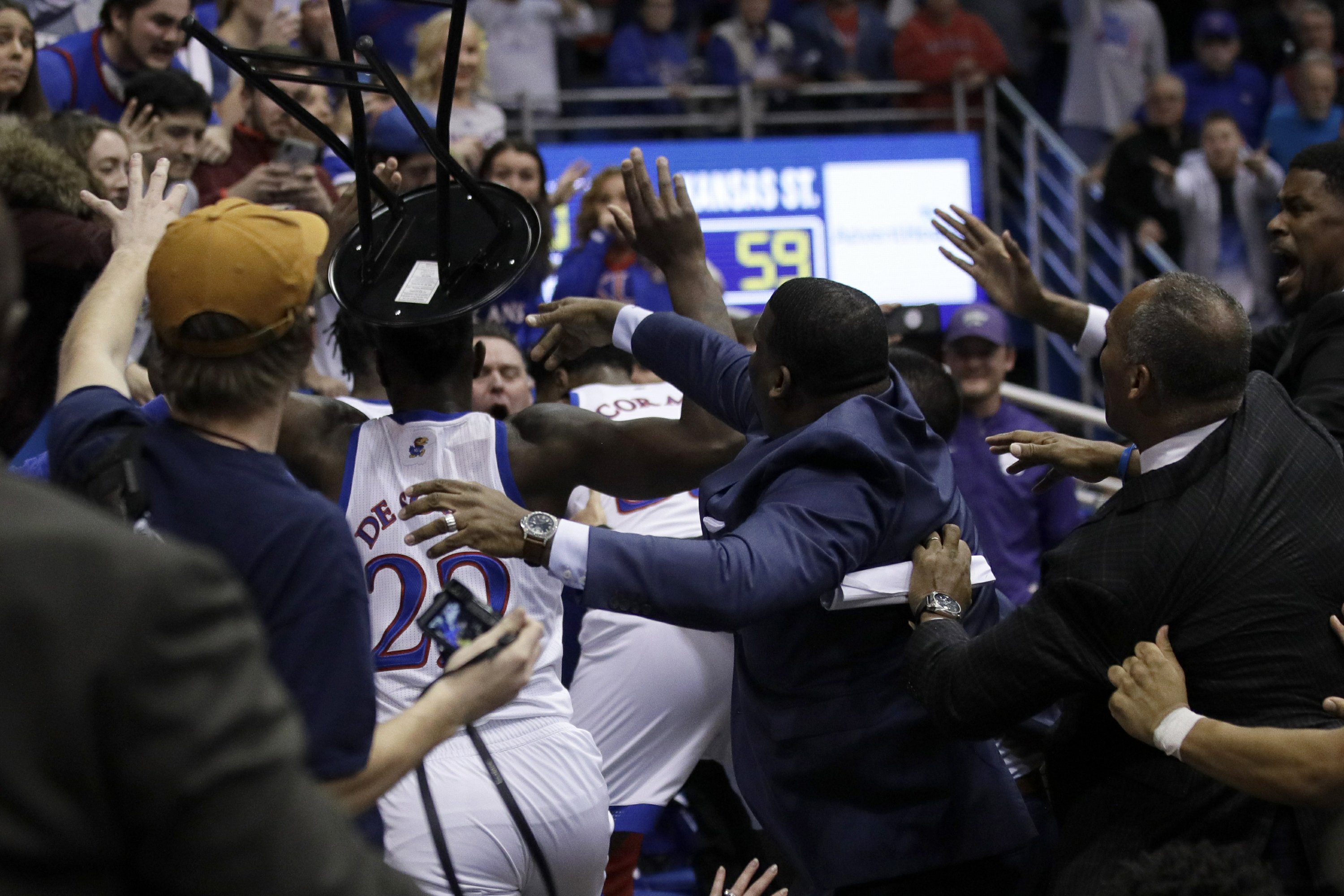 Like baseball fights, most basketball fights tend to be much ado about nothing. Rarely does anyone really get hurt. But, sometimes, things can get ugly. In the pros, the first thing that comes to mind is the raucous Pacers-Pistons melee from November 2004. And there have been a couple of college basketball brawls in the past decade (Cincinnati-Xavier and Texas Tech-Oklahoma State) that also pushed things to the edge because fans either indirectly, or directly, became involved in the fracas.


That's where the line has to be drawn in such melees, and one in which Kansas and Kansas State crossed on Tuesday night at Phog Allen Fieldhouse in Lawrence.


How these particular fisticuffs began in the first place was rather ridiculous. This was not a brewing situation over the course of the contest. Kansas was comfortably ahead for most of the game and about to put the finishing touches on a satisfying win (81-59 at the time) while bouncing out the last few seconds on the clock. Usually, losing teams will wave the white flag in those circumstances and allow the game to mercifully complete, the winning team (Kansas in this case) content to just dribble in place and let the last few seconds tick off of the clock.


But in this case, the Wildcats DaJuan Gordon was determined to play out the final seconds, even as HC Bruce Weber had waved off his team with instructions to let the clock expire. Gordon stripped Jayahwks frontliner Silvio De Sousa, who was expecting the clock to uneventfully run out in a few seconds, of the ball. It was a breach of hoops etiquette by Gordon. De Sousa became incensed, however, and when Gordon went in for a layup in the last second, De Sousa was having none of it and planted Gordon and his shot on the floor. Enraged, De Sousa taunted and barked at Gordon as he stood over him. In these days, that's an invitation for a quick escalation of hostilities. Soon the fracas began.


Things got ugly in a matter of seconds as the melee moved behind the basket and into the crowd, into a seating area for disabled fans. It all was happening in a flash as the benches spilled onto the court and into the wild fisticuffs. Punches were suddenly flying and De Sousa even lifted a chair above his head and appeared ready to use it as a weapon. It was mayhem for maybe 12-15 seconds, but that's all it takes for control to be lost.


Whenever one of these melees spills into the crowd, we at TGS are old enough to remember perhaps the most-frightening and disturbing incident in our 63 seasons of publishing. And why it's always a good idea to remind those who just wave off these fights as entertainment that the line between a routine brawl and mayhem can be a fine one. Which is why memories of Ohio State-Minnesota 1972 occasionally need to be dusted off to remind fans and the bettors in the sports books that this stuff can get very serious.


While memories of Ron Artest's NBA adventure into the stands in Auburn Hills from 15+ years ago remain fresh in the minds of many, any college basketball insider on ESPN or elsewhere ought to be able to quickly cite the dangers of crowd involvement by recalling events of that infamous Buckeyes-Golden Gophers brawl in '72. Which was perhaps the ugliest and most-dangerous situation we recall in all of college hoops history (perhaps even American sports history, certainly during our TGS publishing years since 1957) because of an unruly crowd that became part of the mayhem that night at Williams Arena, when it was fortunate that Ohio State's Witte (who was rushed to the hospital) and other Buckeyes avoided more serious injury. And, especially in Witte's case, coming out of the altercation alive.


True, there are a couple of distinctions that need to be made regarding the Artest incident from November of 2004, and the Ohio State-Minnesota melee. In the former, it was Artest and the on-court fight spilling into the stands and eventually involving spectators. It was the opposite in Ohio State-Minnesota; the attack (it wasn't really a fight), instigated by the Gophers' Corky Taylor, started on the floor, and the fans then came onto the court to cause, effectively, a small-scale riot.


The bottom line is that there are unknown dangers to all whenever fans become involved in such situations with players, and such disturbances must be avoided at all costs. Once the fighting leaves the court and gets into the crowd, control is too easily lost...and that's where these situations can become scary.


Fans simply cannot get in the middle of such battles. Anyone who has ever seen the mayhem that can be caused by a large crowd would have to realize the potential dangers. Though circumstances were not exactly the same, there are some parallels to the examples that have taken place in Euro soccer at Heysel Stadium (in Brussels, during the 1985 European Cup final between Juventus and Liverpool) and Hillsborough (Sheffield, England, for an FA Cup match in 1989) in the '80s, and the carnage that ensued (try hundreds of casualties), underlining grave dangers that are caused by, first, an agitated mob, and second, too many people in a limited amount of space. (There are various other examples from world soccer over the decades as well.)


Situations in a jam-packed basketball arena, like Lawrence's Phog Allen Fieldhouse, are not terribly different. When a melee like Kansas State-Kansas spills into the stands, whether or not the fans had anything to do with the incident, always threatens to have catastrophic consequences. We were darned lucky something worse didn't transpire in Lawrence last Tuesday night.


The danger of situations like Kansas State-Kansas is that they can quickly escalate into something much worse, like what we saw in Minneapolis in January of 1972.


The atmosphere was heated that night at Williams Arena ("The Barn" was even considered a relic 48 years ago), with the crowd whipped into a frenzy for a Big Ten showdown between the Gophers and Buckeyes. First-year Minnesota coach Bill Musselman had loaded his roster with juco transfers to create the most-intimidating (in a physical sense) team of the early '70s. The Gophers were urban and hip and brash and played with a collective chip on their shoulders. Whereas the Buckeyes were more of the old-fashioned, button-down variety college hoops team. Ironically, Fred Taylor's OSU side that season included only a pair of African-American players, Wardell Jackson and Benny Allison, although the Buckeyes had long fielded integrated teams.


It has been said that racial tensions might have had something to do with the on-court explosion that night which occurred with 36 seconds to play and OSU ahead by a 50-44 count. After being involved in a minor incident with Minnesota's Bobby Nix on the way to the locker rooms at halftime, aformentioned Buckeye C Luke Witte was fouled viciously on a lay-up try by balding Gopher PF Clyde Turner (whom we always believed was one of the oldest-looking college players of the era, bearing a remarkable resemblance to The Spinners' lead singer Philippe Wynn), while Turner's teammate Corky Taylor participated in the further butchering of Witte by belting the big Buckeye on the ear with a roundhouse right just after Luke was clocked by Turner. Crumpled to the floor, Witte was slow to get up when Taylor offered what seemed to be a sporting gesture to help him to his feet. Except that Taylor, in a move that would have been heartily endorsed only by Vince McMahon and a few pro wrestling aficionados, instead kneed the prone Witte in the groin.


Soon fists were flying everywhere and the animals in the Williams Arena crowd joined in the melee. Witte, badly hurt and writhing in pain on the floor, was subsequently stomped by Gopher Ron Behagen, who rushed from Minnesota bench to mete out his own punishment on the Ohio State center. After several stomps to Witte's head, Behagen was pulled off by Buckeye coach Fred Taylor, who might have saved Witte from grievous injury, although Behagen was indignant. "Let me go, man, let me go!," yelled Behagen to the Buckeye coach, himself a pretty rough character who was not about to watch his star center get beaten to death.


Meanwhile, the melee had extended to other parts of the court, where Minnesota fans had joined the fray. Coming to the aid of stricken teammate Witte, Buckeye Dave Merchant was pummeled by another Gopher, Jim Brewer. The balding Turner also got in his licks. Toward midcourt, Ohio State sub Mark Wagar was being attacked by various Gopher players and fans. One of the Gophers was none other than forward Dave Winfield (yes, that Dave Winfield), who landed four or five blows to the head and face of the prone Wagar. While the dazed Wagar was trying to escape, he was belted by several more Gopher fans, who by this time were all over the court.


With almost no security personnel on hand, it was up to a couple of coaches and administrators and a few good-doers from the crowd to try to restore order. The final 36 seconds of the game were never played, with OSU declared a 50-44 winner. Carried by teammates from the floor, Witte was booed by the Minnesota crowd, which threw objects at him as he was helped from the court. Big Ten Commissioner Wayne Duke subsequently suspended Behagen and Taylor for the remainder of the season, though Brewer and Winfield, their actions not caught by cameras, escaped similar punishment.


Indeed, Winfield's active participation in the brawl has gone mostly unnoticed since by the majority of media personnel; when once bringing up the fact on a sports talk show, late L.A. sports radio personality Joe McDonnell was indignant, insisting that Big Dave was never involved in the fracas. "Big Joe" was simply unaware, we believe, though we wonder what sort of direction Winfield's eventual Hall of Fame baseball career would have taken had he been as closely linked with Corky Taylor and Ron Behagen to the brawl.


This wasn't a run-of-the-mill brawl in 1972 at Minneapolis; it was a public mugging instead.


Three Buckeyes, including the badly-injured Witte, who spent the night in intensive care, went to the hospital for their injuries. Witte, who needed 29 stitches to close facial cuts while also suffering a scratched cornea, was never quite the same player afterward. The Buckeyes were also not the same team thereafter in the 1971-72 season, fading out of contention in the Big Ten while Musselman's deep and intimidating Minnesota squad eventually gained its bearings and won the conference, advancing to the Big Dance where it was eliminated by eventual NCAA finalist Florida State.


As for Witte, considered one of the top big men in the country at the time, his career was never the same, although he did eventually play for a brief time in the NBA with the early versions of the Cleveland Cavaliers.


Parallels between Kansas State-Kansas and Ohio State-Minnesota melees are a bit stretched, though Tuesday's "Fracas (Phracas?) at the Phog" did not quite meet the mayhem threshold that Buckeyes-Gophers exceeded in 1972. Only by the grace of God, perhaps. Wayne Duke's season-long suspensions of Taylor and, however, were not replicated by the Big 12, which has doled out four lesser suspensions to players involved (two from each side), with De Sousa's 12-game suspension the most-severe penalty. Kansas, jockeying for a number one seed in The Big Dance, should have De Sousa eligible again for the last regular-season game. Whatever, we thought the suspensions for Kansas State-Kansas, especially De Sousa, were actually rather light.


Boys, it can be said, will always be boys, but it's the atmospheres surrounding athletic events that can often contribute more to the sense of imminent hostility, where one flashpoint can trigger an eruption. What must be avoided at all costs are atmospheres that are conducive to violence. It does not take much for an on-court fight to mushroom into something much uglier; when crowds become involved, complete control is lost.


Kansas State-Kansas just missed from escalating into something far worse, along the lines of Ohio State-Minnesota 1972. Let's just hope we don't have to recall the names of Corky Taylor, Ron Behagen, and Luke Witte anytime soon in relation to a new basketball brawl.


BIG DANCE BRACKET UPDATE!

We're preparing a new full Bracketology report, but in the meantime, as promised, we'll be providing at the least the following "Bracket Update" each week into Selection Sunday. Here's how we see the "seeds" as of January 22...


1...Baylor-Kansas-Gonzaga-San Diego State
2...Duke-Michigan State-Louisville-Florida State
3...Dayton-Butler-West Virginia-Auburn
4...Villanova-Maryland-Seton Hall-Oregon
5...Kentucky-Iowa-Colorado-Arizona
6...Wisconsin-LSU-Wichita State-Penn State
7...Rutgers-Houston-Creighton-Marquette
8...Stanford-Texas Tech-Illinois-Memphis
9...Arkansas-Alabama-NC State-Ohio State
10...Indiana-Michigan-Liberty-USC
11...Loyola Chicago-Saint Mary's-VCU-Virginia Tech
12...East Tennessee State-Akron-Oklahoma*-Xavier*-BYU*-
13...North Texas-New Mexico State-Colgate-Stephen F Austin
14...UC Irvine-William & Mary-Wright State-Winthrop
15...Vermont-Murray State-Little Rock-South Dakota State
16...Princeton-Northern Colorado-Robert Morris*-Texas Southern*-Norfolk State*-Monmouth*


*- Play-in games at Dayton.


Last four in....Oklahoma, Xavier, BYU, Mississippi State


First four out...Virginia, Washington, Georgetown, Minnesota


Next four out... Purdue, DePaul, Richmond, Furman
Return To Home Page