8394...
TGS SPECIAL REPORT...
UPDATED FEBRUARY "BRACKETOLGY"

by Bruce Marshall, Goldsheet.com Editor

As promised a few weeks ago, we're going to continue updating our TGS "brackets" each week until Selection Sunday (which is suddenly looming on the horizon) and present another comprehensive review below. In coming issues we will continue to provide weekly bracket updates and will also begin to preview conference tourneys as we get deeper into February.


Remember, for all of our "bracketology" updates, the term "protected seed" refers to seeds 1 thru 4 in each region, and likely favorable geographic placement in the sub-regional round.


As usual, we break down the projected matchups by each region; this season, things start a week alter than a year ago. The Dayton "First Four" games will be played March 17-18; sub-regional action commences on March 19, with the Final Four April 6-8 in Atlanta. Straight-up records thru February 5. Selection Sunday, or the college hoops equivalent of Christmas, will be here before you know it, on Sunday, March 15.


EAST REGIONAL (New York City-Madison Square Garden)

At Spokane...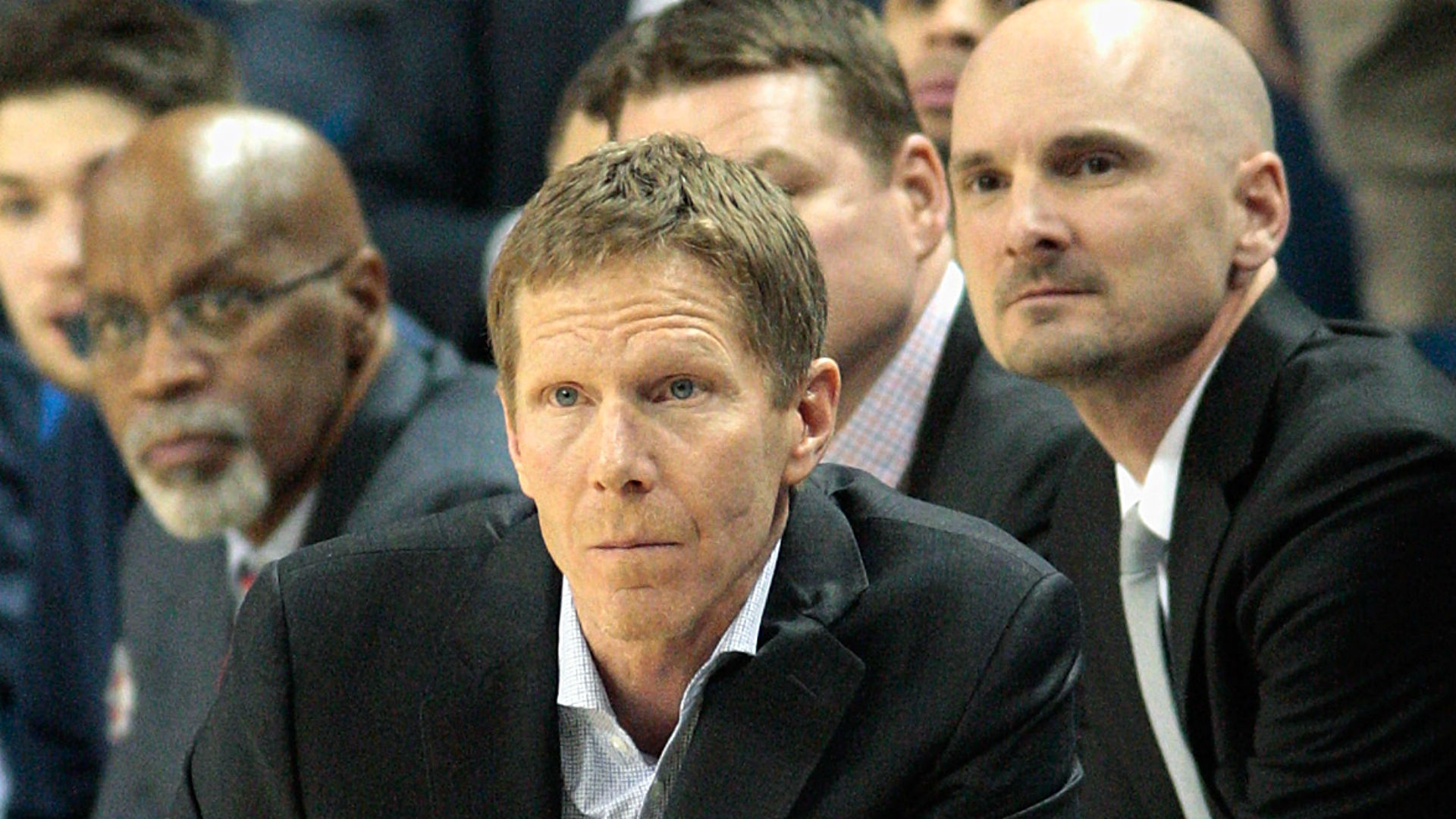 1 Gonzaga (23-1) vs. 16 William & Mary (16-6)...A populist movement among pollsters has usurped the number one national ranking from the Zags, but for the moment there is no threat to Mark Few's team staying on the top line. What is possible is for Gonzaga to get moved out of the West should San Diego State continue unbeaten, but that's probably not going to change the Zags' sub-regional destination about a mile from campus at the Spokane Arena. More drama in the Colonial where William & Mary will try for its first-ever Big Dance bid and leave St. Francis-NY as the only school to miss every single NCAA Tourney since its inception in the late '30s. The Tribe only rates a slight favorite over Charleston, Hofstra, Towson, and Delaware for league tourney festivities to take place this March in Washington, D.C.


8 Texas Tech (14-8) vs. 9 USC (17-5)... We might be over-seeding Tech a bit here based upon its so-so SU mark into mid-February. But we can project a bit here in Bracketology, and with the Big 12 looking not quite as deep as we envisioned in November, a good pre-league win vs. Louisville, and a few more chances for quality wins in conference play, the Red Raiders look a more-like 8 or 9 seed to us. We think SC is in good shape, too, though it was unimpressive last weekend at home vs. Utah and Colorado, and that loss to the Buffs, along with previous blowout losses vs. Marquette and Washington, gives the Trojans a trio of 20+-point losses into early February, Not something we normally see from a projected single-digit seed with more than a month to go before Selection Sunday.


At Omaha...


4 Michigan State (16-7) vs. 13 Yale (16-4)...Seven losses, the latest of those vs. Penn State at midweek, have pushed the Spartans down the seeding queue. But Tom Izzo's bunch remains in protected seed territory into mid-February because of wins against Seton Hall, Illinois, Wisconsin, and two over Minnesota. Meanwhile the Ivy race has finally begun after its usual late start, and Yale has picked up where it left off last season with a quick 4-0 break in loop action. We'll find out more about the Eli on Friday against Harvard, and for the moment they're the Ivy team to beat, but will probably have to get by Tommy Amaker's Crimson on Harvard's home floor in the Ivy Tourney to advance to a second straight Dance.


5 Butler (18-5) vs. 12 Memphis (16-5)/Florida (14-8)...Not long ago, Butler was looking more like a 2 or 3 seed, but four losses in a recent 6-game stretch amid a defensive downturn might have pushed the Bulldogs out of a protected seed. That's why the midweek win over Villanova was extremely important for LaVall Jordan's crew. Florida had a more severe problem at midweek when it was trailing Georgia by double-digits, but did rally past the Bulldogs to stay on the safe side of the cut-line (albeit barely). We're still only putting the Gators in an at-large play-in spot because their candidacy really has only one marquee win (Auburn) to date. Memphis is in a similar predicament especially after a lopsided recent loss to Tulsa, but the NET rating is still smiling enough upon the Tigers to keep them in the far reaches of the field.


At Greensboro...


2 Duke (19-3) vs. 15 Little Rock (17-7)...Some things seem to stay the same each year, and one of those is Duke, whose roster names have mostly changed since last season but with the same look on the bench (namely, Coach K) that has become a March staple. What is different about this season, however, is an ACC downturn, which we will amplify upon a bit more as we get further into the brackets. The Sun Belt race has turned into a Little Rock party, with the Trojans 2 ½ games ahead of the chasing pack into the second weekend of November. In truth, however, all that is likely to get UALR is the top seed in the Belt Tourney at New Orleans, which has featured plenty of surprises in recent years.


7 Ohio State (15-7) vs. 10 Mississippi State (14-8)...What a rollercoaster this season has been for the Buckeyes, who looked a contender for the top line into mid-December, yet barely a month later were into some legitimate bubble trouble. Now, however, OSU has stabilized into early February with three good wins in a row, including back-to-back over Indiana and Michigan, though there are few soft touches in this season's Big Ten. The inanity of the new NET calculations will apparently punish a team like Ben Howland's MSU that crashes the offensive glass, but this has evolved into one of the SEC's better offenses with F Reggie Perry emerging as a lethal threat, and we expect the Bulldogs will move onto firmer ground in the next few weeks.


At Albany...


3 Seton Hall (16-5) vs. 14 Bowling Green (17-6)...It says something about the quality of Seton Hall that the Pirates appear to be a lock for the Dance more than a month before Selection Sunday in one of the least-forgiving leagues in the nation. But the Pirates have a difference-maker in G Myles Powell and have endured very few slips. Meanwhile in the MAC, Bowling Green has recently made a dramatic surge with an 8-game win streak (ended midweek at Central Michigan) that has roughly coincided with the return to active duty of high-scoring G Justin Turner.


6 Houston (17-5) vs. 11 Furman (19-5)....Houston might lack a true marquee win but has enough borderline-good wins to keep the Cougs in good favor with the Selection Committee. Though we have pushed Kelvin Sampson's team up the board just as bit, UH has closed fast the past two seasons and seemed primed to hit match with a good head of steam once more. The SoCon looks to be a mid-major that might get some extra attention from the Committee thanks to Wofford's opening-round win last March and strong showings to date from Furman and East Tennessee State. For the moment, a measured vote for the Paladins to emerge from the league tourney in Asheville.


SOUTH REGIONAL (Houston-Toyota Center)

at Omaha...


1 Baylor (20-1) vs. 16 Monmouth (13-9)/North Carolina A&T (12-12)...Baylor's story remains one of the most-remarkable of this season as the top-ranked Bears have actually yet to lose in the continental USA (the lone loss back on November 8 came in Anchorage against the Washington Huskies). Remarkably, the Bears have yet to lose as a true visitor! With the Metro-Atlantic not featuring any clear favorite, King Rice's Monmouth has emerged as the leader, though a 16 vs. 16 play-in assignment likely looms. Meanwhile, as usual, the MEAC, with only two teams as good as .500 overall entering this weekend, seems destined for a 16 vs. 16 play-in game, with NC A&T looking the favorite for this March's league tourney at the Norfolk Scope, once a futuristic-looking place 50 years ago when the Virginia Squires of the ABA called it one of their home courts (and a young star named Julius Erving began to light things up in the 1971-72 season).


8 Rutgers (16-7) vs. 9 Northern Iowa (20-3)...Even after competitive back-to-back losses to Michigan and Maryland, we have only moved the surprising 'Gers down to the 8-line, but caution that the Scarlet Knights still have some work to do to secure their first Big Dance bid since 1991. Rutgers has already been ranked in the Top 25 for the first time since 1979. As for UNI, it has taken charge of the Missouri Valley race and could be in position for an at-large bid if Loyola-Chicago, Indiana State, Drake, or last year's surprise winner Bradley rise up for an upset in Arch Madness at St. Louis.


At Tampa....


4 LSU (17-5) vs. 13 Liberty (21-3)...Right as we move LSU into protected seed territory, the Tigers go out and lose a game at Vanderbilt, which hadn't won an SEC game in almost two years! Nonetheless, LSU was probably due a mulligan, and still leads the SEC into this weekend. Ritchie McKay's Liberty can't say the same at the moment in the Atlantic Sun with North Florida running neck-and-neck into this weekend, but the Flames have most of their team back from last March that won a game in the Dance (a first in school history) against Mississippi State. With one of the nation's top scoring defenses, Liberty could be a tough out again in March if it can survive the A-Sun Tourney.


5 Creighton (17-6) vs. 12 Vermont (18-6)...With six Quad 1 wins and a recent romp past Villanova on the road, Creighton is no longer flying under the radar as Greg McDermott looks to have another dangerous Big Dance entry. In the America East, Vermont remains the favorite to make a return to the Dance, even though it Stony Brook has been offering a spirited chase in the conference road. No surprise if those two hook up in the A-East title game in March.


At Cleveland...


2 Dayton (20-2) vs. 15 Murray State (17-5)...Could Dayton actually end up on the top line? Perhaps so, as by now the Flyers have long-since proved they belong among the nation's elite, which was evident as far back as the Maui Classic when taking Kansas into OT. In the Ohio Valley, Murray State might not be as dangerous as it was a year ago when Ja Morant terrorized Marquette in the sub-regionals, but the Racers still look like they'll be favored in the conference tourney at Evansville's Ford Center March 4-7. Don't forget the OVC sent two teams (Murray State and Belmont) to the Dance last March.


7 Colorado (17-5) vs. 10 Indiana (15-7)...Colorado's chance to wear its home whites in the first round was looking a bit iffy after yet another stub of its toe on the road last week at UCLA, but a 21-point romp over USC suggests CU can indeed play away from the Coors Center and joins earlier wins over Dayton and Oregon to create a nice tourney profile for Tad Boyle's perimeter-oriented team. Indiana also hasn't played well in true road games (just 1-5) and therein could be the banana peel that could still land the Hoosiers on the wrong side of the cut-line. IU's remaining Big Ten schedule is full of hurdles, especially with Northwestern and Nebraska already out of the way.


At Tampa...


3 Florida State (19-3) vs. 14 North Texas (14-9)...There seems little question that Leonard Hamilton's FSU will be a protected seed and in the preferred Tampa sub-regional. Is it too much for Noles fans to think their team might make its first appearance in the Final Four since Hugh Durham's 1972 "Mod Squad" Noles? A recent 8-game win streak put North Texas atop Conference USA, but the Mean Green remains a tenuous pick to emerge from league tourney festivities at the Dallas Cowboys' Star complex in Frisco in March after losing at lowly-regarded Rice last weekend.


6 Illinois (16-6) vs. 11 Tulsa (15-6)...After being a Big Dance afterthought in mid-December following a loss to Mizzou in St. Louis, the Fighting Illini rolled off wins in 8 of 9, several of those on the treacherous Big Ten (ask Michigan). But last Sunday's loss at Iowa isn't enough to penalize Illinois a seeding line. At the moment, Tulsa actually sits atop the American, and of course can earn the auto bid at the conference tourney at the new Dickies Arena in Fort Worth, but we think the sneaky-good Golden Hurricane can stay on the safe side of the cut-line into March.


MIDWEST REGIONAL (Indianapolis-Lucas Oil Stadium)
At St. Louis...


1 Kansas (19-3) vs. 16 Robert Morris (12-11)/Texas Southern (10-12)...No surprise to see Kansas hanging around the top line, and the Jayhawks seem almost assured of a sub-regional date at St. Louis, where upwards of 25,000 KU backers have flocked for past regionals at the Edward Jones Dome; will they have enough seats at the NHL Blues' Enterprise Center? It's been a few years since we've seen Robert Morris in the Dance, but Andy Toole once again has the home team of the Pittsburgh Airport primed to advance from the Northeast, which likely gets involved in another 16 vs. 16 play-in game. That fate almost surely also awaits the rep of the SWAC, with no teams over .500 into the first week of February; Texas Southern gets our measured vote to emerge.


8 Arkansas (16-6) vs. 9 BYU (17-7)... Arkansas has lost a few games lately in the deep and balanced SEC, but Eric Musselman still has the Porkers well-advanced from where they were a year ago. Arkansas owns a handy road win at Indiana, and has chances to strengthen its Big Dance profile in coming weeks vs. various SEC foes. BYU might be a team to avoid considering the abundance of shooters on Mark Pope's squad and one of the nation's most efficient offenses. Quick note regarding the Cougs, whose LDS affiliation prevents them from playing on Sundays. Thus, note we have placed BYU in the St. Louis sub-regional (on a Thursday-Saturday rotation) and in the Indianapolis Midwest Regional (also on a Thursday-Saturday axis).


At Albany...


4 Villanova (17-5) vs. 13 Colgate (18-6)... Nova doing it a bit different for Jay Wright this season, not hitting as many 3s as in recent years, but still mostly navigating the many mine fields of the Big East with improved rebounding and perimeter defense. It's a recipe that could get the Wildcats another protected seed. Colgate looks the clear favorite to emerge again from the Patriot after making the Dance a year ago, and the Red Raiders should not be overlooked after their win at Cincinnati (unbelievable as the last seconds of that game were) back in December.


5 Iowa (16-7) vs. 12 Stephen F Austin (19-3)...We admit to be wondering if the Hawkeyes should stay on the 5-line after their midweek humiliation at Purdue. But we're deep enough into the season where one of these results can be considered an outlier, and with Luka Garza posting such eye-opening numbers, Fran McCaffery's side still has one of the most efficient and prolific offenses in the country. Whichever Power team lands Stephen F Austin in the Dance might wish it didn't; ask Duke, shocked at home by the Lumberjacks in November pre-league play. SFA still has to get thru the Southland Tourney in the Houston suburb of Katy, but will be favored to do so.


At St. Louis...


2 Louisville (20-3) vs. 15 South Dakota State (17-8)...The 'Ville has picked a good year to rise in the ACC with the loop in an apparent downturn, and the Cards are poised to jump up to the top line with upcoming slips by any of the projected number-one seeds. Keep an eye on developments. The Summit has generally been a hand-off between the warring Dakota States (South and North Dakota) in recent years. Measured vote at the moment for the Jackrabbits, who have emerged even after the departure of several key cogs and HC T.J. Otzelberger (to UNLV), responding to promoted asst. Eric Henderson. As always, we'll watch closely at the lively Summit Tourney, which will pack 'em in once again in about 5 weeks at the Pentagon in Sioux Falls.


7 Wichita State (17-4) vs. Oklahoma (14-8)...The Shocker resume' isn't quite as powerful as the straight-up record suggests, with convincing losses to the only Top 25 teams (West Virginia and Houston) Gregg Marshall's team has faced, and only sitting at 5-3 in the American into this week. The offense has also looked a bit sluggish. We wouldn't be surprised to see Wichita slide a bit. The Committee usually doesn't like to match up teams in the first round that played in the regular season, but it's not etched in granite. Besides, we think Lon Kruger's Oklahoma is a good bet to land around the 10-line, especially with a chance to rack up some wins against a softer bottom half of the Big 12 than most expected.


At Greensboro...


3 Maryland (18-4) vs. 14 Wright State (19-5)...A sub-regional assignment in Greensboro would bring back memories for veteran Terp fans who can surely recall long-ago ACC Tourneys in the same Greensboro Coliseum, including the epic OT loss vs. NC State in '74 that prompted the NCAA to expand the Dance to 32 teams and include multiple teams from worthy conferences. Maryland has done a good job sidestepping the many potholes in the Big Ten and could warrant a spot on the 2-line. As for Wright State, it continues to set the pace in the Horizon, though Northern Kentucky might rate no worse than choice 1-B for the conference tourney that moves to Indianapolis (Farmers Coliseum, onetime home of the Indiana Pacers in their ABA days).


6 Arizona (15-6) vs. 11 Rhode Island (17-5)...Though we remain amazed that Sean Miller is still on the job in Tucson, the Cats are poised to return to the Dance and rate an intriguing darkhorse with their star frosh-laden lineup, and game-changing PG Nico Mannion. As for Rhody, we think last week's rousing win over VCU (for the second time this season) at Kingston puts the Rams on the safe side of the cut-line, at least for the moment. The dangerous Fatts Russell-led offense looks as it if can also give the Rams a chance in one of two upcoming games vs. Dayton, a great opportunity for Rhody to notch another important marquee win.


WEST REGIONAL (Los Angeles-Staples Center)
at Sacramento...
1 San Diego State (23-0) vs. 16 UC Irvine (14-9)...The Aztecs have only Mountain West teams remaining on their schedule into the Dance, and it is looking increasing likely that SDSU is going to carry an unbeaten record into March Mayhem. That certainly puts SDSU on the top line and likely keeps the Aztecs in the West Region as well. Note that the Aztecs played at LA's Staples Center (site of the Regionals) in December and blew out Utah by 28 in the process. The Big West is a jumble and if not careful could get pulled into the 16 vs. 16 play-in whirlpool at Dayton. For the moment, we suspect current frontrunner UCI (which won its first Dance game in school history last March when topping Kansas State) could probably avoid that fate.


8 Wisconsin (13-10) vs. 9 Saint Mary's (19-5)...We admit to be wondering about keeping Wiscy a) on the 8-line and b) even in the field after the midweek loss to Minnesota and various program distractions. Though the Badgers could have been a bit flat after the rousing Michigan State upset on the weekend, the schedule could certainly help Wiscy, which has already played 14 games within the NET's top quadrant and won 6 of those games. Much work to do still in Madison, but we suspect the Badgers are in better shape than their SU record suggests. The dagger-throwers from Saint Mary's have been bypassed a few times in recent years on Selection Sunday, but downturns in loops such as the ACC might be opening up a few more at-large slots for leagues like the WCC, which hasn't sent three teams "dancing" since 2012.



4 Oregon (18-5) vs. 13 New Mexico State (17-6)... With more than a month to go before Selection Sunday, Oregon has emerged as the closest thing to a lock out of the Pac-12. As sr. PG Payton Pritchard adroitly pulls the strings for the offense, the Ducks are turnover-averse and unlikely to slump in the coming weeks. Meanwhile NMSU has overcome some early-season injury woes and once again taken charge on the WCC, and the Aggies will once again be the prohibitive favorite when the loop determines its Dance rep at in March at the Orleans Arena in Las Vegas.


5 Kentucky (17-5) vs. 12 Purdue (13-10)/East Tennessee State (20-4)...Certainly time for Kentucky to move into protected seed territory, though UK not doing like most teams this season with a 3-point averse offense. But Coach Cal's team takes care of the ball, gets to the foul line, and is playing better defense than in most recent seasons. As usual, the Cats will be a tough out in March. At the moment, Purdue sits with 10 losses, but yet another eye-opening win at Mackey Arena (this one a blowout over Iowa after an earlier romp past Michigan State) further aids that Boilermaker profile that could yet press the boundaries of how many losses a team can accumulate and earn an at-large bid. With the bubble looking a bit soft, there is room for a deserving mid-major loop to send an extra team to the Dance; step up SoCon and East Tennessee State (or Furman), worthy at-large play-in candidates.



2 West Virginia (18-4) vs. 15 Eastern Washington (15-6)...Bob Huggins and the Mountaineers have been one of the pleasant surprises of this season and would welcome a sub-regional assignment in nearby Cleveland, where WVU took down Ohio State in December. As for the Big Sky race, it remains wide open, though a recent move by Eastern Washington has put the Eagles on top of the loop. Over half of the league will be thinking it has a chance when the conference tourney convenes at Boise in March.


7 Marquette (16-6) vs. 10 Stanford (16-5)...Thanks to the explosiveness of bombs-away G Markus (with a "k") Howard, Marquette might qualify as one of those teams to avoid in March. Though Wojo detractors will remind that the Golden Eagles, Howard or not, were picked apart by Ja Morant and Murray State in the first round last March. Stanford looked to be headed for some potential bubble trouble before stooping a recent 3-game skid with a much-needed win over Oregon at Maples Pavilion last weekend. The Pac-12 is a bit more treacherous than usual this season but keep in mind the only Cardinal non-league losses were vs. Butler (by 1 point) and Kansas.



3 Auburn (20-2) vs. 14 Winthrop (16-7)... The Tigers were a 5-seed last March and advanced all of the way to the Final Four. Considering their SU record, they could be seeded much better this March, though keep in mind it's been a bumper-pool ride for Bruce Pearl's bunch in conference play with several close calls, and more likely to come. Winthrop has taken charge in the Big South and will be favored when that conference tourney commences as one of the first in early March. Radford was the only other Big South entry above .500 in conference play (the Highlanders were 5-3) into the first week of February. As long as Winthrop emerges, the Big South steers far clear of the 16 vs. 16 play-in game.


6 Penn State (17-5) vs. 11 Virginia (11-6)...Maybe we are under-seeding the Nittany Lions, who scored another high-quality win (on the road, no less) at Michigan State this week and look like they could challenge the school's best-ever NCAA seed, which was on the 5-line back in 1996. As for defending champ Virginia, it has steadied in the last two weeks and we believe pulled itself back into the field, but now is as good a time as any to mention the downturn of the this year's ACC, which might only put four teams into the Dance (and that's including Tony Bennett's Cavs, who usually don't hang around at the cut line).


Last four in: Memphis, Florida, Purdue, East Tennessee State.


Last four out: Michigan, VCU, Minnesota, Xavier.

Next four out: NC State, Cincinnati, Utah State, Syracuse.
Return To Home Page