Headlines
The GoldSheet is getting an upgrade!
NEW TGS COVER STORY...HIGH-STAKES PROPS IN CALI--PART II
Let's rewind back to the autumn of 1984, not to college or pro football, but rather to the general election in November. Among the countless races and ballot initiatives across the country was a measure in California to legalize a state lottery. The so-called "Proposition 37" was not without its detractors, however, as a robust "No" campaign emerged and inundated the airwaves. Among the "No" supporters were various education groups, including the California State PTA, railing against the acknowledged evils of organized gaming. (Interestingly, the platform for "Yes on 37" centered upon aid for the state's schools, the intended beneficiaries of the new lottery. More on all of that later in this piece.)
Read more...
TGS SPECIAL REPORT...HIGH-STAKES PROPS IN CALI--PART I
One of the more intriguing storylines in the post-PASPA repeal era is how soon California might jump on board and begin to offer sports gaming within its boundaries. With dozens of states already having legalized sports wagering in one form or another (a full list will appear soon on these pages) since the PASPA repeal in the spring of 2018, there has been much anticipation on when
the Golden State will join the fray.
The fray has been fast-forwarded into 2022, and the upcoming November ballot, where two competing measures have turned Golden State airwaves into depositories for various adds both supporting and opposing the dual measures, Props 26 and
27
Read more...
NEW TGS COVER STORY...NFL SEASON WINS TO WATCH!
NY JETS
UNDER
5.5 wins

.
.
.. Even Hoda and Al Roker could tell you that any chance the J-Men could get off to the fast start that has eluded them in recent years probably went out the window with news that QB Zach Wilson is expected to perhaps miss the first month (and maybe more) of the campaign as his preseason knee injury has been slow to heal. Even a healthy Wilson, however, remains a work in progress in his second year, and hardly a guarantee to deliver at this stage of his career. Instead

Read more...
TGS COLLEGE FB NOTEBOOK... BAMA-TEXAS MEMORIES
When the subject of "most important" college games will arise, there are rarely any shortage of candidates for the honor. we have addressed the question on the pages of TGS Basketball in the past, and have always opted for the epic 1968 UCLA-Houston game at the Astrodome as the unquestioned winner.
(You can check out our case for UCLA-Houston by referring to one of the earliest passages from our archive section on the TGS
website homepage.)
The same question for college football, however, has, to us, at lest, remained more difficult to answer
Read more...
TGS SPECIAL REPORT...COLLEGE FB SEASON WINS TO WATCH!
CAL OVER 5.5 wins...Okay, we're going to admit some peripheral factors influencing our projection in Berkeley after recent word that longtime play-by-play man Joe "The band is on the field!" Starkey is going to be retiring from the Golden Bears broadcast booth at the end of the season. Good luck to UCLA, which will be the opponent for the regular-season ender on November 27 that has already been designated "Joe Starkey Day" in Strawberry Canyon. So, a lot of sentiment this season in the swansong for the guy who has been around and doing the same job in Berkeley since the magic Joe Roth year of 1975. But there might be more to like about Cal 2022 than any feel-good about sending Starkey out on a high note. No one doubts sixth-year HC Justin Wilcox's commitment to the cause after rebuffing
Read more...
THE BEST OF TGS...WHEN PRESEASON WAS REALLY A BLAST!
Preseason

often puts us in a wistful mood at

TGS

, as we harken back to the days when the the old AFL-NFL rivalry really boiled. But it wasn't in the first four Super Bowls, rather in the preseason meetings of 1967 thru '69, matchups that took on extra meaning featuring teams going all-out to win, rather than the sterile exercise the modern NFL preseason has become. We reprise the following story from last year when we recalled how preseason games really meant something in the days when the AFL-NFL rivalry was at its fiercest and boiled the most briskly in those August and early September days of the late '60s...
Read more...
2022 Pac-12 Football Betting Preview and Odds
After a disappointing conclusion to the 2021-22 season, Oregon named Dan Lanning as head coach to replace Mario Cristobal. As the mastermind behind Georgia's defense in recent years, Lanning will be charged with leading a defense that has plenty of returning talent
Read more...
2022 ACC Football Betting Preview and Odds

Pitt was the only team from the ACC Coastal division to finish in the top-25 last season. The Panthers lost QB Kenny Pickett to the NFL and the nation's top receiver, Jordan Addison, to the transfer portal. Quarterback Kedon Slovis transfers in from USC as Pitt looks to maintain
Read more...
TGS BIG TEN RETROSPECTIVE...DAYS OF THE "SPOILERMAKERS"
It might be hard for modern-day football fans, especially those who were weaned on ESPN, to know of a Big Ten when Ohio State and Michigan were not the top storylines. Though the Buckeyes and Wolverines are prominent as usual entering the upcoming campaign, the national media has been making a fuss out of the scarlet & gray and the maize & blue for a couple of generations, even when they haven't deserved so much attention. Thus, it might seem hard for the millennial crowd to envision a Big Ten when OSU and Michigan were

not

the main topics of the conversation
Read more...
TGS SEC RETROSPECTIVE...THE '72 AUBURN AMAZIN'S
Get ready for a new football movie. Although, unless you're a longtime SEC fan, and an Auburn diehard at that, the subject matter might come as a surprise.
We're not talking about the Bo Jackson years, Cam Newton, or the unexpected mad dash to the 2013 BCS title game by Gus Malzahn's first Tiger team, either. Rather, it's time to get reacquainted with perhaps the most unlikely success story we can ever recall in our near six decades of publishing TGS. T
he new movie, still in its production phase
Read more...
THE BEST OF TGS...THE CELTICS HAVE BEEN HERE BEFORE
A few
y
e
ars ago, in one of our

TGS

Retrospective pieces, that ran in three parts, we recalled the improbable conclusion to the greatest dynasty the NBA has ever known. With the Celtics back in the Finals round in 2022, we though it interesting to recall back to the conclusion of the Bill Russell Era and a Finals series that was recently highlighted in a marvelous book written by Leigh Montville entitled "Tall Men, Short Shorts" now avalable at booksellers everywhere...


Boston
winning NBA championships wasn't anything new, but the manner in which the Celtics overcame the odds to win the 1967-68 title, rallying from a 3-games-to-1 deficit vs. the powerhouse Wilt Chamberlain 76ers, reverberated beyond the Finals series between the Celtics and Lakers. The earth would shake further that summer when Chamberlain wanted out of Philadelphia.
Read more...
PLAY BALL! TGS 2022 MLB SEASON WINS TO WATCH!
Rarely have we seen such a downgrade in win projections from the previous season as with theSan Francisco Giants (85.5), suggesting there are still more than a few non-believers after last season's stunning and wholly unexpected 107-55 campaign. Seldom have we seen MLB projections blown so far out of the water, especially by a team that was pegged by most at the .500 level last season. But manager Gabe Kapler has an idea that seemed too many to be picked up from old Strat-o-Matic baseball (at least some of my old strat-o teams) and prioritizing homers above all else. The result was an
Read more...
TGS COLLEGE HOOPS...NEW BIG DANCE BRACKET UPDATE
We are now into single-digit days before Selection Sunday and as usual the proverbial "bubble" is going to transform from soft to something more approaching solid in the run-up to March 13. By that point, asis usually the case, there will probably be few mysteries left as to the composition of the field, with a handful of at-large places remaining the only question marks.

Of course, that list can contract within the next ten days if any of the notorious "bubble thieves" surface in conference tourney action. Last March we saw Georgetown and Oregon State
Read more...
TGS SPECIAL REPORT...UPDATED SUPER BOWL RANKINGS!
31-XL, Pittsburgh 21 - Seattle 10 (at Detroit)...Although there was considerable drama for a time well into the 4th quarter, XL was a bit of a disappointment and hardly a shining hour for the referees, whose series of extremely questionable calls (coincidentally almost all favoring the Steelers) at crucial moments distorted the proceedings. Pittsburgh did capitalize when presented opportunities, however, using big scoring plays by Willie Parker & Hines Ward to shift the momentum in the second half.
Read more...
TGS BOWL PREVIEW...RECALLING THE ACID BATH FOR TEXAS
Rest assured they haven't forgotten about the days of the "Wishbone T" at Texas. Among the glorious eras of Longhorn football, the span from the late '60s into the early 70s when the Darrell Royal "Wishbone" ran wild remain among the all-time favorites for the countless "Texas Ex-es" and college football historians.
The high-water mark, we have always believed, of that great Wishbone era might continue to be mostly overlook
ed by college sports historians and the modern-day media. In fact, looking back
Read more...
TGS SPECIAL REPORT... BEST OF BELICHICK IN BUFFALO
Weather conditions, more specifically gale-force winds, forced Biil Belichick into a buttoned-down approach last Monday night vs. the Bills, with rookie QB Mac Jones adhering to a gameplan so conservative that it might have as well have been devised by Pat Buchanan. It was hand-off after hand-off, Belichick not wanting to risk passes with strong gusts blowing more across the field at Orchard Park than either in the face, or from behind, each offense. Until their second-to-last possession of the night, when Jones would try two passes, Josh McDaniels called runs on every single play save one. By the time the survival test mercifully concluded
Read more...
TGS SPECIAL REPORT...CHECKING THE COLLEGE HOT SEAT!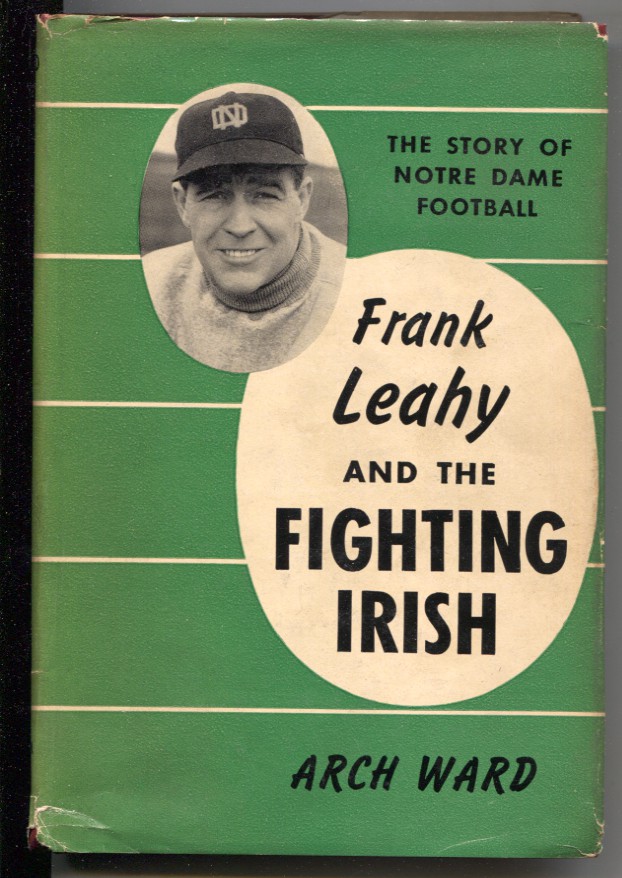 There was once a time when college administrators went about pushing out coaches with subtlety. Hard as it is to believe, there was a period when Notre Dame was actually trying to de-emphasize football in the late 1940s, fearing the school was getting too much of a reputation as a gridiron factory. But firing uber-successful HC Frank Leahy, whose success approached that of his coach, Knute Rockne, would have invited public relations disaster. Instead, the school simply decided to make it tougher for Leahy to win.
First, scholarships were cut down from 33 to 18 in the late 1940s, though by 1951, with the Korean War underway and freshman
Read more...
TGS SPECIAL REPORT...THE PANTHEON OF THE WINLESS
Forgive us for once upon a time thinking the pro football world revolved around Detroit. In the 50s, it mostly did, and certainly 1957, the TGS debut season, when the Lions would win the NFL title, bombing Paul Brown's Cleveland Browns 59-14 to win the title at old Briggs Stadium, before they would change the name to Tiger Stadium a couple of years later. Four TD passes by QB Tobin Rote highlighted the Motown party that also featured seven takeaways from the careless Browns. The napalm job on Cleveland followed a dramatic Western Conference playoff win at old Kezar Stadium against the 49ers, a game the Liosn trailed 27-7 at the half before rallying to win, 31-27.
Read more...
TGS SPECIAL REPORT... THANKSGIVING FB NOTEBOOK
Mention of the Lions on Thanksgiving often recalls the classic 1962 game vs. the Packers, who were the annual Turkey Day opponent of the Lions thru the following season in 1963. Perhaps Vince Lombardi's best-ever Green Bay side rumbled into old Tiger Stadium on Thanksgiving Day 1962 (a year after the big ballyard changed its name from Briggs Stadium) with a 10-0 record and appearing en route to unbeaten gridiron immortality. But the '62 Lions were formidable, just two lengths back at 8-2,
Read more...
TGS SPECIAL REPORT...TGS COLLEGE HOOPS TOP 25!
1-GONZAGA...
No longer going out on such a limb with these sort of predictions for the Zags, with two final-game appearances in four years. It stung a bit more last April when Baylor ended the unbeaten dream in Indianapolis, and that was before Jalen Suggs and Corey Kispert both departed for the NBA. But fear not for Mark Few, who landed arguably the nation's top recruit in 7-foot unicorn Chet Holmgren, plus another 5-star recruit, 6-4 G Hunter Sallis, perhaps this season's Suggs. Important, too, are holdovers 6-10 Drew Timme, who provides a scoring dimension in the post, and PG Andrew Nembhard, who can show the ropes
Read more...
TGS SPECIAL REPORT...WHEN THE RIVALRY RAGED IN L.A!
Though given consideration in the early-season rankings, projected 14th nationally by Sports Illustrated in its preview issue, and 16th in AP's preseason poll, there were numerous skeptics about the prospects of UCLA in '68. After all, Heisman winner Gary Beban had graduated after the Bruins had won 23 games under his direction the preceding three years.
Among them the doubters was the shrewd HC, Tommy Prothro, who naturally fretted about the upcoming post-Beban era. Not as much because of a lack of confidence in the anointed successor at QB, junior Bill Bolden
Read more...
TGS SPECIAL REPORT...COL STRETCH DRIVES AND STREAKS!
"It's not always about how you begin a season, but rather how you finish it."

That old time-worn sports bromide might not be an absolute, but darned if we don't see examples time and time again. Most recently, and prominently, the Atlanta Braves have qualified for the World Series out of the National League, something that would have seemed pretty far-fetched for most of the summer. As late as August 4, the Braves were still sitting below .500; as late as August 13, still in 3rd place in the NL East. A bit more than two months later, playing in the World Series. NHL fans can relate, too; how about the St. Louis Blues
Read more...
TGS SPECIAL REPORT...NBA SEASON WINS TO WATCH!
That

was a different Atlanta Hawks (46.5) last season after vet HC Nate McMillan replaced the well-meaning but overmatched Lloyd Pierce at the end of February. The transformation was immediate, as the Hawks began to play with more structure and ceased to take off possessions on the stop end. The defense could be even stickier this season if lengthy wing DeAndre Hunter can stay healthy; while on the floor with John Collins and Clint Capela, ATL posted some eye-opening defensive numbers while outscoring foes by 15.6 poitns per 100 possessions. All of it seemed to help Trae Young blossom into a superstar, and if the Hawks maintain anything near the win rate they had after McMillan took over
Read more...
TGS SPECIAL REPORT... NHL SEASON WINS TO WATCH!
Seattle Kraken (89.5)...Let's say the obvious that the bar has been raised for all expansion teams, especially in the NHL, based upon what the Vegas Golden Knights did in their maiden voyage four years ago, making it all of the way to the Stanley Cup Finals. So, should the brand-new Kraken consider it a failure not to match the feats of the Golden Knights? Hardly, and no one expects as much in the Northwest. But at this same time four years ago, nobody really knew what Vegas had, either; comparably speaking, Seattle's roster looks as good as the Golden Knights' did entering the 2017-18 season. Kraken GM Ron
Read more...
TGS SPECIAL REPORT... MLB PLAYOFFS PREVIEW!
Atlanta Braves (13/2)... The Braves come in a bit more under-the-radar than last season when they posed an acknowledged threat to the Dodgers and were in position to knock the Blue out of the NLCS until some unforgivable baserunning blunders proved costly. Blowing that series seemed to put the Braves into a funk they didn't shake until August when they finally moved above .500, blew past the fading Mets and held off the Phillies in the AL East. Across the past two months, Atlanta's performance suggests it cannot be overlooked, with pitching really on the upswing as the Braves posted the third-best ERA in MLB past the trade deadline. The bullpen also improved as the season progressed. The offense was a bit erratic all season, however, even
Read more...
THE BEST OF TGS...
"THE GAME" THAT STILL RESONATES
In this latest "Best of

TGS

" installment, we recall the following feature which ran in Issue 12 of our 62nd edition in November of 2018, when we honored the 50th anniversary of an epic matchup that continues to resonate...

We're about to enter the peak of college football "rivalry season" in the next two weeks as various regional bloodbaths will once again renew. In our 62 seasons of TGS publishing, however, one of these rivalry games remains singular. And we're not sure we've ever lived through a game quite like...well, The Game.
Read more...
TGS SEC RETROSPECTIVE... AUB-GA AND "HUNKER DOWN!"
Last week, while guesting with local Auburn alum Tex Morris as part of Jimmy Ott's Game Time Show on ESPN 104.5 FM in Baton Rouge, we had a reminiscing session about the Auburn-LSU rivalry that might be soon to disappear as an annual fixture whenever Texas and Oklahoma join the SEC. Like many in the region, Ott knows the connection such rivalries have with fan bases and laments their possible disruptions, which prompted our nostalgia tour on radio last Thursday morning.
We suppose we have to start wondering, too, about the future of the "Deep South's Oldest Rivalry" between Auburn and Georgia, which renews again at Jordan-Hare Stadium this Saturday.
Read more...
TGS SPECIAL REPORT...WSJ AND FOOTBALL'S BIG BET
For

those of us who remember a sports gaming marketplace that mostly existed in the shadows outside of Nevada, events of the past 42 months have been enough to make our collective heads spin. We've already touched upon some of this in earlier featured pieces in our new 2021 TGS publishing season. As we should; sports gaming has evolved from being a "sophisticated diversion" operating outside of the media mainstream, to newsworthy stuff. The sector's explosion was reflected in some new information recently highlighted by Carlo Santarelli, a New York-based analyst for Deutsch Bank.
As reported last week in the Las Vegas Review-Journal,
Read more...
TGS SPECIAL REPORT ...FIRST-YEAR COACHES TO WATCH!
One of our recurring features in TGS Football is a look at College Football's "Coaches on the Hot Seat," which we plan to highlight in an upcoming issue. Throughout the years, we have often found this a useful exercise for a variety of reasons, mainly as it often helps identify trouble spots before the situations can deteriorate.
Though, on other occasions, teams have rallied around their under-fire coaches and unfurled extended positive streaks to help save their boss. In truth, however, almost every coach not named Nick Saban or Dabo Swinney enters the new season on a potential hot seat
Read more...
TGS SPECIAL REPORT....HIP HIP HOORAY FOR NEW JERSEY!
Walking around the sports books in Las Vegas, and interacting with those involved in various aspects of sports gaming, since the repeal of PASPA in May of 2018, one gets the feeling that the Nevada folk are taking credit for the boom in the industry that has followed. If one didn't know any better, and spent all of their time in Vegas, it would be easy to assume that the sports betting explosion, which seems to reverberate more and more across the country each week, is Nevada's doing.
Except that it's not, at least beyond the extent that some of the sports gaming operations that are based overseas
Read more...
TGS SPECIAL REPORT...2021 NFL SEASON WINS TO WATCH!
In a much watered-down NFC East a season ago, the Philadelphia Eagles (6.5) could only get to 4 wins. And adding another game to the schedule in 2017 might just mean an extra loss. Things do not look pretty at the Linc, not after meddling from owner Jeffrey Lurie and GM Howie Roseman losing his magic touch made one-time miracle worker HC Doug Pederson decide that enough was enough, and we wonder if successor Nick Sirianni knows what he's getting into. (The war drums are also already beating on WIP after the Birds' winless preseason.) Will what was one of the NFL's worst offenses last year really upgrade with Jalen Hurts, who played to mixed reviews at best in a brief late-season audition
Read more...
TGS SPECIAL REPORT...2021 FOOTBALL KICKOFF!
"You've come a long, way, baby..."
–Virginia Slims advertising slogan
The cigarette advertising jingle above from the late 60s (when cigarette commercials could still air on TV) could just as easily apply to the recent sports betting boom in the states. It's still hard to believe for those of us who had all but given up the ghost on the chances of sports wagering ever becoming institutionalized outside of Nevada and those few locales (Oregon, Montana, and Delaware) that were offering parlay-card betting.
Not that we hadn't been talking about it for years. In fact, those readers with long memories might recall TGS founder Mort Olshan railing almost incessantly against the anti-sports gambling mindset, pointing out the inconsistencies
Read more...
TGS 2021 COL FOOTBALL...SEASON WIN WAGERS TO WATCH!
AIR FORCE

OVER 6.5 wins… Underestimate Falcons HC Troy Calhoun at your own risk! With the exception of 2013, when injuries decimated his roster, Calhoun's teams with the Force have usually punched above their weight. Including a year ago when splitting six games despite almost the entirety of the projected defense opting out ("turnbacks" in academy parlance as opposed to "redshirts"). Several starters from the 2019 stop unit thus resurface to compete with many who stepped into their roles a year ago, with the result likely a highly-combative D. That's usually been the ingredient to the most-successful Calhoun t
eams, as longtime o.c. Mike Thiessen is usually able to cobble together a functional option-based
Read more...
TGS SPECIAL REPORT...NFL OFFSEASON/DRAFT PREVIEW!
JACKSONVILLE
...Sweeping changes for sure that were telegraphed more than one of George Foreman's roundhouse rights aimed at Ali during the Rumble in the Jungle in Zaire. Though even with knowledge that a clean sweep was forthcoming, the ability of mustachioed owner Shad Khan to present Urban Meyer an offer he couldn't refuse to return to the coaching ranks is a signal that the Jags mean business. Trent Baalke, ex of the 49ers, was also brought in as GM. The rebuild begins with the certain selection of Clemson QB Trevor Lawrence and the hope he can vault J'ville into contending status much as Andrew Luck was immediately able to do with the Colts nine years ago
Read more...
COL HOOPS SPECIAL REPORT...TGS ALL-NEWCOMER TEAM!
NEWCOMER OF THE YEAR: Jalen Suggs, Gonzaga...For much of the season it looked as if Ok State's Cade Cunningham was going to win this honor by acclamation. As the campaign progressed, however, it become more and more difficult to overlook the do-everything Gonzaga phenom Suggs. Especially if listening to many of those who project the upcoming NBA Draft and are forecasting Suggs as the top pick. In the Big Dance, the 6-5 Suggs surely outshined Cunningham, who by the end of the season was generating some doubters about his ability to succeed at the next level, pointing to a shooting percentage barely at 42% inside of the arc, while speculation grew about his level of
Read more...
TGS HOOPS SPECIAL REPORT...A LOOK BACK AT UNBEATEN IU!
Gonzaga's recent run to the brink of an undefeated season prompted the latest bit of national curiosity regarding spotless campaigns. The last time we heard similar chatter was six years ago when John Calipari's Kentucky, featuring Karl-Anthony Towns and others, took an unbeaten mark into the 2015 Final Four before Bo Ryan's Wisconsin took out the Wildcats in the semifinals. As for Mark Few's Bulldogs, they took their challenge all of the way to the title game before hitting the wall against Baylor. In the end, however, like Kentucky of 2015, or UNLV in 1991, Gonzaga couldn't complete the undefeated deal at the Final Four.
Read more...
TGS MLB UPDATE... MID-APRIL HOT AND COLD REPORT!
San Francisco Giants... Is Gabe Kapler's team as good as its 8-4 start suggests? If there is one surprise development to follow closely, it's improved work from the bullpen, which has posted a serviceable 2.57 ERA in the first two weeks and has confounded recent foes with various different looks and styles, including sidearmer Tyler Rogers, who looks like a reincarnation of Kent Tekulve, or further back Ted Abernathy, almost scarping his knuckles in the dirt with his unorthodox delivery and slow-speed fastballs that rarely clock above 84 MPH on the radar gun. Which also sets up devastating breaking balls that had Cincinnati batters flailing helplessly in the recent series at Oracle Park. Rogers usually sets up Jake McGee, Kapler's designated closer
Read more...
PLAY BALL! TGS 2021 MLB PREVIEW AND SEASON WINS TO WATCH!
A bit better bullpen (any bullpen, really) and the Philadelphia Phillies (80.5) would have climbed above .500 and into the expanded playoffs in the shortened season. Not surprisingly, the new front office combo of President of Baseball Ops Dave Dombrowski and GM Sam Fuld tried to make some offseason upgrades to the relief corps. And while we're not totally sure about Archie Bradley as a closer, he's better than what they had last year, and set-up men look to have been upgraded as well. Aaron Nola-Zack Wheeler-Zach Elfin is also not a bad 1-2-3 combo at the top of the rotation, and keeping top-shelf C J.T. Realmuto happy with a nice contract extension was a good bit
Read more...
TGS NCAA TOURNEY UPDATE...LOW-MAJORS HISTORY IN DANCE!
SUMMIT (SUR 5-24, PSR 12-15-2): 1996-Valparaiso (+18) 51-90 L vs. Arizona; 1997-Valparaiso (+10) 66-73 W vs. Boston College; 1998-Valparaiso (+12) 70-69 W vs. Ole Miss, Valparaiso (+7½) 83-77 OT W vs. Florida State, Valparaiso (+8) 68-74 W vs. Rhode Island; 1999-Valparaiso (+20) 60-82 L vs. Maryland; 2000-Valparaiso (+25½) 38-65 L vs. Michigan State; 2001-Southern Utah (+14) 65-68 W vs. Boston College; 2002-Valparaiso (+7½) 68-83 L vs. Kentucky; 2003-IUPUI (+26½) 64-95 L vs. Kentucky; 2004-Valparaiso (+18½) 49-76 L vs. Gonzaga; 2005-Oakland (-6) W 79-69 play-in vs. Alabama A&M; Oakland (+27½) L 68-96 vs. North Carolina; 2006-Oral Roberts (+12) 78-94 L vs. Memphis; 2007-Oral Roberts
Read more...
NEW TGS COVER STORY..."SUPER" LV & MORE SEASON REVIEWS
That we have arrived at Super Bowl LV having completed a full NFL season ranks as perhaps the biggest accomplishment of the 2020 campaign. Most amazing was that this mostly resembled a normal NFL year on the field, even considering the various hurdles and mostly fan-free venues during the pandemic. In a year in which some sort of normalcy was most welcomed, the NFL delivered. In retrospect, the handful of postponements only provided a minor nuisance to the schedule, which compared to other sports was able to proceed without comparable interruptions.
All that's left is the "Supe" which is something special for those of us in the TGS generation because we have witnessed the Super Bowl from its birth. In fact, TGS had
Read more...
TGS CONF. TITLE NOTEBOOK...BACK TO THE BEGINNING!
As the Super Bowl approaches, we at TGS are always apt to move into reminiscing mode. Especially as we just passed the 54-year anniversary of the first Super Bowl (Jan. 15, 1967) last Friday. After all, we were not only completing our first decade of publishing when that matchup occurred between the Packers and Chiefs, but we were there to watch it live and in person at the L.A. Coliseum. (And, yes, that game was referred to as the "Super Bowl" by all of the media of the day, even though it would not be until Super Bowl III that Pete Rozelle would officially change the name of the game pitting AFL and NFL champs). We also must admit to some nostalgic tugs
Read more...
THE BEST OF TGS...
FIFA FOLLIES AND THE WORLD CUP
While we try to pass the time until sport is resumed, we've decided to cull our vast files of past stories and editiorals for "Best of

TGS

" features which will appear periodically over over the coming weeks. One of these in particular was a spin-off from our old European Soccer Weekly publication which existed for seven years into 2007. On occasion thereafter we would revive the ESW features on these pages, and one such time came in late 2010 after FIFA simultaneously awarded World Cups to Russia (for 2018) and Qatar (for 2022), respectively.
Read more...
TGS SPECIAL REPORT...DIV. ROUND & SEASON-END REVIEWS
Denver (5-11)... We're tempted to drill a bit deeper into the Broncos' plight which we have been able to follow closely thanks to our involvement with Denver sports radio. But the date to watch across the Front Range is July 12, when the trial to clarify future ownership of the franchise is slated to begin. At the center are the feuding heirs of Pat Bowlen and a trio of trustees led by Joe Ellis that have been operating the Broncos since Mr. B first became incapacitated in 2014 before finally passing in 2019. A template for dysfunction has ensued, complicated by GM John Elway's ongoing errors in choosing
Read more...
TGS SPECIAL REPORT...NFL WILD CARD NOTEBOOK!
Back in Thanksgiving week, we recalled one of our favorite Turkey Day football memories, a pulsating encounter between the Colts and the Lions, from the great year of 1965. We hinted at the time of a book project we have embarked upon called "December 1965" in which we recall in detail what was the best NFL race of our lifetime as the Western Conference thundered down the stretch in what became an epic three-horse battle between the Packers, Colts, and Bears, with compelling supporting acts provided by the remainder of the old West (Lions, Vikings, 49ers, and Rams).
It was in those weeks beginning at Thanksgiving and into December of '65
Read more...
TGS SPECIAL REPORT...WHEN CLEMSON WENT BIG-TIME!
We've become used to seeing Clemson in the mix for playoff berths and national championships in recent years. While fellow Final Four participants Alabama, Ohio State, and Notre Dame have been living at or near the tops of the college football polls for generations, the Tigers are a relatively new entry to the power mix, having effectively supplanted the likes of USC, Michigan, Texas, and some other old, familiar names in the old college hierarchy.
Clemson's rather-recent inclusion into the elite class of college football, however, is part of a larger narrative that has fascinated us at TGS for many years.
Read more...
TGS SPECIAL REPORT...NBA SEASON WINS TO WATCH!
The pieces have looked greater than the sum for a while now with the Phoenix Suns (38 ½). We wonder, however, if this season marks the turnaround. Chis Paul can still be an enormous help, as he was last year with the Thunder, and his presence on the perimeter should remove some of the pressure from Devin Booker. Deandre Ayton also might be ready to emerge as a beast on the blocks, while the useful and versatile Jae Crowder is another serviceable NBA vet who has helped at every stop in his career. It's the "Paul factor," however, that makes us think it's finally time for an "over" in the Valley of the Sun.
Read more...
TGS SPECIAL REPORT...WHAT'S UP IN THE EMPIRE STATE?
Of all of the states that are entering the sports
gaming market since the repeal of PASPA in May of 2018, perhaps none has generated the sort of buzz as has New York. It's not all normal buzz, either, more inquisitive, as the marketplace wonders what the next move might be from the Empire State.
The storyline intrigues, as New York has entered the fray...sort of, with its legal sports betting limited to a few locales well upstate from New York City. For Big Apple bettors, their best alternative (if they don't want to play offshore) is a quick hop to New Jersey, where mobile devices are within the Garden State's "geo-fencing" to place bets. Indeed, in pre-coronavirus times, lunchtime got crowded
Read more...
TGS SPECIAL REPORT...GOOD OLD COL FB CONTROVERSY!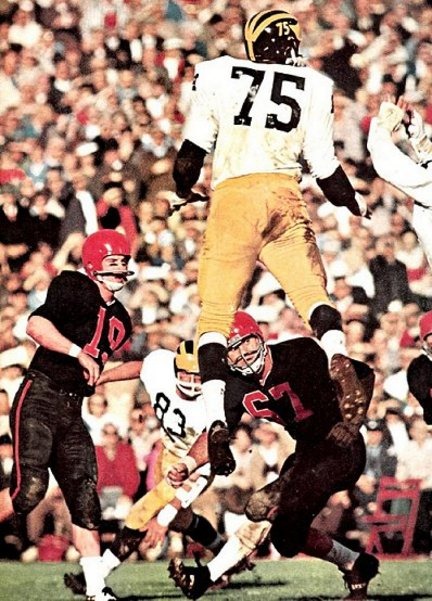 Anyone who needed convincing that college football still ruled the Los Angeles sports scene in the mid 60s should have taken the next flight to LAX and sampled some of the local coverage. Even in the days long before ESPN or sports talk radio, college football had the capacity to captivate the masses. Especially in Los Angeles.


Even when the games weren't being played. As in December, 1964.
If only ESPN and other sports networks had been around then to capture the fireworks!
Read more...
TGS SPECIAL REPORT...TIME FOR A DETROIT THANKSGIVING!
Like almost everything else about 2020, Thanksgiving might not feel quite the same this year. To the rescue in a much-needed nod to good old normalcy, however, comes an odd hero in the form of the Detroit Lions. At least having the Lions to watch on TV this Thursday, against the Texans, will make Thanksgiving seem a little more natural.
We've written about Thanksgiving football history before, and one of these years ought to opt for a college angle and a retrospective on one of several "Games of the Century" that might actually have lived up to the hype, the 1971
Read more...