2092...
TGS BIG TEN RETROSPECTIVE
...THE "OTHER" HOOSIERS YOU OUGHT TO KNOW

by Bruce Marshall, Goldsheet.com Editor
I
t's hard for any modern-day football fan of the ESPN generation to believe there ever existed a Big Ten where neither Ohio State nor Michigan were factors in the league race...or when there were actually ten schools in the loop. But there was such an age, including a fleeting one in which a long-time gridiron non-entity from the league was the talk of the college football world.
Almost a half-century later, they've yet to make a sequel to the real version of Hoosiers. And no, we're not talking about the movie starring Gene Hackman, or the storyline of Milan High and Bobby Plump, or any of the legendary championship teams for Indiana basketball under Branch McCracken and Bob Knight. Surprising as it might be to Samantha Ponder and friends, the top "Hoosiers" story of them all might not have come on the hardwood.
So, never mind any tales involving the behemoth Ohio State and Michigan football factories. Or the surprising Northwestern Wildcats of 1995. The best Big Ten gridiron tale we ever experienced was courtesy of none other than the 1967...Indiana Hoosiers.
We mention all of this because IU's stunning football accomplishments in 1967, which were capped by the school's only Rose Bowl visit under 3rd-year HC John Pont, seemed no more likely prior to that momentous campaign than they do this season, when the Hoosiers begin their third campaign under HC Kevin Wilson, just 5-19 over the past two seasons. But that's better than the three wins IU managed in 1965-66 (including a 1-9 disaster in '66) in what were Pont's first two years as Hoosier coach, immediately preceding the miracle season.
If Wilson needs a motivational tape to fire up his team, all he has to do is show highlights of Pont's 1967 masterpiece. Allow us to digress and remind all of those 30-somethings working the sidelines for ESPN that perhaps the best-ever tale in Big Ten football annals was authored not in Ann Arbor or Columbus, but rather in Bloomington.
Ever since we began publishing in 1957, we're not sure the IU miracle could have occurred in any year other than '67. There was a power vacuum that year in the Big Ten during a brief era in which neither Michigan nor Ohio State were dominating. Indeed, '67 marked the second time in three seasons that the Wolverines had finished under .500 for HC Bump Elliott; Michigan would not again lose more than it won for another 41 years, or until Rich Rodriguez' ill-fated move from West Virginia. As for Ohio State, the Woody Hayes Bucks hit a flat spell themselves in the mid '60s, even dipping beneath .500 (4-5) in 1966. OSU recovered somewhat in '67, but it was no vintage Hayes team, losing three of its first five to drop from Big Ten contention by midseason, and humiliated 41-6 by Leroy Keyes & Purdue in the process. Woody's super recruiting class of 1967 was still a year away from varsity eligibility and would not make its mark until the following season.
Moreover, 1967 was also the year after the last of the Duffy Daugherty powerhouse teams at Michigan State that had gone unbeaten in the regular season the previous two campaigns. Strafed by graduation losses of All-Americans that included defensive stars Bubba Smith and George Webster, as well as WR Gene Washington and RB Clinton Jones, the '67 Spartans were destroyed by Bill Yeoman's Houston Veer in the opener and never recovered, stumbling to a 3-7 finish.
Instead, the power base in the Big Ten appeared to be at Purdue, especially with RB Keyes running wild and soph QB Mike Phipps (left) immediately stepping in and seamlessly filling the void created by the graduation of A-A QB and Heisman runner-up Bob Griese. But like 1966 Michigan State, which was banned from appearing in the Rose Bowl because of the league's archaic "no repeat" rule, the '67 Boilermakers were also ineligible for the postseason, though they confirmed their intentions as a national title contender with an early 28-22 win over top-ranked Notre Dame.
Thus, the league race and invitation to the Rose Bowl was as wide open as it would ever be in '67, although no one still gave the Hoosiers much of a chance.
Why should they? Pont, a product of the "Cradle of Coaches" at Miami-Ohio where he starred as a player and excelled as a coach between 1956-62, had arrived at IU from a successful tour of duty at Yale but had little success with his first pair of Hoosier teams in 1965-66, which as mentioned won a combined three games. Prospects did not seem much better for '67 with a gaggle of untested and wild-eyed sophomores thrust into key roles, including key offensive components QB Harry Gonso, RB John Isenbarger (beaten out for the QB job by Gonso but immediately switched to HB by Pont), and WR Jade Butcher.
Pont, looking to fortify the defense, moved all-conference OT Doug Crusan (who would later star in the same position for the Miami Dolphins during their title years in the early '70s) to the DL, where he would join another future pro, DE Cal Snowden, in a stop unit that also boasted of another future NFL regular, LB Jim Sniadecki (49ers). Crusan's presence helped the defense turn into a stubborn platoon that kept IU in every game until the offense somehow found a way to score the winning points, which usually came at the death of each game. Cinderella was indeed alive and well that autumn in Bloomington.
Still, not even a full-fledged, right-thinking fairy godmother--or even Pont--could have predicted the particular ending in '67. IU appeared to be the last of the Big Ten sisters that would ever be invited to the Big Ball in Pasadena.
As noted, two awful seasons of 2-8 and 1-9 preceded '67, campaigns so bad that one of the men who originated the Old Oaken Bucket rivalry with Purdue over four decades earlier suggested that Indiana drop intercollegiate football because it obviously could not play it properly. Pont, infuriated by the '65 and '66 results, ordered his players in summer to lose weight, and they did--a total of 577 pounds. Encouraged by those developments, Pont opened up his offense to let QB Gonso do more outside running and passing, switched 14 players (such as Crusan and Isenbarger) to different positions, prayed that his sophomores would be supermen, began carrying two lucky pennies in his billfold and started the season dreaming an impossible dream--that his Hoosiers might somehow improve from miserable to mediocre.
"A 5-5 season would not have been a disappointment," Pont later said in reflecting upon the prospects for '67.
Pont suspected he had been recruiting better athletes to Bloomington, but there were few believers in the region. After all, IU had tried to go out and get athletes once before, under Phil Dickens in 1957, and all it got was six years of probation from the NCAA. Pont took the job just after Indiana was released from the NCAA cooler, and he had to build from scratch.
From the outset of the '67 season, however, there was a different spark about the Hoosiers. As if the many sophs on the roster had no idea that IU was supposed to lose on the gridiron. In a departure from the many staid Big Ten offenses of the era, the Hoosiers operated out of a nifty, far-flung I formation that featured Gonso's passes and keepers, Isenbarger's slants and halfback passes, the punishing Cole's (right) breakway running ability between the tackles, and Butcher's self-described "messing around" pass patterns and crackback blocking.
Indeed, in our 56 years publishing THE GOLD SHEET, we are hard-pressed to recall a team enduring a wild thrill ride like the '67 Hoosiers, who walked a tightrope almost every week but somehow kept managing to survive. Those white-knuckle finishes, coming in rapid-fire succession, remain imbedded in the memories of all who saw that '67 team in action; indeed, in chats with legendary Bloomington Herald-Times sports columnist Bob Hammel, a hoops historian of repute and also Bob Knight's biographer, the topic can't help but swing from basketball to those '67 football Hoosiers, who to this day remain one of the revered Hammel's all-time favorite sports subjects.
Sports Illustrated's Dan Jenkins might have summed up the '67 Cardiac Kids best when he referred to their games as "some of the most self-torturing climaxes since radio serials." IU had rallied from a 10-0 deficit in its opener to squeeze past Kentucky 12-10 on a deflected 23-yard TD pass from Gonso to WR Al Gage deep in the 4th quarter. The Hoosiers nipped Kansas at the wire the next week, 18-15, on a late FG by PK Dave Kornowa, better known as a DB but thrust into emergency duty when regular kicker Don Warner had an injured toe. The Hoosiers won at Illinois 20-7 despite gaining only 189 yards of offense and not wrapping up the game until the final moments after forcing a turnover deep in Illini territory, a familiar tune in a tightly-contested battle highlighted by two Hoosier defensive TDs. IU also almost gave a game away vs. a wretched one-win Iowa team when Isenbarger failed on an ill-advised fake-punt try in his territory and the Hoosiers clinging to a narrow 14-10 edge; the Hawkeyes subsequently scored on an Ed Podolak TD to take a 17-14 lead deep in the 4th Q. But IU rallied back to score the winning TD on a Gonso-to-Butcher pass with 53 seconds to play, after Gonso's fake field goal run had set up the deciding score in a 21-17 final.
The Hoosiers then squandered all of a 20-0 lead the next week vs. Michigan, with another failed Isenbarger fake punt (which he again executed without the approval of Pont, who fumed afterward) setting up the tying score, but IU rallied by driving 85 yards in the last two minutes, with Isenbarger redeeming himself by scoring the winning TD in another pulsating 27-20 final.
Even John Coatta's winless and woeful Wisconsin took the Hoosiers to the limit, in Bloomington, no less, rallying from a 14-3 deficit and cutting the lead to 14-9 on a TD run by QB John Boyajian with 3:36 to play, then threatening to score the winning TD by driving to the Hoosier 10-yard-line in the waning moments, the IU defense "looking as organized as a panty raid," according to SI's Jenkins. Boyajian, however, overthrew and open receiver in the end zone on the final play and IU hung on. More late-game heroics were required the next week at Michigan State, where Isenbarger's TD with 2:50 to play gave the Hoosiers a 14-13 win, and, more incredibly, an 8-0 record and fifth ranking in the nation.
Unfortunately, the clock seemed to strike midnight in the penultimate game at Murray Warmath's rugged Minnesota, when the Gophers capitalized on a series of Hoosier miscues in the 4th Q to blow open a close game and win going away by a 33-7 count. At that point Minnesota seemed to have the inside track to the Rose Bowl, as IU, now dropped to 14th in the polls, would have to beat third-ranked and 14-point favorite Purdue, led by the aforementioned All-Americans QB Phipps & RB Keyes, for the Old Oaken Bucket to force a 3-way deadlock atop the Big Ten and qualify for Pasadena via tiebreakers.
As for Minnesota, as long as it defeated winless Wisconsin in the finale, it could advance to Pasadena for the third time in eight seasons if the Boilermakers simply took care of business, as expected, in Bloomington. Although the Gophers would lose out on a share of the Big Ten title in such a scenario, they would qualify for the Rose Bowl bid by virtue of finishing alone in 2nd place behind Purdue, banned from the postseason by the aforementioned Big Ten "no repeat" rule. But the pivot point for the Rose Bowl bid would be taking place in Bloomington.


Indiana fans, however, had not lost faith; almost 8000 of them crammed into the old fieldhouse to welcome the team back from Minneapoils even after losing big to the Gophers. A surprised Pont was speechless at the sight, and had to be coaxed to give a brief pep talk that confirmed he was already looking ahead to the Boilermakers the following week. "Tonight," Pont told the adoring crowd, "I think we just beat Purdue."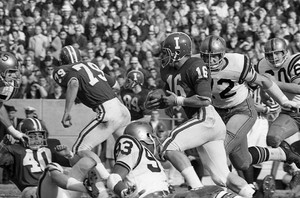 Despite the Hoosiers' loss the previous week in Minneapolis, the stakes were still sky-high for IU-Purdue, and the occasion was more festive than ever at Memorial Stadium for the visit of the rival Boilermakers. The day broke clear and almost balmy (especially for a late November day in southern Indiana), with a temperature in the high 50s. Memorial Stadium's turf received a special paint job for the occasion, with the grass looking as green as it might when the Cotton Bowl would decorate itself for a big Dallas Cowboys game on TV. A huge red circle was painted at midfield with the "IU" logo in white at the middle. The end zones were awash in color, on one end in crimson and cream to honor the Hoosiers, and the black and old gold in the interlocking "diamonds" pattern to honor the Boilermakers, whose name was spelled out in the other end zone.
IU fans were enjoying this rare moment in the spotlight, especially with an unprecedented (for them) trip to the Rose Bowl on the line. "Pasadena A-GO-GO" buttons were popular souvenirs. The fans would have been excused for believing what they were experiecing was instead a dream; "Pinch me" buttons probably would have sold well, too. But many insiders, still unconvinced of the Hoosiers' credentials and their many narrow escapes vs. modest (if not mediocre) opposition, expected the mighty Purdue side to dominate and end the dream in Bloomington with a thud, as Minnesota had done the previous week.
Yet the Hoosiers had another miracle up their sleeve. Wouldn't you know that Purdue would endure the kind of day that teams did against Indiana that autumn. Superstar Leroy Keyes dropped some passes, one in the clear on the Indiana five. Purdue committed uncharacteristic mistakes and turned the ball over. IU's opportunistic, happy team, which had been merrily turning its own mistakes into unexpected victories all season, picked up the scent early.
The big plays started to happen late in the first quarter. With the Boilermakers overly concerned about Indiana's speed to the outside, Cole ripped through the middle for a 42-yard run set up Gonso's seven-yard touchdown pass to Butcher. After some more Purdue fumbling in the second quarter, Mike Krivoshia scored for IU from the two-yard line, and moments later Cole again burst through the Boilermaker middle for 63 yards and a third Indiana touchdown, as the Hoosiers built up a 19-7 halftime lead.

Still, no one in Bloomington expected an easy cruise in the second half, and after Phipps led a TD drive to cut the IU lead to 19-14, another grandstand finish awaited. Deep into the 4th Q, the Boilermakers marched again, but just as they were knocking on the Hoosier goal line, usually-reliable FB Perry Williams, who had scored twice, dropped the ball on the Indiana one. Hoosier S Mike Baughman recovered Williams' fumble, and Purdue's last serious threat had been repelled, though Phipps would move the Riveters inside of Indiana's 30 as the game remained tense until its conclusion.
And with that, IU qualified for its first and only Rose Bowl to date!
By this point, the Hoosier miracle had advanced from a regional curiosity to a full-blown national storyline. The media and sporting public quickly embraced the rags-to-riches plot, although most realized the built-in credibility gap for fairy tales made it unlikely that Harry Gonso & Co. could actually beat O.J. Simpson and powerhouse, top-ranked Southern Cal in the Rose Bowl. Then again, in what had already been a wacky season, a series of results in the bowls could actually put IU in position to claim a share of the national title in the final AP poll, which in those days was the only one which saved its final tally for after the bowls (UPI's version ended at the conclusion of the regular season).
Alas, the final chapter of the Hoosier miracle had been written in the regular-season finale vs. Purdue. Though, grimly, IU stayed within earshot of the Trojans on New Year's Day at Pasadena. And Pont's stunting-and-blitzing defense actually did a decent job corralling Simpson, as IU's gang-tackling kept O.J.'s longest run to a mere 15 yards. But Gonso, under intense pressure all afternoon, could never manufacture the sort of big plays that had bailed the Hoosiers out on several occasions earlier in the season.
Nonetheless, the anticipation that IU might somehow conspire a way to another shocking victory kept attention high and the NBC-TV national audience tuned in for the duration as Curt Gowdy described what many expected to be an unfolding drama. And for a while it looked like the Hoosiers had another act or two in their unlikely production, as Trojan FB Dan Scott fumbled thought the end zone in the 2nd Q, keeping the SC lead at 7-0.
Before halftime, IU, thanks in part to a 26-yard punt return by that man Gonso, marched deep into Trojan territory before settling for Kornowa's 27-yard FG. Down only 7-3 at the break, another Hoosier miracle seemed possible.
Yet the John McKay-coached SC powerhouse was not Iowa or Illinois. Taking over possession at the IU 45 in the 3rd Q, Troy, using its mammoth OL spearheaded by soon-to-be top NFL draft choice (Vikings) T Ron Yary, methodically marched to a TD and 14-3 lead on a short run by Simpson. The Trojan defense then took control for the remainder of the game, frustrating a couple of long IU drives that advanced as far as the Trojan 28. Gonso was temporarily knocked out of the game on one of those advances, stopping any Hoosiers momentum. Pont, no wallflower he, prowled the sidelines like an angry bear, growling at his team and the referees, hoping to sway momentum and manufacture one more miracle finish. No matter Pont's histrionics; the 14-3 scoreline held until the final gun.
Still, IU '67 was not a fairy tale with an unhappy ending in Pasadena. Any success at the Rose Bowl would have simply been frosting on the cake. The real miracle of those Hoosiers was simply making it to Pasadena, and the wild ride through the regular season. And as mentioned, in our lifetime the only storyline we have seen in college football that came close to comparing was '95 Northwestern. Which is another reason why the memories of '67 continue to shine brightly in Bloomington.
Almost 50 years later, we're still waiting for an Indiana encore in the Rose Bowl.
Return To Home Page