6681...
TGS HOOPS PREVIEW

...COLLEGE HOOPS PRESEASON TOP 40!

by Bruce Marshall, Goldsheet.com Editor

Now, the fun really begins!


The college basketball season swings into action this weekend, and we're prepared with predicted margins and select writeups (including our usual featured Key Release selections) for the first week, all found in our College Forecast.
In the meantime, to get a bit better prepared for the unfolding drama, we present our TGSPreseason Top 40. Hang on for the ride...


1-WICHITA STATE...They're b-a-a-a-c-k! We're talking about Shocker senior Gs Ron Baker and Fred VanVleet, holdovers from the 2013 Final Four team and having flirted with the NBA Draft last spring before deciding to come back for one more go at Koch Arena. As did top-tier HC Gregg Marshall, who continues to resist moves to bigger-name programs (Texas the latest high-profile suitor to be rejected). Baker, VanVleet, hard-nosed senior Evan Wessel, and Kansas transfer Connor Frankamp (eligible mid-December) gives Marshall arguably the top backcourt in the country, and the addition of Cleveland State graduate transfer PF Anton Grady (All-Horizon League LY when scoring 14.2 ppg and grabbing 7.9 rpg) fortifies the frontline. By midseason, top-100 recruits G Landry Shamet and F Markis McDuffie are also likely to have found places in the rotation. Marshall gets back to the Dance as a high seed once more before once again before becoming the name most floated from the coaching rumor mill in the offseason.
2-KENTUCKY...We're not about to discount John Calipari and his rotating rosters, although they don't always mesh; remember how the Wildcats wobbled even before C Nerlens Noel went out with an injured knee three years ago? But more often than not, Coach Cal has reloaded on the fly, so even after losing seven Wildcats to last June's NBA Draft, the Lexington roster remains ultra-loaded. Three of the highest-regarded blue-chip prospects from this season's recruiting haul, led by likely lottery pick 7-foot C Skal Labissiere, are the next wave of UK's one-and-dones. Although it could be a couple of holdovers, including oft-injured 6-8 PF Alex Poythress and soph PG Tyler Ulis, who provide the glue for Calipari and the direction needed for another run at the Final Four.
3-MARYLAND...We only wish the Terps had stayed in the ACC thru this season, when the old rivalries vs. North Carolina, Duke, and Virginia would have had their old sharp edge. The Big Ten is still no picnic, but the Terps have adjusted to the surroundings and now appear to be the class of their new league. Maryland welcomes a couple of high-profile ACC transfers, ex-Duke G Rasheed Sulaimon (who effectively takes the place of the departed Dez Wells) and ex-Georgia Tech F Robert Carter, to an already solid core led by soph G Melo Trimble, who is on a short list of Wooden Award candidates. If five-star 6-11 frosh C Diamond Stone steadies by midseason, the Maryland roster is complete. Now, is HC Mark Turgeon ready to steer a team deep into March?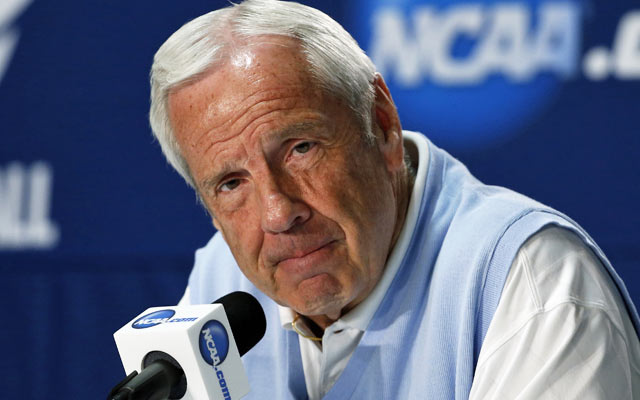 4-NORTH CAROLINA...Before going into detail regarding the Heels, keep in mind that the NCAA continues to snoop around regarding the academic fraud allegations that have rocked the UNC Athletic Department. Though on the hoops side, only the women's program has thus far been penalized. The NCAA has yet to close its investigation, so Roy Williams' program is not yet in the clear. But even if more penalties are handed down, they might not come until after the season. So, for the moment, it's all systems go at the Dean Dome, though star G Marcus Paige's preseason hand injury could keep him out until December. Along with forwards Brice Johnson and Justin Jackson, and rugged C Kennedy Meeks, the Heels have four potential All-ACC performers as well as perhaps the nation's deepest frontcourt. And when healthy again, Paige is not going to burdened with ball-handling duties after soph PG Joel Berry II's emergence late last season Roy is also not going to be counting upon his frosh as much as some other national contenders, or even the Heels a year ago, and that seasoning ought to smooth some of the rough spots.
5-DUKE...Coach K has adapted through the years and is just as apt to reload quickly as is John Calipari. Nonetheless, this is mostly a new team in Durham, with March heroes Gs Grayson Allen & Matt Jones plus F Amile Jefferson the only somewhat familiar names remaining from last year's title team that is now mostly in the NBA. Don't feel bad for Krzyzewski, however, as a couple of the bluest of blue chip recruits, 6-9 F Brandon Ingram and 6-2 PG Derryck Thornton (who reclassified to enter a year early), figure to crack the starting lineup from the outset. What this Duke edition doesn't seem to have, however, is an interior force like last year's Jahlil Okafor, no longer around for the guards to simply dump the ball and then go right to the hoop. Still, we've learned not to underestimate Coach K.



6-VILLANOVA...While Jay Wright has found it hard to get beyond the first weekend of the Big Dance in recent years, he still looks to have the best team in the Big East. Solid backcourt play once again should be the Nova trademark, with the latest in the long tradition of star Cat Gs likely to be touted frosh PG Jalen Brunson (whose last name is familiar in Big Five territory after dad Rick once starred at Temple), while senior Ryan Arcidiacono only seems like he has been in a Nova uniform since the Rollie Massimino era. Wright is going to need everyone to chip in with some rebounding as the departure of workhorse PF JayVaughn Pinkston could be felt. But Nova has won 62 games over the past two seasons, and we do not see a serious challenge emerging in the Big East during the regular season.



7-VIRGINIA...On the surface, the new rules designed to (supposedly) speed up the game might seem as if they could cost Virginia. On the other hand, they might make the Cavs that much harder to beat, as foes that couldn't get off good shots in 35 seconds are going to have even more trouble finding shots with 5 seconds fewer on the shot clock. Plenty of familiar faces return from Tony Bennett's latest 30-win masterpiece led by Gs London Perrantes and Malcolm Brogdon and rugged PF Anthony Gill. The early departure of swingman Justin Anderson, though, looms as a potential concern, as the Cavs slowed down after Anderson's midseason had injury and subsequent appendectomy, and seemed out of synch after he returned. Still, the winning culture and suffocating defense figure to carry UVa a long way...though it would help if Michigan State is in a different regional when the brackets are announced on Selection Sunday.



8-GONZAGA...It only seems like Gs Kevon Pangos and Gary Bell, Jr. were at Gonzaga since the Clinton administration (Bill, not Hillary). Pangos and Bell have finally graduated, but we don't think the Zag-a-roonies are about to disappear because they should still dominate the West Coast Conference and continue to own perhaps the best frontcourt in the region, if not the nation, with future certain NBA draft picks Fs Kyle Wiltjer and Domantas Sabonis and rugged C Przemek Karnowski remaining in the fold from last year's Elite Eight team. Mark Few has never taken the Zags to a Final Four, however, but they are hoping to get big efforts from new Gs Josh Perkins and Silas Melson, as well as Vandy transfer Eric McClellan, for another shot next March.



9-ARIZONA...No one is talking anymore in the desert about Sean Miller being up to the job so ably handled for nearly a quarter-century by Lute Olson. Though, at some point, Miller is going to want to get the Cats further than the Elite Eight to finally measure up to the McKale Center legacy of Olson. It's unlikely the Cats would again run into Wisconsin in March as they have in the Elite Eight the past two years, and Miller has a bit of a reconstruction job on his hands after three key departures after last season, including explosive F Rondae Hollis-Jefferson and his free-throw shimmy making an early jump to the NBA and the Brooklyn Nets. But Miller has fortified quickly, thanks to a couple of accomplished transfer Fs, Mark Tollefson (via the real USF...San Francisco) and Ryan Anderson (via Boston College), while a couple of holdover seniors, rugged C Kaleb Tarczewski and jack-of-all-trades G Gabe York, provide continuity from recent seasons. Frosh 6-4 sharpshooter Alonzo Trier could provide the dagger thrower from the perimeter that Miller might need. Even with some of the new faces, the Cats do not figure to drop very far after winning 94 games the past three seasons.



10-IOWA STATE...The Ames fairytale of a favorite son returning to lead his alma mater to hardwood glory has ended with HC Fred Hoiberg having jumped to the NBA and the Chicago Bills. But hoop insiders believe the transition at Hilton Coliseum will be seamless to new HC Steve Prohm, hired from Murray State where he preached an uptempo style similar to the Hoiberg preference of a year ago. Many of the pieces remain from last year's 25-9 team including All-American candidate 6-8 PF Georges Niang plus an elite-level support crew lead by 6-9 C Jameel McKay, 6-6 sr. Abdel Nader, and 6-4 sharpshooter Nazareth Mitrou-Long (formerly know as plain old Naz Long). Transfer Gs Hallice Cooke (via Oregon State; eligible immediately) and Deonte Burton (Marquette, eligible mid-December) should add further depth to the backcourt, though Prohm's challenge will be to fit them into an already established mix. It's a nice problem to have, however.


Teams 11-20...


11-OKLAHOMA...Lon Kruger did not take long to get the Sooner program turned in the right direction, and now that one of his OU teams has advanced beyond the first weekend of the Big Dance, the confidence is there to last a bit longer this March. Familiar faces Buddy Hield, Ryan Spangler, and Isaiah Cousins are back, though Kruger could use another frontliner to step into the role that Houston transfer TaShawn Thomas did a year ago. Perhaps frosh PF Rashard Odomes will be the answer.


12-MICHIGAN STATE...Gosh, we're reluctant to put any Tom Izzo-coached team lower than this, especially after the "March Master" perhaps made his most unlikely Final Four appearance last April. As a season ago, it might take a while for the Spartans to roll. Elite prospect 6-10 frosh PF Deyonta Davis and West Virginia transfer G Eron Harris are new names to watch alongside explosive swingman Denzel Valentine, though pressure will be on all-name soph PG Lourawls Nairn, Jr. to prove he can run the offense on a full-time basis.


13-KANSAS...We're still not sure if the Jayhawks are going to have the services of touted 6-9 frosh Cheick Diallo, a Mali native currently embroiled in an eligibility snafu with the NCAA that had yet to be resolved on the eve of the campaign. With Diallo, a potentially-ferocious defensive force, Kansas could be a threat for the Final Four. Without him, they'll still be good, though replacing the athleticism of the departed Kelly Oubre and Cliff Alexander might be a challenge for HC Bill Self. Returnees Frank Mason III and Perry Ellis do, however, give Self one of the nation's top pick-and-roll combinations.


14-UCONN...Kevin Ollie's Huskies had a hard act to follow after their improbable run to the title in 2014. The hangover of G Shabazz Napier's departure lingered a year ago, though we doubt Ryan Boatright's graduation hurts as much for this year's UConn. Ollie has the pieces in place to make another deep March run with a deluxe scorer (Rodney Purvis), vicious rebounder (Daniel Hamilton), and shot-swatting force (Amida Brimah) still in the mix.


15-INDIANA...We relent and join with the prognosticators who in unison seem to have the Hoosiers back among the nation's elite. There is enough established firepower in Bloomington to even get the old Bob Knight diehards excited, with Gs Yogi Ferrell and James Blackmon, Jr. now joined by touted 6-10 frosh PF Thomas Bryant. Just in case IU falters, however, the status of the increasingly troubled-looking coach Tom Cream could be a major storyline as the season progresses.


16-LSU...How can we put the Tigers so high losing the heart-and-soul of their recent operation (frontliners Jordan Mickey & Jarell Martin) following last season? Because incoming 6-10 Ben Simmons might be the nation's top recruit and is a likely NBA lottery pick next June. Also because big guards Antonio Blakeney and Brandon Sampson round out one of the nation's top recruiting hauls for HC Johnny Jones, who still has vets Tim Quarterman and Keith Hornsby to steady the ship. Beyond Kentucky, there is also no clear-cut top challenger to the Cats in the SEC, a position LSU might assume.


17-BUTLER...One of the nation's best stories a year ago was authored at Hinkle Fieldhouse, where HC Chris Holtmann turned an interim appointment into a full-time gig and got the Bulldogs within a whisker of the Sweet 16. Holtmann will have to adjust his defense after the departure of shot-blocker Kameron Woods, but a good established core featuring Kellen Dunham, Roosevelt Jones, and Andrew Chrabascz returns.


18-CINCINNATI...Expect another physically-tough Bearcat edition from HC Mick "The Ghost" Cronin, who returns his top six scorers (led by G Troy Caupain and PF Octavius Ellis) from another typically nasty Cincy edition that ranked sixth nationally in scoring defense (55.8 ppg). But will the new defensive rules eliminate some of Cincy's notorious rough stuff and take some of the edge off the Bearcats?


19-UCLA...Bashing Steve Alford has become a popular pastime with former players and the jaded Bruin crowd, even though we're 40 years on from the end of the John Wooden era. But Pac-12 insiders are alerting to real upside in Westwood after a preseason scrimmage romp past San Diego State. Steve Alford's son G Bryce and C Tony Parker are nice building blocks, and keep an eye on frosh Gs Aaron Holiday (reportedly the best shooter of all of the Holiday brothers) and Prince Ali. Remember, despite many bumps in the road, Alford did steer last year's Bruins to the Sweet 16.


20-SAN DIEGO STATE...Speaking of the Aztecs, Steve Fisher's team looks to once again be in pole position in the Mountain West after yet another Big Dance appearance a year ago. Versatile 6-8 sr. swingman Winston Shepard bypassed the NBA Draft for one more shot at Montezuma Mesa, though what Fisher could really use is consistent scoring from the perimeter, which looks a bit dicey after the summer Achilles tendon tear suffered by top marksman Matt Shrigley, who hopefully returns by midseason. Lots of pressure on touted 6-4 frosh G Jeremy Hemsley to assume some of the offensive burden...quickly.


Teams 21-30...


21-VANDERBILT...They've had a few down seasons in Nashville, but expect the respected Kevin Stallings to have the Commodores dancing for the first time since 2012. Stallings has the size to deal with Kentucky or anyone else in the SEC with twin tower juniors 7-0 Damian Jones and 7-1 Luke Kornet, but the buzz in Vandy Nation is being caused by a collection of sharpshooters augmented by the arrival of frosh G Camron Justice, compared by Stallings to current NBA G John Jenkins as the best shooter he has recruited to Nashville.


22-PURDUE...Last season at this time it looked as if HC Matt Painter might be in some trouble, but a much-needed Big Dance appearance has removed any immediate pressure. Painter will once again have one of the Big Ten's top frontlines with twin towers AJ Hammons and Isaac Haas, and with ballyhooed 6-9 frosh PF Caleb Swanigan giving the Boilermakers an even more-menacing look on the blocks. The key to a deeper run in March might be Illinois State grad transfer PG Johnny Hill, looking to reprise the role that last year's grad transfer, Colorado State's Jon Octeus, filled admirably a season ago.


23-LOUISVILLE...We normally don't put a Rick Pitino-coached team this low, but even by 'Ville standards the latest scandal seems to have scraped new depths. While the district attorney in Louisville seems more interested in former assistant Andre McGee than Pitino, the Cards might not be able to shield their coach this time from the NCAA hounds who are on the scent. Stay tuned. In the meantime, the potential distractions loom like a cloud, and Pitino will have to plug in transfers Damion Lee (Drexel) and Trey Lewis (Cleveland State) and several touted frosh to an Elite Eight roster that was mostly stripped clean by graduation, early declarations, and transfers.


24-MICHIGAN...Everything that could go wrong did go wrong for the Wolverines in an injury-plagued 2014-15 campaign that tested the patience of the even-keeled HC John Beilein. Assuming lightning doesn't strike twice and Michigan avoids the injury bug this term, expect a return to the Dance if Gs Caris LeVert and Derrick Walton, Jr. can stay healthy. If they can stay in one piece, all five starters return for Beilein, who reached the title game and Elite Eight in the seasons preceding a year ago.


25-DAYTON...The next up-and-comer in the coaching ranks is Archie Miller, who has already tasted Big Dance success two years running and is going to be on a short list for any higher-profile openings in the offseason if he replicates the career path of brother Sean, doing just fine these days at Arizona. Four starters are back from a Flyer team that won a game in the Dance for the second straight year even though it has been reduced to just seven scholarship players during the season due to injuries. Now there's more depth at Miller's disposal to complement key cogs Kendall Pollard and all-name Scoochie Smith, with Dyshawn Pierre due back from suspension in mid-December.


26-VALPARAISO...Of the many superb Valpo editions over the past two decades, this season might be the best, as everyone of consequence is back for HC Bryce Drew from last year's 28-win team that rolled thru the Horizon League. All starters return, led by All-Horizon F Alex Peters and C Vashil Fernandez, who won an appeal from the NCAA for another season, and they are now augmented by 6-7 LSU transfer Shane Himmink, who opened eyes on an exhibition tour thru Canada in the summer.


27-CAL...The Golden Bears have done a quick reload under 2nd-year HC Cuonzo Martin, who landed an Arizona-like recruiting haul in Berkeley featuring touted frosh swingman Jaylen Brown and C Ivan Rabb, both projected with a future on the next level. They join three holdovers who scored in double digits last season (Tyrone Wallace, Jabari Bird, and Jordan Matthews). How quickly can Cuonzo fit all of these new pieces together?


28-IOWA...Now that Fran McCaffery has taken the Hawkeyes to the Dance, expect it to be a recurring theme in Iowa City. Several key components from last year's team that made it to the Third Round are still in the mix, led by 6-9 sr. Jarrod Uthoff, one of the Big Ten's most-versatile players. Now is the time for G Mike Gesell and C Adam Woodbury to emerge as more consistent forces, with the later expected to carry more of an offensive burden after the departure of productive F Aaron White.


29-UTAH...Larry Krystowiak obviously knows what he's doing on the bench after the Utes made it to the Sweet 16 last season and gave eventual title winner Duke all it could handle at that stage. Four starters are back in Salt Lake City, though the one that isn't, versatile swingman Delon Wight, now suits up for the Toronto Raptors instead of the Utes. But Utah can still fly high without Wright because 7-0 soph C Jakob Poeltl was one of the "best gets" of last year by Krystowiak, while sr. F Jordan Loveridge appears poised to assume Wright's go-to role.


30-UAB...We might have seen a hint of what was to come last March from the Blazers, who stormed the field to emerge a surprise winner in the C-USA Tourney before stunning favored Iowa State and advancing to the Round of 32 in the Big Dance. All five starters and the top six scorers return for HC Jerrod Haase, led by former Virginia Tech transfer G Robert Brown (14 ppg).


Teams 31-40...


31-OREGON...Dana Altman has proven to be the right fit at Oregon as the Ducks have become an NCAA regular on his watch. Replacing last year's Pac-12 MVP G Joseph Young (now NBA Pacers) might be a challenge, but the other four starters return at Matt Arena, plus Villanova graduate transfer G Dylan Ennis and national juco player of the year 6-10 Chris Boucher. If Arizona, UCLA, or Cal stumble, the Ducks are ready to pick up the pieces in the Pac-12.


32-NC STATE...Mark Gottfried has lost considerable firepower for the second straight year after G Trevor Lacey declared early for the NBA. But PG Anthony "Cat" Barber remains to pull the strings for what should be another go-go Wolfpack attack. Still, West Virginia transfer 6-4 G Terry Henderson and the 6-7 soph Martin twins, Caleb and Cody, are going to need to assume some of the offensive burden to get the Pack back to the Dance.


33-WISCONSIN...We are wondering if we have erred by putting the Badgers this low. Certainly, there are not 32 coaches in the country any better than Bo Ryan, who apparently is making his last trip around the court this season (though there are reports that Bo might not yet be ready to retire and hand the reins to assistant Gary Gard). Whatever, as good as Ryan is, his teams have never had to replace a pair of NBA first-round picks (Frank Kaminsky and Sam Dekker). Though the Badgers will not fall off of the map with a couple of key recemt cogs, F Nigel Hayes and PG Bronson Koening, still in the mix. Two redshirts, G Jordan Hill and PF Ethan Happ, are going to be asked to make immediate contributions to help soften the blows of the Kaminsky and Dekker departures.


33-NOTRE DAME...Hardwood aficionados were in love with the Fighting Irish a year ago and collectively shed a tear when the Domers barely missed against Kentucky in the Elite Eight. Mike Brey's coaching last season was pure hoops genius, but it might be hard to replicate with key cogs such as G Jerian Grant (Knicks) and versatile F Pat Connaughton (Blazers) now in the NBA. Notre Dame can get back to the Dance, however, if G Demetrius Jackson assumes the go-to role as most ACC observers expect, and Brey's capable role players from last season, such as G Steve Vasturia and C Zach Auguste, can handle increased responsibilities on the attack end.


34-XAVIER...Chris Mack has continued the recent tradition of excellence at the "X" after an unexpected run to the Sweet 16 a year ago. We'd say "let's see him to do it again" except that the Musketeers have advanced that far so often in the past 15 years that we would be foolish to doubt them. Six key rotational players return for Mack, led by swimgman Trevon Blueitt and PG Myles Davis, though the recent grunt work on the blocks provided by underrated Matt Stainbrook might be hard to replace.


35-STEPHEN F AUSTIN...Mid-major alert from the Southland Conference, where the Lumberjacks have put Nacogdoches, Texas on the map the past two seasons with Big Dance appearances for HC Brad Underwood, a former Frank Martin assistant who ought to be on a very short list for any high-profile openings after this term.

36-Florida State, 37-Rhode Island, 38-Central Michigan, 39-Baylor, 40-Evansville.
Return To Home Page