6792...
TGS COLLEGE HOOPS REPORT
...THE YEAR OF THE UPPERCLASSMEN!
by Bruce Marshall. Goldsheet.com Editor
At last April's Final Four, one could not help but notice the roles that star freshmen were playing. Top-ranked Kentucky had long featured an assembly-line of "one and done" talents for HC John Calipari, and last season was no exception, with frontliners Karl-Anthony Towns and Trey Lyles, both true frosh, among the key components for the Cats. Not to be outdone, Mike Krzyzewski's Duke would prominently feature three frosh-C Jahlil Okafor, F Justise Winslow, and PG Tyus Jones--while a fourth frosh, G Grayson Allen, would emerge as a key contributor in the Final Four. And the Blue Devils would end up winning the national championship.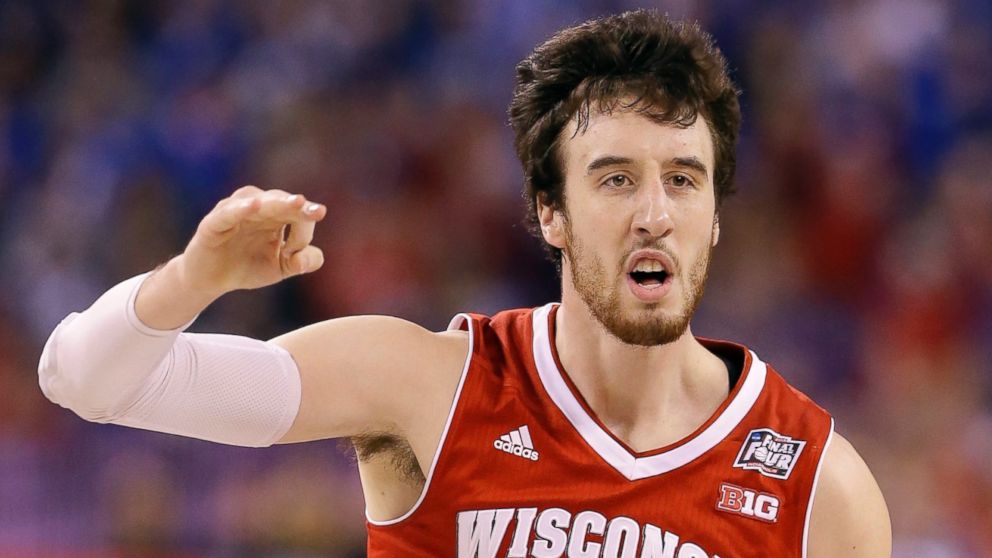 Interestingly, however, at the vanguard of an upcoming trend in last year's Final Four was not Kentucky or Duke, but rather Bo Ryan's Wisconsin, heavy on upperclassmen and a roster built on traditional college hoops values, developing players over years in the system. The Badgers' star center, Frank Kaminsky, was a senior, as were guards Josh Gasser and Traevon Jackson, plus key reserve F Duje Dukan. Wiscy's second-leading scorer, F Sam Dekker, was a junior who would leave a year early and become a first-round draft choice of the Houston Rockets. A lot of hoop purists and traditionalists were thrilled when Ryan's Badgers would knock off Calipari's Cats and their collection of "one and dones" in the Final Four. Though Wiscy, with no thanks to the referees in the second half, could not quite replicate that feat in the finale vs. Duke and its collection of "diaper dandies" (as Dick Vitale likes to call the star frosh), the semifinal win over Kentucky still resonated, reconfirming that college hoop programs could still be built the old-fashioned way, and didn't need to rely upon hotshot frosh who would leave for the NBA after one season, to get to the Final Four.


Fast forward nine-plus months from last April, and the latest top ten in college hoops reminds a lot more of last season's Wisconsin than the 2014-15 Duke and Kentucky-type rosters that used their star frosh to dominate. Perhaps the current season's crop of freshman newcomers simply isn't as dominant; the consensus top player of the 2015-16 newcomer crop, LSU F Ben Simmons, plays on an LSU team that is in the middle of the Big Dance bubble mix as January comes to a close, and the Tigers hardly resemble last year's Kentucky or Duke. Even this year's Kentucky, with another crop of blue-chip frosh for Calipari, has not dominated like its predecessor team from last season (though, after absorbing some tough losses to LSU and Auburn early in the SEC slate, the Cats might be in the early stage of a serious ascent...more on those developments in this week's college forecast).


Of course, freshmen have been making an impact on the varsity level since their immediate eligibility was restored in the 1972-73 season. But it has been a while since we have experienced a college season like this current one when most of the star frosh are taking a back seat to squads featuring veteran components. Like many longtime college cage followers, we have rather enjoyed the collection of teams that almost exclusively feature upperclassmen now hanging near the top of the polls. While some in the national media are lamenting the lack of a true dominant team in this year's college season, we suggest the quality of play has improved. New rules designed to cut down some of the overaggressive defensive tactics, as well as the new 30-second shot clock, are perhaps contributing factors as well. Whatever. So many ranked teams are displaying better teamwork and execution this season, due, we and others believe, to the experience on most of the rosters....the way most highly-ranked teams used to look when TGS was publishing in past decades.


To illustrate this season's "experience counts" trend, we thought it interesting to look at the most recent top ten and review each of the rosters for their key upperclassmen components. We do not recall a season, at least in recent memory, when so few frosh had made an impact on top ten teams. Following is a quick look at those squads (listed by the latest AP ranking) plus selected other national contenders that are making lots of headway this season with veteran lineups.


1-Oklahoma...Perhaps no team exemplifies this year's trend any better than the Sooners, who start three seniors (Gs Buddy Hield, a top Wooden Award candidate, and Isaiah Cousins, plus F Ryan Spangler). Lon Kruger's team also starts a junior guard, Jordan Woodard, who has been in the starting lineup since his first game as a frosh over two years ago. Thus, Kruger has as much experience on the perimeter as any coach in the country. Sixth-man F Dinijyl Walker, a former juco transfer, is also a senior. The only underclassmen in the starting lineup is soph F Khadeem Lattin, and the lone frosh who sees consequential minutes is F Dante Buford, and even he is a redshirt frosh.


2-North Carolina...Roy Williams is in the mix for the bluest of the blue chips every season and has often featured Tar Heel teams heavily dependent upon true frosh. But not this season, as the UNC blueprint for 2015-16 looks a lot like Oklahoma and several other top ten teams that also feature upperclassmen. Williams' top two scorers, F Brice Johnson and G Marcus Paige, are both seniors, while key frontliners Kennedy Meeks and Isaiah Hicks, plus key reserve G Nate Britt, are all juniors. The Heels have a couple of sophs, G Joel Berry II and swingman Justin Jackson, seeing significant minutes, but for the first time in memory at Chapel Hill, no frosh are making an impact (F Luke Maye, a deep reserve, is the top UNC frosh in terms of minutes played, at all of 7.5 per game). It wasn't for a lack of trying that Roy does not have a frosh star this term, however, as he tried long and hard to woo ballyhooed F Brandon Ingram from nearby Kinston, NC. Though Ingram would eventually ink with hated Duke, just eight miles away on Tobacco Road.


3-Iowa...Much like the Sooners, and even a bit more so than the Tar Heels, the Hawkeyes are relying heavily upon upperclassmen for HC Fran McCaffery, who has patiently built the Hawkeyes with this season in mind. The payoff has been the program's highest ranking since the outset of the Dr. Tom Davis era in 1987. McCaffery does Oklahoma's Kruger one better by starting four seniors (leading scorer F Jarrod Uthoff, C Adam Woodbury, Gs Mike Gesell and Anthony Clemmons), plus one junior, G Peter Jok. Iowa's underclassmen make up the contributing members of the bench, including soph F sixth man Dom Uhl, plus two frosh, F Nicholas Baer and G Brady Ellingsen. But McCaffery is leaning as heavily as any coach on his seniors to take Iowa deep into the Big Dance.


4-Kansas...Bill Self lost a couple of key players (G Kelly Oubre and F Cliff Alexander) from last year's team to early entry into the NBA, but still has a heavy does of upperclassmen pacing this season's Jayhawks. Only one underclassmen, soph G Devonte Graham, is regularly in a starting lineup that features three juniors (Gs Frank Mason III and Wayne Selden, Jr., plus swingman Brannen Greene) and senior F Perry Ellis. No frosh are making significant contributions for Self, and that includes the highly-touted 6-9 Cheick Diallo, considered a top ten prospect by ESPN entering the season but inactive due to eligibility issues for the first month of the season and receiving decreasing minutes in recent games.


5-Texas A&M...Among the top five teams in the latest rankings, A&M is the only one with a frosh starter (C Tyler Davis), but HC Billy Kennedy surrounds him with four seniors, including F Jalen Jones (a transfer two years ago from SMU) and Gs Danuel House, Alex Caruso, and Anthony Collins (who transferred this season from South Florida). Besides Davis, the Aggies do have several well-regarded frosh making contributions, though they do so as main components of Kennedy's bench and include G Admon Gilder, C Tonny-Trocha Moreles, and swingman DJ Hogg.


6-Villanova...Jay Wright not only has several key upperclassmen contributors, but a few of them also seem to have been around since the long-ago Rollie Massimino era, including four-year starting PG Ryan Arcidiacono. Wright has moved star frosh Jalen Brunson (whose dad Rick once starred across town at Temple) into the starting backcourt alongside Arcidiacono, but otherwise the Cats have a very veteran look, with juniors G Josh Hart and Fs Kris Jenkins and Darryl Reynolds also in the starting lineup, and senior frontliner C Daniel Ochefu getting starter's minutes though usually the first off of the bench as Wright's sixth man. Another frosh, G Mikal Bridges, is seeing about 20 minutes per game as the second man off of the bench after Ochefu, as Wright has blended a couple of the frosh into an experienced mix.


7-Xavier...A few more underclassmen in featured roles for the "X," as HC Chris Mack leans heavily upon top-scoring soph G Trevon Bluiett, and highlight-reel 6-5 RS frosh Edmond Sumner is back in the starting lineup after missing three games at the start of the month following a scary collision in the Villanova game on New Year's Eve. But the Musketeers have a collection of upperclassmen in key roles, including starting srs. C James Farr and G Remy Abell, and jr. G all-name Myles Davis, plus key reserve 6-10 jr. frontliner Jalen Reynolds.


8-Maryland...The Terps added some key upperclassmen transfers prior to the season when ex-Duke G sr. Rasheed Sulaimon and ex-Georgia Tech jr. F Robert Carter, Jr. both appeared on the scene at College Park, joining sr. F Jake Layman, jr. C Damonte Dodd, and star soph G Melo Trimble in the starting lineup. Coach Mark Turgeon does utilize one frosh extensively off the bench, 6-10 man-child Diamond Stone, but he is the only freshman to see extensive minutes for the Terps.


9-West Virginia...Few newcomers are making significant contributions for Bob Huggins' Mountaineers; the top frosh in minutes played is 6-8 F Esa Ahmad, usually the second or third player off Huggins' bench. There are a couple of underclasmen who are playing important roles, including soph Gs Jevon Carter and Daxter Miles, Jr., though both saw considerable minutes as frosh last season. Key upperclassmen include srs. G Jaysean Page and rugged PF Devin Williams, Huggins' top two scorers, and F Jonathan Holton, also in the starting lineup.


10-Providence...The one exception to senior leadership in the top ten is Providence, which has no seniors on its roster, though the only frosh making meaningful contributions is sixth man 6-8 F Ryan Fazekas. The bulk of HC Ed Cooley's contributors are sophs, including Fs Ben Bentil and Rodney Bullock (who finally made his varsity debut this season after academic suspension and a torn ACL delayed his appearance as a Friar for two years) and G Kyron Cartwright. Star jr. G and team leader Kris Dunn is in his third year as a starter, with fellow jr. G Junior Lomomba completing the starting lineup.


Much of the "second ten" is also dominated by upperclassmen, including Virginia (whose starters include three seniors and a junior, plus a soph), Michigan State (three seniors and a junior in the starting lineup; frosh F Deyonta Davis recently moved into the starting lineup after G Lourawls Nairn, Jr.'s foot injury), Iowa State (almost an entire upperclassmen team, with three senior starters, and no frosh in the usual personnel rotations for HC Steve Prohm), Miami-Florida (all-upperclasmen starting lineup featuring four seniors, though second-leading scorer soph G Ja'Quan Newton comes off the bench as the sixth man), and Louisville (no frosh starters, with sr. transfers Gs Damion Lee, via Drexel, and Trey Lewis, via Cleveland State, the only DD scorers for Rick Pitino).


This upperclassmen revival might be no more than a one-year trend, but we can unequivocally state that this is not the year of the freshmen in college hoops!
Return To Home Page