7133...
TGS HOOPS PREVIEW
...2016-17 NBA WEST "FUTURES" TO WATCH
by Bruce Marshall, Goldsheet.com Editor and P.Carl Giordano, Managing Editor
WESTERN CONFERENCE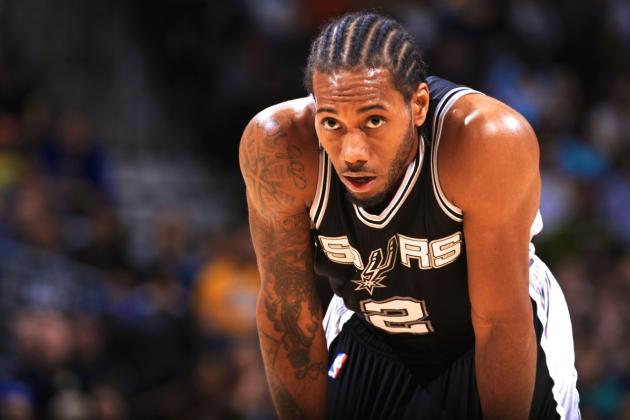 SOUTHWEST DIVISION...BEST BET: It seems a bit odd to be projecting the San

Antonio

Spurs (57½) without mentioning Tim Duncan, who retired after last season (though he has an open invitation to serve in some capacity on Gregg Popovich's bench). Effectively taking Duncan's spot is Pau Gasol, who at 36 still had enough petrol left in his tank to score almost 17 ppg and haul down 11 rpg with the Bulls a year ago, and should be able to fill most of the roles of the late-career version of Duncan (save perhaps team leadership, where the Big Fundamental's presence might be most missed). David Lee is another useful frontline addition. Whatever, the Spurs are now Kawhi Leonard's and LaMarcus Aldridge's team, and there's still Coach Pop pulling the strings. Expect San Antonio to once again chase Golden State for top seed in the West playoffs, but the Tony Parker-Danny Green backcourt was undressed a few too many times by the Warriors a year ago to believe San Antonio can overtake a Kevin Durant-fortified Golden State. We're expecting some of the top contenders in the West to have suppressed win numbers this season...including the Spurs. Look "under" at AT&T Center.



OTHERS:

Mark Cuban's Dallas Mavericks (39½) have struck out more in their recent FA pursuits than Rangers batters did in the ALDS vs. the Blue Jays. Cuban, however, cannot stand the thought of a full-rebuild and irrelevance for a couple of years, so Dallas has been making personnel moves more designed to keep it on the edge of playoff qualification rather than actually contending for the title the Mavs last won in 2011. Thus, adding two supporting cast members (Harrison Barnes and Andrew Bogut) from recent Golden State powerhouses should provide enough spark to keep the Mavs in the hunt for the 6-7-8 playoff seeds in the West. There is still enough left in 38-year-old Dirk Nowitzki's tank to justify a two-year contract extension, and if G Wesley Matthews finally gets beyond his Achilles tendon tear from two seasons ago that appeared to hamper him all of last season, Dallas probably does not drop off of the map. We have enough respect for shrewd HC Rick Carlisle to adjust as needed and give the Mavs an "over" vote.

A marriage made in heaven...or hell? We'll see with the Houston Rockets (44), who figure to increase their tempo to unimaginable levels with the hire of HC Mike D'Antoni, whose run-run-run mantra will certainly be embraced by gunner supreme James Harden, who will be having the ball in his hands even more as he mans PG duties, at least until Patrick Beverley returns from his knee injury sometime in December. The potential to put up monstrous stats should make Harden a top fantasy pick, but FanDuel metrics do not usually translate to actual wins. And with more fire-shoot-then aim sorts such as G Eric Gordon and F Ryan Anderson added in free agency from the Pelicans, the bomb bays are going to be open in Houston. Dwight Howard's departure in free agency is being discounted by Rockets backers, but the ability of Clint Capela to replicate Howard's value as post defender extraordinaire, rim protector, and rebound machine are in doubt. The Rockets' strengths and flaws will likely be magnified more with D'Antoni, and we suspect Houston falls short of the playoffs. "Under" at Toyota Center.

The Memphis

Grizzlies

(43½) seem to think that ex-Heat assistant David Fizdale is going to extract more from the roster than either Dave Joerger or Lionel Hollins in recent years. We'll see, especially since it has become harder for the Griz to keep frontline cornerstones Marc Gasol and Zach "Old Man River" Randolph healthy in recent years. Fizdale was also brought in to foster a new styile away from the established Memphis grind-and-grit of recent seasons, hoping that more volume shooting and versatility can be utilized in a faster-paced game. To which the Griz believe re-signing PG Mike Conley to a mega-deal was very important, as well as adding wing Chandler Parsons to the mix. It looks good on paper, but keeping Randolph and Gasol healthy for the majority of the season might be a tall order. And try as Fizdale might to change the dynamics, the big fellas are still the barometer in Memphis. With durability a real concern for the veteran bigs, we look "under" at FedEx Forum.

So much for hiring HC Alvin Gentry off the Golden State staff last season to implement the "Warriors style" with the New

Orleans

Pelicans

(37). Instead, Gentry was dealing with injuries almost from the outset and could only steer the Pels to 30 wins. And that was before more personnel outflow than inflow in the offseason, when key cogs Ryan Anderson and Eric Gordon both inked with Houston in free agency. Now, there is cause for more concern, as oft-injured frontline star Anthony Davis was already nursing a sore ankle before preseason concluded, while Tyreke Evans could be sidelined until the festive period with blood clot problems in his leg. Morever, PG Jrue Holiday will not be available at the outset as he attends to ailing wife and former US soccer star Lauren, recovering from brain surgery. Thus, Oklahoma rookie G Buddy Hield is going to get a chance to show his stuff right off the bat. But there are skeptics who wonder if the rapid-fire Hield can replicate his 46% three-point shooting last year at Oklahoma, and how he will develop other parts of his game without the ball in his hand, as it always seemed to be with the Sooners. Even if Hield delivers, we would have to know the availability of Davis for a full season before opting for an "over" in New Orleans. Since that already seems unlikely, we instead look "under" at the Smoothie King Center.


NORTHWEST DIVISION...BEST BET: Looking for a breakthrough team this season? How about the

Minnesota Timberwolves (41)

, who survived a distraction-laden 2015-16 filled with injuries and the passing of HC Flip Saunders just before the opener. But the building blocks have been put in place for new HC Tom Thibodeau (who was missed more than most expected in Chicago). And the T-wolves added yet another piece to their promising puzzle when tabbing Providence G Kris Dunn, perhaps the most NBA-ready player in last June's draft, with the fifth overall pick. The nucleus already included a couple of previous overall top draft picks, C Karl-Anthony Towns and wing Andrew Wiggins, who each hinted at future stardom a year ago. And it will be fascinating to see the shrewd Tibs deploy his inside-out schemes that should best utilize the abilities of each. What really intrigues, however, is how Thibodeau's defensive nous translates to his bunch of young thoroughbreds, whose expected upgrades on the stop end could lead to a devastating transition offense. Other youngsters such as SG Zach LaVine (now more than a dunkmeister, able to stretch floors after his 3-point shooting improved to 39% last season) and PF Gorgui Dieng could also flourish in the Thibodeau system. Too soon to challenge the Warriors, but expectation of a playoff berth are justified in the Twin Cities. It's a definite "over" for us at the Target Center.


OTHERS:

We have been getting mixed reviews on the Denver

Nuggets

(36½), who did not necessarily impress in the preseason after missing the playoffs again a year ago. But the Nuggets were improved last season under new HC Mike Malone, and that was minus key cog F Wilson Chandler, who missed the entire campaign with a hip injury. Keeping Chandler and SF Danilo Gallinari healthy will be key to any further ascent, and Denver seemed to address its outside shooting needs in the draft by tabbing Kentucky sharpshooter Jamal Murray in the first round. The progress of uber-talented import Emmanuel Mudiay in his second year at the point will also be crucial. Some sources believe there are enough capable pieces in the Denver mix to imagine the Nuggets making a playoff push. But, as usual, keeping the likes of Chandler and Gallinari on the floor and not on the injured list will be crucial. We'd rather just watch and see what happens, so it's a pass for us at Pepsi Center.

We suspect there will not be a team playing with more of a chip on its shoulder than the Oklahoma

City

Thunder (45½), striving to say relevant post-Kevin Durant. A defiant Russell Westbrook re-committed to the franchise by signing a contract extension in the offseason, and there are some who believe Westbrook was more valuable even than K-D in recent Ok City successes. Westbrook also has a new running mate in Victor Oladipo, brought in from Orlando in the Serge Ibaka trade, giving Westbrook a lively partner to wreak havoc in transition breaks. Thunder GM Sam Presti also added potential useful parts Ersan Ilyasova and Gonzaga rookie frontliner Domantas Sabonis, and Ok City remains intimidating in the paint with the NBA's answer to former Vancouver Canucks defenseman Harold Snepsts, mustachioed Steven Adams, plus Enes Kanter, who have matured into potential forces. Plus, HC Billy Donovan had adapted well to the NBA by the end of his first season, and his own transition period seems behind him. Add it up, and the Thunder do not likely drop off of the map, and we would love to see a playoff matchup vs. the Warriors, which could come in the second round. We're getting ahead of ourselves, but it's an "over" for us at The Peake.

One of the best storylines in the league last season was authored by HC Terry Stotts and the Portland

Trail

Blazers (45½), who were projected to win in the high 20s after losing much of their roster following 2014-15. Instead, the Blazers shunned any rebuild talk and decided to compete, eventually being rewarded with a playoff berth and first-round upset of the Clippers (who admittedly became shorthanded in the series after Chris Paul's injury) and then pushing the Warriors in the West semis. Before getting too carried away, however, remember that Portland barely qualified for the postseason and won only 44 games in the regular season. Is that mid-range their real level, or is the ceiling higher after the playoff exploits? We suspect it's more of the former, and no sneaking up on foes this season, though the high-octane offense led by Gs Damian Lillard and C.J. McCollum remains fun to watch. The Blazers can get back to the playoffs, but in a competitive West will be hard-pressed to exceed last year's 44 wins, so we go "under" at Moda Center.

Much like Minnesota, the Utah Jazz (47½) are generating a lot of buzz in the West after their narrow playoff miss last season. But a jump to the upper tier is not out of the question after adding useful veterans George Hill, Joe Johnson, and Boris Diaw to a precocious core that has been oozing upside the past two years under HC Quin Snyder. Also keep in mind that touted 6-6 Aussie PG Dante Exum, whose ceiling appears unlimited, is also available after missing all of last season with a torn ACL, and 7-1 French C Rudy "The Stifle Tower" Gobert is already among the best rim protectors in the league. There are some minor injury concerns at the outset, with high-scorer Gordon Hayward on the shelf for a while with a finger injury. But if Utah avoids any further physical maladies, it can emerge as a threat in the West. We're going "over" in Salt Lake City.


PACIFIC DIVISION...BEST BET:

Fool us once, shame on you. Fool us twice, shame on us. Thus, we're not biting this season on the Sacramento Kings (33), who have made us regret our "over" projections the past two campaigns. Not this year, even with the debut sparkling new downtown Golden 1 Center, a redesigned logo and unis, and plenty of potentially useful spare parts added for new HC Dave Joerger, who will have the likes of vets Arron Afflalo, Matt Barnes, Garrett Temple, and Ty Lawson, plus four rookies led by 13th overall pick Georgios Papagiannis (via Greece) and 22nd overall pick Malachi Richardson (via Syracuse) at his disposal. We wonder, however, if Joerger is going to have any more luck than predecessor George Karl in dealing with temperamental C DeMarcus Cousins, who has annually poisoned the locker room. But that's not even the biggest negative in Sacto, as we still can't figure out how Vlade Divac is qualified to be the personnel supremo of any NBA organization. If someone believes Divac knows one-tenth as much about hoops and personnel as the coach he dumped, Karl, we've got some oceanfront property in Phoenix we'd like to sell. Not much for Governor Brown and other locals to get excited about this season, as we look "under" in Sacto, though we really do want to see that new arena and its high-tech 4K ultra-HD video board...as fancy as it gets!



OTHERS:

Of course, there is normal offseason buzz, and then there is Golden

State

Warriors (66½) offseason buzz after inking Kevin Durant in free agency to add to an All-Star core that set an NBA record with 73 regular-season wins before a bitter 7-game exit vs. the Cavs in the Finals. Now, there has been much chatter that the Warriors can exceed those 73 wins (or how about 82-0?) if they wish, but we suspect it might take a little time for K-D, Klay Thompson, and MVP Steph Curry to divvy up the available shots (after all, teams can only play with one ball). And signing Durant meant that GM Bob Myers had to let go of almost all the support cast and various role players, now filling in with vets such as frontliners Zaza Pachulia and David West, and rookies C Damian Jones (Vandy) and G Patrick McCaw (UNLV). Steve Kerr also might ease up on the throttle in April after Golden State gunned it thru the regular-season tape to get to the record 73 wins, only to run out of gas in the playoffs. No matter; with so much firepower on hand, it should be an "over" in Oakland, as the league anticipates a Finals rubber-match vs. LeBron and the Cavs.

The window might be closing on the Los

Angeles

Clippers (54), who dealt with numerous injuries a year ago and still got to 53 wins with Blake Griffin out most of the second half of the season. Another injury to star G Chris Paul in the playoffs, however, hastened the Clips' early postseason exit, and Griffin, Paul, and G JJ Redick are due to hit free agency after the 2017-18 campaign, so the two-year countdown has begun (also for HC Doc Rivers). The bench, however, might be deeper than ever, thanks to offseason additions F-C Mareese Speights, F Brandon Bass, swingman Alan Anderson, and G Ray Felton, the latter a nice insurance blanket in case Paul goes down again. In the end, a potential deep run relies upon Griffin and Paul both staying healthy, but the sense of urgency at Staples Center suggests an "over" for the Clips.

After two painful seasons and a combined 38-126 mark, the Los

Angeles

Lakers (25½) are finally ready to move forward and commit to an overdue rebuild after wasting two seasons on what amounted to an extended testimonial and farewell tour for Kobe Bryant. The Black Mamba is gone, however, and not a moment too soon after shooting the team out of many games, impeding development of some of the youngsters, and scaring away potential free agents. The latter have yet to return in droves, but the nucleus does have a young and fresh look, with second overall draft pick Brandon Ingram from Duke offering all sorts of potential, and the youthful core now having a chance to develop with reduced expectations under the watchful eye of new HC Luke Walton, fresh from his stint as Steve Kerr's right-hand man at Golden State, and a likely upgrade from predecessor Byron Scott. The climb back to respectability begins this term for the Lake Show, but we are not sure that Walton can coax another 9 wins out of the team after LY's 17-65 disaster. At least Jack Nicholson figures to show up more often at courtside this season. It's a no-call for us with the Lakers.

The Phoenix

Suns

(29) have too often committed an NBA version of hara-kiri under the ownership of the unpredictable Robert Sarver, whose idiosyncracies have created an unstable environment and helped undermine the recent promise of the Jeff Hornacek regime. But former player and assistant Earl Watson was retained as HC after showing some promise in his interim stint, and the Suns enter the campaign flying decidedly under the radar. That might be a plus, as the all-Kentucky backcourt of Eric Bledsoe and Brandon Knight, plus Devin Booker, has already flashed considerable upside and seems well suited to the faster pace that Watson prefers. Rookies C Dragen Bender (via Croatia) and explosive wing Marquese Chriss (a one-and-done for Lorenzo Romar at Washington) likely find their way into the rotations as will former Suns C Jared Dudley and G Leandro Barbosa, who have returned to Phoenix and hope to recall some of the glory of the best days of the Mike D'Antoni era. There's always a chance Sarver gets in the way, but the Suns don't figure to be terrible this season, and even might be fun to watch. It's an "over" for us at what they now call the Talking Stick Resort Arena.
Return To Home Page