7172...
NEW TGS HOOPS COVER STORY.
..TGS 2016-17 COLLEGE HOOPS TOP 40!
by Bruce Marshall, Goldsheet.com Editor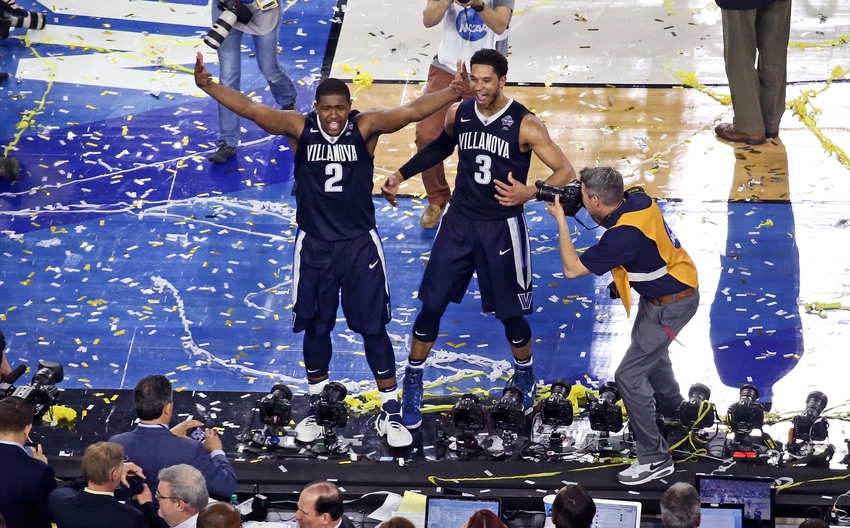 1-VILLANOVA...It's been a decade since the Florida Gators recorded the last repeat national championship. And teams rarely pick up where they left off at the end of the previous season. But when last seen, Nova was the best team in the country, and much of the same cast returns, including national player of the year candidate swingman Josh Hart and various other components from Jay Wright's 2015-16 masterpiece. The bad news? Point guard Ryan Arcidiacono and C Daniel Ochefu were key cogs in the run to the title. And touted frosh recruit Omari Spellman has been ruled an "academic redshirt" and will not be eligible this season. But Jalen Brunson appears ready to make a smooth transition to the point, and no team matched the Cat chemistry last March. This year, the national title runs thru the Main Line.


2-WISCONSIN...It was a bit of a topsy-turvy 2015-16 for the Badgers, who somehow careened all of the way to the Sweet 16 in a campaign in which HC Bo Ryan retired at midseason. After a bit of a bumpy beginning in January, Ryan successor Greg Gard began to push many of the same correct buttons as did his predecessor, including some late-season tinkering to the old Badger "swing" offense that finally began to manifest in March. But the biggest news in the offseason was swingman Nigel Hayes pulling his name from the NBA Draft to return for another term in Madison. Gard thus returns his top five performers, with Hayes (15.6 ppg LY), G Bronson Koenig (13.1 ppg), and C Ethan Happ (12.4) all double-digit scorers a year ago.


3-OREGON...While the Duck football program has hit the skids, the hoopsters are going full throttle, with HC Dana Altman returning all but two members of last year's rotation that propelled the Ducks to a top regional seed and all of the way to the Elite Eight. Best of all, that includes PG Dylan Ennis, rather surprisingly granted a sixth year of eligibility in June. Ellis is only part of a star-studded returning cast led by F Dillon Brooks (16.7 ppg). Moreover, shot-blockers 6-10 Chris Boucher and 6-9 Jordan Bell patrol the paint. The Pac-12 is also good enough to give the Webfoots a test, but not brutal enough to wear them down. In March, the Ducks should again have a chance to stay in the West all of the way to the Final Four.


4-DUKE...First the bad news, as touted frosh Fs Jayson Tatum (foot) and Harry Giles (knee), plus C Marques Bolden (knee), were all hurt in preseason. and their availability for early-season games is unknown. The good news is that another diaper dandy, G Frank Jackson, will compete for time on the perimeter from the outset. And once all of these frosh get on the floor, Coach K might have something to behold, added to a mix that includes feisty G Grayson Allen (21.6 ppg), already the most hated player in the ACC (which is actually a compliment), and 6-9 sr. C Amile Jefferson, whose broken foot last December took the best rebounder out of the Blue Devil lineup. Krzyzewski's teams are beginning to look like Kentucky, which means it might be another bunch of one-and-dones next season. ACC sources cannot wait to see all of these latest frosh on the floor as they are being compared with some of Coach K's best-ever recruiting classes.


5-KENTUCKY...It is almost obligatory to put the Cats high in the preseason rankings as long as John Calipari is pulling the strings in Lexington. But before automatically drinking the UK Kool-Aid, consider that not all of Coach Cal's one-and-done editions are created equal. For example, last year's team lost nine games and didn't make it out the sub-regionals. And back in 2013, the Nerlens Noel team could only get to the NIT, where it lost off the bat to Robert Morris (when Noel was injured). This year's new names to remember include SG Malik Monk, PG De'Arron Fox, and C Bam Adebayo. The latter brings a physical, above-the-rim presence that the Cats lacked last season when they were KO'd by disliked Indiana in the second round. They reload, not replace, at Kentucky.


6-XAVIER...Chris Mack's Xavier teams have in the past hit their ceiling in the Sweet 16, and last year didn't make it that far, blowing a late lead in the second round of the Dance vs. Wisconsin. Expect that bitter exit, however, to act as a season-long motivator for the Musketeers, who boast perhaps the Big East's, and maybe the nation's, best perimeter in explosive wings soph Edmond Sumner and jr. Trevon Blueitt, and sr. PG Myles Davis. But the man to watch is Norfolk State grad transfer C Rashid Gaston, who was one of the best players in the MEAC when he almost averaged a double-double last season. The "X" also knows how to play away from Cintas Center, as 13 of its 28 wins a year ago were in road or neutral-court games.


7-NORTH CAROLINA...The best move made by the basketball team already happened in the summer when the Heels dodged what looked like severe penalties forthcoming from the NCAA. More about that in an upcoming issue. Suitably relieved, Roy Williams is assembling another deep, large, and cohesive team that nonetheless must compensate for the loss of important cogs (Brice Johnson & Marcus Paige) from the juggernaut that made it all of the way to the title game last April. As a year ago, it is a heavy upperclassmen-laden lineup led by Gs Nate Britt & Joel Berry, F Justin Jackson, and punishing C Kennedy Meeks, with frosh C Tony Bradley and all-name G Seventh Woods expected to make immediate contributions. The pieces are in place for UNC, as usual, to make a deep run in March.


8-KANSAS...Another year, another loaded Jayhawk team, though Bill Self has to fill in some important gaps after Wayne Selden and the timeless Perry Ellis (how old was he when he graduated, anyway?) have finally departed Lawrence. But the backcourt is still top-notch with Frank Mason III and Devonte' Graham as established components, and the hype is on overload for 6-8 frosh swingman Josh Jackson, already being compared favorably to another ex-KU one-and-done phenom, Andrew Wiggins. With the Big 12 perhaps a bit watered down this season, the coast is clear for the Jayhawks to secure a top regional seed.


9-ARIZONA...First the news of concern regarding star soph G Allonzo Trier, who has some eligibility issues and will likely not be available for early-season games, or until his status is clarified. Assuming Trier eventually returns, however, the Cats are loaded again and figure to be on the ascent in March, as this year's haul of blue-chip frosh (Gs Rawle Alkins & Kobi Simmons, and 7-0 Fin Lauri Markkanen) figures to be fully indoctrinated into the Sean Miller system by the time the Dance rolls around. Also it might help UA to not be wearing the Pac-12 target this season, as the Cats can develop at their own pace while Oregon garners most of this season's attention.


10-VIRGINIA...Tony Bennett loses some key cogs (G Malcolm Brogdon and C Anthony Gill were longtime stalwarts), and the hangover from the bitter Elite Eight exit at the hands of Syracuse could linger for a while. But Bennett has established the Cavs as a force effectively equal to Duke and North Carolina in the ACC, and PG London Perrantes is the perfect Bennett prototype PG, solid on defense, willing creator on the attack end, and steely enough to shoot 3s when needed. Memphis transfer Austin Nichols wowed at times with the Tigers and should be able to fit into the Bennett system seamlessly.


11-PURDUE...The bitter taste of the sub-regional exit at the hands of Little Rock remains. But that could also provide fuel this term for the Boilermakers and HC Matt Painter, who breathed a huge sigh of relief when valued frontliners Vince "Ben Casey" Edwards and Caleb Swanigan pulled their names out of the NBA Draft
to return for another go in West Lafayette.
12-GONZAGA...The Zags thought they had a legit shot at the Final Four last March until a late meltdown cost them in the Sweet 16 vs. Syracuse. Replacing frontliners Domantas Sabonis and Kyle Wiltjer will be a task for HC Mark Few, and puts more pressure on 7-foot Polish C Przemek Karnowski to stay healthy this season. But Few hit the jackpot in this year's transfer derby with the arrival of ex-Washington G Nigel Goss-Williams, one of the Pac-12's top guards when featured for Lorenzo Romar's Huskies, and ex-Cal swingman Jordan Matthews.
13-LOUISVILLE...Never want to underestimate a Rick Pitino-coached team, but off-court distractions continue to mount at the 'Ville, which endured a self-imposed postseason ban last season as it awaits an NCAA inquiry. For now, Pitino's team is at least slated to compete in the ACC Tourney, and we'll see what happens thereafter. No matter, Pitino has overcome those sorts of things before, though he also must get beyond the loss of top scorers Trey Lewis and Damion Lee, who parachuted in for one season a year ago. ACC sources believe G Quentin Snider can assume go-to scoring duties, while 6-7 frosh V.J. King figures to become a force sometime during the season.
14-WEST VIRGINIA...
With Oklahoma likely to regress a bit this season, the Mounties (who finished second in the league race last season) are likely to be the top challenger to Kansas in the Big 12. Lots of experience in the backcourt led by established Gs Jevon Carter, Daxter Miles, and Tarik Phillip. Bob Huggins will need some frosh frontliners, including touted 6-10 Maciej Bender, to hit the ground running. But WVU always plays smashmouth defense, and Huggy is expert at using his bench. They'll be dancing again in Morgantown.
15-UCONN... Kevin Ollie has proven beyond a doubt that he is an elite coach. And many regional observers thought the Huskies were poised to make another surprising deep run last March until running into loaded Kansas a bit too early in the second round of the Dance. Now they are comparing the latest UConn recruiting haul to the vintage 1991 class that netted future NBA draftees Donny and Donyell Marshall. Key G Rodney Purvis and C Amida Brimah (a holdover from Ollie's 2014 title team) are still around to provide leadership.


16-MICHIGAN STATE...After an unexpected one-and-done in the Big Dance and the departure of longtime stalwart Denzel Valentine, the Spartans are in something of a rebuild mode this season. But it also looks as if it could be another Tom Izzo special, with a young core likely to have matured by the time March rolls around. MSU's frosh class, led by blue-chip Fs Joshua Langford and Miles Bridges, rates favorably with the nation's best, while there is experience in the backcourt led by all-name G Lowrawls Nairn, Jr. (enough with the "Tum-Tum" nickname...don't these announcers realize the ultimate cool of Nairn's first name?) and Eron Harris.
17-CREIGHTON...Looking for a potential breakthrough team in the Big East? Try Creighton, flying at NIT-level since Doug McDermott's graduation a couple of years ago. Add to the mix Kansas State transfer G Marcus Foster, who will team with holdover PG Maurice Watson in a lightning-like backcourt, and the Bluejays are ready to make some noise once again.
18-INDIANA...Tom Cream did not look quite as tortured last season as he got the Hoosiers to another Sweet 16 and beat Kentucky along the way in the second round of the Big Dance. Life after G Yogi Ferrell begins this season, but Crean does get back G James Blackmon, Jr., who was scoring almost 16 ppg before going down with a knee injury that caused him to miss the last 23 games a season ago. Soph C Thomas Bryant is a potential dominator on the blocks who hit nearly 70% of his FG tries last season and gives IU effective inside-outside scoring balance with Blackmon.
19-CINCINNATI...Mick Cronin was able to squeeze an improved contract out of Cincy after dabbling with the UNLV opening in the offseason. Now Cronin presides over what could be his best offense in several years, with double-digit scorers G Troy Caupain and F Gary Clark still in the mix. The Bearcats will be typically tough and enter the season no worse than co-favorite in the American along with UConn.
20-COLORADO...We have come to appreciate Buff HC Tad Boyle, who has won at all career stops. He will be adjusting on the fly this season now that four-year starting C Josh Scott has finally graduated. More "small ball" in store for CU, which has the pieces to do so, especially with the healthy return of swingman Xavier Johnson, sidelined with an Achilles tendon tear, and explosive running mate George King. 6-5 D-II transfer Derrick White (a prolific scorer at CU-Colorado Springs) might also make an impact.


21-BUTLER...Coach Chris Holtmann has to fill in a couple of important gaps after stalwarts Kellen Dunham and Roosevelt Jones (who accounted for 38% of the Bulldogs' points last season) have departed. But Holtmann's Butler has impressed with its toughness and grit, and that does not figure to change. Junior F Kellen Martin should be able to assume go-to scoring duties as the Bulldogs likely slow the pace a bit more this term, which should make our favorite mascot Blue the bulldog quite happy.
22-SAINT MARY'S... The Gaels have unfortunately emerged as the team most likely to get defended by Doug Gottlieb after being snubbed again on Selection Sunday. Maybe not this season, however, as Randy Bennett returns all five starters from last year's 27-win team, paced by Aussie sharpshooters Emmett Naar and Dane Pineau. Whatever, SMC remains a joy to watch.
23-SAN DIEGO STATE...Last season, another loss in the Mountain West Tourney finale (this time vs. Fresno State) cost the Aztecs a Big Dance bid. Some bad pre-league losses hurt a year ago, but don't expect a repeat as SDSU enters as the team to beat in the MW. A nice core returns with soph PG Jeremy Helmsley, jr. wing Trey Kell, and jr. C Malik Pope, with 6-6 Mizzou transfer Montaque Gill-Caesar and touted 6-9 frosh Jalen McDaniels likely to make immediate contributions.
24-VIRGINIA TECH...Looking for a sleeper in the ACC? Try the Hokies, who began to stir in the second half of last season, suggesting that it only took Buzz Williams a year-and-half to get his system working in Blacksburg. Buzz returns his top four scorers from a year ago, led by F Zach LeDay (15.5 ppg) and G Seth Allen (14.7 ppg).
25-RHODE ISLAND...Regional sources believe a team to watch in the A-10 could be the Rams, who might have emerged a year ago for HC Dan Hurley had star G E.C. Matthews not suffered a season-ending knee injury in mid-November. Matthews (16.9 ppg in 2014-15) has returned, as do four other starters from a year ago, including workhorse 6-7 F Hassan Martin (12 ppg), who provides the necessary floor balance...especially with Matthews back in the fold.


26-CHATTANOOGA...When last seen the might Mocs were rolling thru the SoCon en route to 29 wins and a Big Dance berth, even without what was their leading scorer the previous year, G Casey Jones, who suffered a season-ending ankle injury in early December. Jones now returns to a lineup with four returning starters that matured in his absence a year ago. Second-year HC Matt McCall (a Billy Donovan disciple) is going to be hard to keep in Chattanooga beyond this season.
27-MICHIGAN...
No team has dealt with as much bad injury luck the past couple of seasons as the Wolverines, who still slogged their way to 23 wins a year ago even minus star G Caris LeVert for much of the ride. John Beilein now welcomes back a core that matured in a hurry last season and features a perfect Beilein catalyst at the point in PG Derrick Walton, Jr. How far up the Big Ten ladder the Wolverines can climb likely depends upon contributions from frosh bigs Austin Davis and Jon Teske.
28-UNC-WILMINGTON...One of the "hot stocks" among young coaches is UNCW's Kevin Keatts, a Rick Pitino disciple who has worked magic with the Seahawks, winners of 25 a year ago and qualifiers for the Big Dance. UNCW is once again the team to beat in the Colonial as it returns four starters, including 6-5 sr. G Chris Flemmings (16.2 ppg LY), a former D-II transfer.
29-MARYLAND...We often wondered about the chemistry with the Terps a year ago, as they nonetheless advanced to the Sweet 16. Mark Turgeon welcomes back only one starter, but if he had to pick one to return, he could not have done better than jr. G Melo Trimble, who carried much of the load by scoring double-digits in the last 17 games a season ago. Key newcomers to watch are Duquesne grad transfer C L.J. Gill and frosh Gs Kevin Huerter and Anthony Cowan, who should help Trimble enough to get the Terps back to the Dance.
30-NEVADA...Eric Musselman proved to be one of the shrewdest coaching hires in the nation a year ago, as the Wolf Pack increased from 9 to 24 wins and the CBI title after the end of the preceding David Carter regime. Along the way Musselman deployed 6-8 frosh F Cam Oliver, who matured into a monster by season's end and opted against an early entry into the NBA Draft to return for what promises to be a banner soph season. Musselman returns a couple of other starters, plus welcomes a load of potential impact transfers, led by former Mizzou State G Marcus Marshall, who was scoring almost 20 ppg for the Bears before leaving the team midway thru the 2014-15 season.


31-DAYTON...Archie Miller continues to resist overtures from elsewhere and remains at Dayton, one of the truly good mid-major jobs in the country. The Flyers should get back to the Dance once more with an experienced core of seniors Gs Kyle Davis and Scoochie Smith, wing Charles Cooke, and frontline warrior Kendall Pollard. The Flyers resemble the handful of senior-laden teams that made an impact into the Dance a year ago.
32-OHIO STATE...After a brief detour thru the NIT last season, Thad Matta can return the Buckeyes to the Dance, with all five starters and the top six scorers returning from last year's 21-14 team. Defense was a hallmark last season when the Bucks permitted only 40.4% FG shooting. Big Ten sources expect a major improvement by soph G JaQuan Lyle.
33-WICHITA STATE...By the end of last season Gregg Marshall had the Shockers poised for another deep March run until some unfortunate scheduling and an early tip-off in the second round vs. Jim Larranaga's Miami proved too much to overcome. Earlier, Wichita had gotten off to a slow start due in part to an injury suffered by G Fred VanVleet, who, along with longtime running mate Ron Baker, has finally graduated. But the Shockers still look the class of the Missouri Valley. Look for last year's Valley frosh of the year Markus McDuffie to assume go-to scoring role post-Baker and VanVleet.
34-OKLAHOMA...An otherwise uplifting 2015-16 campaign ended on a crushing note with the 95-51 blowout loss at the Final Four vs. a Villanova team that OU had whipped earlier in the season. Now Lon Kruger embarks upon a rebuild after almost all of last season's key cogs (including high NBA draft pick bombs-away G Buddy Hield) departed Norman. Kruger, however, has won a lot over the past 30 years at a variety of locales with a variety of different teams, and does return glue guy sr. PG Jordan Woodard. Some of last season's role players off of the bench (such as 6-7 F Jordan Buford) will now get their chances, and 6-5 juco Darren Strong gives Kruger the option of playing two point guards on the floor (with Woodard) at the same time, as he did a year ago with Woodard and Isaiah Cousins.
35-TEXAS...By the end of last season it was easy to see the progress HC Shaka Smart was making in his first season with the Longhorns, qualifying for the Dance en route. Now Shaka has more work to do, as all five starters departed after last year's 20-win campaign. But do not feel bad for Smart, who rolls in a pair of 6-10 frosh, James Banks and Jarrett Allen (who will remind Horn backers of Myles Turner), big men who can get up and down the floor in the preferred Shaka fashion. Frosh Gs Jacob Young and Andrew Jones enter with plenty of hype. It's a mostly new-look, but "Shaka Ball" could be a load by March.


36-CAL...Though Cuonzo Martin could not prevent one of last year's frosh stars, Jaylen Brown, from leaving early for the NBA Draft, or for valued swingman Jordan Matthews from exercising his grad transfer rights (to Gonzaga), at least last season's other star newcomer, versatile frontliner Ivan Rabb, decided to stick around Berkeley for another season. This is also the time for former 5-star recruit 6-6 sr. G Jabari Bird to live up the one-time immense hype.
37-SETON HALL...Despite last year's 25 wins and Big Dance berth, plus the return of four starters, the Hall is still flying a bit under the radar. Perhaps because star G Isaiah Whitehead, a high-volume scorer, opted for the NBA Draft. And the Pirates were on fumes down the stretch when they lost nine of their last ten. But the offense figures to be better-balanced without Whitehead, especially if 4-star recruits Myles Powell and Eron Gordon step into the breach in the backcourt as expected. Kevin Willard has also proven he can coach.
38-SOUTHERN CAL...At the end of last season we were prepared to place the Trojans a lot higher after their breakthrough 21-win season that took some of the heat off of HC Andy Enfield. But that was before three seniors-to-be (Gs Katin Reinhardt and Julian Jacobs, and C Nikola Jovanovic) decided to depart in the offseason. (Jovanovic and Jacobs were not selected in the NBA Draft; Reinhardt now a grad transfer at Marquette). But plenty of firepower exists on a Trojan roster fueled by go-go G Jordan McLaughlin (13.4 ppg LY) and emerging 6-10 soph Bennie Boatwright (11.5 ppg as a frosh), a matchup headache very comfy in Enfield's fast-paced "Dunk City" style. Lots of potential also exists within 6-5 jr. Elijah Stewart.
39-UT-ARLINGTON...The team to beat in the Sun Belt, the Movin' Mavs return all starters from last year's 24-win, CIT team, including explosive F Kevin Hervey (18.1 ppg), who missed the last six weeks of the 2015-16 season with a torn ACL, as UTA was cruelly denied the Belt crown. But underrated HC Scott Cross has taken teams to the Dance before and has everyone back, including a now-healthy Hervey and valuable PG Erick Neal, who ignites the Mavs' transition game.
40-HARVARD...The Crimson took a bit of a pause last season after Tommy Amaker's run of Big Dance bids. Part of that had to do with the season-ending ACL injury to star PG Siyani Chambers before the 2015-16 campaign even tipped off. Now Chambers is back, along with three other starters from a year ago, including soph sharpshooting wing Corey Johnson, who set a school single-season record with 74 triples a year ago.
Note that the Ivy League has joined the rest of college hoops with a postseason tourney (think of it!) that will involve the top four finishers!
Return To Home Page