7202...
TGS SPECIAL REPORT
...RIVALRY WEEK II--AND THE "TEN-YEAR WAR"
by Bruce Marshall, Goldsheet.com Editor


Last week, we got a taste of the college football rivalry week phenomenon as noted in our cover story. But consider the past weekend an appetizer for the main course of rivalry games on tap in Thanksgiving week.


In a moment we'll share more recollections from one of our favorite college football tales reviewed in the past within our annual summer TGS Retrospective series. Before that, however, we want to provide added illumination on the numerous rivalry clashes this week and the various angles and trends unique to those always-intense "special" games on the schedule.


Nebraska at Iowa (Friday)...A rather new addition to the rivalry games, as Cornhuskers-Hawkeyes is now the annual season-ender for each since Nebraska moved into the Big Ten in 2011. Note the underdog side has covered last four meetings. NC State at North Carolina (Friday)...The road team has won and covered last three clashes. Arizona State at Arizona (Friday)...The Territorial Cup was heavily visitor-oriented for almost two decades, though the home sides have won and covered last three meetings.


South Carolina at Clemson...The Gamecocks are 6-1 vs. the spread the last seven Palmetto State showdowns, though the home team has also won and covered last three. Kansas at Kansas State...Bill Snyder has rolled in this series, wins and covers for K-State in seven straight vs. KU since Snyder returned to the Wildcat sideline in 2009, though he lost twice between 2004-06 vs. Jayhawks. Prior, he won 11 straight in series. Minnesota at Wisconsin...The Badgers haven't lost Paul Bunyan's Axe since 2003, though the Gophers have covered 5 of last 9 in Axe games. Georgia Tech at Georgia...Jackets 4-1-1 vs. line last six at Athens, but that's not as good as the Bulldogs have played lately at Bobby Dodd Stadium/Grant Field in a massive road-oriented series, with the visitor 11-1-1 last 13 vs. line, and 15-2-1 last 18 meetings! Virginia at Virginia Tech...Cavs no SU win in series since 2003, 4-8 vs. line in those games (covers in 3 of last 4 vs. Hokies, however).


Auburn at Alabama...Nick Saban 4-1 SU and vs. line last five Iron Bowls. Kentucky at Louisville...Cards have won SU last five Bluegrass Battles, 4-1 vs. line in those games. Nevada at UNLV...Road team has won and covered last three meetings, and Wolf Pack has won last five trips to Sam Boyd Stadium en route to 9-2 SU mark last eleven battles for the Fremont Cannon. San Jose State at Fresno State...Spartans 4-1 vs. line last five in long-running California series. Oregon at Oregon State...Beavers don't have a SU win in Civil War since 2007. Utah at Colorado...In what has become a traditional regular-season ender since the Utes joined the Pac-12 in 2011, the Buffs have covered all five meetings. Florida at Florida State...Road team has covered five straight in Sunshine State series.


A longtime staple of season-ending college rivalry weeks has been the annual showdown between Ohio State and Michigan, renewing hostilities again this Saturday in another crucial game with possible national title implications by the banks of the Olentangy in Columbus. Hard as Urban Meyer and Jim Harbaugh try, however, they have a long way to go to reach the intensity levels of predecessors Woody Haynes and Bo Schembechler in the days of this series between 1968-78, when a Rose Bowl bid would go to the winner of Buckeyes-Wolverines each year, in a period of ferocious battles referred to as the "ten-year war" by Big Ten historians, brutal clashes that often seemed to simply pick up where they left off the year before.


It was Schembechler's arrival at Ann Arbor in 1969, replacing Bump Elliott, that really elevated Michigan-Ohio State into an upheaval of nature. Bo's first Wolverine team would shock the top-ranked Buckeyes in one of the most significant games of the TGS era. Two summers ago, that game was featured prominently in our summer Big Ten Retrospective piece on that "ten-year war" between OSU and Michigan. Though we have always believed the epicenter of that decade-long battle for supremacy came in 1973, one of a series of similar-looking games with the Rose Bowl on the line for both entries, and with more controversial accompanying storylines.


Both teams would enter the '73 titanic at Ann Arbor unbeaten and untied, never drawing anything close to a deep breath in the process. They were slotted at No. 1 (Ohio State) and No. 3 (or four, for Michigan, depending if referring to the AP poll that would rank probation-saddled Oklahoma, or the UPI poll that would not rank the Sooners) in the national rankings.


Such was their success, and the gravity of their battles that almost transcended the game, that Hayes and Schembechler at that point had become celebrities beyond the gridiron. There were no such warm bonds outwardly evident between Woody and his former assistant; Hayes remained averse to mentioning rival coaches' names, so for public purposes Schembechler of Michigan was "the coach from that school up north." By that stage, both had also authored new books, and Bo's Man in Motion, in which he revealed that Hayes was not only less of a handball player but once threw a chair at him during a heated argument, sold for a mere $6.95 while Woody's You Win with People commanded $8.95.


Game day on November 24 dawned gray, damp and cool, as could be expected in Ann Arbor, where the sun would be setting not much after 4 PM. The game predictably developed into another unimaginative clash of I-formation offenses battering against two of the best defenses in the country. Hayes went to Ann Arbor with the unspoken knowledge that the Buckeyes not only would not throw, but could not with skittery soph QB Cornelius Greene, a superb runner but not much of a passer. Nor was Michigan an aerial circus, but its passing became very effective toward the end of the game before QB Dennis Franklin suffered a broken collarbone and Schembechler subsequently deflated the ball...and his team's winning chances. Ultimately, that caution may have cost Michigan the Rose Bowl invitation, and perhaps a national title.


Hayes' Ohio State was as one-dimensional as possible, completely eschewing the forward pass, advancing as far as the squirming RB Archie Griffin could take it. Griffin did not score, but he slipped enough tackles to get 163 yards in 30 carries and set up a 31-yard second-quarter field goal by Blair Conway and a later five-yard TD burst by Hayes' bulldozing 250-lb. FB Pete Johnson. With a 10-0 lead, the Buckeyes appeared home and hosed at halftime.


Until, that is, Michigan awakened in the second half. More specifically, it was late in the third quarter, with OSU still up 10-0, when Buckeye QB Greene, facing fourth and two at the Wolverine 34, tried to sneak for the yardage. He did not make it. "I really thought we were going on to score a touchdown and maybe put the game out of reach," Woody said later of the 4th-down gamble.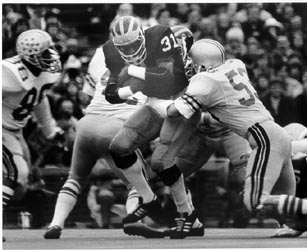 Just as Griffin had done earlier for Ohio State, bruising FB Ed Shuttlesworth, who gained 116 yards in 27 cracks at the heart of the Buckeye defense, would get Michigan moving. Shuttlesworth carried on eight of the 11 plays that led to a 30-yard field goal by Mike Lantry early in the fourth quarter to cut the deficit to 10-3. Shortly thereafter a tying 49-yard TD drive featured not only Shuttlesworth again, but also a 27-yard pass to TE Paul Seal before Franklin's short TD run, and the score was level at 10-10 as a grandstand finish awaited.


With Griffin carrying four straight times for 29 yards, Ohio State responded with a late bid to regain the lead. But Griffin missed two plays with a leg cramp, and the drive lost its impetus. Franklin then took Michigan to the Ohio State 48 but was soon KO'd from the game due to his collarbone injury. Backup QB Larry Cipa entered with 2:25 remaining--under orders from Bo to stay on the ground. When asked later if he became too conservative sans Franklin, Bo bristled. "We didn't settle for a tie, we did everything we could to win." Three running plays leading to a 58-yard field-goal attempt (that came remarkably close) by Lantry, however, did not seem much like pulling out all the stops.


The Buckeyes would get the ball back, and after 49 straight (!) running plays, Woody finally decided to put the ball in the air for the first time all afternoon. The fact he inserted backup QB Greg Hare, a better thrower than starter Greene, might have tipped the Wolverines. Predictably, Hare's first pass was intercepted, giving Michigan a more realistic opportunity at a winning FG in the last minute, but moments later Lantry would miss badly from 44 yards. The game, like Notre Dame and Michigan State in 1966, would end 10-10.


As the seconds ticked away, 105,223 people, an NCAA regular-season record at the time, went home assuming the Big Ten's Rose Bowl representative would be Michigan, since Ohio State had gone to Pasadena the previous 1972 season. But on Sunday, a vote of conference ADs produced a surprise. The choice was Ohio State, perhaps because Wolverine QB Franklin would likely be out for the Rose Bowl. The Big Ten had lost the last four Rose Bowls, so its ADs were guided by expedience, not sentiment. "I'm very bitter," said Schembechler. "It's a tragic thing for Big Ten football."


Schembechler would become more enraged when the ballots of the Big Ten athletic directors were made public. A tie of the votes of the ten ADs would have given Michigan the Rose Bowl bid, since it had been longer since the Wolverines had played in Pasadena. Iowa, Minnesota, and Indiana would join Michigan in voting for the Wolverines...but not in-state Michigan State, which cast a deciding vote in Ohio State's favor. These were old grudges bubbling back to the surface in regard to the Spartans, whose entry into the league two decades earlier had been stalled repeatedly by the Wolverines (who, rightly, had issues with some of the skullduggery going on at East Lansing in those days under the watch of legendary coach and eventual AD Biggie Munn).


Indeed, the 6-4 decision in favor of Ohio State so outraged Schembechler that he was slapped with a two-year probation for accusing Big Ten Commissioner Wayne Duke of "engineering" the vote.


In the end, the Buckeyes proved they belonged in Pasadena by throttling defending national champ Southern Cal, 42-21, and giving the league its first Rose Bowl win since the Rex Kern Buckeyes beat the Trojans and O.J. Simpson five years earlier. But don't think that result helped the Michigan folks to accept their fate. If anything, the passing years have made all of the Wolverine players, and fans who remember, even more bitter. As a rivalry should!
Return To Home Page