7404...
TGS BIG TEN RETROSPECTIVE...DAYS OF THE "SPOILERMAKERS"

by Bruce Marshall, Goldsheet.com Editor

The Big Ten has been back in the news lately with the bulletin that USC and UCLA will be joining in 2024, but there is still a core of the league that dates to when the loop actually had ten teams (not the future sixteen) for several decades. Modern-day Big Ten fans, however, might not believe the league dynamics of the late 60s, when a current under-the-radar side was an annual feature attraction in the loop. With the 2022 campaign looming on the horizon, we thought it appropriate to remind the masses of those days more than a half-century ago, which we at TGS recall well, and reprise one of our favorite Big Ten summer Retrospective pieces from 2017...


It might be hard for modern-day football fans, especially those who were weaned on ESPN, to know of a Big Ten when Ohio State and Michigan were not the top storylines. Though the Buckeyes and Wolverines are prominent as usual entering the upcoming campaign, the national media has been making a fuss out of the scarlet & gray and the maize & blue for a couple of generations, even when they haven't deserved so much attention. (Feel free to place most of the blame for the past 38 years on ESPN.)


Thus, it might seem hard for the millennial crowd to envision a Big Ten when OSU and Michigan were

not

the main topics of the national conversation. In fact, when both were effectively afterthoughts for a few seasons. Imagine! Instead, envision a Big Ten race that would involve not the Buckeyes and Wolverines, but rather Purdue, Minnesota, and Indiana (huh?) in 1967. Though OSU and Michigan would both bounce back in 1968, it might surprise the modern fan that the biggest deal in the Big Ten during the mid-to-late '60s was actually...Purdue.



FOOTBALL COMING SOON...GET TGS 2002 NOW! ...

Click here to order


While Duffy Daugherty's Michigan State fielded a couple of all-time teams in 1965 & '66, the Spartans faded into the background shortly thereafter. Woody Hayes jump-started the Buckeyes in 1968, but OSU had floundered in the few previous seasons, even falling below .500 in 1966, and Bo Schembechler's arrival at the end of the decade signaled the beginning of a new glory era for the Wolverines after Michigan had slumped from 1965-67, recording a pair of sub-.500 campaigns. But from 1965-69, the most consistent product in the Big Ten would be based in West Lafayette, Indiana. Now a half-century ago, those "Purdue years" also still resonate with us at TGS.


Hard as it might be to believe in 2017, but the Boilermakers were front and center in those days. Their 320-member marching bad was renowned, and every serious college fan of the era knew about those musicians and the famous baton-twirling Purdue Golden Girl as well as the fact the band's "Big Bass Drum" was supposedly the world's largest. But it helped the gridiron aficionado of the day that the Boilermakers were good in the mid-to-late '60s...real good.


Consider that for that five-season stretch between 1965-69, Purdue compiled a 40-10-1 mark, the best in the Big Ten by a good margin, and went 4-1 vs. Notre Dame, then in the midst of a glorious era under Ara Parseghian. And there was only one QB who managed to beat a Parseghian-coached Notre Dame team three years in a row. We'll tell you more about him in a minute, and remind you that beating a Parseghian Fighting Irish team three in a row was quite an accomplishment, not like a few QBs would accomplish vs. the Domers decades down the road, such as USC's Matt Leinart, who turned the hat trick vs. ND teams coached by Tyrone Willingham and Charlie Weis.


Yet comparing the Willingham and Weis years to the Parseghian era is borderline blasphemous. So as the years have passed, we have developed even more respect for what Purdue accomplished vs. the Irish from 1967-69, part of a bigger Boilermaker narrative in that era. Those wins over Notre Dame, however, continue to reverberate in Big Ten Country for those who remember.


The architect of the Purdue surge in the mid-to-late 60s was HC Jack Mollenkopf, a moon-faced optismist hung in effigy more times than can be recounted for the first stage of his career at West Lafayette. Which came on th heels of predecessor Stu Holcomb, whose teams hit a few high notes (such as ending a 39-game Notre Dame win streak in 1950 and a Big Ten co-championship in 1952), plus developing QBs such as Bob DeMoss, Dale Samuels, and Len Dawson, before entering a career in athletic administration and eventually the GM role with the Chicago White Sox in the early '70s. "Jack the Ripper" generally put a better product on the field than did Holcomb, but by the mid '60s the Boilermaker fan base was getting restless. The on-campus newspaper, the Purdue Exponent, was even more blunt. "Fat Jack Must Go" read one particular headline in what was becoming an annual Mollenkopf-bashing ritual at Ross-Ade Stadium.


Things would begin to finally turn in the right direction in 1964, with the varsity debut of QB Bob Griese, who also doubled as the Boilermaker punter and PK, not to mention a key contributor as a guard on the basketball team. Griese would become a sensation across the country in the nationally-televised 1965 game vs. Notre Dame, completing 19 of 22 passes for 283 yards and three TDs, running and kicking effectively, and for good measure making a TD-saving tackle on a kick return of Irish back Bill Wolski (imagine a star QB playing on the kick return coverage unit!) in a 25-21 upset of the then top-ranked Fighting Irish. Griese then almost prevented Michigan State from assuming the top spot in the polls in late October, piloting the Riveters to a 10-0 lead before two 4th Q TDs by the Spartans pulled out a 14-10 win. Still, the campaign was a rousing success, with Purdue finishing 7-2-1 and cracking the top ten during the season.
Griese, who in some games would score all of Purdue's points, continued his heroics in his senior year of 1966, though a couple of annual foes on the Boilermaker schedule, familiar Notre Dame and Michigan State, happened to be the best two teams in the country that season (sorry, Alabama). Losses to both, however, did not prevent Purdue from its first-ever Rose Bowl visit, made possible by the Big Ten's draconian no-repeat rule of the day that denied Michigan State a return visit to Pasadena. Still, the Boilermakers, scoring on a pair of short blasts by FB Perry Williams, made the most of their trip by beating USC, 14-13, in a heart-stopper not secured until DB George Catavolos intercepted a pass by Trojan QB Troy Winslow on SC's potential game-winning 2-point conversion try in the final two minutes.

Afterward, many believed the graduation of the multi-talented Griese, who would also finish as runner-up for the Heisman to Steve Spurrier of Florida, signaled the end of the brief Purdue resurgence. "Jack the Ripper," however, had other ideas.


The same "no repeat" rule that kept Michigan State out of the previous Rose Bowl would keep the '67 Boilermakers out of a return trip to Pasadena. Nonetheless, the Big Ten title would be a satisfactory reward and incentive. Mollenkopf would return 14 of 22 starters for 1967, but, according to the coach, evaluating Griese's possible successors in spring practice was "like watching guys pulling plows." Junior Mike Engelbrecht, who passed and ran competently enough, though no Griese, was favored to win the job, though soph Mike Phipps, stronger-armed but less mobile than Engelbrecht, and who had thrown an off-balance 65-yard TD pass in the spring game, was another option.


There were some complementary weapons still on hand, including Split End Jim Beirne, who would eventually enjoy some productive seasons on the next level with the Houston Oilers, and had caught 64 passes the previous year. Rose Bowl hero FB Perry Williams was back, too, after gaining a team-best 689 YR in '66. Moreover, Mollenkopf could hardly contain his excitement at the prospect of moving DB Leroy Keyes to offense, where he shined at a flanker spot in spring. (More on Keyes in a moment.)


Still, without Griese, Purdue wouldn't even generate a vote in the AP Preseason poll, and the '67 Boilermakers were due to face two of the nation's top QBs, Texas A&M's Edd Hargett (on the road) and Notre Dame's Terry Hanratty (at Ross-Ade Stadium), in the first two games of the season. Meanwhile, the Big Ten's Michigan State (ranked third), Illinois, Minnesota, and Ohio State would all generate votes in the preseason poll.
By the time fall practice rolled around, however, it was Phipps who had emerged as the successor to Griese. Phipps was the latest youngster in Mollenkopf's pattern of selecting a sophomore quarterback every third year and sticking with him. "There is a tradition about sophomore quarterbacks here, no doubt about that," said Phipps "There have been some great ones before me." Dale Samuels, Len Dawson, and Griese were apt examples to that point. Stephens and Dawson even upset Notre Dame in their sophomore seasons.


The opener at College Station turned out to be a bit of a watershed game for '67, as no one quite expected Gene Stallings' Aggies to turn out as good as they eventually became. A&M was tough enough to win the Southwest Conference and Cotton Bowl bid, where the Ags upset Stallings' mentor Bear Bryant and his Alabama. But on opening night, the stage belonged to Phipps. In his first collegiate start, Phipps would pass for 289 yards and the Boilermakers would notch a clutch 24-20 win. Keyes, demonstrating his versatility, proved more than a promising new flanker, showing great flair at the TB spot and even tossing a 14-yard option pass TD to Beirne.


Mission accomplished. Next, however, for the second time in three seasons, Purdue again got to face a top-ranked Notre Dame team at Ross-Ade. As in 1965, it was time for the "Spoilermakers" to get to work.


The emergence of Phipps was a main storyline of the A&M opener. So was that of the multi-dimensional Keyes, of whom Mollenkopf had never quite been able to make up his mind about playing offense or defense. Over the summer, however, Mollenkopf decided that the offense needed help the most and shifted Keyes over to the Purdue attack. Keyes would start at TB against Notre Dame.


Mollenkopf would fret considerably in the week leading up to the duel vs. Ara Parseghain and the Fighting Irish. More so because his young QB Phipps was developing a cold. All week Mollenkopf had also been warning that Purdue must run up a large score in order to beat Notre Dame. "There is no way," said Mollenkopf, "that anybody is going to shut out (Irish QB Terry) Hanratty and (star WR Jim) Seymour." And how can we score, Mollenkopf was nervously thinking, if my quarterback is catching pneumonia?


Moreover, beyond his developing cold, Phipps seemed a little awestruck about the prospect of playing Notre Dame. "I can't wait to see Notre Dame's uniforms—those gold helmets and all."


"We have gold helmets, too," said Bob DeMoss, Purdue's offensive coach.


"Yeah." Phipps says, "but not like theirs."


Irrespective of the top ranking, Parseghian had his own concerns. The defense was young, with only A-A DE Kevin Hardy returning from the '66 national champs along the front four. The running game needed to replace A-A HB Nick Eddy and bullish FB Larry Conjar. Still, there was QB Hanratty and WR Seymour, the Irish were top-ranked, and a Purdue record crowd of 62,316 jammed into Ross-Ade to see if the Boilermakers could replicate their upset of another number-one Irish team as in '65.


If Phipps sounded awestruck before the game, he didn't play like it. A precise 40-yard pass to Beirne between two Irish defenders set up a short smash by FB Williams to give the Boilers an early 6-0 lead.


But the Irish, behind Hanratty, would come right back, driving smartly to the Purdue 24 before Hanratty was picked off by Purdue's Don Webster. Undeterred, the next time with the ball, Hanratty went back to work, on another crisp drive featuring his own 25-yard scramble after a 24-yard pass to Seymour. From the one, Hanratty would sneak over the goal line to put the Irish up, 7-6.


Though the Irish defense lost key defender Hardy on the first defensive series of the game, Parsegahian's men would still keep control of the game throughout the first half. They ran a staggering 54 plays to Purdue's 33 and Hanratty completed 16 of 34 passes (34 passes? In a half? In 1967?) for 172 yards. But the Irish could not extend their lead, even after a long drive to the Purdue four, where Parseghain eschewed a chip-shot FG try by PK Joe Azzaro, and went for the gusto instead. By this point, Mollenkopf had put his jack-of-all-trades Keyes into the game on defense, assigned to cover Seymour, who couldn't shake free as Hanratty's 4th down-pass fell incomplete. The score stayed at 7-6 into intermission.


At halftime Mollenkopf exhorted his troops, emboldened by the knowledge that his versatile man Leroy Keyes was also his best DB and could cover the dangerous Seymour, relieving Purdue of double-teaming tactics. Notre Dame was also covering Purdue's receivers man-to-man, but Boilermaker offensive assistant DeMoss reminded his linemen to try to give Phipps an extra tick in the pocket, because the receivers would get open.

As the second half began, Phipps suddenly had the time he needed.


On the Boilermakers' first possession after halftime, Phipps continued to display cool far beyond that of a sophomore QB making only his second-ever college start. Faced with a 4th and 6 from the Irish 37, Phipps avoided the pass rush, almost fell, then steadied himself for a soft lob pass to end Bob Hurst, who steamed all of the way to the ND 3, from where battering FB Williams scored on the next play. A successful 2-point conversion pass from Phiips to Beirne put Purdue up 14-7.


Not to be outdone, Hanratty fired up a tying TD drive for the Irish, but almost all of Notre Dame's yardage was coming through the air. (Indeed, Hanratty's 34 pass attempts in the first half alone were just three shy on an all-time Irish record for pass attempts in a full game!) Parseghian's worst fears about his running game were being realized; Purdue had taken away the Irish infantry, shutting down the flanks closing off the interior. Playing a four-man front line almost exclusively, Purdue seemed to be literally daring the accomplished Hanratty to throw the football.


Now it was up to Phipps, who began another drive shortly before the end of the third quarter. The versatile Keyes made the first big play of the possession, hauling in a 44-yard completion to the Irish 23. Soon, however, Phipps was confronted with another 4th down from the 16, but Mollenkopf again bypassed the field goal, giving the calm and collected Phipps a chance make another big play. This time, Phipps pitched back to Keyes, who followed Williams' fine block around left end for the first down. Keyes would then tell Phipps that he could get free in he right flat, and on the next play Phipps waited for his star back to do just so before lofting a pass that Keyes caught in stride at the goal line, pushing the Boilermakers back into the lead at 21-14.


The game was now resembling the back-and-forth of a main event at Madison Square Garden, as Hanratty would answer with a haymaker of his own, a 76-yard drive in 8 plays, capped by a 27-yard TD pass to end Paul Snow. The score would knot again at 21.


Once more, it was time for Phipps to answer. Quickly moving to the Irish 31, Phipps was again faced with a tough call on 3rd and 10. With Beirne and Keyes drawing attention from the defenders, HB Bob Baltzell slipped out of the backfield and curled across the center of the field. While Irish eyes were instead on Keyes and Beirne, Baltzell cut away from ND defenders Tom Schoen and Mike Burgener for the touchdown. Purdue led 28-21 with 10 minutes to go!


There was still ample time for Notre Dame, and Hanratty manufactured what looked like an answering drive that progressed inside of the Purdue 20. But the Boilermaker defense stiffened, and Keyes, logging heavy two-way duty, continued to stick with Seymour until Hanratty fired a 4th-down incompletion. With the ball back once more on his own 38 in the final two minutes, Hanratty, battling arm fatigue, lobbed his 63rd pass of the game, 26 more passes than any Irish QB had ever thrown in a game. The pass wobbled and was picked off by...yep, Leroy Keyes. In a few moments, the game ended, and pandemonium reigned at Ross-Ade. Purdue 28, Notre Dame 21. A successor (Phipps, who passed for another 238 yards and a pair of TDs) for Griese had indeed been found. And a possible Heisman contender had emerged in Keyes, who did everything but sell popcorn in the stands, playing both ways for over 40 minutes vs. the Irish, running for vital first downs and catching 9 passes for 108 yards, not to mention shadowing the A-A wideout Seymour for much of the game. Was there anything Keyes could not do?

(In retrospect, the '67 Notre Dame-Purdue game also provided perhaps the best look of the decade into the future of college football a couple of generations down the road. A whopping 97 passes were attempted between Hanratty and Phipps, standard fare for these days but in the '60s an almost unheard-of development during an era in which many teams would be considered to be "winging it" if throwing 20-25 passes per game).


By the time the '67 season concluded, Purdue had risen to number two in the polls at midseason before an upset loss to 20-point underdog Oregon State (don't be misled by the spread; the Beavers would author their own memorable storyline the second half of the season), and would end the campaign in a 3-way tie with Minnesota and Indiana for Big Ten crown. The Hoosiers, by virtue of their 19-14 upset win for the "Old Oaken Bucket" over the Boilermakers on November 25, would qualify for their first (and still only) Rose Bowl. The thought among many was that the lack of the Rose Bowl carrot had contributed to the two upset losses in '67, and that Purdue might have really been the nation's best team, instead of ninth as it finished in the final polls.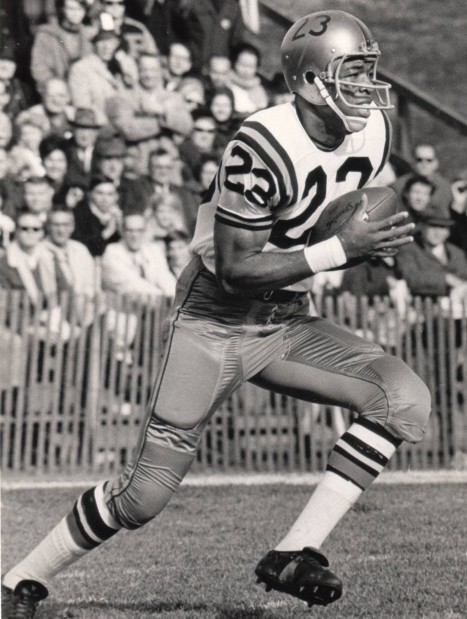 Still, for Mollenkopf, things finally seemed to be in place, an imposing combination of system and athletes that was the foundation of Purdue's sudden emergence as a consistent power. Organization was the difference, said The Ripper, who loved his staff, which could coach and recruit equally well, and he let it do most of the work in what had evolved into a smooth-running machine. Bob DeMoss, for example, was totally in charge of the offense, plotting it in workouts and then calling the plays for Phipps from the bench. And Purdue learned something about recruiting. First: cover the whole country. Get a Leroy Keyes from down in Newport News, Va., a Mike Phipps from Ohio, and a DT like Chuck Kyle from Kentucky.


Nor did it hurt anything that Purdue happened to have a university president, Frederick Hovde, who would have gleefully relished running interference for Leroy Keyes. Hovde was a frequenter of Purdue practices, watching intensely and chatting with Mollenkopf when the coach happened to be on the sidelines instead of up in the tower where he spent most of his time silently surveying all. Hovde had even gone around campus saying such things as, "The coaching staff does the best job of teaching of anyone on the faculty," and, "If Jack Mollenkopf goes, I'll go with him."


"We changed our philosophy a little, too," said Mollenkopf. "We used to look at a kid who hit hard and say, 'There's a headhunter. He's our kind.' But now we look for two things: speed and potential size. Fast ones that will grow. It doesn't do any good to be a head-hunter if you can't catch the head."


Purdue was thus set for a bigger 1968, even ranked first in the preseason rankings. Moreover, the Boilermakers were a year beyond the Big Ten's dreaded "no repeat" policy and were eligible for a return to Pasadena on January 1. Though another early-season game vs. Notre Dame, this one at South Bend, would determine if Purdue was national-title caliber. The number one Boilermakers would face the number two Irish on September 28.


The rematch seemed to set up perfectly for Notre Dame. The Irish were at home in that cavern of devotion known as the Notre Dame Stadium, and they had a running game that they lacked in '67 to go along with Hanratty and Seymour, and the weather was sport-jackety comfortable. Goodness, actor Pat O'Brien had even spoken at the Friday night pep rally and done his Gipper thing, and Notre Dame wanted Purdue badly because of the previous year's loss. There were even large signs and banners strewn around the campus commanding Parseghian's legions to do some very un-Catholic things to Purdue—and the Golden Girl, too.


By this time, however, Keyes had been established as a remarkable force of nature, having finished third behind UCLA 's Gary Beban and USC's O.J. Simpson for the '67 Heisman, and the hype had already begun for an "O.J. vs. Leroy" showdown at the Rose Bowl for what might be the national title on New Year's Day. And Purdue was not some wide-eyed interloper, like Oklahoma had been the previous week when stomped 45-21 at South Bend, likely to get weak-kneed at the sight of Touchdown Jesus and the Golden Dome. The Boilermakers had been to South Bend, they'd heard the Notre Dame fight song, they had a defense, and they had Keyes and Phipps. ABC thought so much of the game that it made Purdue-Notre Dame its featured attraction that Saturday, with Chris Schenkel and Bud Wilkinson calling the action before most of the network production staff would head the next week for Mexico City and the Olympics.


In front of a full capacity 59,075 at South Bend and millions more tuning in on TV, the Boilermakers were all business while the Irish were leaping around pounding each other while their fight song bent the heavens. Purdue, however, was not impressed. The sporting nation paid close attention that afternoon, and Phipps' comment from the day prior to the game further heightened the anticipation. "The last team to get the ball may win," he had noted, reflecting on the 28-21 victory he engineered in 1967.


For a while, the game appeared ready to live up to the hype, as Notre Dame moved to an early 7-3 lead. Then, in the space of a 3 l/2-minute portion of the second quarter, before Notre Dame even had time to wake up the echoes, the Boilermakers hit for 20 quick points and put the game out of reach of Parseghian, Hanratty, Seymour, Pat O'Brien or anybody else. A lot took place thereafter, but Purdue moved to a 23-7 lead in that span, as Keyes ran, passed, caught, etc., and Phipps was coolly dissecting another tough Irish defense.


There was nothing terribly fancy about the Purdue offense, just smooth efficiency. Phipps could stand as long as needed in a pocket that wouldn't crumble. His receivers would just do a little hook or cross the middle and spring free. Keyes would run with pitches left or right. The bull of a fullback, Perry Williams, ran straight ahead, akin to knocking over bowling pins. That's all. About four or five plays, but brilliantly executed with power, speed and confidence.


The whole Boilermaker offense was designed around Keyes and what he would do when he set up as the deep back in a slot I or in an I formation with flankers and split ends. It was built around the threat of Keyes running a sweep to either side, a sweep on which he might go wide, cut inside or throw a pass. Keyes, at 6'3 and 205, usually took quick pitches from Phipps and loped slowly out to the side, with some definite idea in mind of what he would do. But everything could change with the blocking, or the reaction of the cornerback.


While Keyes was scaring the daylights out of Notre Dame with his mere presence, it was also target practice for Phipps, who could throw a pass to his splendid end, Bob Dillingham, about any time he wanted to, because Notre Dame was double-covering Keyes and giving him 11-man coverage psychologically. Dillingham, who had been beaten out of his starting job the week before in the opening 44-6 rout of Virginia, ended up catching 11 passes for 147 yards and two touchdowns. Keyes, despite all the defensive attention lavished upon him, could run wide almost at will, which he did twice for touchdowns and a few more times, too, getting 90 yards in all. And Leroy could catch a big third-down pass from Phipps if needed, even with a couple of the Fighting Irish grasping at his arms before, during and after the ball's arrival, or meander out to his left and loft a neat up-and-over pass to Dillingham for one of those touchdowns.


"There was never any question whether we could move the ball. We knew that," said Phipps. "Their secondary was young. We knew we'd beat 'em. All we wondered was whether our defense could hold 'em."


The Purdue defense had moments of letting down and allowed the Irish runners to burst into an open secondary and look niftier and speedier than they were. But the stop unit would recover in time to catch them after five or six yards, and the Boilermakers were always in control. Six times Purdue reared up to stop Notre Dame inside its own 30-yard line when it meant something. Even when Hanratty threw well, Keyes was in the game on defense, covering Seymour tightly when Hanratty had a few seconds to release a pass. Leroy squirted in front of Seymour once and had a Hanratty pass in his hands with 85 yards of bright sunshine before him, but he juggled it and then dropped it. Had he managed that interception, it would have made the score 30-7 with the game not half over. In the end, the Irish could be flattered by the final 37-22 scoreline in favor of Purdue.


Keyes' interception bobble was one of several opportunities Purdue missed to raise the score far higher than merely the most points ever run up on a Notre Dame team that was rated No. 1 or No. 2. It was true the Irish had some opportunities themselves; they would have had to in a game that produced more than 900 yards of total offense and 55 first downs. But Purdue had the most real chances to score. The Boilermakers once moved 72 yards to the Irish eight and did not score, and they also were foiled at the Notre Dame 17-and 19-yard lines.


It was all a beautiful combination for Purdue. Notre Dame found, as others might, that when it doubled up on Keyes, Dillingham caught the passes. When it concentrated on forcing Keyes to run, he would throw. And when it kept him from throwing, he would run. It found that Phipps could throw the ball exactly where orders from the bench told him to, and that other Purdue backs could run, particularly when Keyes was split far out on the flank as a combination passing target and nerve shredder.


At this point, almost everybody in the Midwest, of course, was goofy over Keyes. Mollenkopf was saying over and over, in a voice he would have liked for all Heisman Trophy voters to hear, "By golly, if a player anywhere can do more, I'd like to know where he is." USC, of course, thought that he was in Los Angeles, and that his name was O. J. Simpson. The defending national champion Trojans would move up to number two in the polls; Leroy and O.J. seemed destined to meet in a showdown for all of the marbles at Pasadena on January 1.


As things turned out, the Big Ten did have an unbeaten, top-ranked team ready to face second-ranked SC at the Rose Bowl on January 1. Only it turned out to be resurgent Ohio State, as Woody Hayes' band of super sophs would stun the nation with a 13-0 shutout of the top-ranked Boilermakers on October 12, throttling Phipps and allowing just 10 completions in 28 attempts for 106 yards, while bottling up Keyes, who only gained 19 yards rushing and 44 more receiving. There would be no Leroy vs. O..J. in the Rose Bowl, and Simpson would end up galloping away with the Heisman, far ahead of runner-up Keyes.


Though the Buckeyes were now the team to beat in the Big Ten, Purdue did not disappear from the scene. Phipps would miss three games due to injury in the remainder of '68 (the Riveters would barely squeeze by winless Wake Forest in his absence, and attempted only 3 passes sans Phipps in a win over Iowa), and the Boilermakers would lose again, at Minnesota. When the final polls were released after the bowls, Purdue was ranked tenth, something of a disappointment after being ranked first into mid-October. But the Boilermakers weren't finished yet in the '60s, and there was still their win streak over Notre Dame, at the time the only rival to beat a Parseghian-coached Irish two in a row.


Could Purdue make it three in a row over the Domers in 1969?


With Keyes having graduated, Phipps would have to do much of the heavy lifting in his senior year, one in which he would be one of the favorites for the Heisman that had eluded Leroy. Gone not only were the do-everything Keyes, but valuable FB Perry Williams, and Chuck Kyle, the All-America middle guard, and three other all-conference players, yet there was thought that the '69 team could be better than either '67 or '68. A new big-play threat would be junior flanker Stan Brown, a sprinter who like Keyes was also expected to play at HB after mostly watching Leroy in '68. The defense looked stout and featured a key playmaker in S Tim Foley, who would go on to star for the Miami Dolphins during their perfect season of 1972.


Importantly, defending national champ and preseason top-ranked Ohio State would be ineligible for the Rose Bowl due to the Big Ten's no-repeat rule. "I'd like to go to California again before I quit coaching," said Mollenkopf, who was 64 as the campaign commenced. Early games vs. the Fighting Irish and well-regarded Stanford, with Jim Plunkett at QB, would precede the Big Ten slate and indicate if the Riveters were indeed ready for a return to Pasadena.


Ranked 18th as the season commenced, Purdue got a bit more than it bargained for in the opener at Ross-Ade vs. heavy underdog TCU. The Boilermakers, cruising at one point by a 35-7 margin, had to hold on for a 42-35 win, with Phipps needing all of his 4 TD passes. Or, maybe Purdue was just looking ahead to the following week, when another top ten Notre Dame team, now with an exciting junior, Joe Theismann, at QB, would invade Ross-Ade.


By this point, Notre Dame was pondering if it could ever beat Mike Phipps. "I think so," concluded Linebacker Bob Olson. "He's a fairly good runner and has a good arm, but he had Keyes in the past and good receivers." Defensive Tackle Mike McCoy remembered the Purdue game of 1967: "That year Purdue didn't treat us too well. Phipps killed us. It made him nationally known. But I don't want to say anything more until after the game. Then, if we win, I'll blow my mouth, but if we lose I'll keep quiet."

McCoy was thus quiet in the Notre Dame dressing room after Phipps had beaten the Irish again, 28-14, before what at the time was the biggest sports crowd in Indiana history excepting the Indianapolis 500. Those 68,000 in Ross-Ade Stadium watched the Boilermakers' All-American Band salute two graduates, astronauts Neil Armstrong, just two months removed from becoming the first man to walk on the moon during the Apollo 11 mission, and the late Gus Grissom, with a halftime show entitled "The Greatest Touchdown Ever." The crowd probably considered Phipps' first-quarter 37-yard pass to Halfback Randy Cooper a close second, since it gave Purdue a 7-0 lead. "The reason I threw to Cooper on that first touchdown was because we felt if we could hurt them once early they'd lay off," said Phipps. "We knew they were wary coming in here and we wanted the momentum. It worked."


Phipps made first downs on critical third downs and long yardage in each of his four touchdown drives. Overall, Phipps converted six important passes on third downs. "He's always had poise and great presence," Notre Dame's Parseghian said after the game. "He made the key play, the critical play—the third-down play."

Phipps, who by now was used to beating the Irish, was almost blasé while facing a crush of reporters. "It's nice to know I beat them three years in a row, but I imagine it will mean more to me some later year," he said. Indeed, Phipps became the first QB to ever lead his team to three straight wins over the Fighting Irish, and would be the only QB to turn such a hat-trick against future Hall-of-Famer Parseghian in his 11 seasons at ND, which concluded after 1974. Meanwhile, Mollenkopf upped his career mark to 10-4 against the Domers.


After the Notre Dame win, the Boilermakers would dance in and out of the top ten the remainder of the season. The week after beating the Irish, Purdue scored a thrill-packed 36-35 home win over Stanford in which Phipps (429 YP and 5 TDP) would outduel the then-called Indians' Jim Plunkett (355 YP and 4 TDP) in the biggest aerial shootout of '69. But two straight draining efforts left the Boilermakers a bit flat for the Big Ten opener the next week at Michigan, where Bo Schembechler's bunch scored a mild 31-20 upset. A penultimate 42-14 thumping administered by a rampant, top-ranked Ohio State, at that moment considered among the greatest teams in college history, helped deny a Rose Bowl berth that the Riveters thought they still might get before Schembechler's Wolverines would shock the Buckeyes, 24-12, in the season-ender, sending the Ann Arbor bunch, and not Purdue, to Pasadena. (Even if losing to OSU, Michigan would have still earned the Big Ten tiebreaker over the Boilermakers due to the regular-season win, though Wolverine HC Schembechler said he would not have accepted the Rose Bowl bid if Michigan had lost to the Bucks.)


As for Phipps, a poor showing (5 picks) in the mid-November sleet vs. OSU at Columbus might have cost him the Heisman, in which he came a close second to FB Steve Owens of Oklahoma. Still, the "Phipps era" had featured three consecutive 8-2 seasons, and of course the unprecedented three straight wins over Notre Dame. Not too shabby. Not to mention four straight seasons when Purdue (dating to Griese's senior year of 1966) had a star player finish second or third in the Heisman voting. It was indeed a glorious era at Ross-Ade Stadium.


Mollenkopf, having reached the school's mandatory retirement age of 65, bypassed asking for a waiver (which he would have received) and instead retired while coaching at the Hula Bowl in early January, succeeded by offensive assistant and former Boilermaker QB DeMoss. Mollenkopf remains revered at Purdue, where the modern-day football facility bears his name. As for Phipps, he would enjoy modest success in a 12-year NFL career, with a pair of playoff visits with the Browns and Bears as highlights.


After Phipps graduated and Mollenkopf retired, an era at Purdue was over, and the Boilermakers dozed for much of the next decade under DeMoss and Alex Agase until Jim Young revived the program in the late '70s. Purdue would not return to the Rose Bowl until the 2000 season, led by QB Drew Brees and coached by Joe Tiller, who had several quality editions. But the memories of the mid-to-late '60s would never be forgotten in West Lafayette.


And rest assured Notre Dame, and Ara Parseghian in particular, have never forgotten about Mike Phipps.
Return To Home Page