7455...
TGS 2017 COLLEGE FB PREVIEW
...A LOOK AT C-USA--PART I
by Bruce Marshall, Goldsheet.com Editor


Following is our look at Conference USA, first previewing the West half of the loop before taking a look at the East in our next installment. Once again, teams are presented in order of predicted finish, with 2016 straight-up, spread, and O/U records included.

Resurrecting his career quite nicely the past few years at Louisiana Tech (2016 SUR 9-5; PSR 8-6; O/U 11-3) has been HC Skip Holtz, whose reputation took a bit of a hit after a failed stint at South Florida. Holtz, however, was a winner previously at UConn and East Carolina, and has now cranked out three consecutive nine-win seasons at Ruston, each capped by a bowl success. Along the way the Bulldogs have also been darned fun to watch, ranking 14th, 19th, and 2nd, respectively, in national scoring over the past three years. Most impressive, perhaps, is that Holtz has broken in a new QB in each of those seasons...which is the case again this fall. More in that in a moment.



FOOTBALL COMING SOON...TGS 2017 EARLY DEALS NOW! ...

Click here to order


In the meantime, it's fair to speculate if Holtz views La Tech as his destination job or might be tempted to take another shot at a bigger locale. Holtz was reportedly on the radar at Purdue in the offseason before the Boilermakers hired another C-USA HC, Western Kentucky's Jeff Brohm. And if the Bulldogs keep winning and scoring so many points, Holtz will likely have his name surface in relation to other job openings. It is probably not lost upon Holtz that his immediate predecessors at Tech, Derek Dooley and Sonny Dykes, both walked the planks in their subsequent jobs at Tennessee and Cal, respectively. And the last time Holtz decided that the grass might be greener on the other side, things did not work out too well at USF. So, for the time being, at least, Holtz seems content in Ruston.


To get to another nine wins this season will require successfully replacing another prolific QB, Ryan Higgins, who posted a staggering 4617 YP (ranking 2nd nationally) and 41 TD passes (ranking tied for third) a year ago after sitting behind grad transfers Cody Sokol (via Iowa) in 2014 and Jeff Driskel (via Florida) in 2015. But, as mentioned above, it's just business as usual for Holtz, who will put soph Ja'mar Smith into the pilot's chair this fall. Offensive coordinator Todd Fitch, who reunited with Holtz last season after working on past Holtz staffs at UConn, ECU, and USF, is likely to add more designed runs for the mobile Smith than a year ago for Higgins, who had decent mobility and could wheel out of trouble but lacked the speed of Smith.


Holtz and Fitch also have to do some re-shuffling at the wideout spots after the graduated duo of Trent Taylor (49ers draft pick) and Carlos Henderson (Broncos draft choice) combined for an eye-opening 3338 receiving yards and 31 TDs last season. But spring work suggested plenty of capable targets are still in the fold, including a couple of transfers, Teddy Veal (ex-Tulane), the star of the spring game with 8 catches for 124 yards, and Adrian Hardy (former Oklahoma signee). Versatile Kam McKnight plays a combo WR/TE role and is another running threat in the red zone.


The running game, an effective diversion in recent years, should also pop again this fall with the return of sr. RBs Jarred Craft (1074 YR in 2016) and 5'6 mini-back Boston Scott (515 YR LY; almost 8 ypc over the past two seasons!). The line returns three starters, though there was some uncertainty at the center and LT spots in spring. Key replacement parts must also be found in the kickoff and punt returner roles, after the departed Henderson and Taylor proved dangerous threats in their careers. Though the PK job is in good hands with sr. Jonathan Barnes, a Lou Groza Award semifinalist the past two years who also has 56 career FGs, including the game-winning 32-yarder at the final gun vs. Navy in last December's Armed Forces Bowl.


Considering the racehorse pace of the Tech offense (which scored 44.4 ppg a year ago), the defense has not been as bad as some of its recent numbers suggest, though all things considered, ranking 71st overall a year ago was not too shabby. Though only five starters are back in the fold, many of the newcomers in the lineup saw playing time as rotation pieces a year ago. That would include the LB corps, where new starters Brandon Durman and DeMarion King saw plenty of action last season. Juco Randy Hogan also immediately put himself into the LB mix in spring.
.
The defensive front was not bad a year ago and returns three starters, including jr. DE Jaylon Ferguson, who set a school record with 14.5 sacks last season, while sr. DE Deldrick Canty was an honorable mention All-C-USA pick a year ago. And though Bulldog games often resembled ping-pong matches a year ago as foes played with urgency to keep pace with the La Tech offense, d.c. Blake Baker could still use some improvement in his pass defense after ranking a distant 116th a year ago. Honors candidate sr. S Secdrick Cooper might need a bit of help, which could come from touted true frosh Amik Robertson, an in-state product from Thibodaux.


The Bulldog schedule is front-loaded, with a pair of SEC foes (Mississippi State, which visits Ruston, and South Carolina) in September, when Tech also must travel to C-USA East power Western Kentucky between the SEC sandwich. The clouds seem to part once into October, however, and while Holtz might take a few lumps with his new QB against some big boys in the first month, by the middle of the season Smith ought to be well-established and the Bulldogs en route to their third C-USA title game in four years. Remember, Skip is 19-5 SU in conference play the past three terms.


Spread-wise, Holtz is a solid 26-15 the past three seasons, and is 9-3 as an underdog since 2014. The Bulldogs are also 8-4 vs. the line as C-USA host over the past three campaigns, and not surprisingly "over" 27-14 since 2014 (including 11-3 "over" last season).



Still flying under the radar is UTSA (2016 SUR 6-7; PSR 7-5-21; O/U 6-7) despite a near- breakthrough season for first-year HC Frank Wilson, who arrived from LSU, where he was one of Les Miles' top lieutenants. A trip to Albuquerque and the New Mexico Bowl might not seem like much, but it was the first-ever postseason visit for the Roadrunners, who won enough in 2013 to qualify for a bowl under Larry Coker, but were still ineligible for the postseason after beginning their program just two years earlier. The "Fighting Cokers" lost their momentum in 2014 & '15, however, prompting Coker to resign under fire and the passing of the baton to Wilson, who has provided a shot in the arm at the Alamodome.


C-USA observers are casting a wary eye, knowing that UTSA, because of its location and facilities (the 65,000-seat dome is far and away the biggest venue in the league), is something of a sleeping giant within these ranks. At the same time, insiders know that Wilson, with his SEC roots and reputation as a top recruiter, could soon become a hot commodity in the coaching ranks if he can sustain success at UTSA. It's a bit soon, perhaps, to anoint the Roadrunners as having "arrived" as a force (losing to New Mexico in a bowl is hardly an indicator of pending domination), but Wilson at least seems to have things pointed in the right direction.


Consistency will be an important objective on offense after the Roadrunners gained 500 or more yards vs. Southern Miss, UTEP, and Charlotte, but were held under 400 yards in nine other games. Maybe some of those ups-and-downs will smooth out now that livewire sr. QB Dalton Sturm has a season-and-a-half as the starter under his belt. Sturm, whose ability to escape pressure adds another dimension to the offense, even scrambled for a 51-yard TD in last year's opener vs. Alabama State, and kept defenses honest with his mobility. Moreover, Sturm tossed 20 TD passes vs. only 6 picks. But too many times last season, Sturm could not make plays, and as he went so did the offense, and a steadier pattern is needed more than a year ago, when he completed fewer than 50% of his passes in four different games. Better work from the OL might help after UTSA allowed 87 sacks over the past two seasons combined. Juco Josh Dunlop arrives at the all-important LT spot to hopefully better protect Sturm's blindside.


Most of the skill-position weapons have returned, including the top four receivers from last season, led by big-play wideouts Josh Stewart and Kerry Thomas, Jr., who combined for 71 catches and 13 TDs while gaining better than 17 yards per catch between them. Meanwhile, if healthy, jr. RB Jalen Rhodes (827 YR LY) figures to be able to replace graduated leading rusher Jarveon Williams, though Rhodes' nagging injuries in spring might have opened the door for sr. Tyrell Clay to get more carries. Wilson could also use a bit more production from jr. PK Victor Falcon, who was only 2 of 6 beyond 40 yards last season.


The upgrades were also reflected on defense, which improved from 101st ranked in Coker's last year to 63rd a season ago, with d.c. Pete Golding maintaining Coker's preferred 4-2-5 alignments from previous years. Playmakers remain in place, including Marcus Davenport, a terror from the edge where usually plays DE from a stand-up position, better to both pressure QBs and force runners to the inside. Soph LB Josiah Tauaefa earned first-team All-C-USA and Frosh of the Year honors a year ago after leading the Roadrunners with 115 tackles. UTSA also returns both of its corners, sr. Austin Jupe and soph Teddrick McGhee. In all, seven starters return, suggesting the better stop unit numbers from last season should at least be matched, if not improved upon.


The schedule has some early challenges, but the Roadrunners might be catching their first two foes, Houston (which visits the Alamodome) and Baylor, at the right time, given that each will be breaking in new head coaches. An upset in either game is not inconceivable and could provide a lot of momentum into C-USA play, which commences in October. Continued improvement and more consistency from QB Sturm, along with an experienced defense, suggests Wilson should do at least as well, if not better, in his second season, especially with the top contenders from the East (WKU and MTSU) not on the slate and West favorite La Tech not appearing until the last game of the regular season.


Spread-wise, after Coker's UTSA lost 15 of its last 22 vs. the number, Wilson also proved an immediate upgrade, logging a 7-5-1 spread mark, including 5-2 as an underdog. The Roadrunners also caught fire late in the season when covering five of their last six, including the narrow 23-20 SU loss to New Mexico in the bowl games. Wilson, however, was only 2-3 as chalk, a role in which UTSA is only 5-11 since 2014.


On the surface, last year's performance by Southern Miss (2016 SUR 7-6; PSR 4-9; O/U 6-7) doesn't look all that bad. A winning record, plus success in the New Orleans Bowl vs. UL-Lafayette, would seem enough to satisfy the support base. But not even White House Press Secretary Sarah Huckabee Sanders could spin 2016 as much of a positive in Hattiesburg, where expectations were so much higher, especially with a four-year starting QB, Nick Mullens, in the fold. Without a reg.-season ending upset win over a flat La Tech, the Golden Eagles wouldn't have even had a chance to beat the modest Ragin' Cajuns at the Superdome.


Blame, such as it is, rests with HC Jay Hopson, who seemed to have a fairly stacked deck left for him by predecessor Todd Monken (who took a job as Dirk Koetter's o.c. with the NFL Tampa Bay Bucs). But after a mostly-rousing 3-1 break from the gate that included a comeback win at SEC Kentucky in the opener, USM flattened out until late November, allowing 50+ points in losses to not-so-much juggernauts UTSA and Old Dominion, while getting humbled at home by FBS newbie Charlotte, games the Golden Eagles lost by double digits despite being favored to win in each. Not exactly highlight-reel stuff.


Now, Hopson and o.c. Shannon Dawson must figure out a way to proceed without QB Mullens, who passed for nearly 12,000 yards and 87 TDs in his career and is spending this summer in the camp of the San Francisco 49ers. Former juco Kwadra Griggs, who didn't take a snap and redshirted last season due to a foot injury and, eventually, academic issues, exhibited a good arm and above-average mobility in spring and enters fall as the presumptive starter at QB, while soph Keon Howard, who struggled mightily in a couple of appearances in relief of an injured Mullens a year ago, remains in the mix. But after Austin Davis (who continues to bounce around the NFL) and Mullens took most of the snaps in recent years, any downgrade at the QB spot could have negative consequences in Hattiesburg, where the ppg dropped a full touchdown a year ago, even with Mullens in the fold for much of the season.


The encouragement comes from the skill positions, especially at RB, where jitterbug sr. Ito Smith enters the season as the only active FBS player with more than 3000 yards rushing and 1000 yards receiving in his career. Deep-threat WR Allenzae Staggers, another juco who gained a hefty 18.5 yards per catch last on his 63 receptions, is an established deep threat. Another juco wideout, Trevor Henry, is a potential long-ball weapon who opened eyes in spring. There are three vacancies on the OL that Hopson hopes can be filled by some combination of redshirt frosh and incoming transfers. But the "O" simply has to cut down on thw whopping 32 TOs committed a year ago, ranking an awful 124th. At least jr. PK Parker Shaunfield remains a reliable component, making 12 of 14 FG tries in 2016, half of those beyond 40 yards.


When the dust cleared last season, USM's "D" ranked best in C-USA, and for once that wasn't quite like being named mayor of Gilligan's Island...the Golden Eagles also ranked 15th nationally in total defense. Not too shabby. But while good enough to keep La Tech's high-powered attack in check, there were also too many lapses, such as the aforementioned no-shows vs. UTSA, Charlotte, and ODU. If nothing else, more consistency will be needed this fall. Hopson also came under criticism for most of last season's ups-and-downs on the stop unit, being that his expertise has been defense throughout his career.


Even though only four starters are back on the stop side, experience is not much of an issue, as all projected starters are juniors and seniors. Still, key cogs such as last year's top tackler, S D'Nerius Antoine, and top pass rusher Dylan Bradley, both All-CUSA picks, have graduated. A couple of key playmakers return, including DE Xavier "Paw Paw" Thigpen, with 9.5 sacks over the past two seasons, and SS Tavarius Moore, who has been praised as a next-level prospect by Hopson. The nation's 10th-ranked pass defense from a year ago also returns starting corners Cornell Armstong and Trae Collins, plus all-name nickel-back Picasso Nelson, Jr., all of whom now seniors. The platoon should still rank among C-USA's best.


Still, Hopson will need to get his QB situation sorted early with a revenge-minded Kentucky visiting Roberts Stadium on opening day, and another SEC foe, Tennessee, appears on the slate Nov. 4 at Knoxville. Otherwise, the slate appears manageable, especially with top C-USA East contenders Western Kentucky and Middle Tennessee not included, and regional sources still believe the core of talent in Hattiesburg remains a cut above most in the league. Hopson should probably do enough to get to another minor bowl (is there any other for a C-USA rep?), though whether that minimal threshold is now enough for Golden Eagle fans who have had more to cheer about in recent years, remains to be seen. As are concerns that Hopson might be a downgrade from predecessor Monken, who was able to prop up the program after a brief lull.


Spread-wise, Hopson's debut was close to a disaster, dropping 9 of 13 vs. the line, including a 7-game spread losing streak from the middle to later portions of the season. USM was also only 2-7 vs. the line as chalk for Hopson after covering 7 of 8 as a favorite for Monken's last team in 2015.



It is a dubious honor, but one that North Texas (2016 SUR 5-8; PSR 7-5-1; O/U 6-7) probably doesn't mind. We're talking about the Mean Green's 5-8 SU mark last season, which stands as the worst record of any bowl qualifier since Hayden Fry's 1963 SMU team finished at 4-7. Of course, on the heels of a disastrous 1-11 mark in 2015 that claimed sour HC Dan McCarney at midseason, the 5-8 was good enough to celebrate in Denton.


It was also a validation of sorts for the apparent shrewd hire made by UNT of HC Seth Littrell, who helped forge the turnaround after serving as Larry Fedora's o.c. at North Carolina. Though last year's Mean Green didn't much resemble Littrell's previous, high-powered Tar Heel attacks, Littrell was also working mostly with a roster base recruited by McCarney, whose offensive philosophy was about 180 degrees from the preferred spread looks of Littrell, who tried to fit the existing personnel as best he could into his uptempo style. Results were mixed, but even that was a vast improvement from 2015, when one of the UNT losses came by a 66-7 margin vs. Portland State (which prompted McCarney's removal).


Now, we'll see if the Mean Green can take the next steps, which has various other outposts in C-USA concerned. At the north end of the vast DFW Metroplex, North Texas is perhaps best positioned of all C-USA entries in a recruiting hotbed. And even though the Mean Green won't usually get the cream of the crop in the DFW area, UNT is still an attractive alternative for two and three-star recruits from the region who might want a chance to go to school and play closer to home. The futuristic Apogee Stadium now gives the Mean Green one of the top facilities in the league, and a much bigger selling point than the outdated Fouts Field, which was downwind of the car exhausts on the adjacent I-35E. The pieces seem to be in place for UNT to become a force in C-USA.


Though Littrell's first Mean Green "O" was a far cry from his North Carolina strike forces, it still improved almost 10 ppg from the pedestrian 2015 Denton attack. When healthy, true frosh QB Mason Fine flashed plenty of upside when passing for 1572 yards, as well as running for an 80-yard TD vs. UTSA, before going down late in the season. Fine's best quality a season ago might have been caring for the ball; he only tossed 5 picks in 261 attempts, but will have to improve his TD passes (only 6 a year ago). A mostly-rebuilt receiving corps might require an adjustment period, as WR Turner Smiley (33 catches LY) is the only top four target returning from 2016. It is hoped that touted juco wideout Jalen Guyton, who originally committed to Notre Dame out of high school and picked the Mean Green over West Virginia and others, will provide the downfield threat that Fine needs.


As much as Littrell likes to throw, he will also make good use, if possible, of sr. RB Jeffrey Wilson (936 YR and 14 TDs LY), who has 1990 career rushing yards but has yet to make it through an entire season without injury. When healthy, Wilson can balance the offense, but upgrades are needed along an OL that allowed 43 sacks a year ago, prompting Littrell to bring in a new OL coach, Chuck Langston, after a decorated run at Lamar where he served as the Cards' o.c. Littrell would also like the ability to rely on a PK from longer range after Trevor Moore made just 2 of 10 FGs beyond 40 yards the past two seasons.


Like the offense, the "D" also made progress a year ago compared to a desultory 2015 performance when UNT allowed a whopping 41.3 ppg; last season it was a more palatable 32.6 ppg, but still not at the level where d.c. Troy Reffett (now flying solo as the coordinator) would like the Mean Green to perform.

In the second year of Reffett's 3-3-5 alignments, more improvements are anticipated despite the fact only four starters remain in the fold. Several position switches made in spring were designed to get more pressure from the edges, with physical LBs and more-athletic interior linemen moving to DE in Reffett's aggressive schemes. The addition of Kansas State transfer NT Bruce English has given Reffett more flexibility to mix and match personnel as needed in front of the secondary.


The pass defense was not at all bad a year ago (ranking 27th nationally), though that might have had to do with foes running at will against a relatively soft Mean Green defensive front that contributed to a poor 117th rank vs. the rush. Still, playmakers seem to abound in the back line of the defense, led by All-CUSA FS Kishawn McClain, who posted a team-best 91 tackles. In all, three starters return in the secondary, which again looms as the strength of the platoon.


The schedule does not appear especially daunting, though the Mean Green will be decided underdogs in early non-league road games at nearby SMU and at Iowa. Another matchup vs. Army, which split vs. UNT a year ago (including the bowl game), takes place in the penultimate week. Though there is probably a ceiling to the immediate upside for the Mean Green, at least the trajectory is upward in Denton under Littrell, and another bowl visit would appear within reach.


Spread-wise, after dropping 16 of 24 vs. the line under the previous regime in 2014-15, Littrell offered another upgrade a year ago when posting a 7-5-1 mark vs. the line, including an early-season six-game unbeaten streak against the number. The Mean Green is also 12-7 "under" its last 19 entering the fall.



We missed Conference USA's recent Media Day in Irving, Texas, but nonetheless found an endorsement at the Big 12 event at nearby Frisco for Rice (2016 SUR 3-9; PSR 6-6; O/U 7-5) and in particular HC David Bailiff from David Beaty, the current Kansas HC and onetime member of Bailiff's Owls staff. "I cannot say enough good things about David Bailiff," said Beaty, almost becoming emotional at the mention of his former boss. "There is no finer man in college football, and he is the perfect fit for that job. If Rice is thinking about making a change, it would be making a huge mistake."


While such a heartfelt endorsement is nice from Beaty, he is not the one signing Bailiff's checks in Houston. And, if regional sources are to be believed, Bailiff is feeling some heat after two straight losing, non-bowl seasons, with his contract not "rolled over" and only two years remaining. Most college coaches do not enter the final year of a contract without some sort of extension, so it is safe to say, perhaps a bit unfairly, that Bailiff probably is coaching for his job this fall.


Beaty, however, has a point, as the Owls had not gone to back-to-back bowls since the Jess Neely era in 1960-61, and never three bowls in a row, until Bailiff turned the trick from 2012-14. This from a program that had endured a 45-year bowl drought prior to 2006. Perhaps Bailiff has become a victim of his own success at Rice, where the cigars now expect a bowl every year. We tend to agree with Beaty that Bailiff is probably the perfect fit for the Owls, but in this day and age can understand the mounting pressure on administrators, too. The Owls have slipped the past two years, and were winless a year ago into midseason before salvaging three wins down the stretch, one of those vs. FBS Prairie View, and another by one point over FBS newbie Charlotte.


Depth is always a concern at an outpost such as Rice, and Bailiff had no luck on the injury front last season when the Owls were more or less decimated, especially along their OL. The good news is that the returning forward wall is now experienced with starters returning across the line. But there is not much established production from the returning skill positions, including QB, where holdovers Jackson Tyner and J.T. Granato, each with limited snaps under their belts a season ago, did not establish a clear pecking order in spring. Thus, it's possible that dual-threat true frosh Miklo Smalls, from Plano in the Metroplex, might win the job sooner rather than later, especially as Bailiff has already affixed to him the "playmaker" label.


Injuries also limited RB Sam Stewart to just four starts last season, though he managed 479 YR despite a bad knee. If healthy, however, Stewart (who gained a healthy 6.3 ypc last fall) does provide a potential big-play dimension, as might versatile jr. Austin Walter, who often lines up in the slot and gained 5 ypc himself in 2016. Bruising 235-lb. soph Emmanuel Esupka could emerge as a needed power back as did Charles Ross from a few years ago. Another newcomer, rangy 6'4 RS frosh WR Aaron Cephus, might provided a needed homerun threat from the wideout corps, while soph Kyle Granson caught 33 passes after shedding his redshirt at midseason as a frosh last fall.


Still, any offensive improvements might prove moot unless the "D" can make its own upgrades. Entrusted to forge a turnaround is new d.c. Brian Stewart, who not too long ago held the same position for the Dallas Cowboys. Stewart does return seven starters, but we're not sure that's a plus for a platoon that allowed 30 or more points in nine games and finished a distant 114th (37.3 ppg) in scoring "D" a year ago.


Stewart spent spring installing a read-and-react 3-4 scheme that he believes better fits the personnel on hand than the preceding 4-2-5 alignments. Senior LB Emmanuel Ellerbee is a good centerpiece for the platoon after being Rice's only All-CUSA honoree a season ago when he led the league with 118 tackles. The stop unit, however, remains relatively undersized (a chronic problem at Rice in recent decades), and the pass defense, despite the presence of a big hitter at FS, jr. J.T. Ibe, was the worst in C-USA and ranked a lowly 123rd nationally in 2016. Playmakers are badly needed to emerge after the "D" forced just 11 turnovers last season (only five teams forced fewer).


Unfortunately, the schedule-makers have given Bailiff no breaks, including four of five away from the remodeled Rice Stadium out of the chute, one of those a far-flung trip to Sydney, Australia to face Pac-12 power Stanford in the opener. Crosstown Houston also returns to the schedule, plus a trip to ACC Pitt. Unless Bailiff can win on September 9 at UTEP, or at home two weeks later vs. FIU, there is a chance the Owls are once again winless at midseason as they were a year ago. And if that's the case, the chances of Bailiff even surviving into November become iffy.


Spread-wise, Bailiff has often delivered impressive marks in his ten years on the job, and had covered 27 times over a 38-game stretch into early 2015, though the Owls are just 8-10-1 vs. the line since. After sagging in a once-profitable dog role in 2014-15, Bailiff recovered to a 5-3 mark getting points a year ago, though recent prowess as Rice Stadium chalk disappeared when Rice failed to cover all three of its chances laying points at home.



The rope is getting a bit taut at UTEP (2016 SUR 408; PSR 5-6-1; O/U 6-5-1) for fifth-year HS Sean Kugler, who has stumbled to an 18-31 record in the Border City since his hire prior to the 2013 campaign. That includes a New Mexico Bowl visit in 2014. A relatively competitive product and bowl visit every three or so years is probably enough to keep a coach safe at a locale such as UTEP, but even Miner fans have their limits. Remember, Kugler's successor, the well-regarded Mike Price, who had taken a couple of Washington State teams to Rose Bowls during his tenure at Pullman, found himself under increasing heat when the program hit a downturn after his first couple of UTEP teams made it to bowls in 2004 & '05, and Price would beat the forming posse to the door when retiring after the 2012 season. Even at UTEP, they have expectations a bit greater than Kugler's .382 win percentage.


Kugler, with NFL coaching experience in his background, remains regarded as an up-and-comer in some circles, but cannot afford another 3 or 4-win season in his fifth year on the job. The thought from C-USA observers is that this is the year in which the Miners, if they are to make a breakthrough, should expect to finally gain some traction, especially being in the second seasons with systems in place on both offense and defense, and the respected coordinators (Brent Pease offense, Tom Mason defense) in charge of those platoons. But if playmakers do not emerge and UTEP struggles again, Kugler will be running out of excuses.


Kugler's run-first offense will have a challenge replacing do-everything RB Aaron Jones, who danced for a school-record 1773 YR in 2016 (as well as 7.7 ypc) before being taken by the Green Bay Packers in the fourth round of last April's NFL Draft. There are a couple of foundation pieces remaining, including 330-lb. sr. G Will Hernandez, a legit All-America candidate and possible first-round pick in next April's draft. Junior Ryan Metz also gives Kugler an established QB to enter the season after emerging from a crowded pack to take over the job a year ago and pass for 14 TDs. But there is not much skill-position production and experience returning from 2016 when the Miners could do no better than rank 102nd nationally in total offense. The QB position has also seen its share of injuries in recent years, and keeping Metz in one piece for the entire schedule might be asking a bit much; former Fresno State transfer Zack Greenlee remains in the mix, but Kugler would rather not burn the a year of eligibility for either of his touted frosh QB recruits, Alex Fernandez and Calvin Brownholtz.


The revamped supporting cast for Metz took a blow when projected feature RB Quadriz Wadley went down with a season-ending shoulder injury in spring. True frosh Josh Fields, a touted local product who was rated as the Miners' top recruit this year, might get a chance to show his stuff sooner than anticipated. Most of the receivers saw action a year ago, though last year's top pass-catcher, All-CUSA TE Hayden Pinkle, has graduated, and juco David Lucero, who started his career at Boise State, will be counted upon to fill Pinkle's shoes. Soph WR Eddie Sinegal returns after a promising debut season in which he caught 29 passes, but to this point, no big-play dimension has been demonstrated by the wideouts on the roster. There is a bit more experience on the line, where Hernandez is one of two returning starters, and three others with starting experience are also in the fold. But how the strike force operates without the departed RB Jones, who keyed the occasional offensive outbursts such as the season-ending 52-24 win over North Texas last November 26, remains to be seen.


Meanwhile, vet d.c. Mason, a respected strategist who has twice served as an interim HC (at Boise State in '96 and SMU in 2014) during his long career, is hoping that his 3-4 alignments will resonate a bit more in their second season after Mason junked the 4-2-5 defense he inherited. Seven starters are back, including most of a secondary that ranked a very decent 41st in national pass defense a year ago, though that didn't prevent the Miners from allowing a too-high 35 ppg, ranking 105th. Three DB starters return, led by All-CUSA candidate SS Devin Cockrell, while FS Michael Lewis is also back in the fold after starting in 2015 but missing last season as an academic redshirt. The Miners generated only 14 sacks and 11 takeaways last season, numbers that must improve if UTEP is to make a serious advancement this fall.


Mason has a pair of vet ILBs including Aaron Jones' brother Alvin, who had a team-high 93 tackles last season despite missing a couple of games due to injury. Along with returning starters Dante Lovilotte and Jayson VanHook, the LB corps appears to be the strength of the platoon. But the DL looks to be a revolving door, and returnees up front managed only 1.5 sacks between them in 2016. Junior DE Mike Sota is the only returning starter, with untested sophs likely to get the first cracks at the other spots on the DL.


If Kugler didn't have enough to worry about, a tough non-conference schedule awaits, including a sacrifice to Oklahoma in Lincoln Riley's debut as Sooners HC in the opener, a match vs. another "Power 5" rep, Pac-12 Arizona (though that one is in El Paso), and a trip to West Point for a rematch with an Army team that ran roughshod, 66-14, last September at the Sun Bowl. In all, only five game will be played at home, hardly a plus in a season where Kugler could use all the breaks he can get.

Spread-wise, since Kugler's first UTEP team in 2013 struggled to a 2-10 mark vs. the line (including 0-9 as a dog), the Miners have mostly held their own, though only in 2014 has Kugler made the once-formidable Sun Bowl venue resemble a fortress (the Miners are just 7-10 vs. the line at home in the other three Kugler seasons). Within C-USA, note that Kugler has managed wins and covers the past three years vs. North Texas.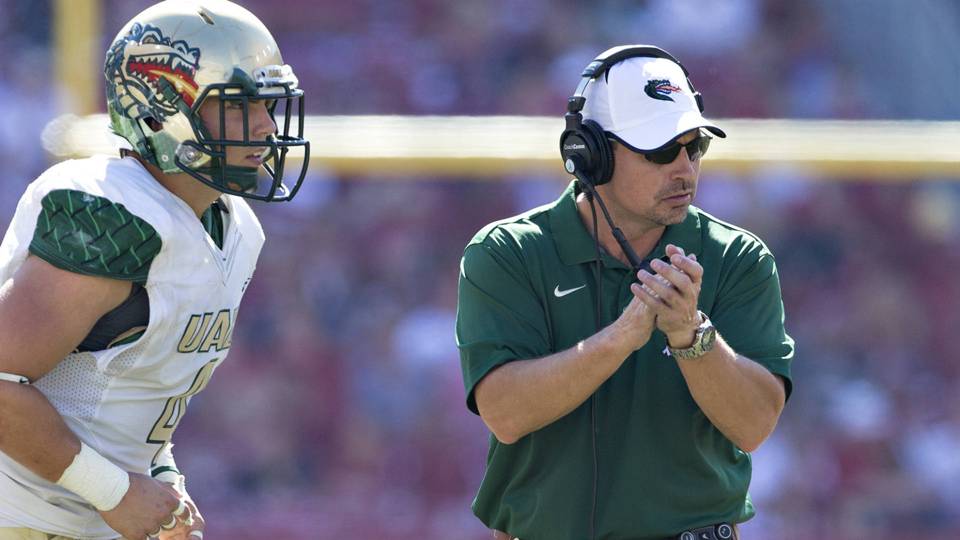 Look

who's back! It's UAB (no record 2016; last active 2014), which after a two-year hiatus resurfaces as an effective FBS expansion team this fall. All after a wildly unpopular business move made by the school after the 2014 season to drop the football program. Which made fiscal sense, as the Blazer program was a money loser, and forever relegated to second (third?) tier status in the state thanks to state politics and the University of Alabama system itself, which has a bit of a bias toward that bunch in Tuscaloosa.


The fact is that UAB was always a poor relation after it was allowed to start its football program in the early 90s, a concession to the Birmingham branch of the state university that had been a fairly-visible basketball program in previous years under HC Gene Bartow and was in the process of distinguishing itself in other non-sports areas, such as its medical school, rated as one of the best in the region. UAB quickly moved up the ladder and was playing D-I ball before the end of the decade under former Cincinnati, Rice, and Vandy HC Watson Brown, hired in 1996, who also oversaw a move into Conference USA in 1999.


UAB was a competitive entry for much of Brown's tenure and qualified for the school's first bowl in 2004, losing to Hawaii and its home-field edge in the Hawaii Bowl (still the Blazers' only postseason visit), but the program was sliding by the end of the 2006 campaign, when Brown resigned. For a while it looked as if the Blazers were going to tab then-LSU o.c. Jimbo Fisher to succeed Brown, but state politics, e.g. those folks in Tuscaloosa, got in the way, led by none other than Paul Bryant, Jr., who recoiled at the thought of UAB tabbing this young up-and-comer to head a program that by design was not to threaten Alabama (or Auburn) in the state's preferred gridiron hierarchy. UAB was told by the Board of Trustees, which included Bryant Jr., that it should instead hire Georgia o.c. Neal Callaway, who would proceed to post a five-year mark of 18-42 before walking the plank.


After Callaway, UAB continued to spin its wheels when hiring Garrick McGee off of Bobby Petrno's staff at Arkansas, but once Petrino resurfaced at Louisville, McGee quickly rejoined him as he bailed out on the Blazers after winning just five games in two years. Enlisted to save the sinking UAB ship was nearby Jacksonville State HC Bill Clark, who worked a minor miracle to get the Blazers to 6-6. Then the rug was pulled out from under Clark almost immediately after the 2014 season when the program was put in the freezer.


Beyond a handful of holdovers from 2014, Clark's roster is filled with various transfers, jucos, frosh, and walk-ons. Many of those dot the offense, including Middle Tennessee transfer QB A.J. Erdely, who played in five games for the Blue Raiders two years ago, primarily in the Wildcat package, before transferring to Mississippi Gulf Coast, where he completed 64% of his passes for 14 TDs with only three picks. After spring, Erdely held a slight lead over RS frosh Tyler Johnston for the starting job. Both have good arms and lively feet, the latter likely to come in handy this fall with the QBs expected to be on the move often. Which is a safe assumption after Clark signed four offensive linemen in December, all figuring in the rotations up front.


A familiar face (sort of) on offense will be jr. WR Collin Lisa, who began his career at UAB in 2014 and caught all of one pass before transferring to Buffalo, then returning to the Blazers. He appeared to be the go-to target in spring, but the receiver spots, like other positions on the roster, figure to be a fluid proposition for at least the first half of the season. Juco WR Xavier Ubosi appears to be a potential deep threat. C-USA sources believe Clark might use as many as four RBs by committee in the early going until one emerges, as did Jordan Howard when gaining 1587 YR in 2014, then picking up 1213 YR at Indiana before stunning the NFL with 1313 YR as a rookie for the Bears last fall. Another Howard-type has yet to emerge, though 235-lb. frosh Spencer Brown is a banger who might surface. Meanwhile. o.c. Les Koenning was hired off of Dan Mullen's Mississippi State staff, and has several years of experience as a coordinator, many of those on staffs of Dennis Franchione at TCU, Alabama, and Texas A&M. Expect Koenning to develop an attack that can utilize the foot-speed of his QBs.


The highest-profile holdover from 2014, LB Shaq Jones, should headline the defense after recording 12.5 tackles for loss three years ago. Jones is also the spiritual leader of the platoon who, unlike most of his teammates who scattered (understandably) after 2014, resisted offers to transfer elsewhere and stuck around Birmingham, perhaps for the chance to live and go to school so close to a Dreamland BBQ outlet, up the hill from campus on 14th Avenue. Another holdover at LB, Tevin Crews, has recorded 39.5 tackles as a Blazer. Among the walk-ons, LB Fitzgerald Mofor was one of the most impressive in spring. There is plenty of size on the line, including Illinois transfer DT Teko Powell, though UAB will need 352--pound DT Anthony Rush to make a big step forward.

The secondary is also loaded with transfers, including juco CB Darez Diggs and ex-Louisville Cardinal Duke Culver, the likely nickel-back for new d.c David Reaves, who is expected to alter between 3-4 and 4-3 looks depending upon where he wants to use his hybrid playmaker Shaq Jones.

On the plus side, the schedule is not too demanding, with Florida the only "Power 5 Conference" team on the slate, and that's not until Nov. 18. FCS Alabama State and an FBS newcomer, Coastal Carolina, are September foes, and, let's face it, the C-USA West is not the SEC West. Clark stunned everyone by getting his 2014 team to punch above its weight, and while expectations are low, don't be surprised if UAB is better than expected this fall.

NEXT UP: C-USA--PART II



Return To Home Page