8462...
THE BEST OF TGS...
"THE GAME" THAT STILL RESONATES

by Bruce Marshall, Goldsheet.com Editor

In this latest

"Best of

TGS" installment, we recall the following feature which ran in Issue 12 of our 62nd edition in November of 2018, when we honored the 50th anniversary of an epic matchup that continues to resonate...


We're about to enter the peak of college football "rivalry season" in the next two weeks as various regional bloodbaths will once again renew. In our 62 seasons of TGS publishing, however, one of these rivalry games remains singular. And we're not sure we've ever lived through a game quite like...well, The Game.
Allow us to digress for a moment. It might be hard for the present-day audience of the sports books in Nevada and various locales elsewhere to relate to an era when Ivy League football was a big deal and indeed featured weekly on the pointspread sheets. Into the mid '90s, we at TGS would devote space to the weekly card of Ivy clashes, while other Eastern sides such as Holy Cross and Colgate were often included in the weekly wagering fare as well. Though the Nevada books stopped posting Ivy football a generation ago, we have noticed that select outlets are once again reintroducing Ivy action into the "extra" slate of games along with various FCS conferences. Who knows, the day might be coming soon when Ivy League football is once again featured on the pages of TGS!


But we don't know of a rivalry game in our publishing history, including any of the various "Games of the Century" that would include Notre Dame-Michigan State 1966, Texas-Arkansas 1969, or Nebraska-Oklahoma 1971, that remain as marketable, and continue to fascinate, as much as the Harvard-Yale classic in 1968.

Though the Ivy entries had faded as nationally relevant on the gridiron by the early '50s, there was a brief revival in 1968 centered upon a wondrous Yale side that would crack the national rankings late in the season and close its campaign vs. fellow unbeaten Harvard in a game they still can't stop talking about...50 years later. So much so that yet another new book on that showdown, titled The Game: Harvard, Yale, and America in 1968, by George Howe Colt, is now the rage at booksellers across the land.


They're playing another Harvard-Yale game this weekend (at Fenway Park, no less), but the extra twinge to Saturday's Crimson-Bulldogs game will be the 50th anniversary of the '68 classic, which thanks to Colt's book can almost come to life again for all of its readers.


Colt's The Game is written from a unique perspective in that he was actually at Harvard-Yale in '68 as a 14-year-old, attending the game with his father. Needless to say the contest made an impression upon Colt, an author of some repute whose previous bestsellers include The Big House, Brothers, and November of the Soul. Colt includes his own experience at the game near the beginning and again near the end of the book, while alternating Yale and Harvard-centric chapters in between.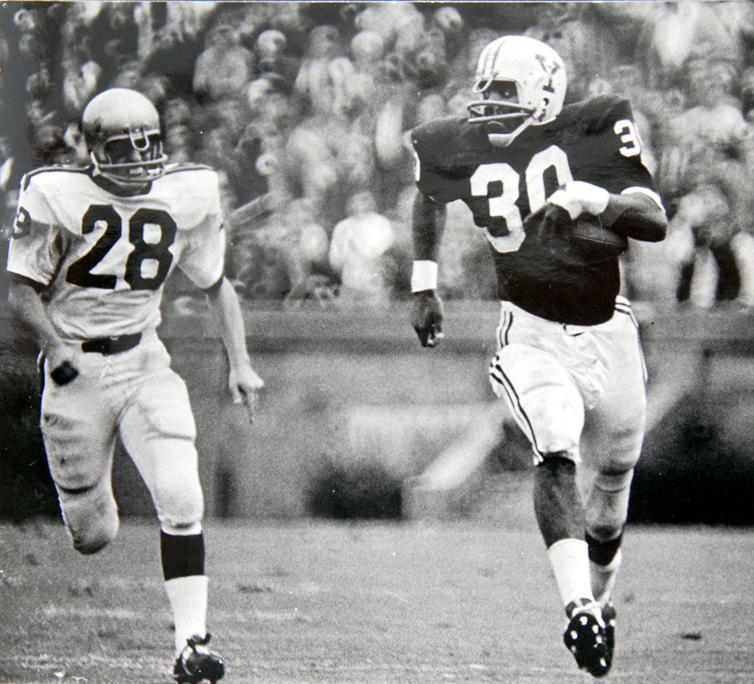 To say The Game (also a gravitas-laced label for the Harvard-Yale battle, which inspired a spin-off name of sorts for the west coast Stanford-Cal version called "The Big Game") is merely a football book, however, is to shortchange this literary masterpiece by Colt. Those who post-date 1968 might not be able to relate to what was going on 50 years ago; if you think the rancor of present-day society is unsettling, you should have seen '68. Harvard-Yale '68, however, sat for a brief moment at this intersection of sport, society, entertainment, and politics, all touched upon in some detail by Colt. Then there's the list of those involved, in one form or another, that almost reads like a "Who's Who" registry of America. Seldom has such a collection gathered on a gridiron; players included those who had recently returned from combat in Vietnam, to the radical antiwar group SDS, to a future mayor of a major American city (Baltimore's Kurt Schmoke, then a Yale DB), to an NFL prospect who quit to devote time to Black activism, and another who went on to become a Rookie of the Year and Pro Bowler in the NFL (Yale's Calvin Hill) and the sire of a future basketball star named Grant Hill. Plus a well-known Hollywood actor, Tommy Lee Jones, then a Harvard lineman. Not to mention more eventual business leaders, politicians, diplomats, lawyers, judges, educators, physicians, and scientists than we have room to list.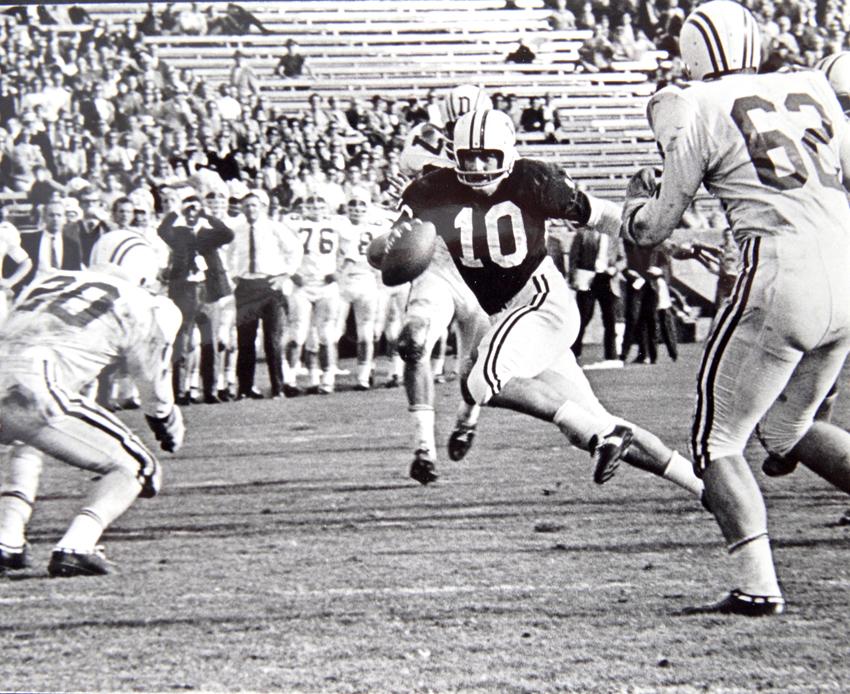 The orbit of The Game included many non-players too, including a famous cartoonist, Garry Trudeau, whose Doonesbury comic strip was inspired by his "bull tales" that first ran in the Yale Daily News from his days as an undergrad in the late '60s. A forever connection to Harvard-Yale '68 is Trudeau's "B.D." character based upon star Yale QB Brian Dowling. Also part of the landscape of The Game was a young coed from Vassar by the name of...Meryl Streep, who loved football and watching her then-boyfriend, Bob Levin, better known as a Yale fullback in those days. Screenwriter Erich Segal (Harvard '58) had also returned to his alma mater in the fall of '68 as a visiting fellow at Dunston House and modeled Ryan O'Neal's famous character in Love Story on an amalgam of Tommy Lee Jones and his Harvard suitemate, Al Gore (heard of him, right?), both of whom Segal got to know in '68.
Colt's ability to weave all of these elements not only around the historic game (which we'll get to in a moment) but all of what was also going on in society during a very turbulent '68 is another extraordinary angle to the book.

Lest we give the impression The Game is a book without a football emphasis, it's in Colt's meticulous review of the players, coaches, and games that led up to the memorable collision of the unbeatens on November 23, 1968 that really rivets. Anticipation had been growing throughout the autumn as the two Ivy powers were on an inevitable collision course, though it was Yale generating the majority of headlines, mostly because of Brian Dowling and Calvin Hill. Yale was indeed national news; ABC, in one of its telecasts early that November, sent its top announcing team of Chris Schenkel and Bud Wilkinson to call the Dartmouth-Yale game just after the conclusion of the Mexico City Olympics (yet another landmark event taking place in the fall of '68). As mentioned, HC Carm Cozza's Bulldogs had cracked the national rankings, astounding for an Ivy entry, in November, up to No. 16 after rolling unbeaten through eight games, and no foe within single digits. Harvard's trajectory was not quite as steep, but HC John Yovocsin's scrappy Crimson had also cobbled an 8-0 mark in much lower-scoring fashion.
Excitement for Harvard-Yale was through the roof; in the Northeast, for sure, it was generating far more interest than the epic USC-UCLA showdown of the previous year. The national sports media had picked up on the fervor and inundated Harvard with an unprecedented number of requests for press credentials. Tickets were always harder to get for "The Game" when it was played at Harvard Stadium, with its 37,000 seats, compared to the Yale Bowl and its 70,000-plus, but they became well-nigh impossible for the average fan in the run-up to the battle. For well-heeled alums, too; Harvard had a policy of awarding a certain allotment of tickets to graduates based on seniority, but demand was so high that the ticket office was forced to cut off sales once they reached the Class of 1951. To handle the extra demand, an extra 3,000 seats (up to 40,280) were added to Harvard Stadium, a horseshoe-shaped facility that to this day looks as if it were transported from ancient Rome.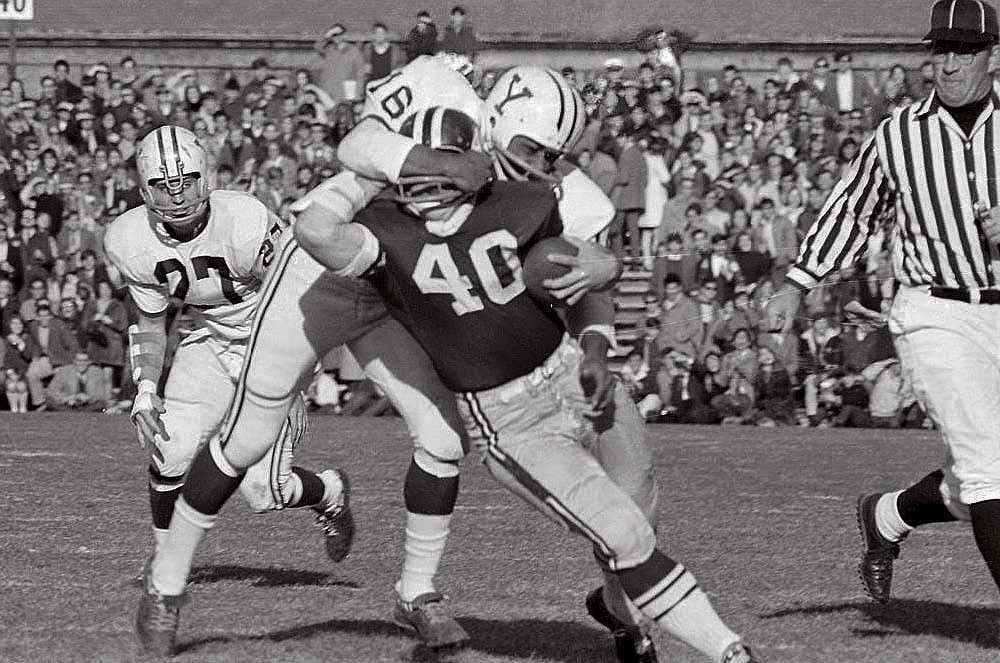 It takes Colt almost 250 pages to get to the actual game, which in the past has been documented in many forms, including a famous 2008 documentary film by Kevin Rafferty, which inspired Colt to embark upon The Game project. Yale, as expected, took charge early, as the clash settled into a disturbing pattern for Harvard fans; failed Crimson possessions followed by long Bulldog drives. Yovocsin's defense was determined to keep Dowling in the pocket, but Cozza had Dowling rolling out on almost every play, causing a dilemma for the Harvard LBs and DBs; stay back in pass coverage or move up to defend the run? Then there was Hill, at 220 pounds bigger than most of the Crimson defenders and faster than every one of them. Yale moved smartly to an early score on a 3-yard run by Dowling, and after a punt return had set up the Eli on the Harvard 33, Dowling and Hill were back to work again, and shortly thereafter combined on a 3-yard TD pass to take a 14-0 lead just two minutes into the 2nd Q. Harvard was looking outclassed.
So complete seemed Yale's advantage that the Crimson could flatter itself by being down just 29-13 deep into the 4th Q. After the Bulldogs raced to a 22-0 lead in the 2nd Q, Harvard had rallied briefly to within 22-13 at the half, but Yale had missed chances to put the game completely out of reach. Still, that 16-point lead looked pretty solid into the final minutes of the game.
Desperate for offense, Yovocsin had earlier summoned backup QB Frank Champi for an ineffective George Lalich late in the first half, and Champi, who had thrown just 12 passes all year, indeed provided a brief spark. But Yale had reassumed control and appeared in the process of salting away a comfortable and satisfying win over its old enemy and finishing a glorious, unbeaten season.
It was getting late for the Crimson, as the sun began to dip behind the west side of Harvard Stadium, shadows began to cover the field, and the wind whipped up as the air developed a new-found, bone-rattling chill. Hardly the conditions for a dramatic rally. Due to injuries and ineffectiveness, Harvard was down to its second-string backfield (including QB Champi) as it attempted to make a comeback that seemed unfathomable. Yale, not content to sit on the clock, continued to pass, but a fumble with just over 3 minutes to play gave Harvard the ball on its 14. Helped by a defensive holding call and a bizarre fumble recovery run by T Fritz Reed, Champi would hit Bruce Freeman on a 15-yard TD pass with 42 seconds to play, cutting the lead to 29-19. With nothing to lose, Harvard went for 2, and got a second chance on a pass interference call. It was FB Gus Crim who gouged out the yard needed to cut the lead to 29-21.


Everyone from New Haven to Cambridge knew what was coming next, an onside kick, though it had never seemed as if Yale might not win a game it had controlled almost from the outset. But when Harvard S Bill Kelly recovered the kick at the Yale 49, the Crimson still had a chance to level the score with a TD and 2-point PAT. In front of what was now a screaming, disbelieving audience in Cambridge that was suddenly shaking the old stadium, a Champi scramble and facemask penalty advanced the ball to the Eli 20, but soon it was 3rd down, with time almost exhausted. After calling Champi passes on 10 straight plays, Harvard had one last trick up its sleeve...a nervy draw play to Crim! Who charged all of the way to the Yale 6. Fourteen seconds remained. Champi was then sacked, and Harvard would call its last timeout with 3 seconds to play from the Yale 8. Scrambling for what seemed an eternity (timed later at 8 seconds) in a fashion that would have made Fran Tarkenton proud, and the clock long since having hit 0:00, Champi finally found RB Vic Gatto in the back of the end zone and threw off of his back foot before getting sacked. Gatto made sure to hang on, hugging the pass into his midst before rolling to the ground, and remarkably the score was 29-27 with no time left on the clock. Pandemonium, which had begun to rage after Harvard's previous TD, now completely engulfed the old stadium. With the crowd spilling to the edge of the field, it took a couple of minutes to clear the playing surface to allow the 2-point try, which Champi fired to end Pete Varney on a curl-in to tie the score at 29!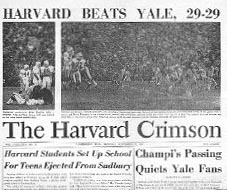 Tie? Not according to the Harvard Crimson. "Harvard Beats Yale, 29-29" read the headline for the next edition on Monday. And who could argue?
George Howe Colt's The Game: Harvard, Yale, and America in 1968 can be found everywhere books are sold. Needless to say, it's a great read. And, who knows? We might be handicapping Ivy football again on these pages in the not-too-distant future!
Return To Home Page