8475...
TGS SPECIAL REPORT...STYLE POINTS IN COLLEGE FB

by Bruce Marshall, Goldsheet.com Editor
Rewind

to October 23, 1982. Bo Schembechler's Michigan was not expected to have a tough time with Dennis Green's Northwestern that afternoon in Evanston. Heck, during those days, no one had much trouble with the Wildcats, who earlier that season had seen a debilitating losing streak grow to 34 games before finally beating Northern Illinois, 31-6, prompting NU fans to dismantle the goal posts at Dyche Stadium. A couple of weeks later, NU then broke a 38-game Big Ten losing streak when it shocked Minnesota, 31-21. Oddsmakers, however, were not getting fooled by this new-found Wildcat prowess. The Wolverines were made 29-point favorites as they rumbled into Dyche in late October.


On the surface, the eventual result that afternoon seems no different than most Northwestern games of that era. Final Score: Michigan 49, Northwestern 14. The Wolverines, as they often did against outmanned foes in that era, bulldozed the Wildcats, stretching the lead to 49-0 entering the 4th quarter.


"We'll save money today," a Northwestern usher at the game rationalized afterward to the Detroit Free-Press. "Last two home games, we won, and they (the fans) tore down the goal posts and threw them into the lake (Michigan, less than a mile east of the stadium). Goal posts cost between $2000 and $6000, depending on the quality. Winning is expensive."


So, in a way, Northwestern won by losing that day, as both the athletic department budget and the goal posts remained in tact.

But beneath the surface was a statistical oddity that seemed awfully gimmicky at the time. As the Wildcats were at a manpower disadvantage in that era, HC Green decided to simply open the bomb bays and let frosh QB Sandy Schwab (whose dad, Charles, became famous in the financial world with a discount brokerage house bearing his name) pass at will. When the game mercifully concluded, the stat box confirmed the oddity; Schwab had attempted an unheard-of 71 passes, completing 45. Both set NCAA records. Though padding his stats in the 4th Q after his team had fallen 7 TDs behind, Schwab still passed for 436 yards. But it was not exciting stuff; the longest gain went only for 24 yards, none were for touchdowns, and most of those were short pops to running backs or ends near the line of scrimmage. More than half of Schwab's completions had also come long after Schembechler cleared his bench.


Still, the stat line generated an incredulous response from the notoriously-gruff Schembechler. "What is this, basketball?," Bo growled afterward. Not surprisingly, he was mostly dismissive of Schwab's stats. "I'm not going to get worried about those things," Schembechler said to the DFP in a post-game chat.

(As for Sandy Schwab, he would eventually graduate as Northwestern's career passing leader a few years later and follow his famous dad into the financial field. After all, his given name is Charles Schwab, Jr!)


Still, we wouldn't have guessed in 1982 that most college football teams would eventually more resemble Dennis Green's Northwestern, with Sandy Schwab at QB, than Bo Schembechler's powerhouse Michigan, which ended up winning the Big Ten that season. It's not even close. Instead, we're now wondering if the modern college game might more resemble Schwab's Northwestern or a famous video game that made its debut in the late '80s.


Does anyone remember Tecmo Bowl?

This computerized football game would debut in arcade form then evolve into a popular video game. When Nintendo got involved with Tecmo Bowl and brought it into homes, countless fans of the generation were hooked. Tecmo Bowl was unique as it could feature as many as four different players using selected teams from the game. The one-player mode was perhaps the most popular, with an individual able to play against the computer.


The playbook for Tecmo Bowl consisted of only four different offensive plays, and the "coach" basically controlled the movements of his team, both offensively and defensively. However many players, big plays were common, lots of big plays, with defenders strewn about the video screen. It was not uncommon for Tecmo Bowl games to become high-scoring shootouts.


All of which is now more than a bit reminiscent of what we are seeing transpire on the actual gridirons this fall. Including the NFL, whose early-season scoring binge has been well-publicized, with league scoring up more than 3 points per game thru the first month of play. With teams scoring better than 51 ppg, the league is on course for its highest-scoring season since the merger year in 1970.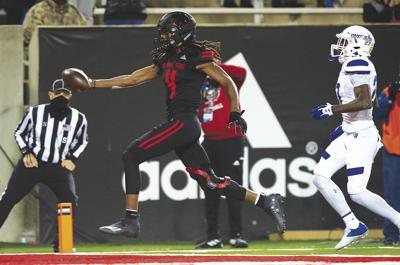 But it's on the college side where the "Tecmo Bowl" (and Sandy Schwab) similarities and comparisons have been more applicable. The combinations of teams running hurry-up offenses and passing on almost every down have created often-dizzying spectacles. Games where both teams score 50 points or more are no longer uncommon, such as Arkansas State's 59-52 win over Georgia State last Thursday night. Basketball-like scores have indeed become expected. Yardage records continue to be distorted as well; North Texas, a lower-tier entry from Conference USA, came close to racking up 800 yards in last Saturday's win over Middle Tennessee in which the Mean Green scored 52 points, a tally that used to open many eyes. But not anymore.


All of which is prompting many lively discussions with football followers across the land, wondering about this evolution of gridiron style. We have engaged in many of those types of debates on our various radio guest spots in recent weeks and with numerous fans in Las Vegas.


On the business side, keeping tabs on proceedings and figuring out how it all connects to our forecasts remains paramount. But the "fan" side of us was having a different reaction; we're not overly enthusiastic about these advancing aesthetics of college football that by us have actually been making the games a bit harder to watch. For us, our tipping point might have been Alabama's recent 63-48 "Tecmo Bowl" track meet vs. Ole Miss on October 10. Similarities to the type of football we used to watch were hard to connect.


As if to cleanse ourselves from what we had just witnessed at Vaught-Hemingway Stadium. we retreated to YouTube to find videos of some "old-style" football as sorts like Bo Schembechler used to feature. Just to remind us of how football used to be played, and to better draw contrasts to the present day.


Our first choice was not to cull Michigan highlights of a half-century ago but to watch some videos of Oregon State's late 60s teams as coached by Dee "The Great Pumpkin" Andros, whose Beavers would never be confused with the Ole Miss-type teams of today. Instead, the Andros offenses of the day featured the "Power-T" attack, another name for the old full-house backfield (with three backs lined up straight across behind the QB), which was the base offense for the Andros teams. With pile-driving fullbacks such as Pete Pifer, Bill "Earthquake" Enyart, and Dave Schilling, all 1000-yard rushers from the mid 60s into the early 70s, Oregon State was content to bludgeon foes with perhaps one of the best short-yardage offenses we have ever seen. (Watching LSU be unable to jam the ball into the end zone from the 1-yard line in the waning moments in the October 10 game against Missouri prompted us to find an example of "how to do it" from short yardage.)


While the Beavers were not flashy, they were not exactly dull, either, with a lively late-60s QB in Steve Preece (a future NFL DB), who had sprinter speed and ran the option elements of the "Power-T" very capably. Even if his well-spaced passes were a bit erratic. A featured wideout on the earlier Andros teams was Bob Grim, who performed with some distinction as an NFL receiver for several years after catching passes from Preece predecessor Paul Brothers. Though the focus of Andros football was to overpower foes, with the big 245-lb. fullback "Earthquake" Enyart perhaps the best example, OSU also had some big-play threats, too, including a slashing wingback, Billy Main, who delivered several long-yardage, highlight-reel plays.


Make no mistake, however, the Andros Oregon State teams were a brawling band of marauders who preferred trench warfare to the fancy aerial stuff. In the era of 10-game schedules, Andros reeled off three-straight 7-win seasons from 1966-68 before a variety of factors (one of them the introduction of artificial turf) curbed the rugged style. But for a while, the Beavers were a force to be reckoned with, and their famous 1967 "Giant Killers" team might have ended that season as the nation's best team, having knocked off eventual national champ, top-ranked USC featuring none other than O.J. Simpson, by a 3-0 count in Corvallis in mid-November after beating second-ranked Purdue and tying second-ranked UCLA on the road in preceding weeks. Ranked 7th at the end of the season due to a couple of early losses hardly seemed appropriate for that Andros masterpiece.


And we found those Oregon State teams quite intriguing and even borderline entertaining as they seemed to highlight the fundamental essence of the game!


We have been drawn into other debates in recent weeks with sorts who do not recall some of the most-exciting teams of the TGS era (since 1957) and cannot believe that we rank some past run-based teams at or near the top of that list. Among that group, the Andros late 60s Oregon State teams, though among our favorites, were definitely not among the most flashy. But three of the more exciting teams we ever recalled in the TGS era were run-based teams at Houston, Oklahoma, and UCLA from the late 60s into the 70s.


We will talk more in an upcoming issue about that special Houston era as crafted by HC Bill Yeoman, who passed recently. Yeoman's Cougar Veer offenses terrorized enemy defenses with big play after big play featuring a stable of coast-to-coast runners. Most notably Warren McVea and Paul Gipson, plus several big-play receivers who would make their mark in the NFL such as colorful wideout Elmo Wright and All-Pro TE Riley Odoms. And there were various other future NFL performers strewn about Yeoman's rosters.


Meanwhile, the Wishbone offenses that were popularlized in the late 60s eventually produced some of the most electrifying football we have witnessed in six-plus decades of TGS publishing. The best of those, or most exciting, at least by us, was the early-to-mid 70s Oklahoma version. The Sooners ran a lot, but they were often big runs, orchestrated first by a perfect option pilot in Jack Mildren, and featuring all sorts of home run backs from Greg Pruitt to Joe Washington (still our favorite college runner of them all) and Billy Sims. We have talked in a past TGS Big 12 Retrospective (which can still be accessed in the archive section of our website) about how the Wishbone would evolve at OU, first under Chuck Fairbanks and then Barry Switzer.


Big runs are exciting stuff, more exciting, by us, then a steady stream of dink-and-dunk passes at or near the line of scrimmage. And having followed UCLA's teams closely since the 60s, the most-exciting Bruins teams were probably the two years running the Wishbone for Pepper Rodgers in 1972-73 and the Veer offense of the brief Dick Vermeil era in 1974-75. Big plays were common for those Bruins, whether it be long runs by Kermit Johnson or Wendell Tyler, or the exciting run-pass combo of QB John Sciarra for Vermeil's 1975 Rose Bowl entry, to this day perhaps our favorite UCLA, if not all-time, college team...and certainly more exciting than many of these all-pass outfits of the modern era. (And way more exciting than Sandy Schwab's all-pass Northwestern, too...not to mention most of the "video football" offenses of today.)


We'll leave it there for the comparisons to past eras of exciting football, and welcome any further discussions on the subject, but for the moment, more practical matters for handicappers involve the betting card, and how this "Tecmo Bowl" style of college football might be impacting the weekly slates.


Where best to chart the many high-flying offenses in college football? As we have run into many in Las Vegas and elsewhere who are swearing to us that anything other than an "over" bet in college football 2020 is crazy, we decided to check for ourselves. While the college "totals" markets have to reflect some of the new high-scoring realities, and post higher "totals" numbers than past years, we found some interesting results after the first month-plus of the 2020 campaign.


Interesting in that they are not especially illuminating.


Thru the first six full weeks of the 2020 campaign, "totals" have, as usual, generally been trading in a narrow range, though a bit higher this season in the mid-to-high 50s. There has not been too much movement upward in the average "totals" prices each week, which range from a low of a 53.7 in the Sept. 26 weekend to a high of 58 in the preceding Sept. 19 weekend.


We chart below the weekly "totals" averages for the first six weeks of this season, with number of games for each weekend noted after the average; games vs. FCS foes are not included. As you'll note, there has yet to be a sharp spike upward in the weekly "totals" numbers.


WEEK... AVG. "TOTAL"


1 (SEPT. 12)... 55.8 (15)
2 (SEPT. 19)... 58.0 (15)
3 (SEPT. 26)... 53.7 (22)

Following are results breakdowns in four different "totals" categories thru the first six full weeks of the season; "over" results are listed first.


WEEK 40-49' 50-59' 60-69' 70-higher TOTAL


1 (SEPT. 12)... 0-2 5-6 1-1 0-0 6-9
2 (SEPT. 19)... 2-2 4-1 2-3 1-0 9-6
3 (SEPT. 26)... 4-5 6-3 1-0-1 2-0 13-8-1
4 (OCT. 3)... 1-3-1 6-5 4-4 1-3 12-15-1
5 (OCT. 10)... 5-1 6-4 2-4 2-0 15-9
6 (OCT. 17)... 4-2 4-6 3-4 1-1 12-13

"TOTALS" results: 40-49'...16-14-1; 50-59'... 27-24; .60-69 '... 13-16-1; 70-higher... 7-4;
RESULTS THRU 6 WEEKS: OVERS 63, UNDERS 58, PUSHES 2


If there's a conclusion to be made, it's that the various point explosions we are seeing around college football in 2020 are not necessarily reflecting in a spate of "over" results...at least not yet. Any knee-jerk reaction to simply look "over" in the college games should thus be tempered!
Return To Home Page