8476...
TGS SPECIAL REPORT...JETS-CHIEFS & NFL BIG NUMBERS

by Bruce Marshall, Goldsheet.com Editor
They're talking about this week's Jets-Chiefs game in the national sporting press, but not for the sort of reasons that once captivated the national football audience when these sides would face one another. Now, here in late October of 2020, about the only thing noteworthy about the upcoming clash at Arrowhead Stadium is the uncommonly high pointspread. More on that in a moment. Jets-Chiefs, however, recalls some different memories for us at TGS and anyone who was around for the later days of the old AFL.


Given that some of our modern-day readers might not be able to fathom a Jets game having much intrigue, allow us to digress for a moment and recall when a New York-Kansas City battle was able to stop the pro football world in its tracks.


It was mid-September of 1968, and the Chiefs, two years removed from their appearance in the first Super Bowl, were still considered a strong contender in the AFL Western Division, with much the same cast (Len Dawson, Otis Taylor, Bobby Bell, etc.) as their '66 title winners, and augmented by some new additions. As for the Jets, they had been knocking on the door the previous couple of years in the AFL East but were still looking for a breakthrough win on the road against a top contender. A pair of losses to the same Chiefs the previous year of '67 had proven costly to the Jets, who would finish a game behind the Houston Oilers in the division race.

For Joe Namath and company, the time had come to make a statement in what would be New York's 1968 opener at old Municipal Stadium in Kansas City, and finally beat a legit title contender on the road as they had sometimes been able to do at home, such as the previous year's 27-14 home win at Shea Stadium over eventual AFL champion Oakland, the Raiders' only regular-season defeat.


As for the Chiefs, they already had a game under their belts, a breathless 26-21 win over those Oilers on the previous Monday night in the first-ever pro football regular-season game at the Astrodome. (A game so enthralling we might well discuss in a future TGS Retrospective piece.) Kansas City would be installed as a 6 ½-point favorite.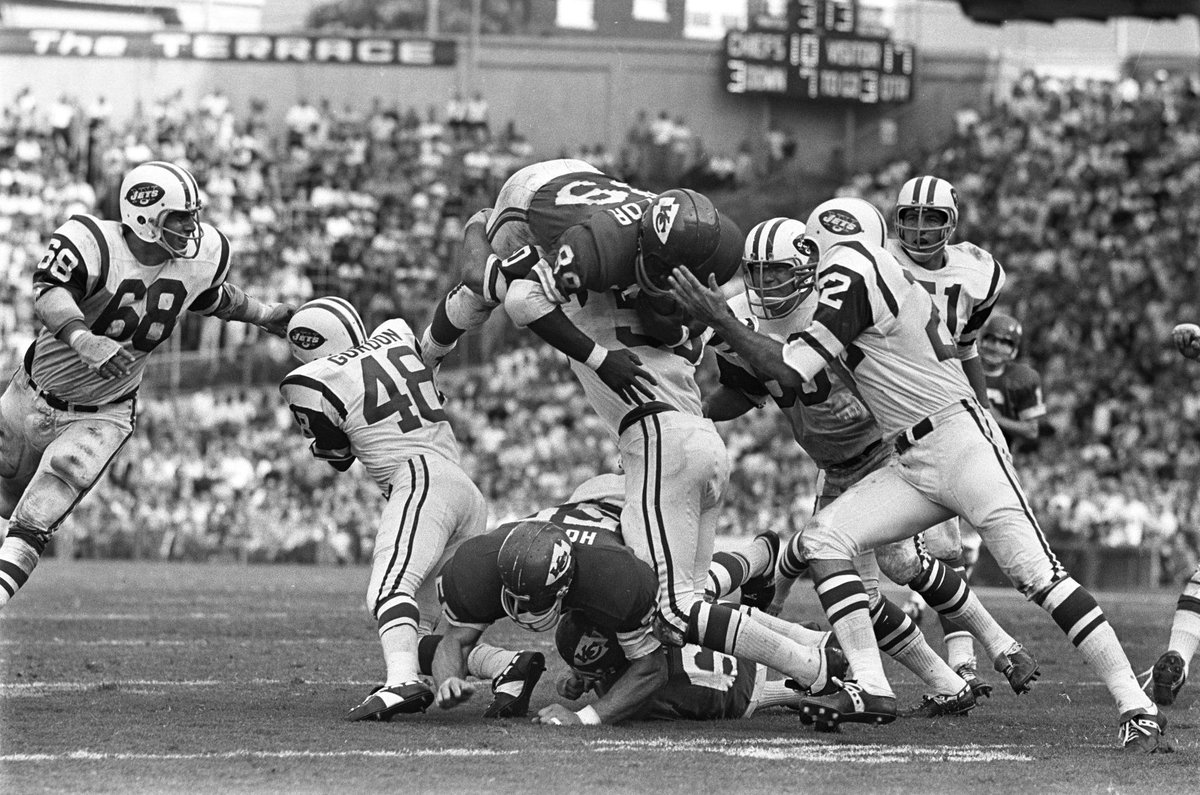 It was about as big a regular-season matchup as the AFL had in those days, enough to convince NBC to move the kickoff back to 3 PM Central time as the afternoon doubleheader game for the nation to watch. And there was plenty going on that weekend for the American sports audience. The previous day, Denny McLain of the Tigers had become the first 30-game winner in MLB since Dizzy Dean turned the trick for the 1934 Cardinals as Detroit rallied to score twice in the bottom of the 9th to beat the A's 5-4 in another game that was nationally telecast by NBC. (It was a busy weekend for Curt Gowdy!). Meanwhile, the sporting press was still talking about the controversial decision awarded on that Saturday to WBA champ Jimmy Ellis in his title bout vs. Floyd Patterson, telecast via satellite from Stockholm on ABC with Howard Cosell's commentary adding to the intrigue. The NFL was also commencing its 49th season that Sunday. But the pro football world had its eyes on Kansas City for what promised to be high entertainment and drama featuring Joe Namath's Jets and Hank Stram's high-flying Chiefs.


There are lots of oldtime Jets fans who swear that the seeds of the Super Bowl III shocker over the Colts were planted that afternoon in Kansas City. New York zoomed quickly to a 17-3 lead on the strength of a couple of long Namath-to-Don Maynard TD passes covering 57 and 30 yards, respectively. But the Chiefs revived in the 3rd Q on an electrifying 80-yard punt return TD by Noland "Super Gnat" Smith, a 5-6, 154-pound powderkeg who was one of the most feared kick returners of the era. It was beginning to look like deja vu for Jets fans who recalled their team blowing a 17-0 lead in the previous year's opener at Buffalo only to lose, 20-17. So when Jan Stenerud kicked his fourth field goal of the day to cut the margin to 20-19 with 5:56 to play, pressure was squarely on Namath to hold the lead. And that was before Earl Christy, perhaps preparing for his dubious involvement in the "Heidi" game two months hence, fielded the kickoff on the sideline and promptly stepped out of bounds at his own 5-yard line. With rotten field position, the Jets looked in trouble, more so when RB Emerson Boozer was spilled for a one-yard loss on first down. Soon Namath was faced with a 3rd-and-11 in the shadow of his own goal posts. With decent field position likely awaiting the Chiefs and their strong-legged soccer-style kicker Stenerud if Namath couldn't keep the possession alive, things were looking ominous for New York.


The finest moment of Namath's pro career to that point, however, was about to unfold.


Standing cool in the pocket as Ernie Ladd, Buck Buchanan and the big, fast Chiefs line was bearing down on him, Namath went back to Maynard on the same intermediate route that Kansas City DB Emmitt Thomas had broken up on the previous play. This time, however, Maynard was able to momentarily shake free as Namath delivered a perfect 3rd-down bullet for 17 yards and a first down. Not out of the woods yet, the Jets continued their march, Namath twice earning first downs on second-down throws, and then one last dagger just inside of the two minute warning, on 3rd and 8 and again to Maynard for 19 clutch yards. The Chiefs were finished, with Matt Snell extinguishing the clock on a slow-motion crack into the line on 4th down. Namath had kept the ball for the last 5:56 of the game on 14 nerve-rattling plays to sew up the 20-19 win.


Colorful Kansas City coach Stram was full of praise for Namath afterward. "The last drive by Namath was fabulous," said Stram. "There was no way in the world I thought they could go from their four yard-line and maintain possession until the end of the game. I thought we could hold them and get into position for a field goal to win."

(Those Chiefs would lose just once more in the regular season, at Oakland in early November, en route to a 12-2 mark, only to be derailed by the same Raiders in a Western Conference playoff on December 22 at Oakland as Apollo 8 was on its way to orbit the Moon.)

Namath, however, was glad to share the spotlight at Munipcal Stadium with his favorite target Maynard, who caught 8 passes for a whopping 203 yards. It was the first of many highlights for the Jets in 1968, and we all know how the final chapter was written against the Colts. But the important first chapter of the '68 season in Kansas City set up all that would come thereafter.



Fast forward to this week, and the similarities between Sunday's upcoming matchup between the Jets and Chiefs at Arrowhead and their 1968 battle begins and ends with the names of the teams. Football handicappers have been keeping an eye on this clash for weeks, knowing that a sky-high spread was in the offing as the winless Jets continue to plumb new depths of ineptitude, and the Super Bowl champion Chiefs especially eager to show better at home than a rare Arrowhead loss in their last game as host, vs. the Raiders. Early posted lines on this game, available for weeks at various sports books that post "future" numbers, have been bouncing between 21 and 23 points. As this week progresses until kickoff next Sunday, most expect the price to settle in the low 20s range.


Therein lies the noteworthy prelude to this contest, as spreads of 20 or more in the NFL are about as rare as a blue moon. Though we had two such instances a year ago (the Jets +21 at New England, and Miami +22 ½ at Dallas), those were the first 20+ spreads in the NFL since the Jags were 26 ½-point dogs at Peyton Manning's Denver in 2013.


To illustrate how unique those heavy 20-plus spreads are in pro football, since TGS began publishing in 1957, there have been

40

complete seasons

without

a line of 20 or more. Overall since 1957, there have been 69 NFL-AFL games with pointspreads of 20 or higher. Not srprisingly, perhaps, well over half of those (37) were concentrated into five expansion-influenced seasons in the years of 1966-67-68 and 1976-77, when first or second-year teams in Atlanta, Miami, Cincinnati, Tampa Bay, and Seattle accounted for the bulk (but not all) of those big numbers. (In case you're wondering, 1967 expansionite New Orleans, a fairly competitive outfit in its nascent era, wasn't a 20-point dog in either its first or second seasons.) Interestingly, those big 20+-point underdogs stand 36-31-2 vs. the number since 1957.


Though such big numbers are very infrequent, we did experience a rare spate of 20+ spreads involving Bill Belichick's 2007 Patriots as they were on their way to their undefeated, 16-0 regular-season mark. Oddsmakers had no choice but to inflate New England's prices after the Patriots were routinely dismembering opposition during the first half of the season. But even that powerhouse New England side was not able to overcome the sorts of premiums that oddsmakers eventually heaped upon it, as Belichick's team failed to cover any of those three 20+ spreads (vs. the Eagles, Jets, and Dolphins, all in various form of disarray that year) down the stretch.


Since then, and up to this week's Chiefs-Jets game, the only other 20+ numbers involved those two aforementioned games last season, Jags-Broncos in 2013, plus Belichick again, versus a Peyton Manning-less Colts side in 2011. Much like the results of the games with over-adjusted prices in 2007, the Patriots also couldn't cover that one against Dan Orlovsky-led Indy. The Colts were still a winless 0-11 straight-up at kickoff for that early-December clash, but would score 21 unanswered points in the 4th Q to slip in the back door with plenty of room to spare in a 31-24 New England win...but a clear Colts cover. Counting the Patriots' non-cover laying 21 vs. the Jets last season (a 30-14 New England win), Belichick interestingly has failed to cover his last five chances laying 20 or more!


Prior to those 20-plus numbers involving the Pats from 2007-11, there hadn't been a spread of 20 or more since the 2001 season, when Kurt Warner's Super Bowl-bound St. Louis Rams laid 20 to a woeful George Seifert-coached Carolina side, which would be on the short end of a 48-14 lambasting.


Our research has unveiled various interesting tidbits about pro football pointspread history and the biggest numbers over the past six-plus decades. In fact, we didn't even see a pro line of 20 or higher in our first three years of TGS publishing (1957-59). Not until Dallas entered the NFL as an expansion team in 1960 did we witness a pro spread crack the 20-point barrier. That year, Tom Landry's winless (but once tied) newcomers were a 22-point dog at Chicago and covered handily, losing just 17-7, but weren't as close when they got 20 points at Green Bay, losing 41-7 to Vince Lombardi's eventual Western Conference champs.


As mentioned previously, the bulk of the 20-point spreads have occurred in expansion periods, most notably in the late '60s and mid '70s. New, ragtag Atlanta and Miami franchises accounted for 7 of the 12 spreads of 20 or more in 1966, while the wretched 1-12-1 NY Giants of the same season, who would set a then-NFL record for most points allowed (501, playing only a 14-game slate!), were twice underdogs of 20 or more. Though Allie Sherman's G-Men did cover on both occasions, including as a 26-point dog at Cleveland, a game in which New York actually blew a 33-14 lead. (Those were the same Giants on the losing end of the highest-scoring game in NFL history, when Otto Graham's Redskins dropped a 72-41 bomb in then-called D.C. Stadium! A TGS Retrospective on that memorable game can be found in the archive section of our website.) Ray Malavasi's lowly '66 AFL Denver team was also twice a 20-point or more dog.


But it's expansion Atlanta that holds the distinction of being the biggest underdog in NFL spread annals during the TGS era, getting a whopping 28 points (at home, no less!) against Johnny Unitas and the Baltimore Colts in an early-November 1966 game. Those Falcons, still winless at 0-8 in their maiden voyage, had recently been on the wrong end of some frightful beatings, including as a 27-point dog in a 56-3 loss at Vince Lombardi's Packers. Meanwhile, the Colts were an acknowledged powerhouse of the era. But there was no pointspread drama in that '66 game; in fact, the plucky Falcons forged a 7-6 lead at halftime before succumbing honorably, 19-7, easily covering as the NFL's biggest-ever underdog.


There was no year, however, for big underdogs quite like 1968, the same year as the aforementioned 20-19 Jets win over the Chiefs. That season, not only did 11 underdog teams receive 20 points or more, but two of those won outright; only two other 20+ dogs have won outright in the past 63 seasons! More incredibly, that pair of results came two weeks apart against the same team...none other than Namath and the eventual Super Bowl champion Jets!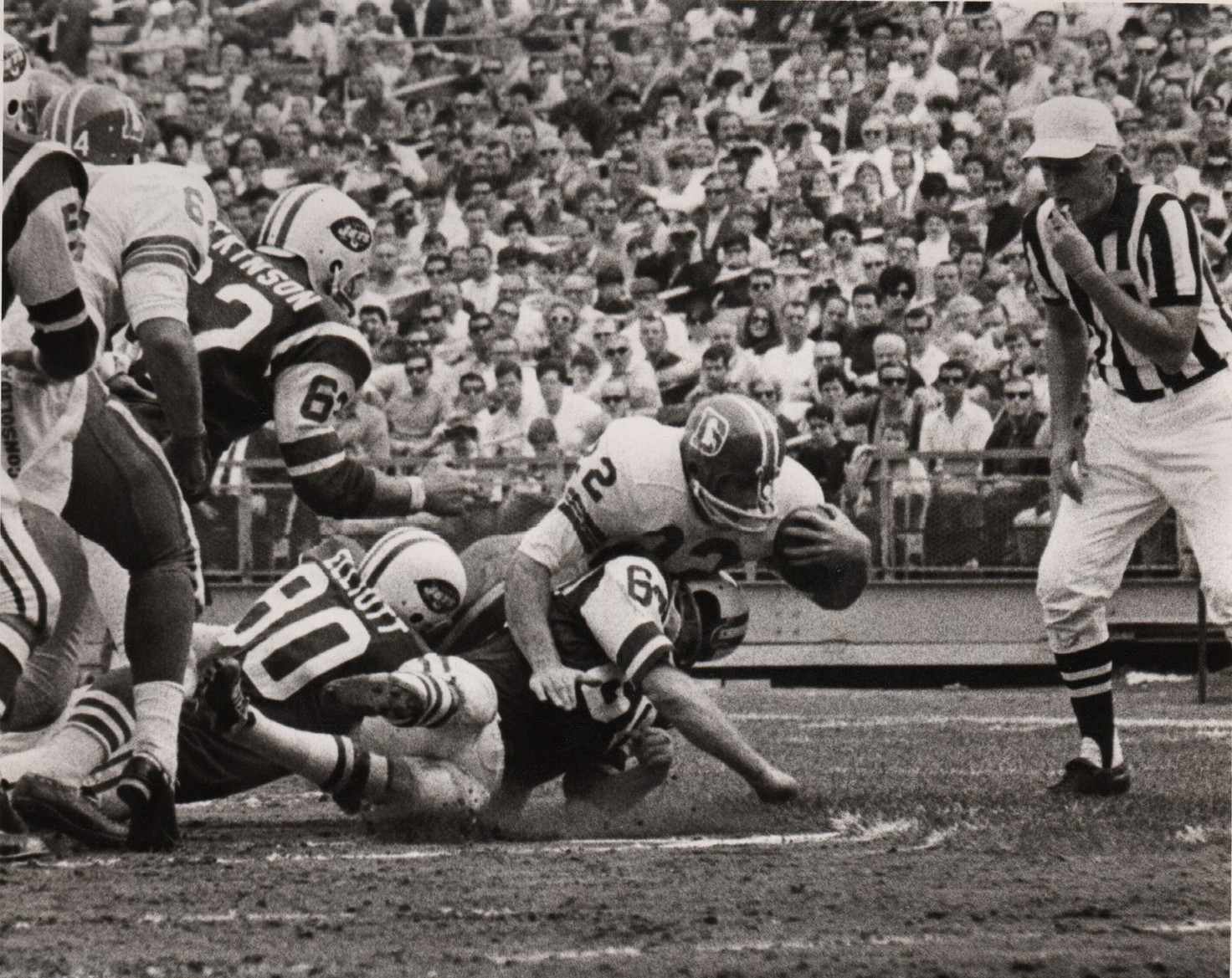 For all of Namath's heroics in 1968, including that win over the Chiefs, he had some almost-incomprehensible lowlights, too. Namath was the key component in those hard-to-believe upset losses, tossing five picks (three returned for TDs, by Tommy Janik, Butch Byrd, and Booker Edgerson) in a 37-35 late-September loss at Buffalo in what would be the Bills' only straight-up win of that season. Lightning would strike again two weeks later at Shea Stadium, when Namath tossed another five (!) picks as a 22-point underdog Denver side, playing minus star RB Floyd Little and top WR Al Denson, pulled a 21-13 shocker. Steve Tensi's 72-yard TD strike to Eric Crabtree on the Broncos' first play of the 3rd Q proved the highlight for Lou Saban's scrappy troops, with unheralded ex-Hofstra RB Fran Lynch (above left), subbing for an injuried Little, scoring twice on short runs. .

Although the non-descript Broncos of that era were curiously tough on the Jets (beating them in 1967 and '69 as well), that Denver win as a 22-point dog still qualifies as the biggest pro football upset since we began to publish. Interestingly, a review of notes on the '68 Jets kept by TGS founder Mort Olshan found the words "Watch Namath Parties" next to the log entries of both the shocking Buffalo and Denver defeats.


All of which has prompted some curious observers to speculate about what might have been going on in 1968, especially considering some other irregularities and shock results that season (including the Jets-Colts Super Bowl), plus Namath's subsequent brief "retirement" related to his partial ownership of the Bachelors III nightclub. Topics, perhaps, for future discussions.


Following are the biggest pro football

pointspreads

since TGS began publishing in 1957: 1966-Baltimore (-28) 19, Atlanta 7; 1966-Green Bay (-27) 56, Atlanta 3; 1967-Oakland (-26½) 31, Miami 17; 2013-Denver (-26 ½ ) 35, Jacksonville 19; 1966-San Diego (-26) 44, Miami 10; 1966-Cleveland (-26) 49, N.Y. Giants 40; 1968-Oakland (-26) 13, Buffalo 10; 1976-Pittsburgh (-26) 42, Tampa Bay 0.


Following are the biggest pro football pointspread

upsets

since TGS began publishing in 1957: 1968-Denver (+22) 21, N.Y. Jets 13; 1967-Minnesota (+20) 10, Green Bay 7; 1968-Buffalo (+20) 37, N.Y. Jets 35; 1974-San Diego (+20) 20, Cincinnati 17. And we at TGS remember them all!

Now, are the Jets up to making some history this week?
Return To Home Page