8486...
TGS SPECIAL REPORT...CALIFORNIA STILL SPINNING ITS WHEELS
by Bruce Marshall, Goldsheet.com Editor


One of the more intriguing storylines in the post-PASPA repeal era is how soon California might jump on board and begin to offer sports gaming within its boundaries. With dozens of states already having legalized sports wagering in one form or another (a full list will appear soon on these pages) since the PASPA repeal in the spring of 2018, there has been much anticipation on when the Golden State will join the fray.


Not too soon, apparently. While it looked for a while as if 2021 would be the year in which sports betting would open for business in Cali, best estimates now are no earlier than 2023. And even that might be wishful thinking.


What's going on in the Golden State, anyway?


About this time last year, after the most recent "in-person" Sports Betting USA Conference that TGS attended in New York City (another virtual edition was held in early November this year), we ran on these pages some quotes from New Jersey State Senator Raymond Lesniak, a driving force behind the Garden State's original challenge to PASPA and who spearheaded legislation that was pushed through Trenton in the first place, and remained a linchpin in all of New Jersey's subsequent adjustments and court challenges. Lesniak, while a featured speaker at Sports Betting USA, addressed California in his presentation.


"What mystifies me is why California hasn't recognized the tourist boom that sports betting will bring to their betting parlors and why New York has turned its back on millions of dollars of revenue from online sports betting," said Lesniak. Later in his presentation, Lesniak revisited his California comments, with his own take on what might be holding things up in the Golden State. "The (Indian) tribes don't want to give up their piece of the action even though their action would be exponentially greater," added Lesniak.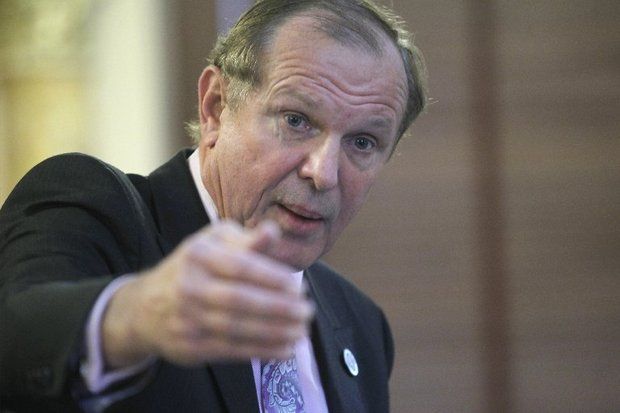 Lesniak then rattled off a series of predictions, noting that his legal predictions would be more reliable than his political ones. "Within two years New York will have online sports betting and a referendum amending California's constitution to have sports betting will get voter approval," Lesniak said.


At the time, Lesniak seemed on course with his California forecast. By January, the wheels were officially in motion for a proposed constitutional amendment that was expected to be on the ballot for last month's general election. Key elements of the legislation were forwarded by 18 tribes that were at the time pushing for the voters to make the decision for Vegas-style sports betting at racetracks and their Indian casinos. Along the way, to satisfy any social obligations, their proposal called for a tax of 10 percent on gross gambling revenues that would help pay for state regulations and mental health programs related to gambling, among other costs.


The coalition's proposal required 997,139 signatures by June 25 to qualify for the November 2020 ballot. But the coronavirus pandemic forced a stop to collecting signatures at roughly 971,000 and before it reached a threshold to qualify. The California legislature tried to step in, but a proposal by State Sen. Bill Dodd (D-Napa) could not make it to the floor before the summer recess
.
Dodd's version of any eventual bill, however, is likely to get twisted and turned in a variety of directions because of the complexities of the California gaming market that involves many stakeholders, which include almost 100 legalized card rooms which have carved out their own exceptions in the Dodd bill. Including an ability to expand Nevada-style gaming (including slots and blackjack) to those card rooms...something the powerful tribal casino lobby would not support.


In an interview with Bloomberg News, Dodd highlighted the challenges. "We have significantly diverse stakeholders that really want to be in here," Dodd said. "Tribes, county fairs, horse racing, card rooms. Because of Covid we couldn't bring people together."


Meanwhile, as the tribal casinos have not endorsed the Dodd proposal, neither have the card rooms endorsed the tribal proposal. The tribal initiative also bans online wagering. Which "...incentivizes the online black market to continue," said Steven Maviglio, a spokesman for the card club industry, in an LA Times interview last June. "Californians should know their interests in this time of crisis have been spoiled by powerful special interests."


Ahhh, mobile wagering. The most restrictive aspect (depending upon the point of view, that is) of Cali's tribal/racetrack proposal would disallow mobile betting which has proven such a boon to states such as Nevada and New Jersey that have preceded California into the marketplace. The Indian casinos and racetracks are behind this provision that would force bettors to travel to one of their casinos or tracks to make a bet. Given that estimates are as high as 80% of bets are being made off-site in the states that allow mobile devices, this tribal/racetrack California proposal might not prove much benefit to the vast market in the state.


A now-familiar voice on the sports betting scene, veteran sportscaster Brent Musburger, these days heading the VSIN operation in Las Vegas, probably spoke for most of the industry in adjacent Nevada when commenting in-studio to us last autumn, when this discussion initially arose. "If I were Nevada," said Musburger, "I'd support this California (tribal) proposal as it is worded now. Without mobile betting, they (California) will probably not greatly impact the business over here (in Nevada)."


Indeed, this version of the proposal was designed as much to protect the interests of the tribes and the racetracks as to satisfy the sports betting audience, which is, by all estimates, enormous in California. By us, it's also short-sighted. For a long while, we have hardly believed the offshore customers, in whatever the state, are going to abandon the convenience of what they are doing if they are going to have to drive 10, 20, 30, or maybe 50 miles to simply place a bet.

A watered-down product requiring in-person wagering would have little or no appeal to the countless numbers currently using mobile devices to access offshore lines and pricing. The latter of those options will also likely be much more favorable and customer-friendly to the customers than any brick-and-mortar establishment at one of the California racetracks or tribal casinos. The potential "home team" edge that states enjoy over the offshores in the marketplace only applies with a similar product with similar convenience. While it will be a nice bonus for patrons of one of the tribal casinos or tracks to be able to place sports bets while enjoying their normal visits, we hardly envision a flood of customers driving many miles to simply place a bet if they've been used to doing so from their home, office or car in the past.


The tribal casinos in California have their own agenda, and sports betting is just one aspect. Remember, the tribes have spent millions in the past (back as far as another ballot measure in 2004) to prevent racetracks and card clubs from operating slot machines, preserving the state law that allows the machines to be operated only at tribal casinos. Which dovetails into their rejection of mobile sports wagering. Moreover, their new sports gaming proposal would also expand the tribal gaming compact to also allow for craps and roulette.


As for the Dodd proposal, it makes no such mobile restrictions.


Back to Brent Musburger's point: Who doesn't figure to get too harmed if California's eventual provisions are minus mobile wagering? Likely the Nevada sports books, and, for those so inclined, the offshores, as the latter will remain a preferred option for the majority of sports bettors in the Golden State who would rather not have to get in their cars and place a bet.


This deadlock in California is not surprising to Chris Grove, a gambling industry analyst and partner with Eilers and Krejcik Gaming, which has advised the Legislature on the issue. "The bottom line in California is that too many stakeholders in the state's gambling industry have too many existing high-stakes conflicts to allow sports betting to move forward," Grove said in an LA Times interview this past June. "In many ways, sports betting is a footnote for tribal and commercial gambling interests in the larger conversation around gambling in California."


In the meantime, being used like a pinata among the various factions of the Golden State gaming market, sports betting is caught in the middle in a game of political give-and-take between numerous stakeholders who are treating their own interests like pieces of pork-belly legislation, using sports gaming as a Trojan Horse. Lost somewhere in this shuffle is a potential huge sports betting audience ready to be serviced in California, which could reap a massive windfall for the state.


As usual, however, when the political and legislative processes become too involved, nothing good usually comes of it, and the ultimate losers are the consumers.


Come to think of it, by the looks of things, 2023 might be an ambitious projection for sports betting to finally hit the marketplace in the Golden State.


(More sports betting updates coming soon in TGS)
Return To Home Page