8491...
TGS SPECIAL REPORT...WHAT'S UP IN THE EMPIRE STATE?
by Bruce Marshall, Goldsheet.com Editor


Of all of the states that are entering the sports gaming market since the repeal of PASPA in May of 2018, perhaps none has generated the sort of buzz as has New York. It's not all normal buzz, either, more inquisitive, as the marketplace wonders what the next move might be from the Empire State.


The storyline intrigues, as New York has entered the fray...sort of, with its legal sports betting limited to a few locales well upstate from New York City. For Big Apple bettors, their best alternative (if they don't want to play offshore) is a quick hop to New Jersey, where mobile devices are within the Garden State's "geo-fencing" to place bets. Indeed, in pre-coronavirus times, lunchtime got crowded at Penn Station as New Yorkers who wished to place bets needed only spend a couple of dollars and ride no further than the first New Jersey stop in Secaucus, barely ten minutes away, to place bets via their mobile devices. Others might hop a ferry or even drive far enough in one of the tunnels beneath the Hudson or across the George Washington Bridge for geolocation technology on their betting apps to recognize that they were within New Jersey's borders. Estimates are that in non-Covid times, almost half of the cars parked at the FanDuel Meadowlands sports book at the racetrack adjacent to MetLife Stadium had New York license plates, and as much as 40% of New Jersey's considerable current sports betting business hails from New York residents.


At last year's Sports Betting USA Conference in New York City, a couple of prominent Empire State politicians were featured speakers. State Senator Joseph Addabbo Jr. was one of the first featured and railed incessantly upon his state to "get out of the slow lane" and up to speed with full-scale sports betting as has been done in neighboring New Jersey. Among other things, New York had yet to approve mobile sports wagering that had proven such a boon to New Jersey. Addabbo and a fellow legislator, State Rep. Gary Pretlow, said they were trying to put a provision in the state budget allowing mobile sports betting when the Legislature next convened in Albany. To that point, Gov. Andrew Cuomo had been reluctant to endorse, wondering if such activity is constitutional.


Addabbo and Pretlow, however, seemed undeterred.


"It's not a question of if; it's when," said Addabbo, referencing New York City's entry into the new legal market, and mobile betting. "It's going to happen. People want to bet in New York. They don't want to get in the car and drive two hours upstate, and they'd rather not get in the car and go over the bridge to New Jersey, but they're doing that now."


Addabbo and Pretlow said a report on the pros and cons of mobile sports betting would be forthcoming. "I know what the report's going to say: It's going to say, 'Do it,'" Pretlow said.

It's worth noting that a bill for mobile sports betting in New York had earlier passed the Senate in Albany but was not approved in the Assembly, due in part to worries that Cuomo would veto it. A spokesman for the governor has said in the past that since May 2018, Cuomo "has consistently said he has constitutional concerns with mobile sports betting."


Earlier this year, Cuomo didn't sound like he was ready to change his mind, either. Despite the state facing a $6 billion budget deficit, Cuomo did not call for added revenue from authorizing mobile NY sports betting in his executive budget for the fiscal year 2021.


There can be no mistaking Cuomo's view of the these new forms of gaming such as mobile sports betting, which seem to fit the "irresponsible" description from his January address:


"There's no gimmicks," said Cuomo. "There's no new casino revenue. …This is not the time to come up with creative although irresponsible revenue sources to solve a problem which doesn't really exist."


Fast forward to a few weeks ago. In early November, the latest Sports Betting USA Conference took place, though in a concession to 2020, the event was done in a virtual format. Like the year before, Addabbo and Pretlow were featured speakers. Remarkably, not much seemed to have changed in the preceding year...including Cuomo's reluctance to embrace mobile wagering.


There was, however, a new kicker added to the mix.


In last month's election (held the week before the online conference), Democrats grabbed a super-majority in both New York legislative chambers. That means that the Democrats now have enough votes to override any veto from Cuomo, whose position on the mobile portion of sports wagering has not wavered.


Does Addabbo believe that is a possibility?


"Overturning a veto is not really something we want to do," Addabbo said. "We want to work with the governor's administration so we can all be on the same page moving forward. It's confrontational overriding a veto, because after that the governor is not going to look at sports betting very favorably."


An intra-party veto override is already difficult politically. And though Democrats now have super-majorities in both chambers, meaning they could override any veto without a single Republican vote, the legislature attempted only one such override in Cuomo's first eight years in office.


As supporters in the legislature try to sway Cuomo, they still have to settle on key legislative differences between themselves. Included among those are critical regulatory measures that are difficult to pass in the most hospitable of situations, such as taxes, operator access and license accessibility.


Moreover, even Addabbo and Pretlow are divided over the number of online licenses, or "skins," for retail sports betting partners.


Addabbo, as well as the state's casinos, largely support a "single-skin" model. The senator said last month that a lone skin for each casino is better than no skin, and the smaller step forward had a better chance of currying Cuomo's favor while opening the door for further expansion in the future.


The casinos support this proposal, ostensibly to minimize competition.


On the other hand, Pretlow, and the industry at large, favor a "multi-skin" model. Neighboring New Jersey, which set the single-month handle record with $803 million in October 2020, has been lauded as a model sports betting market, partially because of its widespread operator access.


New York would surely receive interest from all top sports betting companies, but a single-skin model could shut out some top operators, limiting the legal market's potential and possibly even forcing some New Yorkers back across the Hudson and into New Jersey to wager with their preferred sports book. But it's worth noting that even in New Jersey, hundreds of millions of dollars are still wagered with offshore sites or unlicensed bookmakers, a scenario that would only be exacerbated with a limited New York market.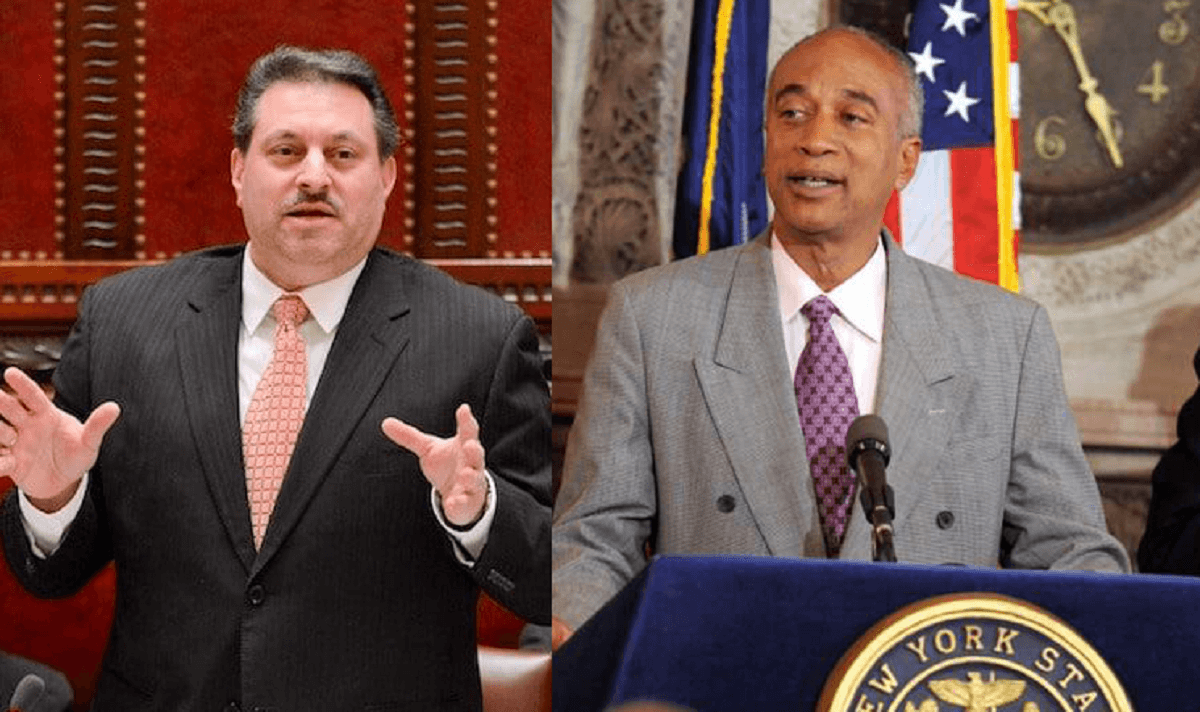 Addabbo and Pretlow, however, remain very much on the same page in regard to mobile wagering. If New York does not do a revenue bill that includes online sports betting by the end of the year, Pretlow said he is confident that the Assembly will join the Senate in including it in their 2021-22 budget proposals. That would put pressure on Cuomo to allow online sports betting to make the next budget.


"I'm pretty sure that if we don't do a revenue bill by the end of December, when the governor submits his budget, the Assembly and the Senate will both include sports betting as part of the revenue package," Pretlow said in November. "Last year, the Senate did it. The Assembly did not do it. This year, I'm pretty sure the Assembly will do it. I have enough of my colleagues. They know that we need the money, that there will be revenue deficiencies next year as compared to this year."


Addabbo stressed that he doesn't want New York to wait those extra four months to legalize online sports betting. "I really want to do it by the end of the year because we really need the revenue," Addabbo said. "If it'in the budget in April, we'll miss out on sports betting for the Super Bowl and March Madness. I'd like to do it sooner rather than later."


It might not be of great interest to Cuomo, who has had other things on his mind in recent months, but sports betting revenue at New York's upstate commercial casinos has disappointed. Legal Sports Report pointed out earlier this year that even Joe Biden's tiny Delaware, with 5% of the population of New York, more than doubles the Empire State in monthly sports betting revenue. As for Addabbo, he continues to lament the point listed earlier...that a sizable percentage of mobile New Jersey sports betting comes from New York residents crossing the border because it's the most convenient option to place legal wagers.


Pretlow remains on the prowl and knows that the state needs to act to begin chopping away at the projected budget deficit in the billions. "My colleagues know that we need the money and there will be revenue deficiencies next year compared to this year, so I don't think it's a hard sell for the cause of tens of millions of additional revenues," Pretlow said at the recent Sports Betting USA Conference. "They can't thumb their nose at it."


Here's why getting mobile wagering online would be such a boon to the Empire State. New York's statewide mobile market would almost assuredly be the nation's largest; with a population of roughly 20 million, the Empire State trails only California, Texas and Florida, and none of those (especially Texas and Florida, which are still awaiting any sports betting legislation) appear poised to legalize mobile sports betting in the next few years.


Depending on its legislation, New York could easily see several billion dollars in annual handle and several hundred million in tax revenues, admittedly a small portion of its 12-figure yearly budget. Still, many New York elected officials believe the state is in no position to pass up new revenues, especially ones as relatively painless as online sports betting.


"We've pushed really hard for mobile sports betting to be enacted in New York State," Addabbo said. "We're still optimistic we can get it done."


But, as we've seen with New York and California, getting sports gaming up and running, much less the mobile component, can move slowly. Something tells us we might see Addabbo and Pretlow again at the same conference in late 2021, lamenting the same things.


Meanwhile, as soon as the coronavirus subsides, when you see the NJIT trains at Penn Station packed every lunch hour with commuters hopping off across the Hudson River at Secaucus, you'll know that Addabbo and Pretlow haven't yet convinced Andrew Cuomo to come over to their side of the argument on mobile wagering.
Return To Home Page