8492...
TGS SPECIAL REPORT...NBA SEASON WINS TO WATCH!

by Bruce Marshall, Goldsheet.com Edtior
and P.Carl Giordano, Managing Editor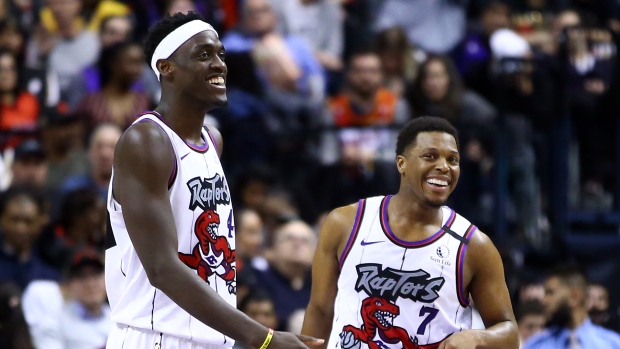 We're about ready to hit full stride in hoops as the NBA bravely tips off its season later this week. Along with the NHL, the Association proved it could complete a regular season schedule and the playoffs in a bubble (Orlando) from late July into October, but the bubble is not part of the plans as teams get back to their home courts...many without fans. Not all teams, however; because of coronavirus restrictions in Toronto, the Raptors will be basing themselves at Amalie Arena in Tampa until further notice. It would not surprise us if other teams are forced to make adjustments as well.


Whatever happens, we'll be following it in our new-look TGS Hoops online publication, with select game forecasts updated daily. The first few weeks of the new format in college hoops have been well-received; check out the products page on our website for more information.


Following is one of our favorite editorial endeavors each year, as we forecast preferred NBA season-win totals. Keep in mind the new term is scheduled for just 72 games, with more regionalized play and numerous back-to-backs in cities to lessen the travel burden. It's a bit different for the 2020-21 campaign, but by now, we're used to "different" in the sports world! Season-win numbers are listed next to each team.


ATLANTIC DIVISION: Best bet... One thing the Boston Celtics (45 ½) didn't need was for Gordon Hayward to jump ship for Charlotte. Though he has often been absent due to injuries in recent years, he also provided great versatility and playmaking from the wings when in the lineup. Make no mistake, he'll be missed. Along with ongoing knee issues for Kemba Walker, there are some concerns for Brad Stevens, as pressure mounts on Jaylen Brown and Jayson Tatum to carry more of the load. We're not sure Tristan Thompson provides much of an upgrade down low, either. The Celtics can still make the playoffs, and perhaps cause some trouble once there, but we're going "under" at TD Garden.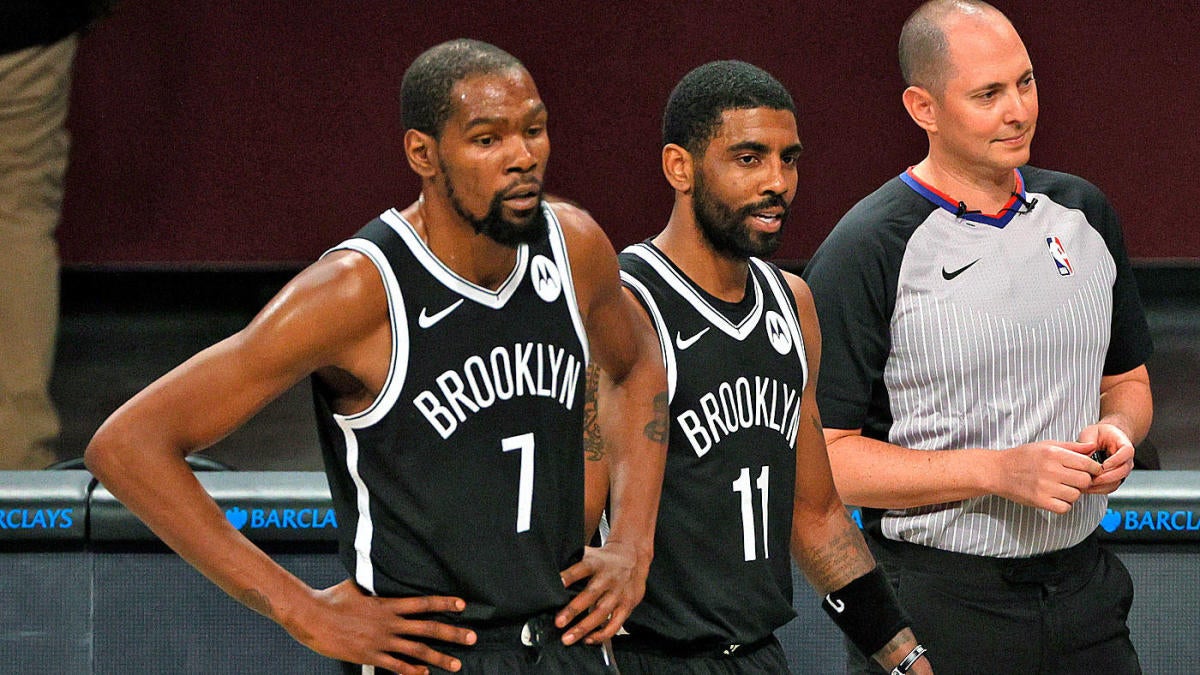 Others to watch...The wait might prove worthwhile to fans of the Brooklyn Nets (45 ½). Back from his Achilles injury that cost him all of last season, Kevin Durant looked good thus far in preparation for the new season, and his potential contributions cannot be minimized. Importantly, last year's spate of injuries also allowed depth to be developed at the guard spots, which will come in handy when Kyrie Irving goes down with his next injury (it's inevitable!). Of course, we'll see how Steve Nash handles things in his first go-around as an NBA head coach; when last seen he was offering Champions League soccer analysis on TV. That's a lot of intrigue for one team, but we're still looking "over" at Barclays Center... Doc Rivers takes his coaching act to the Philadelphia 76ers (45 ½), with Brett Brown taking the fall for an incomplete and immature (that's you, Joel Embiid) roster. But Embiid and Ben Simmons might be surrounded by a better-fitting supporting cast this season, as adding Danny Green and Doc's son-in-law Seth Curry provides the sorts of shooters that have positively impacted the games of Simmons and Embiid in the past. Tobias Harris might also flourish at the 4. Barring injuries, the Sixers generate less-than-usual moaning on WIP (that's a market the Eagles have cornered for the time being). "Over" at Wells Fargo Center.


SOUTHEAST DIVISION: Best Bet...Are they even paying attention to the Washington Wizards (32 ½) these days in D.C.? For once, however, maybe the pieces are falling into place. Ridding the roster of John Wall and his litany of injuries (he hadn't played in two years) and effectively replacing him with the durable and more-explosive Russell Westbrook looks a win-win scenario to us. Even if Westbrook has to learn to live with another ball-dominant point guard (Bradley Beal), at least it's not James Harden. There are some other emerging weapons such as ex-Gonzaga star Rui Hachimura, who flashed plenty of upside as a rookie last year, and the Wiz kept a hold of Davis Bertans, who looked at-risk to free agency. Adding Robin Lopez provides some valuable experience on the blocks as well. Well-liked HC Scott Brooks is also in his contract year, so extra-motivated components abound. For once maybe the stars are aligned at Cap One Arena. It's an "over" for the Wiz!


Others to watch...We just finished touting Gordon Hayward a moment ago and noting his move to the Charlotte Hornets (29 ½). But the Hornets do not have a frontline to scare anybody in the East, and while number three draft pick rookie LaMelo Ball will generate some buzz, at this stage he is an erratic shooter and will likely hurt the Hornets on at least as many nights he helps them with his flashy passes. An injury to Hayward (always a possibility) could be real bad news for James Borrego's troops, too. "Under" at the Bee Hive...We have been reluctant to get on an Atlanta Hawks (36 ½) bandwagon the past couple of years, but we'll risk it this term because we like the additions of Bogdan Bogdanovic and Danillo Gallinari to spread the floor better for Trae Young, who still scored almost 30 pg a year ago with opponents focusing many of their defensive resources around him. Rajon Rondo has also been added for another veteran presence. If we get to see Clint Capela finally perform in a Hawks uniform, all the better. "Over" at State Farm Arena, where they've finally stopped counting ballots (we think).


CENTRAL DIVISION: Best bet...Yet another new coach gives it a go with the Chicago Bulls (30 ½) as Billy Donovan made a somewhat-surprising move from Ok City. (Donovan is at least a step ahead of another recent Chicago sport hire, Tony LaRussa, already off to a rocky start in his "Back to the White Sox" adventure). A promising core of players including Lauri Markkanen, Otto Porter, Jr., and Zach Levine awaits Donovan. But, remember, this group has never won anything together. And with plenty of young components on the roster, a new coach, and front office, plus an unforgiving East, the path to exceeding 30 wins looks treacherous. "Under" at United Center.


Others to watch...That big sigh of relief heard in the distance was probably a collective exhale by fans of the Milwaukee Bucks (49 ½ ) after Giannis signed a max extension last week, booking him into FiServ Forum for the next five years and temporarily stopping the rumor mill that had the Greek Freak bound for L.A. or a more glamorous locale. Giannis isn't all the Bucks have, however, as Khris Middleton and just-added Jrue Holiday are stars in their own right, and various solid role players fill out the roster. Last season, Milwaukee looked the best in the league, but became more distracted than most teams by outside events when in the bubble. As long as that doesn't repeat, or Giannis doesn't get hurt, it's an "over" in Brewtown... Are the Cleveland Cavaliers (22 ½) still in the NBA? Talk about being forgotten after LeBron left town for a second time! But J.B. Bickerstaff has had a full offseason as head coach after the John Beilein adventure ran aground before the halfway mark last season. We suspect that number five draft pick Isaac Okoro is going to come in handy, allowing Bickerstaff to break up the smallish Collin Sexton/Darius Garland backcourt. And while the pieces look disparate, there might be some frontline combinations that can work with Kevin Love, Andre Drummond, and JaVale McGee, all serviceable components (to varying degrees) for many years. We're looking over in the Big C.


SOUTHWEST DIVISION: Best bet... This doesn't look like it will end well for the Houston Rockets (34 ½), with James Harden making noise about a move out of town and looming as a possible major distraction, plus a new coach cutting his teeth on the job (Stephen Silas), not to mention a new front office trying to hold it all together. Losing Russell Westbrook and Robert Covington took away two important cogs, while reuniting John Wall and Boogie Cousins from their Kentucky days might have made more sense five or so years ago...not now. "Under" at Toyota Center...especially with a chance that Harden might be gone and not around to see the Houston train completely derail.


Others to watch... This looks a very reachable number for the Dallas Mavericks (42 ½), whose 1-2 punch of Luka Doncic and Kristaps Porzingis will continue to be dynamic. We also very much like swapping out shooter Seth Curry for Josh Richardson, the kind of tough, two-way guard who might play better off of Doncic and will certainly provide an upgrade on the stop end. Lots of quality role players can fit into Rick Carlisle's rotations as well. "Over" for the Mark Cubans, motivated to match their AA Center partner NHL Stars, who made it all of the way to the Stanley Cup finals in the Edmonton bubble... There is reason to believe the NBA went through the exercise of finishing its regular season in the Orlando bubble (the NHL, by comparison, went straight into the playoffs) to ostensibly give more TV time to the New Orleans Pelicans (36½) and Zion Williamson. But such often are the best laid plans of mice and men; the Pels were quickly out of playoff competition as Zion was an infrequent participant...so much for the TV ratings. The question of Zion Year 2: Can he stay healthy enough? We also suspect it will be a challenge for new HC Stan Van Gundy to solve spacing issues with Zion and newly-added Steven Adams from Ok City; would a "stretch" big have been a better option? Eric Bledsoe and Lonzo Ball also look to be an erratic pair of shooters at the guard spots. We're still not buying on the Pels; "under" at Smoothie King.


NORTHWEST DIVISION: Best bet... We have seen enough of the Minnesota Timberwolves (28 ½) the past couple of years to know that the team lacks maturity and might never find it with HC Ryan Saunders, barely older than some of his players and who seems more interested in being a buddy to his troops than laying down the law and forcing the Wolves to expend some energy on defense. But the "tough cop" act of predecessor Tom Thibodeau did not go over well on this roster, which is still young and looks the "I-word" (immature) to us. Maybe getting back Ricky Rubio to help the development of top draft pick Anthony Edwards will prove a plus, but the Wolves showed they were far from ready when finishing last season in a 4-23 nosedive, and this is not a division with many easy touches. "Under" at Target Center.


Others to watch... We wonder if the Damian Lillard-C.J. McCollum tandem is forever destined to early playoff exits for the Portland Trailblazers (41 ½). Maybe so again this season. But the Blazers made a nice run in the bubble just to get into the postseason, and have enlisted some help for Lillard and McCollum, with offseason additions Robert Covington and Derrick Jones, Jr. upgrading the athleticism on the wings and defense, which might alleviate the "big two" from expending too much energy on the stop end. Meanwhile, Enes Kanter and a (knock on wood) healthy Jusuf Nurkic can provide a very functional combo on the blocks. "Over" at Moda Center... The Utah Jazz (42 ½) were a missed Mike Conley three-pointer from knocking the Nuggets out of the bubble in the first round of the playoffs (before Denver beat the Clippers). That was without a hurting Bojan Bogdanovic and before Derrick Favors would return to the fold to help out Rudy Gobert in the paint. As long as Donovan Mitchell and Gobert stay healthy (and, for that matter, Bogdanovic, too), Quin Snyder's Jazz ought to be in the mix again. "Over" in Salt Lake City.


PACIFIC DIVISION: Best bet... While most believed Anthony Davis would stick around and not bolt in free agency, it was still good news that he recently confirmed as much for Jack Nicholson and all of the backers of the Los Angeles Lakers (46 ½), who, barring injury, are geared for a repeat. Perhaps the most unsung championship coach in sports history, Frank Vogel, also now has a bit more quality depth at the ready with Montrezl Harrell, Dennis Schroder, Wesley Matthews, and Marc Gasol further strengthening the bench. And, oh yes, LeBron is still around; "over" for the Lake Show.


Others to watch... After a few years of nothing but good news, the Golden State Warriors (36 ½) have had nothing but bad news since the end of the 2019 playoffs. The latest injury to Klay Thompson is devastating and robs not only the Warriors of a key cog, but the league of the chance to feature the original "Splash Brothers" who entertained for so many years. Of course, Steph is still around, though soon enough will come time to talk about another contract extension, and if Curry is going to be worth expending that sort of money into the later stages of his career. Draymond Green is another who was more effective when Klay was on the court, and the Warriors are crossing their fingers that rookie first-round pick Robert Wiseman, who only saw the court a couple of times in his lone college season at Memphis, is ready to contribute right away. We're not sure about Wiseman, but with no Klay, it's an "under" for us at the Chase Center... The pieces have looked greater than the sum for a while now with the Phoenix Suns (38 ½). We wonder, however, if this season marks the turnaround. Chis Paul can still be an enormous help, as he was last year with the Thunder, and his presence on the perimeter should remove some of the pressure from Devin Booker. Deandre Ayton also might be ready to emerge as a beast on the blocks, while the useful and versatile Jae Crowder is another serviceable NBA vet who has helped at every stop in his career. It's the "Paul factor," however, that makes us think it's finally time for an "over" in the Valley of the Sun.
Return To Home Page