8495...
TGS SPECIAL REPORT...DIV. ROUND & SEASON-END REVIEWS

by Bruce Marshall, Goldsheet.com Editor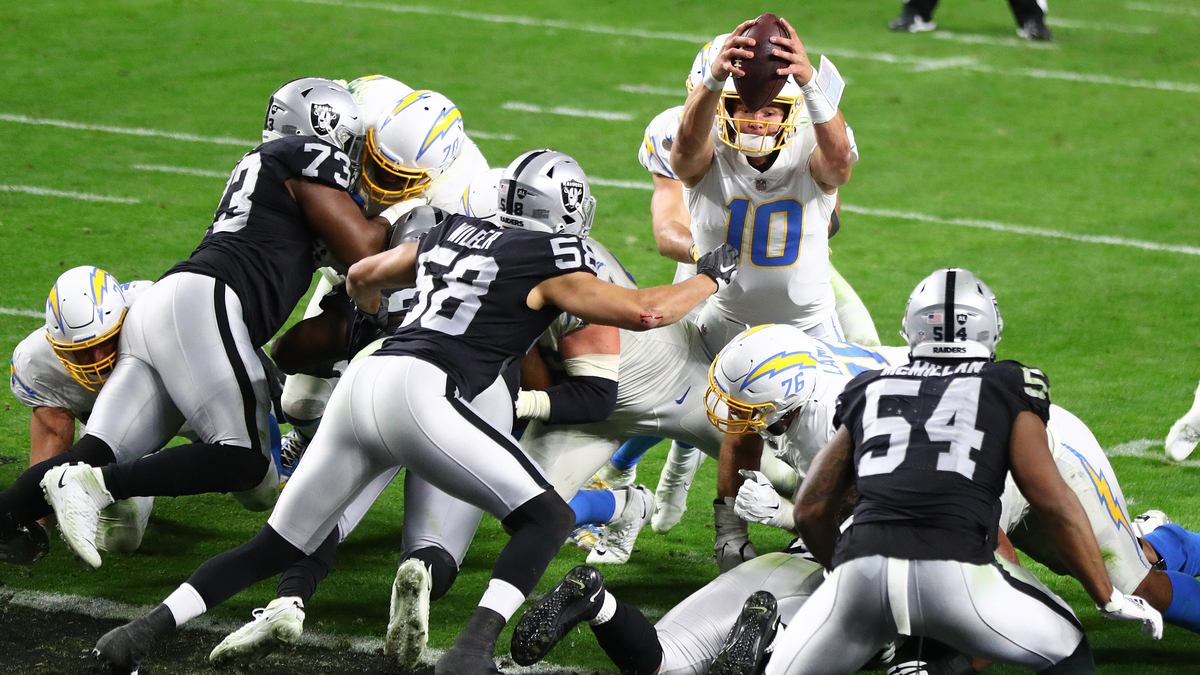 While

the NFL playoffs progress, the offseason just began last week for 18 teams at the conclusion of the regular season. Which, for many of us, means the start of a different sort of fun as we speculate what happens next for many of these teams with the "hot stove league...gridiron version" kicking into gear!


In recent years, among our favorite annual TGS editorial pieces have been our season-end NFL reviews. So, as we usually do the week after the regular season concludes, a quick analysis of the past campaign, plus a look at what might be on the immediate horizon, is in order for the non-playoff qualifiers, especially those teams in the market for new head coaches. Teams are listed below in alphabetical order by conference. Straight-up records for 2020 are included. Further season-end reviews for playoff teams can be found in upcoming weeks, and we will revisit the NFL again near the end of the TGS Hoops publishing season in April with our annual draft preview.


Cincinnati (4-11-1)... By the end of the season it became necessary for owner Mike Brown to announce that HC Zac Taylor would be brought back for a third year, which seemed a fait accompli for much of the season. But as the Bengals went into a tailspin after the midseason knee injury to LSU's Heisman-winning QB Joe Burrow, a second straight 2-win campaign under Taylor looked a real possibility until late upset wins over the Steelers and Texans. While healthy, Burrow performed with enough flair to suggest Cincy was on its way back to respectability, but with the chance he won't be ready by next September, the Bengals are probably going to want to upgrade their depth at QB rather than risk Ryan Finley or Brandon Allen out of the bullpen once again. Almost certainly, however, Cincy will also be targeting offensive line help at the top of the offseason shopping list as the Bengals need to do a better job protecting their investment in Burrow. With or without Burrow, Taylor is also on the clock and will need to make a run nearer to .500 before he gets asked to return in 2022. In retrospect, the accomplishments of Marvin Lewis' preceding regime don't look so bad.


Denver (5-11)... We're tempted to drill a bit deeper into the Broncos' plight which we have been able to follow closely thanks to our involvement with Denver sports radio. But the date to watch across the Front Range is July 12, when the trial to clarify future ownership of the franchise is slated to begin. At the center are the feuding heirs of Pat Bowlen and a trio of trustees led by Joe Ellis that have been operating the Broncos since Mr. B first became incapacitated in 2014 before finally passing in 2019. A template for dysfunction has ensued, complicated by GM John Elway's ongoing errors in choosing coaches (Vic Fangio's two-year mark of 12-20 is effectively the same as predecessor Vance Joseph's 11-21) and QBs (jury still very much out on ex-Mizzou Drew Lock) as Denver has recorded four straight sub-.500 seasons for the first time since 1969-72. Last week, Elway stepped "up" from his GM role to that of team president, supposedly to oversee the hire of a new GM, but this is fraught with peril as Fangio's continued employment as HC is likely to be a contingency of the hire, and Elway's contract runs for only another year anyway. On the field the Broncos dealt with bad luck on the injury front, as Von Miller didn't play a snap all season, and 2020 also became a lost cause for other key cogs such as DT Jurrell Casey & WR Courtland Sutton. And there was that November game vs. the Saints when Covid protocols sidelined all of the QBs and WR Kendall Hinton (a college QB at Wake Forest) had to be summoned from the practice squad as the emergency starter. As for Lock, he has yet to convince as the eventual answer at QB, but the feeling in Broncos Country is that the current direction (32-48 since winning Super Bowl 50) won't change until the Bowlen heirs unite and decide to sell the franchise....or until the NFL, which has bided its time for the Broncos to sort out this mess on their own, decides to intervene and force a sale. Stay tuned.


Houston (4-12)... The house finally collapsed on the Texans, with caustic HC Bill O'Brien paying the price after a slow break from the gate, leaving sage vet defensive mastermind Romeo Crennel to hold the ship together in an interim role. By the end of the nightmare season it looked as though a complete housecleaning might be in order for a franchise that is starting to miss the leadership that original owner Bob McNair once provided. The defense wilted, unable to stop the run or consistently pressure opposing QBs, and ranking last in takeaways. Among the earliest decisions made by a new coach and GM will be what to do about DE J.J. Watt and the $17.5 million left on his contract for one more year. Another is perhaps looking to re-stock some picks in an upcoming draft that for the moment sees the Texans without a first or second-round pick. In the middle of this maelstrom is QB Deshaun Watson, who posted the best numbers of his 4-year career but with little to show for it and now making James Harden-like noises about leaving Houston. As NFL stars can't quite force their way out of town as they can do in the NBA, Watson is unlikely to be moved, and as the center-piece of the franchise might be able to help fast-forward the expected rebuild. No matter, it's apparent that a total roster makeover is required, and the culture readdressed. It will be heavy work for the new GM and coach.


Jacksonville (1-15)... So much went wrong with the Jags that we're not sure where to begin, other than maybe thinking the meltdown was what owner Shad Khan had in mind to secure the top pick in the draft and a shot at Clemson QB Trevor Lawrence, who almost assuredly will be in teal next fall. Not much went right after an opening upset win over the Colts, as HC Doug Marrone was already a dead man walking before Halloween, though he did last until Black Monday, a bit more than a month longer than GM Dave Caldwell, jettisoned just past Thanksgiving. Anything that could go wrong did go wrong in the course of a season that was also sidetracked by various key injuries (defense in particular) and opt-outs. The one bright spot was FA rookie RB James Robinson, an under-the-radar Illinois State product who ended up gaining 1070 rush yards and might give the Chargers' Justin Herbert and Colts' Jonathan Taylor a run for Rookie of the Year honors. The situation for the Jags might not be as hopeless as it seems; with a number of premium draft picks (including No. 1, and three others in the first two rounds) and over $80 million in cap space, Khan might be able to make a splash hire with his new coach. Maybe even Urban Meyer, whose name has become increasingly linked to the opening in the past week.


Las Vegas (8-8)... Once again the Raiders wilted in December as they have the past couple of seasons, detouring what looked like a run to one of the AFC wild card spots. The move to Las Vegas lacked the sort of excitement it would have normally generated because of no fans at Allegiant Stadium, which hardly turned into a fortress; the Silver & Black won only twice at home all season. On their best days they were good enough to beat the Saints and Chiefs (the only game Patrick Mahomes lost this season), but the defense leaked profusely, allowing 30 or more points a staggering ten times, and prompting HC Jon Gruden to force d.c. Paul Guenther to walk the plank in December. As for Gruden, he's yet to get the Raiders over .500 in three seasons, reinforcing the perception that he is more a caricature of himself these days in his comeback to the coaching ranks. Most observers believe that the offense isn't a problem, though QB Derek Carr still remains capable of mind-blowing mistakes and has yet to participate in a playoff game as he enters his eighth season in 2021. A more accepted narrative on The Strip is that a defensive fix has to be the focus in the draft and free agency, but we're hardly sure that should be the priority, either, and suspect that Carr's future might not be as secure as many believe. We'll see. Gruden likely gets a mulligan for all of the oddities associated with 2020, including the disruption of the franchise move from Oakland. But if the Raiders miss the playoffs again next fall, it will be time to wonder if Mark Davis might have swung and missed with this hire.


LA Chargers (7-9)... Proving again his capacity for creating needlessly awkward situations, owner Dean Spanos decided to jettison HC Anthony Lynn after the Chargers rallied for four exciting wins in a row to close the season. No one is arguing too hard that Lynn deserved to stay after the Bolts were inventing hard-to-comprehend ways to lose and consistently blowing massive leads much of the past two seasons (and seven one-score defeats the first 12 weeks of 2020). But in retrospect Spanos might have been better off to fire Lynn after the 45-0 loss to the Patriots that preceded the season-ending win streak, given that a decision to pink-slip the coach had already been made. (By the way, that late rally dropped LA from the 4th pick to the 13th spot in draft order.) Whatever, the future appears fairly bright for the Bolts with ex-Oregon QB Justin Herbert setting rookie records (such as 31 TDP) and making the head coaching job a pretty appealing one for any number of potential candidates. Not to mention the team settling into its new home base at Inglewood's SoFi Stadium and now firmly entrenched at its practice facility in Orange County. The core of a contender seems in place on the roster which endured its share of injuries, though undermined by inconsistent play-calling and leadership. No surprise if upgrading the OL is the focus of the new GM. And if Spanos gets the coaching hire right, a lot might be solved. But can he be trusted to do so?


Miami (10-6)... The Dolphins have arrived faster than anyone could have imagined before last season, when popular opinion was that the franchise would "tank" in 2019 to guarantee the top pick in the following draft. As things worked out, Miami still got the player most originally projected in last year's draft (Bama QB Tua Tagovailoa) without tanking in 2019 for new HC Brian Flores, which laid the groundwork for a surge to the brink of the playoffs this term before a last-day loss at Buffalo ruined the postseason dream. No matter, 2020 was an unqualified success. Still, there are some questions regarding Tua, who by the end of the season was not making much progress (in fact, the Dolphins wouldn't have even been in position to make the playoffs had vet QB Ryan Fitzpatrick not led a dramatic rally from off the bench to beat the Raiders in the penultimate week), and after watching late-season performance, there is some chatter from Miami-land that Dolphins brass is now far from sold on Tagovailoa being the eventual answer at QB. Before making further judgements on Tua, however, expect GM Chris Grier to add speed to the offense; new playmakers need to be identified, with upgrades at wide receiver and running back likely targeted in the offseason. Where Miami will have two picks in both the first and second rounds of the draft (the extra pick in the first round at the three spot, courtesy of the Texans), plus plenty of cap space to maneuver in free agency.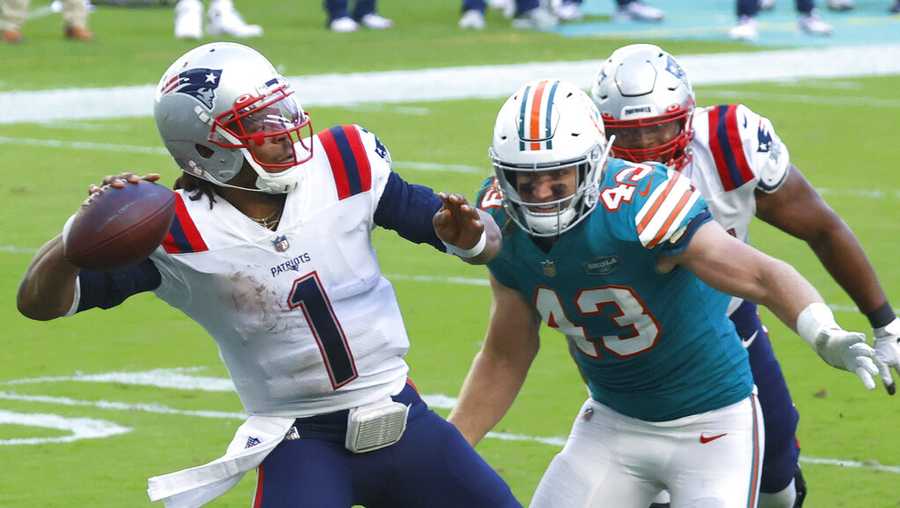 New England (7-9)... Not even Bill Belichick could compensate for the Patriots' roster handicaps in 2020 that doomed them to their first playoff miss since 2008. And it wasn't just no Tom Brady; several opt-outs before the season further thinned the ranks, and the fact is the offense was mostly broken by the time Brady left anyway. Belichick rolled the dice on Cam Newton, who was brought in late on a one-year deal at QB and only briefly flashed his long-ago MVP form. Meanwhile, Belichick's reluctance to give Jarrett Stidham a real audition suggests the ex-Baylor/Auburn man is probably not in the long-range plans at Gillette Stadium. With his highest pick in the first round in more than a decade, Belichick could opt for help in a deep QB class or look elsewhere for a new pilot, which might also come via trade (Carson Wentz? Matthew Stafford? Maybe even a return engagement for Jimmy G?). Newton seems unlikely to return, but no matter who the QB, the Patriots need upgrades at the skill positions after teams were daring Cam to throw downfield all season, to the point when utilizing goal-line defenses anywhere on the field. The defense also regressed, though as mentioned getting back some key opt-outs such as OLB Dont'a Hightower & S Patrick Chung ought to prvide some immediate help. It's on offense, however, where New England has fallen behind the AFC contenders.


New York Jets (2-14)... The Jets couldn't even get their epic losing done correctly, as on the brink of a winless campaign after 13 defeats to begin the season, and in pole position for the top pick in the draft, promptly went out and beat the Rams and Browns. Which actually reflected well on a team that continued to fight through ridicule but in the end gifted the Jags the top pick and apparently cost a chance at drafting Clemson QB Trevor Lawrence. The eventual dismissal of HC Adam Gase on Black Monday was telegraphed before Columbus Day, though GM Joe Douglas remains. Which might or might not be good news for 3rd-year QB Sam Darnold, who was drafted by Douglas predecessor Mike Maccagnan. Consensus opinion in Jets World is that it is no sure thing that NY moves on from Darnold now that Lawrence appears out of the future equation, and with plenty of holes on the roster, Douglas might be tempted to trade down instead of tabbing the next-best QB (Justin Fields? Zach Wilson? Kyle Trask? Mac Jones? Trey Lance?) after Lawrence. Douglas also has a bushel-full of draft picks, including five in the first three rounds thanks to the Jamal Adams trade that netted the J-Men the first and third-round picks of the Seahawks. At some point, Douglas likely addresses matters other than at QB, with help on the defensive edge and at CB other priorities. First things first; get a new coach hired, then sort out the QB situation.


Arizona (8-8)... In the end it was quite bitter for the Big Red, which could have wrapped up a playoff berth in the penultimate week at home vs. the banged-up 49ers with C.J. Beathard at QB, but couldn't. Then, gifted a chance at redemption in the finale vs. the Rams, forced to start little-used backup QB John Wolford, Kyler Murray would be KO'd early and miss almost the entire game as the Cards blew their last chance to make the postseason. Murray's effectiveness, however, diminished down the stretch when Arizona would lose 6 of its last 9 as foes were increasingly able to keep the former Oklahoma Heisman winner in the pocket and prevent him from beating them with his legs. And the manner in which the team folded in December probably means the Kliff Kingsbury experiment faces a win-or-else scenario (for GM Steve Keim, too) in 2021. Offseason attention is likely first directed toward CB Patrick Peterson, soon out of contract; if Peterson walks, finding another CB becomes a high priority. Keim also might look for a field-stretching wideout to team with DeAndre Hopkins, as HOF-bound Larry Fitzgerald, even if he returns for one more year, no longer provides that sort of dimension.


Atlanta (4-12)... The Falcons were the most snake-bit team in the NFC, blowing leads of 16, 17, and 20 points along the way to a miserable season that cost HC Dan Quinn his job before the halfway mark after an 0-5 start. Quinn had barely lasted thru the bye week the previous year before ATL rallied to close fast, but there was no carryover to 2020. The Falcs would regroup briefly for interim Raheem Morris (promoted from d.c. after Quinn's dismissal) but could not sustain momentum, which didn't help the chances Morris has to keep the job on a full-time basis. With GM Tom Dimitroff also walking the plank during the autumn, owner Arthur "The Thinker" Blank is on the verge of a complete housecleaning, which means even some former untouchables such as WR Julio Jones and perhaps even QB Matt Ryan could be moved (as was rumored at the last trade deadline). Which, in truth, relates to a main problem that a new GM and coach are going to have; cap space, or lack thereof. Without mich wiggle room, the Falcons are going to have to get creative if they want to free up some dollars to look for upgrades in free agency. An indicator re: the future of a now 35-year-old Ryan likely comes in the draft, where most NFC insiders believe the new GM could identify a successor at QB as early as the first round, given the depth at that position with the incoming class of pilots. An edge rusher and help in the secondary are other priorities, though the new coach and GM are more than likely looking at a rebuild as opposed to a quick fix.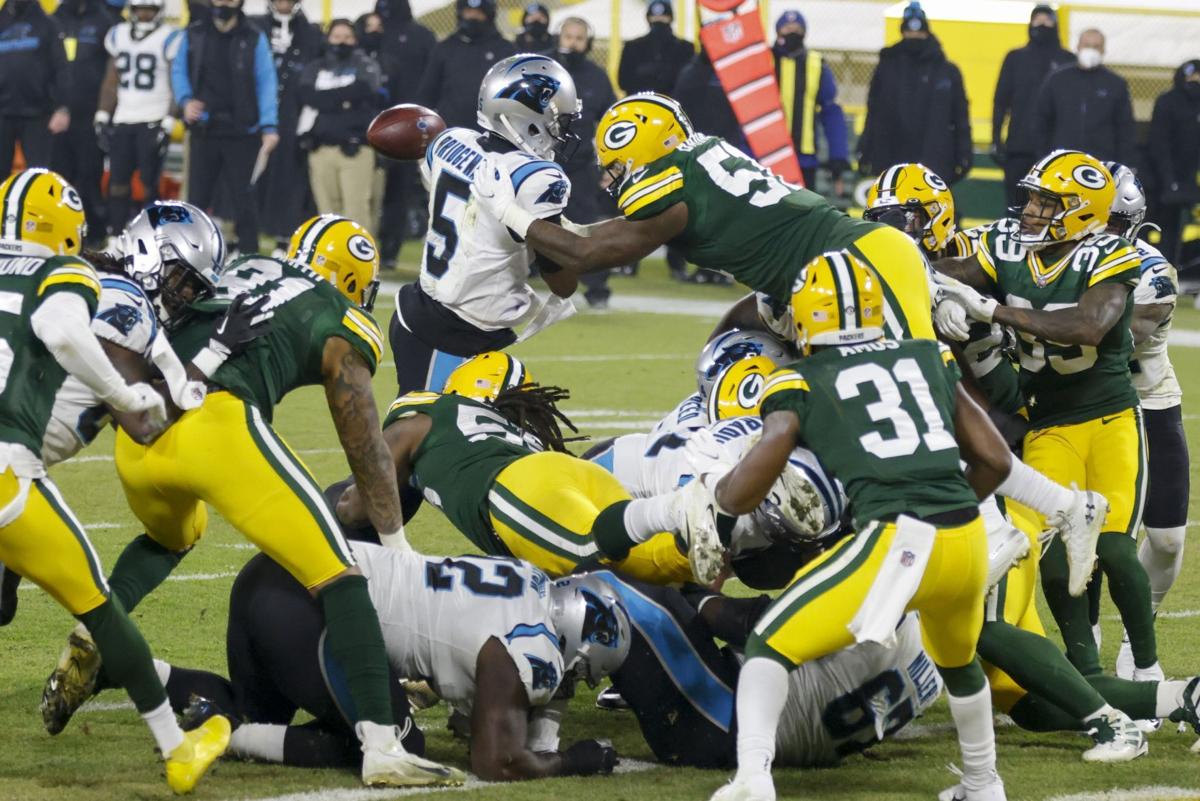 Carolina (5-11)... The Panthers weren't really expected to be a playoff contender with new HC Matt Rhule overhauling the roster, and thus didn't really disappoint. Throw in the fact that star RB Christian McCaffrey only played in three games and it's a wonder that Carolina got to five wins. But maybe the Panthers aren't as far away as it seems; Rhule's team covered its last seven games on the road (all as an underdog), and the Panthers were the near-men of 2020 with an 0-8 SU merk in games in which QB Teddy Bridgewater had a chance to win or tie on the final possession. Which suggests Bridgewater is probably not much more than a place-holder for a new QB that could certainly be identified with Carolina's first pick in the draft (8th overall). Though getting a healthy McCaffrey and keeping the OL out of the infirmary (the loss of LT Russell Okung was hard to overlook) would help Bridgewater or a new QB perhaps get o.c. Joe Brady's offensive concepts to flourish as they did at LSU. Besides possible moves at the QB spot, upgrades on the OL and at CB are likely to be prioritized in free agency and the draft.


Dallas (6-10)... It would be too easy to blame the Cowboys' forgettable campaign on Dak Prescott's season-ending ankle injury in Week Five vs. the Giants, but Dallas was already 0-4 when he went down. Dak's absence didn't help, yet the roster wasn't nearly as close to Super Bowl quality as Jerry Jones might have believed, especially a woeful defense that undermined the entire operation. That the Cowboys were still in playoff contention into the final week was purely a function of depleted state of this year's NFC East. Confirming that he's still paying attention, Jones has authorized HC Mike McCarthy's desired defensive staff changes, which included jettisoning an old comrade from the 49ers days, d.c. Mike Nolan, after the season-ending loss to the Giants. Still, much focus remains on Prescott, who would seem to be in pretty good bargaining position to finally secure the long-term deal he has sought the past couple of years. If Jones instead decides on another franchise tag for Prescott, it will still cost roughly $38 mil for next fall, and at the moment Jones doesn't have another option unless he opts to go the draft route or trade (Andy Dalton, signed on a one-year deal as the backup, is an unlikely short-term option). Elsewhere, numerous injuries along the OL hampered the attack and also slowed Ezekiel Elliott. Beyond the Prescott soap opera, it's a near-guarantee that the defense is going to be addressed in the draft and free agency. One thing is for sure; Jones, now 78, is not going to give McCarthy near as much rope as received by predecessor Jason Garrett.


Detroit (5-11)... Matt Patricia became the latest Bill Belichick disciple to crash and burn as a head coach as he was humanely relieved of his duties after a Thanksgiving nightmare vs. the Texans. The defense, supposedly Patricia's specialty, never blossomed on his watch and contributed to his demise as well as that of GM Bob Quinn, Now, new boss Sheila Ford Hamp, handed control of the operation last year by her mother and franchise matriarch Martha Ford, tries to get it right after her dad, brother, and mom couldn't for decades. The seventh head coach in 20 years will be in charge in 2021, but the Lions really haven't got a coaching hire close to right probably since Joe Schmidt, more than a half-century ago, or perhaps Bobby Ross, now close to a quarter-century ago. (The memorable Wayne Fontes, hired in 1988, is the only Detroit coach to win a playoff game since George Wilson's Lions won the 1957 NFL title game vs. the Browns!) The remnants of Patricia's defense likely needs to be reassembled, but much offseason focus is on QB Matthew Stafford, who could be offered in trade as part of an accelerated rebuild, while a secondary concern is what to do about the contract status of key WR Kenny Golladay, one of Detroit's several receiving threats due to hit free agency. First, though, Sheila has to find herself a new GM and head coach.


Minnesota (7-9)... Opt-outs and season-ending injuries didn't help, but the bottom line was the Vikings didn't have enough defense to slow the better NFC attacks, with the loss of nine contributors from 2019 proving too much to overcome in a quick re-boot. There was nothing wrong with the offense as QB Kirk Cousins and RB Dalvin Cook justified their contract extensions, and LSU rookie WR Justin Jefferson proved an exciting downfield threat. Much of that credit goes to offensive architect Gary Kubiak, though it's unsure if he'll be back in the fall as he contemplates another retirement. Whatever, the window might be closing on the regime of HC Mike Zimmer, who won't likely be part of an extensive rebuild. It's doubtful GM Rick Spielman goes in that direction, at least not yet, likely focusing the draft and free agency around improving both lines and upgrading the stop unit personnel as best he can in hopes of getting back into the playoff mix. The feeling among NFC North insiders is that the core of the roster gives it one more chance in the fall, but another postseason miss might prompt Zimmer into retirement and the franchise to look for a successor to Cousins, whose extended contract only takes him thru 2022.


New York Giants (6-10)... That the G-Men were actually in position to get into the playoffs with six wins is more an indictment of this year's NFC East than any endorsement for New York, which admittedly was running on shorter rations offensively after the early-season injury to electric RB Saquon Barkley. The whole offense suffered, including second-year Duke QB Daniel Jones, who ended the season with only 11 TD passes (though he did miss a few games later in the campaign). Much more will be expected of Jones in 2021, especially if Barkley comes back healthy, as expected. There doesn't appear to be a big overhaul on the horizon, not with word that GM Dave Gettleman is safe for another year. To help out Jones, perhaps Gettleman ought to focus on adding a top-flight wideout in the draft or free agency, as more help for Jones figures to be a priority. The promising defense might be just another edge rusher and quality CB away from being a special platoon, though Jones is going to have to take the next step, and soon, or else the G-Men are going to have to keep looking for a worthy successor to Eli Manning. After three seasons of 10 or more losses, Gettleman certainly enters the last-chance saloon in 2021, and apparently has much less rope than HC Joe Judge, who made favorable impressions in his maiden run.


Philadelphia (4-11-1)... When one of the first things that comes to mind is the Ali-Liston II fight after watching the Birds' season-ending loss to WFT, it pretty much sums up the desultory state of affairs in Philly, where the Eagles have veered off of the Walt Whitman Bridge and into the cold Delaware River less than three years after their rousing Super Bowl LII win over the Patriots. The WIP crowd was about to march on the house of HC Doug Pederson, who some of the handful of shrewd callers to Angelo Cataldi's show would often remind wasn't really the same since his former o.c. Frank Reich left for Indy after the win in the Supe. Reportedly, QB Carson Wentz, benched in December, also misses Reich (hence rumors of a trade to the Colts), as insiders suggested the relationship between QB and coach was beyond repair. Apparently picking sides, owner Jeffrey Lurie decided to opt for Wentz and fired his coach eight days after Pederson perhaps took the dive for management with the late-game fiasco against Washington. (We sensed that was the direction it was all headed in Philly.) Though a new coach figures to also have much to say about the future of Wentz at the Linc. Whether Jalen Hurts showed enough in a late-season audition (we're assuming Nate Sudfeld, based upon his late-game showing vs. WFT, didn't) to be handed the starting job in the fall remains to be seen, but the risk of absorbing an epic salary-cap hit might preclude any Eagles' desire to move on from Wentz. Stay tuned. Whatever happens in the offseason, GM Howie Roseman (whose magic touch from 2017 hasn't resonated as much the past couple of years) also needs to address an OL that used 13 different combinations in the first 14 weeks. Not to mention how to work around limited room against the cap, suggesting several vets will be pared. The news of Pederson's dismissal also renders moot the upheaval on the coaching staff (inclduing d.c. Jim Schwartz and his effective sabbatical.) immediately after the regular-season finale. Still plenty of moving parts at the Linc (now including a search for a new coach), guaranteeing the Birds remain topic number one, two, three, four, and five on WIP and in the Delaware Valley.


San Francisco (6-10)... Before the first month of the season was complete it was apparent that the 49ers were not going to successfully defend their NFC title thanks to an unprecedented rash of injuries that took out most of the key defenders (Nick Bosa and Solomon Thomas both lost for the season within a few minutes of the Jets game in Week 2, plus edge rush specialist Dee Ford and CB Richard Sherman) before September was done. By the time the season hit the halfway point the offense felt the same wrath, with Jimmy G, Raheem Mostert, George Kittle, and most of the wideouts also sidelined for long stretches for one reason or another. Then the Niners were forced out of the Bay Area entirely by Covid restrictions, relocating to Phoenix for the last month of the season. The whole year was the Super Bowl hangover of all Super Bowl hangovers. Most are willing to give HC Kyle Shanahan a mulligan, but there are questions, not the least of which at QB involving Jimmy G, who has missed 23 games the past three seasons and whose durability has become a significant issue. While Shanahan is on record that Garoppolo, for the moment, remains the first option in the pilot's chair, at least upgrading the backup situation should be on the front burner for GM John Lynch. A season sweep of the hated Rams confirmed there is still the core of a top contender and a quick recovery in 2021 would not surprise...but the QB situation has to stabilize. Meanwhile, Lynch currently has no CBs under conttract for next season; expect that to be addressed either in free agency or early in the draft. Or, both.


The last two seasons have marked a recovery of sorts for favorites and home teams (almost always one and the same) in the Division Round, winning seven of eight outright (Ravens losing to Titans last year the lone setback) and covering six of the eight. That has marked a bit of a change from the previous 14 seasons between 2004-17 when road dogs stood 32-23-2 in this playoff round.


From this year forward, we'll have to alter some of specifics about the Division Round, because beginning this postseason, only the top seeds from each conference get a bye into the second weekend (as opposed to two per conference from 1990-2019). Prior to this season, all Division Round home teams were off a "bye" and a week of rest. And almost all of the "powerhouse" NFL teams in recent memory weree from that first-round "bye" group, including 67 of the last 82 Super Bowl participants since '78 (when the first-round "bye" was introduced; the 1982 "strike" season, with no byes, not included). Interestingly, at least one top conference seed has also met defeat in Division Rounds eight of the past thirteen seasons, with Baltimore going out a year ago.
Also identifiable in the past with this round are one-sided results, which have recurred with regularity over the decades, including last season, when three of the four games were decided by 16 points or more. Note that since 1975, more than half of these games have been decided by double-digit margins. Another recent Division Round trend note has been on the "totals" side, in particular "overs," now 26-14 since the 2010 playoffs (though just 2-2 last season).


Following are the pointspread results in various spread categories of NFL Division Round playoff games since 1975. Our "charting" begins with the '75 season because, prior to then, playoff home teams were predetermined in a divisional rotation, as opposed to the better won-loss record. A "margin of victory" chart for the games since 1975 is included as well.
CATEGORY... RESULT


Favorites vs. line... 91-83-5 (1 pick)
Favorites straight up... 126-53
Favored by 0-3 points... 11-17-1
Favored by 3½-6½ points... 31-26-1
Favored by 7-9½ points... 30-28-2
Favored by 10-13½ points... 15-9
Favored by 14 points or more... 4-3-1
Home teams straight up... 129-51
Home teams vs. spread... 93-82-5
Home favorites vs. spread ... 87-79-5
Home underdogs vs. spread... 5-3
Home picks vs. spread... 1-0
Over/under (since 1986)... 75-61


MARGINS OF VICTORY


Return To Home Page