8496...
TGS CONF. TITLE NOTEBOOK...BACK TO THE BEGINNING!

by Bruce Marshall, Goldsheet.com Editor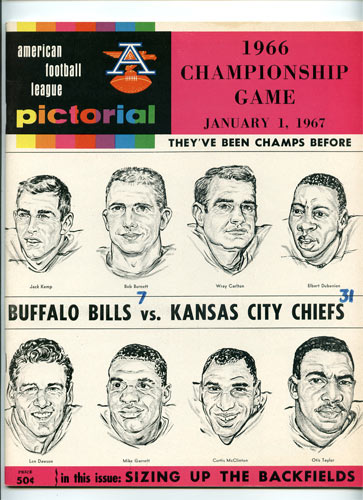 As the Super Bowl approaches, we at TGS are always apt to move into reminiscing mode. Especially as we just passed the 54-year anniversary of the first Super Bowl (Jan. 15, 1967) last Friday. After all, we were not only completing our first decade of publishing when that matchup occurred between the Packers and Chiefs, but we were there to watch it live and in person at the L.A. Coliseum. (And, yes, that game was referred to as the "Super Bowl" by all of the media of the day, even though it would not be until Super Bowl III that Pete Rozelle would officially change the name of the game pitting AFL and NFL champs). We also must admit to some nostalgic tugs at seeing three of the same teams involved in this year's "Final Four" as were involved in the ramp-up to that first Super Bowl game, including a Bills-Chiefs rematch.
.
And we still believe that first "Super Bowl semifinals" day of Sunday, January 1, 1967, pitting Kansas City and Buffalo on the AFL side, and Green Bay and Dallas on the NFL side, was one of the most exciting pro football days in TGS history, which dates to 1957.


With slots in the first-ever Super Bowl up for grabs, the Chiefs and Bills were first to tee things up that New Year's Day, 1967. Kansas City had been the class team of the AFL that season, romping to an 11-2-1 record, while the two-time defending champs from Buffalo had experienced a bit of a bumpy ride under first-year HC Joe Collier (predecessor Lou Saban had resigned to take the job at Maryland after the previous 1965 AFL crown.) before righting themselves after a slow start. The Bills still needed some help on the last weekend of the regular season to win the AFL's Eastern Division, that aid provided by none other than Joe Namath and the Jets, who bounced the East-leading Boston Patriots 38-28 at Shea Stadium, providing Buffalo the lane it needed to steal the East from Boston, which would have hosted the AFL title and first-ever Super Bowl semifinal at Fenway Park, of all places, had the Pats beaten the Jets. Reprieved, the Bills smashed Denver, 38-21, and got to host the title game.


Though a 6-point underdog, Buffalo was still given a good chance vs. Kansas City because of its championship pedigree and the fact it had dealt the Chiefs one of their two regular-season losses by a 29-14 count in early October at KC's Municipal Stadium, which avenged an earlier 42-20 loss to the same Chiefs in Buffalo in early September. Colleir's team got physical in the second meeting and dominated both lines of scrimmage, though KC had reovered from that October slump that also saw it lose at home in similar fashion to Oakland two weeks later.

Moreover, the Bills were playing for the crown in their rowdy and intimidating War Memorial Stadium. Slick QB Jack Kemp had led Buffalo to AFL titles the previous two seasons, while RBs Wray Carlton and Arkansas rookie Bobby Burnett were typical hard-nosed runners of the era. Veteran WR Elbert "Golden Wheels" Dubenion had been a feared deep threat since the beginning of the league in 1960. The defense was rough and physical, very NFL-like, hardly fitting the AFL stereotype of the era.


But the Bills would be outclassed, so much so that more than a few football insiders believed the conquering Chiefs would have a good shot vs. the NFL champ two weeks hence. Though, for a short while, Buffalo appeared to have a very good chance, especially after Dubenion hauled in a 69-yard TD bomb from Kemp to tie the game at 7 late in the 1st Q.


After Dubenion's score, Buffalo settled down to playing a vicious, blitzing defense that kept KC QB Len Dawson changing formations and checking off his plays at the line of scrimmage. "I was amazed," Dawson said after the game. "I'd never known the Bills to blitz that much. I had to keep guessing with them, and I called a lot more audibles than I would ordinarily."


Big plays, however, would put Kansas City back in control. Mike Garrett, the rookie halfback who won the Heisman Trophy the previous year at USC, grabbed a Buffalo punt in heavy traffic early in the second quarter, and his long return set up the Chiefs at the Bills' 45. After a couple of scrambles and a pass to TE Fred Arbanas, QB Dawson rolled to his right from the Buffalo 29. The blitz was on again, and Buffalo MLB Harry Jacobs came up behind and hit Lenny a thudding blow. But just at impact, Dawson threw to flanker Otis Taylor, who used his 210 pounds to run over four Bills on his way into the end zone to put Kansas City in front 14-7!


Buffalo still had a couple of opportunities before the halftime break. One came on the next Kansas City series, when CB Tommy Janik almost intercepted a Dawson flat pass at the Chiefs' 21. It would have been a certain touchdown and might have changed the trajectory of the game. The Bills got the ball again with a minute left in the half, and behind Kemp's passes moved quickly to the Kansas City 10. With 49 seconds to play, rookie Bobby Crockett ran a quick post pattern...and Chief CB Willie Mitchell fell down! For a moment, Crockett appeared open for a TD. But, suddenly, Kansas City's veteran free safety Johnny Robinson appeared.


"We had a blitz called," said Robinson later. "My man was (RB) Jack Spikes, but he stayed in to block. I looked to the strong side, and as I looked back to the weak side I saw Crockett. I went for the ball. I was very lucky."


Robinson intercepted at the goal line and raced 72 yards to the Buffalo 28. Shortly thereafter, Kansas City PK Mike Mercer then kicked a 32-yard field goal with three seconds remaining in the half, and the Chiefs had a 17-7 lead after looking as if they might head to the locker room tied at the break.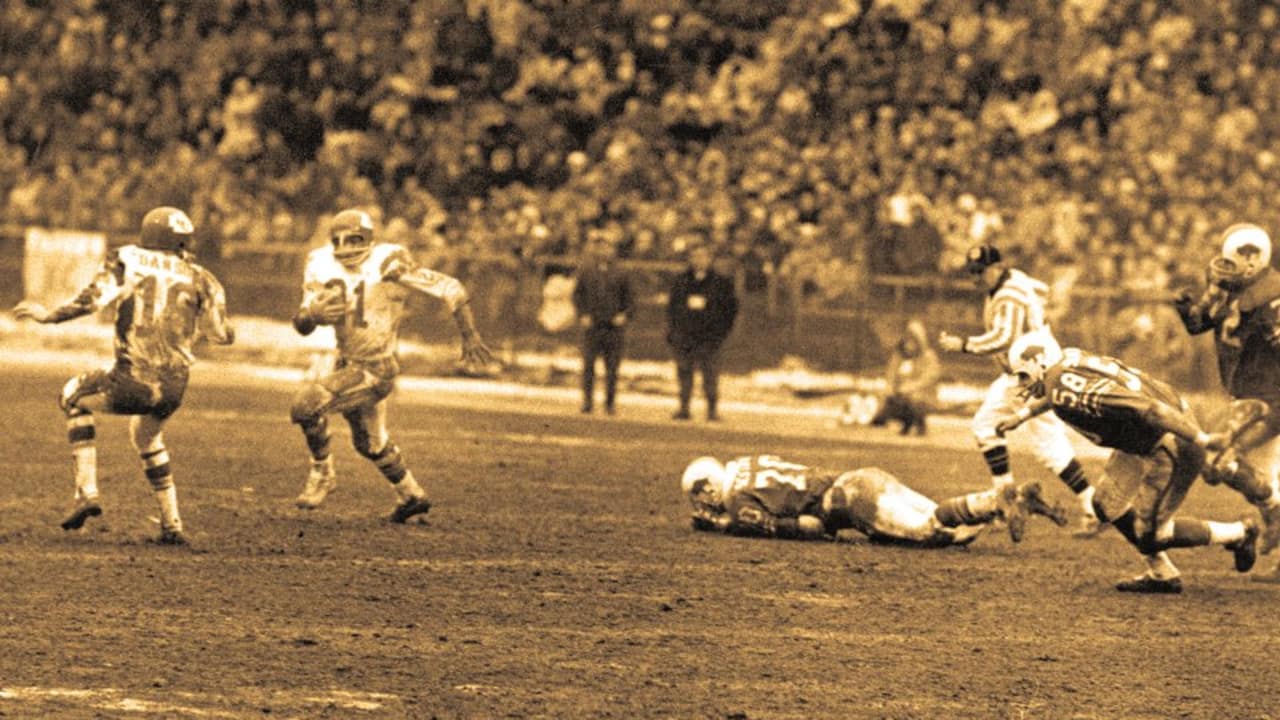 The Bills became increasingly frustrated in the second half, as the big and fast Kansas City defense harassed Kemp. It seemed only a matter of time before HC Hank Stram's explosive Chiefs offense would deliver the knockout blows. They would finally come in the 4th Q, first when Dawson passed 45 yards to WR Chris Burford to put the Chiefs in business at the Buffalo four, and Garrett scored from about a foot out. Then behind 24-7, Kemp threw for WR Glenn Bass, who was knocked cold by Kansas City CB Fred "The Hammer" Williamson, using his trademark helmet-smacking maneuver. Bass fumbled, and three plays later Garrett started to the left on a sweep from the Buffalo 18, got trapped, stopped as if to pass, turned back to the right, circled deep to escape a tackle, then wove through a forest of Buffalo tacklers and wound up in the end zone with his second touchdown. It was estimated that Garrett might have traversed 60 yards in total as he used almost the width of the field to score. "When I saw the goal line finally, I said, 'That's mine,' " Garrett said later of his dazzler.


The final score was 31-7, and the Chiefs were officially the first team to ever qualify for a Super Bowl. Though on their way to celebrate in their locker room they had to dodge snowballs, rocks, and chunks of ice hurled from the time-worn stands at old War Memorial by the surly Buffalo fans. Once safely inside, the mood was jovial as the team was already looking forward to Dallas or Green Bay. The controversial Williamson had his preference-the Packers. "I am going to drop 'Da Hamma' on Green Bay," boasted Da Hamma himself.



Attention then shifted to Dallas, where the Packers were 6- 1/2 point favorites to defend their NFL crown against the upstart Dallas Cowboys at the Cotton Bowl. The nation's TV fans switched their channels from NBC to CBS to watch the unfolding drama.


Having lived luxuriously on poise and control all season, the Packers would be forced into scramble mode in Big D. This would be an NFL title game for the ages, every bit as compelling as the more-publicized "Ice Bowl" of the subsequent season. For pure suspense and unremitting excitement, no NFL title game had approached it since the epic Colts-Giants OT classic in 1958.


The Cowboys, who were supposed to be the club that would dissolve if the Packers struck hard and quick, instead spent the long, bright afternoon demonstrating an extraordinary ability to snarl at adversity. They were scored on twice in the first four and a half minutes to trail the league's most formidable defense by 14 points, yet they tied the game by the end of the first period on two long, business-like drives engineered by QB Don Meredith.


It was still a harrowing beginning for the Cowboys, who for a short while appeared on their way to a defeat of epic proportions. The Packers, who had scored often during the season on sustained, controlled marches and had saved more than one game by using up the clock with a steady ground game, instead bombed Dallas right from the opening kickoff. The first of QB Bart Starr's four TD passes was for 17 yards to HB Elijah Pitts on a march that began the game. Pitts had opened proceedings on the very first play by bouncing 32 yards on a counter-play that HC Vince Lombardi had created for the occasion.


Then Jim Grabowski, the rich Illinois rookie signed to the huge contract who had stood in the wings all year waiting for All-Pro FB Jim Taylor to tire, picked up Mel Renfro's fumble on the following kickoff and went 18 yards for the second Packer touchdown. It was 14-0 before many fans at home, watching and listening to legendary Jack Buck describe the action on CBS in the first half (Ray Scott would take over the second half), had settled into their seats!


Dallas, however, was showing it was made of stern stuff, answering with a methodical 13-play, 65-yard, TD march before quickly leveling the score at 14 on its next possession on a 23-yard TD run by FB Don Perkins.


Slowly, and methodically, Green Bay would eventually regain the advantage, and by the time Starr hooked up with Boyd Dowler on a TD pass late in the 3rd Q (with Cowboy DB Mike Gaechter famously upending Dowler in the end zone, shown at left) and Max McGee for a 28-yard TD pass late in the 4th Q, the Pack finally seemed able to exhale. After the McGee TD, Dallas, however, would importantly block the ensuing PAT attempt by Green Bay PK Don Chandler, and the tally remained at 34-20, still within two scores.


The late-game drama would then begin to unfold in rapid-fire succession.


With the clock ticking well under 5 minutes to play, and facing a desperate 3rd-and-20 from his own 32-yard-line, Meredith let fly a bomb to TE Frank Clarke, who gathered in the aerial and veered into the end zone to cut the lead to 34-27 after Danny Villanueva's PAT. "Frank ran a zig-out and post move," Meredith said later in the dressing room. "I wanted to freeze Willie Wood, their free safety, so I watched (WR Bob) Hayes all the way. Wood was helping out on him, and I waited until I was sure he was out of Clarke's way. I looked at Clarke only at the last second."


Good idea; what Meredith saw was Clarke alone as a New Year's Day pedestrian on a Dallas street. Tom Brown, the strong-side Green Bay safety who was covering Clarke, had slipped and fallen when the receiver broke to the inside. With Wood preoccupied by Hayes, no one was left to guard Clarke.


The touchdown came with four minutes and nine seconds to play, and suddenly Dallas was within seven and very much revived. Sensing the momentum shift, Starr tried to quell it, disdaining the usual Green Bay tactic of running out the time on the ground. Starr got one first down with a daring pass to TE Marv Fleming. Then the Cowboys gambled, blitzing twice, dropping Starr for an eight-yard loss and lassoing FB Taylor seven yards behind the line of scrimmage on a screen pass.


Forced to punt and hurried by an all-out rush from the Cowboy line, Chandler barely got off a trickler that meekly made it to the Green Bay 47 before going out of bounds. The 75,000-plus in the Cotton Bowl (with a few thousand Packer backers included) began to whoop it up in anticipation of sudden-death overtime. And Meredith nearly delivered for the Big D fans.


Dandy Don's new favorite target Clarke would haul in a 21-yard pass to the Green Bay 26, with Dallas again using Hayes to decoy two Packer defenders out of the pattern. Then Meredith tried Clarke deep in the end zone, and the pass fell incomplete. But Pack LB Dave Robinson was called for interference, and Dallas had the ball on the Green Bay two-yard line. With a minute and 52 seconds to play, the Cowboys had more than ample time in which to score during a sequence that many old-time Dallas backers remember to this day.


Meredith tried the Packer line first, but RB Dan Reeves got only a yard before the Packers fell on him en masse. Still, it was second and goal on the Green Bay one. Whether or not the Green Bay defenders actually could have stemmed the Cowboy drive from so close was never proved. Meredith started his countdown for the next play, but Jim Boeke, the Cowboy left tackle who had played well all day, moved ahead of the snap, the illegal procedure penalty pushing Dallas back five crucial yards.


Penalized to the Green Bay six, Meredith was forced to change his calls, as he knew that it would be very tough to go six yards on the ground through the Green Bay defense. So on second down he tried a swing pass to Reeves, but the ball was wide of its target, stopping the clock with 1:18 to play.


Meredith passed again on the third down, on a short route, hitting TE Pettis Norman, who for a moment seemed to be angling toward the end zone flag before slipping just before arriving at his destination. With fourth down and two to go for sudden death, Dandy Don made a daring choice--a play named by the Cowboys "fire 90 quarterback roll right." It was an option for Meredith swinging wide. If the defense comes up he throws; if it drops back he runs.


This time he hoped to fool the Green Bay defense by running to the nearer sideline, where he had less room but more blockers. But Packer LB Robinson, guilty of the pass interference that gave Dallas this last chance, had made up his mind that the play would be either an off-tackle drive by FB Perkins or HB Reeves, or a quarterback bootleg by Meredith.


"I really looked for the off-tackle," Robinson said after the game. "That is, if the play came to my side. I was aware of the bootleg, but I figured he wouldn't use that to the short side. As it turned out, he did."


Robinson's initial charge was into the tackle hole, but he realized at once that he was wrong and fought to the outside, fending off a blocker as he closed in on Dandy Don. "He played it perfectly," Meredith said ruefully afterward. "He came in with his hands up high, screening off my receivers until he got close enough, and then he dropped his arms around me. I couldn't do anything but flip the ball into the end zone and hope someone in a white jersey would catch it."


"I tried to pin both his arms," Robinson said, "but all I could get was his left. As I grabbed him, I thought that I hadn't done what I was supposed to do. Under Lombardi, you always try for perfection, and if I had played this one perfectly I would have had both of his arms. This way he got the ball away, and there was a 50-50 chance that a Cowboy would catch it in the end zone." But it was not to be for Dallas. Green Bay Safety Tom Brown, a frustrated ex-baseball tryout who had had the misfortune to fall down on Clarke's touchdown a few minutes earlier, intercepted the ball in the end zone and cradled it to his belly (right), bent over as if to make sure that it would not escape.


The nation was left limp after Green Bay 34, Dallas 27, and the appetite was whetted beyond anything we can ever recall for the first "Supe" two weeks later. (If we get a Kansas City-Green Bay rematch, we'll surely recall more on Chiefs-Packers I in our Super Bowl issue in two weeks!)



Like the '66 NFL title game between the Packers and Cowboys, and the subsequent Ice Bowl, some of the most compelling viewing in NFL seasons has come in Super Bowl prequels, since 1970 contested as AFC and NFC Championship games. There was a period of time when the conference titles were decidedly non-compelling, however, especially for much of the '80s and into the early '90s when AFC & NFC title games mirrored Super Bowls of the era and usually featured one-sided results. That trend has mostly returned the past four seasons, save for the 2018 conference title games that both went into overtime (Rams-Saints and Patriots-Chiefs). The other six of the eight conference title games since the 2016 season have been decided by double-digit margins, though Kansas City's win over Tennessee in last January's AFC title game was still hanging in the balance well into the 4th quarter.


Prior to 2016, however, many of the conference title games were nerve-wracking affairs. Into last year, only seven of the 22 conference title clashes over the previous eleven seasons had been decided by double-digit margins (now make that 9 of 24 the past 12 years).


We have always found it fascinating that the biggest blowout in pro football history occurred in the 1940 NFL title game when George Halas' Chicago Bears stepped on the throat of the Washington Redskins (who had beaten Halas three years earlier in the championship battle) by a whopping 73-0 count! (And, no, TGS was not around to cover that game!) In a four-year span in the mid '50s, NFL title games produced scorelines of 56-10 (Browns over Lions in 1954), 38-14 (Browns over Rams in 1955), 47-7 (Giants over Bears in 1956), and 59-14 (Lions getting their revenge on the Browns in 1957). It was more of the same throughout much of the 1960s, with NFL title games featuring some romps such as 37-0 (Packers over Giants in 1961), 27-0 (Browns over Colts in 1964), 34-0 (as the Colts gained revenge over the Browns in 1968), and 27-7 (Vikings over the poor Browns again in 1969). Meanwhile, old AFL title games featured some lopsided results as well, including wipeouts such as 51-10 (Chargers over Patriots in 1963), 23-0 (Bills over Chargers in 1965), 31-7 (Chiefs over Bills in 1966), and 40-7 (Raiders over Oilers in 1967).


Wins two years ago by the Rams and Patriots were departures from most results of the past seven years, which have more resembled wins last year by the Chiefs and especially 49ers; host sides have won outright in 12 of the past 14 conference title games, covering the spread in ten of those. Home underdogs have won twice that span; Denver 20-18 over New England five years ago and Philadelphia 38-7 over Minnesota three years ago. A few years earlier, home/favorite trends had not been so pronounced, especially in the NFC, where home teams lost outright in three straight and failed to cover four conference title games in a row prior to 2013. Eight years ago (2012 season), both road teams (Baltimore in the AFC, San Francisco in the NFC) won outright; along with results two years from the 2018 playoffs, only three times since the 1997 playoffs (Green Bay and Denver winning that year) have both the visitors won straight-up the same day in the conference finales.


Though underdogs covered all four conference title games in 2016-17, favorites recovered last season (Chiefs in AFC, 49ers in NFC) and continue to hold a pointspread edge in these games since the merger year of 1970 (54-43-2). Though as mentioned their dominance has been not quite as pronounced in recent years, with the dogs covering eleven of the last eighteen conference title battles.


Among pointspread category trends in AFC & NFC championship battles, note that "intermediate/high" chalk (those laying between 7-9½ points) stands 18-8 vs. the number in conference championships since 1970, with both the Chiefs and 49ers cashing last year as respective 7 ½- point favorites . Double-digit favorites, a bit more rare, are only 4-8 vs. the line. Home teams have also won straight up more than two-thirds of the time since the merger (68 of 100). Conference title "total" trends were not especially illuminating for many years, though they have lately been trending "over" (6-2 last four years) and have now moved to 38-29-1 since 1986.


Acknowledging the earlier references to historical one-sided results in these games, please note that almost half of the AFC & NFC championship battles since the 1970 merger (45 of 100) have been decided by 14 points or more, with nearly two-thirds (62 of 100) being decided by double digits.


Following is a list of pointspread breakdowns and results of AFC & NFC Championships since 1970.



Favorites/Underdogs (one pick 'em) ...54-43-2
Favorites straight up... 66-33
Favored by 1-3 points... 12-13
Favored by 3½-6½ points... 20-14-2
Favored by 7-9½ points... 18-8
Favored by 10 or more ...4-8
Home teams straight up... 68-32
Home teams vs. spread... 56-42-2
Home favorites vs. spread... 46-33-2
Home underdogs vs. spread... 10-8
Home pick'em vs. spread... 0-1
Overs/unders (since 1986)... 38-29-1


14 or more... 45


Note: TGS season-end reviews will continue in or Super Bowl issue in two weeks, when we review the eliminated teams from the playoffs.
Return To Home Page